A chef secret for many years, the teres major beef steak is an underused cut of beef sometimes used as a substitute for beef tenderloin. If you like hanger steak, flat irons, bavette, and other "butcher steaks" you're going to love the teres major.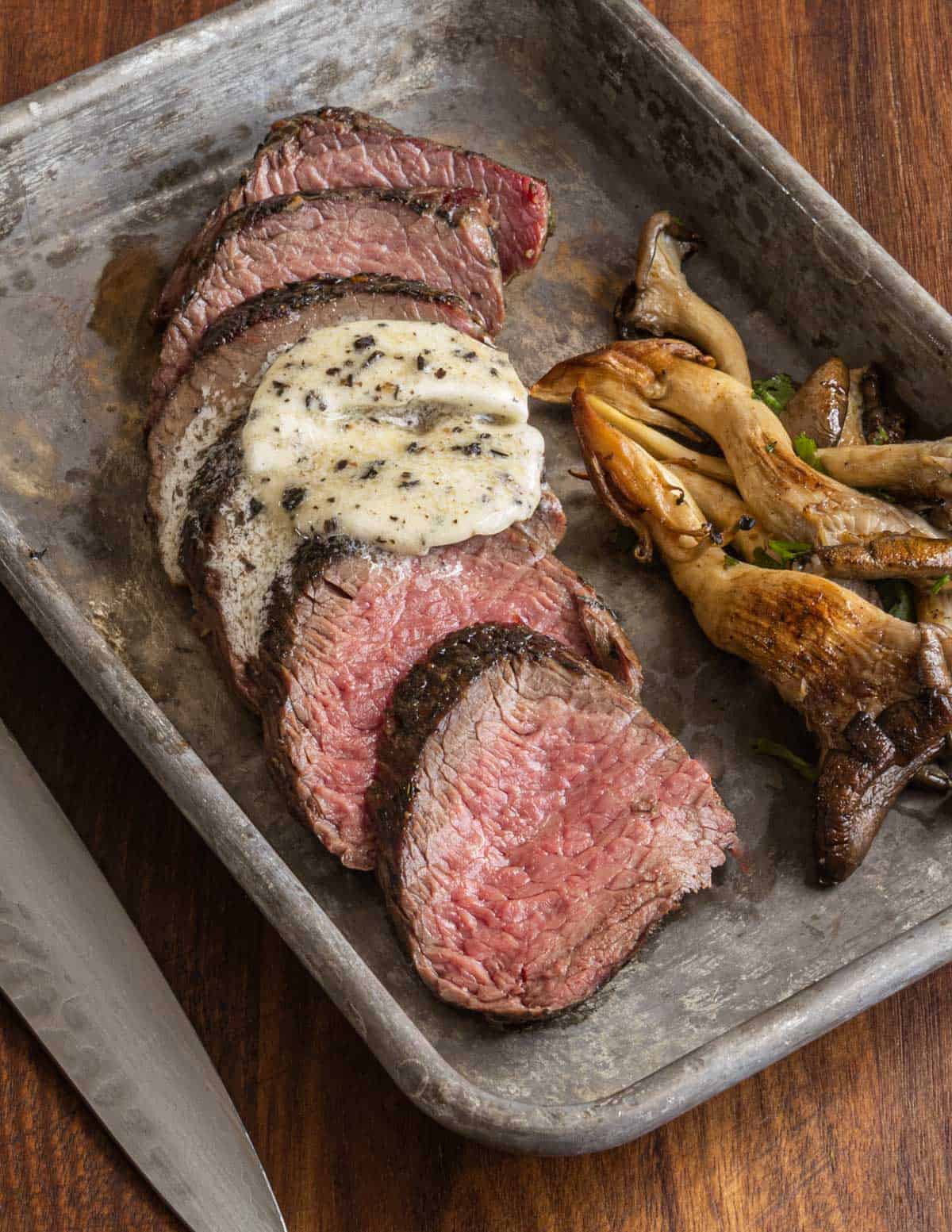 I served these steaks for years in restaurants, and there's a fun urban legend attached to them. Story goes during the 90's, the price of filet mignon went up, a lot.
Faced with rising food cost, a few chefs in the Twin Cities started serving petite tender steaks cut from teres major without changing the name or price on the menu. I consider the accounts anecdotal-either way it should tell you this is one tender cut of beef.
What is Teres Major Steak?
The teres major muscle is a lean cut of beef from the chuck section of a cow. It's located right below the front leg and is mostly known only by skilled butchers. Other names for the cut are the shoulder tender, shoulder filet steak, teres major tenderloin and teres filet.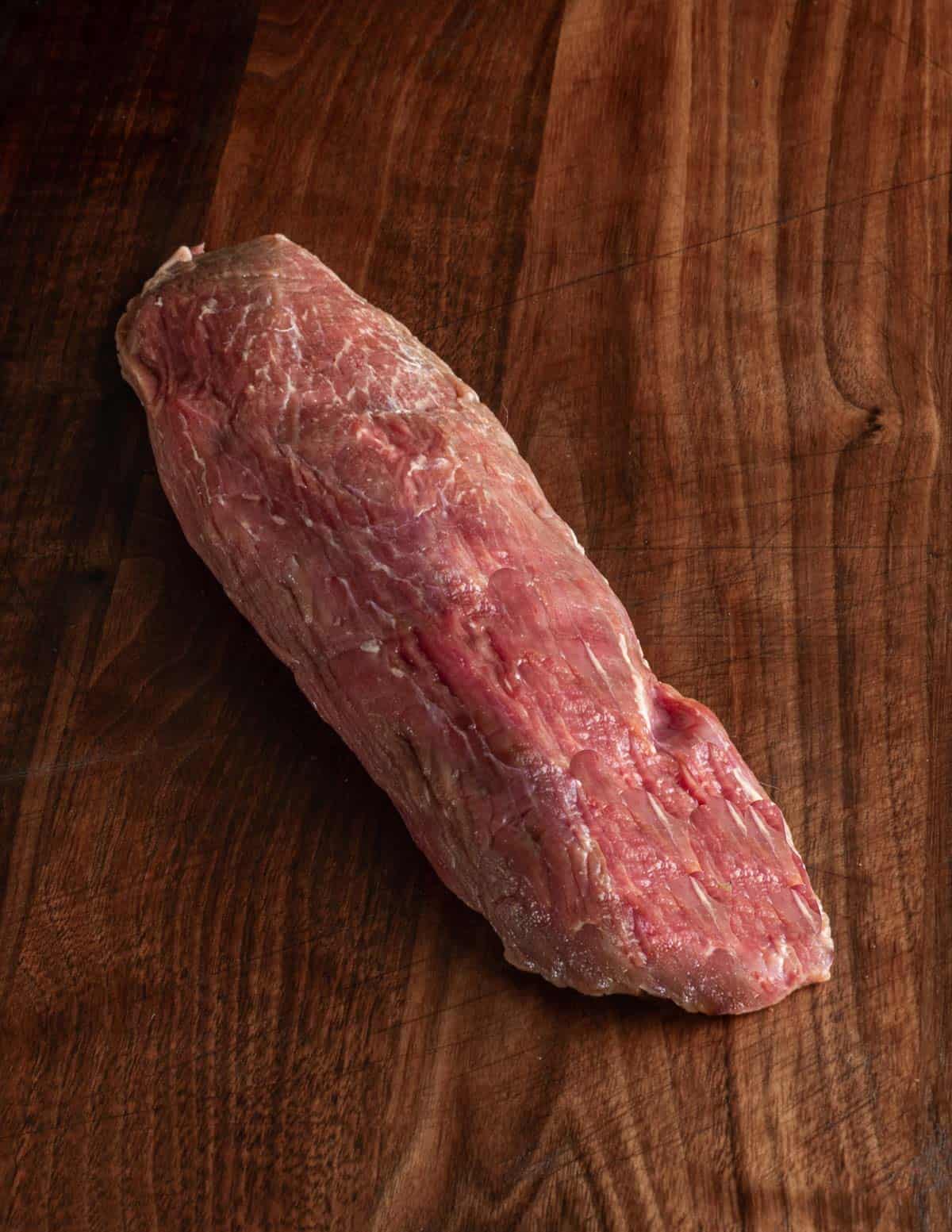 Roughly the size of a pork tenderloin, it's the second or third most tender cut, next to tenderloin and ribeye. It takes its name from the same muscle of the human anatomy.
The teres major has much more flavor than a tenderloin as it comes from a heavily used, active muscle. This means it gets more blood flow, which helps develop complex, rich beefy flavor with hints of iron like a hanger steak. The increased blood flow also adds some complexity to cooking (specifically resting) I'll go over in the next section.
Do You Have to Trim a Teres Major Steak?
One of the most important things to keep in mind is that the teres major may need to be trimmed before cooking. Teres majors sold to restaurants generally don't have the silver skin removed, which covers a large portion of the muscle. If you order some from a local butcher shop like I do they may come mostly trimmed, but may still have some silver skin or sinew that should be trimmed off.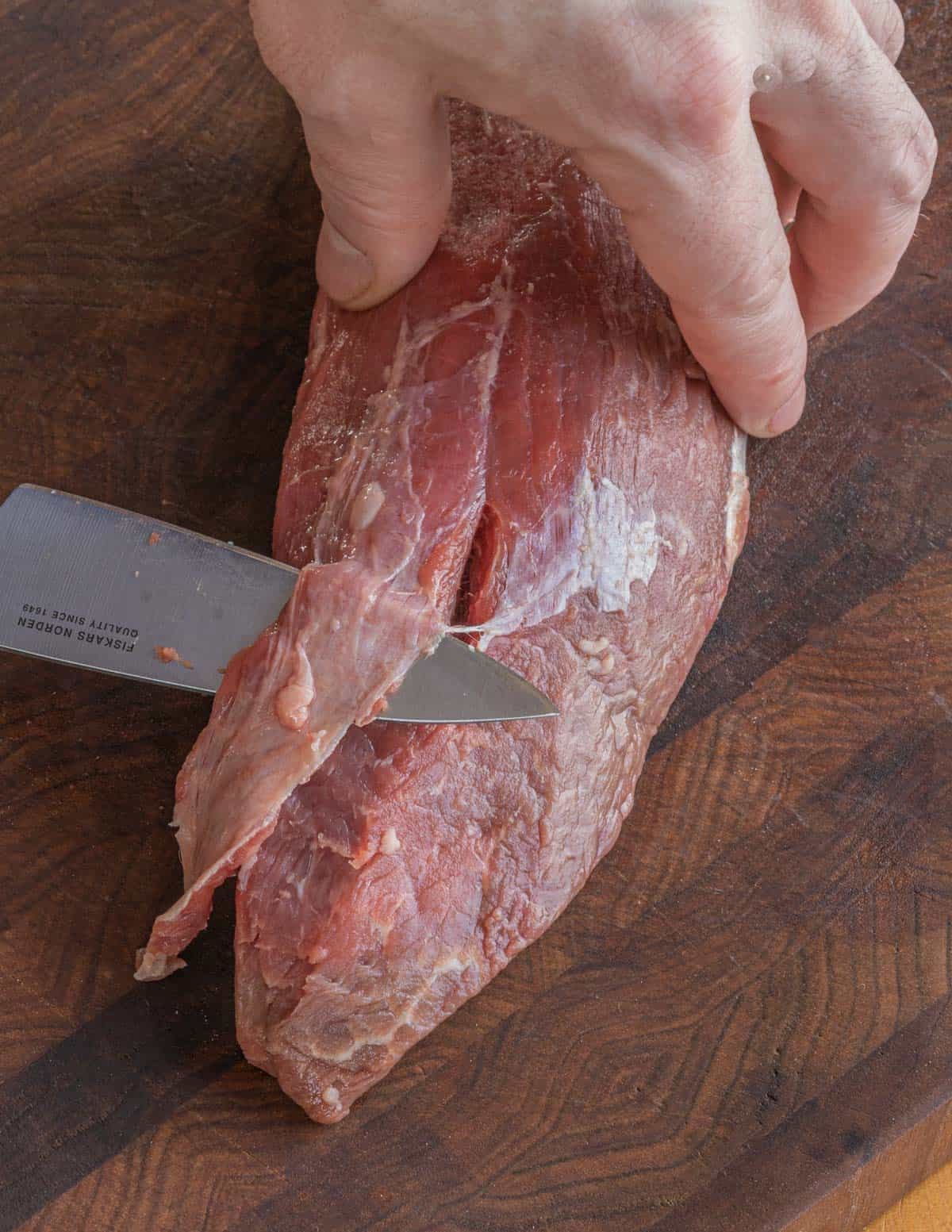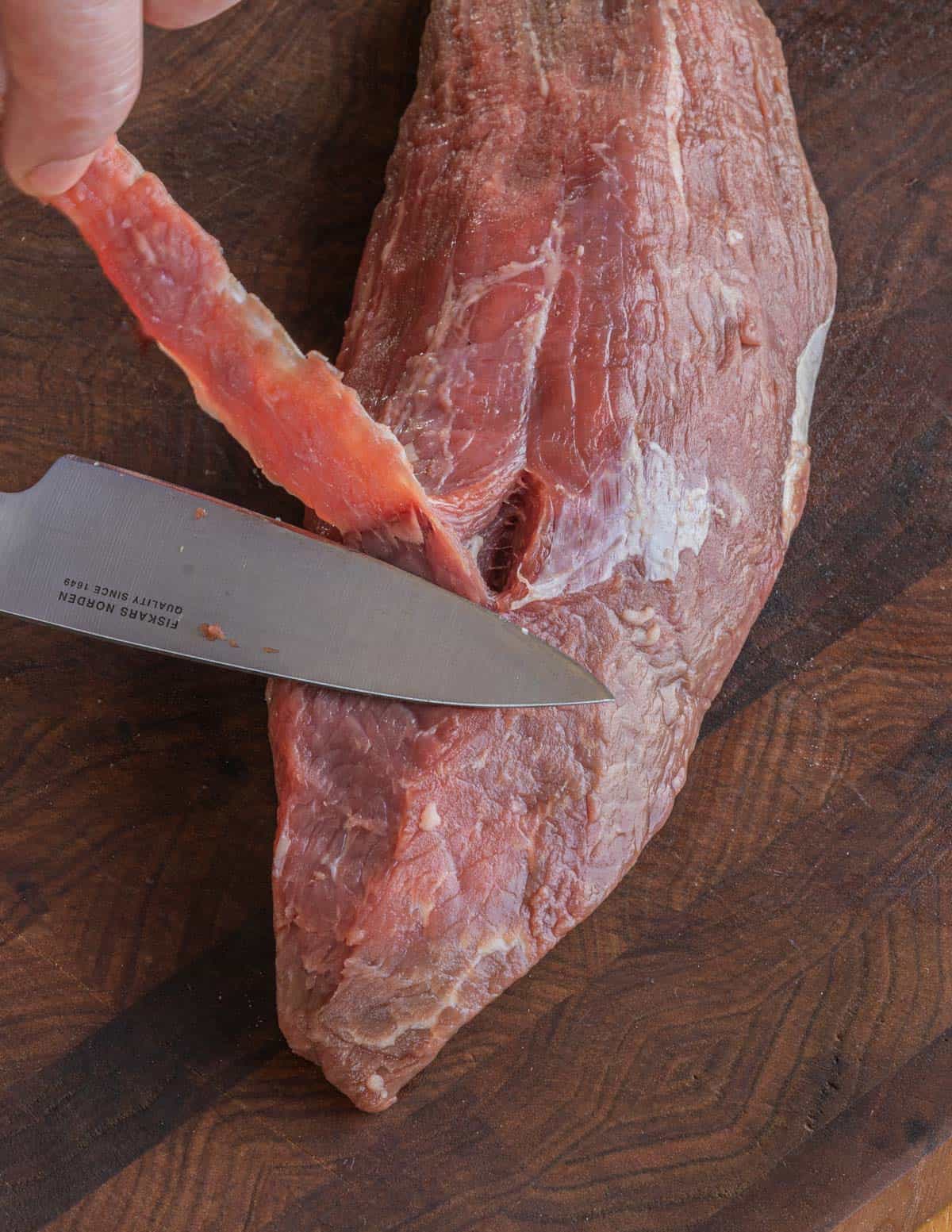 How to Cook Teres Major Steak
Like any good steak, the teres major doesn't need much. A little salt, pepper and herbs are all you need. You can grill the steaks or sear them in a pan, just like a tenderloin. I think the best way to cook teres major is to dry brine the meat, seasoning with salt, pepper and fresh herbs overnight and wrapping in cling film before cooking.
The images below illustrate the teres major marinade: salting and seasoning the meat with salt, pepper and herbs before wrapping tightly in cling film and refrigerating overnight.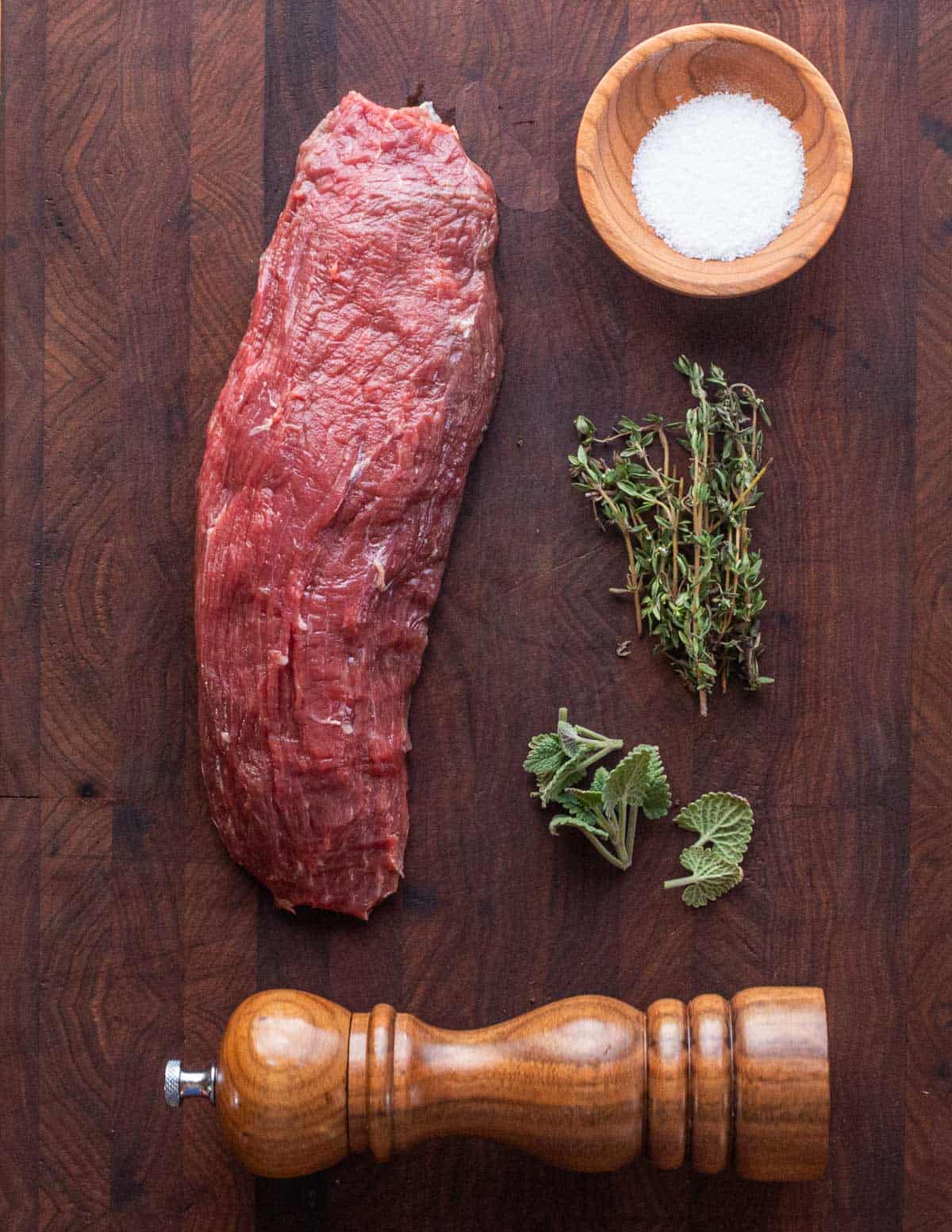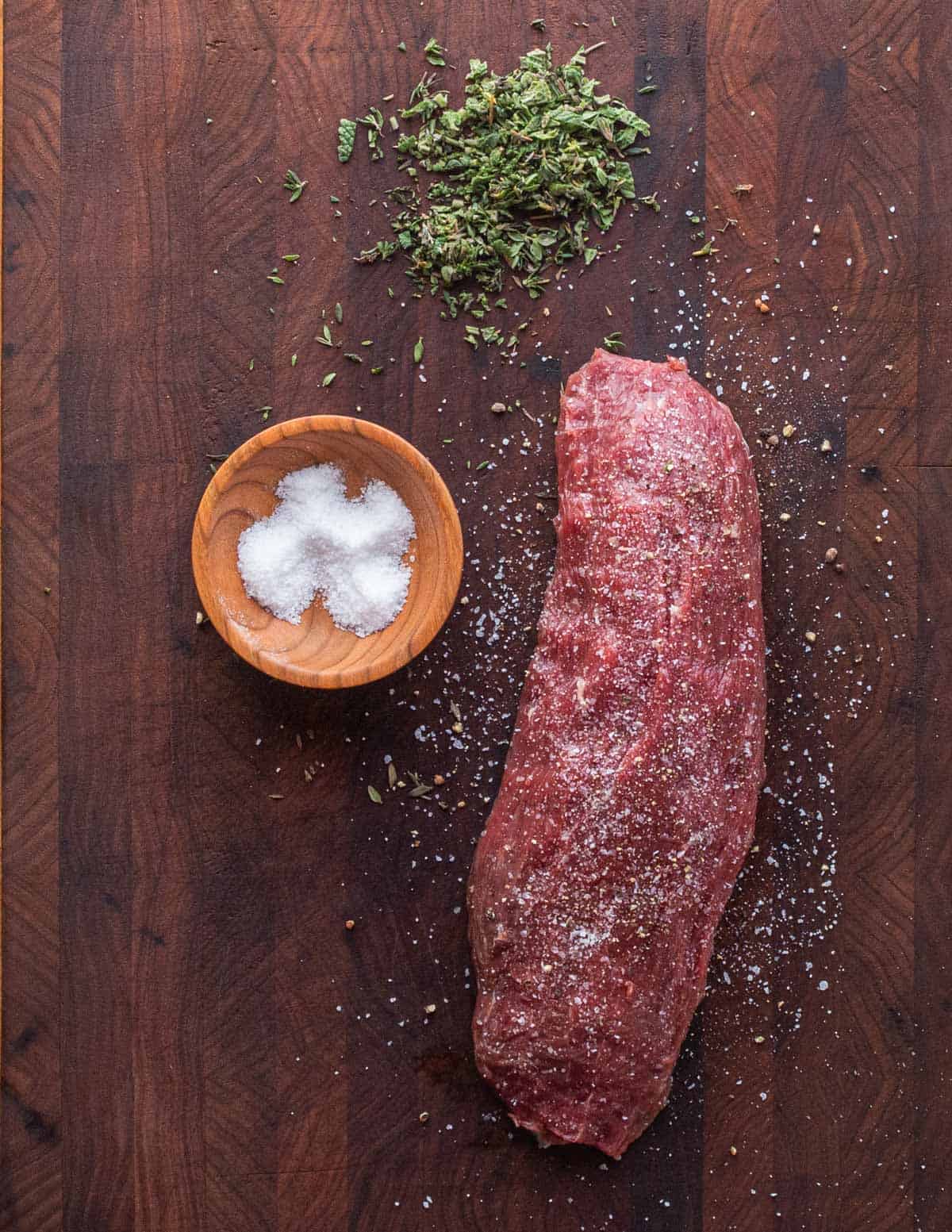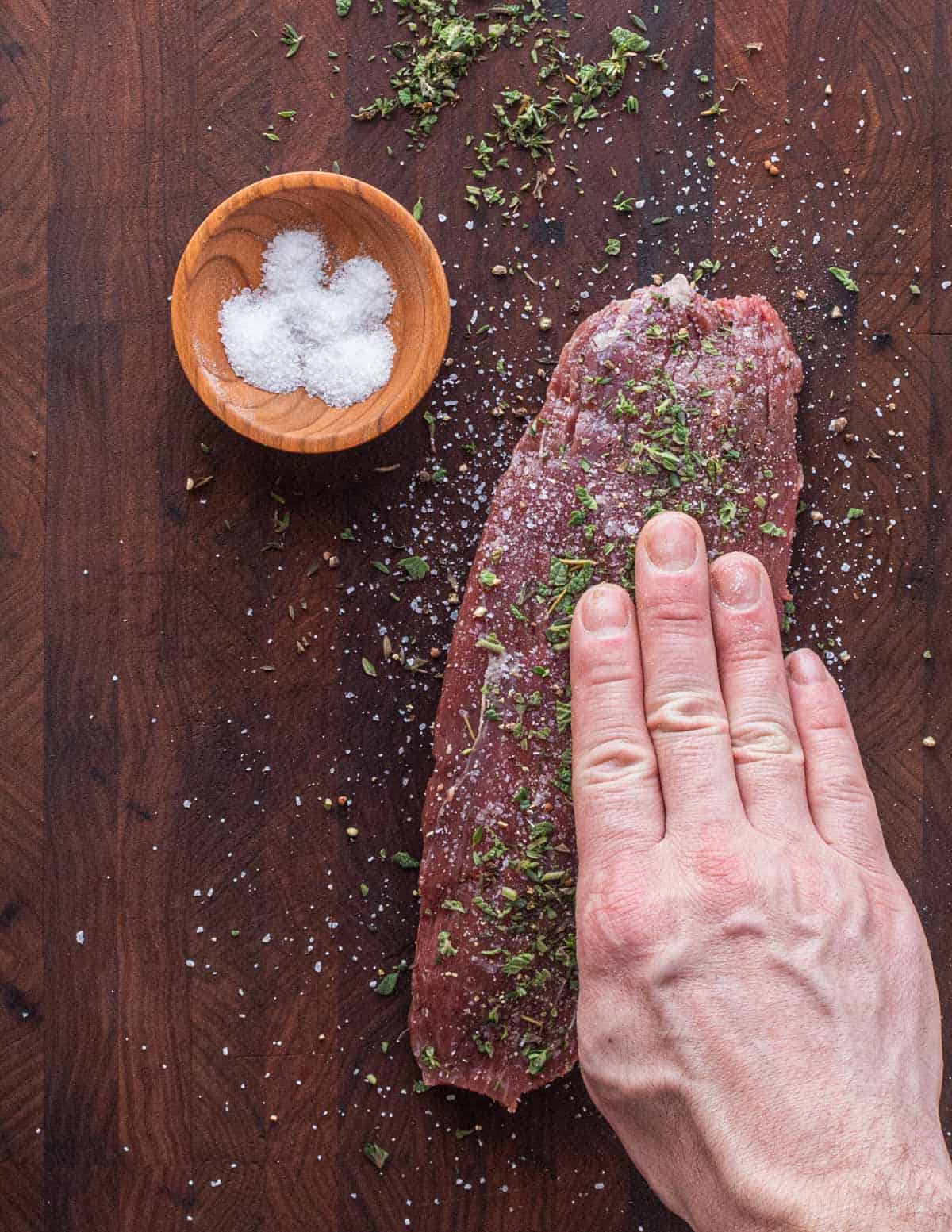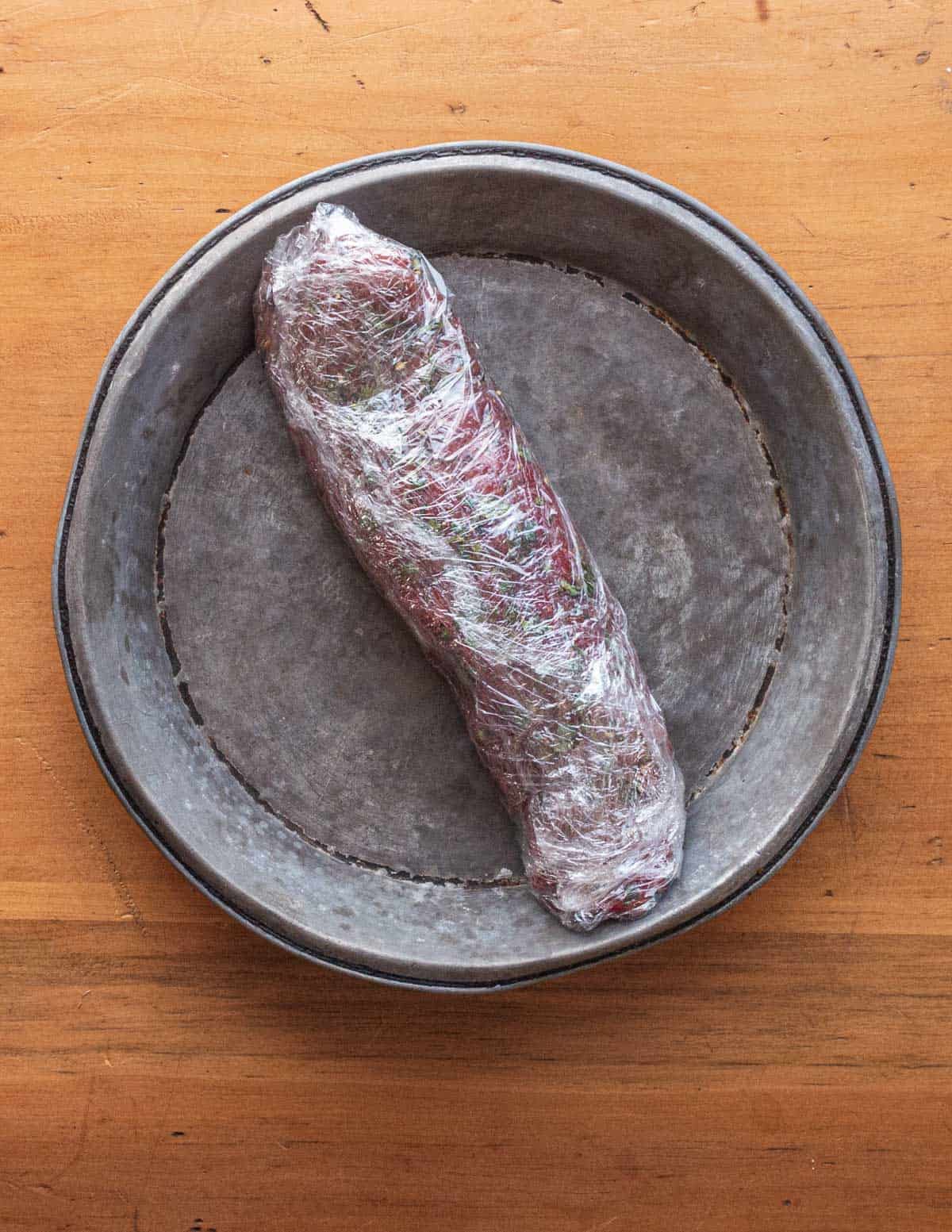 A cooked teres major must be allowed to rest for it to be the most tender. If not properly rested, the steaks will give off much more juice than most other steaks. After resting, it's sliced against the grain before serving.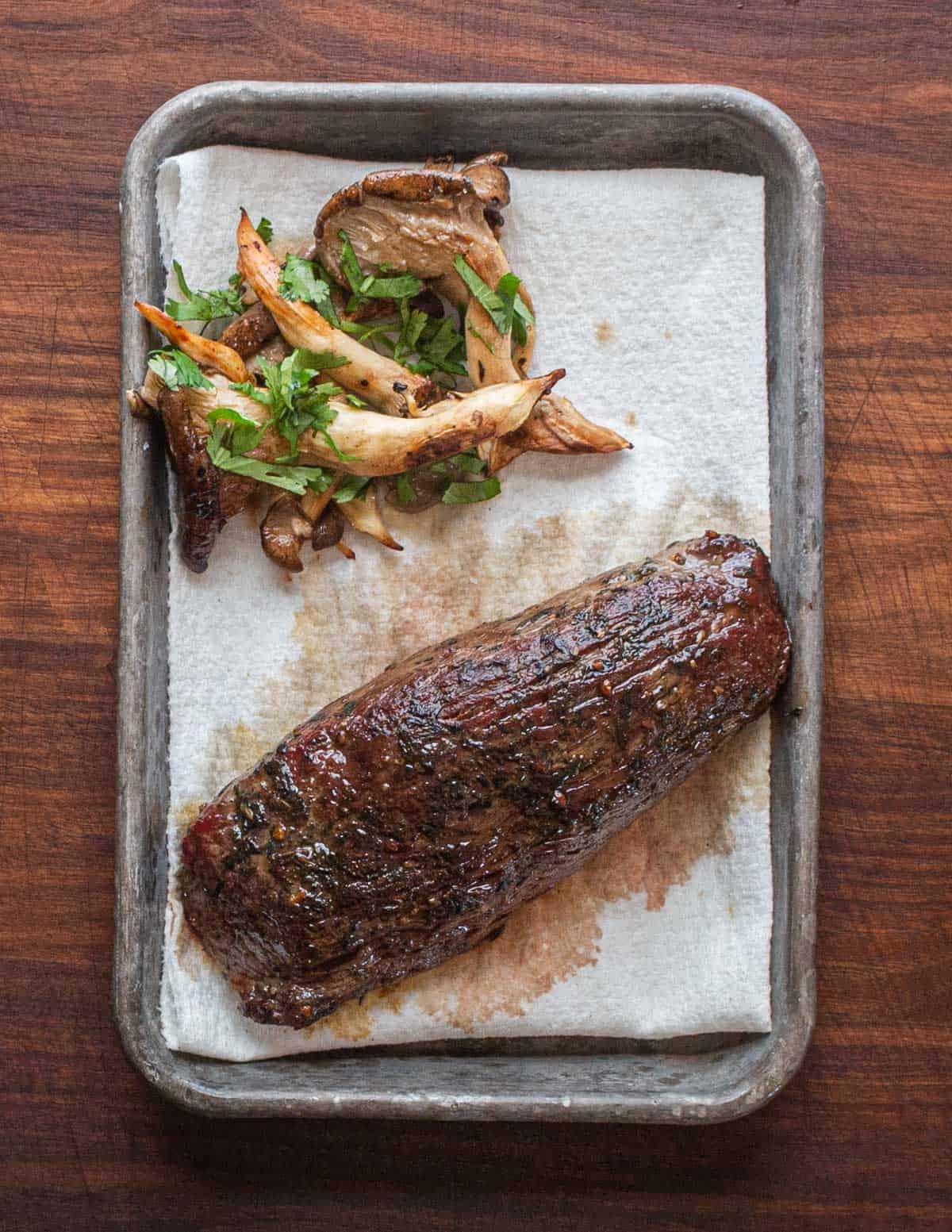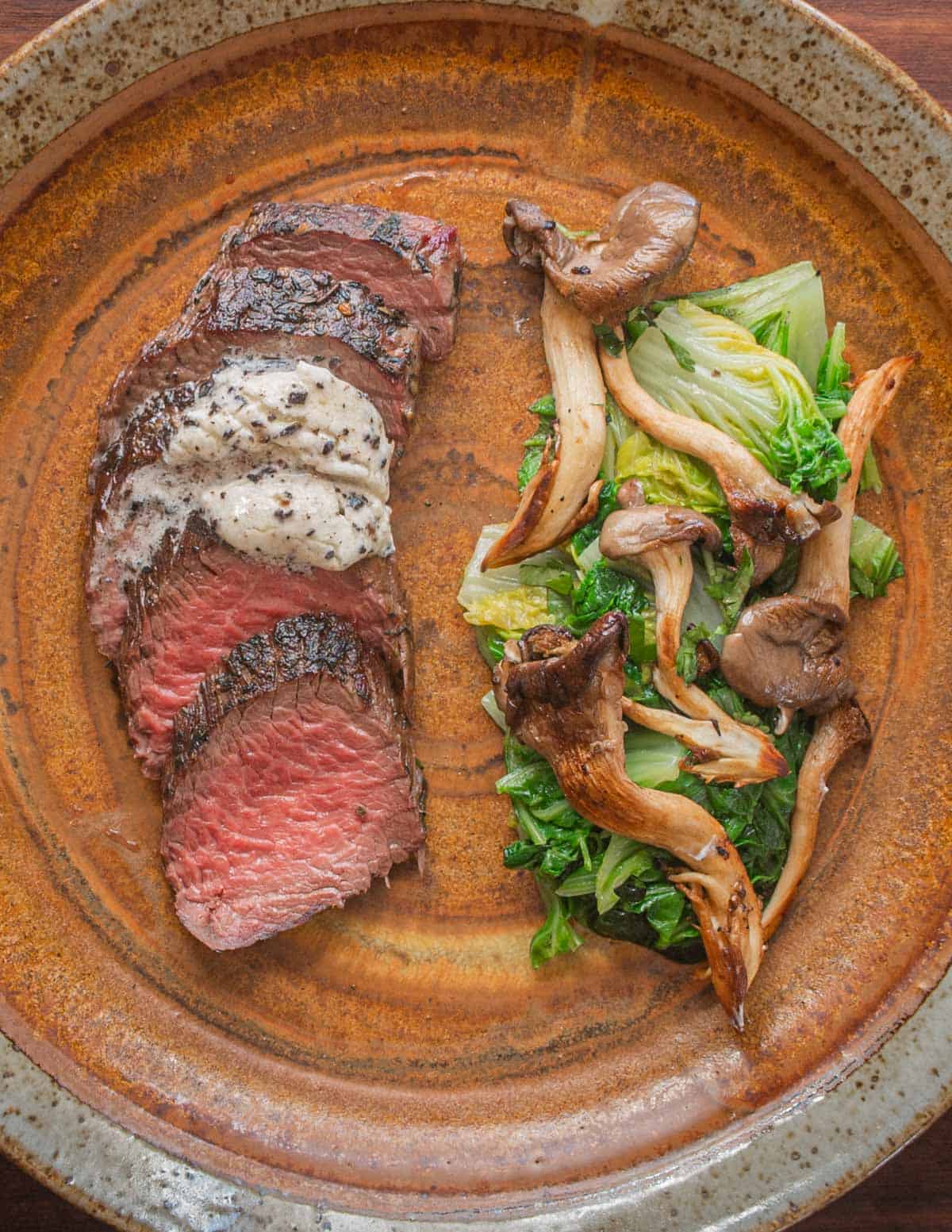 Chef's Tips
With the increased blood flow the muscle receives, this cut takes much longer to rest after cooking than other cuts of beef-around twice as long. An 8 oz steak should be rested in a warm place for about 15 minutes before slicing for the best result.
The teres major is best medium rare or medium. The temperature you cook the meat to is important, and you need to keep in mind the steak will raise 10 degrees farenhieght after cooking as it rests.
One of the best things you can serve with a teres major is a simple compound butter, like maitre d'hotel. Ramp butter, black truffle butter, and mushroom butter are excellent choices too.
Each steak is usually about 8 oz. For a modest serving, one steak can serve two people. You can also cut each steak into small steaks or teres major medallions roughly 3-4 oz each.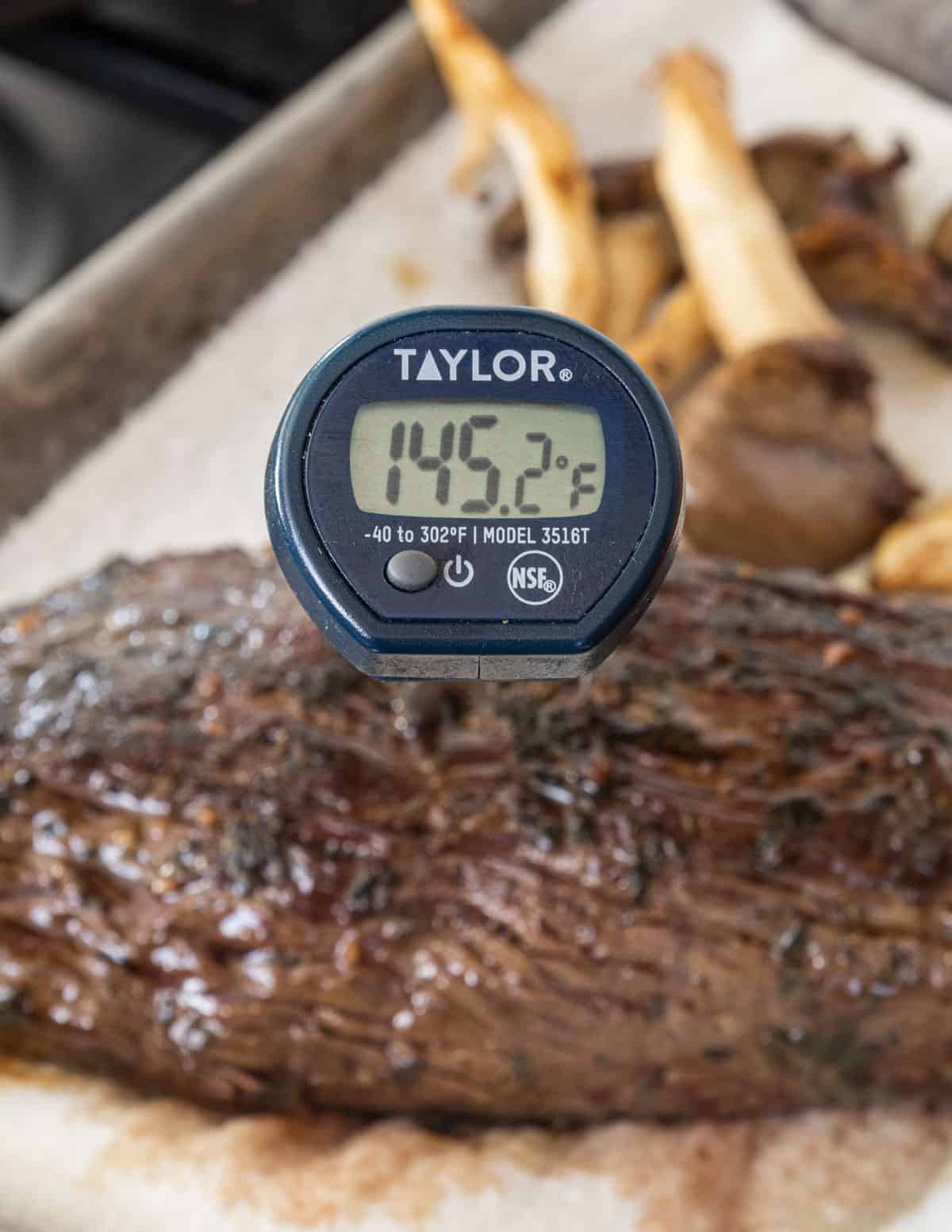 This means for a medium rare I cook the steak to 130 F, and 135 for medium. I like some steaks rare, but not the shoulder tenderloin. The picture above shows the difference in temperature before and after resting.
Related Posts
Venison Tenderloin Crusted with Dried Morels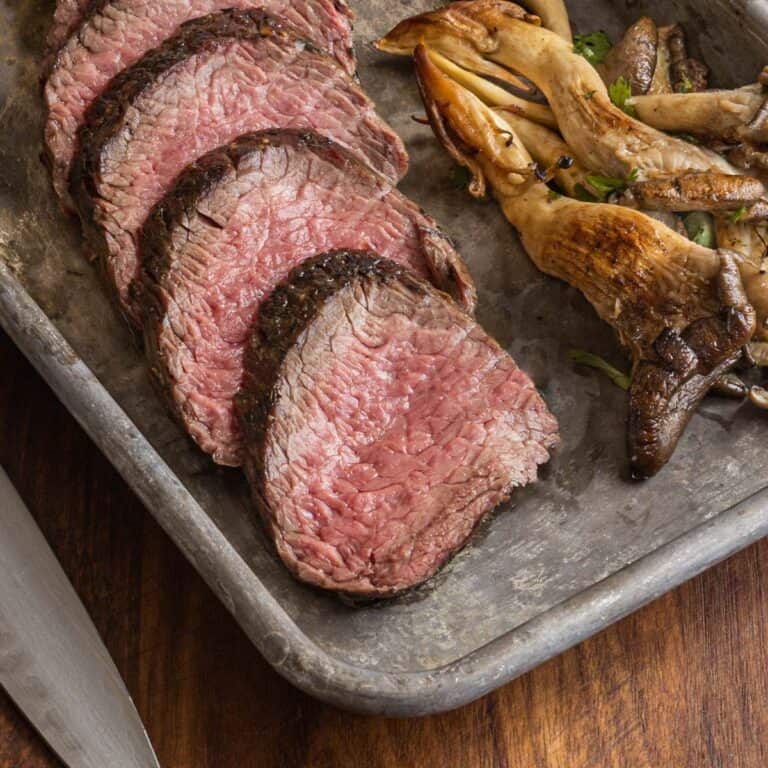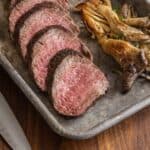 Print Recipe
Marinated Teres Major Steak
Dry-brined teres major steak marinated with fresh herbs, pan roasted or grilled, is a fantastic cut of beef any steak lover will enjoy.
Equipment
1 heavy cast iron pan or grill

for cooking the steak

1 digital thermometer
Ingredients
2

8oz

Teres Major Steaks

kosher salt and pepper

roughly 1 teaspoon of salt

1

tablespoon

mixed herbs, such as rosemary, sage and thyme

finely chopped

2

teaspoons

cooking oil
Instructions
Trim the steaks
Inspect the steaks for any remaining silver skin and remove any that you see.
Dry brine the steaks
Season the steaks with the salt and pepper.

Next, sprinkle the herbs over both sides of the steak, rolling them around and pressing to help them adhere.

Wrap the steaks in cling film and refrigerate overnight.
Pan-seared teres major steaks
Bring the steaks to room temperature. Heat the oil in a heavy cast iron or similar pan. Add the steaks and cook until well browned on both sides. Use tongs to pick up the steak and brown the thinner sides.

If you don't have a hood vent, you can pan roast the steaks in the oven, flipping them occasionally.
Grilled teres major steak
Heat a grill (preferably a wood fire) until the coals are ready and there aren't visible flames. Grill the steaks, taking your time brown all of the sides.
Rest the Steaks
When the steaks reach your desired temperature (130-135 F) remove them to a plate lined with a paper towel and allow to rest in a warm place such as near the oven vent, or in a warm oven with the heat turned off. Rest the steaks for 15 minutes before slicing and serving
Notes
What to Serve With Teres Major Steaks 
This is one of the best steaks for a summertime grill out. Serve it with your favorite accompaniments like fresh seasonal vegetables, sauteed mushrooms, or a compound butter like ramp butter or black truffle butter.  
Nutrition
Serving:
4
oz
|
Calories:
20
kcal
|
Carbohydrates:
0.3
g
|
Protein:
0.1
g
|
Fat:
2
g
|
Saturated Fat:
0.2
g
|
Polyunsaturated Fat:
1
g
|
Monounsaturated Fat:
1
g
|
Trans Fat:
0.01
g
|
Cholesterol:
0.3
mg
|
Sodium:
1
mg
|
Potassium:
6
mg
|
Fiber:
0.2
g
|
Vitamin A:
16
IU
|
Vitamin C:
0.3
mg
|
Calcium:
6
mg
|
Iron:
0.2
mg
FAQ
Do teres major steaks need to be trimmed?
Fresh from the cow, the teres major is covered in layers of silverskin on all sides which should be removed using a paring knife. If you buy them from a butcher, they may be partially trimmed, but often have some sinew remaining that should be removed.
Is teres major a beef tenderloin steak?
Where to buy teres major steak
Teres major are a rare steak to see at a butcher, but most butchers can order them. If you're in the Twin Cities, France 44 keeps them in stock.
Is teres major steak tender?
Yes, as far as steaks go, the teres major is the second or third most tender cut on a cow. It's not as tender as tenderloin, but it makes up for it with a much richer beef flavor.
How long to grill teres major steak
The steaks should be grilled slightly under temperature as they need a longer time to rest than other steaks since they're a very active muscle. For medium rare, cook them to 130F. For medium, cook to 135. Rest the steaks for 15 minutes before slicing.
How much does a teres major cost?
They're much cheaper and typically less than half the price of tenderloin, around $8/lb.