I've never met a wild mushroom butter I didn't like, and the few variations on the simple theme (especially the fresh porcini butter) are some of the most trusty and popular recipes on this website.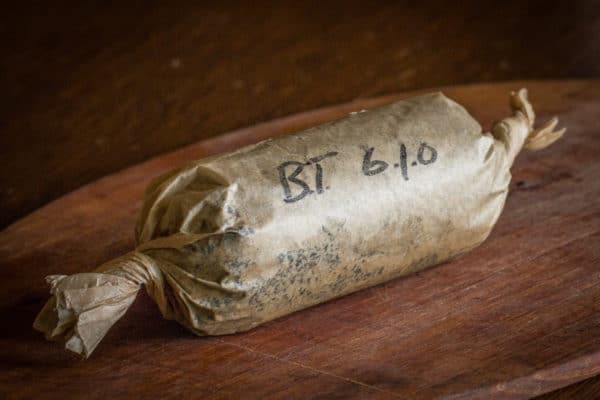 For the most part, you can substitute different mushrooms in the basic recipe, but this one I developed especially to showcase black trumpets, which really benefit from having their flavor diluted in something fatty, as mixed into somethings in large amounts, they can develop bitterness.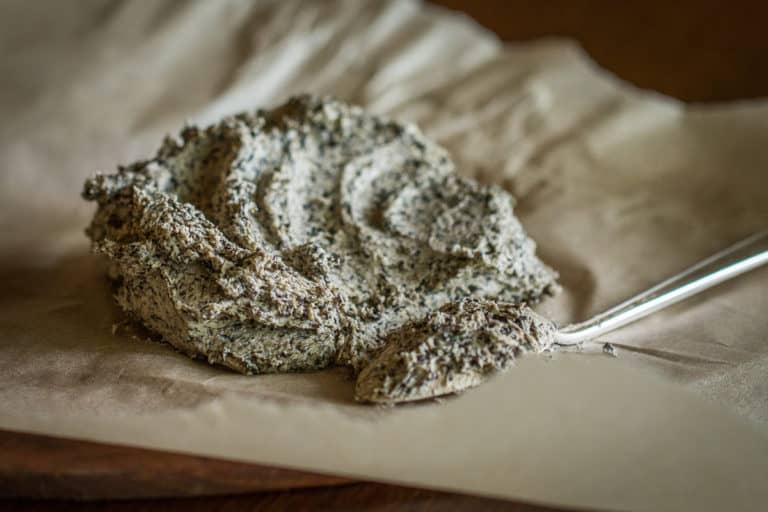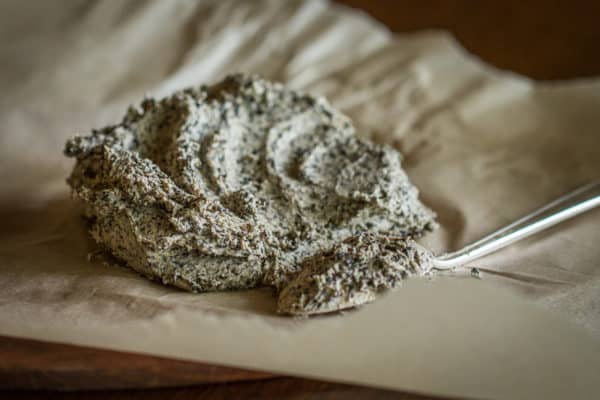 The typical butters I make are usually just dried wild mushrooms, shallots, thyme, and a good splash of alchohol, but this one's a combination using one of the best dried ingredients for your wild pantry: dehydrated ramp leaves.
Dried ramp leaves have a rich flavor, but you can use them with a heavier hand than you would garlic or onion powder, which can be offensive if they're not used judiciously.
the end result here is just what it sounds like: a fine compound butter that like both black trumpet mushrooms, and dried ramps.
It's great on just about anything you'd like, stirred into pasta, dolloped on a steak, or, as I intended it for the event this batch was made for: spread onto toasted bread. But, I'm sure you can figure out other things to do with it.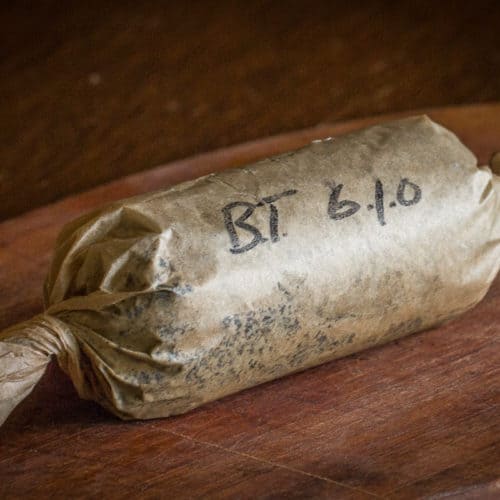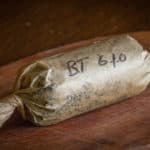 Print Recipe
Dried Black Trumpet Mushroom-Ramp Butter
Yield: about 1.5 lbs of butter, enough to garnish 10 entrees, or flavor 6-8 entrees of pasta
Ingredients
1

oz

dried black trumpet mushrooms

about two cups of dried morels depending on size, I really suggest using a scale since they vary, especially if you have gigantic Midwestern morels.

1.5

cup

boiling water

¼

cup

dry sherry

1

lb

unsalted butter

cut into ~1x1 inch cubes, at room temperature

2

tablespoons

flavorless oil

like grapeseed

1.5

teaspoons

kosher salt

2

large shallots

diced ¼ inch to yield about ½ cup or 4 oz

2

Tablespoons

dried crumbled ramp leaves or 1 teaspoon chopped fresh thyme

optional
Instructions
Re-hydrate the black trumpet mushrooms in the water until softened, about 20 minutes. Agitate the black trumpets in the water to remove any grit, then remove, strain the liquid, then coarsely chop the mushrooms. Reserve the liquid and mushrooms separately.

Heat the shallot and the oil in a saute pan until the shallot is translucent, about 3 minutes on medium heat. Add the chopped mushrooms and continue cooking until the edges of the pan show some color and the shallots have lost some volume and are just starting to brown.

Deglaze the pan with the sherry.

Add the strained black trumpet liquid along with the ramp leaves or thyme and bring the mixture to a simmer, for 10 minutes to reduce the liquid until nearly dry.

Transfer the mixture to a food processor or use a handblender to process to a smooth-ish paste.

Season the puree with the salt, mix to combine, and cool to room temperature to avoid breaking the emulsion of the butter.

When the puree is cool, whisk it in a bowl with the room temperature butter process with the butter in a food processor or whip in a stand mixer until light and fluffy. It's important to really whip it a bit, since it incorporates air into the butter, similar to when you would make whipped cream. If I want to make fluffy butter to spread on bread, I may add an ice cube or two while it's in the stand mixer, which adds a little extra fluff.

When evenly mixed and fluffy, transfer the butter with a spatula to parchment or wax paper and roll tightly into a log, then tie the ends closed with string or plastic wrap. Label, date, and freeze the butter until needed. The butter can be kept in the fridge, and will keep for a week. If you're not going to use the butter in a few days, keep it in the freezer, then you can pull out the log(s), allow to thaw a bit, then cut off pieces as needed and return them to the freezer.
More
The Forager's Guide to Black Trumpet Mushrooms