A chef secret for steaks, vegetables, pasta and more, mushroom compound butter is one of the most versatile ingredients I know of. Everyone should know how to make a good one.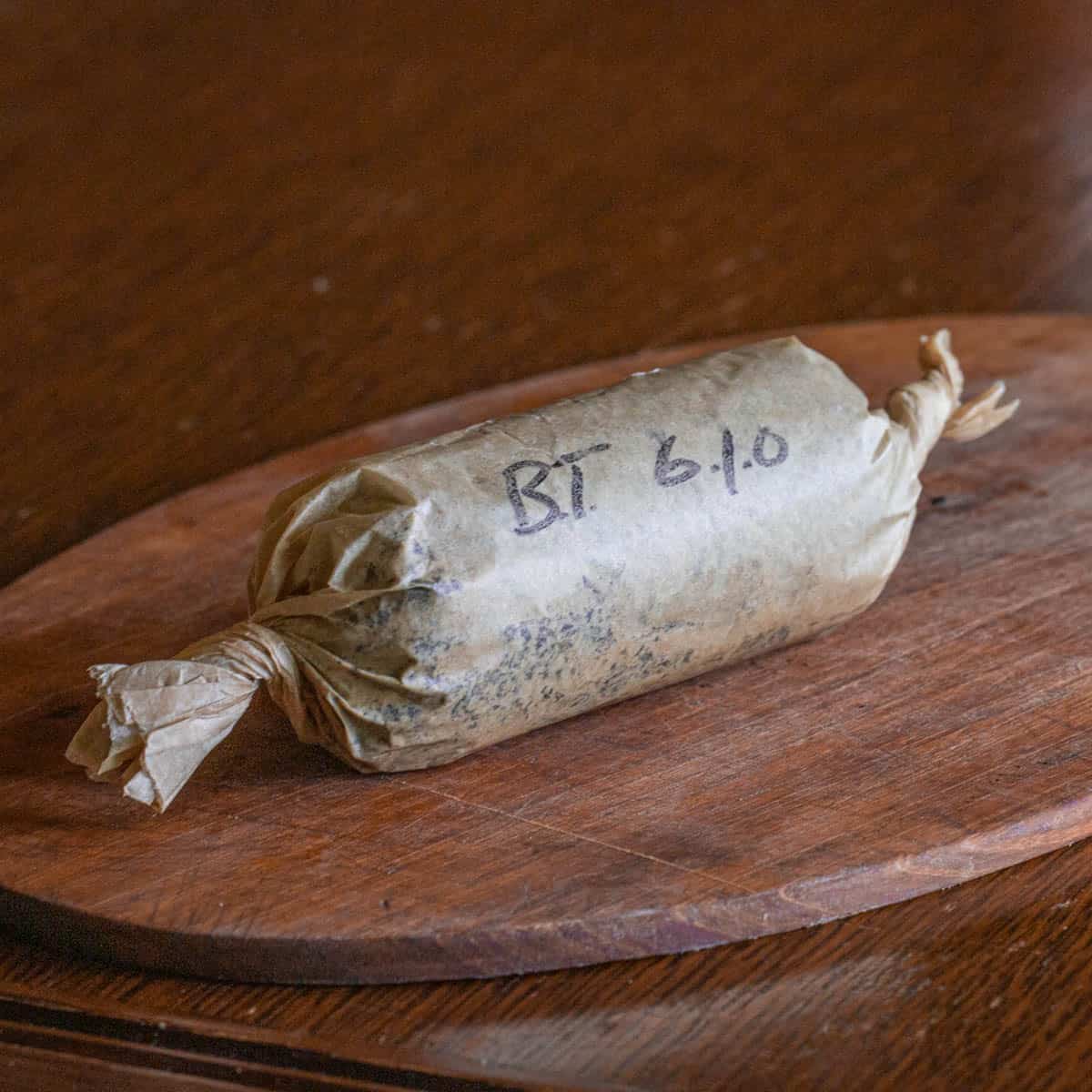 What it is
Mushroom butter is butter that has been mixed with cooked mushrooms. It's one, of the best ways to use dried mushrooms.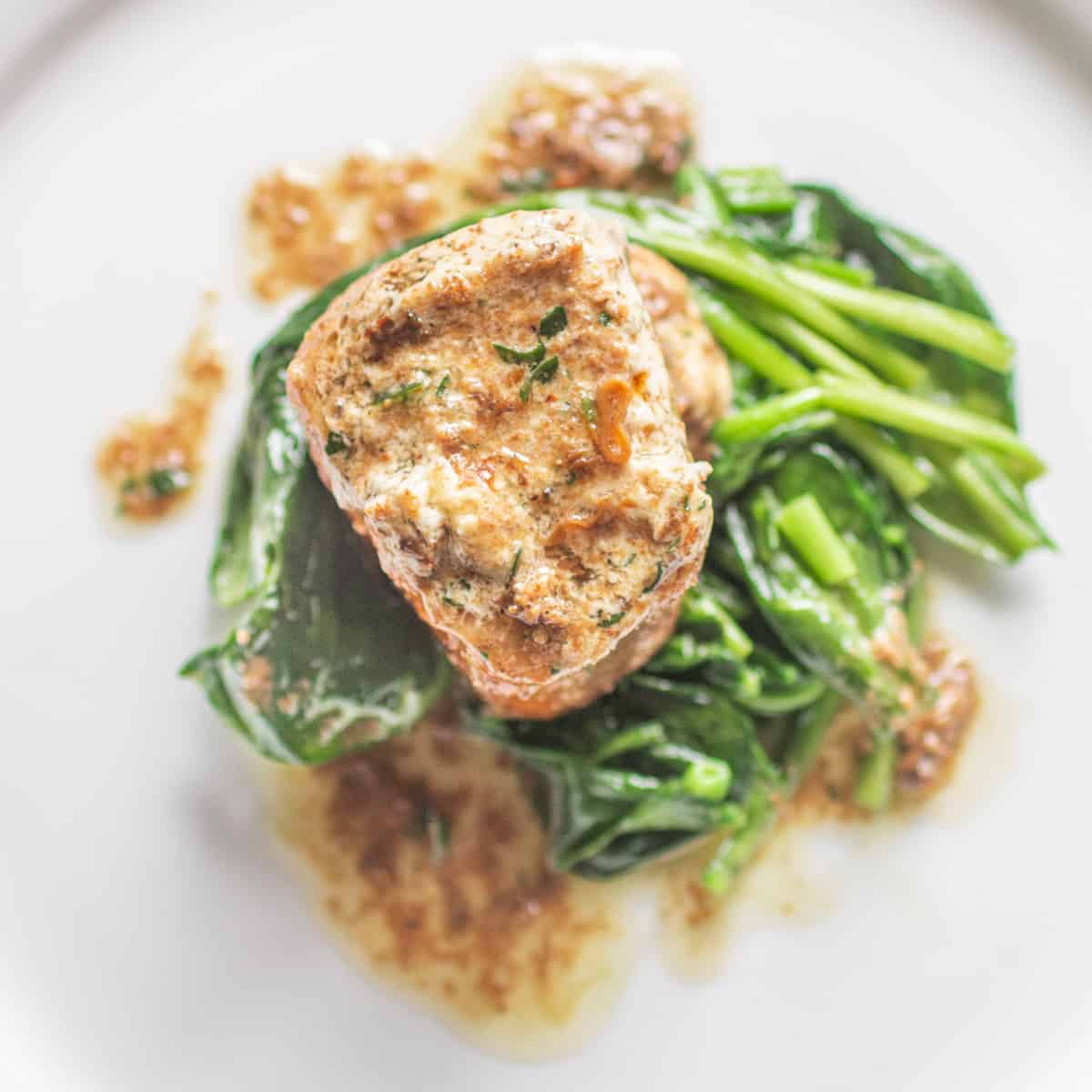 Using Dried Mushrooms
Dried mushrooms, especially wild ones are at their best here. When mushrooms are dried, it concentrates their flavor. When the mushrooms are rehydrated in liquid, it becomes a concentrated nectar that can be reduced down and whipped into butter, giving more flavor than if you used fresh mushrooms.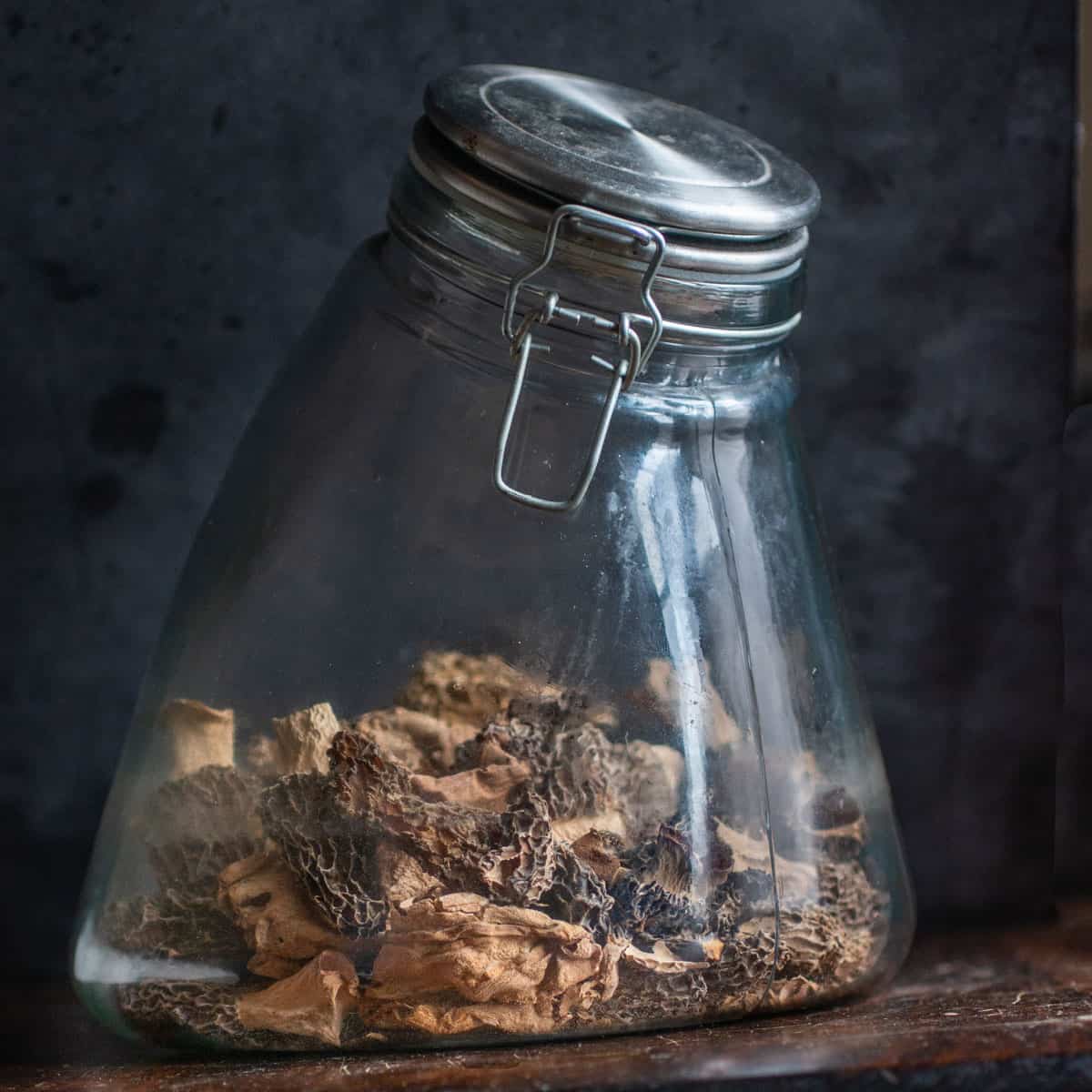 Using Fresh Mushrooms
You can make a compound butter with fresh mushrooms and they're good. My favorite is Fresh Porcini Butter.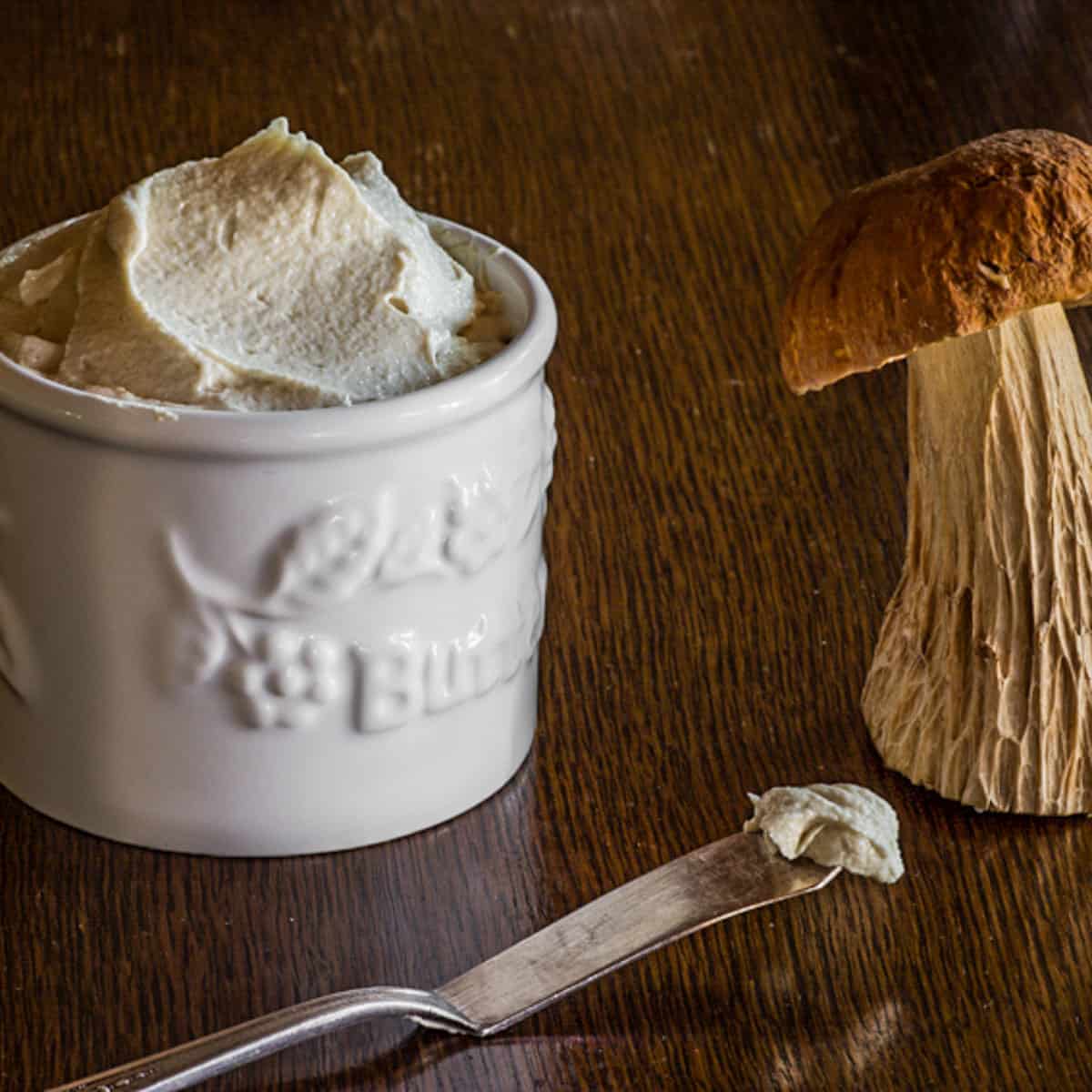 Shiitakes make a great too. But, dried mushroom butters are stronger tasting and more flavorful as a rule because they include the concentrated liquid from rehydrating.
Basic Process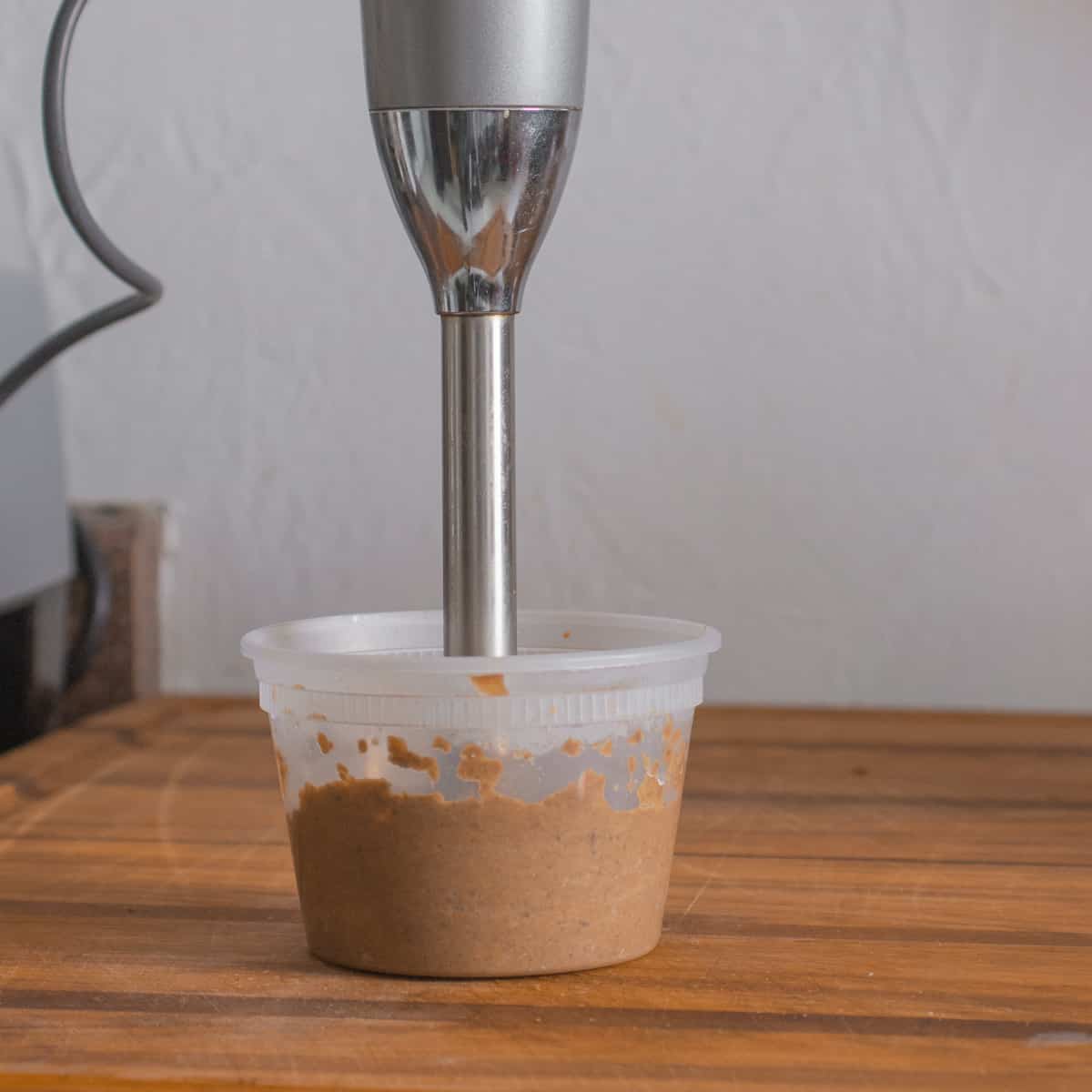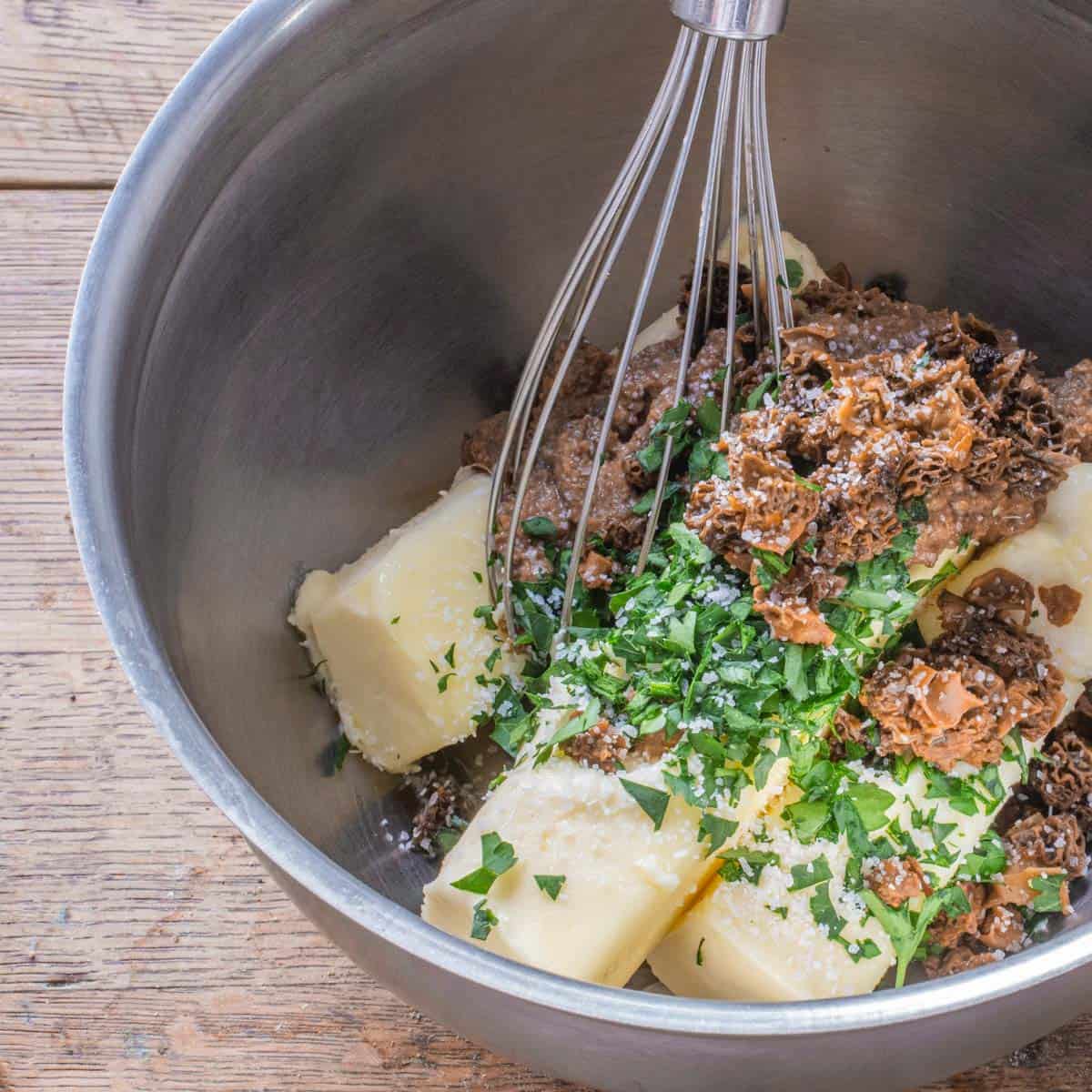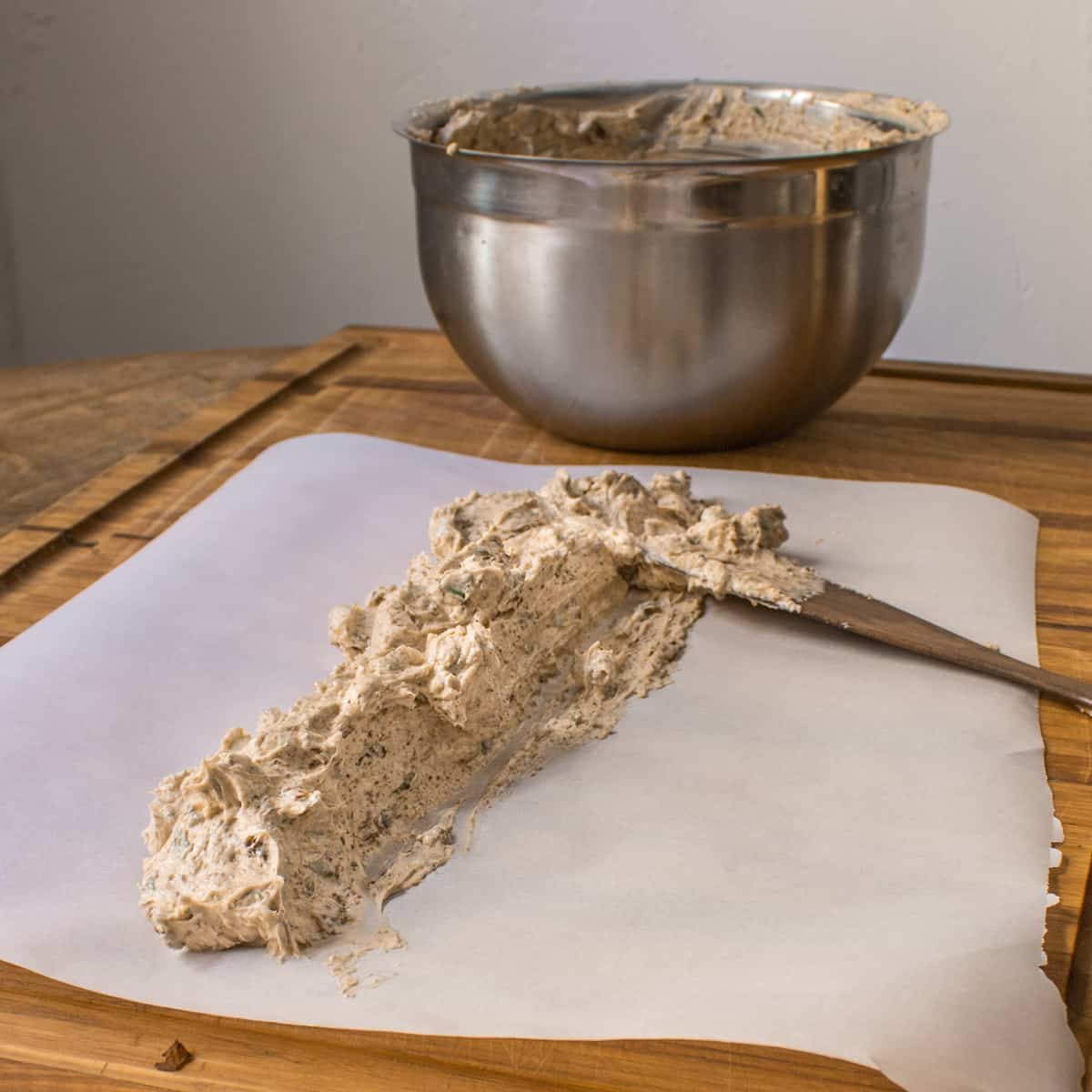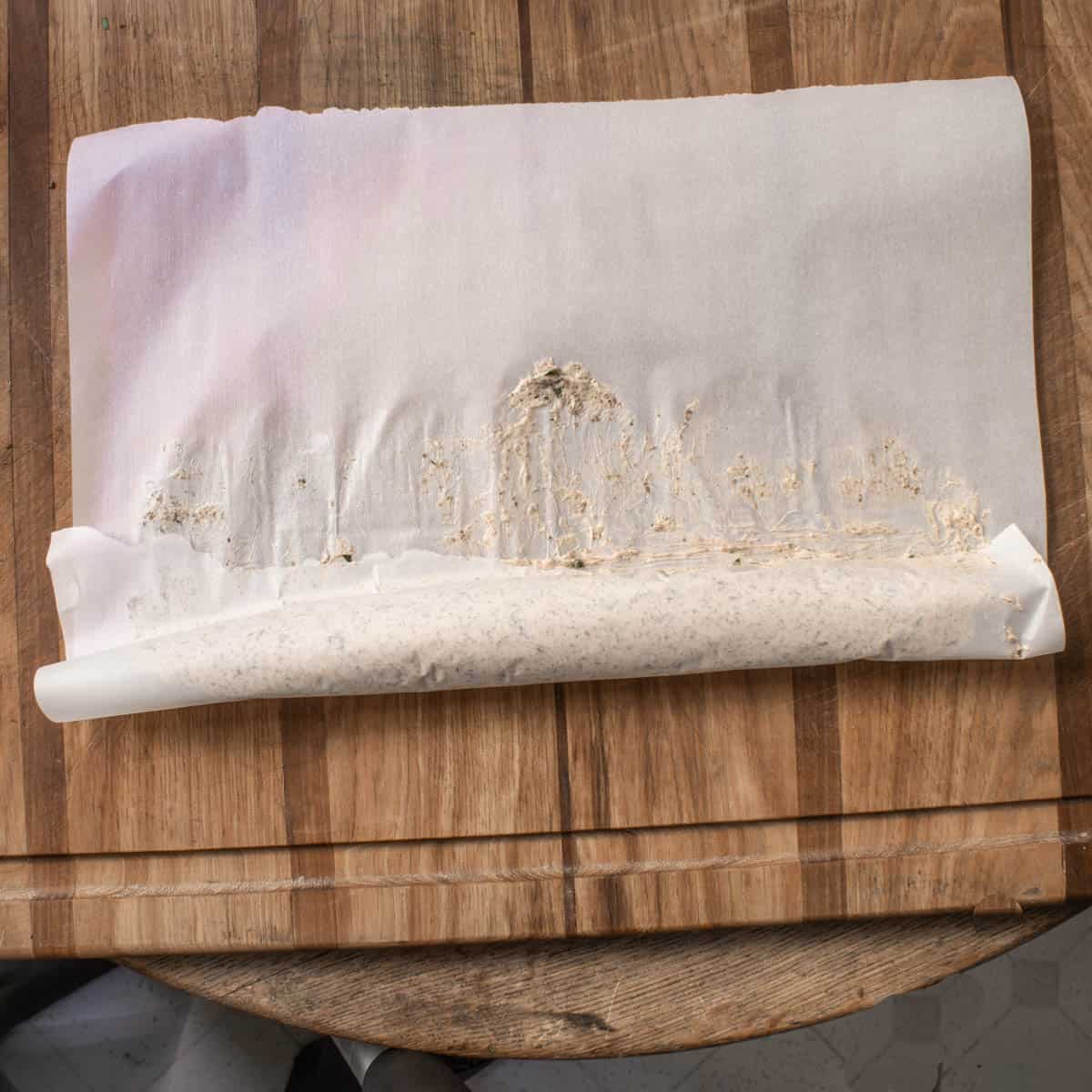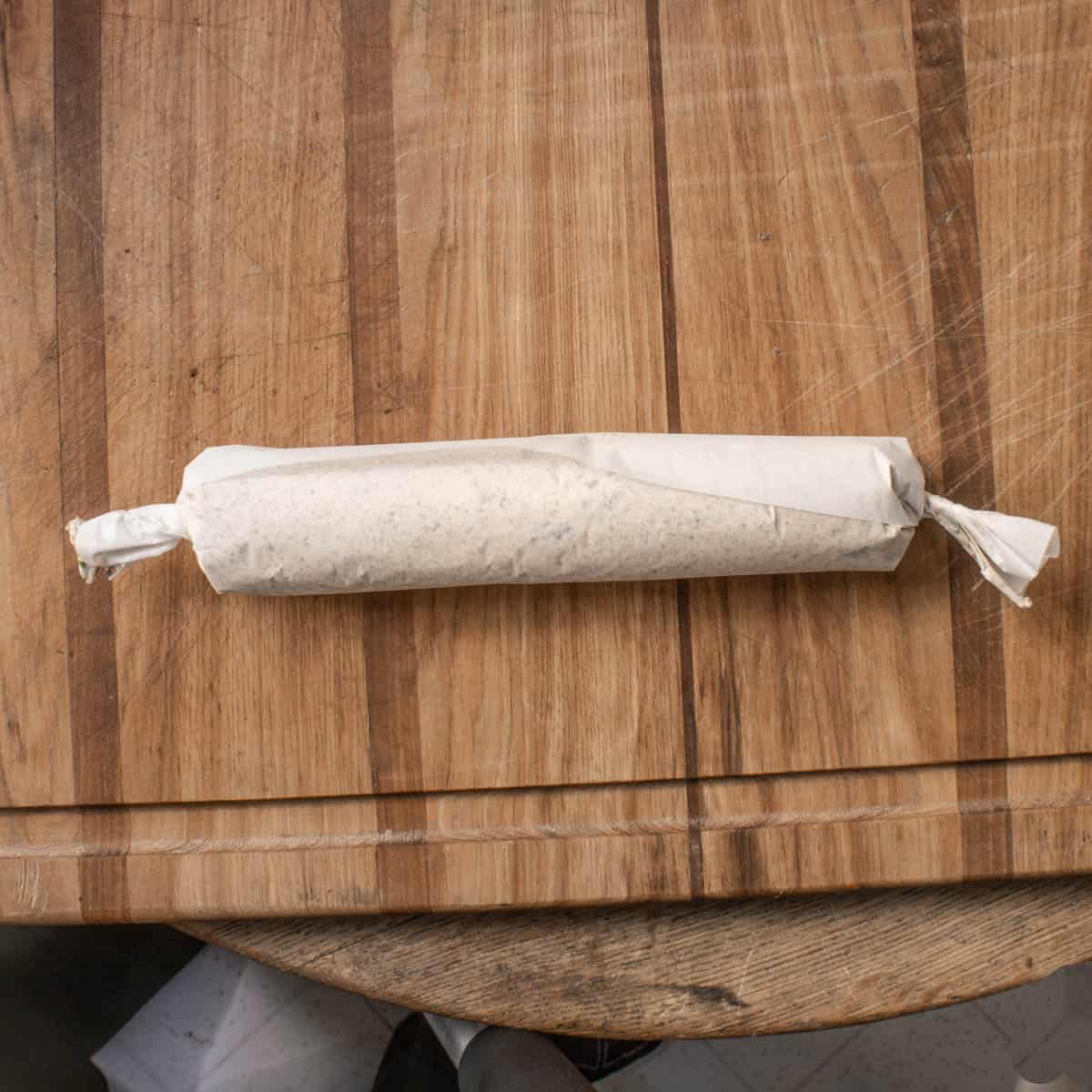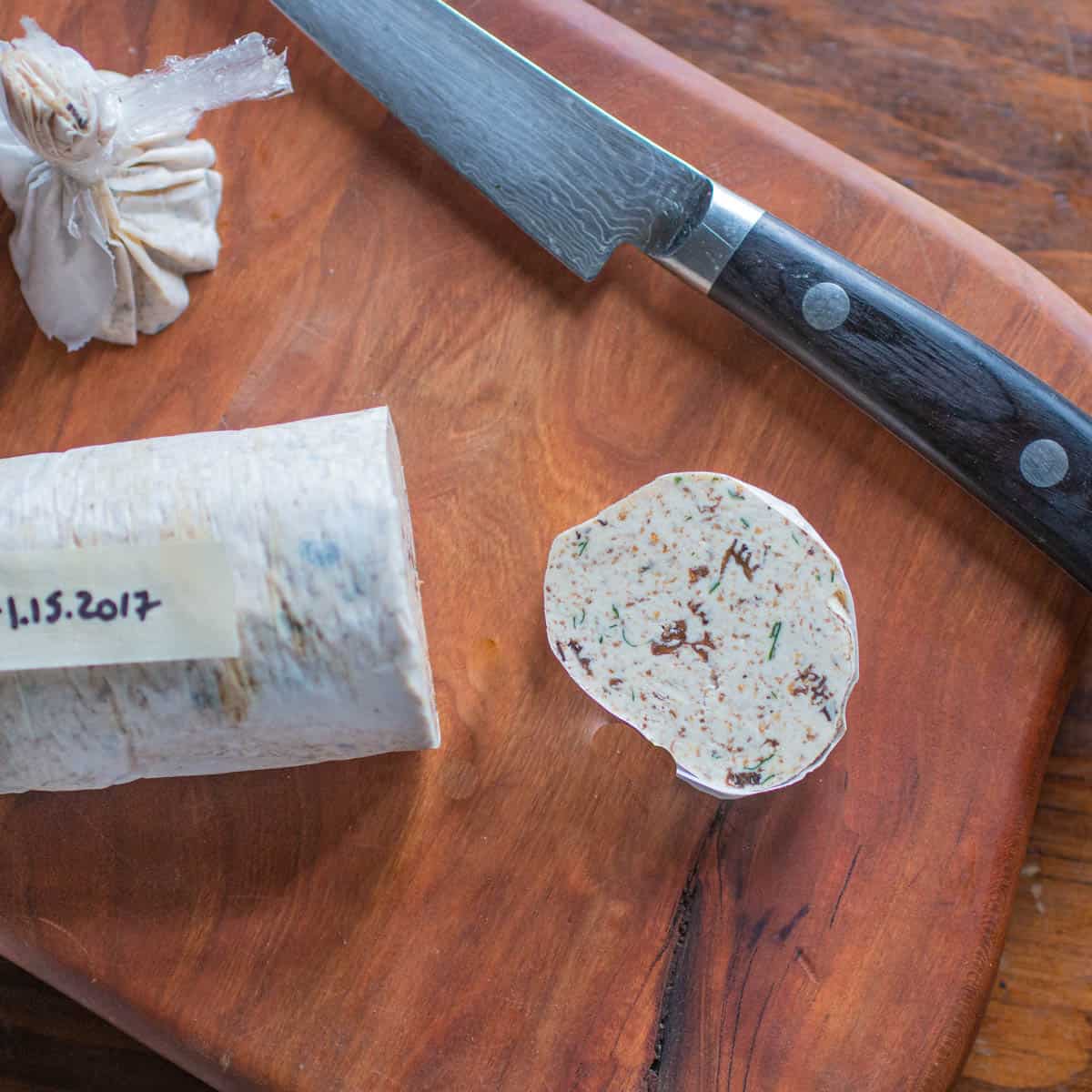 How to use it
Compound butter is extremely versatile. It's often melted on steaks, but can also be used anywhere you would use butter or a spread. It's hard to even count the ways I use this. Here's a few ways I've served it over the years.
Tossed into a pan of pasta to make a quick, delicious sauce. Think mixed vegetables, fettucine and mushroom butter sauce.
Melt the butter on grilled or pan seared steak.
It's great with almost every meat: broiled or grilled fish, venison steaks, pork chops, poultry and more.
Tossed with vegetables for simple side dishes.
Warmed up as a dip for artichokes, preferably with a little garlic grated in.
Whisked into pan sauces for fish and chicken at the last minute.
Tossed with cooked fresh peas and thin slices of prosciutto.
Stirred into soups and sauces.
Tossed with sauteed mushrooms at the end of cooking.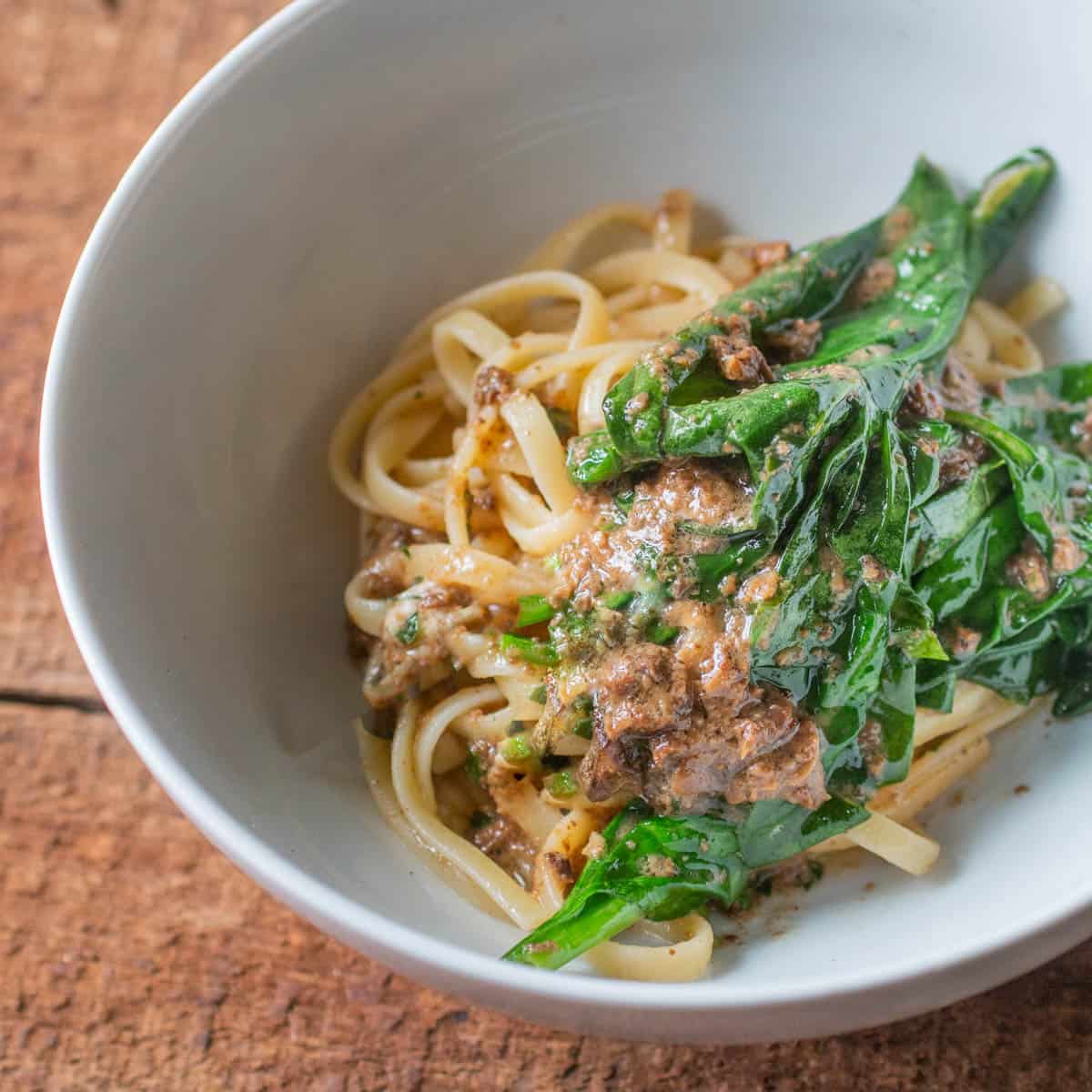 Know your mushroom types
Some mushrooms make great compound butter and some don't. Ideally you want a variety that has a lot of flavor when dried, but is also soft enough to be pureed in a food processor.
Varieties to avoid
Some varieties become hard after drying and will be too chunky. Dried shiitakes, chicken of the woods, hen of the woods, and hedgehog mushrooms are good examples to avoid.
Best Varieties
The best of the best. Each of the species below either dried or fresh will give excellent results. Cultivated mushrooms like baby bellas and portobellos don't have much flavor compared to these.
Black Trumpets
Porcini
Candy Cap
Morels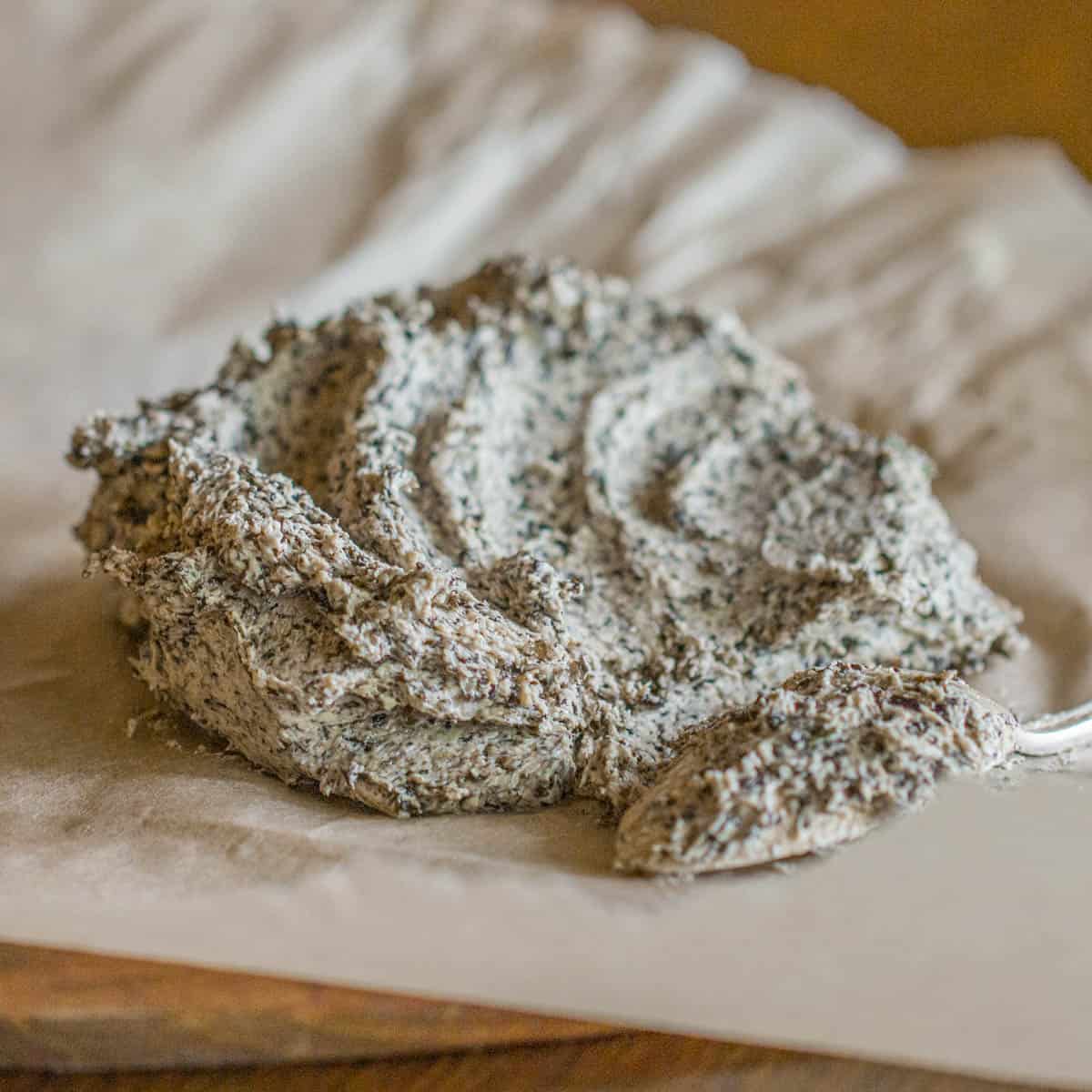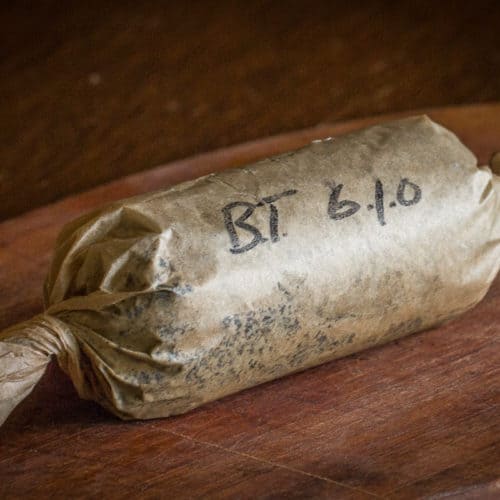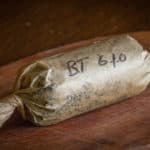 Print Recipe
Basic Mushroom Compound Butter
Yield: about 1.5 lbs of butter, enough to garnish 10 entrees, or flavor 6-8 entrees of pasta
Ingredients
1

oz

dried mushrooms

such as black trumpet or porcini

1.5

cup

boiling water

¼

cup

dry sherry

1

lb

unsalted butter

cut into ~1x1 inch cubes, at room temperature

2

tablespoons

grapeseed oil or butter

1.5

teaspoons

kosher salt

2

large shallots

diced ¼ inch to yield about ½ cup or 4 oz

2

Tablespoons

dried crumbled ramp leaves or 1 teaspoon chopped fresh thyme

optional
Instructions
Re-hydrate the black trumpet mushrooms in the water until softened, about 20 minutes. Agitate the mushrooms in the water to remove any grit, then remove, strain the liquid, then coarsely chop the mushrooms. Reserve the liquid and mushrooms separately.

Add the garlic, shallot and two tablespoons of butter or oil to a 10 inch frying pan. Cook on medium high heat until the shallot is translucent, about 3 minutes.

Add the mushrooms and continue cooking until the edges of the pan show some color and the shallots have lost some volume and are just starting to brown.

Deglaze the pan with the sherry.

Add the strained mushroom liquid along with the thyme and bring the mixture to a simmer for 15 minutes, or until the pan is nearly dry.

Transfer the mixture to a food processor or use a handblender to process to a smooth-ish paste.

Season the puree with the salt, mix to combine, and cool to room temperature to avoid breaking the emulsion of the butter.

When the puree is cool, whisk it in a bowl with the room temperature butter or whip in a stand mixer with the whisk until light and fluffy.

It's important to really whip thoroughly. If I want to make fluffy butter to spread on bread, I may add an ice cube or two while it's in the stand mixer, which adds extra volume.

Double check the seasoning for salt and pepper and adjust until it tastes good to you. Transfer the butter with a spatula to parchment or wax paper and roll tightly into a log, then tie the ends closed with string or plastic wrap. Label, date, and freeze in a Ziploc bag until needed.

The butter can be kept in the fridge, and will keep for a week. If you're not going to use the butter in a few days, keep it in the freezer, then you can pull out the log(s), allow to thaw for 10 minutes before cutting. Cut off pieces as needed, returning the butter to the freezer.
Related Posts