A great way to preserve fresh porcini for using anytime, this mushroom butter is made with fresh mushrooms, shallots and herbs, and will make just about anything taste good.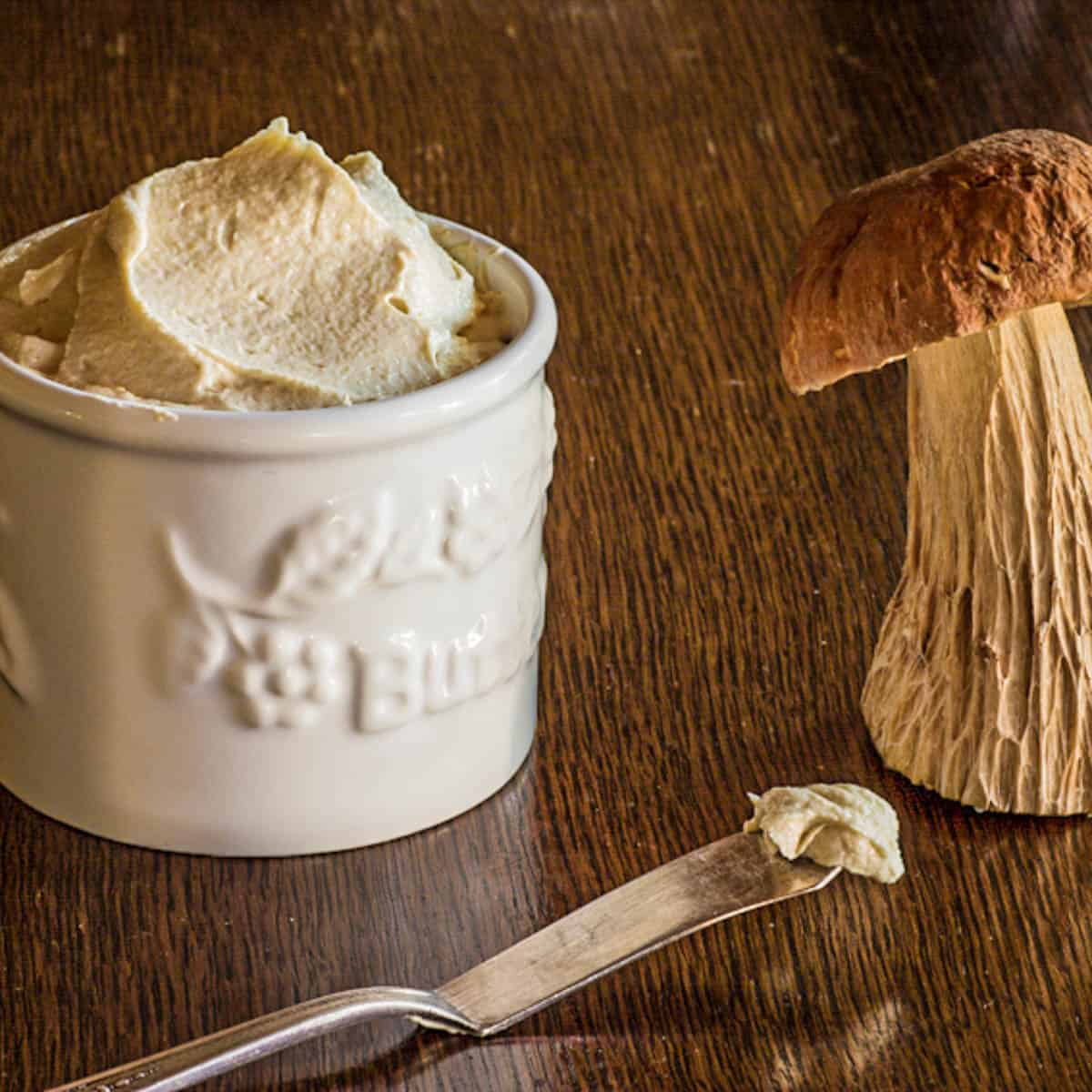 It's been a banner year for mushrooms in Minnesota. The cool temperature and rain has made the forests erupt in boletes. I've seen enormous Leccinums with stems larger than I have ever come across, two bitter Tylopilus species I have never witnessed, bi-color boletes galore, and it goes without saying, plenty of porcini.
I've taken home more porcini this year than ever, and have probably been outside less than I have in any of the past 5 years. Sadly, the restaurant schedule has eaten into my hiking time more and more, and I expect that to continue. Thankfully I have good friends that invite me out on occasion to hunt with them.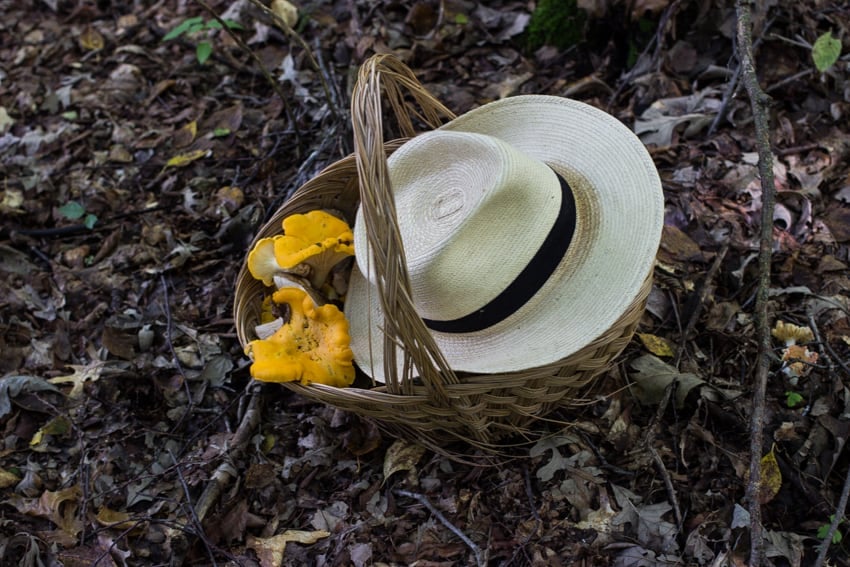 Last week my friend Peter-a long time mushroom hunter, invited me and another chef and I out to hunt porcini on some private land he has access to. As Peter expected, the porcini were out in force; we got there just in time. There were chanterelles, boletes, a hen of the woods, hygrophorus russulas, chestnut boletes, slippery jacks-plenty of things to pick.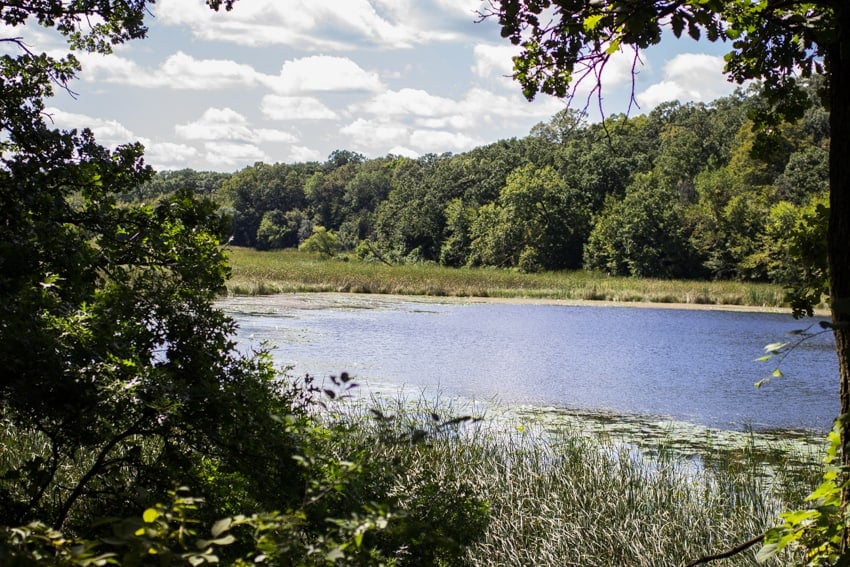 Now if you hunt porcini, you know that they are a lot of fun to find, but can be discouraging since the bugs like them so much. They can always go in the dehydrator, but there is something to be said for enjoying them fresh too, which begs the question of how to navigate bug damage if you or your diners are squeemish. The flavor of porcini when fresh is really something though, and worth trying if you're a mushroom hunter, or just a lover of food in general.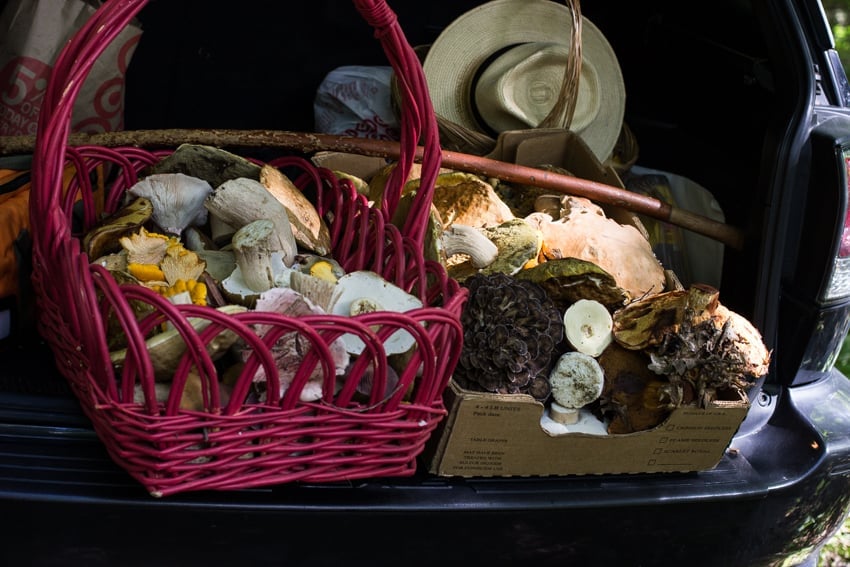 Using fresh porcini that might be bug damaged is what this recipe is all about. A month or so ago we were playing around in the kitchen at Heartland and this fresh porcini butter was born. It's a great way to use fresh porcini without dehydrating them. Here are some ideas for using it off of the top of my head:
A dollop of it would be amazing on some blanched vegetables, like broccoli or string beans.
You could stir it into vegetable dishes, just be careful not to use too much or things will get greasy.
Imagining some porcini butter tossed into some braised kale or wilted greens is making my mouth water right now.
Plop a spoonful on top of a steak.
The butter can be used to finish something like risotto or pasta.
Freeze the butter in Ice cube trays and then pop them out and store them in a freezer bag, you can take out small portions as needed.
If you cook a tablespoon or two of the butter and allow it to break and separate, it can be an oily dressing for a salad or base for a warm porcini vinaigrette.
Adding herbs to the butter is a great variation, I would reach for chopped thyme first, but plain parsley is good too.
The butter can be used to thicken a gravy or pan sauce, the high proportion of pureed mushroom to butter will help to emulsify sauces, as will the fat.
Spread on some toast and sprinkled with a little salt, the butter can be the base for endless appetizers and canapes. Eating it by itself on toast is just fine too.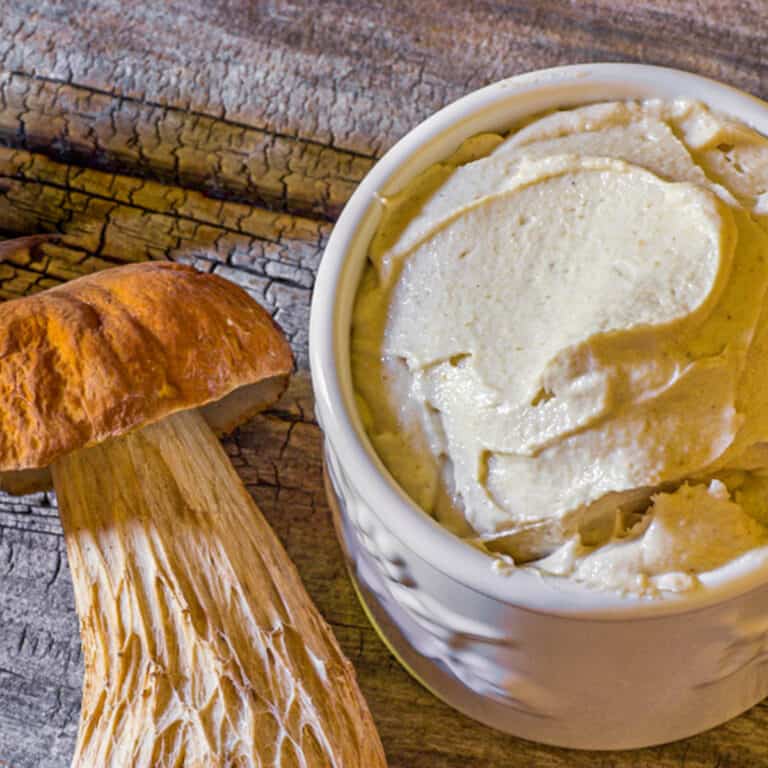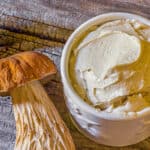 Print Recipe
Fresh Porcini Butter
A mushroom compound butter made with fresh porcini or other bolete mushrooms. The recipe makes about two pounds, feel free to cut it in half if you need.
Ingredients
1

lb

porcini mushrooms

roughly chopped

1

lb

cold unsalted butter

diced +2 tablespoon for sautéing

¼

cup

roughly chopped shallots

Kosher salt and white pepper

to taste

Cognac or brandy

¼ cup (dry white wine or sherry can be substituted)

1

tablespoon

chopped fresh thyme
Instructions
Heat the 4 tablespoon of butter in a large saute pan, when the butter is melted, add the porcini season lightly with salt and pepper and cook until lightly browned.

Move the porcini to the side of the pan and then add the shallots. Cook on medium heat until the shallots are translucent and no longer raw. Next add the cognac and flambé. Cook until the flame dies and the pan is nearly dry, then transfer the mixture to a food processor and puree to a fine paste.

Allow the porcini mixture to cool to room temperature in the food processor, then begin adding the cold butter a few chunks at a time, adding more butter when the last butter you added becomes absorbed into the mixture. The mixture should become light and creamy. When the entire pound of butter has been absorbed, the finished product should be very shiny and thick. Taste the butter for salt and pepper and adjust as needed.

Add the herbs if using and then transfer to another container and refrigerate until needed. Or freeze in logs, wrapped in plastic wrap, ice cube trays, in a plastic freezer bag, etc.
Notes
It goes without saying you could make this with other boletes, but porcini have more flavor fresh than most I've tried, so they're my first choice.
Nutrition
Serving:
2
Tablespoons
|
Calories:
77
kcal
|
Carbohydrates:
6
g
|
Protein:
1
g
|
Fat:
6
g
|
Saturated Fat:
4
g
|
Polyunsaturated Fat:
0.2
g
|
Monounsaturated Fat:
2
g
|
Trans Fat:
0.2
g
|
Cholesterol:
16
mg
|
Sodium:
50
mg
|
Potassium:
118
mg
|
Fiber:
1
g
|
Sugar:
0.2
g
|
Vitamin A:
189
IU
|
Vitamin C:
0.3
mg
|
Calcium:
3
mg
|
Iron:
0.1
mg
Related Posts