Homemade truffle butter is one of the best ways to preserve the flavor of fresh black truffles. Having a log of truffle butter around gives you sort of Midas Touch: everything you make with it becomes a luxury. Read on and I'll explain what it is, how to make it, and what truffles will be worth your money if you want to try.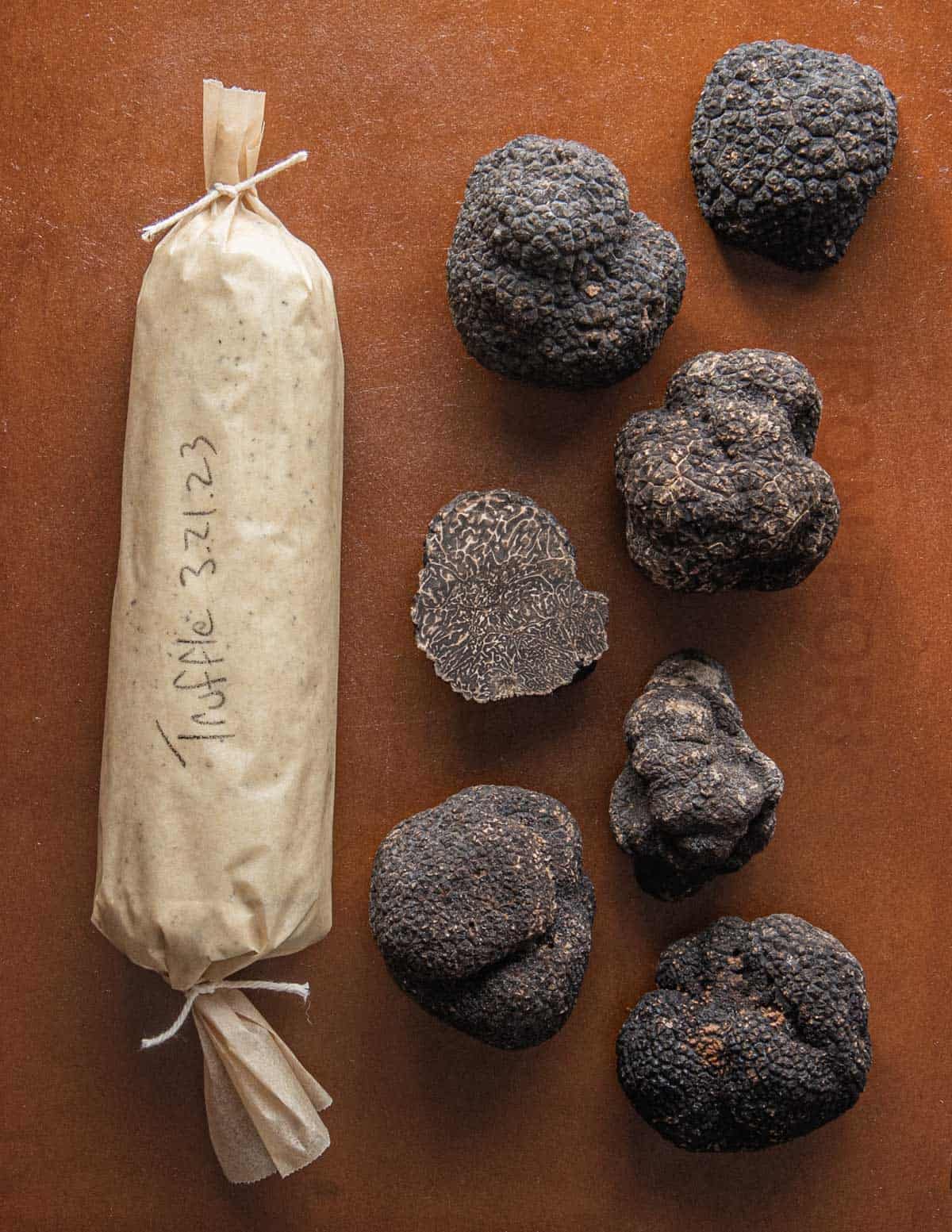 What is Truffle Butter?
It's a compound butter, which means it's unsalted butter mixed with fresh truffles. You can use the butter as a spread, dip, a sauce, and many other things. It can be made with many different truffle products, but fresh truffles are the best.
Truffle Butter Ingredients
For a good, flavorful butter, all you need is fresh truffles, truffle pate or paste, butter and salt. No black pepper is necessary. My secret is adding an ice cube to the butter as it whips, which incorporates air making it creamy, smooth and fluffy.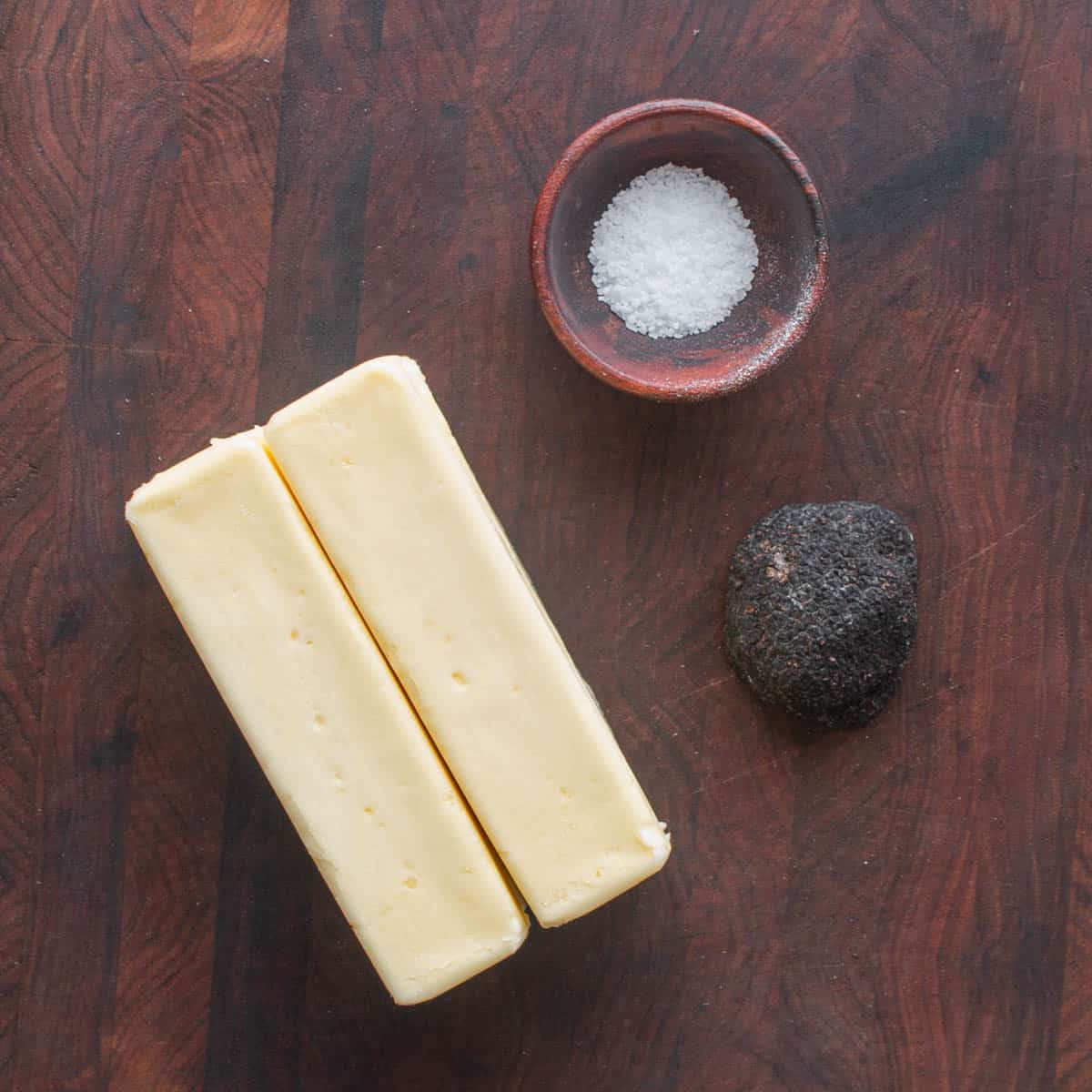 Some recipes make truffle butter by mixing truffle oil or paste in a bowl with a fork, but this can make oily butter or cause the butter to break and separate.
How to Make Truffle Butter
Whip room temperature unsalted butter and fresh truffle in a mixer or food processor until fluffy. After mixing, the softened butter is spread out on parchment paper or cling film, rolled into a log, vacuum sealed and frozen. When you need to use some, you remove it from the freezer and cut slices as needed.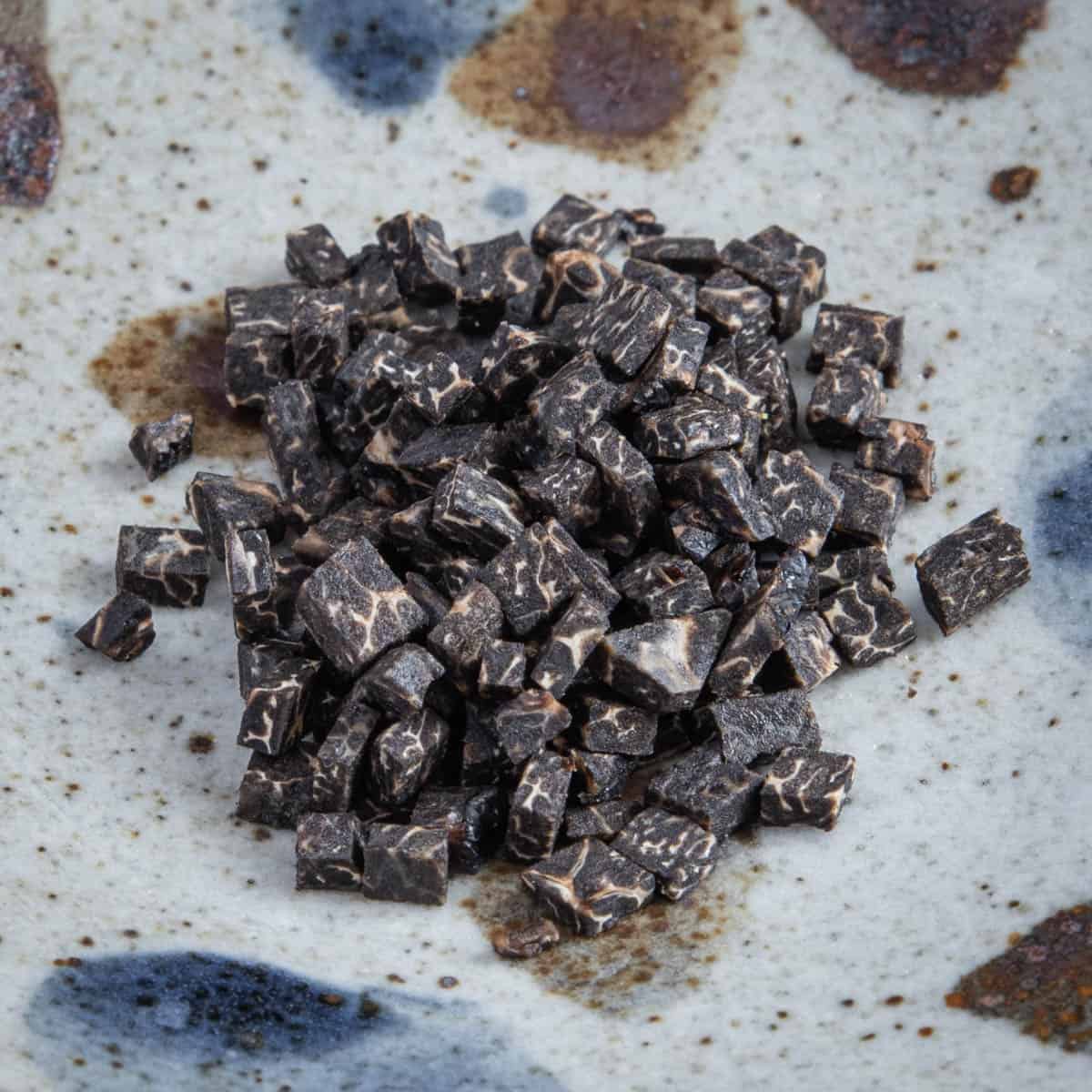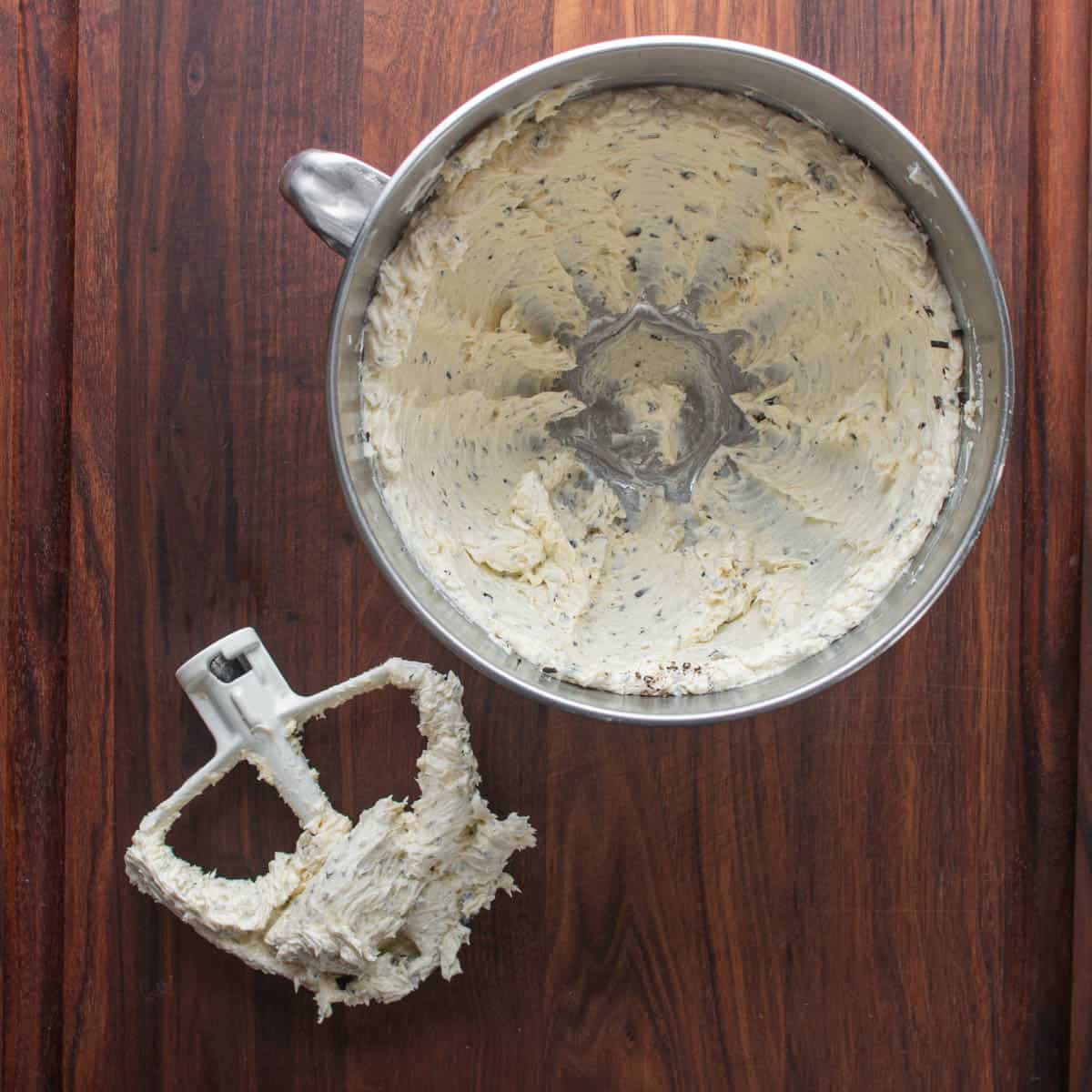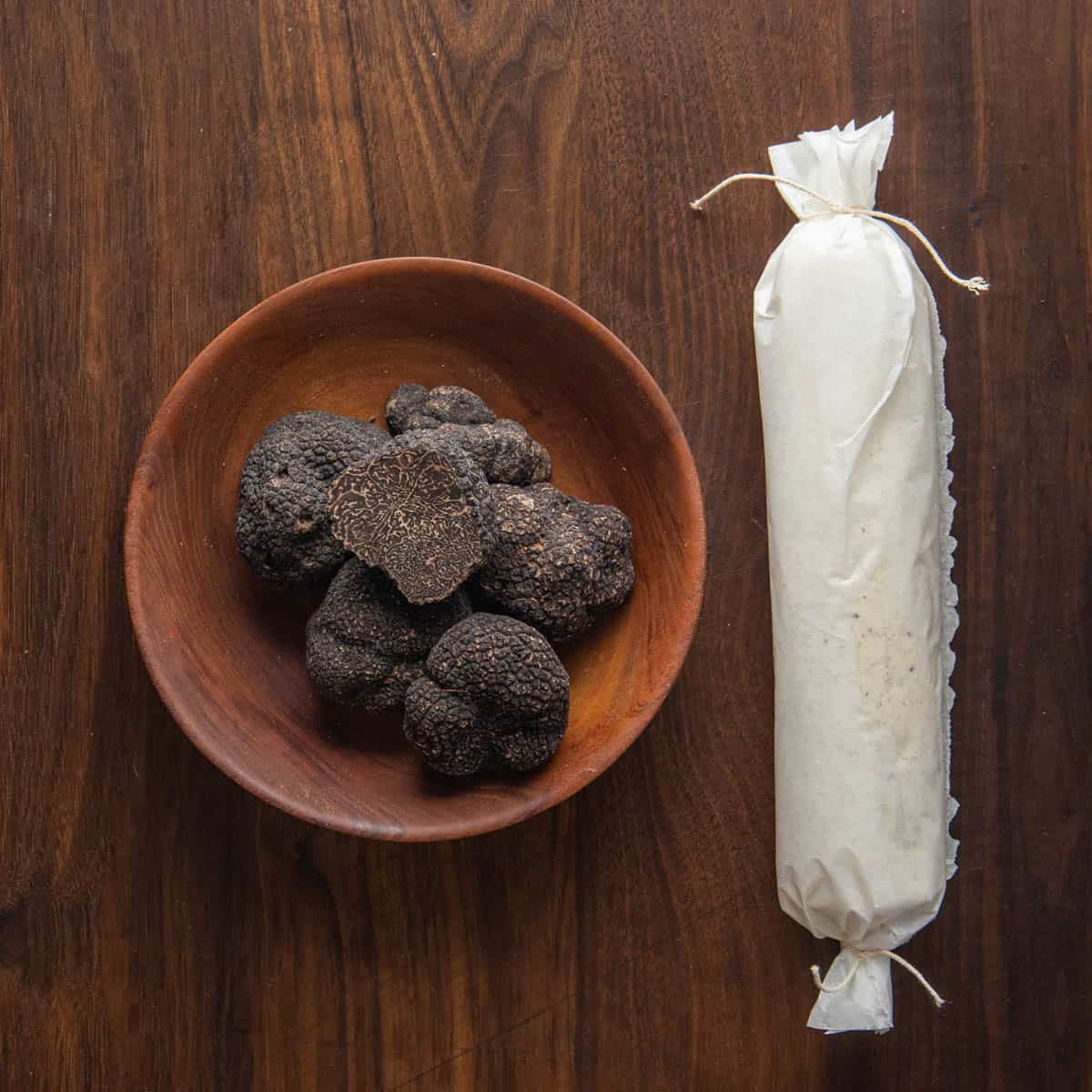 Some recipes will use truffle products like truffle juice, truffle salt, or truffle oil. These will won't make a very good truffle butter. Truffle oil especially is often made with synthetic flavoring that makes the taste too strong.
Truffle Varieties and Prices
The French Black Winter Truffle, Tuber melanosporum is the best truffle for black truffle butter, but they're also the most expensive. 1 oz of French black truffles costs about $70. You can also buy them shipped from Oregon.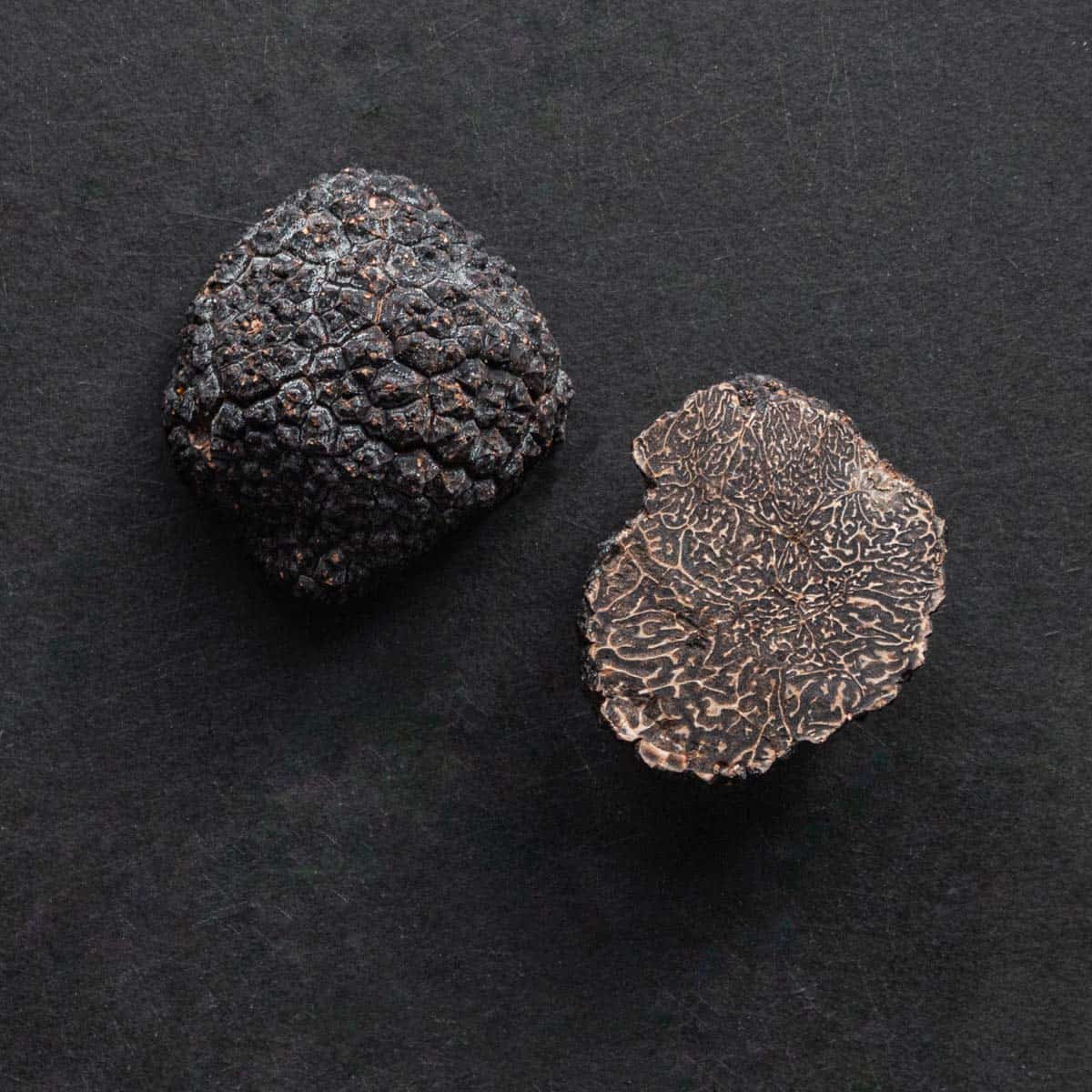 By comparison, Alba white truffles cost ~$2000 per pound, so they're best fresh-not made into white truffle butter. Here's a list of other truffles you can try that are much cheaper. Prices fluctuate during the season so expect some variation.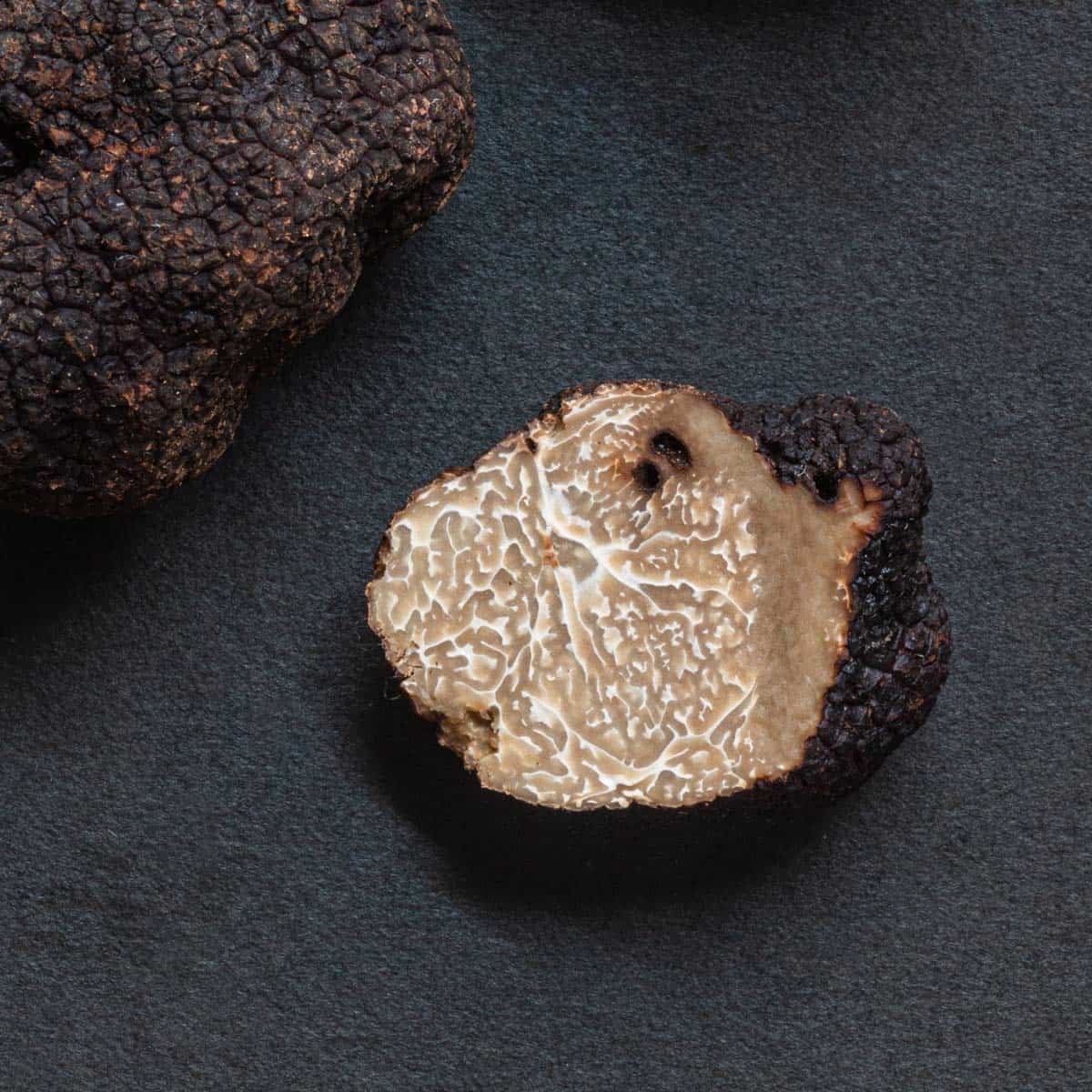 Black Summer Truffles (Tuber aestivum) $14/oz
A decent black truffle when fresh, but not as strong as the real deal.
The Musky Truffle (Tuber brumale) $14/oz
The cheapest black truffle, T. brumale smells of truffle, but has a strong musky or smoky aroma as well. I recommend trying these.
Oregon Black Truffle (Tuber oregonese) $38/oz
When fresh, Oregon truffles are one of the best substitutes for the more expensive truffles varieties.
Where to Buy Black Truffles
I only link to truffle sellers I purchase from and receive no commission.
Chef's Tips
Save money buying grade B truffles or different types of black truffles.
French Black truffle season runs November through March.
Add an ice cube while whipping the butter to make it fluffy, smooth and shiny.
(Optional) rubbing a knife with a clove of garlic before slicing the truffle adds extra aroma.
Store the butter, unwrapped in a container with fresh truffle a day or two before making for extra flavor.
If you're on a budget, you can use truffle pate, truffle puree, or truffle paste. Use 50% more truffle than this recipe calls for.
How to Use Black Truffle Butter
It's best to use real truffle butter in simple recipes without many ingredients. It's also important to us it raw, or at the last minute as heat destroys truffle aroma.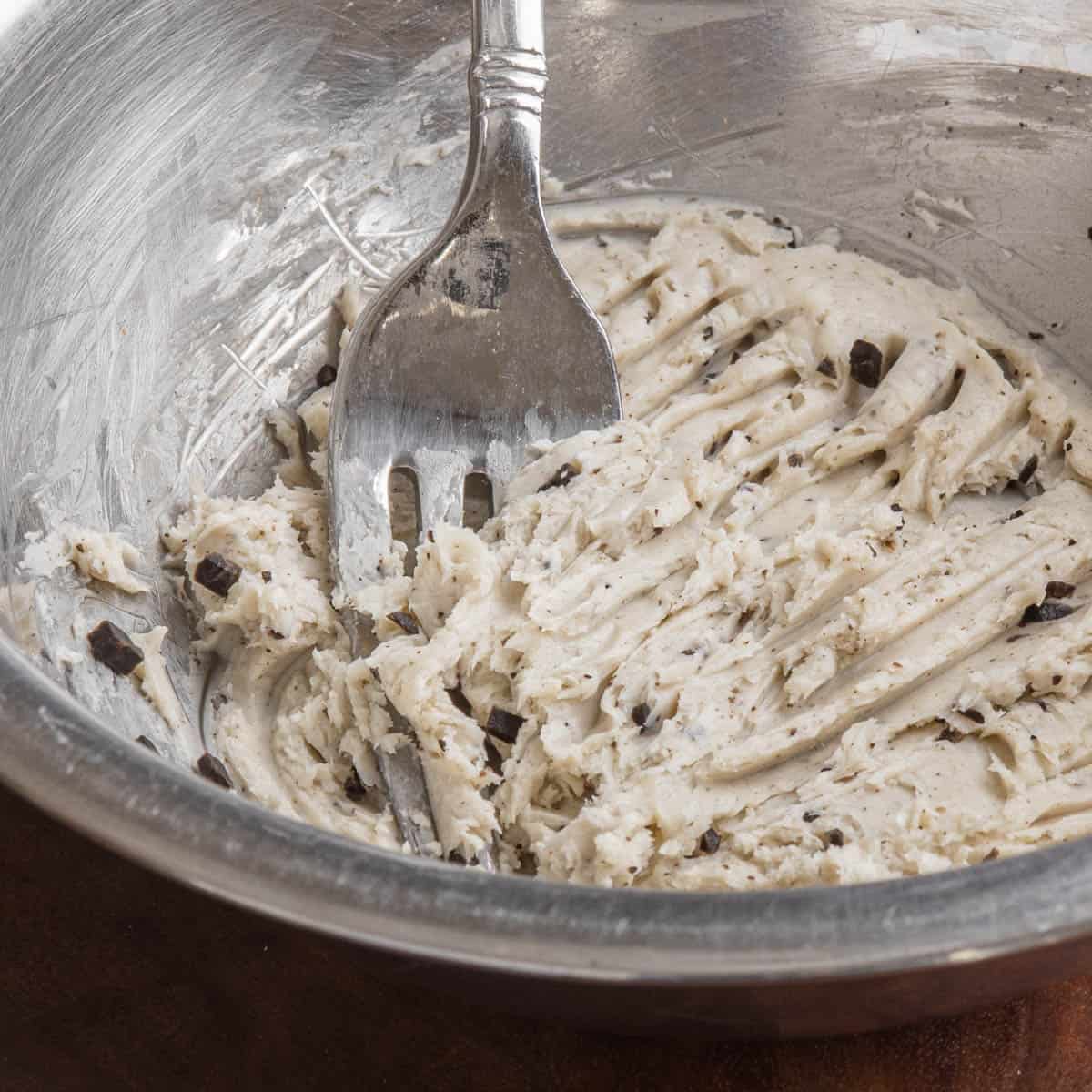 Mash the butter with a fork at room temperature to make it spreadable.
Simple things you can do with truffle compound butter are put a slice on mashed potatoes, or a steak. Stir some into a black truffle cream sauce or truffle risotto at the last minute. Mixed with your favorite noodles and a splash of pasta water it makes a great truffle butter sauce for pasta, or black truffle gnocchi.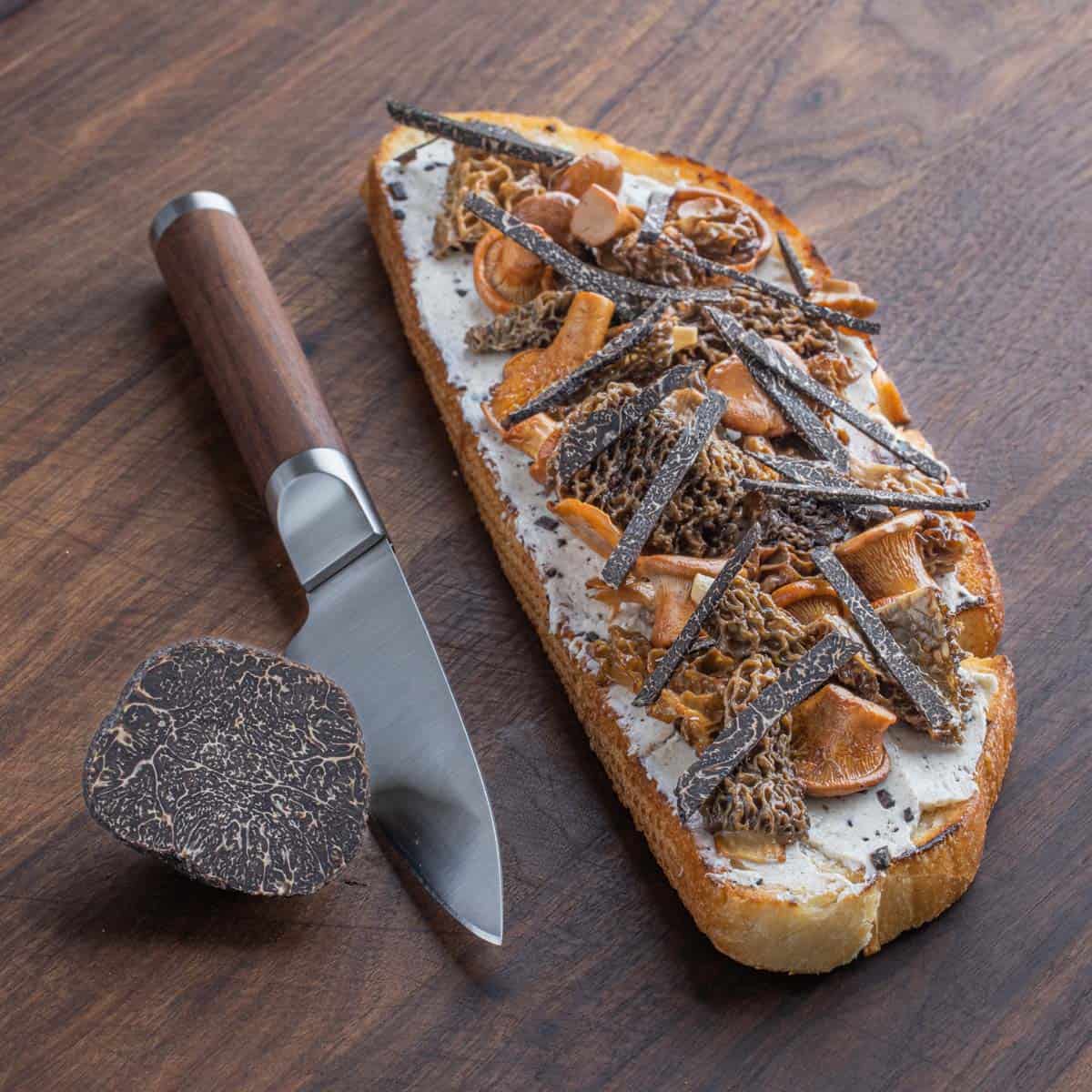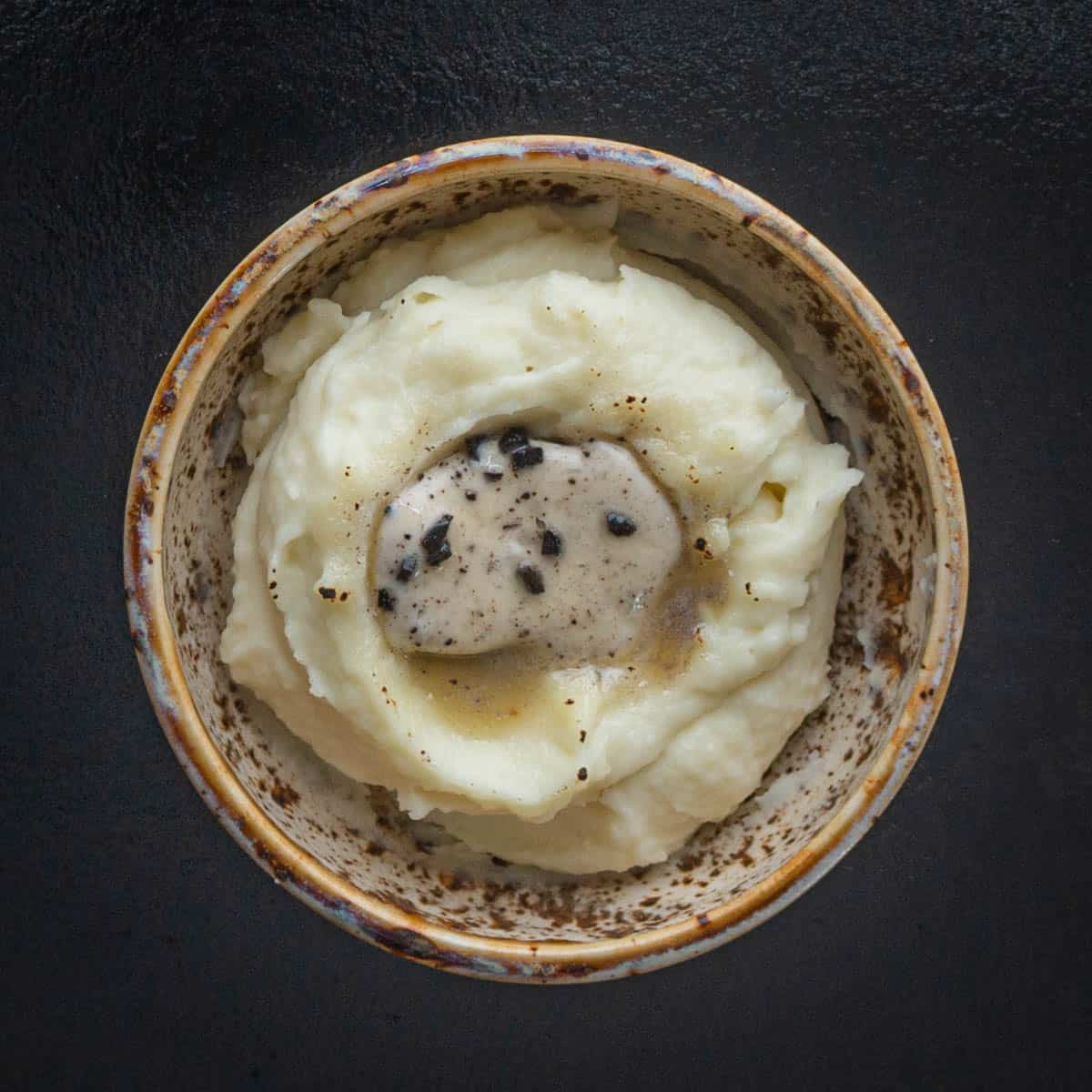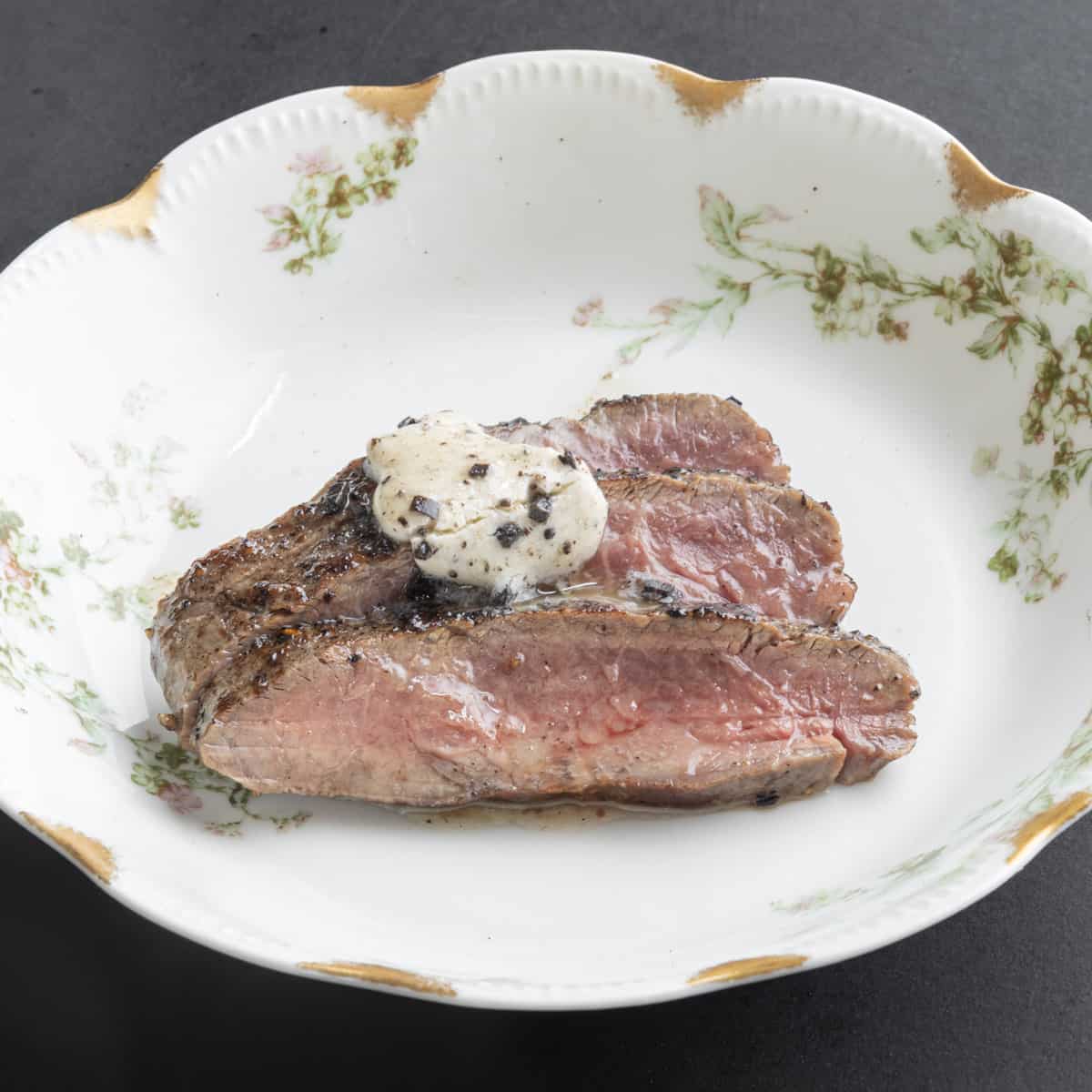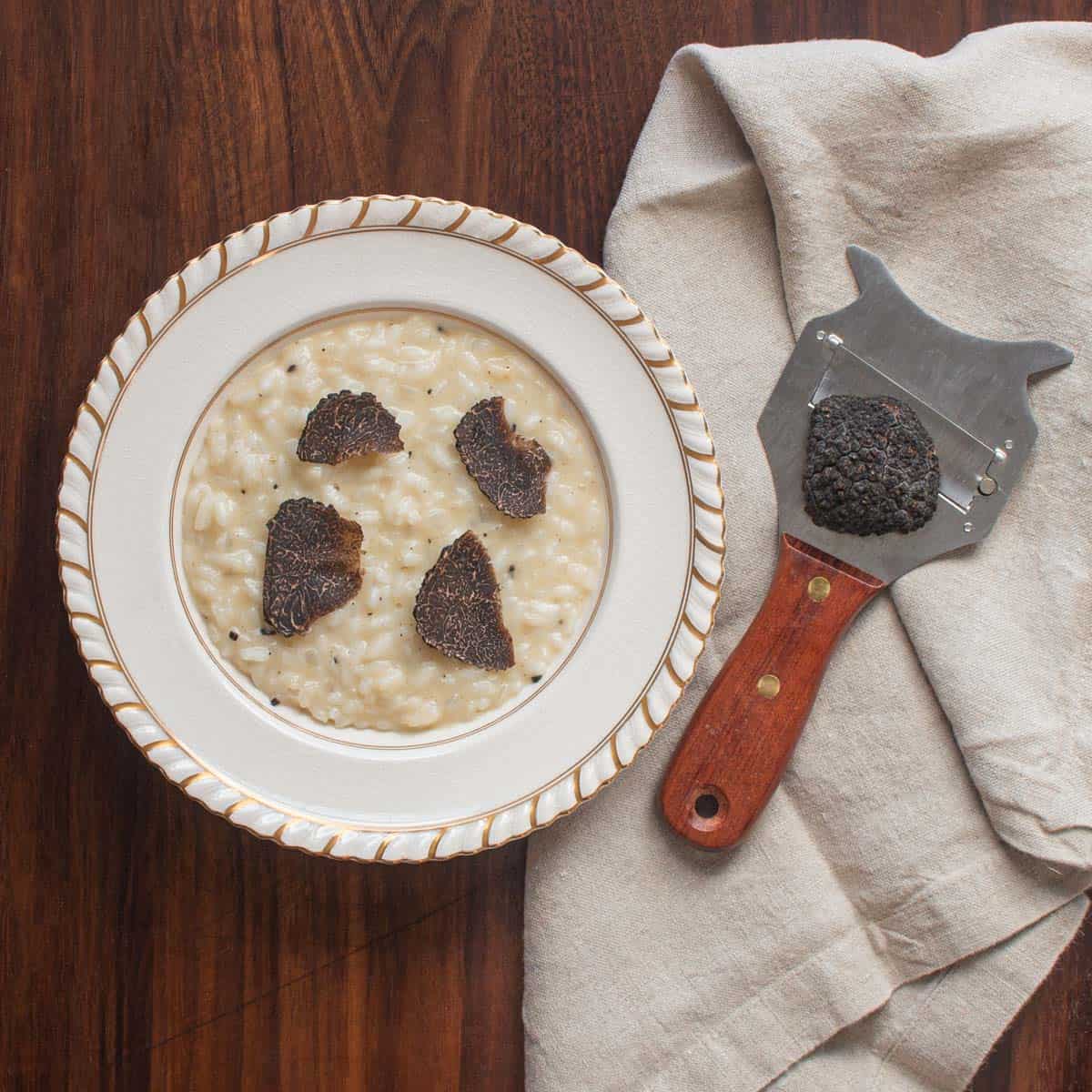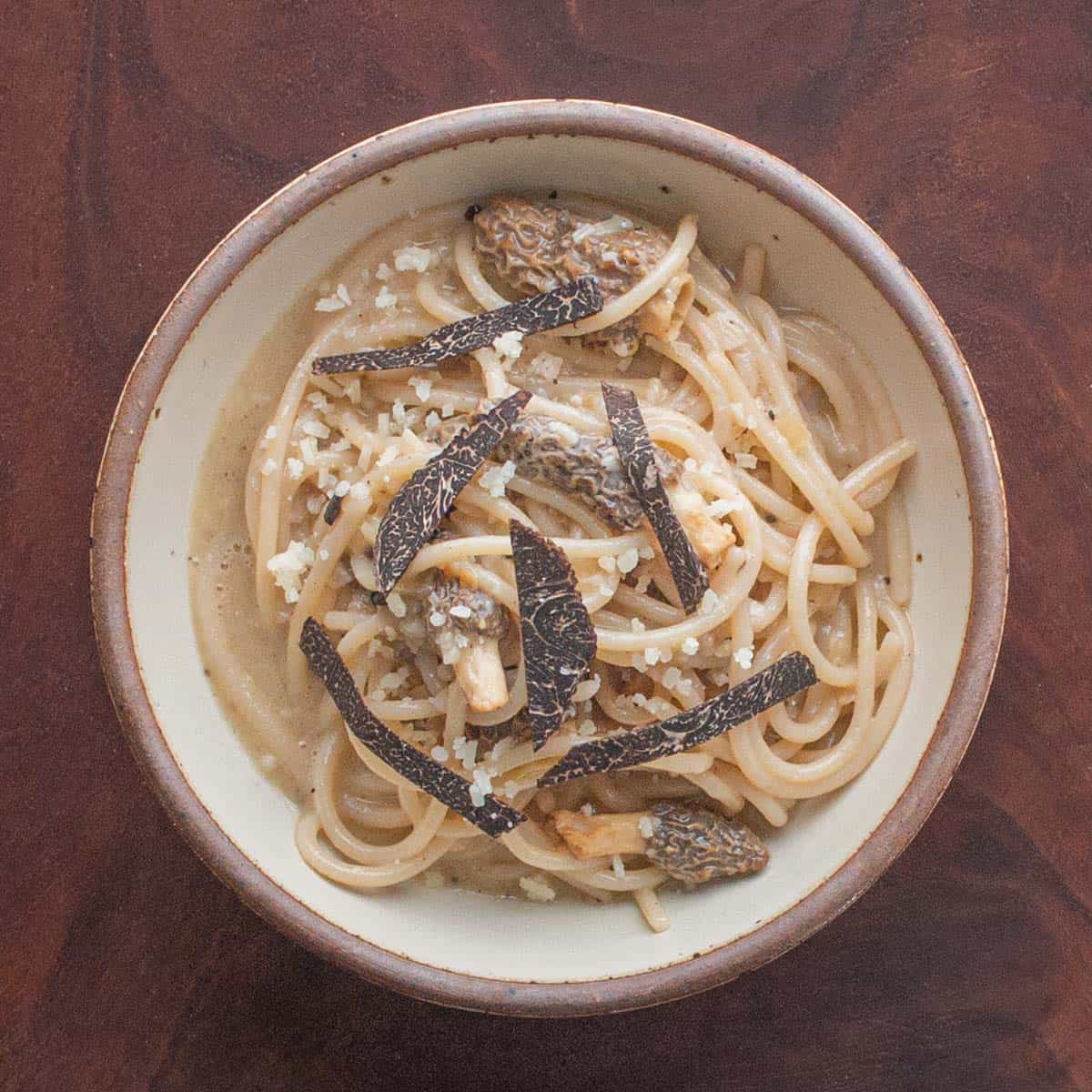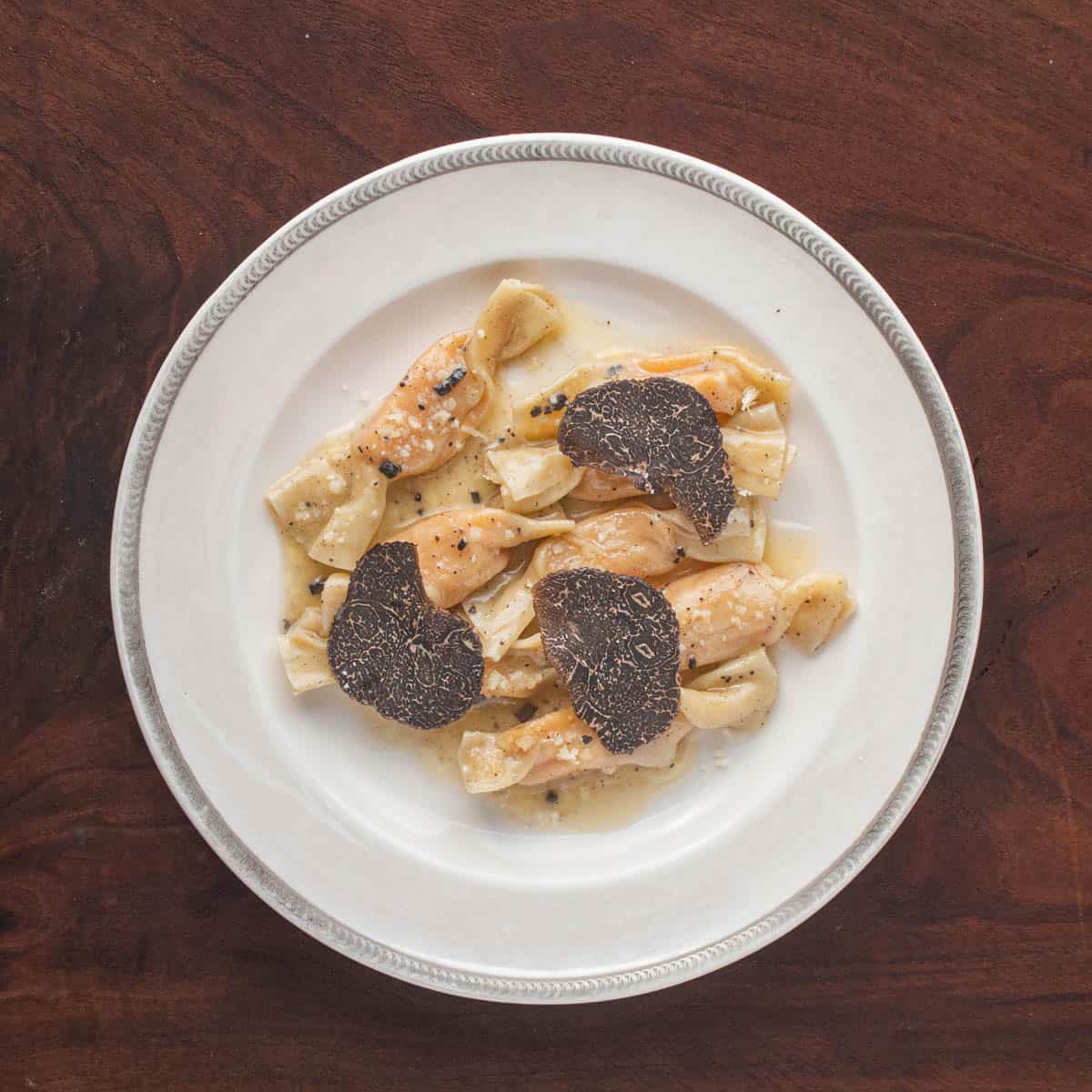 More Truffle Recipes
Morels Alla Normande with Black Truffle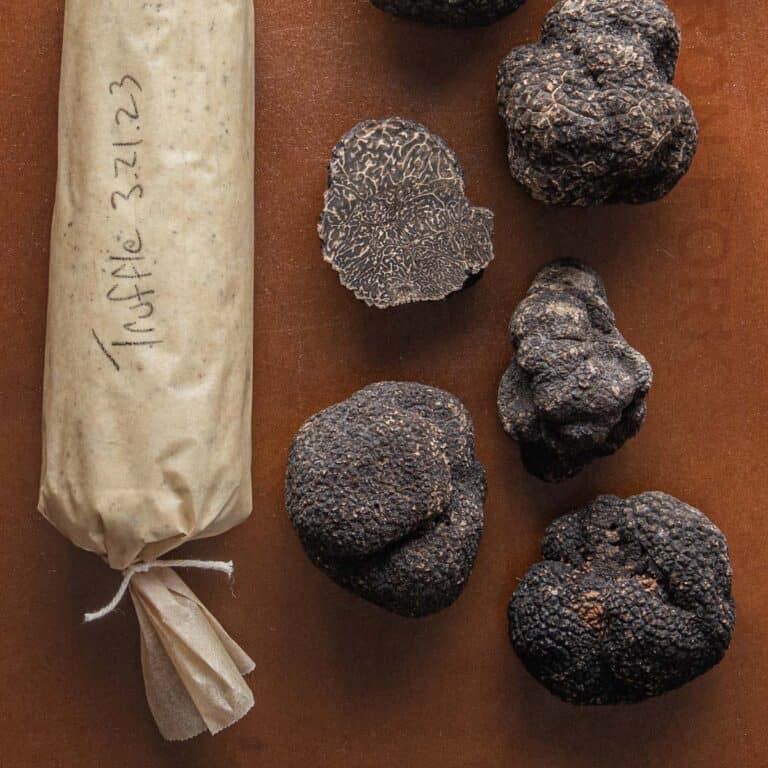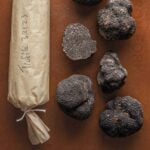 Print Recipe
Real Black Truffle Butter
A classic compound butter is a tried and true way to preserve black truffles.
Equipment
1 Stand Mixer or food processor
Ingredients
1

lb

unsalted butter at room temperature

½

oz

(1.5 tablespoons) black truffle

thinly sliced and cut into julienne, then small dice

¾

teaspoons

fine salt

1

ice cube or a tablespoon ice water
Instructions
Inspect the truffles for any dirt and rinse if needed.

A day or two before making, store the whole truffle with the butter in a container with a tight-fitting lid. In the bowl of a stand mixer with the paddle attachment, mix the butter, salt, and chopped truffle until thoroughly combined.

Add the ice cube and continue to beat until the mixture is light and fluffy, and has a shiny look to it.

Transfer the butter to sheets of parchment and roll into logs, then refrigerate for two days before freezing to allow the aroma to penetrate the butter.

Leave the butter in the fridge to infuse for a while, 2-3 days. The butter will get stronger as it sits. Freeze the logs in a resealable vacuum bag. They will last for 6 months in the freezer.
Notes
Substitutions 
If you don't have fresh truffles, you can substitute 1.5 tablespoons (or more) of black truffle paste or puree. 
Nutrition
Serving:
2
oz
|
Calories:
407
kcal
|
Carbohydrates:
0.3
g
|
Protein:
1
g
|
Fat:
25
g
|
Saturated Fat:
20
g
|
Polyunsaturated Fat:
2
g
|
Monounsaturated Fat:
12
g
|
Trans Fat:
2
g
|
Cholesterol:
122
mg
|
Sodium:
226
mg
|
Potassium:
23
mg
|
Fiber:
0.1
g
|
Sugar:
0.03
g
|
Vitamin A:
1417
IU
|
Calcium:
14
mg
|
Iron:
0.1
mg
FAQ
Can you freeze truffle butter?
Truffle butter can and should be frozen after making. Cut off slices as needed and reseal the log in a vacuum bag.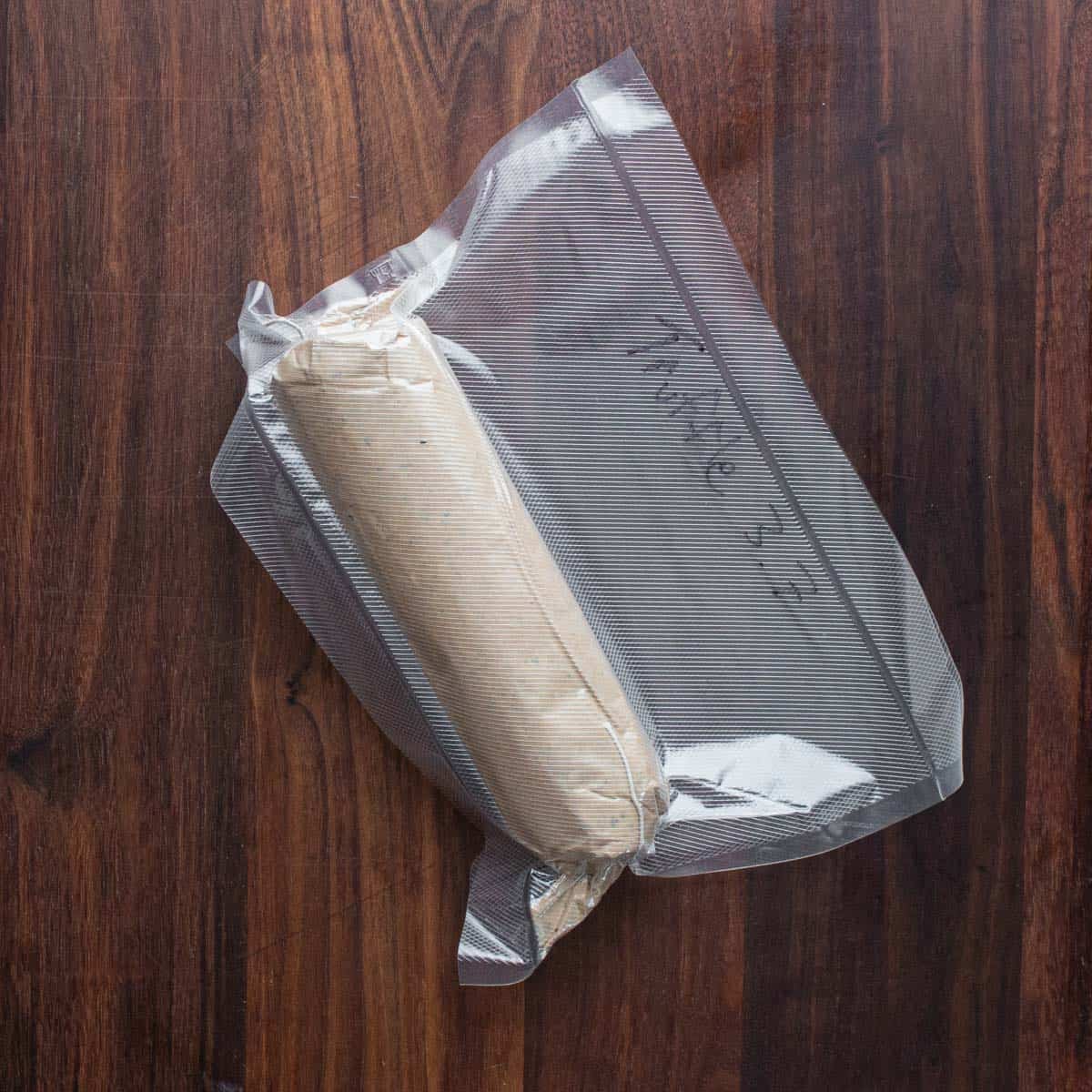 1 oz of truffle is how much?
1 oz of fresh truffle is equal to 3 tablespoons chopped.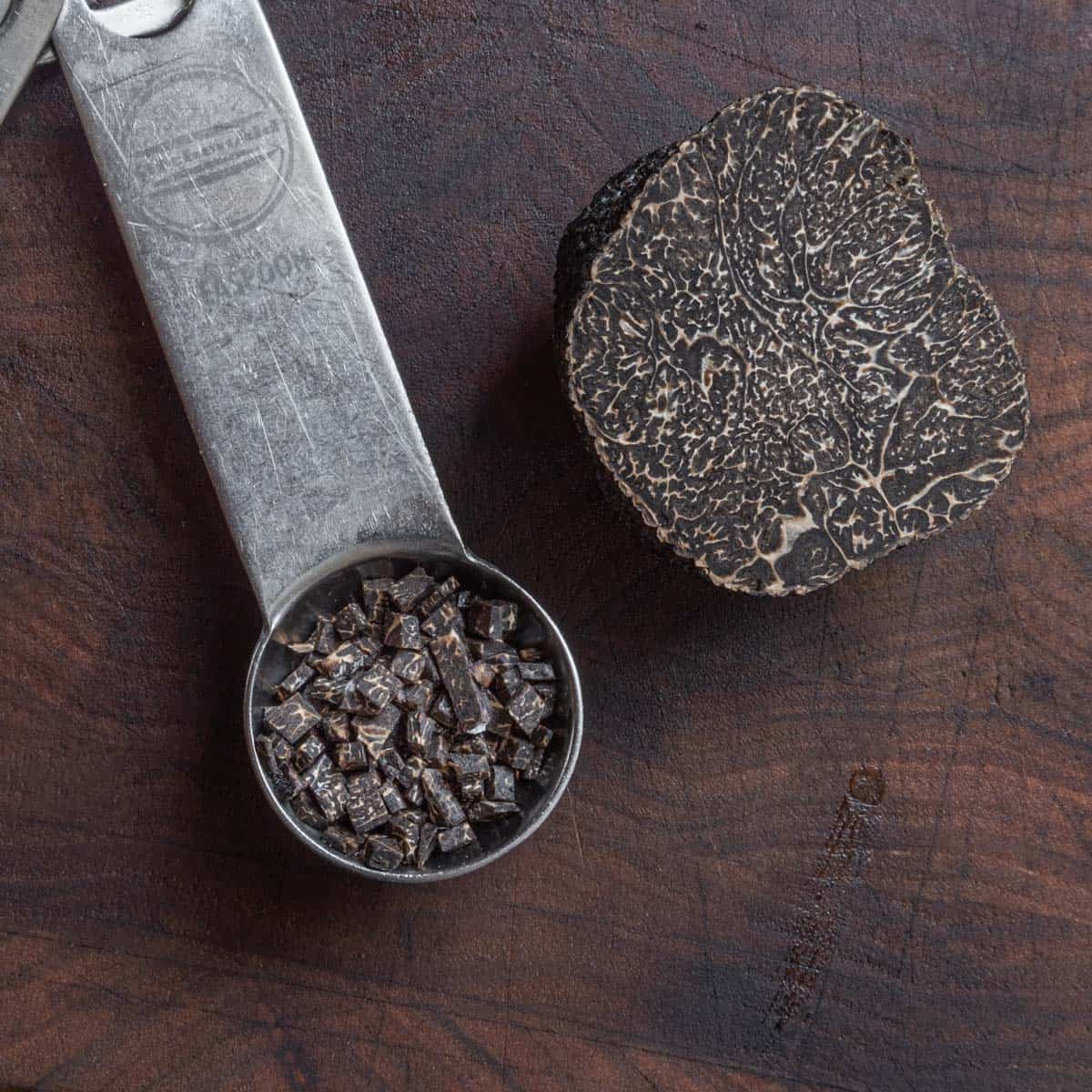 What do black truffles taste like?
Truffles have a pleasant, crunchy texture. The taste is a rich, mushroomy, earthy flavor with a hint of musk or smoke. Each species of truffle tastes slightly different, and some have other aromas alongside the truffle flavor. The cost of each variety is generally a good indicator of how strong the flavor is.