One of the most famous truffle dishes in Italy, pasta alla norcina, also known as pasta alla nursina, is a simple truffle pasta recipe made with sausage, onion, pecorino cheese, and most importantly, black truffles. I learned to make from a chef and butcher from Rome. Read on and I'll tell you a little of its background, and how to make the dish.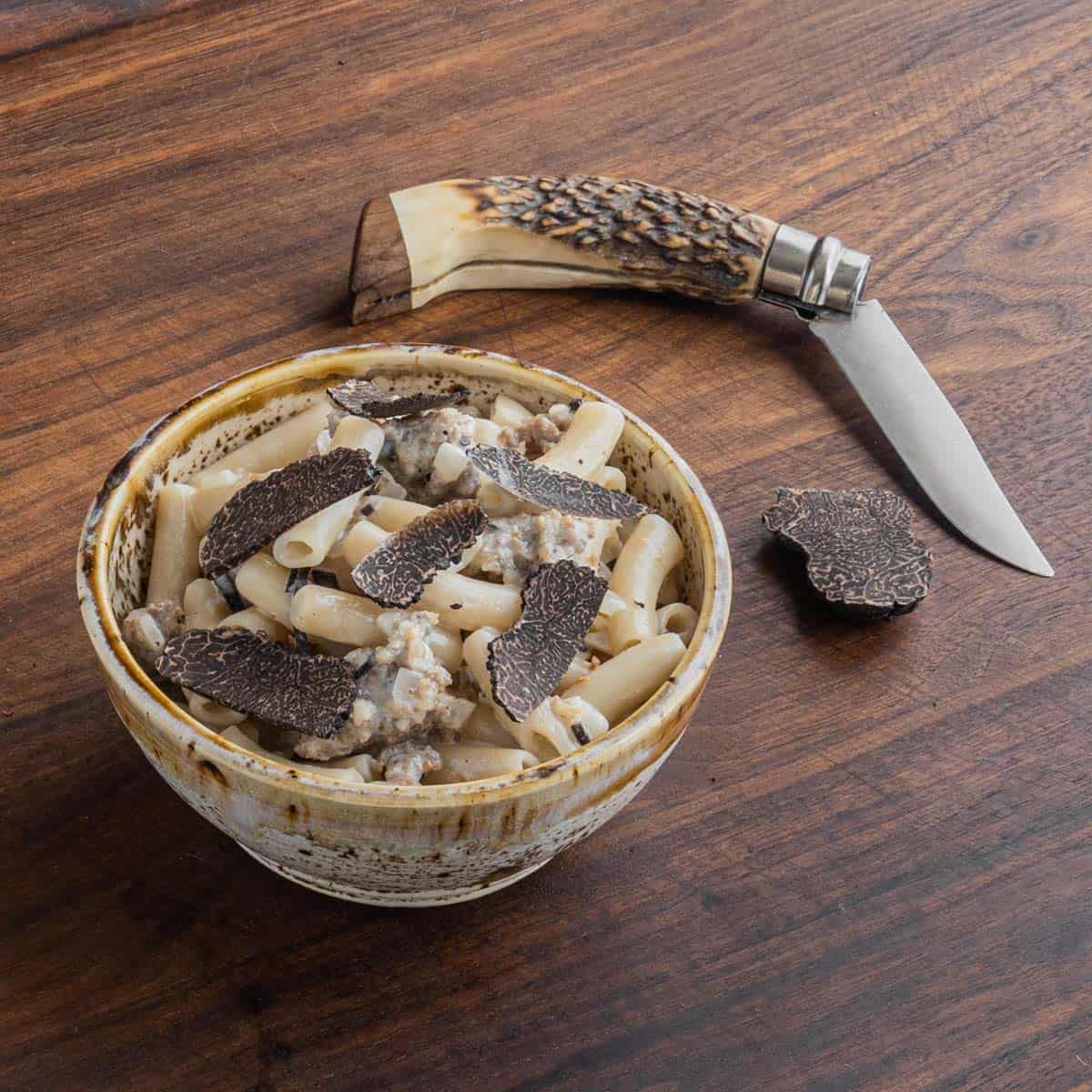 Background & History of Norcia and Its Truffles
Located in Southeastern Umbria (Perugia), norcia is an ancient town still surrounded by walls the Romans built. Besides being the birthplace of St. Benedict, the town is known for its culinary treasures, including IGP Castellucio lentils and pecorino cheese, but its Norcia or Spoleto truffles and pork are arguably the most well known.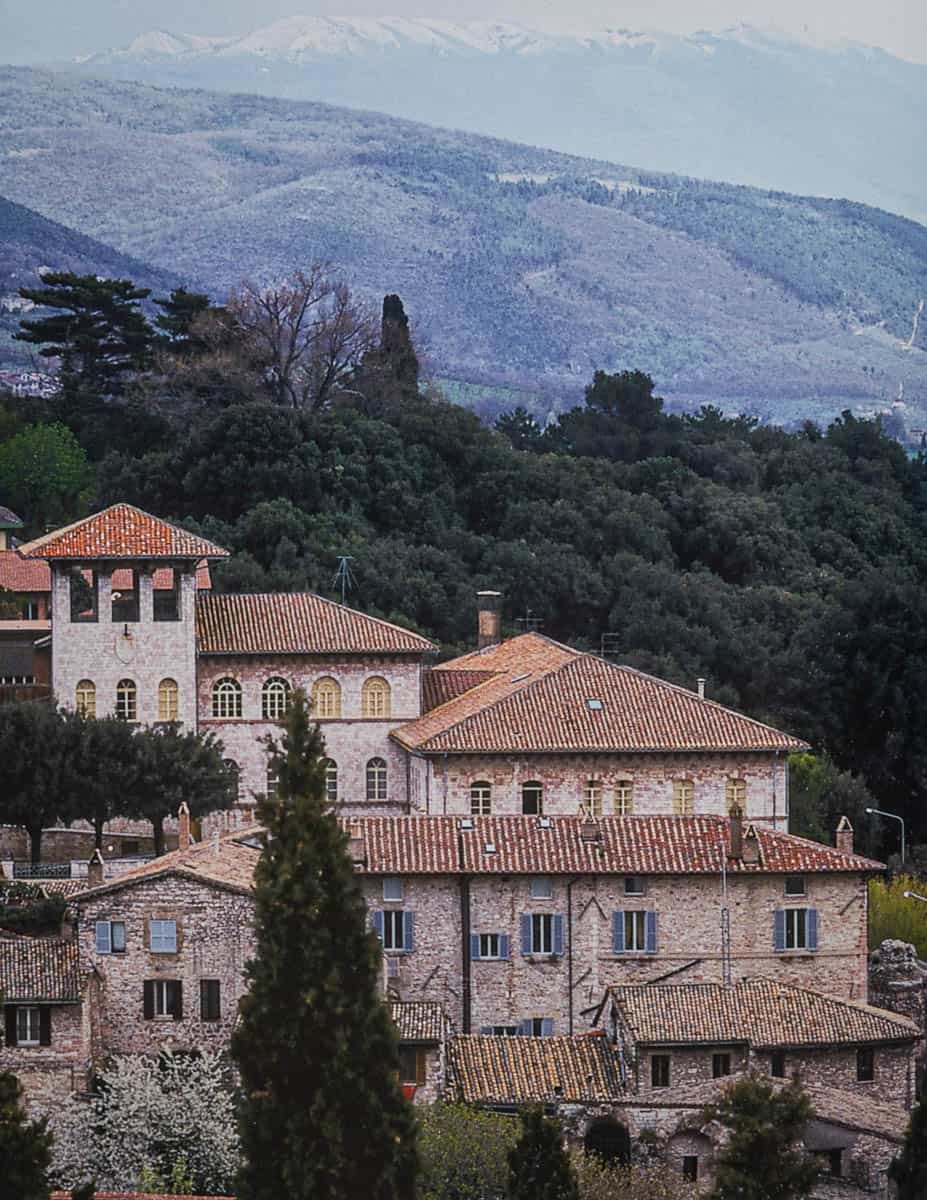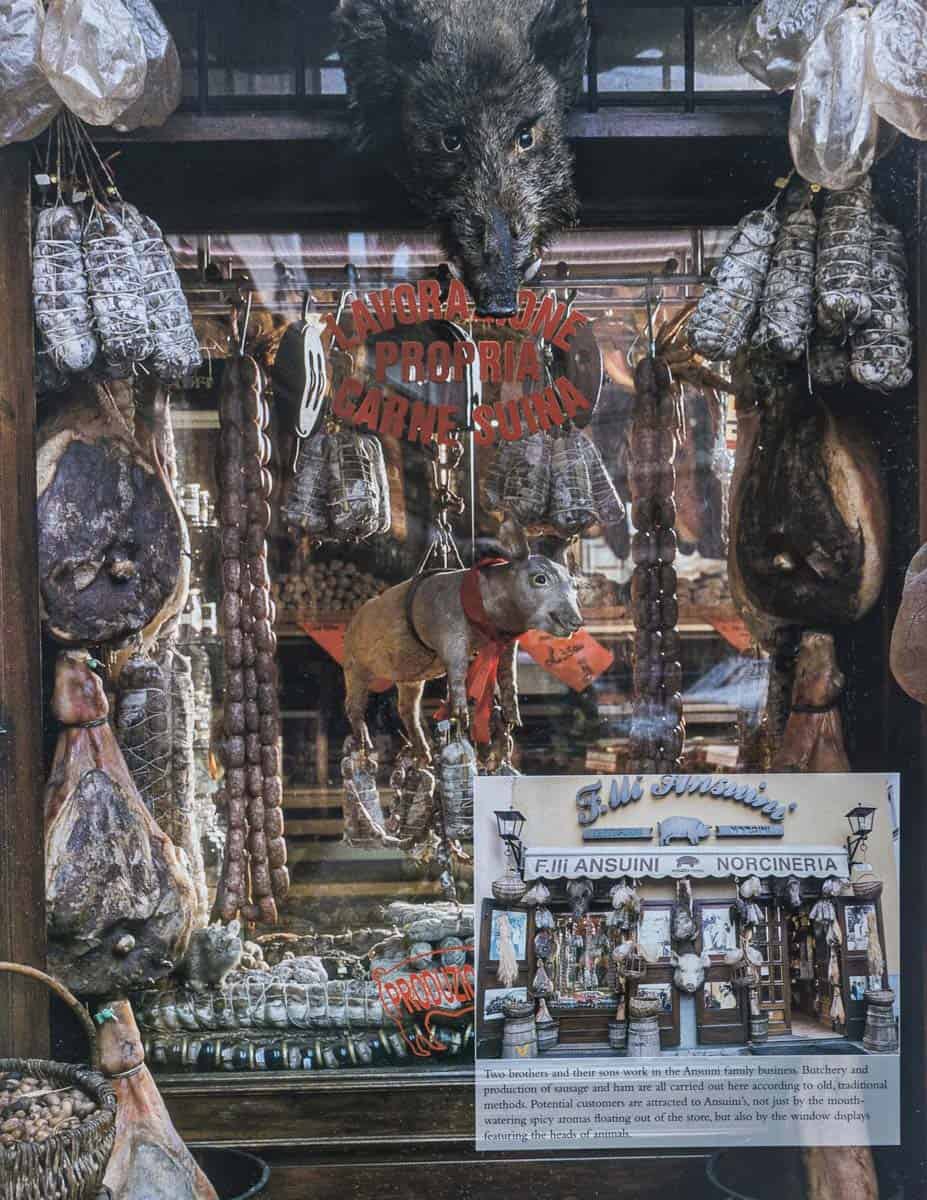 The Italian word for pork butcher is norcino, and norcinerias are found around the town selling all kinds of different pork products and salumi, cold cuts and IGP ham. My friend Michel lives nearby, and mentioned there's also a strong tradition of curing wild boars (known as cinghiale) that roam the hills around Mount Subasio.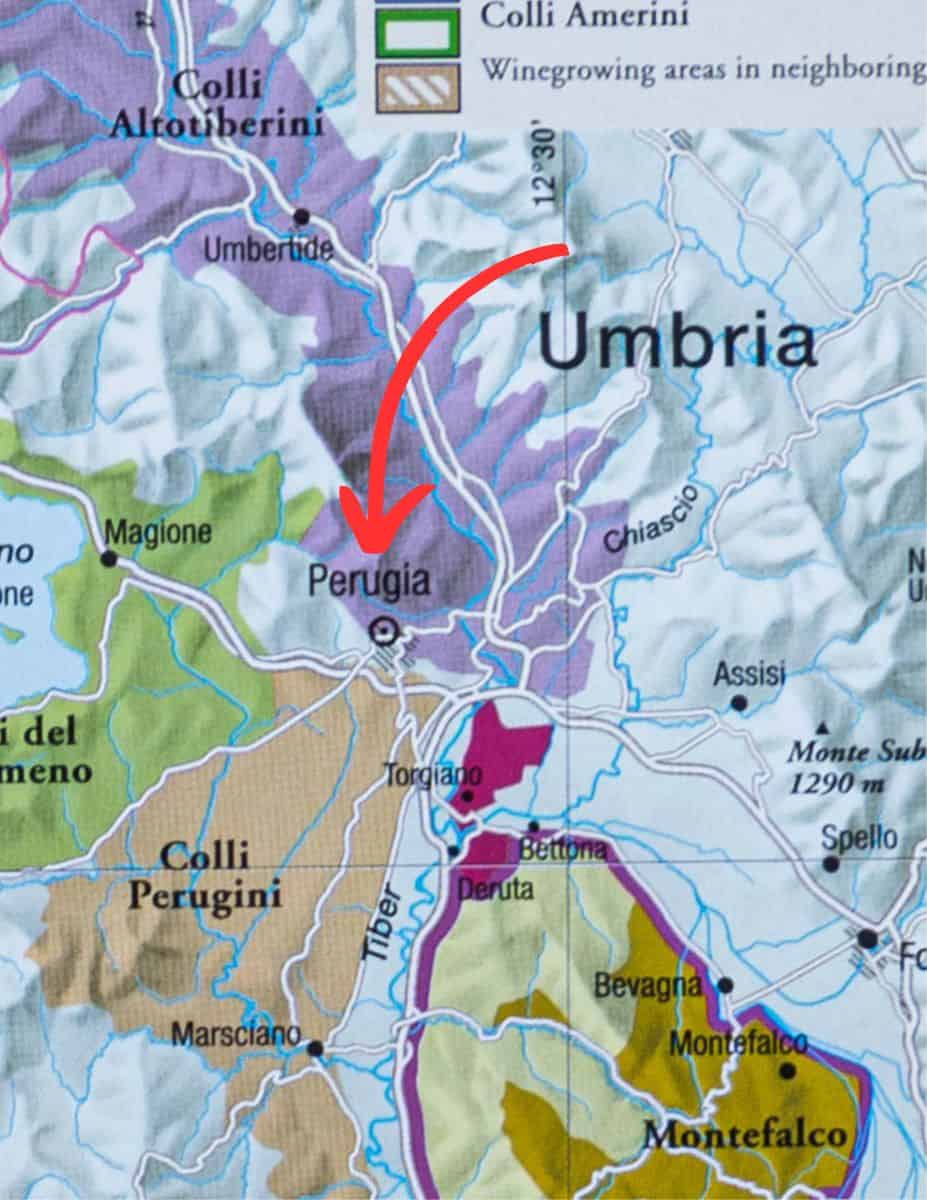 With truffles and pork being two of it's most famous ingredients, it's only natural that somewhere along the line someone mixed the two together into a simple pasta. If you're planning to visit the region, there's also a truffle festival called the National Market held on the last week of February where you can buy the "black gold" for yourself.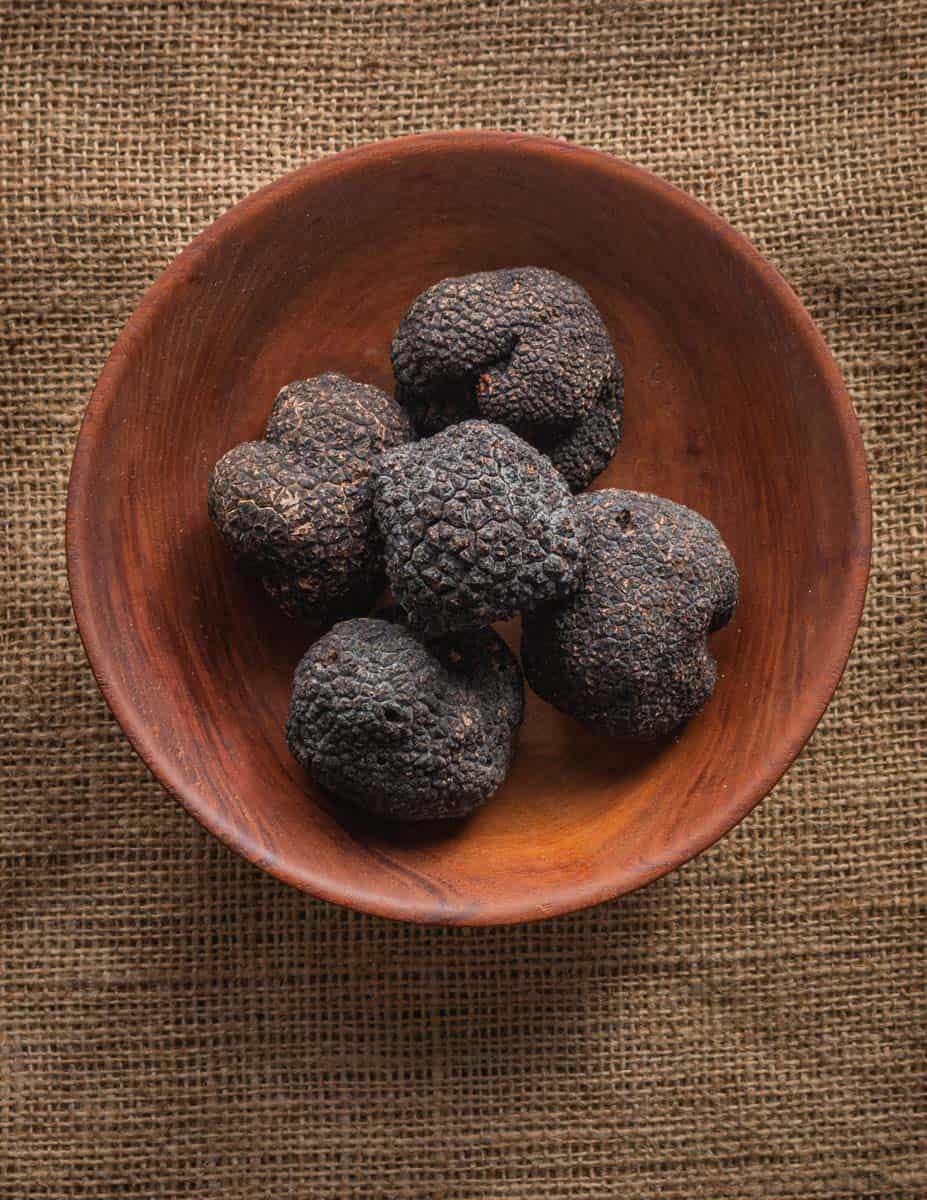 Norcina Pasta Ingredients
There's only a few ingredients. You'll need ground pork to make norcia sausage, nutmeg, white wine, pasta like penne, ziti, pacherri or spaghetti, a little anchovy, pecorino cheese, and, of course, black truffles.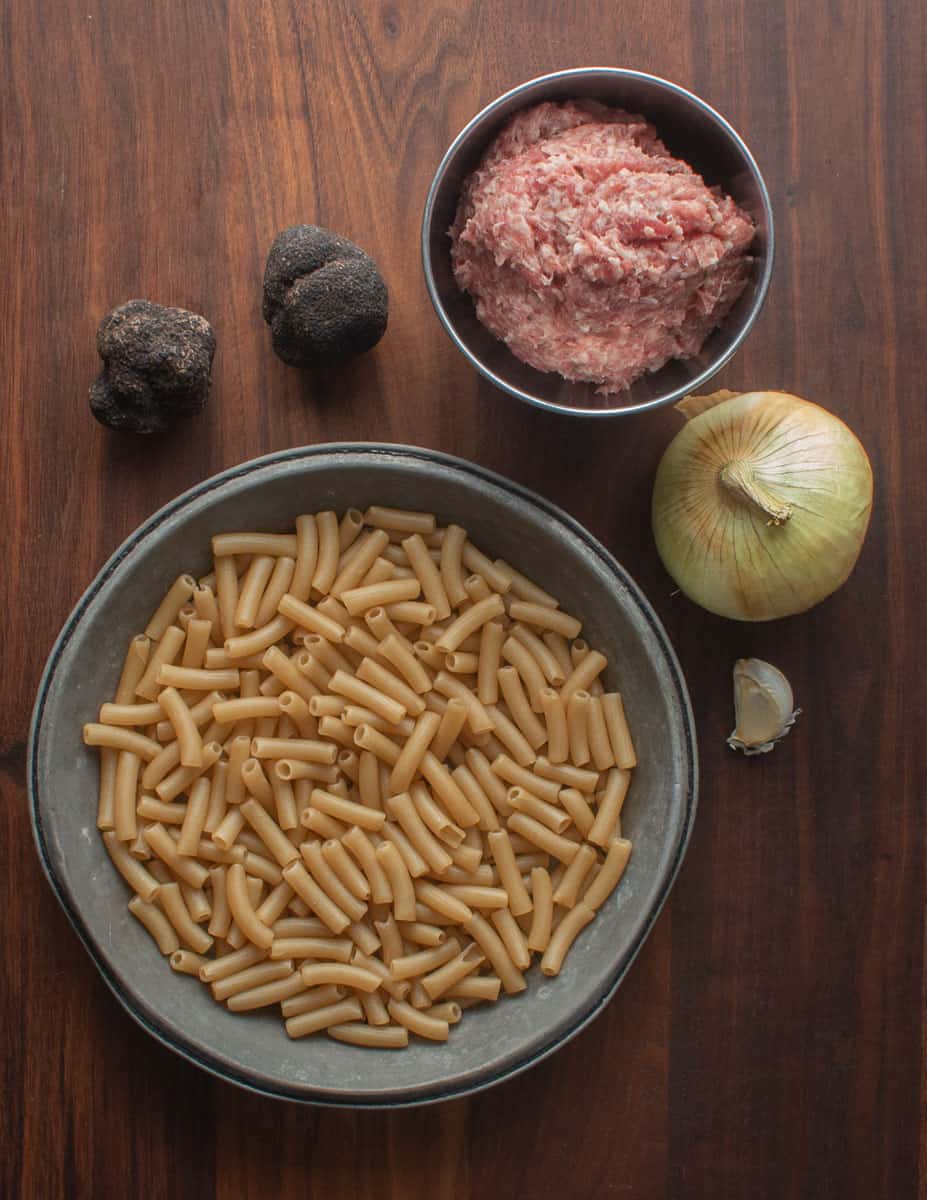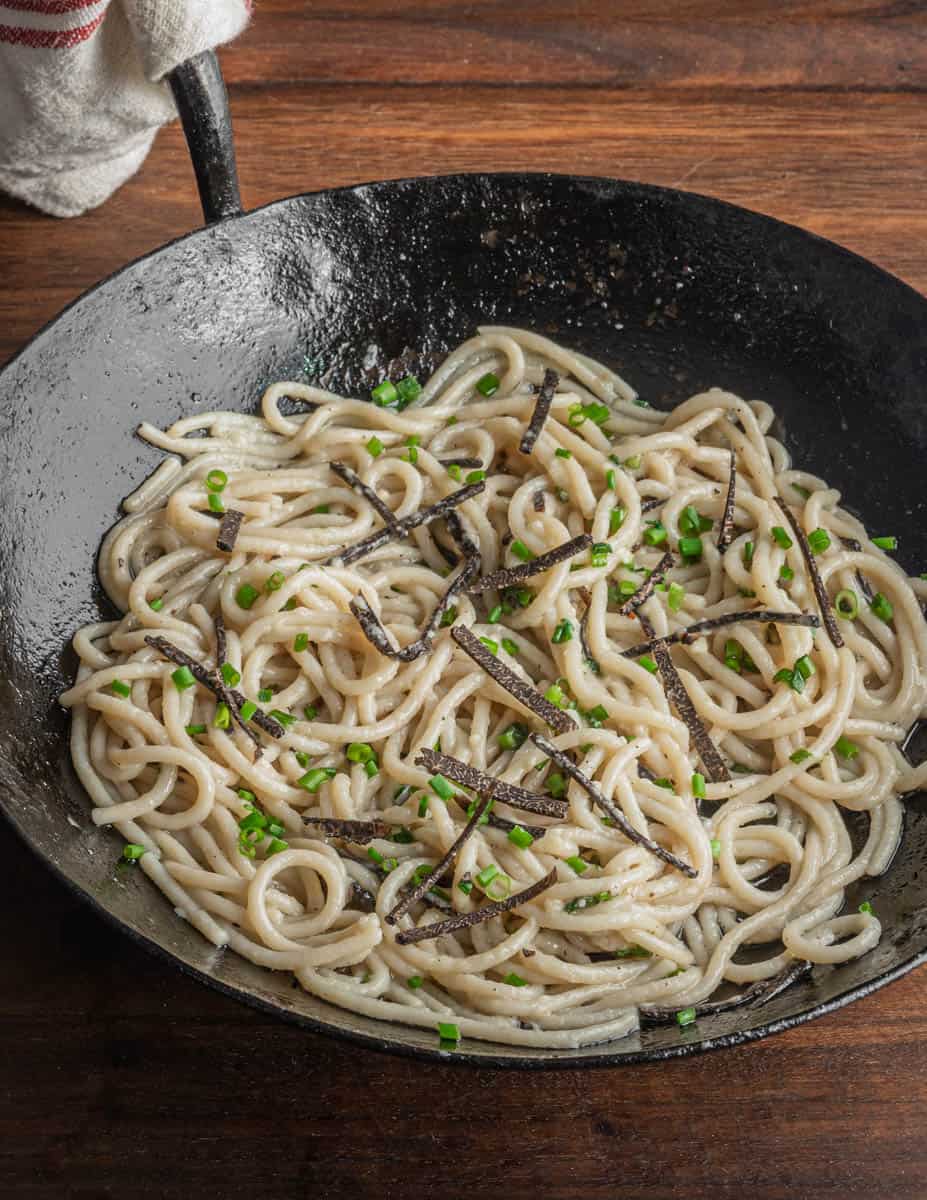 Spaghetti alla Nursina is the ancestral version of the norcina pasta. According to Italian culinary authority Guiliano Bugialli, it should be made with only spaghetti, anchovy, olive oil, and black truffle, heated slowly with the truffles added at the end. It's also good, but more minimalist-see above.
How to Make Pasta Norcina
Fist you season some ground pork with a little white wine, salt, pepper and nutmeg to make the Norcia sausage. The sausage is browned, then onions and garlic are added, along with anchovy filets or paste. Add a splash of wine to the pan, then the cream, pasta, some pasta cooking water, and finally, plenty of sliced black truffle and pecorino Romano cheese.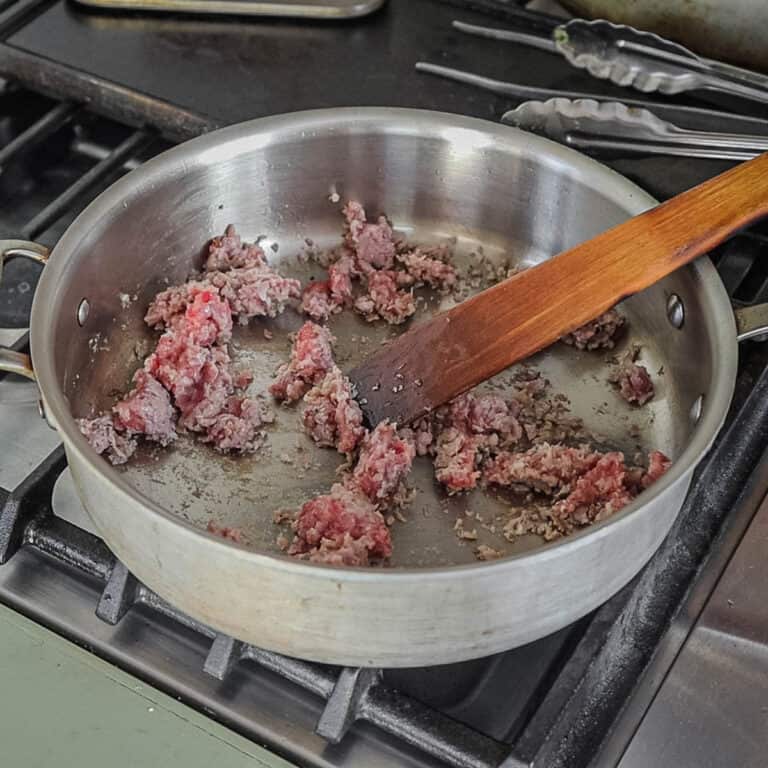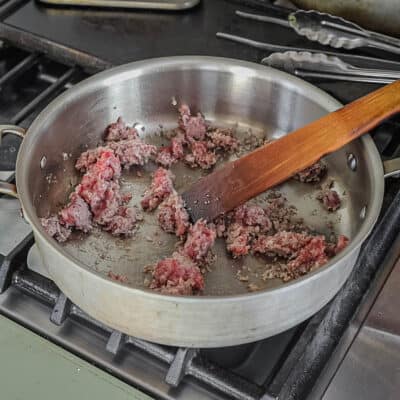 Chef's Tips
Anchovy has an affinity for truffles and is a traditional part of the dish.
Finish the pasta by garnishing it with thickly sliced black truffles cut with a knife rubbed with a clove of garlic.
It's important the truffles aren't cut too thin. They should crunch when you bite into them and will have more flavor.
Don't be tempted to use Italian sausage and the flavor of fennel will overpower the truffle.
Pecorino cheese is traditional and adds a special flavor. I don't recommend parmesan cheese.
If you don't have fresh truffles, add some truffle butter or homemade truffle oil at the end.
I'm using Umbrian black winter truffles here (Tuber melanosporum vittadini) but any fresh black truffle will do. Black summer truffles or moschato truffles (T. aestivum and T. brumale) are fine too.
Related Posts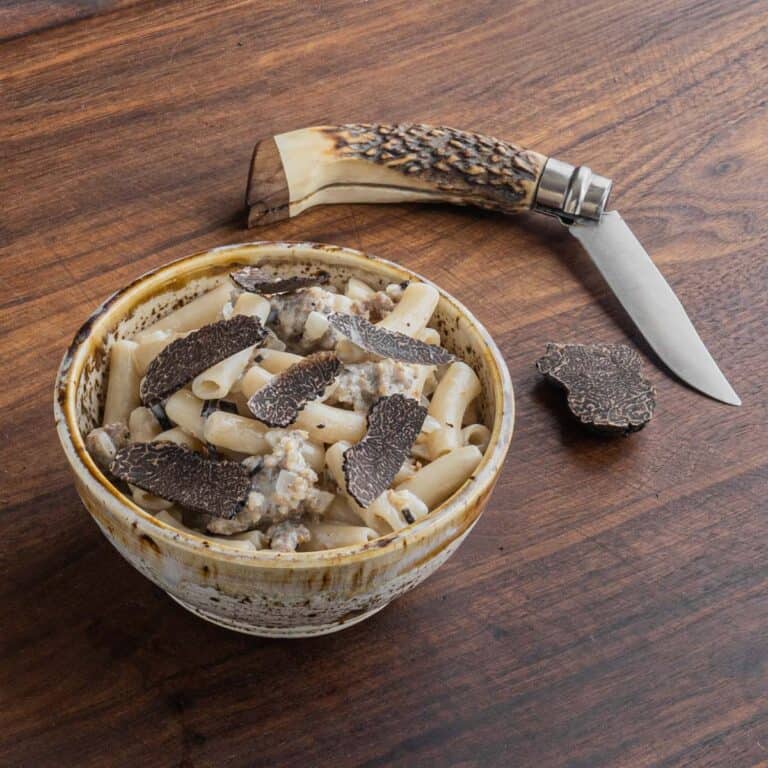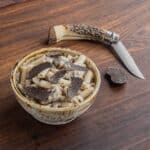 Print Recipe
Rigatoni Pasta Alla Norcina
A creamy sausage pasta from Southern Italy made with black truffles, sausage and cream. Serves 4-6
Equipment
1 paring knife

1 Pasta pot

1 large skillet
Ingredients
Norcina sausage
8

oz

ground pork

½

teaspoon

fine salt

⅛

th teaspoon grated nutmeg

1

small clove garlic

1

tablesppon

dry white wine
Pasta
1

tablespoon

olive oil

8

oz

dried pasta

1

cup

heavy cream

1

oz

fresh black truffle

or truffle paste

¼

teaspoon

fresh ground black pepper

5

oz

yellow or white onion

1

large clove garlic

½

cup

dry white wine

2

tablespoons

truffle butter

optional

Kosher salt and fresh ground black pepper

to taste

Pinch

of chopped fresh thyme

optional

½

cup

grated pecorino Romano cheese
Instructions
Norcia Sausage
Mix the pork sausage ingredients and reserve. If you have time, do it the night beforehand for the best flavor.
Pasta
In a large skillet, heat the oil and add the sausage. Cook over medium-high heat, breaking the sausage up with a spoon and scraping the bottom to remove browned bits.

When the sausage is cooked, add the onion and garlic and a little extra oil if the pan threatens to dry out. Cook for 2-3 minutes, until the onion is translucent. Add the wine and cook down by half. Add the truffle cream and bring to a simmer until slightly thickened, a couple minutes.

Bring a large pot of lightly salted water to a boil. Cook the pasta until al dente and add to the pan. Reserve some pasta water and add a few splashes to the pan to keep it juicy.

Meanwhile, rub a paring knife with a cut clove of garlic. Thinly slice the truffle and cut into half inch strips.

Cook the pasta with the sauce for a minute or two on medium heat, then add half of the truffle. Turn off the heat, add the cheese, truffle butter if using and stir. Add another splash of paste water if needed to make a creamy pasta. Double check the seasoning for salt and pepper and adjust until it tastes good to you.
Serving
Serve the pasta in heated serving bowls, garnishing with as much extra truffle slices as you can spare.
Nutrition
Serving:
6
oz
|
Calories:
620
kcal
|
Carbohydrates:
46
g
|
Protein:
19
g
|
Fat:
30
g
|
Saturated Fat:
19
g
|
Polyunsaturated Fat:
3
g
|
Monounsaturated Fat:
13
g
|
Trans Fat:
0.01
g
|
Cholesterol:
108
mg
|
Sodium:
349
mg
|
Potassium:
410
mg
|
Fiber:
2
g
|
Sugar:
4
g
|
Vitamin A:
879
IU
|
Vitamin C:
1
mg
|
Calcium:
66
mg
|
Iron:
2
mg
FAQ
Where to buy black truffles?
Trufflecart.com is a good resource, and has a selection of cheaper truffles you can order. If you're a chef, Foods in Season and West Coast Wild Foods sell high quality truffles.
What's a black truffle substitute?
If you don't have fresh black truffles, you can use truffle paste or truffle spread. White and black truffle oil are very strong and can ruin a dish if too much is added.
How long do black truffles last in the fridge?
Kept in a glass jar with a towel and allowed to breathe once a day, fresh black truffles will last a week or more, but will be at peak flavor the first 3 days.