A rich braise of wild mushrooms with tomato and leek is a great lobster mushroom recipe for mushroom hunters, meat eaters and vegetarians. Serve it on a bed of cheesy polenta or grits for a great meal.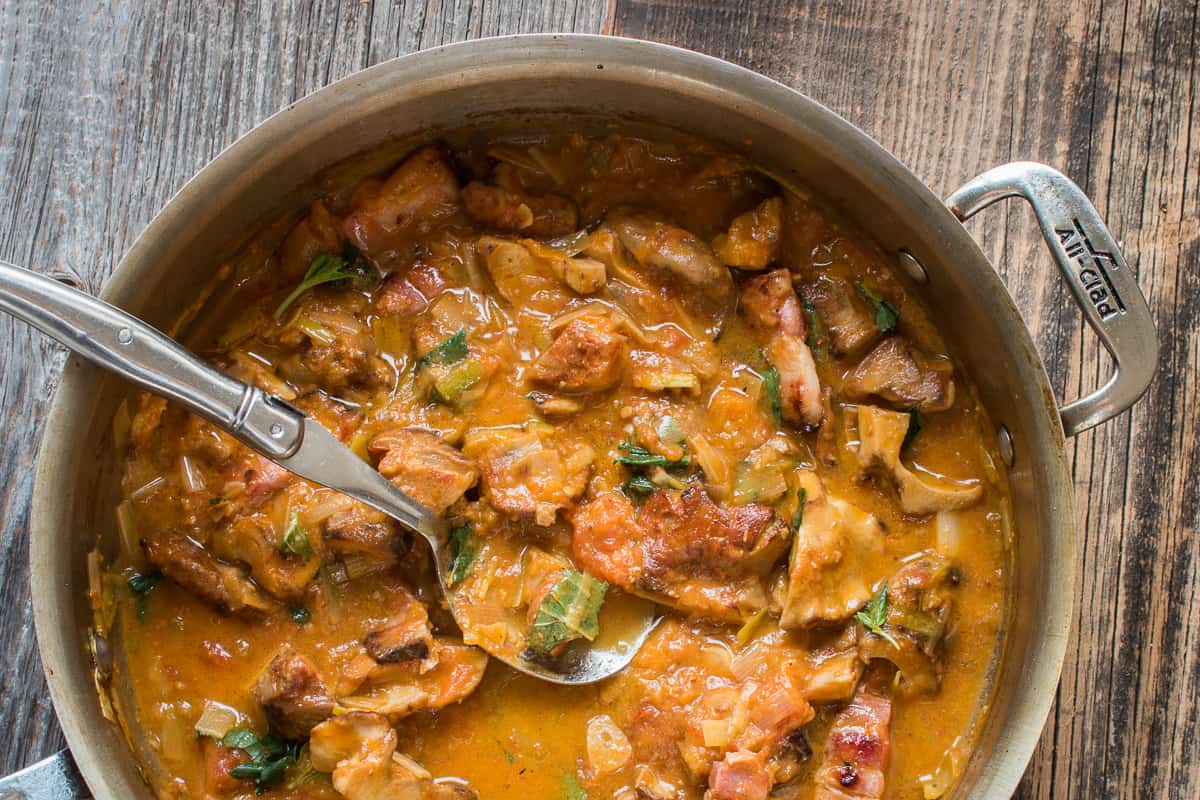 A long time ago, I wrote a recipe for braising a lobster mushroom whole, this updated version is much better, and is sure to be a hit for you during mushroom season.
The original recipe was a simple stewed mushroom cooked whole, and while I liked the dramatic plating it gave me when I would serve it occasionally for vegans and vegetarians in my restaurant days, serving lobsters whole can be tricky if they're dirty, and cutting the lobster mushrooms into larger chunks makes it easier for seasoning to penetrate them.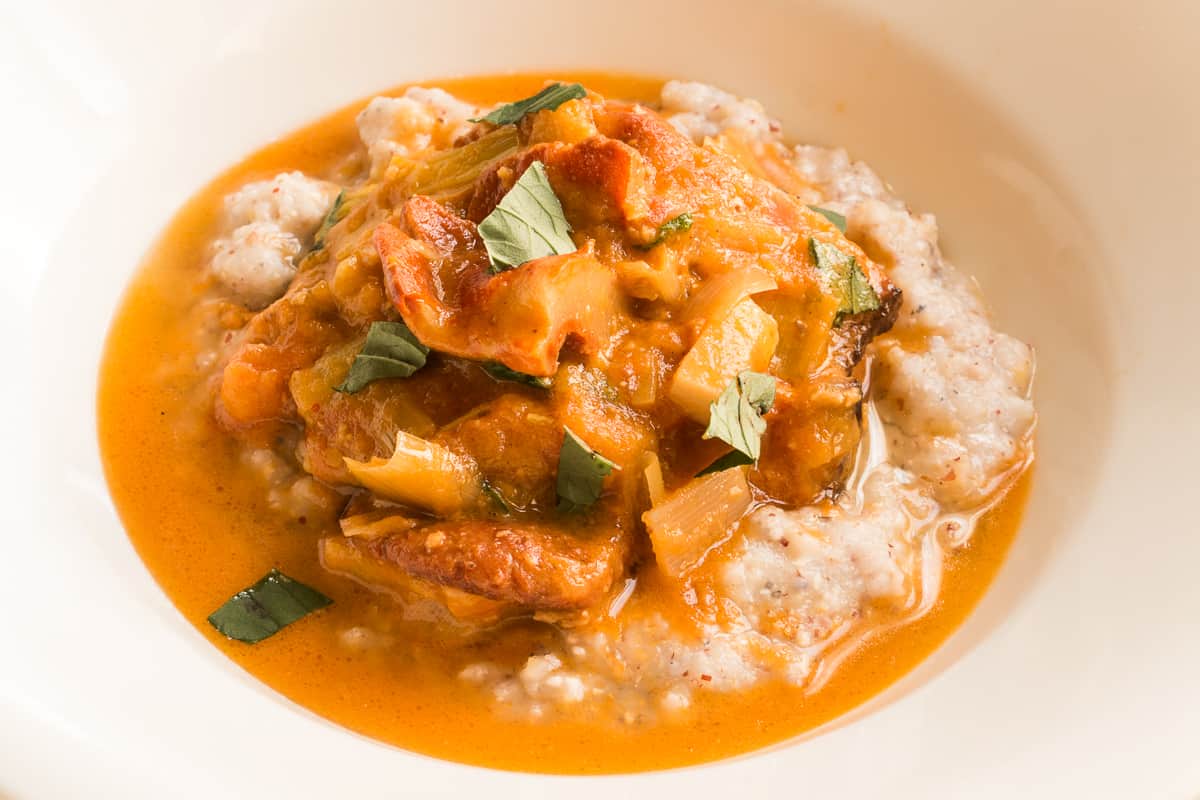 That being said, you could still do the same large chunk of the original recipe, but maybe keep the hunks of lobster to 2-3 ounces, and serve 2-3 at a time instead of just one.
Braising (or boiling) lobster mushrooms is a common technique used in South America, especially in the Michoacán where they're commonly hunted.
Instead of par boiling them here, I brown them in fat, add some alliums (garlic and leek) some wine, and, the magic ingredient: tomato concasse, or peeled, seeded, chopped tomatoes that eventually break down and make a rich sauce that would be good with just about anything.
Besides helping to thicken the sauce, the tomato also helps absorb a good glob of butter at the end, which is one of the secrets to making a simple ragu of wild mushrooms that are generally pretty mild taste so good.
Using other mushrooms
There's a lot of different wild mushrooms you could use in this recipe. Here's a few good ones.
Aborted Entoloma / Shrimp of the Woods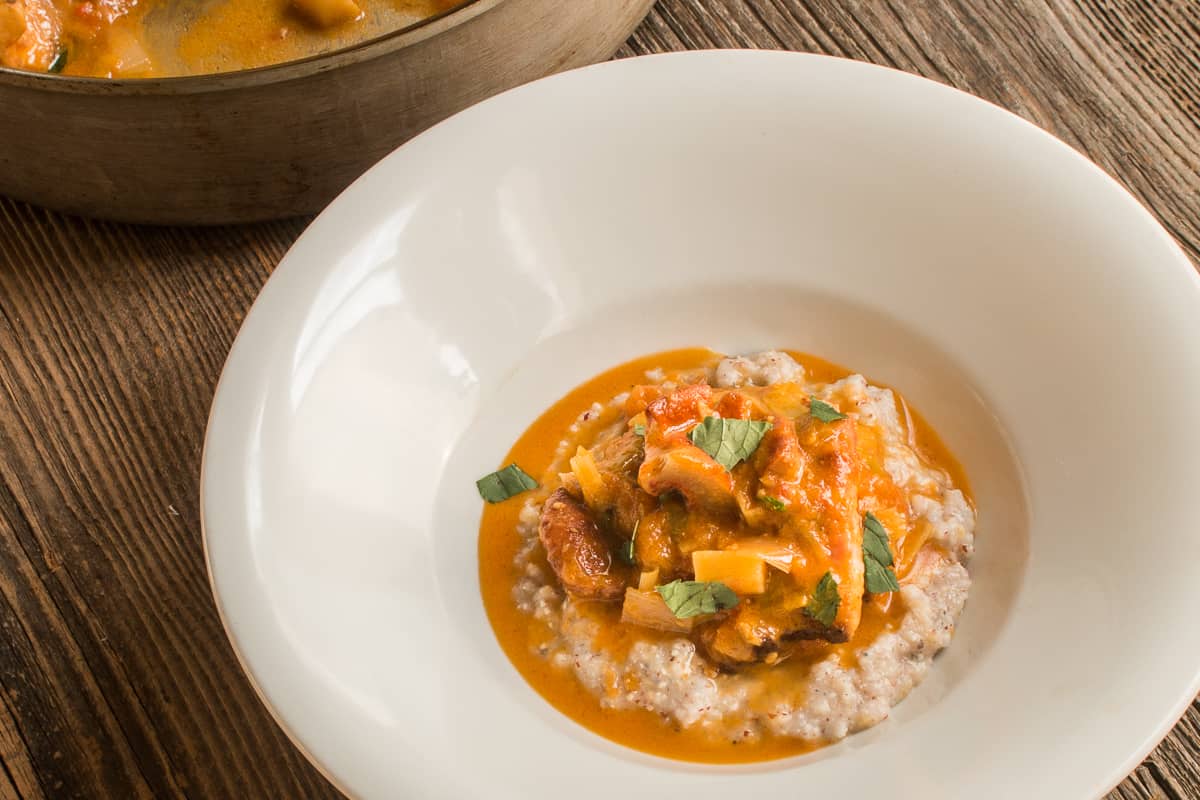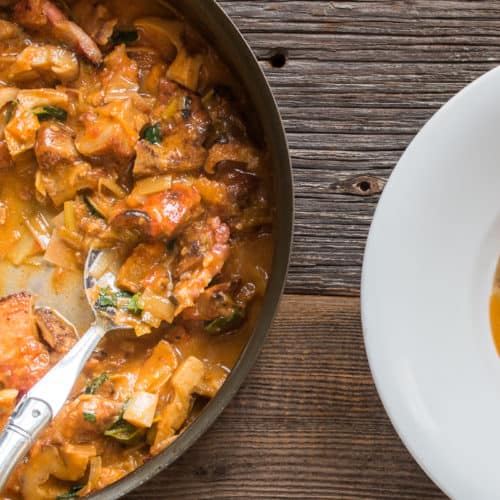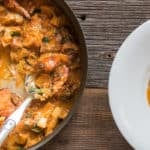 Print Recipe
Braised Lobster Mushrooms with Tomato and Leek
Braised lobster mushrooms in a rich tomato-leek sauce. Serves 2-4
Ingredients
4

oz

bacon

or make it vegetarian and use cooking oil

1

lb

lobster mushrooms

washed, cleaned, and cut into 1.5-2 inch pieces

3

oz

1 heaping cup leek, diced 1 inch

2

large cloves garlic

thinly slices

Pinch

dried chili

1.5

cups

chicken or mushroom stock

¼

cup

dry white wine

1.5

cups

tomatoes

blanched, seeded, and diced into 1 inch pieces, juice reserved (see note)

2

tablespoons

dried ground lobster mushrooms

optional

2

tablespoon

unsalted butter

2

tablespoons

sliced or torn fresh mint or basil

½

teaspoon

kosher salt

plus more to taste

Fresh ground black pepper

to taste
Instructions
In a wide 12 inch or similar sized pan, render the bacon and reserve, leaving the fat in the pan. Brown the lobster mushrooms in the bacon fat on medium high for 10-15 minutes, seasoning with the salt and pepper along the way.

Push the mushrooms to the side of the pan and add the garlic, along with a little extra oil if needed. Cook the garlic until it's light brown and aromatic, then add the leeks and ground mushrooms if using and cook for 2 minutes more. Add the chili.

Deglaze the pan with the wine, cook down by half, then add the stock and bring to a rapid boil. Add the tomatoes and their reserved juice along with the rendered bacon and cook on medium-high for 15-20 minutes or until slightly thickened.

Double check the seasoning for salt, adjust as needed, then add torn mint to taste, and serve with a vehicle for the juices, like soft polenta or crusty bread.
Notes
If you haven't concassed tomatoes, here's the process: take a large tomato and core it, then score the bottom with an X. Plunge the tomato into boiling water for 30 seconds, then remove and cool. Peel the tomatoes, discard the skin, then cut into ¼'s, squeeze the seeds and juice into a strainer over a bowl. Cut the tomato ¼'s into 1 inch pieces and reserve them and the juice separately. 
Nutrition
Serving:
6
oz
|
Calories:
522
kcal
|
Carbohydrates:
26
g
|
Protein:
20
g
|
Fat:
37
g
|
Saturated Fat:
15
g
|
Polyunsaturated Fat:
5
g
|
Monounsaturated Fat:
14
g
|
Trans Fat:
1
g
|
Cholesterol:
73
mg
|
Sodium:
1243
mg
|
Potassium:
1389
mg
|
Fiber:
4
g
|
Sugar:
12
g
|
Vitamin A:
2016
IU
|
Vitamin C:
26
mg
|
Calcium:
58
mg
|
Iron:
3
mg