Here's a quick, easy recipe I whipped up the other day to celebrate butchering my first deer of the season: pan seared venison tenderloin or backstrap crusted in dried morels. I'll skip the hot sauce and Worcestershire sauce, thank you very much.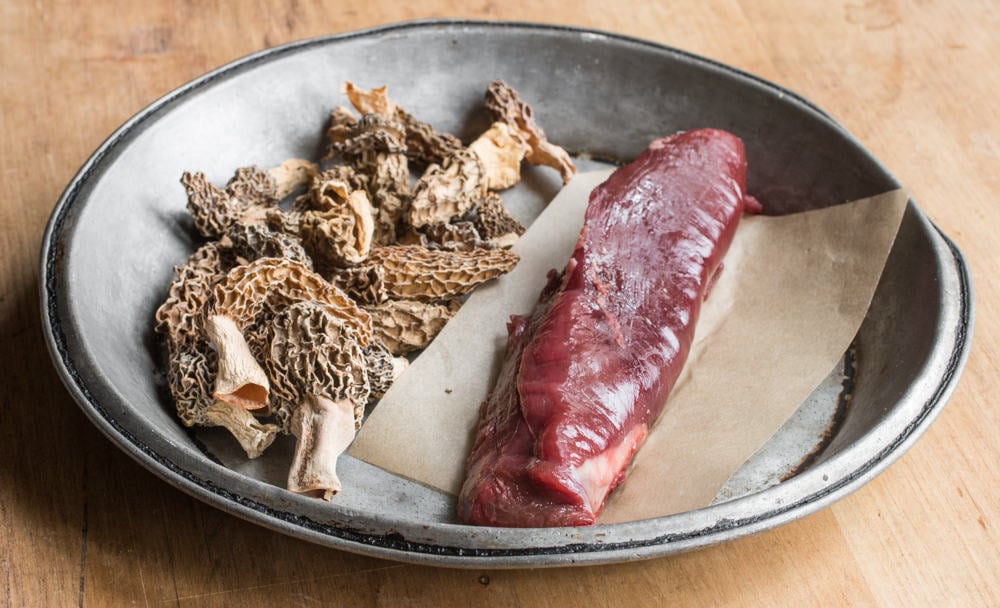 I'm definitely not the first to think of it, but it's worth sharing. It was great to finally be able to cook some deer tenderloin all to myself as a reward for putting in a couple hours skinning and butchering.
I've crusted all sorts of things with dried mushrooms, especially lobsters, but morels in particular, to me, seemed to want to be paired with deer steaks, there's just something about it that speaks to the Midwesterner in me.
But, if you don't have morels, this is a fun recipe you can make with lots of dried wild mushrooms. I'll mention a few alternates you could use further on in the post.
How to make it
The method is easy and could be used for any part of the deer you'd cook like a steak. True tenderloins are the best though, since they're small enough that you can roll them around to completely coat them with the dried mushrooms.
To make it, all you do is season your tenderloin up with salt, pepper, and a little fresh thyme if you have some, if not, no biggie.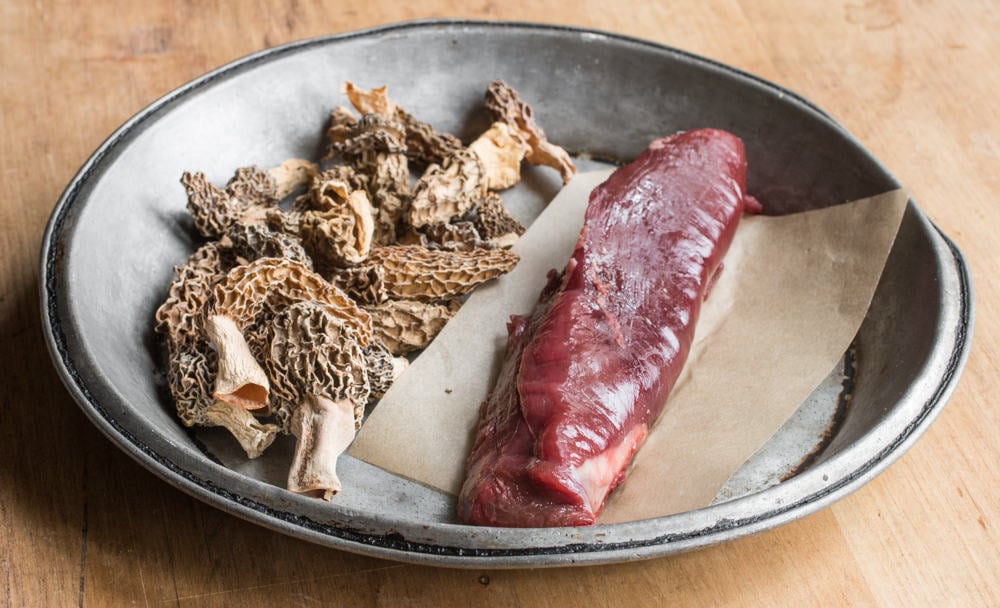 Roll the tenderloins around in the crushed morels, melt a little butter in a pan, then when it's up to medium high heat brown them up. Most importantly, don't over cook them. You're looking for a perfect medium rare here.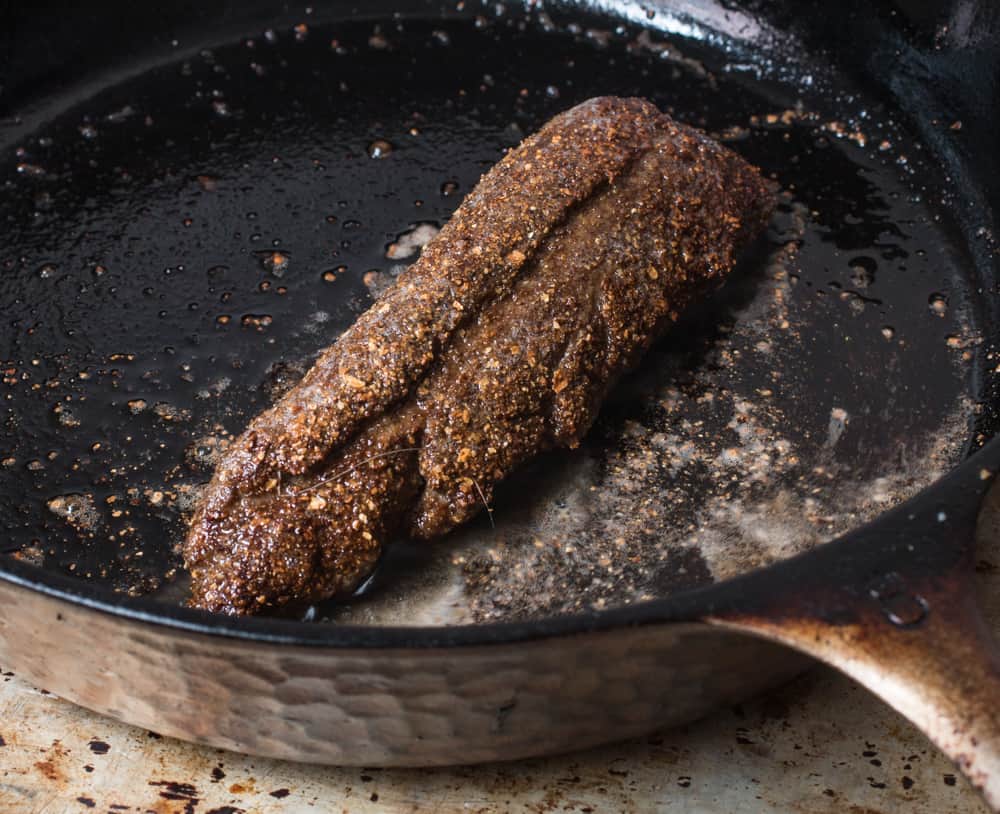 Using butter vs oil
A note on the butter. I like to use butter when I cook things crusted with dried mushrooms as you get the conductive heat from the pan, and it will brown, but it's gentler than just frying it in oil or lard. Since the mushrooms are dried, in a sense you're just browning the mushrooms, not the venison, if that makes any sense.
Cooking in plain oil would make it easier for the mushroom crust to burn, but with the butter, the milk solids help to ensure a gentle browning, hedging your bet against anything getting too dark.

Variations
There's lots of different ways you can make something similar, even if you don't have tenderloins or dried morels. Here's a few different cut's I might use, and some other mushrooms that work well as a crust.
Alternate venison cuts
Backstrap/Loin
Gooseneck roast (a small roast from the leg)
Steaks cut from the top round
Alternate dried mushrooms
Porcini
Lobster Mushrooms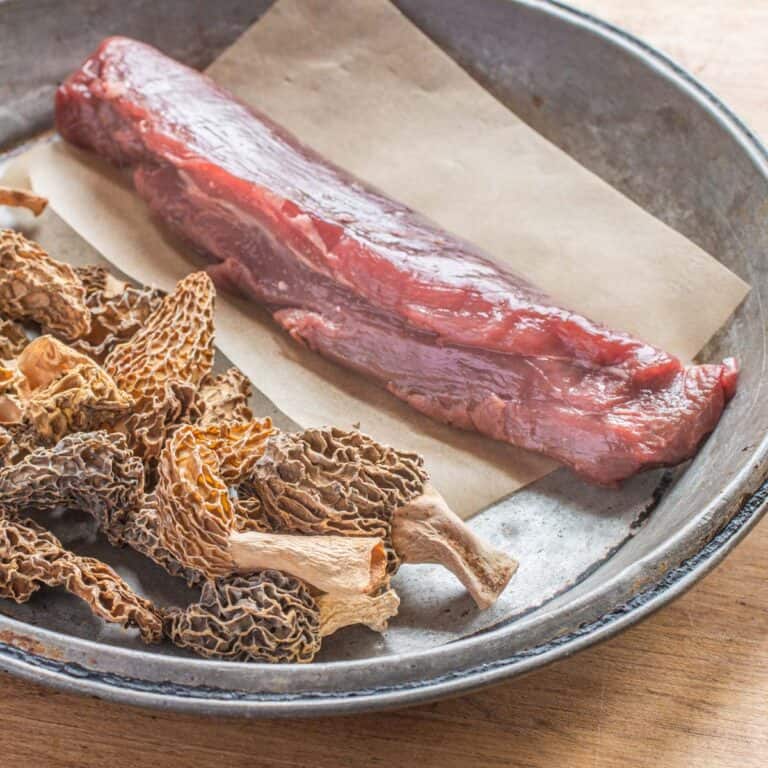 Print Recipe
Pan Fried Venison Tenderloin with Morel Crust
Decadent venison tenderloins crusted with morel mushrooms is a great way to celebrate the hunt.
Equipment
1 10 inch saute pan or cast iron skillet
Ingredients
6

oz

Venison tenderloin

~ 1 tenderloin

Dried morel mushrooms

ground in a spice grinder, about 1.5 tablespoons for each tenderloin

Kosher salt and fresh ground black pepper

to taste

Fresh chopped thyme

optional, to taste

2

tablespoons

Unsalted butter

or a combination of butter and oil, for cooking
Instructions
Allow the tenderloins to rest at room temperature until you're ready to cook, about 30 minutes.

Season the tenderloins with salt, pepper and thyme if using. Roll the tenderloins generously in the dried morels, pressing down firmly to help the coating adhere.

Meanwhile, in a cast iron skillet or another non-stick pan, heat the butter on medium heat until melted, hot and foaming.

Add the tenderloin(s), brown gently on each side for a minute or two (I like mine about 135-140F in the center) until the morel crust is golden, then remove to a warm place on a paper towel to rest for a few minutes before cutting to help the juices redistribute.
Nutrition
Serving:
6
oz
|
Calories:
405
kcal
|
Carbohydrates:
0.02
g
|
Protein:
39
g
|
Fat:
27
g
|
Saturated Fat:
16
g
|
Polyunsaturated Fat:
2
g
|
Monounsaturated Fat:
7
g
|
Trans Fat:
1
g
|
Cholesterol:
205
mg
|
Sodium:
90
mg
|
Potassium:
548
mg
|
Sugar:
0.02
g
|
Vitamin A:
700
IU
|
Calcium:
15
mg
|
Iron:
6
mg
More
Forager's Guide to Morel Mushrooms