I learned to make steak aux poivre with mushroom sauce watching my chef from Rome, Angelo. Usually he kept things American-friendly, but we made hanger steak aux poivre the old way. Each steak was rolled in fresh ground black pepper and seared in a hot pan.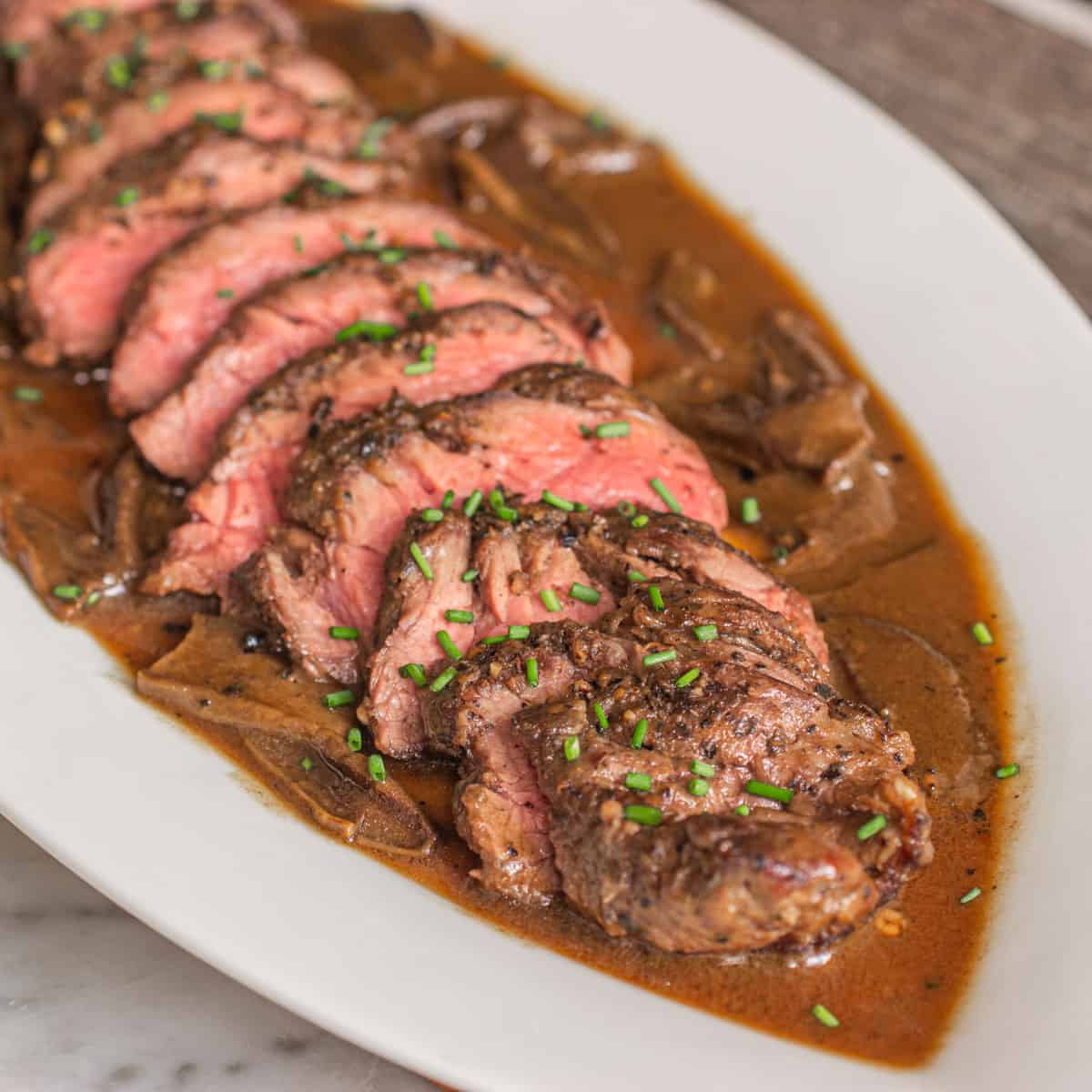 At the restaurant, the pepper steaks would come back occasionally if people thought they were too spicy. In hindsight it was understandable since how steak aux poivre is made will vary greatly from kitchen to kitchen.
Depending on the chef you might get pickled green peppercorns or a peppercorn blend. My least favorite is a dusting of old, stale black pepper. I want the crunchiest crunch of hot peppercorns. At your house, you might tone it down a bit.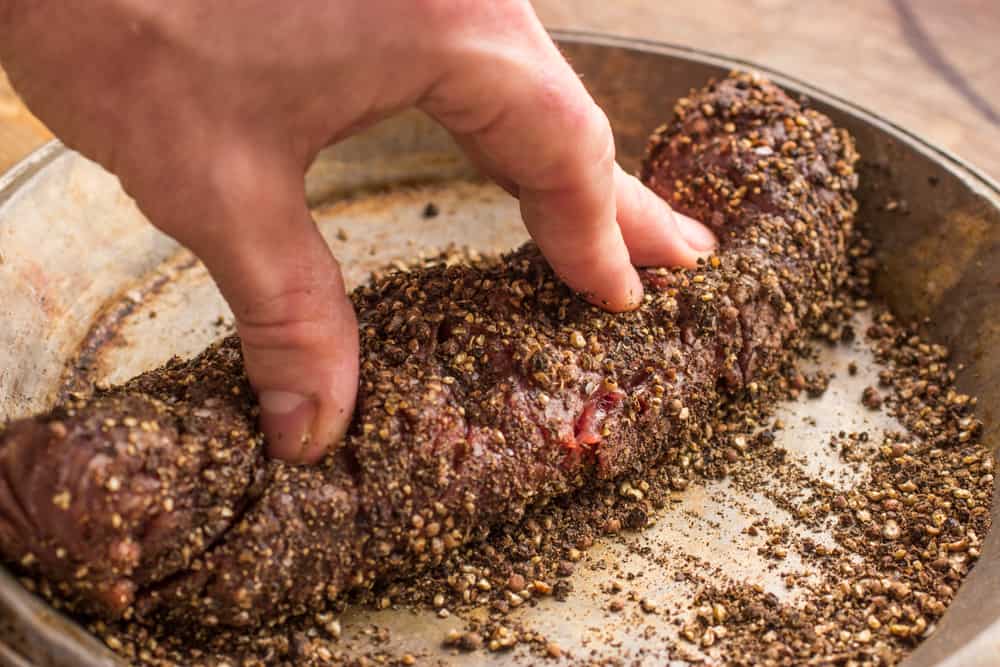 The peppercorns
You want whole black peppercorns here. Tellicherry peppercorns are the best. They're the same dried fruit as regular black peppercorns, just bigger and more aromatic.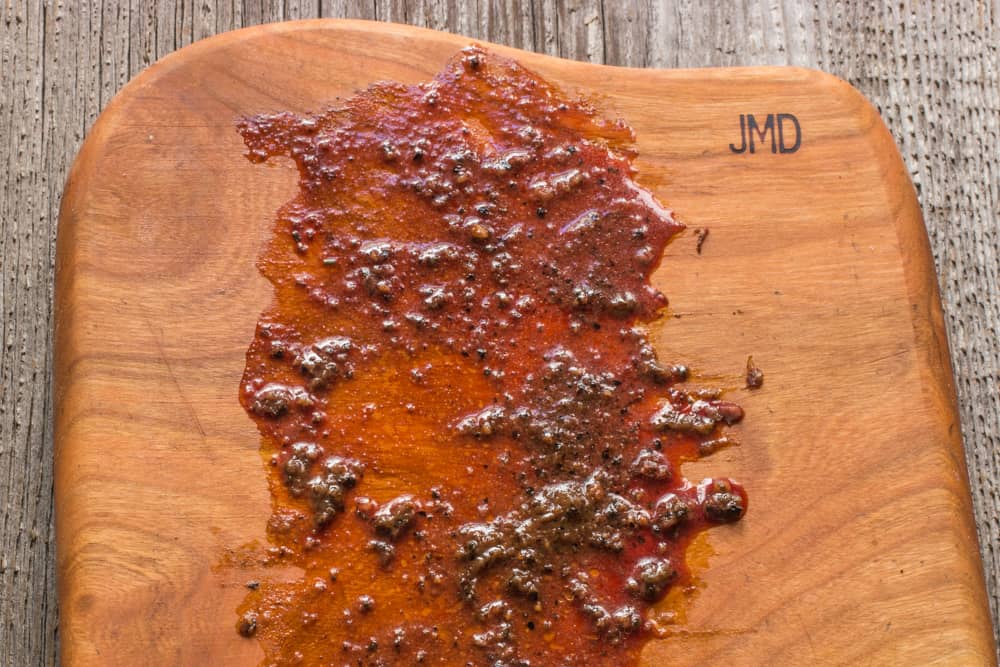 Part of the what makes steak aux poivre delicious is the crunch. Each addictive, abusive bite shoots a fresh wave of fire and bracing pepper into your senses.
What you don't want, is black peppercorns ground into a powder. The peppercorns should be crunchy.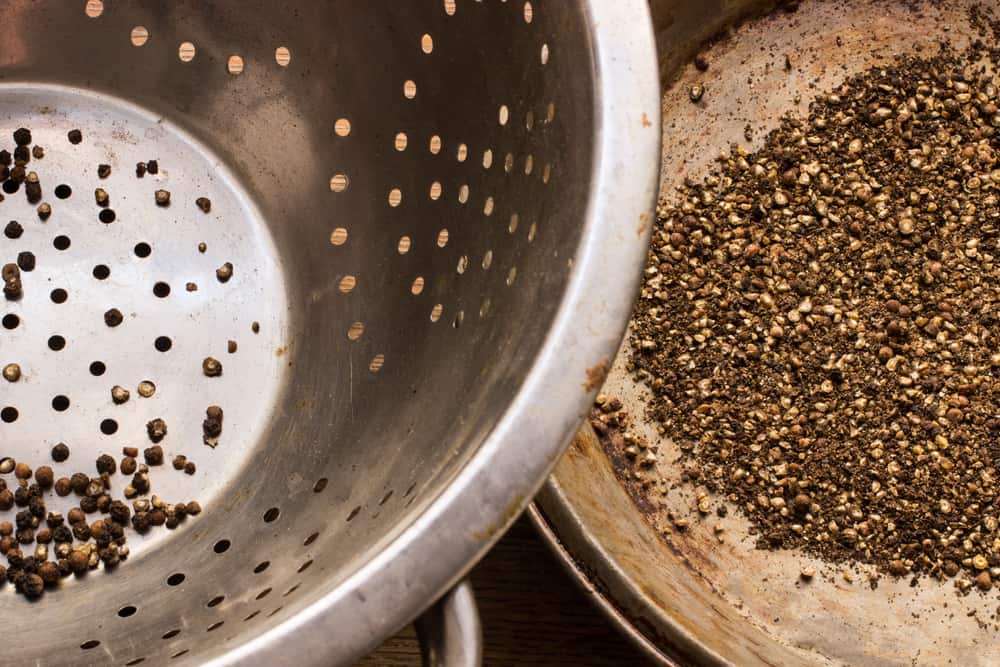 A spice grinder can work, but usually I'd only allow my cooks to crush the corns with the back of a pan, or grind by hand in a mortar and pestle.
After the corns are coarsely ground, they're passed through a china cap sieve or a colander with large holes. Large corns are re-ground and combined with the rest for a consistent size.
I'll usually garnish with a pan sauce. Red wine, brandy, mushrooms, caramelized onions or cream would all would be welcome.
Reduced stock or demi-glace is often added too. Most restaurants, especially private clubs and chains will use demi-glace concentrate but I don't recommend that.
Mushrooms
I use dried porcini mushrooms here, but you can use fresh mushrooms too. Black trumpet mushrooms are another good option.
Related Posts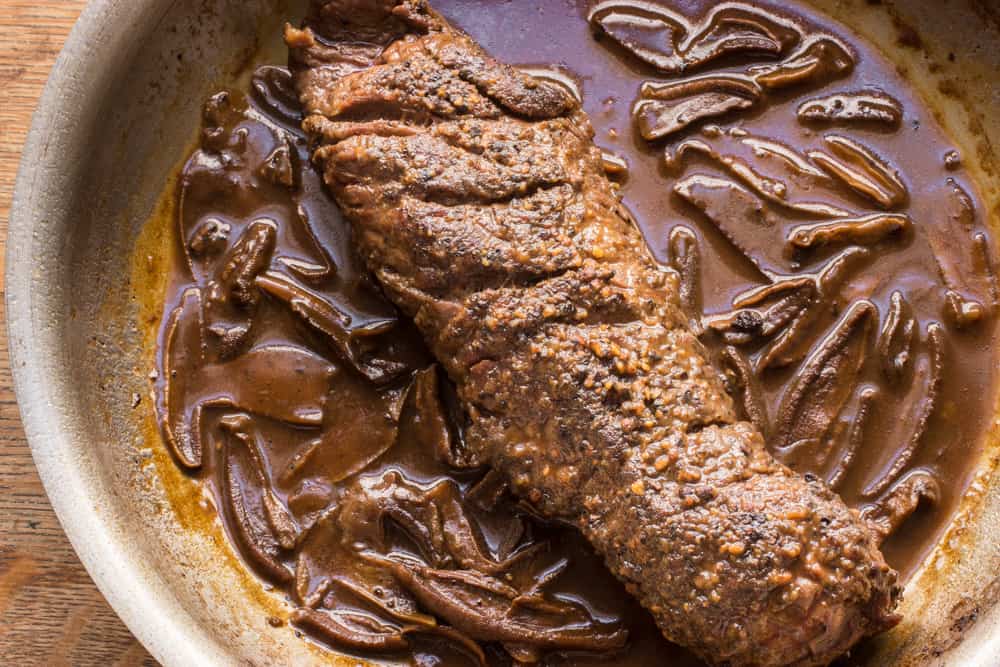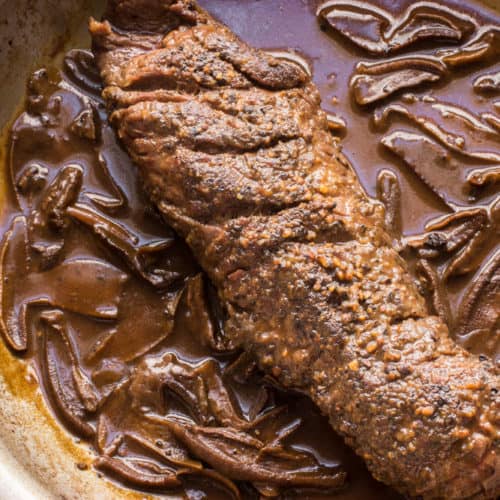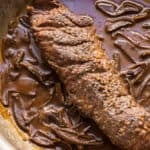 Print Recipe
Hanger Steak Aux Poivre with Dried Mushroom Sauce
Classic, fiery-hot peppercorn steak with a sauce made from dried wild mushrooms
Equipment
Collander or China Cap, Mortar and Pestle
Ingredients
2

five ounce hanger steaks

2

cups

beef stock

preferably homemade

½

ounce

dried

dried bolete mushrooms

ground black peppercorns

about ½ cup

1

tablespoon

finely diced shallot

to taste

¼

cup

brandy or cognac

or add wine, like a dry red

2

tablespoons

unsalted butter

Kosher salt

as needed to taste

2

tablespoons

flavorless cooking oil

¼

teaspoon

chopped fresh thyme

optional
Instructions
Soak the mushrooms in the stock for 15 minutes. Swish them around, then remove the mushrooms, strain the juice and reserve. If your mushrooms are large cut them into bite-sized pieces.
Peppercorns
Grind the peppercorns by hand in a mortar and pestle until coarse, then sift as pictured above..
Steak
Season the hanger steak with salt, then roll in the crushed peppercorns, pressing down hard to make them stick.

Heat the oil in the pan, then brown the steak on each side on medium-high heat about 3 minutes per side for medium rare. Remove from the heat and allow the steaks to rest in a warm place.

Add the shallot and a tablespoon of butter to the pan. Cook on medium heat for a minute, then add the mushrooms and cook 2 minutes more de-glaze with the brandy and reduce until nearly dry

Add the mushroom stock and reduce again.

When the liquid in the pan is reduced to about 1 cup, roll the remaining tablespoon of butter in flour, then whisk in to the sauce and reduce until thickened to your liking. Add any juices from the steak, and adjust the season for salt if needed.
Serving
The steak is pictured thinly sliced, but it's easier to reheat the steaks uncut in the for a minute at home before serving.
Notes
Steak
You can use lots of different steaks here, but hanger steak is my favorite.
Serving
The steak is shown thinly sliced, but it's easier to serve them in one piece at home.
The Heat 
Adjust the heat by not rolling your entire steak in peppecorns, if you or your loved ones are on the fence, start with crusting one side, or mixing the peppercorns 50/50 with ground dried mushrooms.