I learned to make steak aux poivre from watching my old chef from Rome, Angelo. Most of the time, he kept things pretty American-friendly, but the hanger steak aux poivre was done the old way: dredging the whole damn thing in freshly ground, coarse black pepper, then searing in a red hot pan. Oh, and it wasn't called steak aux poivre, it was bistecca di manzo al pepe nero. My recipe is exactly the same as we served it back then, just with the addition of some special oak-loving dried bolete mushrooms in the pan sauce.
Back at the restaurant, the pepper steaks would dependably bounce from the dining room--people thought they were too spicy. All the line cooks would exclaim when they came back with anti customer jeers and everything else you'd expect. But, with what I know now, it was completely understandable, since how steak aux poivre is made will vary greatly from kitchen to kitchen.
Depending on the chef, and their predilection for your suffering, you might get mild, pickled, or spicy green peppercorns, a cute peppercorn blend, or my favorite: a dusting of ancient black pepper, it's steel 9th-pan still sporting the same lazily dog-eared cling film and label from the day it was ground, months ago. If you get pink peppercorns, flip your plate in the air and walk out the door--they're not even in the genus piper. I'm a glutton for punishment, so when I make it for myself, I want the crunchiest crunch, and a fiery mouth-full of aromatic, hot tellicherry peppercorns. At your house, you might tone it down a bit, especially if grandma's coming to dinner.
While I'm on the peppercorn topic, you don't just want any peppercorns, you want whole, black peppercorns. What won't work, is a pepper mill, or god forbid that heretical, grey, tasteless sawdust in the white and red pop-top box. If you can find tellicherry peppercorns, spring for them as they're the same dried fruit as regular black peppercorns, just a little bigger and more aromatic. You'll pay more for tellicherry, but they're worth trying if you haven't had them, especially if you crave a little heat in your life.
No Crunch=No Fun
The other thing that's important, even more than the peppercorns, is the exact size of the crushed corns themselves. Part of the what makes steak aux poivre delicious is the only slightly audible crunch-crunch the peppercorns make as you chew, each addictively abusive bite shooting a fresh wave of fire and bracing pepper into your senses again and again. What you don't want, is black peppercorns ground into a powder, you'll get heat from that, but not much else, and it turns into a floury, powdery mess. To get the peppercorns coarse like you want, it takes a little finesse.
Grinding in a coffee or spice grinder might seem easy, and it is, but it's not what you want to do. Typically I'd authorize two ways for my cooks to prepare the corns depending on what they preferred: crushed with the back of a pan on a metal sheet tray, or ground by hand in a mortar and pestle. After the corns are coarsely ground, they're passed through a china cap sieve or a colander with large holes, then the large corns are coarse-ground again, and combined with the rest so the size is consistent.
I'll usually garnish with a little sauce--something rich. Red wine, brandy, mushrooms, caramelized onions or cream would all would be welcome in some form in the sauce, preferably made fresh out of the pan the steak was cooked in, often with a little reduced stock or glace. Most restaurants, especially private clubs and chains will use demi-glace concentrate, but that stuff is garbage, and you're honestly better off using stock from a can.
The mushrooms here were the last hoorah for the great Boletus pallidoroseus (now known as Lanmaoa pallidorosea) haul of 2013. If you're not familiar, it's a striking bolete with a pink flush on the stem and cap, which, by itself isn't that noticeable, but when it's dried, it has an unmistakable aroma of beef bouillon or rich beef broth. Every year since I've gone back to the same patch to look for more, and I've never seen a single one. Steak and mushroom sauce was a proper way to send them off.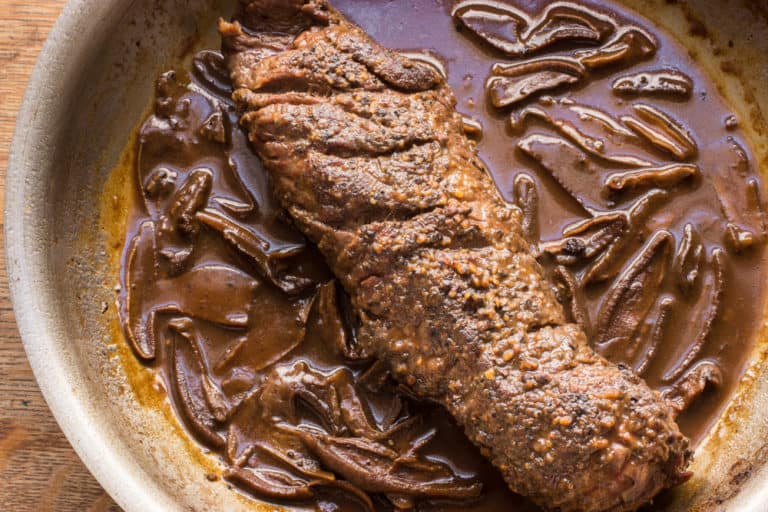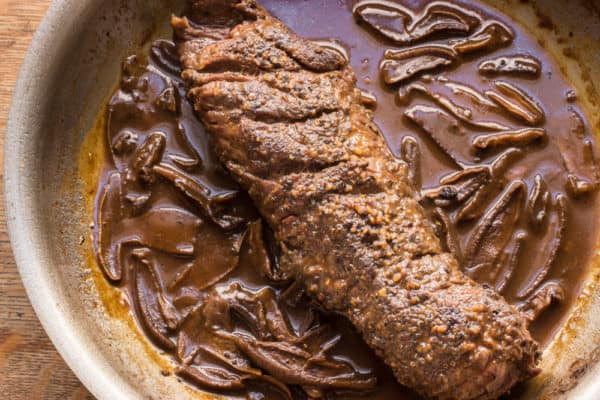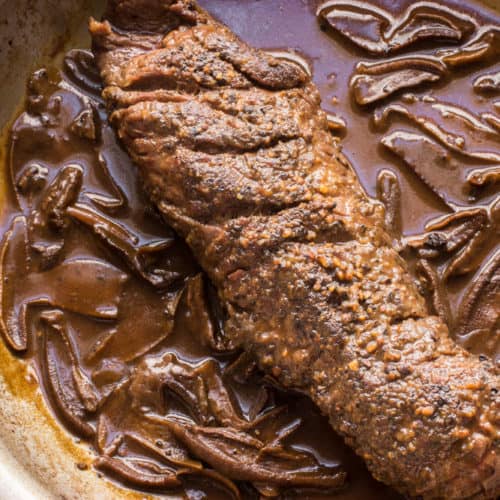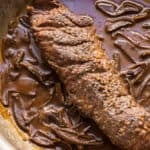 Print Recipe
Hanger Steak Aux Poivre with Dried Bolete Mushroom Sauce
Classic, fiery-hot peppercorn steak with a sauce made from dried wild mushrooms
Equipment
Collander or China Cap, Mortar and Pestle
Ingredients
2

five ounce hanger steak

teres major, or tenderloin steaks

3

cups

beef stock

preferably homemade

½

ounce

dried

sliced bolete mushrooms

Black peppercorns

preferably Tellicherry, as needed, about ½ cup

1

tablespoon

finely diced shallot

to taste

¼

cup

brandy or cognac

2

tablespoons

unsalted butter

Kosher salt

as needed to taste

2

tablespoons

flavorless cooking oil

¼

teaspoon

chopped fresh thyme

optional

All purpose flour or equivalent, for dredging
Instructions
Soak the mushrooms in the stock until rehydrated, about 15 minutes. Agitate the mushrooms in their water to remove grit, then remove the mushrooms and reserve, strain the liquid and reserve both separately. If your mushrooms were full of holes from insect damage, or are a species that get slippery after rehydrating (Leccinum, slippery jack) chop them fine so you don't scare your dinner guests or loved ones. If the mushrooms were pristine, leave them whole or chop coarse.

Grind the peppercorns by hand in a mortar and pestle until coarse, then sift as pictured above for uniformly-sized peppercorns.

Season the hanger steak with salt to taste, then roll completely in the crushed peppercorns, pressing down hard to make them adhere. Next dust the steaks lightly in all purpose flour, tapping off the excess.

Heat the oil in the pan, then brown the steak on each side. Remove the steak when it's done to your liking and allow to rest in a warm place.

Add the shallot and a tablespoon of butter to the pan. Cook on medium heat until the shallots are starting to brown, then de-glaze with the brandy and reduce until the pan is nearly dry. Add the mushrooms and stock and reduce again. When the liquid in the pan is reduced to about 1 cup, roll the remaining tablespoon of butter, then whisk in to the sauce and reduce until the sauce is thickened to your liking. Add any juices weeped by the rested steak, and adjust the season for salt if needed.

The steak is pictured sliced for you to see the temperature, but it's probably easier to reheat whole servings uncut in the sauce, and plate them in one piece.
Notes
Steak
You can use lots of different steaks here, but hanger steak is my favorite.
Mushrooms
Besides boletes, black trumpets and morels are excellent too.
Serving
The steak is shown sliced, but it's easier to serve them in one piece at home.
The Heat 
Adjust the heat by not rolling your entire steak in peppecorns, if you or your loved ones are on the fence, start with crusting one side, or mixing the peppercorns 50/50 with ground dried mushrooms. 
Dredging 
You can also roll the steak in flour after crusting in the peppercorns instead of adding the butter rolled in flour, simmering the steak in the sauce to thicken it. This will make a softer crust.