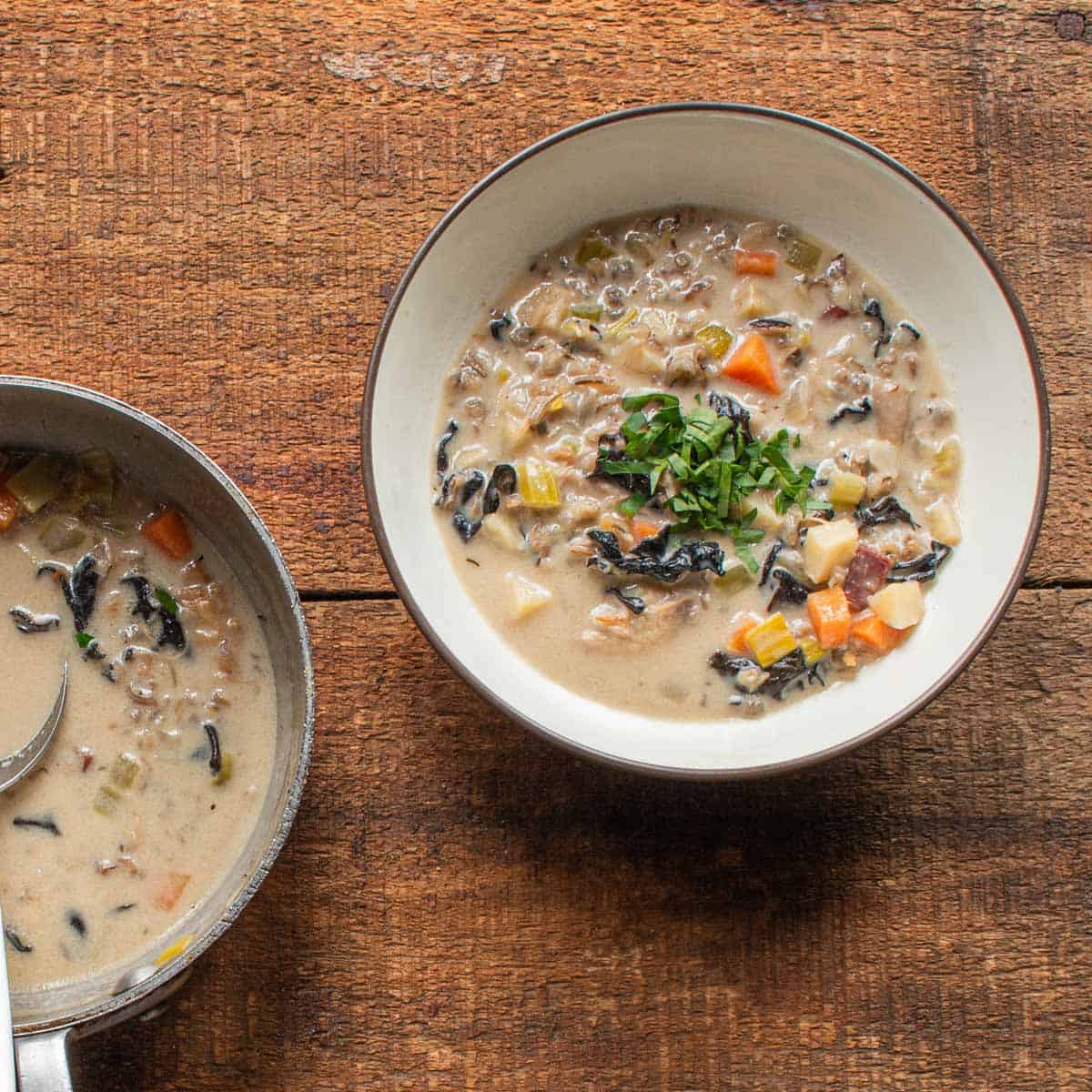 When I see that turkey, sure, I see a bunch of (hopefully) tasty and nicely, slow-roasted poultry, but more so I see a carcass that will become turkey wild rice and black trumpet mushroom (or whatever wild mushroom you like) soup.
I employ a special tactic for absconding with the carcass. As soon as people have eaten their fill, entering that state of mind where gorging on more turkey doesn't sound too appealing is the moment I pounce. I ask what's going to happen with the carcass, and if anyone would mind if I take it home.
Some of you here probably know the secret, glorious, amber nectar that is turkey carcass broth, and I salute you, but I'm also totally fine letting a few people I know think I'm odd for calling dibbs on the carcass. I have absolutely no problem keeping the secret of turkey nectar to myself.
Turkey carcass broth, and the resulting soups, sauces and risotti it can become are ridiculously good. The skin is browned, which gives it the rich color, the bones and any tiny scraps of meat left on it are cooked, which means they won't be secreting any cloudy albumen into the final product.
The broth is seasoned too (if you brined your turkey like you should) which means that is will have a longer shelf life, and will be rich with flavor from the get-go. Sure, that rich broth could be all kinds of things, but as I mentioned, I see only turkey wild rice soup, with a generous handful of dried black trumpets. It's a crowd pleaser to be sure, and even the 3 qt batch this makes will not last more than a meal or two, especially if you have a family, since they'll be going back for seconds.
There's plenty of recipes out there for soup like this, and they're ok--anything cooked in turkey carcass broth will taste great. A chef-tic and soup peeve of mine though, is too many carrots in soup, and most of the other recipes out there you look at will have them. It's no ones fault.
Traditional soup mirepoix is generally held to be equal parts carrot, onion and celery. The problem, is that onions are a bulb, celery is a stem, and carrots are roots, and they all break down at different times in a prolonged cooking scenario.
Onions and celery will break down faster and melt into the background, but carrots won't. Carrots will stay in your soup in the exact pieces and forms they went in as, no matter how long you cook them.
Another thing people don't think of is that prolonged cooking with a large amount of carrots also adds sugar to liquids, not sugar like throwing a handful of sugar in your soup, but they do transfer a sweetness that can get overpowering if you're aiming to showcase some other flavor--dried mushrooms are a good example as I wrote about in this post here.
So, to prevent my skin crawling from seeing too many carrots, I add different roots, but not just any roots, particular ones: carrots, but also parsnips and celery root, all members of the Apiaceae. You might be thinking: "Ok Alan, cool story, I know all those plants are related, what's the big deal?". The big deal is that other roots, particularly commonly used ones from Brassicaeae (turnips, rutabaga) take over all other flavors in whatever liquid their cooked in--they are not for this soup.
The other main ingredients here are parched wild rice, and black trumpet mushrooms. As many of you know, I cook nearly exclusively with parched wild rice, because, for general cooking, the flavor is far better than black paddy rice, and, it cooks in 20 minutes. If you can't remember if you've had parched wild rice before, do yourself a favor and order some, I get mine from KC's best, but there's lots of sellers out there.
As far as the mushrooms, I like black trumpet mushrooms here because they have a strong flavor, but, unless you add European dried porcini, whatever mushrooms you add are going to be in the background flavor-wise here, and that's a good thing.
The trumpets will give you a subtle flavor, and add to the finished, dreamy end-product, but more so they're here to add fun texture and color. That being said, I've included proportions for increasing the mushroom quantities if you want, or if you had a good harvest and have dried shrooms to burn.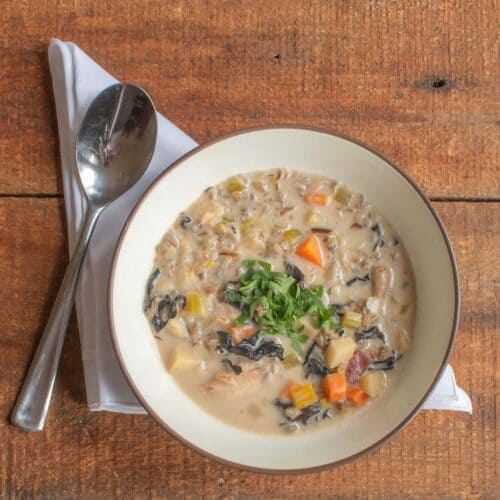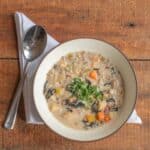 Print Recipe
Turkey Wild Rice Cream Soup with Black Trumpet Mushrooms
Makes 3 qts to serve 6-8
Ingredients
25

grams

black trumpet mushrooms

about a heaping cup of dried mushrooms

2

ribs

4 oz celery, ½ inch dice

3

cups

12 oz mixed parsnips, celery root and carrots, ½ inch dice

1

4 oz medium yellow onion, ½ inch dice

Scant ¾ cup parched wild rice

8

cups

turkey stock from a turkey carcass

2

cups

cooked turkey meat

from the carcass roughly chopped

¼

cup

dry sherry

optional

4

strips (~4 oz) bacon

sliced thin

8

tablespoons

unsalted butter

½

cup

all purpose flour or equivalent

½-1

cup

heavy cream

To your taste. Don't be afraid of full-fat dairy!

Kosher salt

to taste

2

dried bay leaves

½

teaspoon

dried thyme

optional
Instructions
Bring the wild rice to a simmer with 1.5 cups water, then turn the heat to low and cook until tender and the liquid is absorbed, about 20 minutes. Cover the rice and set aside.

Soak the dried black trumpets in 3 cups of stock for 15 minutes, then agitate well to remove grit, remove the trumpets, strain the liquid and reserve.

Very roughly chop the black trumpets—you still want to be able to chew them. In a gallon sized soup pot, render the bacon crisp until it's given up it's fat, then add the butter, onion and leek and cook on low heat 10 minutes.

Add the remaining vegetables and cook a few minutes more. Add the sherry and cook off for a minute. Add the flour and stir to coat, carefully stirring to saturate the flour, then add the stock, black trumpets, thyme and bay leaves, bring the mixture to a simmer, and cook on the lowest heat possible for 20 minutes.

Add the cooked wild rice, turkey and cream, cook for a minute or two more just to heat through, then double check the seasoning, adjust as needed, and serve. The soup is better the second day.
Notes
I make this with leftover turkey broth, which means it's seasoned pretty well already. If you use a different stock that's unseasoned, you'll want to season this well with salt as you cook, until it tastes good to you. 
If you really want to drive the mushrooms home, up them to 35 grams, or 1.5 cups dried crumbled mushrooms
More