This black truffle deviled eggs recipe is one of the best things to make if you have a fresh truffle. It's also a relatively cheap black truffle recipe, using about $30 in ingredients. Besides my basic technique for cooking hard boiled eggs, I also share one of my top secrets for capturing truffle flavor. Read on and I'll explain.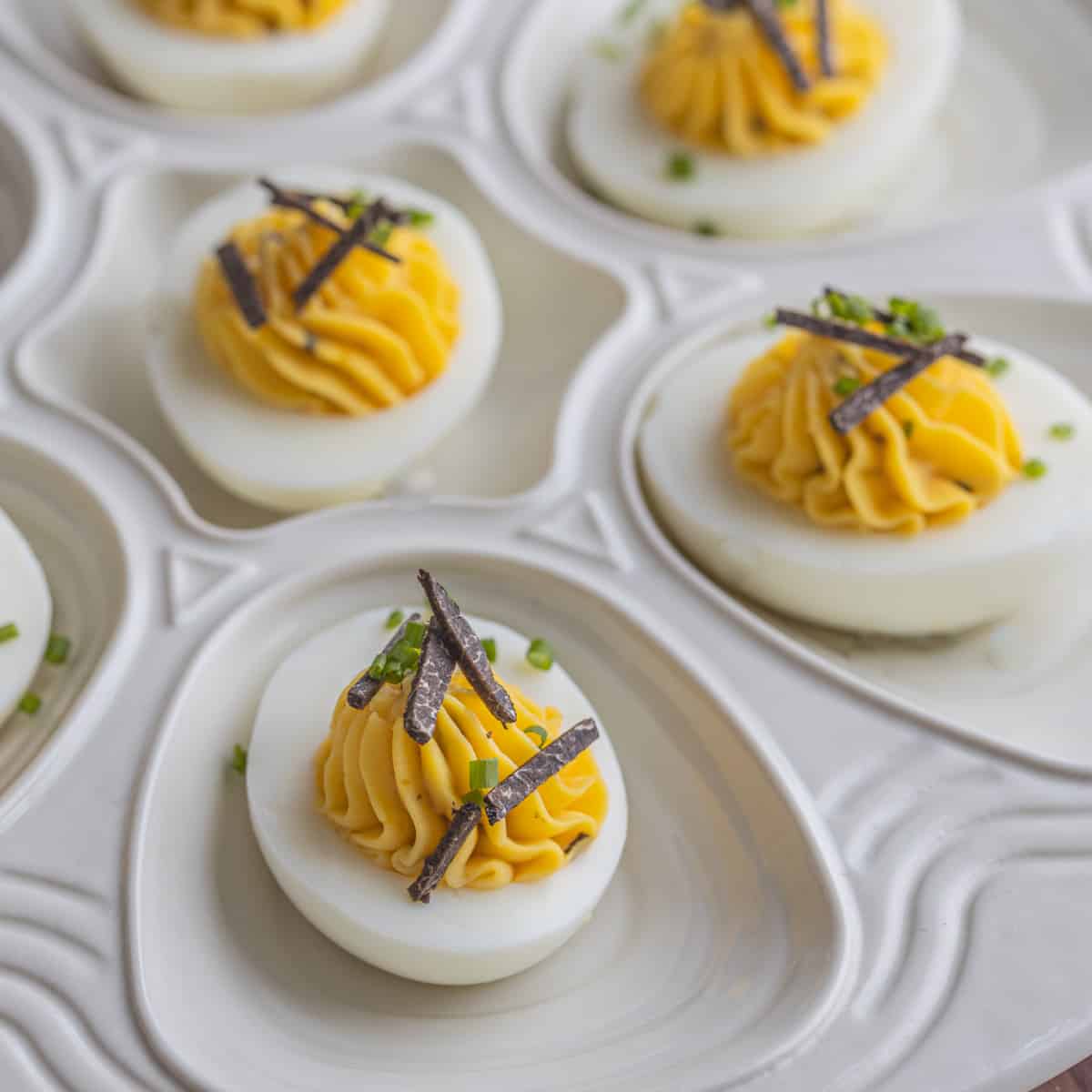 How to Make Black Truffle Deviled Eggs
The secret is that before cooking, the eggs are stored in a jar with a truffle for at least 1-2 days. This infuses the egg yolk with truffle aroma without cooking them, and is a taste you can't get from using truffle oil alone.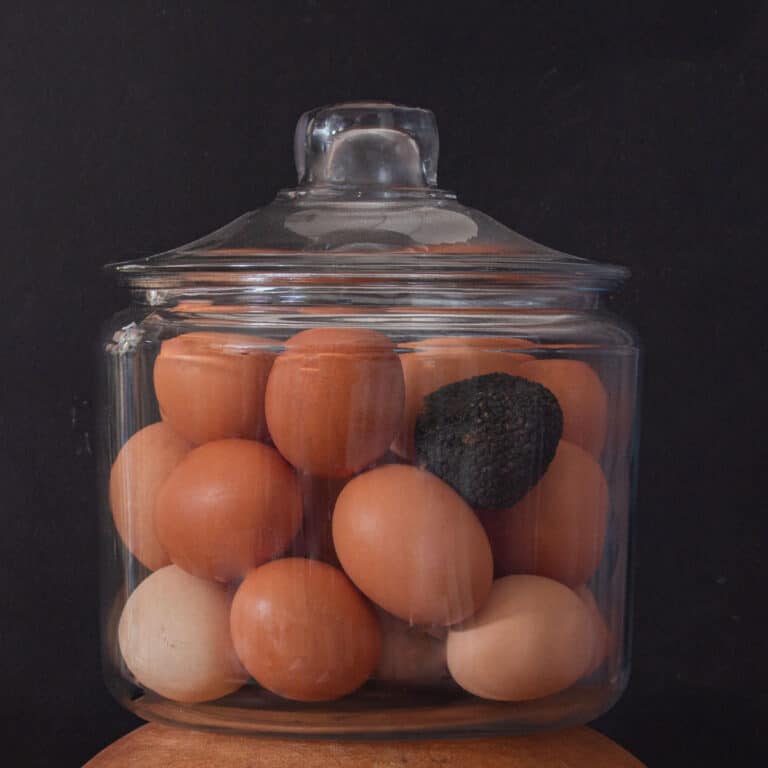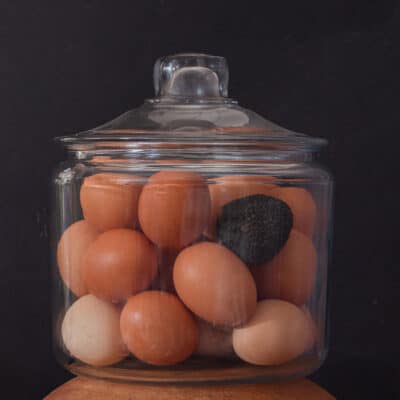 To cook the eggs, you lower them into simmering water and cook for twelve minutes.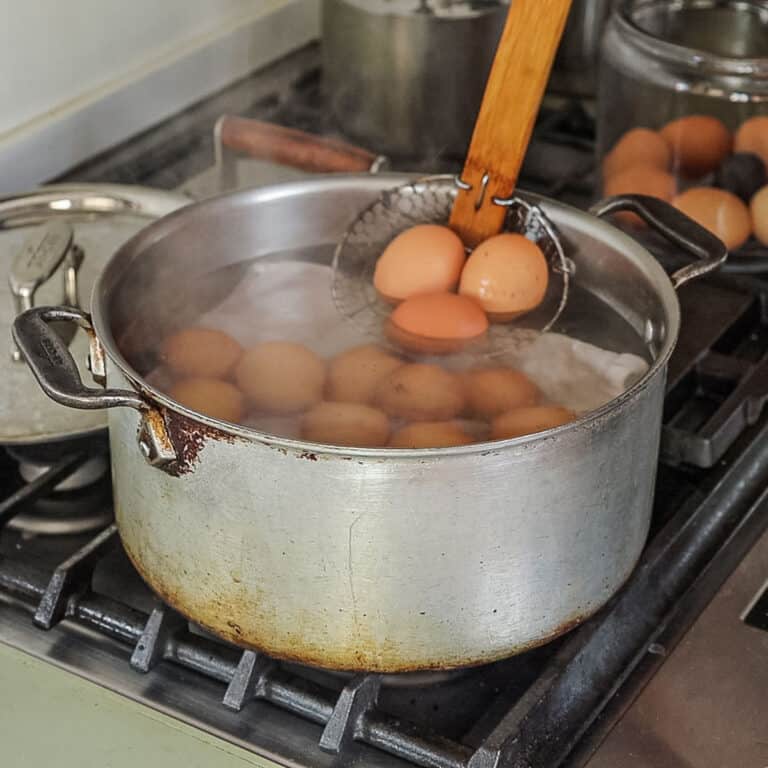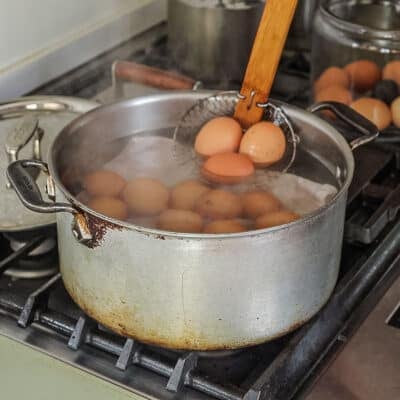 Halfway through the cooking process you add cold water to keep the water from boiling. Once the eggs are cooked, they're cooled off, and peeled in warm water. Warm water makes the shells come off easier than if the eggs are cold. But, even if you're eggs aren't 100% perfect, they'll still be fine and no one will notice. They're deviled eggs with truffles, after all!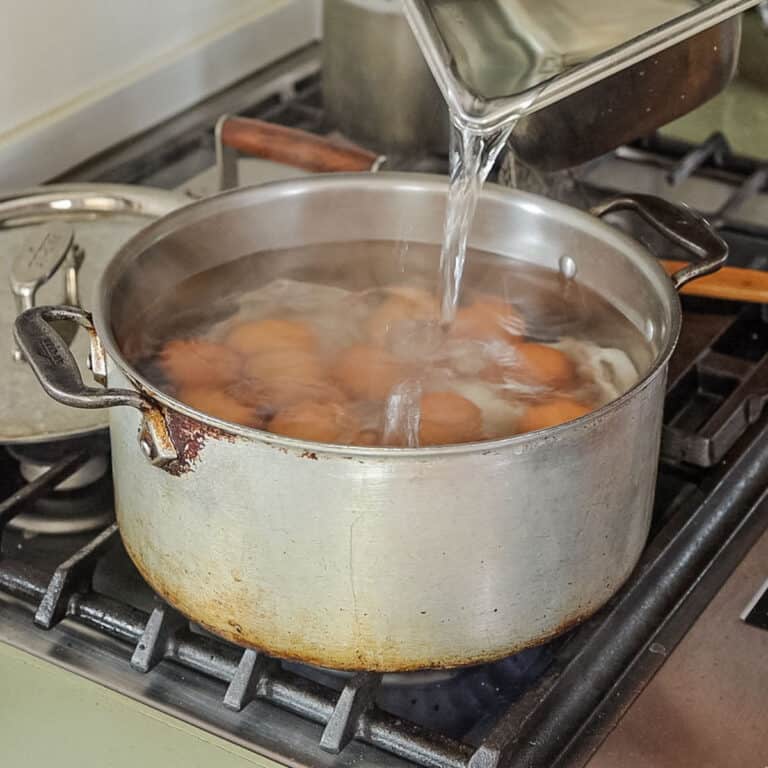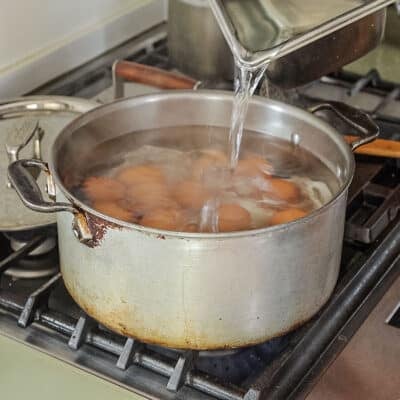 After peeling the yolks are removed and the whites are washed clean in warm water. To make the filling, you mash or puree the egg yolks with sour cream, mayonnaise, a touch of mustard, and fresh truffle. After the stuffing is made, you spoon it into a pastry bag and pipe perfect rosettes of filling onto the half of each egg. Anchor each egg on the plate with a small amount of filling.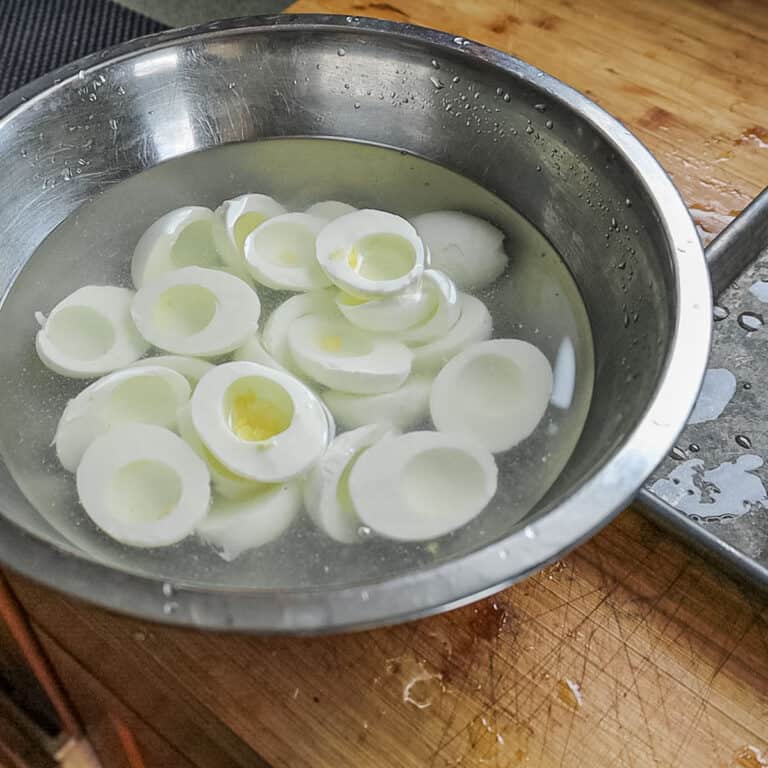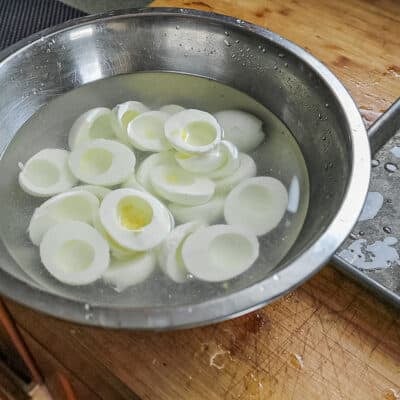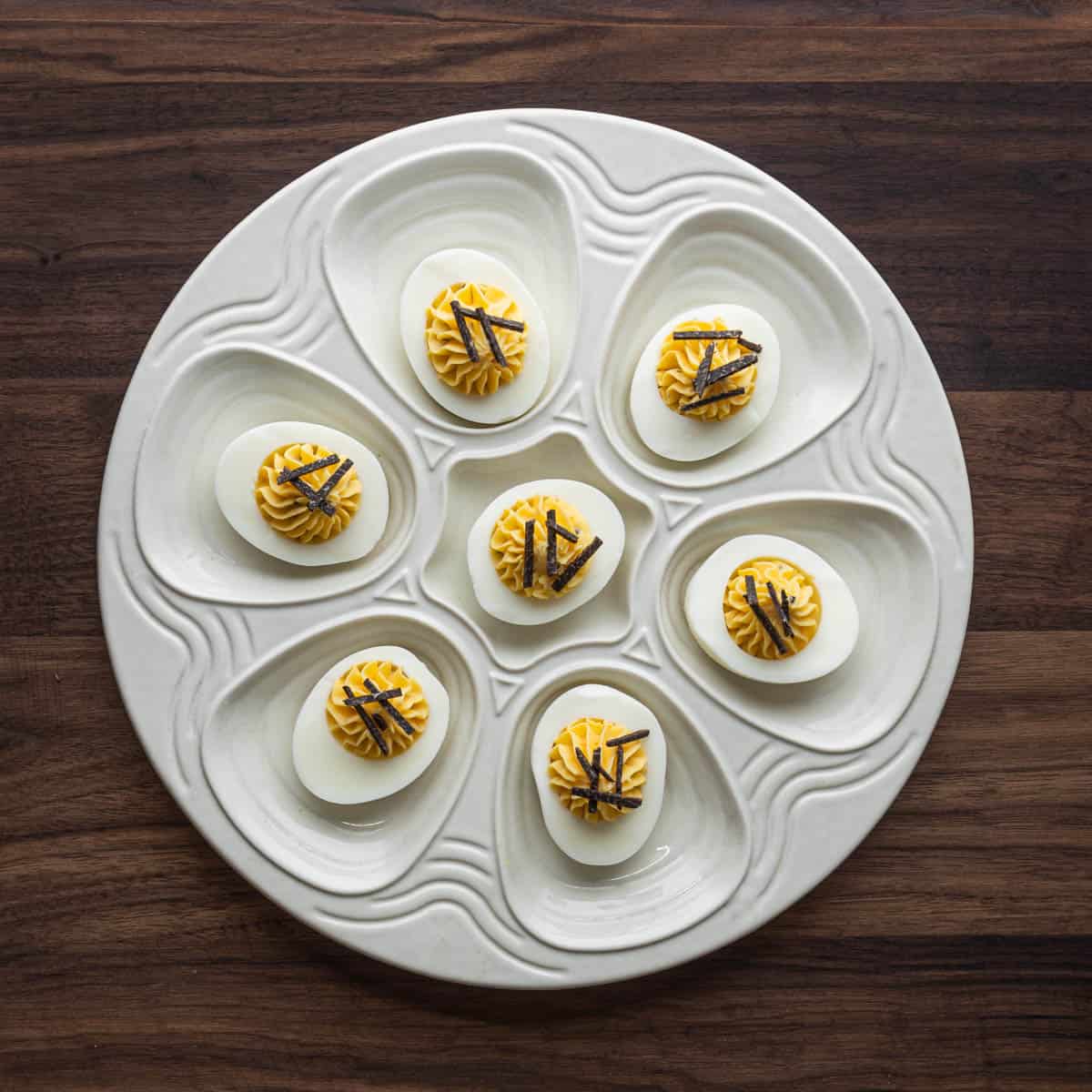 What is a Black Winter Truffle?
Truffles are a sterile growth of mycelium that grow in harmony with different trees underneath the soil. There's many varieties, but black winter truffles (Tuber melanosporum and others) are some of the most prized and are stronger in flavor than cheaper summer truffles (Tuber aestivum and others). One way to tell the difference between the two is summer truffles are beige inside, and winter truffles are black.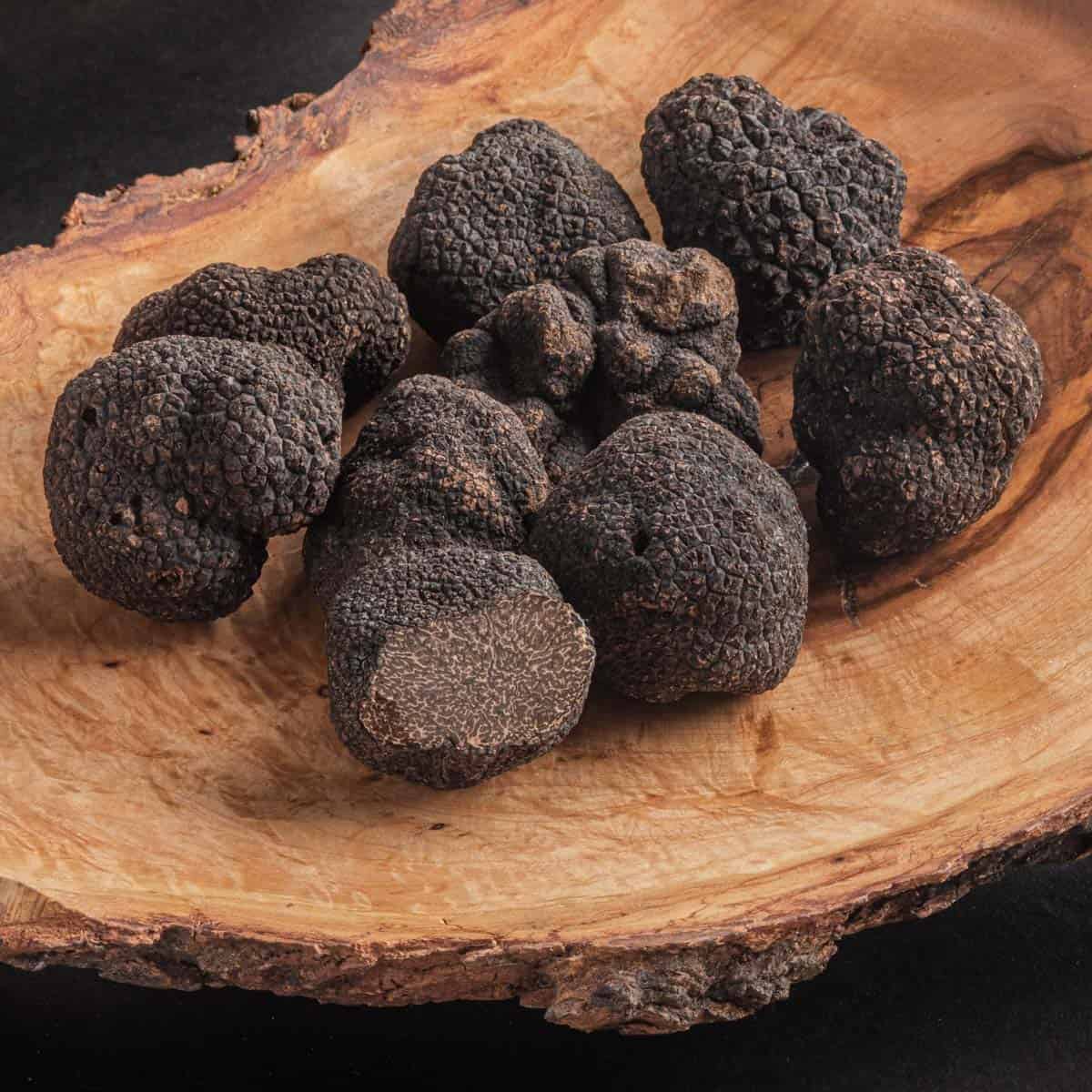 Can You Use Black Truffle Oil?
Technically yes, but truffle oils have a very strong aroma and are often made with synthetic truffle aroma like 2-4 dithiapentane. This has caused some chefs, and mushroom hunters to cry foul, myself included.
The problem is that truffle aroma is so strong in oil that it will completely take over a dish. If you have to, you can add ½ teaspoon increments of oil to the filling until it tastes good to you, but you miss out on the fun of using real truffles to infuse the eggs. Truffle paste (pictured below) is a better option.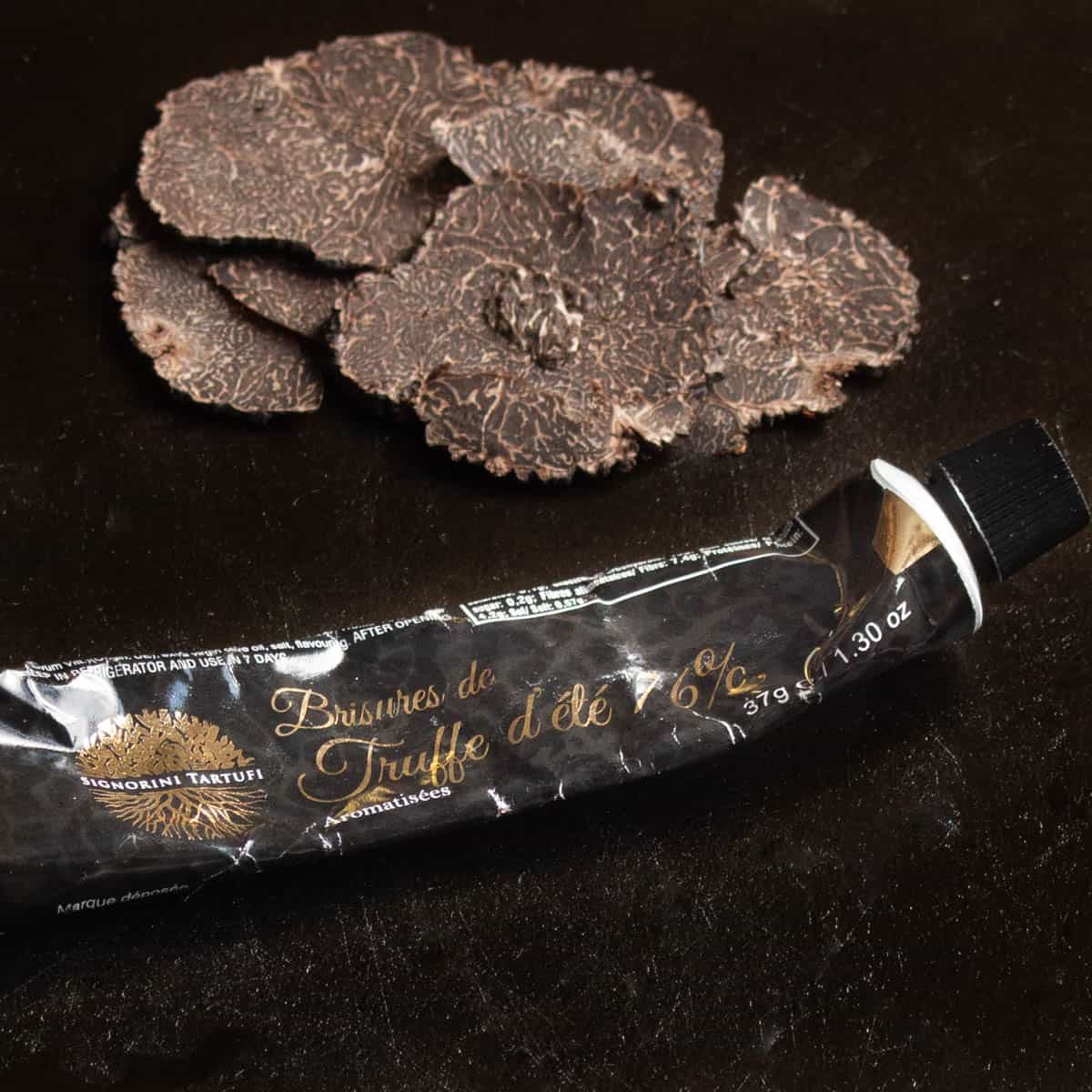 Related Posts
Creamy Rigatoni Pasta alla Norcina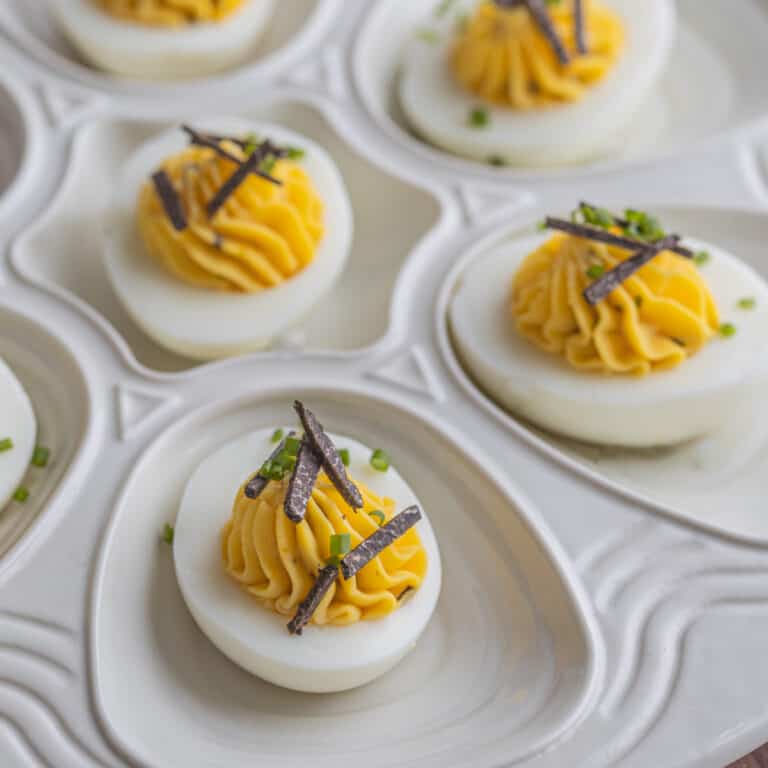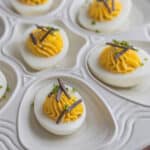 Print Recipe
Black Truffle Deviled Eggs
Deviled eggs infused with the incredible aroma of truffle are one of the best ways to enjoy fresh black truffles. You will want a whole 1-2 oz truffle to infuse the eggs.
Equipment
1 large glass container or tupperware

for storing the eggs

1 piping bag
Ingredients
1

small clove garlic

12

large eggs

the highest quality you can find

4

tablespoons

sour cream or mayonnaise

1

teaspoon

dijon mustard

½

teaspoon

kosher salt

10

grams

black truffle

plus another gram for serving

2

cups

cold water

1

tablespoon

cut fresh chives

to garnish
Instructions
Infuse the eggs
Put a whole black truffle and the eggs in a Tupperware or similar container with a very tight-fitting lid that they can fit snugly in. Put the lid on the container, making sure it's on tight, then refrigerate for at least 24 hours, and up to 48, depending on how strong you want the truffle flavor to be. Some people may find the flavor too strong at 48 hours.
Cook the eggs
To cook the eggs, bring a pasta pot ½ full of water to a simmer over medium high heat. Put a towel in the bottom of the pot, then add the eggs gently with a slotted spoon, making sure that when all the eggs are added they are covered by at least 2 inches of water. Set a timer for 12 minutes.

Halfway through cooking, add the cold water and continue cooking, uncovered until the timer goes off.
Peel the eggs
Remove the eggs immediately with a slotted spoon to a mixing bowl, cover with cold water to shock them and halt the cooking, then allow to rest for a few minutes. Peel the eggs under the still warm water (cold water makes them more difficult to peel) then discard the shells.

Remove the eggs, cut them in half, remove the cooked yolks and reserve. Gently wash the cut egg white halves with warm water for a polished look, then remove to a tray to dry on a paper towel.

Cut the clove of garlic in half and rub the blade with it. Cut the truffle into thin slices, then into batons, and then into tiny cubes.
Deviled egg filling
Mash the egg yolks and half of the truffles in a bowl with a fork, gradually adding the sour cream, mustard and mayonnaise beating vigorously until smooth and fluffy. Alternately, blend the egg yolks in a food processor-preferably a small model.

Taste the egg yolk mixture and adjust the seasoning for salt until it tastes good to you. Fold in the remaining chopped truffle, pack into a pastry bag and reserve until needed. The egg mixture will last for a few days.
Serving
To serve, pipe or spoon a tiny amount of filling on a serving plate to anchor each egg. Put a half egg on each dollop of filling, fill the egg white with filling just like classic deviled eggs. Garnish with fresh cut chives and small batons of fresh black truffle for a pop of color and serve.
Notes
Black truffle substitutes 
If you don't have fresh black truffles, there are a few products that can work as a substitute:
The best is truffle paste or pate, just fold 2-3 teaspoons into the finished filling to taste. 
Black truffle oil and white truffle oil are very strong but will work in a pinch. Start by adding ½ teaspoon increments to the finished filling until it tastes good to you. 
Black truffle salt is not to be used here as it won't have enough flavor. 
Nutrition
Calories:
190
kcal
|
Carbohydrates:
1
g
|
Protein:
11
g
|
Fat:
15
g
|
Saturated Fat:
4
g
|
Polyunsaturated Fat:
6
g
|
Monounsaturated Fat:
5
g
|
Trans Fat:
0.1
g
|
Cholesterol:
331
mg
|
Sodium:
383
mg
|
Potassium:
134
mg
|
Fiber:
0.1
g
|
Sugar:
0.4
g
|
Vitamin A:
481
IU
|
Vitamin C:
0.2
mg
|
Calcium:
54
mg
|
Iron:
2
mg