Rich, creamy, and bursting with wild mushrooms, chicken forestiere is a mushroom lovers dream. It's a great thing to make when the season is at its peak and there's a variety of mushrooms available.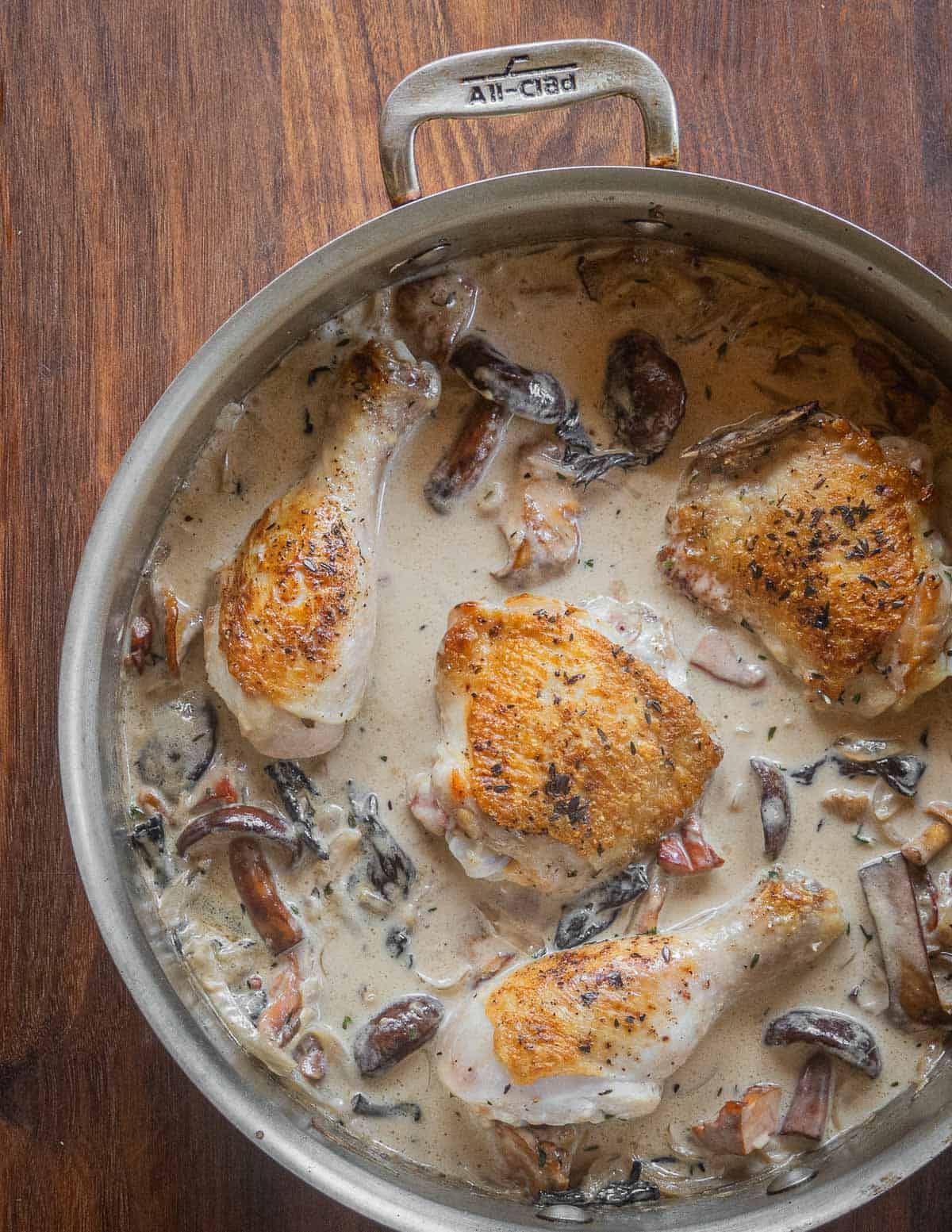 What is Chicken Forestière?
Forestiere chicken (literally chicken in the style of the forest) is a classic French recipe for chicken with a wild mushroom sauce. Like most traditional recipes, there's a few different ways it can be made.
You can use your favorite mushrooms. I had black trumpets, milk caps, chicken of the woods, and chanterelles.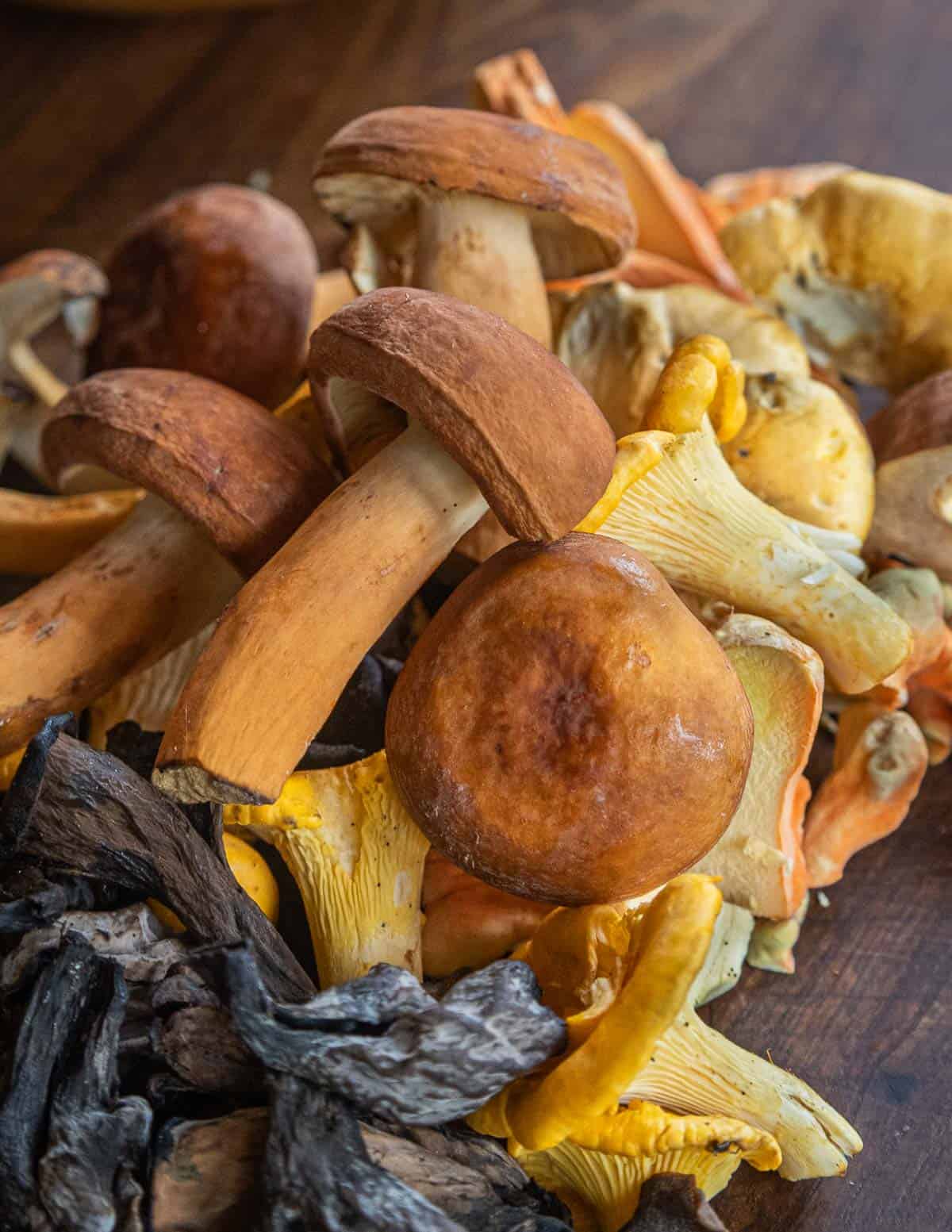 Besides the mushrooms, which should be wild, it's a mushroom based cream sauce made with shallots, thyme, garlic, brandy or cognac, stock and or demi-glace. Sometimes ginger is added.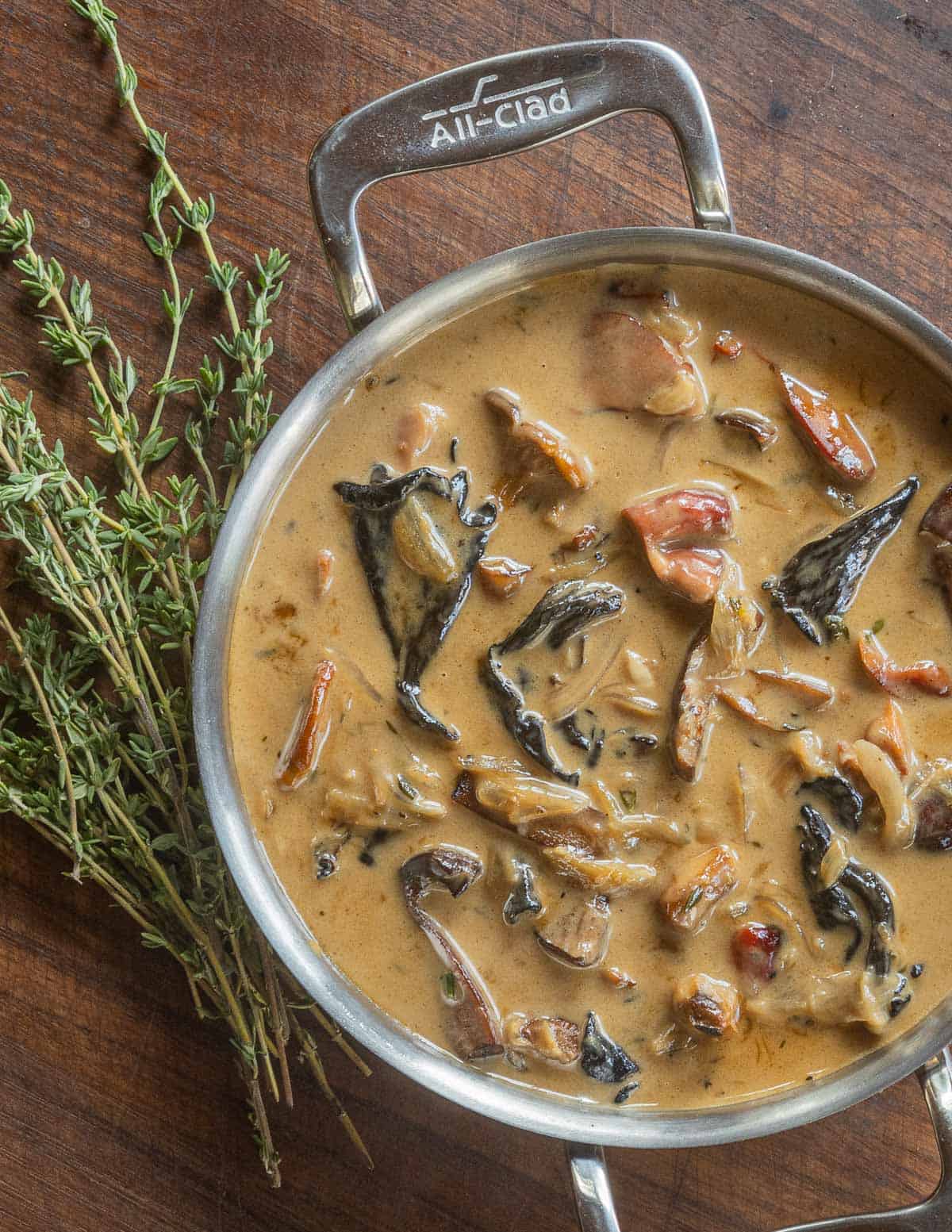 Step by Step
First you prepare the chicken by cutting up a bird. Ideally you'll use a nice free range chicken or one from a local farm. The chicken pieces are dry-brined, seasoned with salt, pepper and thyme.
Surprisingly, this is a great place to use skinless chicken breasts too and I demonstrate this in the video. The pictures below illustrate the process.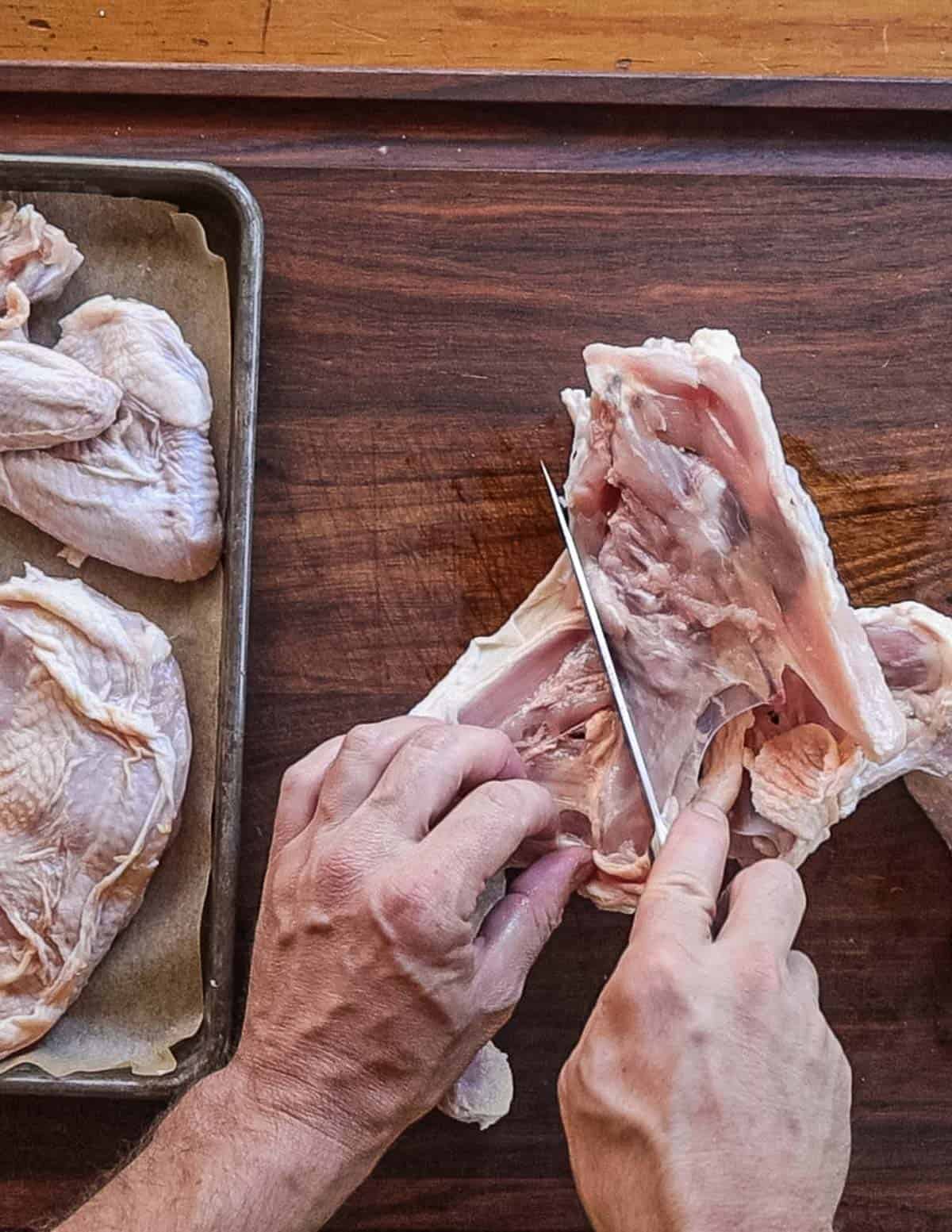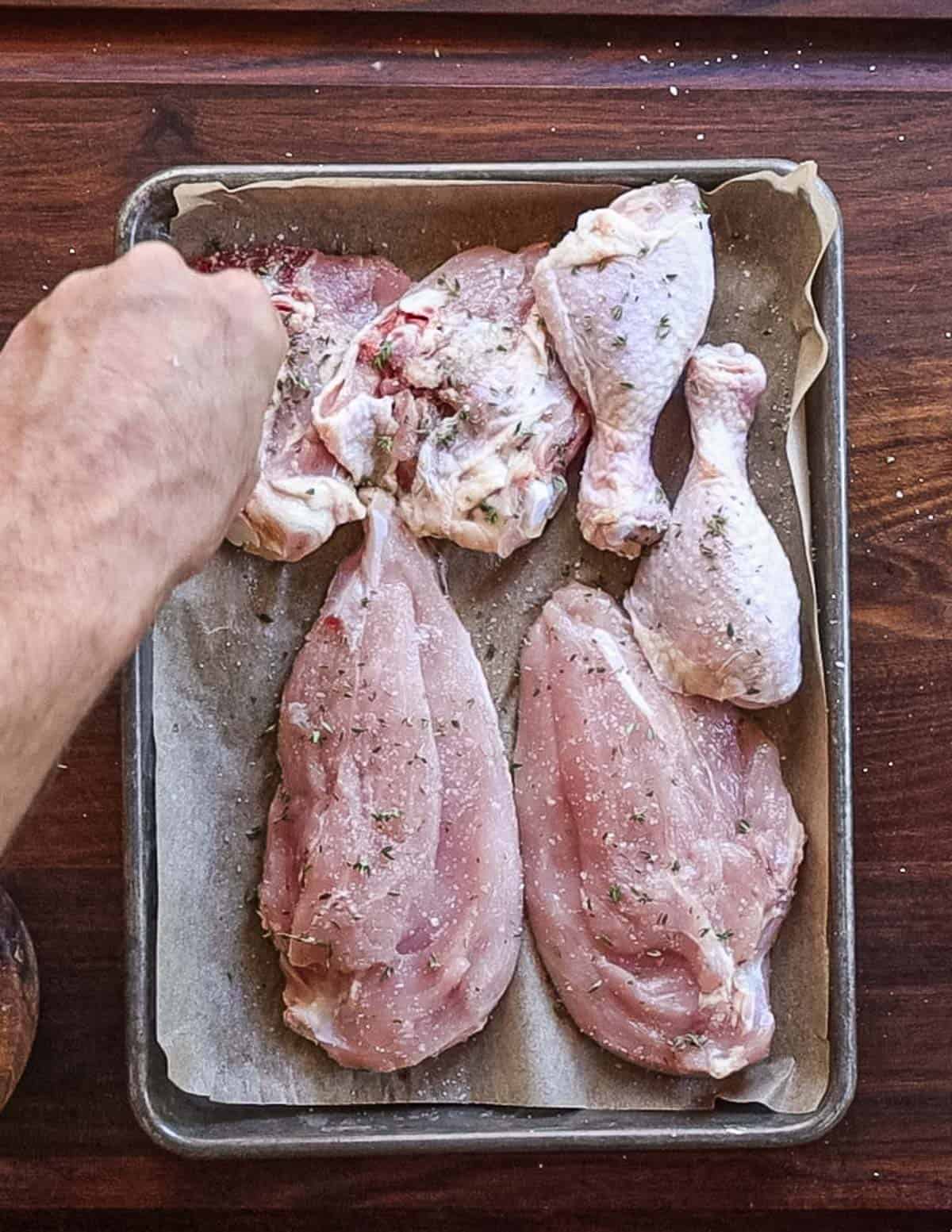 Next the chicken is browned and held in a warm oven while the sauce is made. The mushrooms are browned in the same pan, then shallots and garlic are added.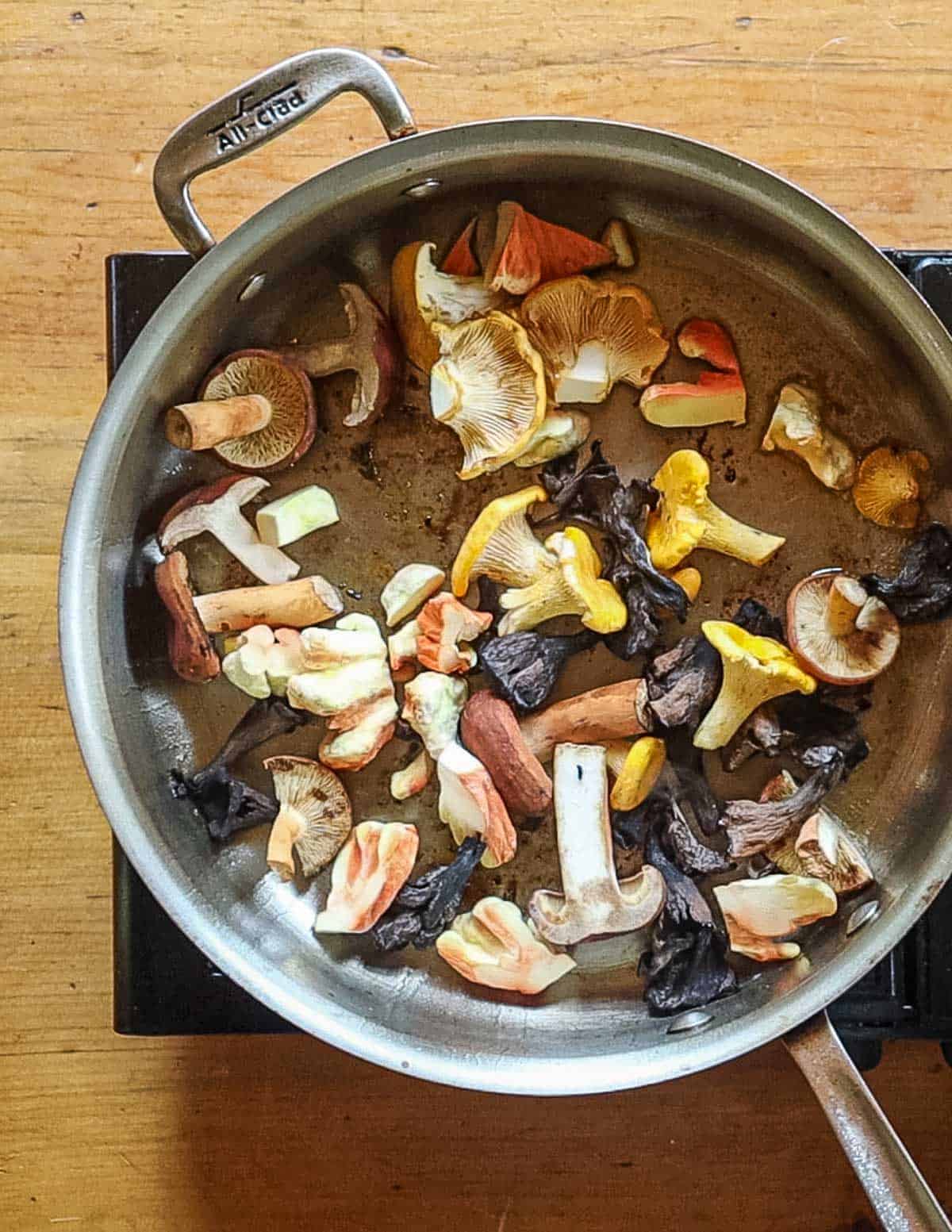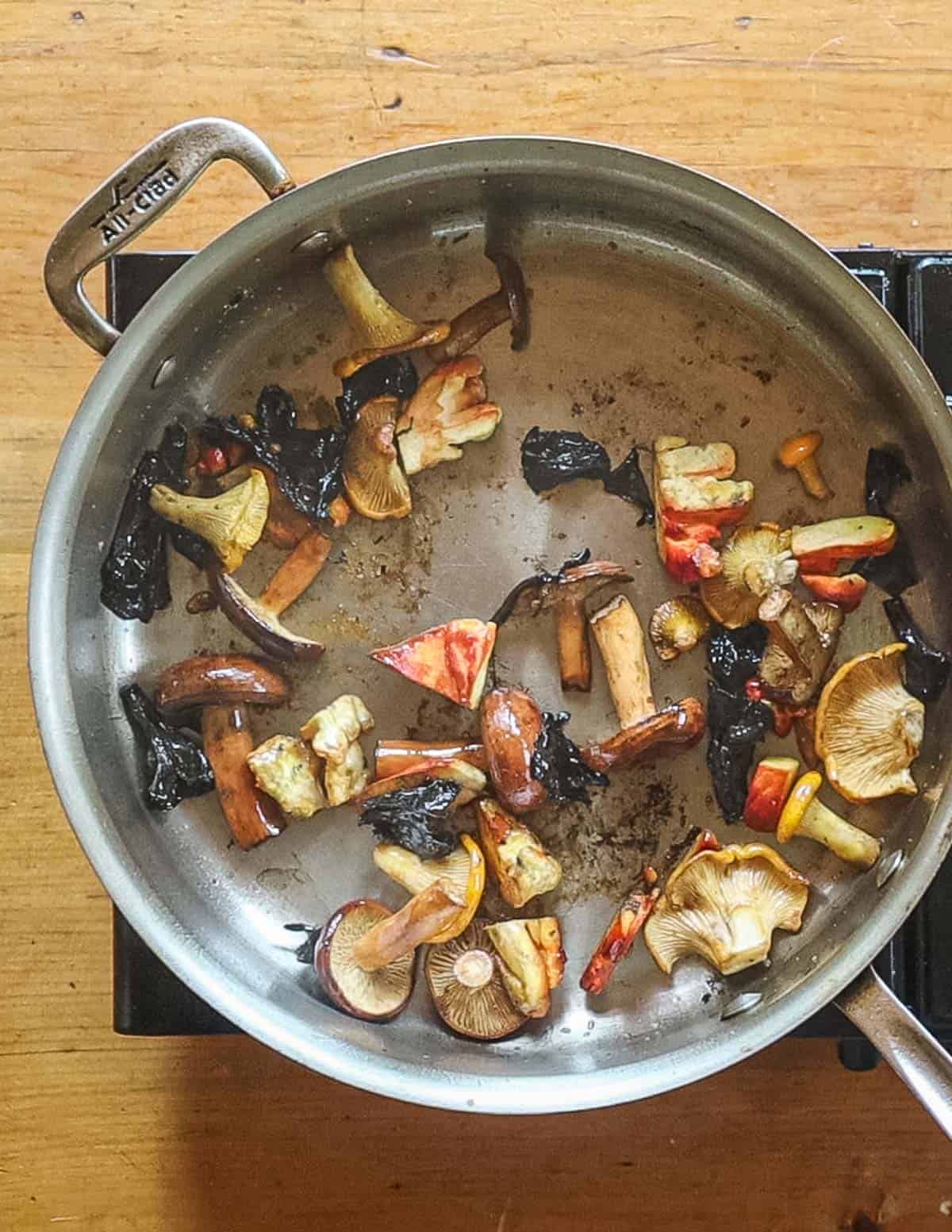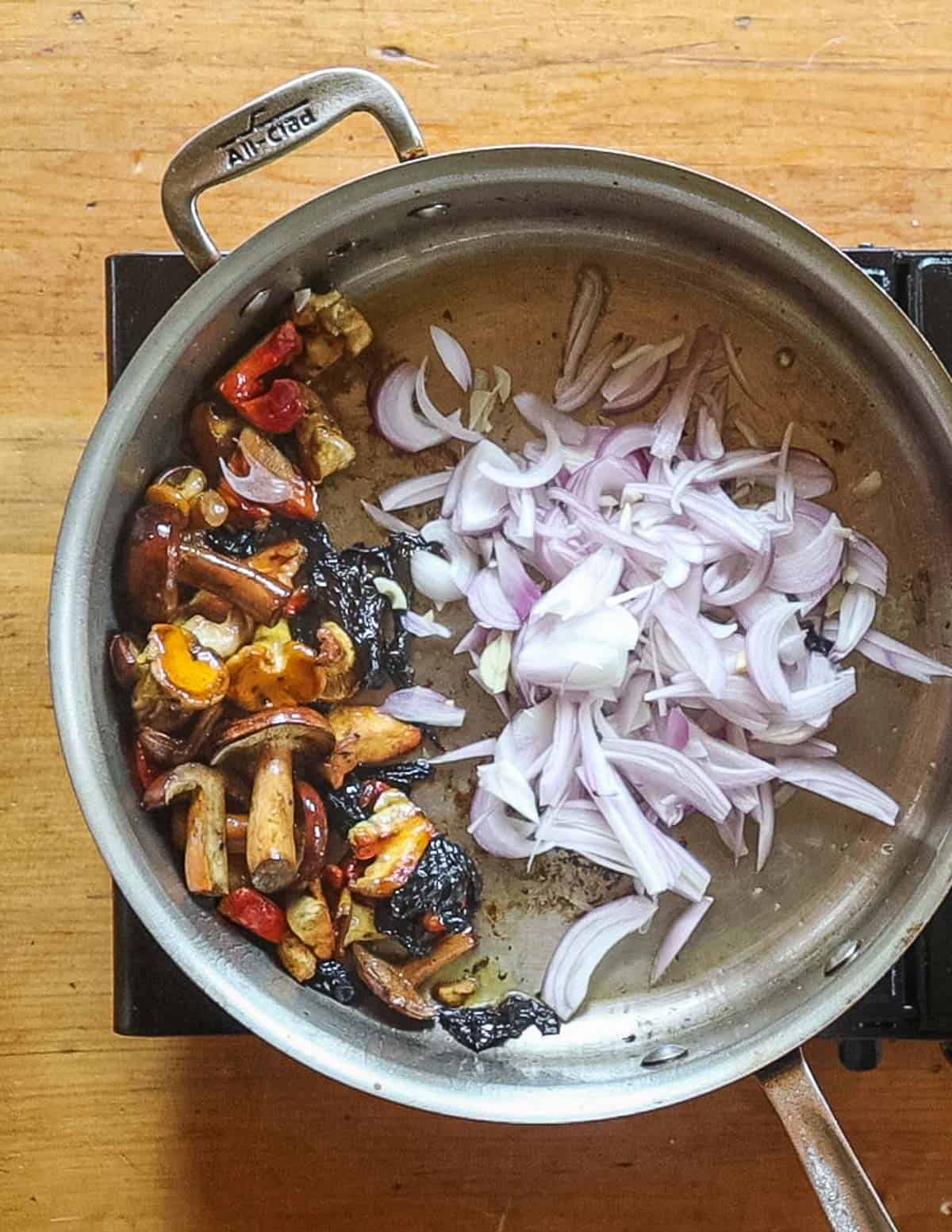 Brandy or cognac is added and ignited, then stock is added and reduced by half.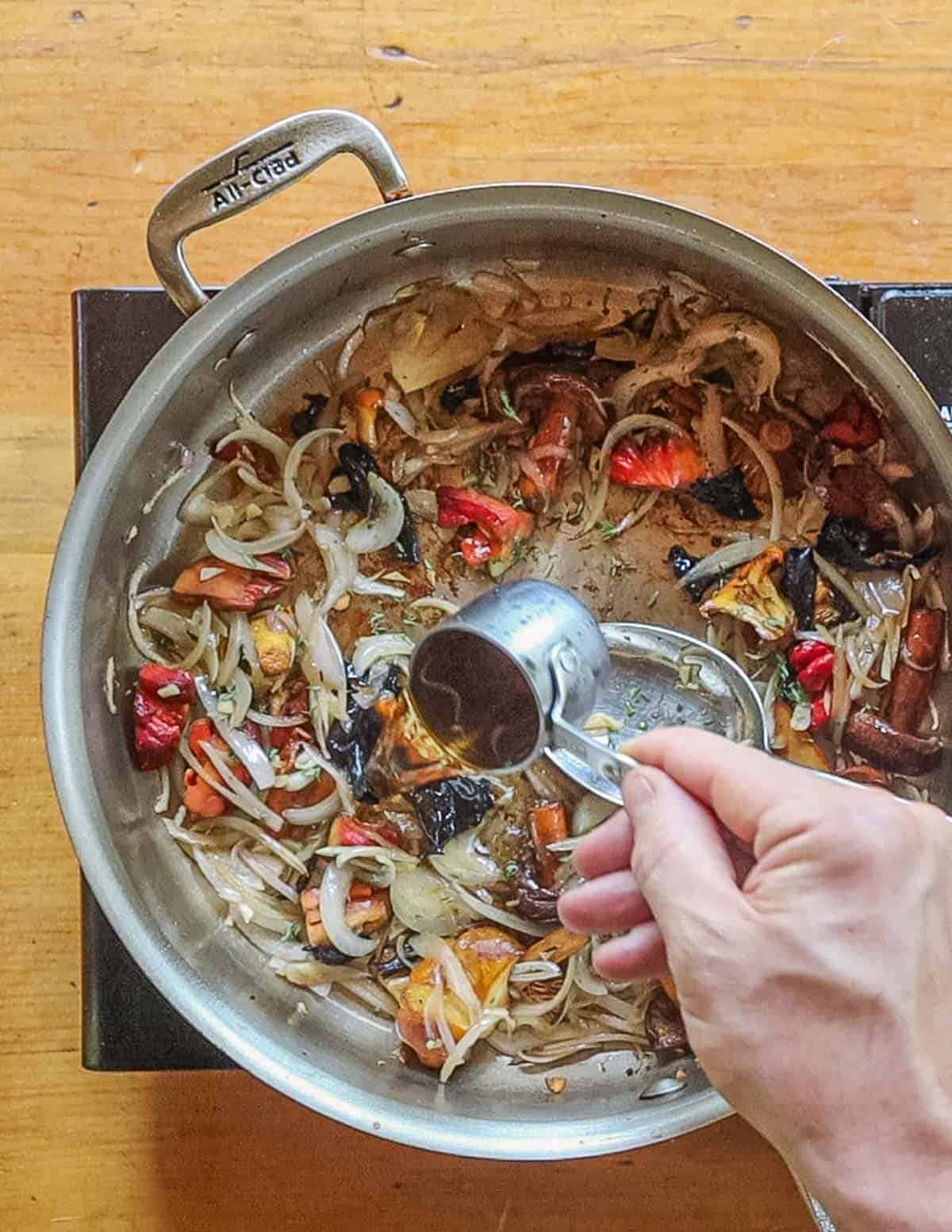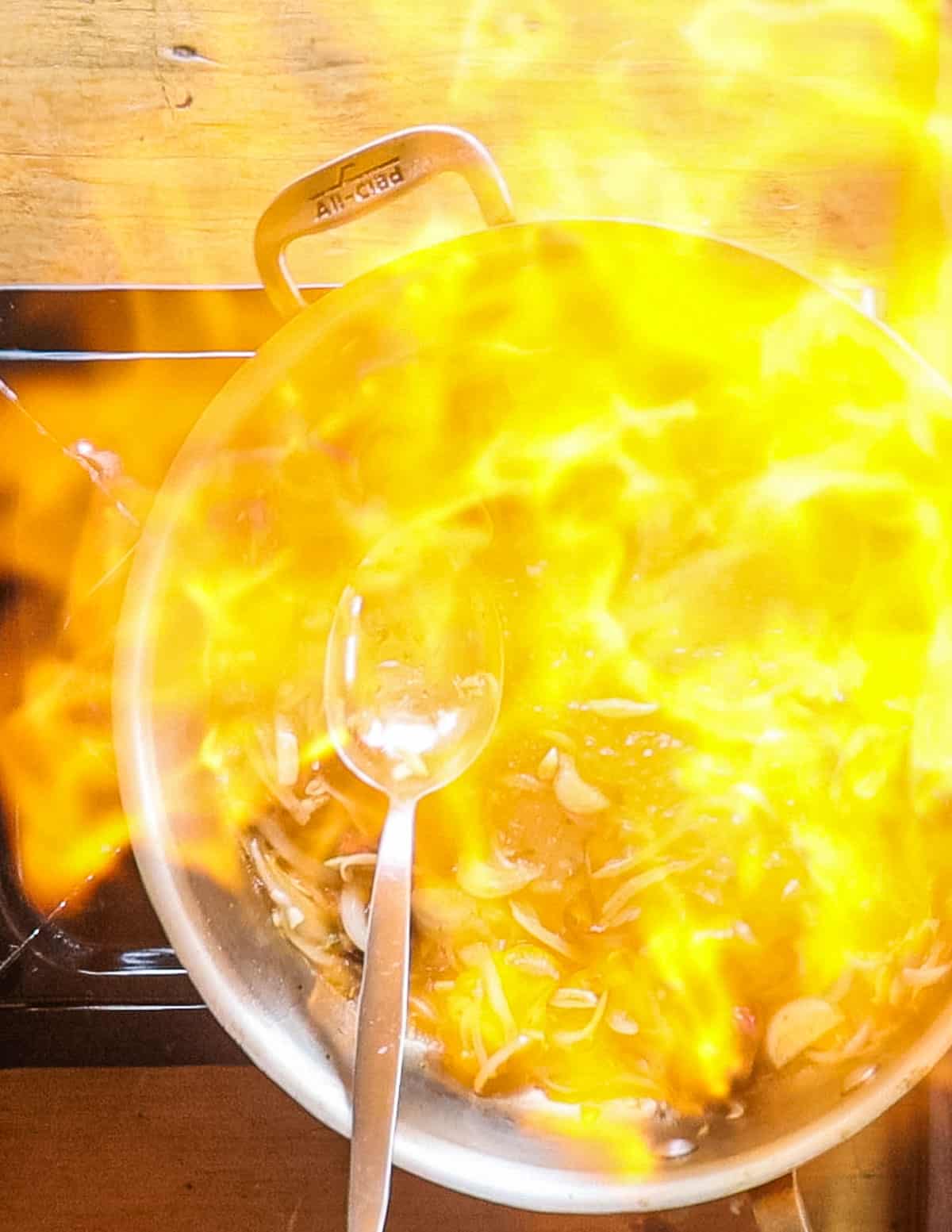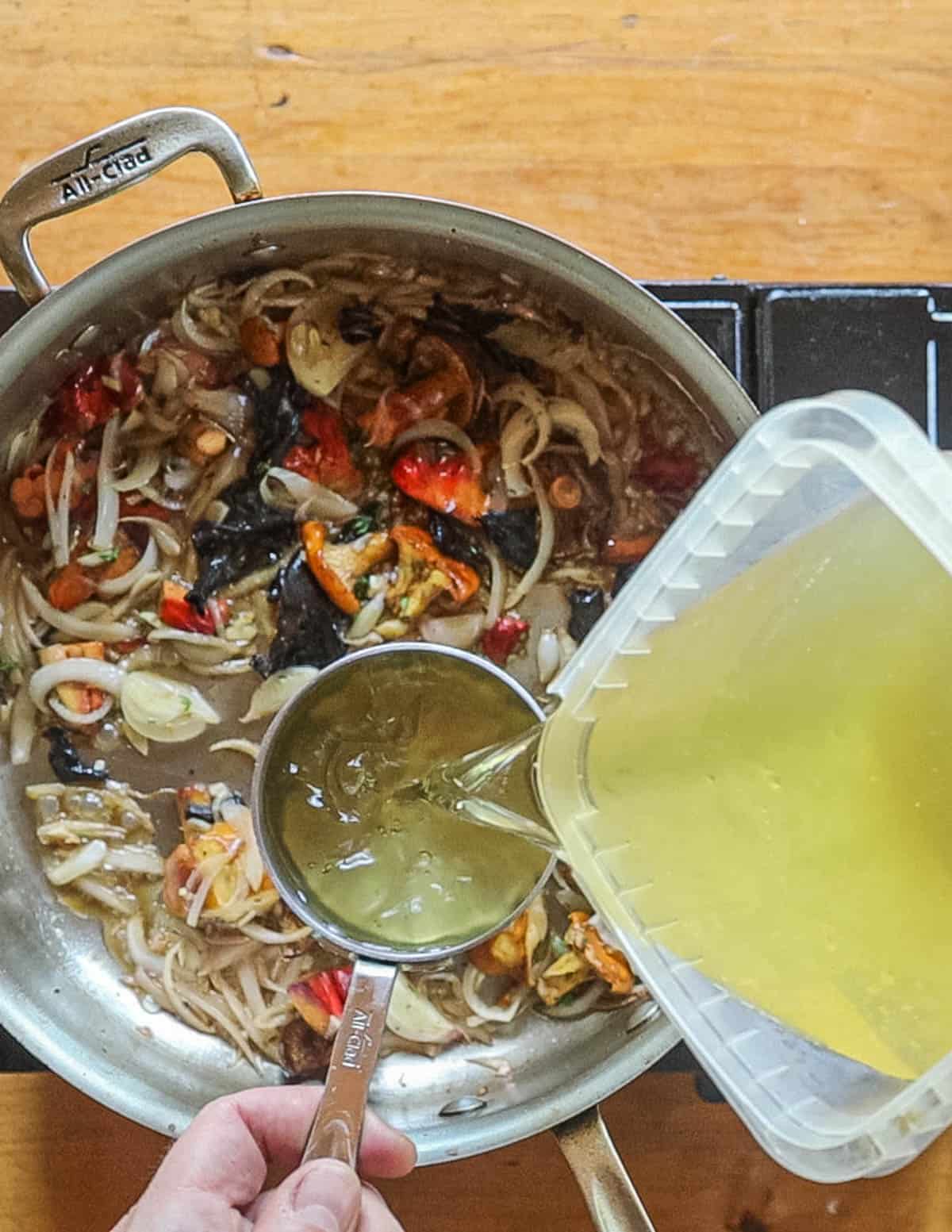 Next you add a little roux, cook until thickened, then add some cream and demi glace, if you have it.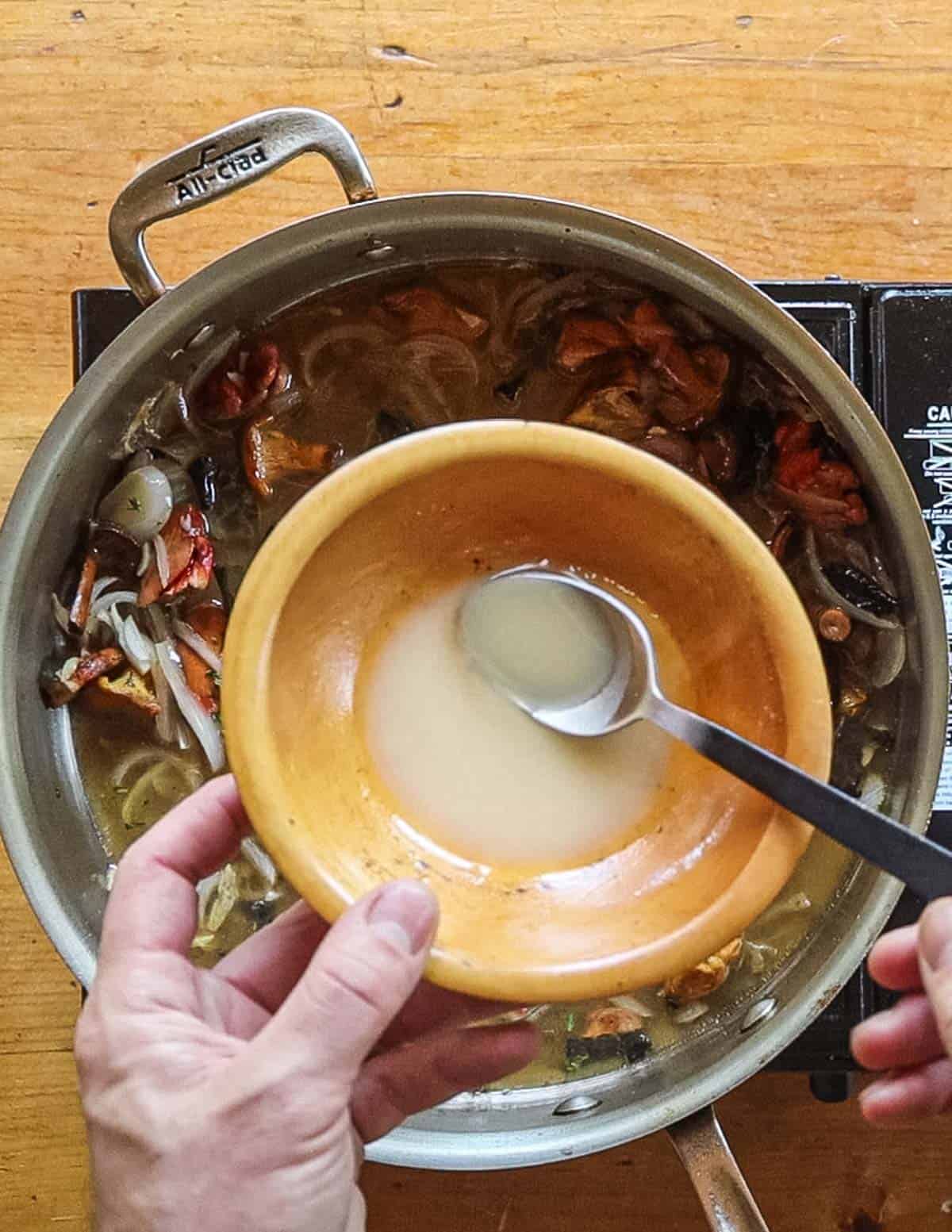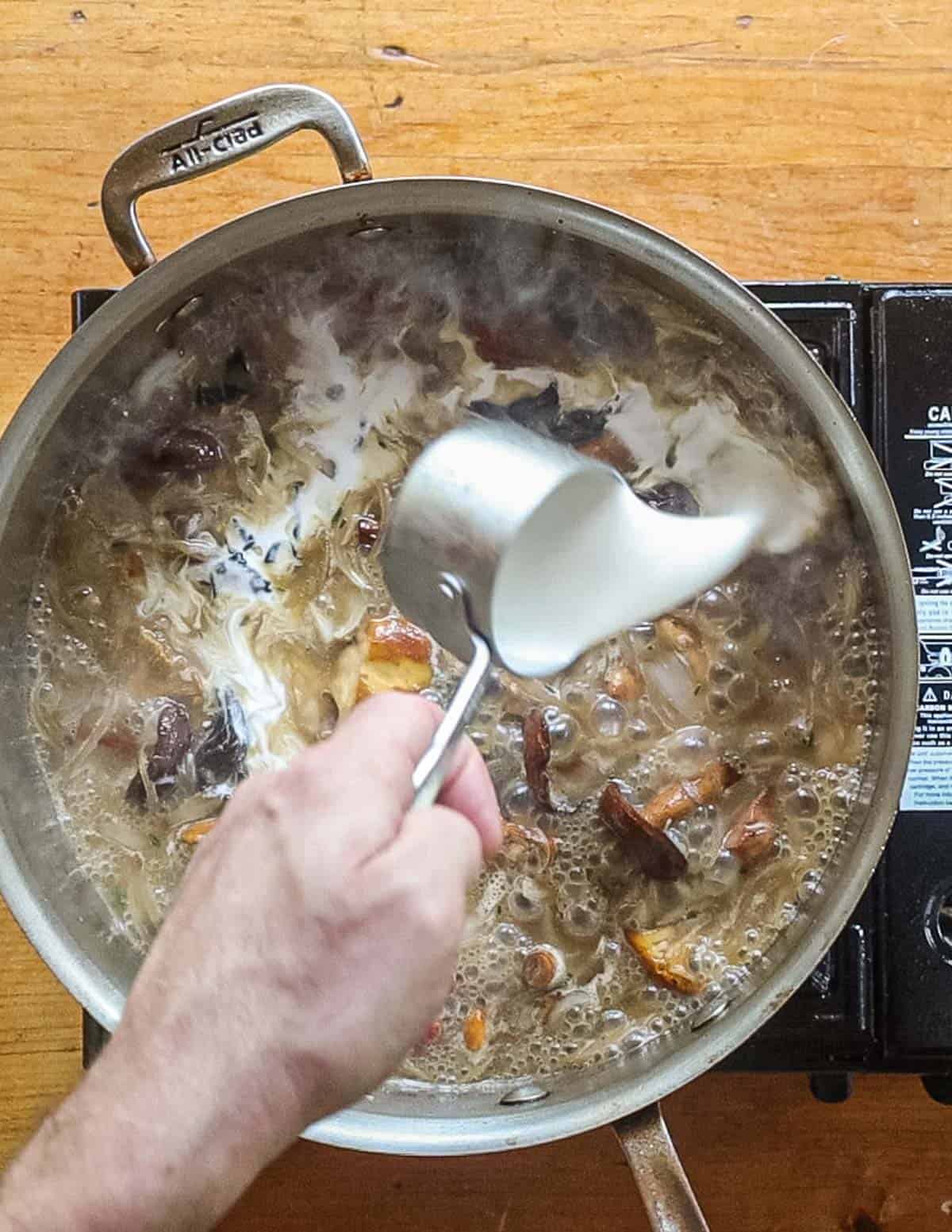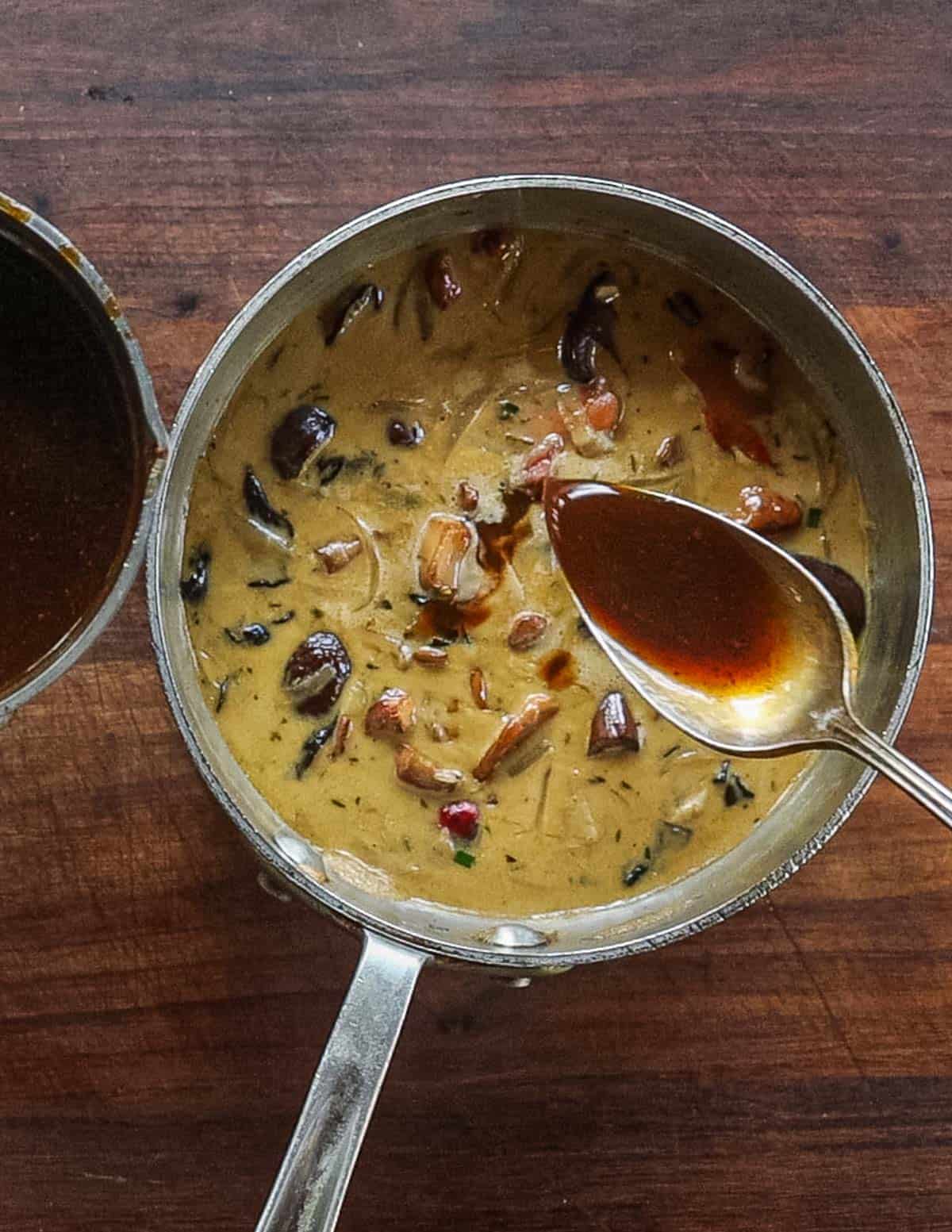 The chicken is added back to the pan and simmered gently to finish cooking.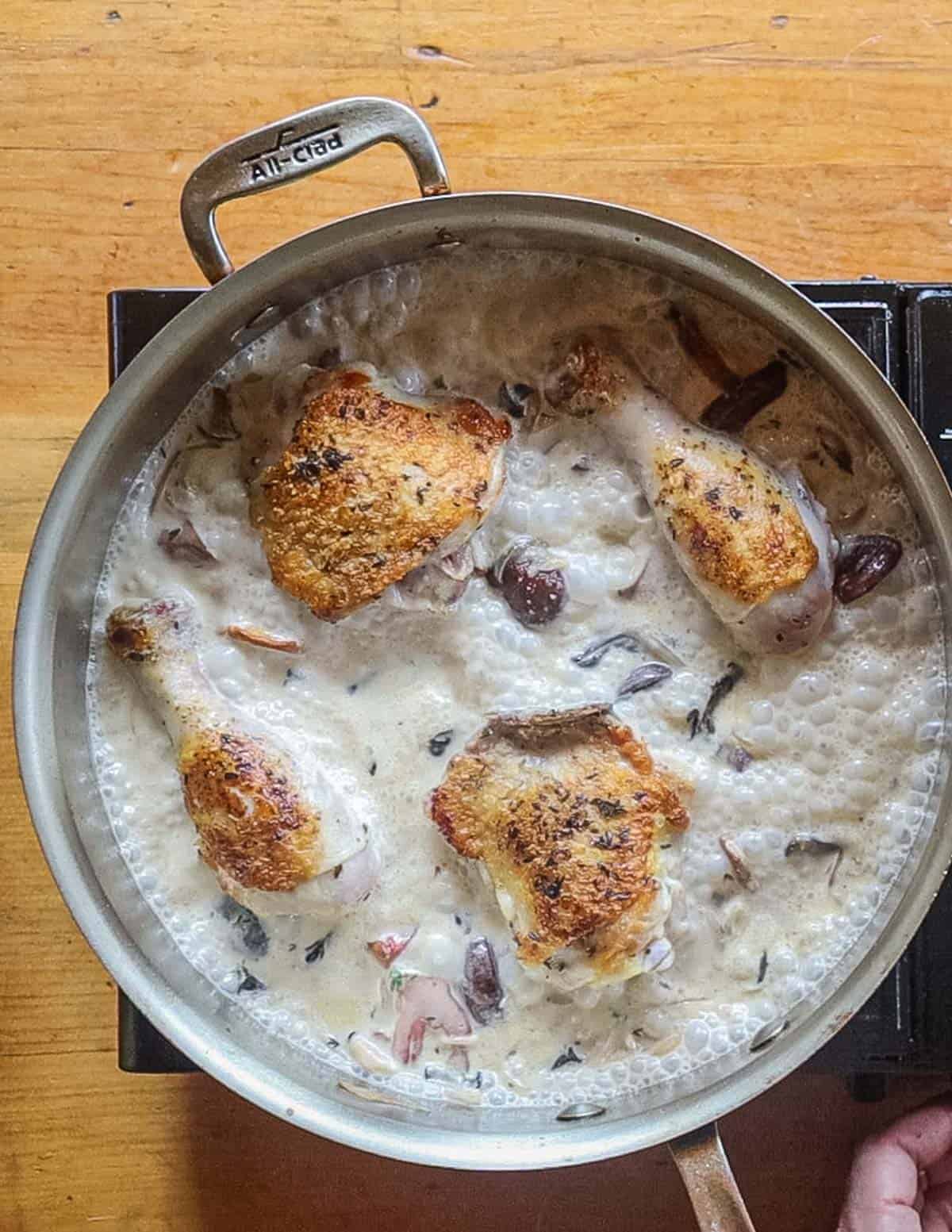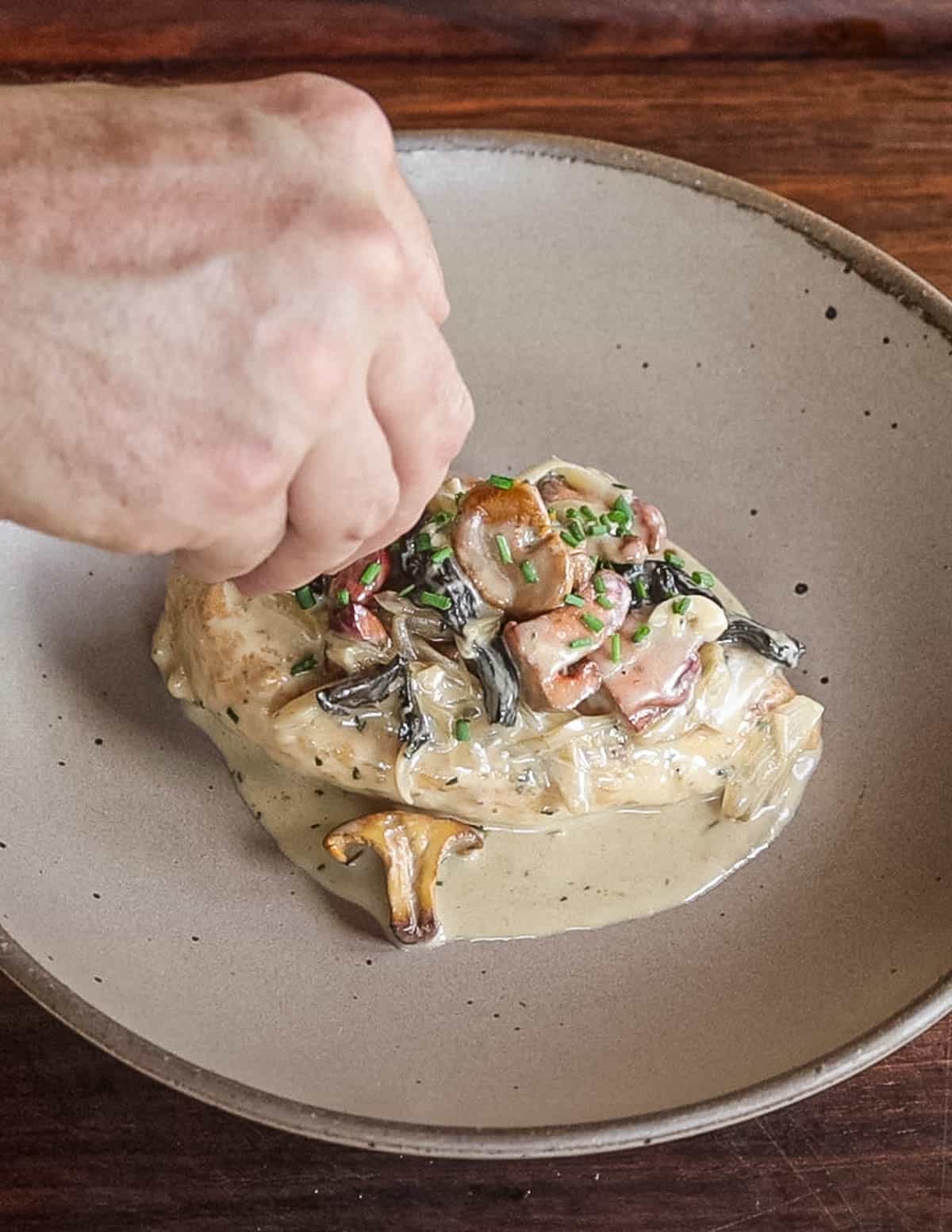 Serve the chicken smothered in mushrooms and sauce if it's skinless, or spooned around it if skin-on.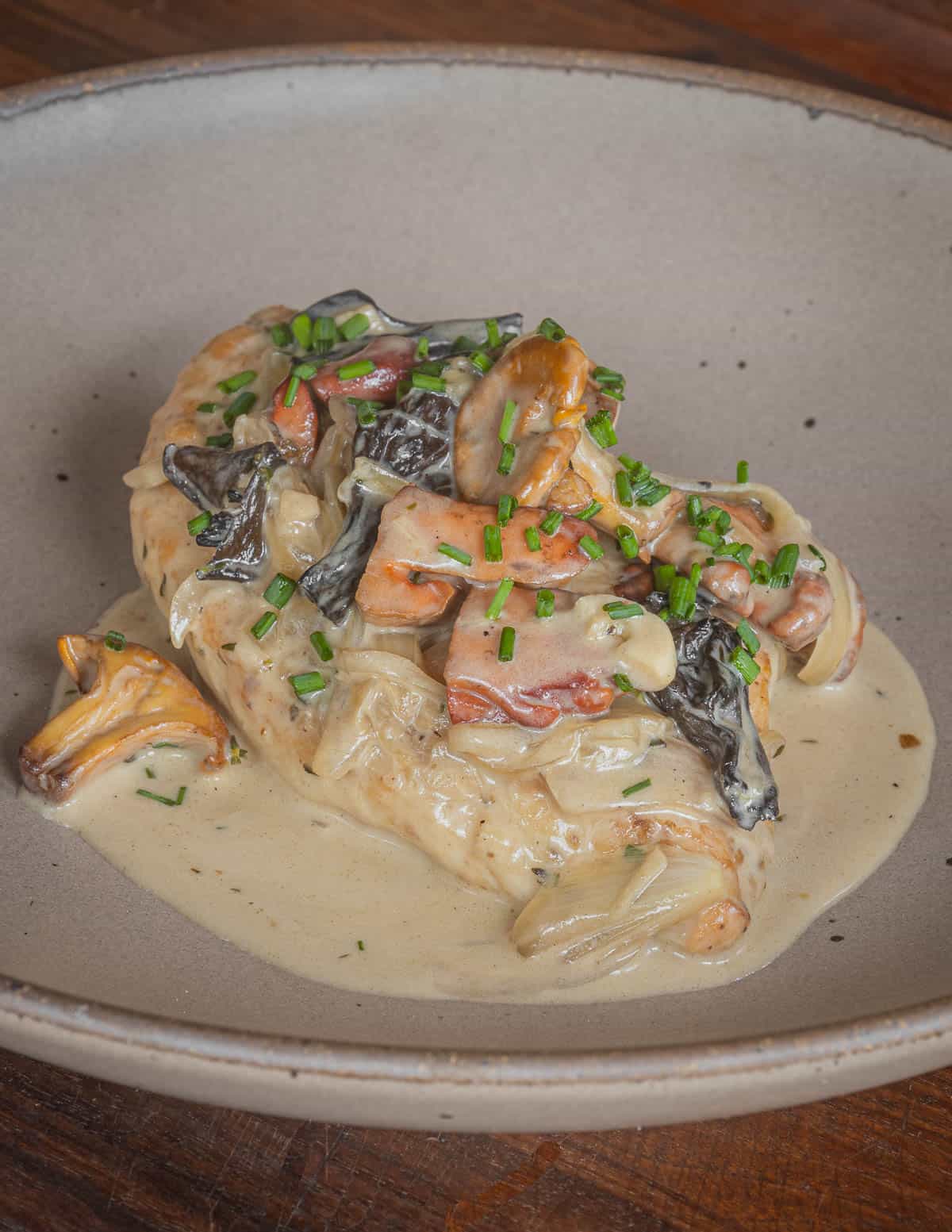 What to Serve with Chicken Forestiere
In my recipe there's no additional vegetables, which allows you to pick a light, seasonal vegetable to accompany the dish. Here's a few good options:
Sauteed or steamed spinach or leafy greens.
Mashed potatoes, rice, polenta, or something else to catch the sauce.
A hunk of good sourdough.
Slow-cooked green beans.
Roasted Brussels sprouts.
Related Posts
Jacques Pepins Chicken with Morels
Caramelized Shallots and Black Trumpets
Chicken of the Woods Gnocchi with Lemon Cream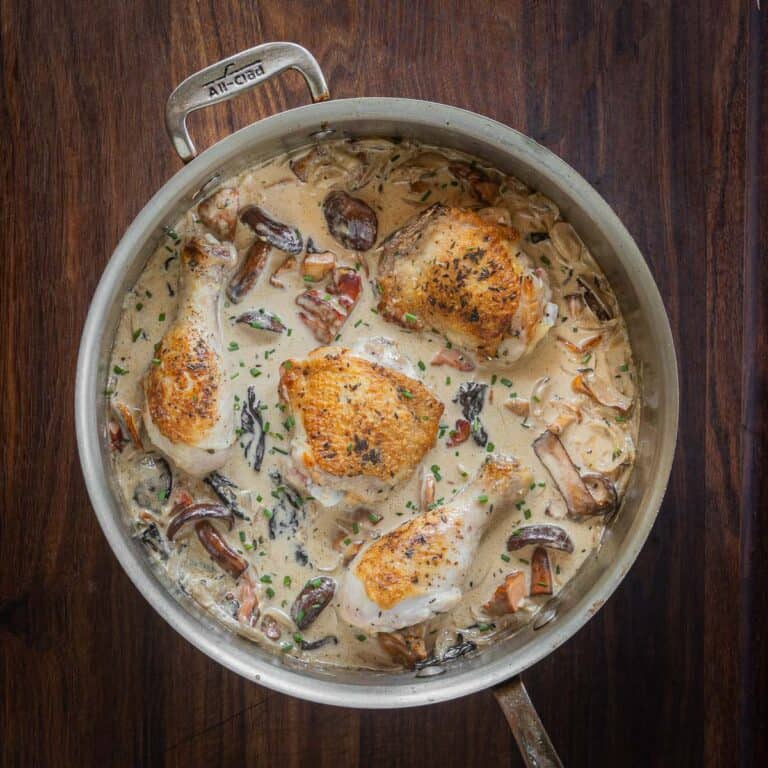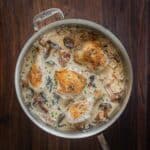 Print Recipe
Chicken Forestière
A classic French dish of chicken with a rich wild mushroom sauce. Feel free to use your favorite mushrooms. Bone in chicken legs or boneless breasts can both be used. Serves 2-4
Equipment
10 inch stainless steel pan with high sides.
Ingredients
2

chicken leg quarters

or two boneless, skinless chicken breasts

2

teaspoons

chopped fresh thyme

Kosher salt and fresh ground black pepper

to taste

1

tablespoon

cooking oil or chicken fat

for browning

5

ounces

fresh wild mushrooms

or a mix of fresh and dried mushrooms

1

cup

chicken stock

preferably homemade

¼

cup

brandy or cognac

3

ounces

shallot

two small, thinly sliced

1

large clove garlic

finely chopped

½

cup

heavy cream or crème fraiche

2

teaspoons

soy sauce

optional
Roux
2

teaspoons

all purpose flour

2

teaspoons

cooking oil
Instructions
Roux
Mix the oil and flour and reserve.
Dry brine the chicken
Season the chicken on both sides with salt and pepper and thyme, saving ½ a teaspoon of thyme for the sauce. If using legs, separate the thigh and leg. Allow the chicken to rest, uncovered in the fridge for at least an hour, and up to overnight.
Brown the chicken
Preheat the oven to 250 F. Heat the oil in a wide 10 inch pan with high sides on medium high heat. Add the chicken legs and cook for a couple of minutes, turning occasionally.

Add the thighs, skin-side down and brown well, then flip and brown the other side. If using breasts, dredge the chicken in flour first.

When the chicken's browned, remove it and keep warm in a 250 F oven while you prepare the sauce.
Forestierre Sauce
Clean the mushrooms if needed by rinsing in cool water or brushing with a damp cloth. Cut the mushrooms into bite-sized pieces and reserve.

Add the mushrooms to the pan the chicken was cooked in and cook over medium high heat. Add a splash of oil if needed to help them brown. When the mushrooms are wilted, add the shallots and garlic and cook for 2 minutes, stirring occasionally, until translucent. Add the thyme.

Increase the heat to high. Add the brandy or cognac and ignite the pan by tilting it on its side (optional, but your family will be impressed). Reduce the heat to medium-high. When the pan is nearly dry, add the chicken stock and roux and bring to a simmer.

When the sauce is reduced by half, add the cream and soy sauce and bring the mixture back to a simmer until thickened.

Return the chicken to the pan, along with any of its juices, simmer and cook, skin-side up for 4-5 minutes, or until a thermometer reads 150 F. You can also put the pan in the oven. Allow the chicken to rest in the sauce while you warm a few plates and heat up a side dish.
Serving
Taste the sauce and adjust the seasoning for salt and herbs until it tastes good to you.

Serve chicken breasts with the sauce spooned on top. Serve chicken thighs with the sauce spooned around them. Garnish with fresh cut chives and serve.
Notes
Tarragon can be added instead of the thyme at the end. Savory works good too.
The mushrooms can be finely chopped, and the sauce is sometimes pureed. 
The cooking oil can be substituted with duck fat or chicken fat.
If using chicken thighs, do not flip them once they go into the sauce to keep the skin crisp.
This is also a good place to use dried mushrooms, especially porcini mushrooms. Rehydrate them in the chicken stock or a little boiling water. Start with about 6-12 grams. 
Port wine or Madiera can be used instead of cognac. 
Nutrition
Serving:
8
oz
|
Calories:
790
kcal
|
Carbohydrates:
19
g
|
Protein:
32
g
|
Fat:
58
g
|
Saturated Fat:
21
g
|
Polyunsaturated Fat:
9
g
|
Monounsaturated Fat:
23
g
|
Trans Fat:
0.2
g
|
Cholesterol:
212
mg
|
Sodium:
644
mg
|
Potassium:
880
mg
|
Fiber:
2
g
|
Sugar:
9
g
|
Vitamin A:
1088
IU
|
Vitamin C:
9
mg
|
Calcium:
85
mg
|
Iron:
3
mg