An ode to all things dark and sweet, here's a recipe to up those fresh or dried black trumpet mushrooms: mixed in with some caramelized shallots and reduced down to a sweet-savory condiment for a hunk of meat, although it makes a great tart filling, coarsely chopped, too.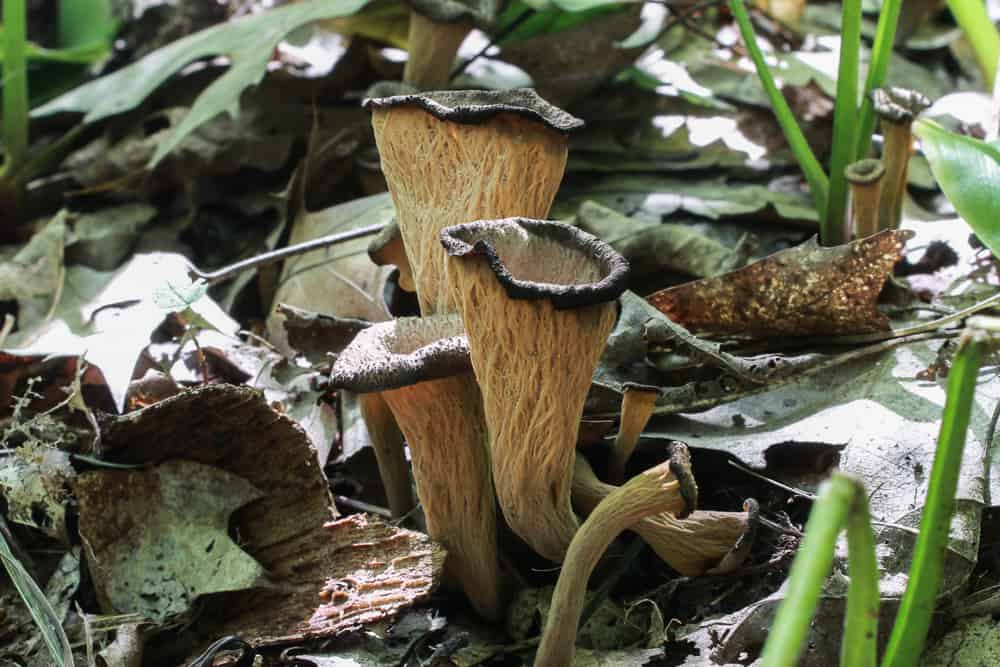 It came about as I was looking for something to replace what I thought was a rather derivative/late 90's themed dish of steak with demi glace, caramelized onions and blue cheese crumbles from a bag I inherited on a menu.
But, whatever I replaced the blue chees-y sauce with, putting more prep on my plate or the line cooks was not an option. It had to be a one-pan pick-up, heat and serve, mindless, and fool-proof.
It's a super simple preparation, but there's plenty of technique in something this basic, too. Here's some of the reasons it's great, and some of the finer preparation points. It all has to do with the shapes the mushrooms and shallots are cut into.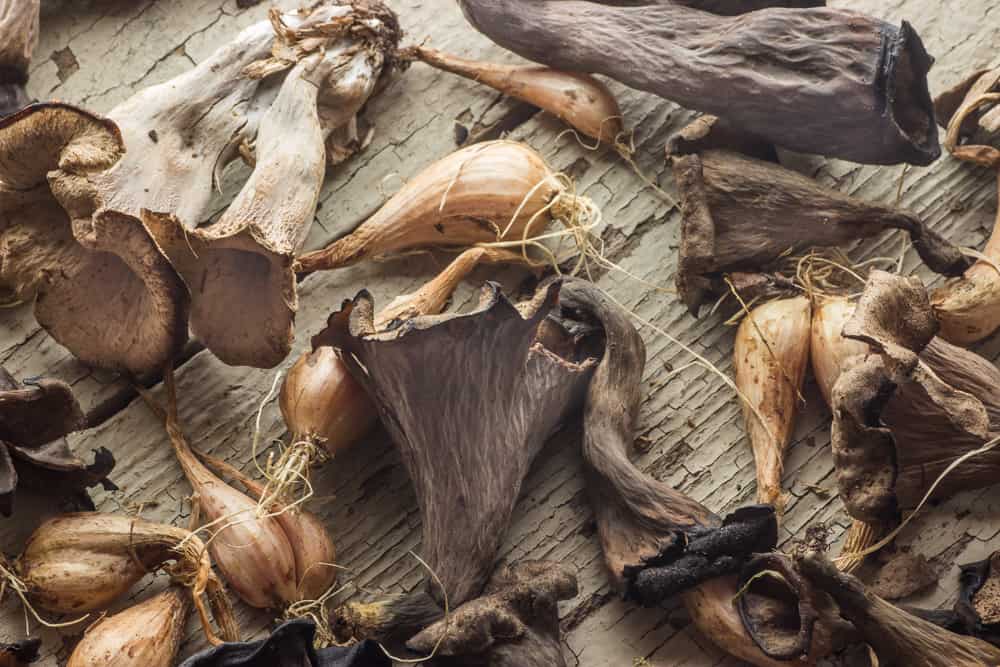 Julienne the shallots, keep the mushrooms whole
It's important that the shallots are cut into julienne so they blend and tangle with the mushrooms. This way, the guest gets some of each in every bite without having to spear things on the plate. It's a simple forethought that increases the chances of people saying "oh this is so good" without understanding exactly why they think so.
The previous preparation I designed this to take the place of was made with diced caramelized onions--a lazy method.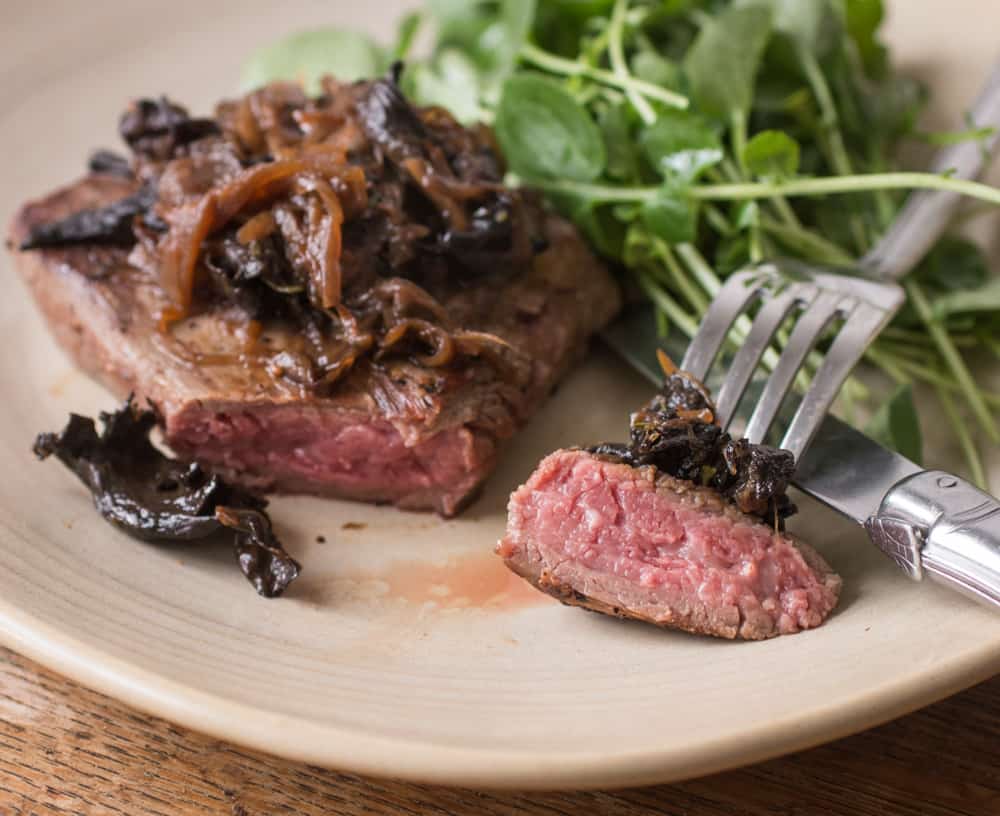 The shape of the mushroom is important too. There's a tendency with cooks to chop things up, make funky shapes and, basically overthink things.
With black trumpets, part of what is so fun is their shape, so in this recipe, dried black trumpets are reconstituted and added whole, although there would be nothing wrong with using fresh.
Since the mushrooms are dried, they actually hold their shape a bit better than if they were fresh, since fresh they'll wilt down a bit after cooking. Each mushroom you chew is a chance for the deep, sweet aroma of the trumpets to creep into your palate.
If the mushrooms were cut, or say, minced for example, the shallots could overpower their flavor, and the black trumpets might as well get thrown in the garbage. With both the shallots and mushrooms in complimentary shapes, the flavors combine well.
This is scaled from a very large batch. It will make enough for 4-8 portions, depending on how much you put on, and how much you like caramelized onions.
Feel free to scale it down by half. If you don't have shallots near you, it's ok to reach for an onion, but don't caramelize red onions (they're not meant for cooking, for the most part, and develop a unpleasant color), just use a common yellow sweet, vidalia, etc.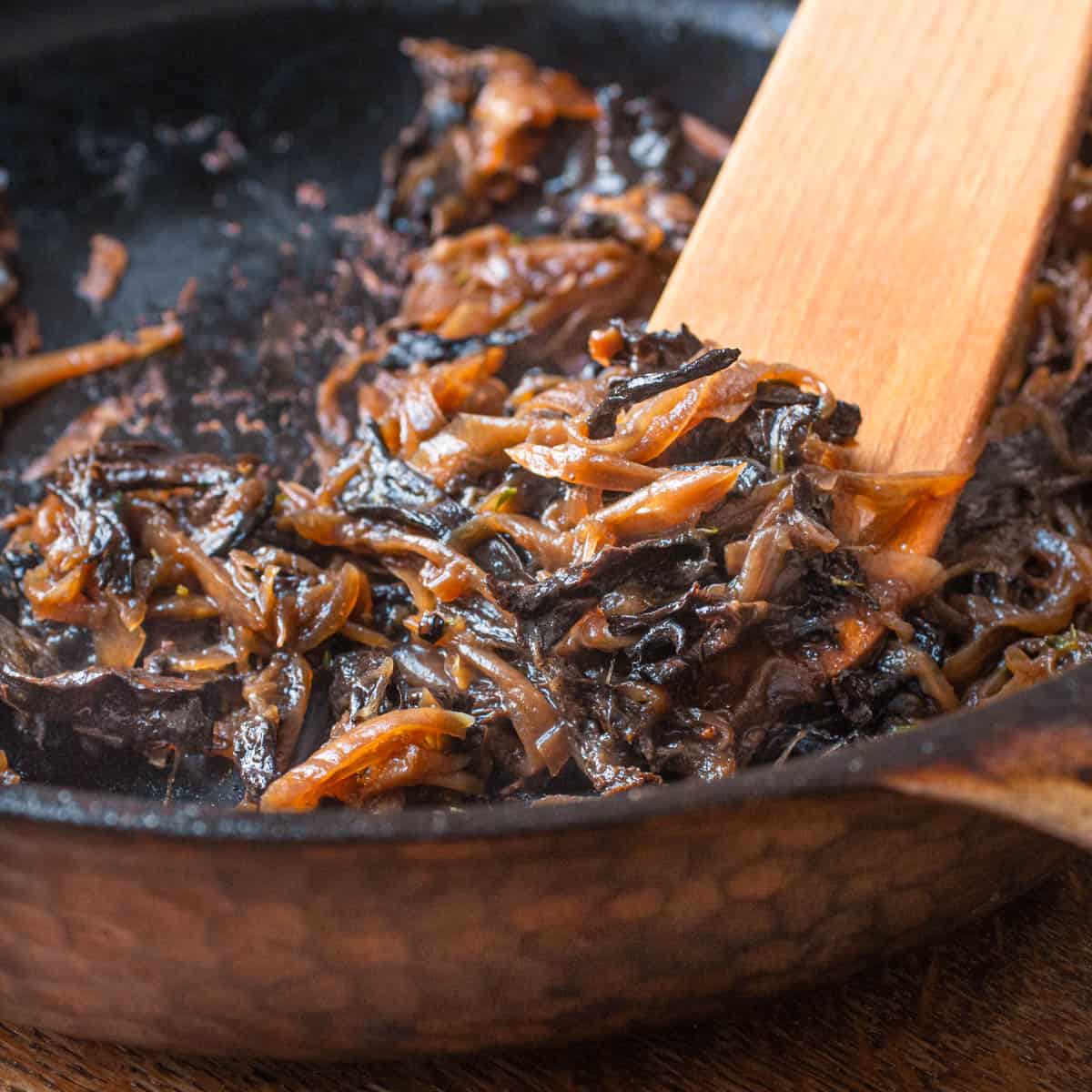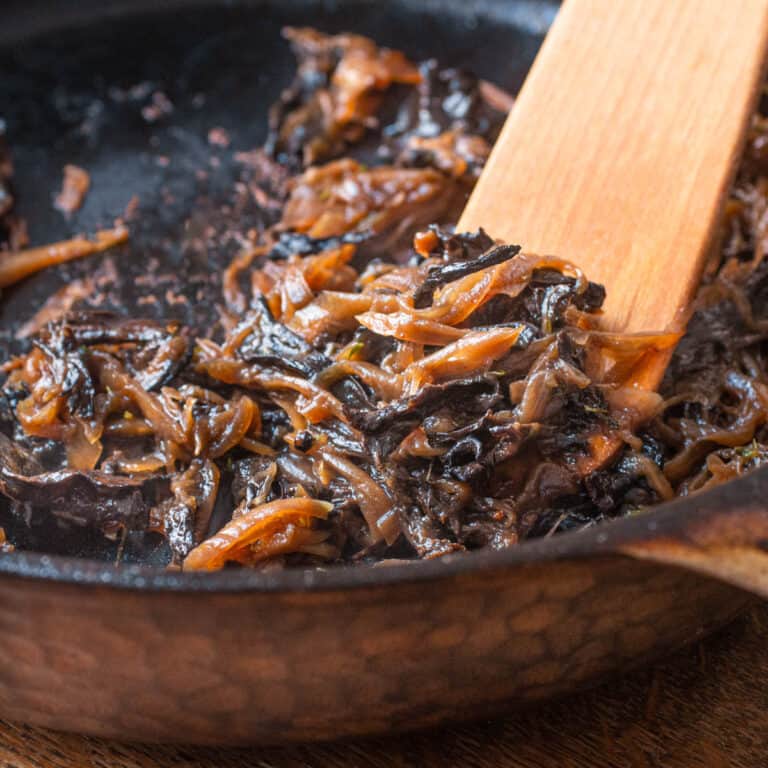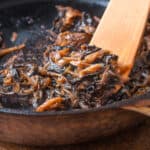 Print Recipe
Caramelized Shallots and Black Trumpet Mushrooms
A rich condiment of caramelized shallots and black trumpet mushrooms
Ingredients
1.5

lbs

whole shallots

to yield 1 qt peeled and 6 cups after slicing

1

cup

dried black trumpet mushrooms

.5 oz

1

cup

water

Shot or two of brandy

Kosher salt

to taste

1

teaspoon

chopped fresh thyme

optional

2

tablespoons

flavorless oil
Instructions
Shot or two of brandy

Kosher salt, to taste

1 teaspoon chopped fresh thyme (optional)

2 tablespoons flavorless oil

For serving

Strong homemade stock, or demi glace (optional)

Method

Rehydrate the mushrooms in the water for 20 minutes. Agitate and mix the mushrooms around to remove any grit. Remove the mushrooms, strain the liquid and recombine the two, then reserve.

Put the shallots through the slicing attachment on a robocoup or food processor, or shave thinly with a knife. In a large sauté pan or rondeaux, slowly cook the shallots in the oil, deglazing here and there with the brandy, and then the black trumpet water little by little as needed to prevent the bottom of the pan from scorching or drying out.

When the shallots are deeply browned, about 30-45 minutes, add the mushrooms and their remaining liquid and continue cooking until almost all the liquid has evaporated. Season with the thyme and salt then spread out on a sheet tray or baking sheet to cool, then refrigerate until needed.

For serving, reheat the shallot-mushroom mixture with just enough good reduced chicken stock or demi glace (it's fine without too, but this is how I serve it in restaurant settings) to moisten and make them juicy. Double check the seasoning, adjust as needed, and serve. A little knob of butter thrown in at the end, or some sliced chives is great too.
Nutrition
Calories:
286
kcal
|
Carbohydrates:
68
g
|
Protein:
10
g
|
Fat:
0.5
g
|
Saturated Fat:
0.1
g
|
Polyunsaturated Fat:
0.2
g
|
Monounsaturated Fat:
0.1
g
|
Sodium:
49
mg
|
Potassium:
1351
mg
|
Fiber:
12
g
|
Sugar:
27
g
|
Vitamin A:
14
IU
|
Vitamin C:
28
mg
|
Calcium:
131
mg
|
Iron:
4
mg
More