Dried, re-hydrated lobsters might not be that interesting, (toast them a little to bring out flavor) but the powder is a showstopper, and I do all kinds of things with it. These mushroom breadcrumbs are one of the more creative things I've developed over the years, and they're one of my favorite dried lobster mushroom recipes.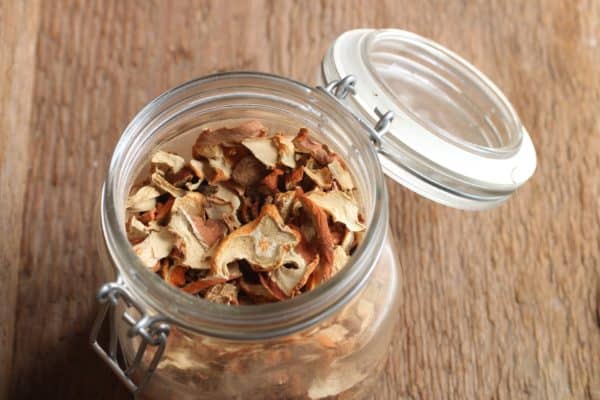 Right before the snow started to melt a few years ago, I tried, fruitlessly, to start burning through the shroom hoard of dried lobster mushrooms, along with various bags of boletes.
I wanted to make something for the restaurant menu, but recipes involving ground lobster mushrooms are expensive. My couple bags and jars of dried lobster mushrooms, while a serious stash for home cooking, would be completely consumed by a restaurant in days, but I had enough to develop a recipe using my stash.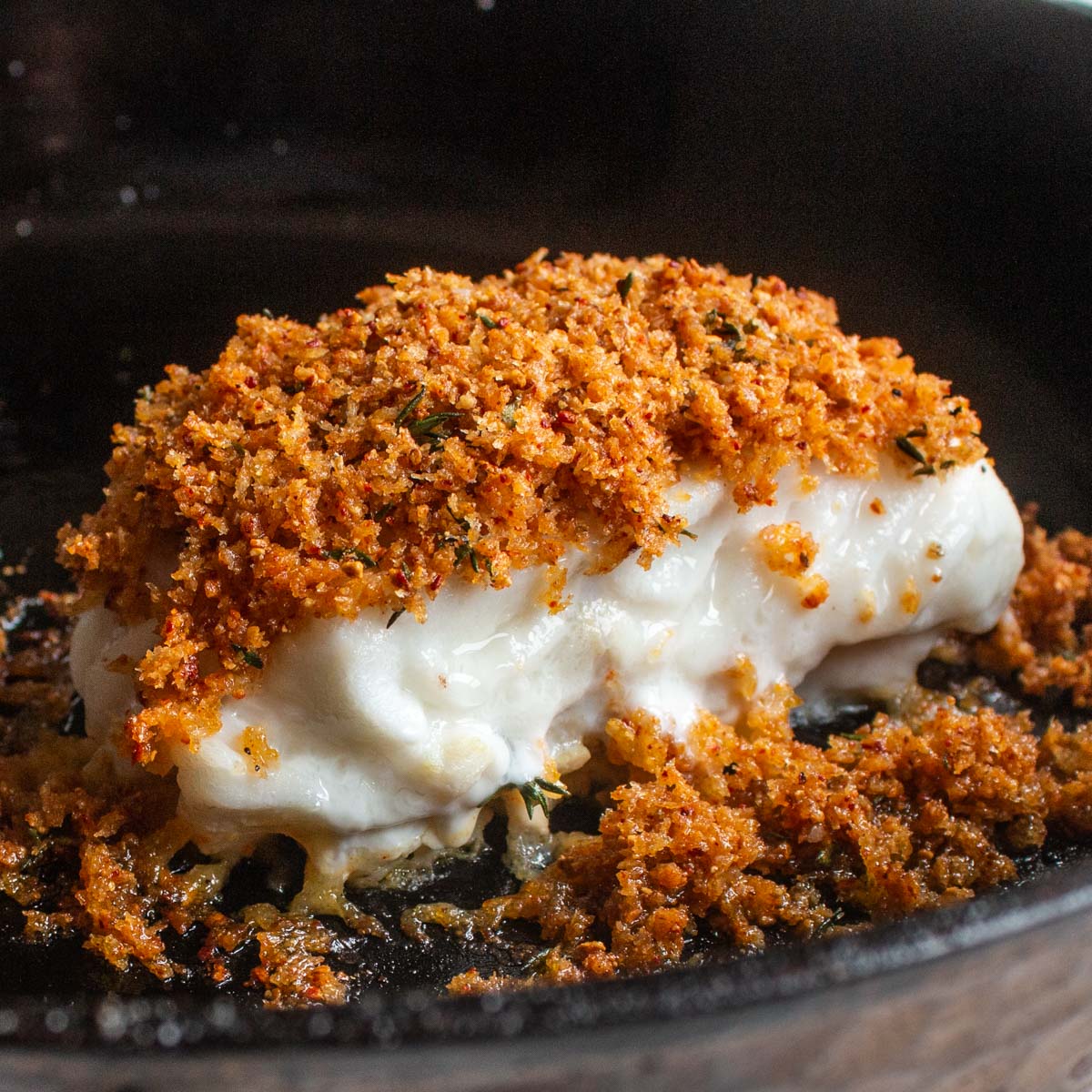 Secondly, as a manager in charge of purchasing, it was important to keep waste in mind, so I needed to lessen the probability that my line cooks could over-serve, or at least hedge my bet a little.
Flavorful side note, I know one line cook, who, after his shift drink, neglected to put away his fish box full of black truffles stashed above the pass for New Years service, which at a couple pounds, was roughly a line cook's weekly salary at the time. And people wonder why chefs have tempers. Back to the lobsters, I knew:
Lobster mushrooms, like lobster, love paprika, and butter.
Ground to a powder, or coarse ground in a grain mill, I could spread the cost/labor out of my harvesting, or purchasing dried mushrooms.
Stretching Dried Lobster Mushrooms with Breadcrumbs
Since I had a cod on the menu that was being baked the classic French way with a green herbed breadcrumb topping, I thought I might try making a seasoned breadcrumb mix with a high proportion of lobster mushrooms mixed in.
The lobster mushrooms would coat and flavor the breadcrumbs, and some hot clarified butter mixed in would help activate the aromas, hydrate the tiny pieces of lobster mushroom with fat, and make the flavors come together. Adding fat to them would also make it a turn-key topping for anything baked, especially fish.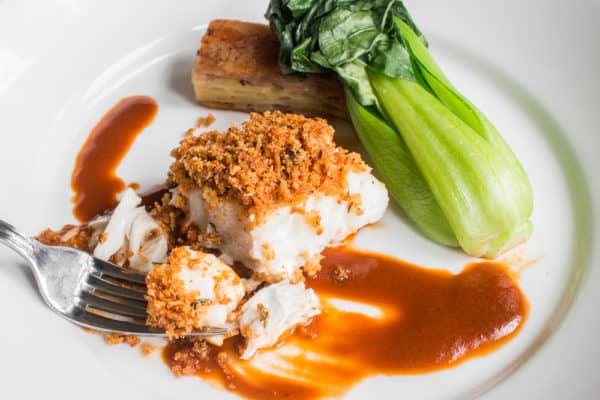 As you've might be guessing, the lobster mushroom breadcrumbs don't suck. If you try your hand at them, I'm sure you'll be able to figure out plenty to put them on, but here's a couple ideas for them:
Like I mentioned, I think my favorite is putting a generous amount of the mushroom crumbs on top of flaky white fish (or other protein, etc) and baking on high, say 400F, try that first.
Sprinkled on top of pasta, especially something light like spaghetti with clams or mussels
Try sprinkling some on fried eggs, with the addition of some crushed chili or a teeny pinch of cayenne, alternaltely, bake with crumbs on top, or put the crumbs in a pan and crack the eggs into them and cook (yes, it works).
Orrechiette a la Barese is a classic Italian pasta with an oil based breadcrumb sauce, see a version of it here, you could add the lobster mushroom crumbs, removing the anchovy since the flavor will take over.
Adding on to the pasta, you could toss simple dried pasta with this, but make sure to drain the pasta well, and heat in a pan with the breadcrumbs for a minute or two to get rid of any excess moisture.
Spread on top of a gratin, or really anything baked, macaroni and cheese with lobster mushroom crust? Yes please.
Another dish I ran was a simple, appetizer of gnocchi is white sauce made from goat brie, topped with a pile of the crumbs instead of cheese.
Don't get too creative
Less is more here. This is a simple recipe all about clean flavors, and trying to showcase the lobster mushrooms. A little tweaking for personal taste is fine, but don't monkey with the proportions too much, and especially, resist the urge to add garlic powder.
There's a little dried wild onion powder in this one I was making at home, but it's an ⅛tsp in 3 cups of other matter by volume--it is, as Richard Olney would say, a suggestion of onion, just a hint. You can probably get away with a little more, but start small and taste as you go.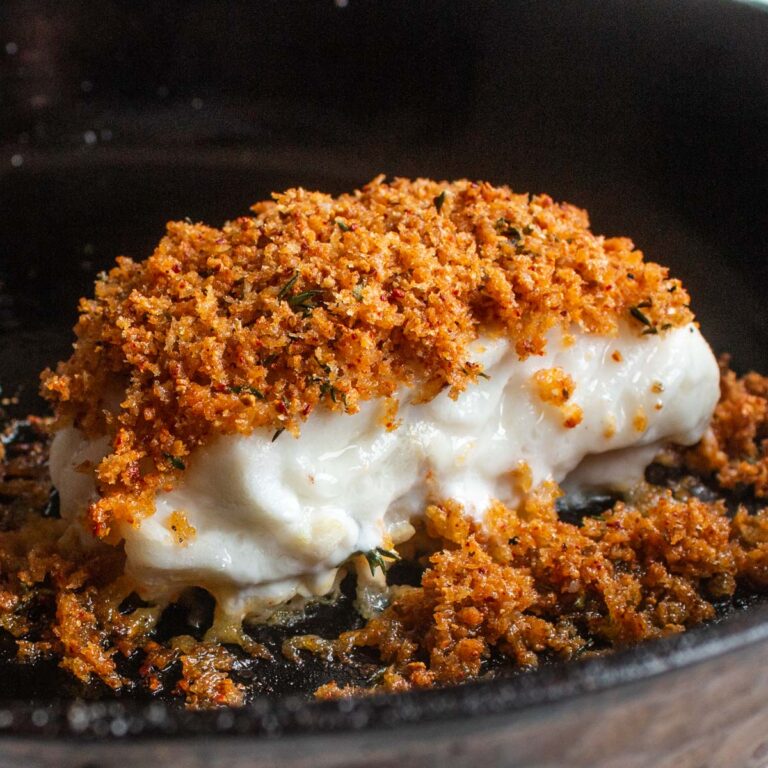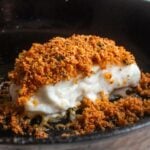 Print Recipe
Lobster Mushroom Breadcrumbs
A simple seasoned breadcrumb mixture flavored with dried lobster mushrooms is a great garnish for fish or other baked proteins.
Ingredients
2

cups

panko breadcrumbs

1

cup

ground lobster mushrooms

made from very clean, dried mushrooms

1

teaspoon

sweet paprika

⅛

teaspoon

finely ground dried wild onions

ramps, or onion powder

1

Tablespoon

Fresh chopped thyme

to taste, about 1 tablespoon

Pinch

of kosher salt and pepper

to taste

½

cup

butter
Instructions
Warm the butter just to melt, then keep warm. Combine the remaining ingredients, then drizzle in the butter and mix well. Transfer the mixture to a container with a tight fitting lid.

The mushrooms aren't hydrated (as long as you use clarified butter or lard) so you don't have to worry about them going bad, per-se, but the flavor will be best fresh, within a couple days of making, so make it in small batches for whatever you'll need.

For the best flavor retention, refrigerate them. When the crumbs chill, they'll firm up from the butter, simply let them come to room temperature and stir, or gently warm to break them up a bit.
Using
To use the breadcrumbs, lightly oil and season a piece of white fish like cod, spoon breadcrumbs on top and bake until the cod is cooked through and serve.
Notes
You can feel free to add things like herbs to this if you have some. I use fresh thyme in the recipe, but summer savory or a teaspoon of crushed fennel seed can be good too. You can also add finely chopped rosemary. 
Nutrition
Serving:
0.25
cups
|
Calories:
459
kcal
|
Carbohydrates:
36
g
|
Protein:
7
g
|
Fat:
33
g
|
Saturated Fat:
20
g
|
Polyunsaturated Fat:
2
g
|
Monounsaturated Fat:
8
g
|
Trans Fat:
1
g
|
Cholesterol:
81
mg
|
Sodium:
538
mg
|
Potassium:
246
mg
|
Fiber:
3
g
|
Sugar:
3
g
|
Vitamin A:
1274
IU
|
Vitamin C:
0.3
mg
|
Calcium:
85
mg
|
Iron:
2
mg