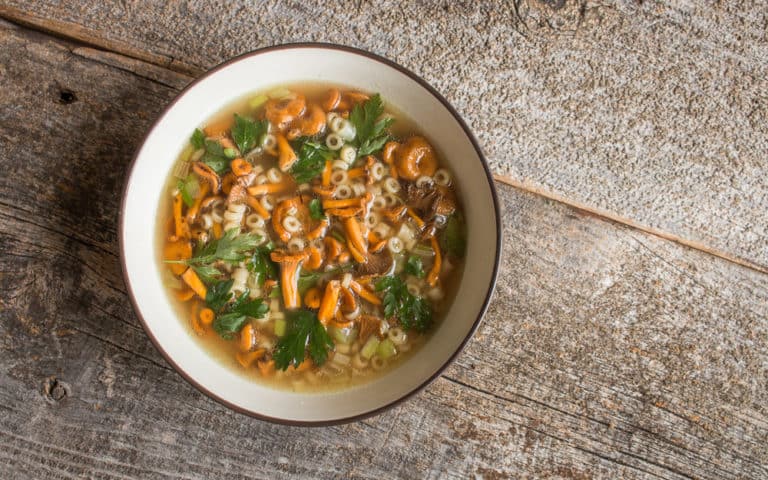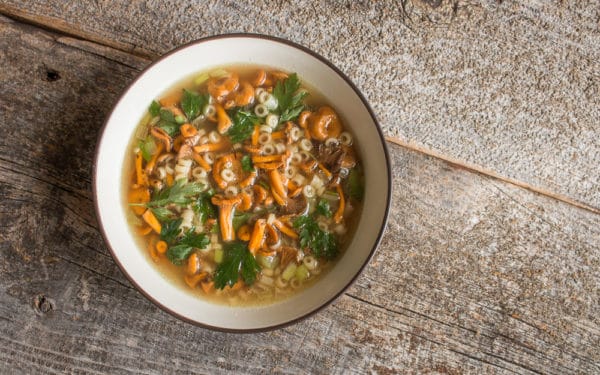 Midwestern yellowfoot chanterelles are small--no doubt about it. As such, their the sort of ingredient that is so difficult to source in volume as to make them near impossible to find on a restaurant menu, no matter the cost. They're literally a chef's dream, and I made one of the best wild mushroom soups I've ever had a few weeks ago out of nothing more than a few good handfuls of them, some parsley, and tiny pasta rings. That's it.
The west coast species, (Craterellus tubaeformis), does get some coverage from chefs in restaurants, but on the west coast they fruit in larger numbers, and are sometimes sold commercially as the mushrooms are generally much larger, say, the size of a typical golden chanterelle I would pick here in the Midwest. The tiny guys pictured in this post (Craterellus ignicolor) are not sold commercially to my knowledge, and, with their size, I doubt they will be, as, all the mushrooms in the picture below have caps the size of a dime, or smaller.
Saying Our Midwestern yellowfoot chanterelles are small is an understatement, but you can get consistent flushes around downed logs in a damp, forest-y mushroom patch, especially in places you'd look for black trumpets, since they often grow very close to each other where I live. What they lack in size, they make up for in flavor, as, fresh or dried, they're superior to the west coast yellowfoot.
Since they're so small though, most people don't pick them, or even bother trying to identify them. I understand though, they can be tiny, miniscule even, and disappointing thrown in a pan with other more robust textured mushrooms. A handful of yellowfoot chants here and there isn't worth writing home about.
But, if you start picking when you see them, or have a friend who doesn't eat them help, and keep at it, many hands make light the work, and those handfuls *will* build up. I got a good 4 ounces casually while picking trumpets the other day, and it was enough to enjoy them here and there throughout the week.
The biggest hurdle though, is just getting mushroom hunters to think they're worth picking. So, to beat the drum one more time: yellowfoot chants are worth picking, and they're delicious. If you start picking them when you see them, or have your friends pitch in, you can get a good amount of them, dry then when you get home and put them in a jar you continue to add to throughout the season, or, if you really want to treat yourself, a bowl of yellowfoot chanterelle soup.
Teeny tiny yellowfoot chants love wet cooking 
Sauteing such tiny mushrooms is a waste, as they wilt and cook down to nothing, but simmered in a little liquid, they keep their color and shape, giving even the tiniest, most infinitely small yellowfeet a purpose, peering up at you from a spoon filled with nectar of the gods.
I wanted to make a little soup to show off all the tiny guys my friend Peter and I picked the other week after hitting his trumpet patch (to little success). It had to be simple though, a lick of oil, a suggestion of onion (and only mild, green onion) and something to match the size of the tiny shrooms-tiny pasta. Think of it like ultra chicken noodle soup, just without the chicken. It's absolutely the best way I've had them to date.
Notes on the yellowfoot broth
Only yellowfeet, or a single species of very small mushroom should be used. Using multiple species will muddy the flavor and you won't taste them.
The amount of yellow feet here (or use trumpets) might seem a little much for 2 cups of broth, but it's necessary to get the full effect of their flavor. When in doubt, use more, not less, although with trumpets you need to worry about their bitterness.
Don't get too creative. This is just a bunch of small mushrooms cooked in broth, with some tiny noodles. It's clean, and pure. No addition could improve it.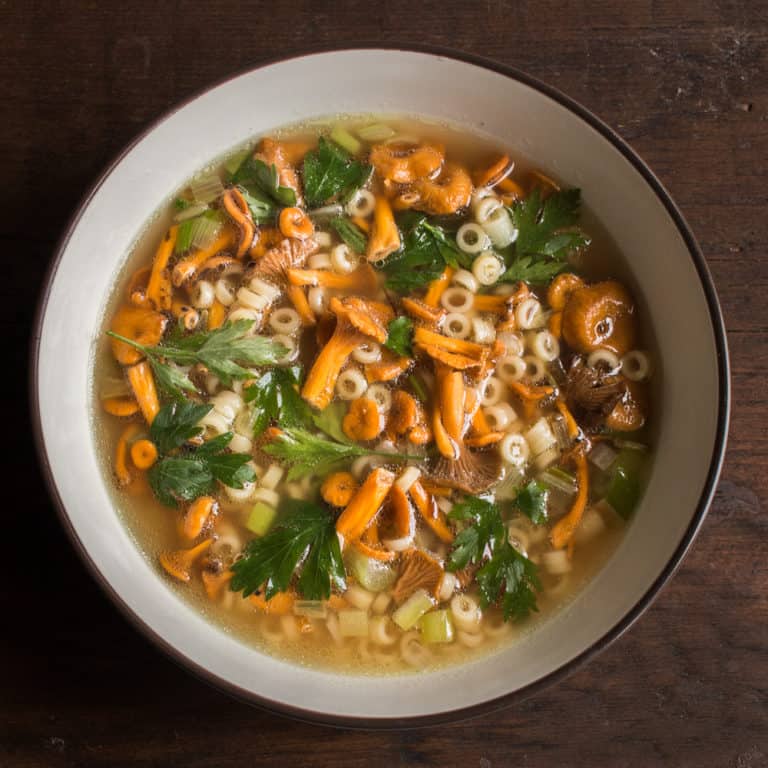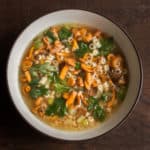 Print Recipe
Yellowfoot Chanterelle Broth, with Tiny Pasta 
Yellowfoot chanterelles in a rich mushroom broth with herbs and pasta
Ingredients
1.5

ounces

yellowfoot chanterelles

trimmed and cleaned (two very generous handfuls)

2

cups

of stock or broth

preferably homemade from poultry or vegetables

Fresh whole Italian parsley leaves

a small handful to garnish

Kosher salt

to taste

1

tablespoon

cooking oil or lard

¼

cup

finely diced or chopped scallion or young onion

½

cup

cooked tiny pasta

such as orzo, rings, or acini de pepe
Instructions
Sweat the onion in the oil for a few minutes until translucent, do not allow it to color. Add the broth and chanterelles and simmer for a few minutes, covered, until the mushrooms are wilted and have flavored the broth.

Finally add the cooked pasta, heat through, double check the seasoning for salt and adjust as needed.

Toss in a few whole leaves of parsley just before serving.