Simple gomphus mushroom tacos are an easy way to enjoy these crunchy, meaty wild mushrooms. You can mix and match your favorite taco garnishes to make them your own.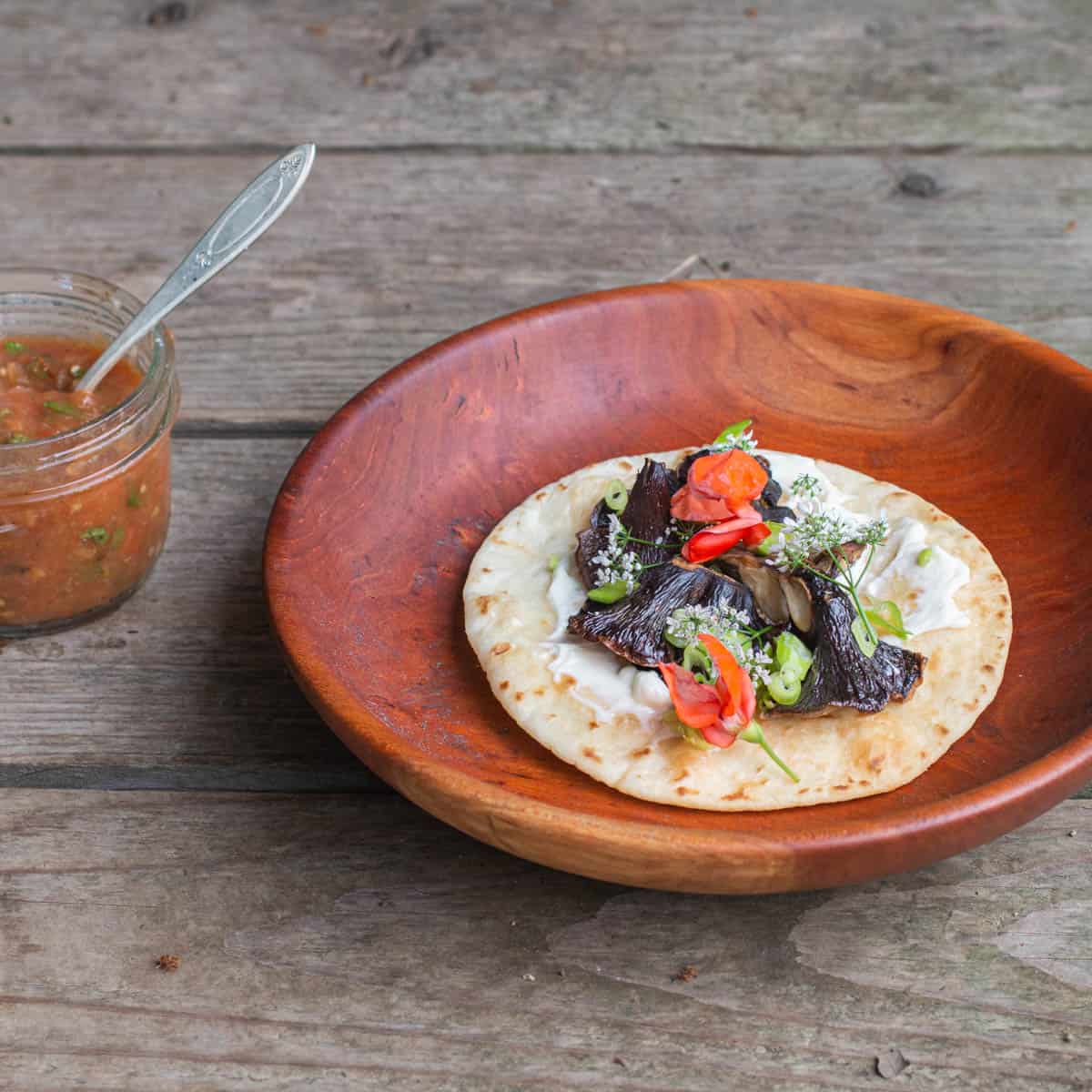 Gomphus clavatus or Pig Ear Mushrooms
Gomphus clavatus are an increasingly rare edible mushroom also known as the violet chanterelle, the pig ear, and likely a bunch of different cultural specific names I don't know of yet.
These pictured in the recipe are actually a rare version of Gomphus clavatus that grows with hardwoods as opposed to pine, currently called pseudocraterllus pseudoclavatus.
Other mushrooms to use
You could also use other chunky mushrooms like lobsters or milk caps, like the voluminous milky (L. volemus), saffron milkcaps (L. deliciosus), or indigo milkcaps (L. indigo).
In Mexico, especially in cool, forested, coastal areas like the Mihoacan, mushrooms are often cooked and eaten with tortillas. My version here is super minimal, and not traditional, but it's a nod to the tradition of mushroom tacos, although typically they would be stewed, boiled, and pounded with garlic and herbs to make a sort of meat substitute, especially with lobster mushrooms.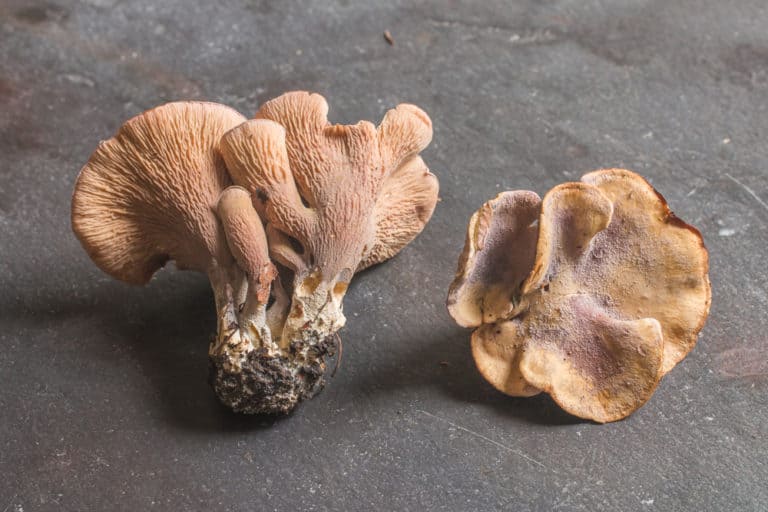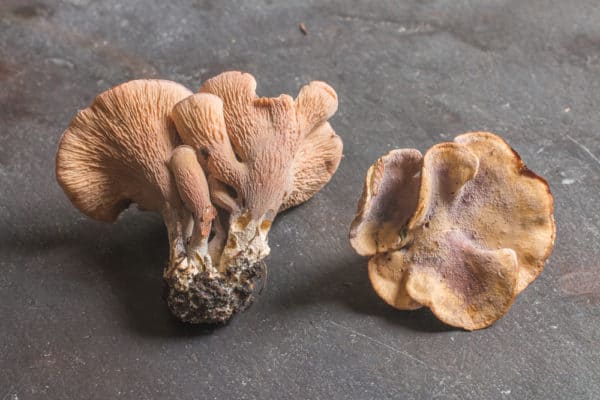 This method is simple for any gringo to make, and, I guarantee you, even if your family doesn't like tacos, or mushrooms, they'll like these, well, maybe without the cilantro, since dislike of those things can unfortunately go hand in hand.
The secret is in the tacos. I'm using flour tortillas here, near heresy in the middle of the movement for artisanal, heirloom corn tortillas, made by hand. Basically, I was craving some of the chewy tacos I used to make on West 7th in St. Paul. They're trashy white man tacos, but man are they good.
There's a certain magic that happens when you deep fry glutinous tacos, they get soft, chewy, and addictive. Honestly you could put anything in a deep fried flour tortilla shell and it would be delicious. I also used to just eat the fried tortillas like pita bread, dipped whatever's in arm's reach when it was taco night at the shitty bar and grill I learned this trick from.
The specific ingredients here are just examples of what I had on hand, but the idea here is to let the mushrooms shine, which is why they're not cooked down into a spoon-able mass. I simply cooked and seasoned them on the dirty fried tortilla slicked with mayonnaise (more traditional than you might think), a touch of quick, spicy salsa, and a couple edible flowers. No cheese with this one.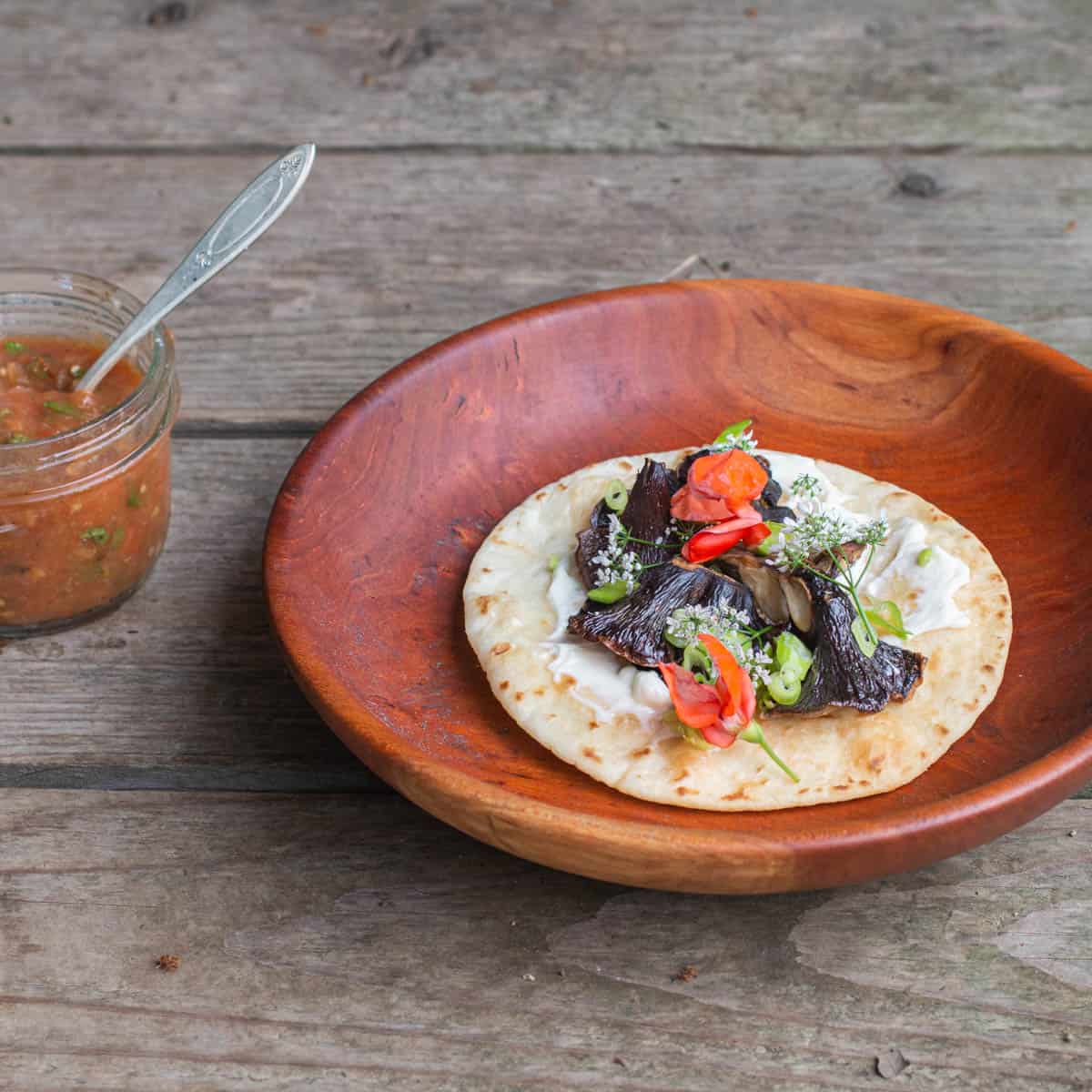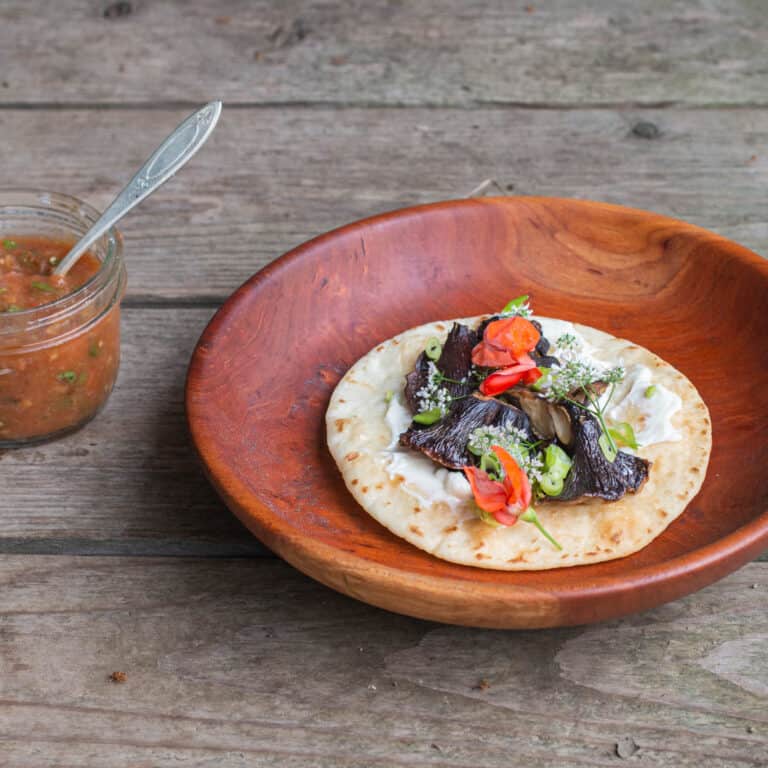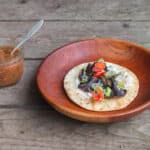 Print Recipe
Gomphus Mushroom Tacos, with Roasted Tomato Salsa 
Tacos made with Gomphus clavatus mushrooms
Equipment
1 cast iron skillet or similar

1 Blender

for the salsa, optional
Ingredients
1

lb

roma tomatoes

1

large jalapeno

3

cloves

of garlic

2

large shallots or ½ a small onion

with skin

Six-inch flour tortillas

As needed

8

oz

gomphus mushroom for each taco

in large, chunky pieces (1 oz for each taco)

Kosher salt

to taste

Pork lard as needed for sauteing the mushrooms and shallow frying the tortillas

about ¾ cup (optional)

Cilantro flowers

to taste (optional)

Other edible flowers

to garnish (optional)

Thick Mexican mayonnaise

or a mayo you like (optional)

Sliced green onion

to garnish (optional)
Instructions
In a cast iron skillet, char/slightly blacken the tomatoes, jalapeno, shallot, and garlic on all sides until cooked, then remove to a bowl and cool.

Peel all the charred vegetables (using gloves for the jalapeno if you have the habit of touching your eyes) then puree in a blender until chunky-smooth, season to taste with a pinch of salt and reserve.

For the tortillas, heat a ¼ inch layer of oil in an 8 inch cast iron skillet, and fry the tortillas on each side until lightly toasted and cooked, transfer the fried tortillas to sheet tray with paper towels to drain, and keep warm.

Saute the mushrooms in a little more lard or oil, season to taste with salt, making sure to put some good color on them. Serve warm tortillas at the table with the salsa, mushrooms, flowers, onions, and mayo, and let guests serve themselves.
Nutrition
Calories:
23
kcal
|
Carbohydrates:
5
g
|
Protein:
2
g
|
Fat:
0.2
g
|
Saturated Fat:
0.03
g
|
Polyunsaturated Fat:
0.1
g
|
Monounsaturated Fat:
0.02
g
|
Sodium:
5
mg
|
Potassium:
254
mg
|
Fiber:
1
g
|
Sugar:
3
g
|
Vitamin A:
492
IU
|
Vitamin C:
11
mg
|
Calcium:
11
mg
|
Iron:
0.4
mg