Mushroom hunter: "Hey Alan, do you know what mushroom this is?" Me: "Err, hold on, ok. Send me your GPS coordinates immediately along with panorama photos and no harm will come to you or your family."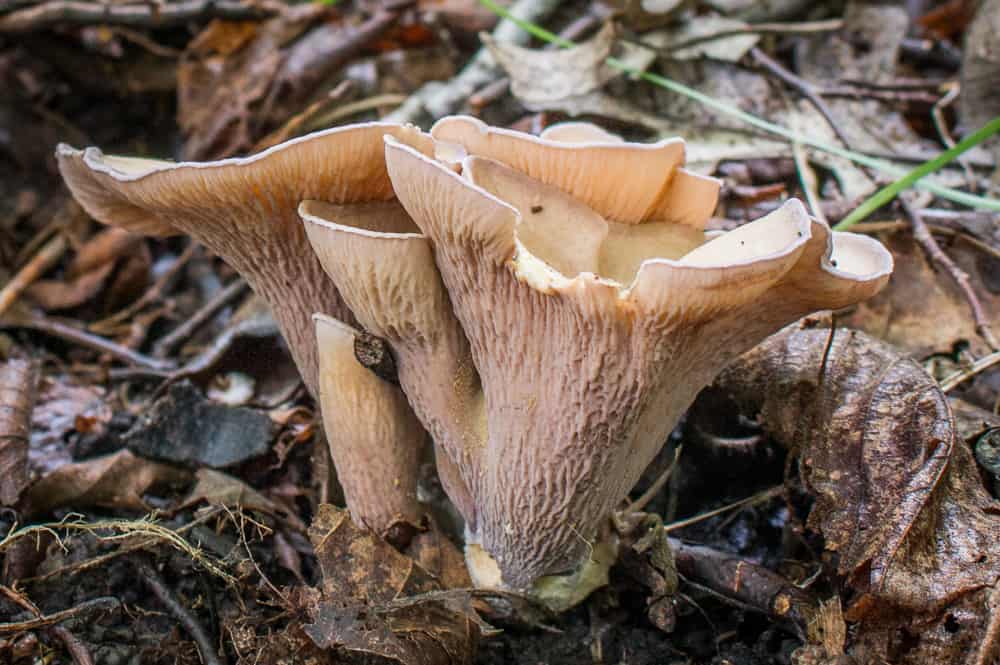 That sort of scenario is why I sift through plenty of ID requests and pics from random numbers every year. Every year it comes for me, at pretty regular times. In spring it's Cerioporus squamosus / pheasant back mushrooms, late spring/early summer it's Artomyces pyxidatus / crown-tipped coral.
I give help with what I know, and send the blurry, upside down ID requests off to search elsewhere in cyberspace and proper mushroom ID forums, along with those that I just don't know. I don't mind giving Identification help at all, it's a fun game, keeps me sharp, in touch with friends, and, honestly, I made a bed out of mushrooms here, so it's only fair I sleep in it, so to speak.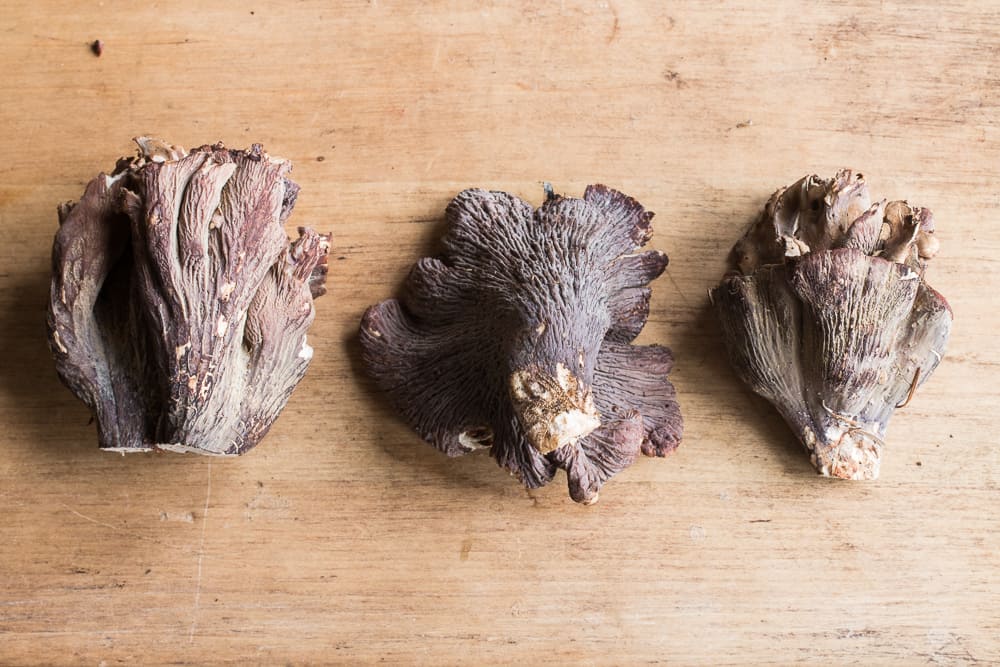 In one of my first few years of hunting mushrooms, when most of my family still thought I was probably crazy, I was speaking with my great aunt, a long-time Wisconsonite at a family dinner. Unbeknownst to me, my great aunt and uncle were no strangers to harvesting food, and told me stories of picking lambs quarters, and, one particular mushroom.
"We used to pick pig ears"
I remember nodding, assuming to myself that a pig ear must be an obscure common name for a hen of the woods or something, and forgot about them.
The name stuck with me though, and somewhere along the line I put together that they were definitely not polypores, like hens, but Gomphoid mushrooms, Gomphus clavatus, or something very similar.
Gomphus are a cousin to chanterelles the same way that black trumpet mushrooms are: different genus, but morphologically/visually similar in a number of ways, most noticeably the way they have false gills as opposed to true gills. Gomphus clavatus type mushrooms also have a beautiful purple tone that deepens with age.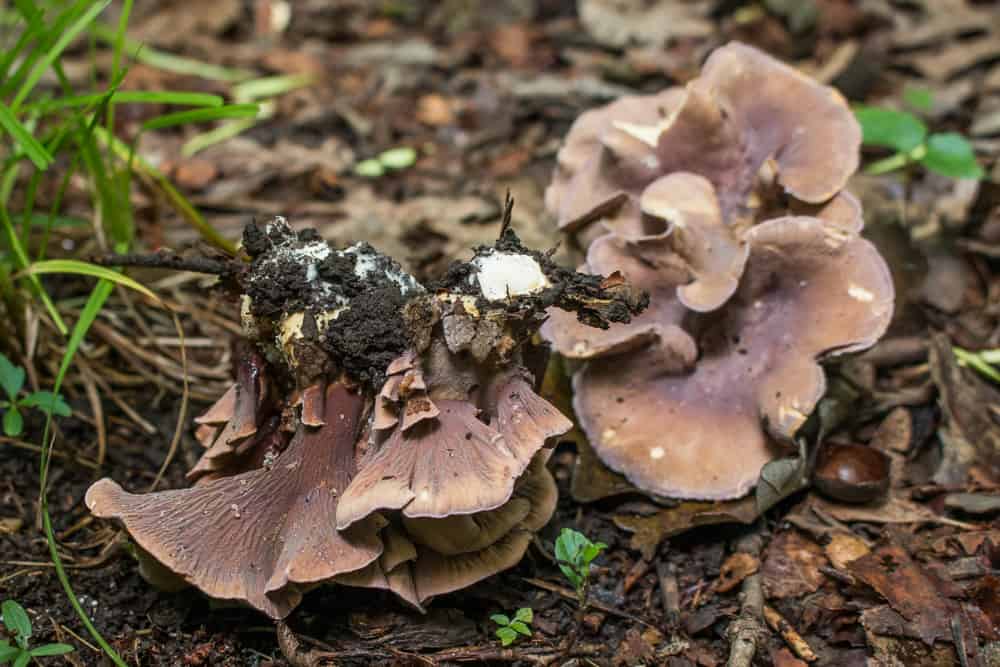 Even after I learned what they were, I never looked for them, since, in all the posts and pictures online for our local mushroom forums (a great way to keep up on the season remotely) not a single time did I see someone pick a pig ear gomphus, or ask for an ID on one in our region.
Habitat(s)
All that changed last year when I saw pictures of someone harvesting them in August in Wisconsin, as there's nothing like some fresh mushroom envy to get you back on the trail.
I went out to a few pine woods I know, as many Gomphus, like their cousins, a notable chanterelle look-a-like Turbinellus/Gomphus flocossus / scaly orwooly chanterelles are typically pine associate mushrooms. I saw no Gomphus clavatus, no floccosus, or anything that looked like them.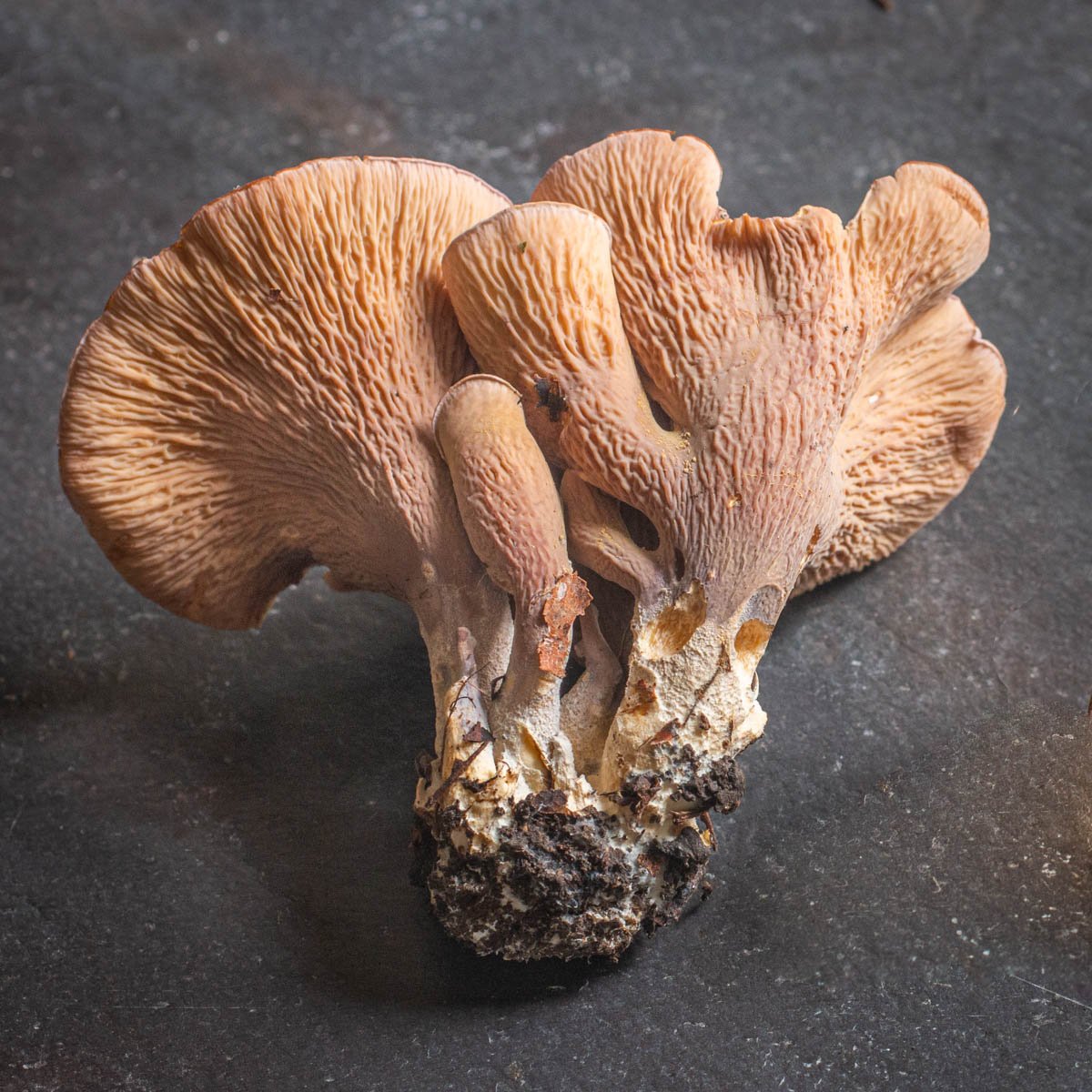 So, to educate myself, as with other mushrooms I've quested for, I ordered some from a purveyor to cook (my pal over at MushroomMilkLLC).
There's nothing like touching, holding, cooking, and eating something to imprint yourself with a new ingredient before you try to find it growing wild and put it inside your body.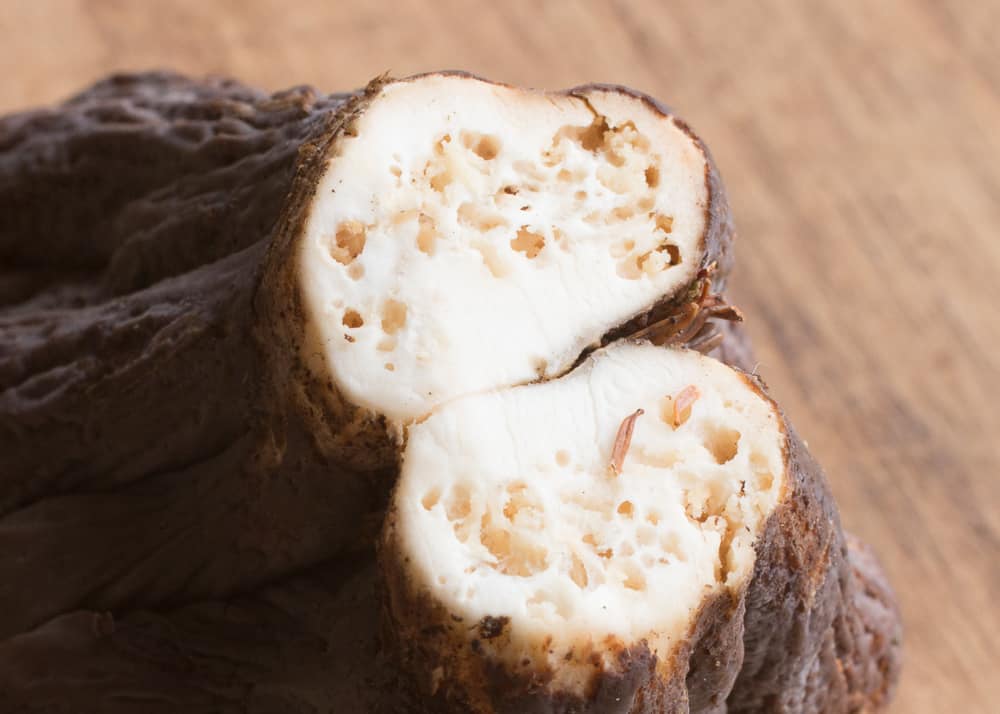 Back in my early kitchen days, this was how I learned to recognize Hen and chicken of the woods, a few boletes, chanterelles, and matsutake, among others.
The pig ears were good, and I used them for a special dinner last year. Know ye this though, bugs love these things, and you want them with cool weather, young, like most mushrooms.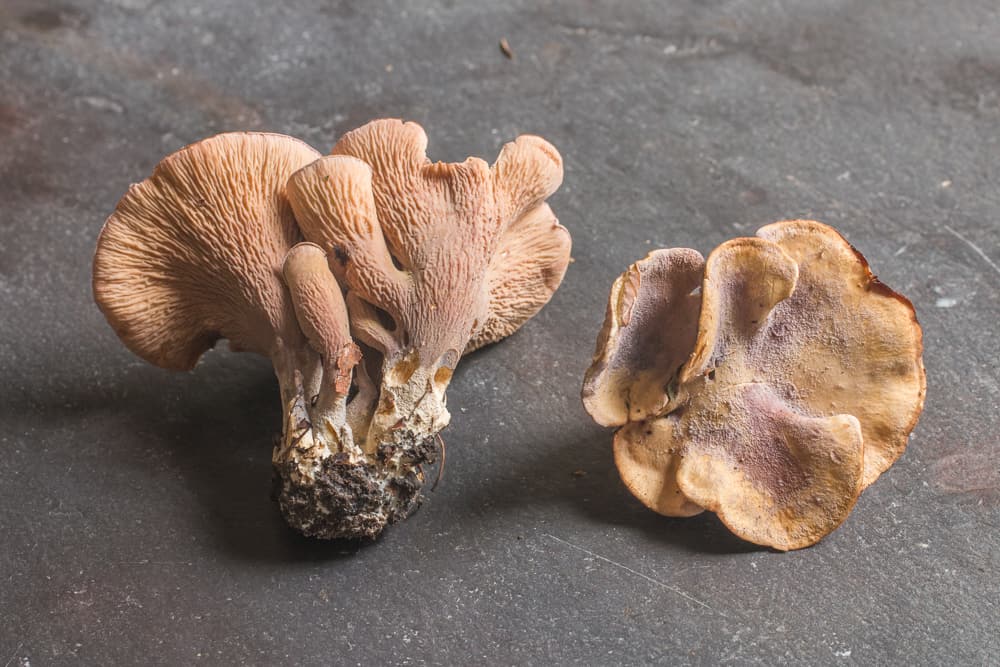 Pseudocraterellus pseudoclavatus A Rare Hardwood Loving Pig Ear
The magic though, was the conversation at the top of this post. Embellishment aside (I was speaking with my friend Dan, a local mushroom hunter) he sent me pictures of a Gomphoid mushroom, but it was mid-July, not August, which was strange.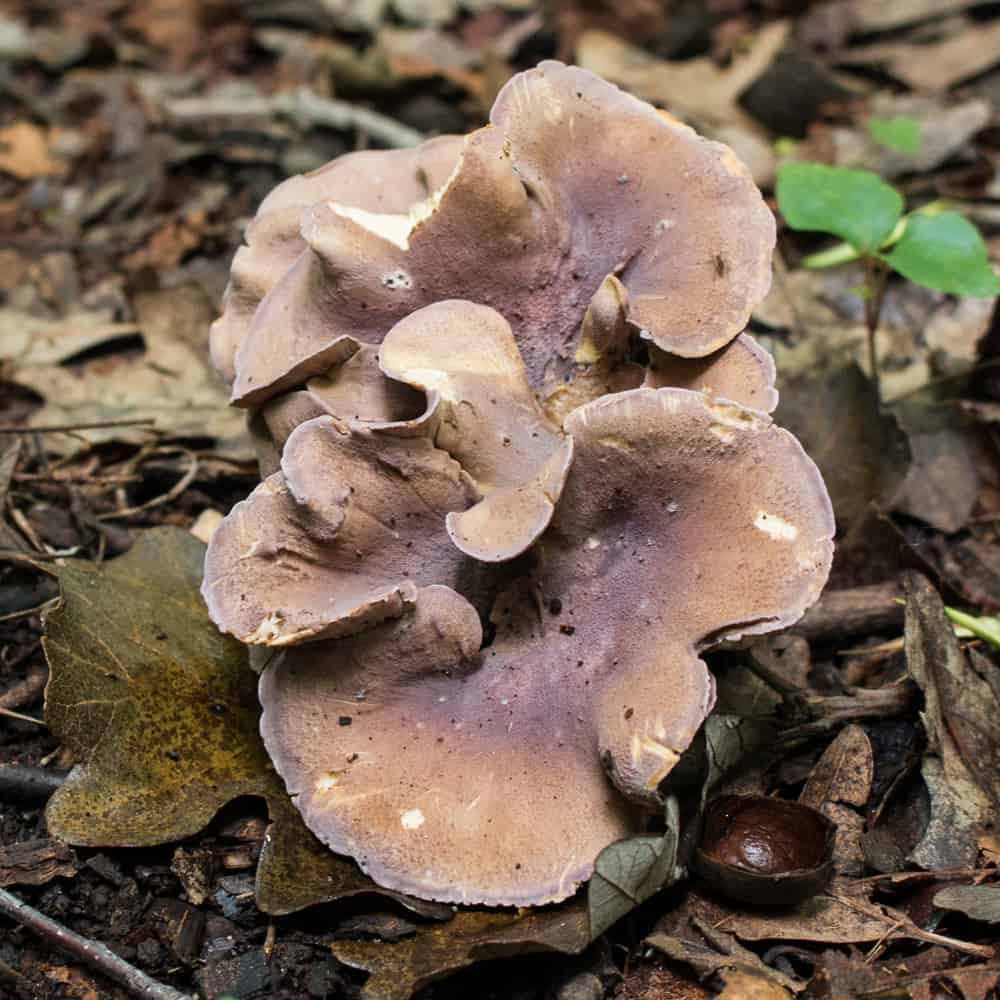 I also knew where he was hunting: a forest filled with white oak, elm, and basswood, which is definitely not pine forest.
David Arora had the answer, but only in a brief snippet, and described by someone else: Pseudocantharellus pseudoclavatus, a near identical cousin of Gomphus clavatus that prefers hardwood forests to pines, and now apparently classified as Pseudocraterellus pseudoclavatus. Both pig ears are near indistinguishable from each other, from a culinary perspective.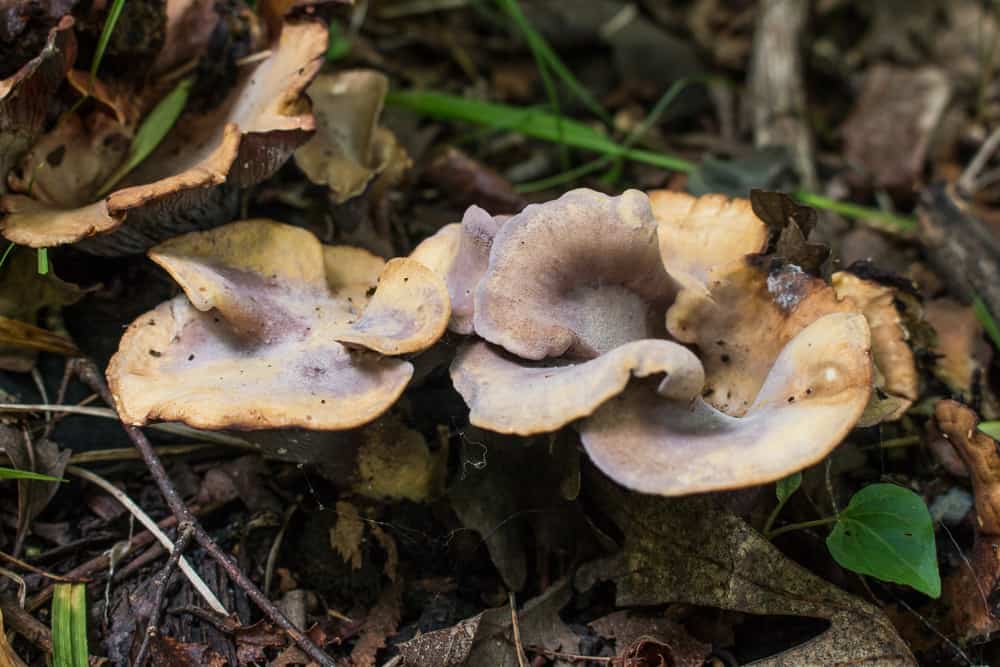 An Endangered Species From Habitat Loss
No doubt about it, pig ears are rare, and it's likely our fault. It's apparently thought exctinct in the British Isles, legally protected in Hungary, and is on a list of endangered mushrooms in 17 European countries.
A number of it's cousins are considered threatened in the American pacific northwest forests too, apparently since they associate with old-growth forests.
I found this article funded by the U.S. Department of Agriculture helpful here. Its sad to think that something as special as these mushrooms could fall prey to human destruction due to our need for more and more land.
Say a prayer for our little pig ears, it looks like they're going to need it, you don't need to go to a zoo to see things that could be wiped from the planet in our lifetime.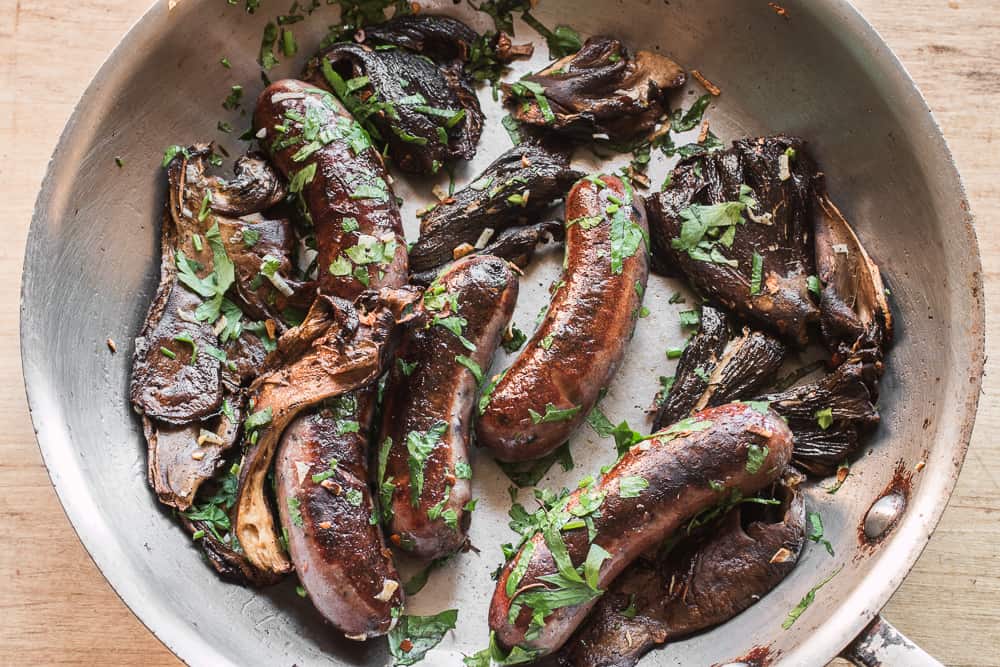 Cooking
The flavor is great, super meaty and rich, there was a touch of bitterness on the finish of the batch I tried, but nothing that wasn't subdued by adding a simple ingredient, like parsley or a little roasted salsa for my semi-traditional Gomphus tacos (they're enjoyed in Michoacan, if I remember).
But, the best part about these, like chanterelles (in my opinion) is their texture, which is a bit like big chanterelles crossed with the crunch of a milk cap.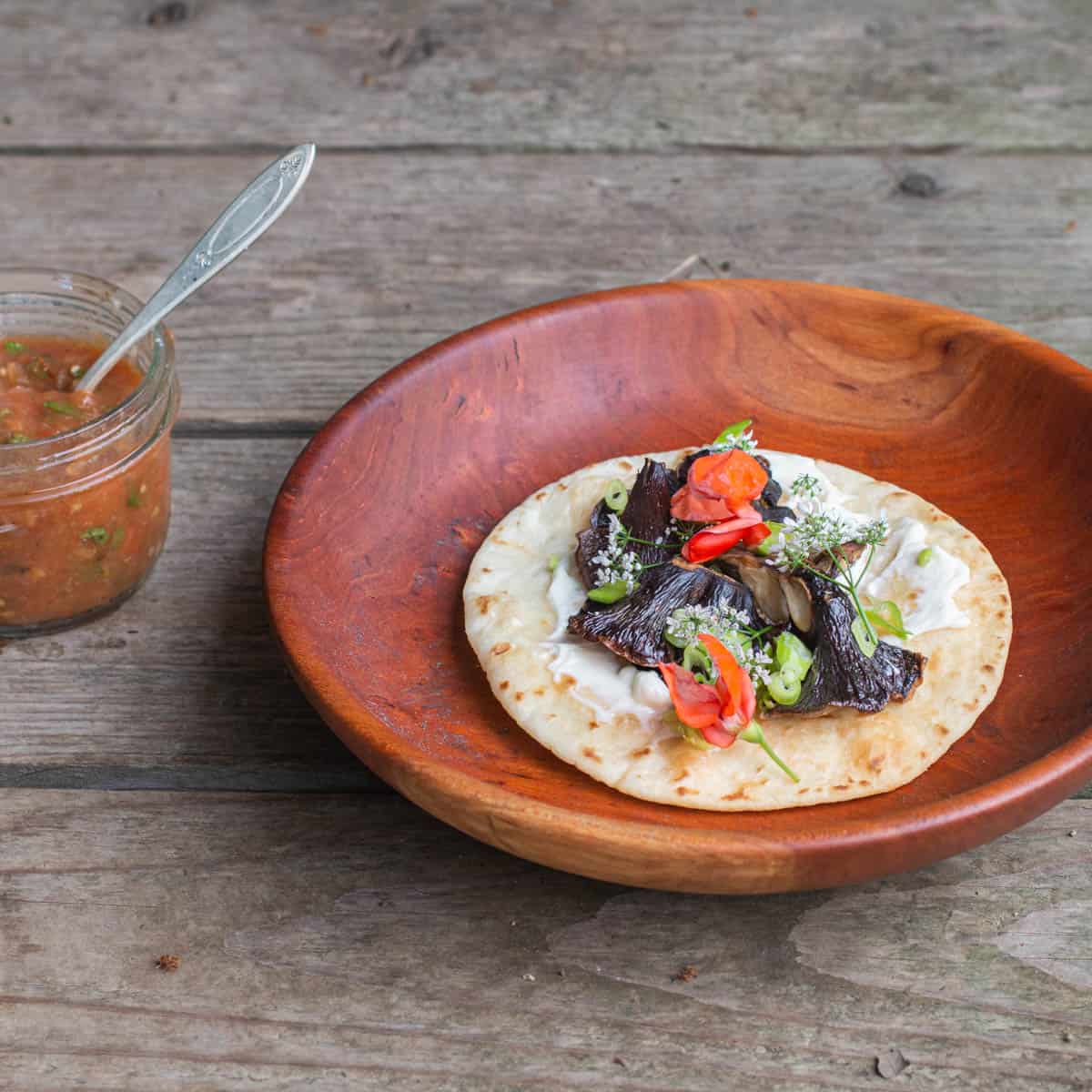 All of my fresh pig ears were almost crunchy, similar to lobster mushrooms or Lactarius, so if nothing else, know they will hold up for you, there will be no soft shrooms here.
Since the texture on both of these Gomphoids is so good, in my opinion, slicing them up, unless you're getting bored with a very large haul, just like with golden chanterelles (unless very large) would be a waste.
Like lobster mushrooms, pig ears lose a minimal amount of water during cooking, and keep a firm, resilient texture on the plate. I really liked cooking large-ish clumps, just like you would cook a whole chanterelle. But, traditional Latin American taco fillings and recipes will chop them up and stew them so they make a juicy filling, which won't be bad at all, either, you need a pretty big haul of mushrooms to do that though.
Special thanks to my friend Dan Farmer on this post, who graciously offered to take me to meet mr Pseudocraterellus so I could share the beautiful in-situ photos with you.