The simplest crab apple recipe I know of, homemade crabapple sauce is a great way to use wild crab apples. Depending on your personal taste and the varieties of crabapple trees you have, it can be tart, or sweet, pink or uncolored, just like regular applesauce. Read on and I'll explain how to make it.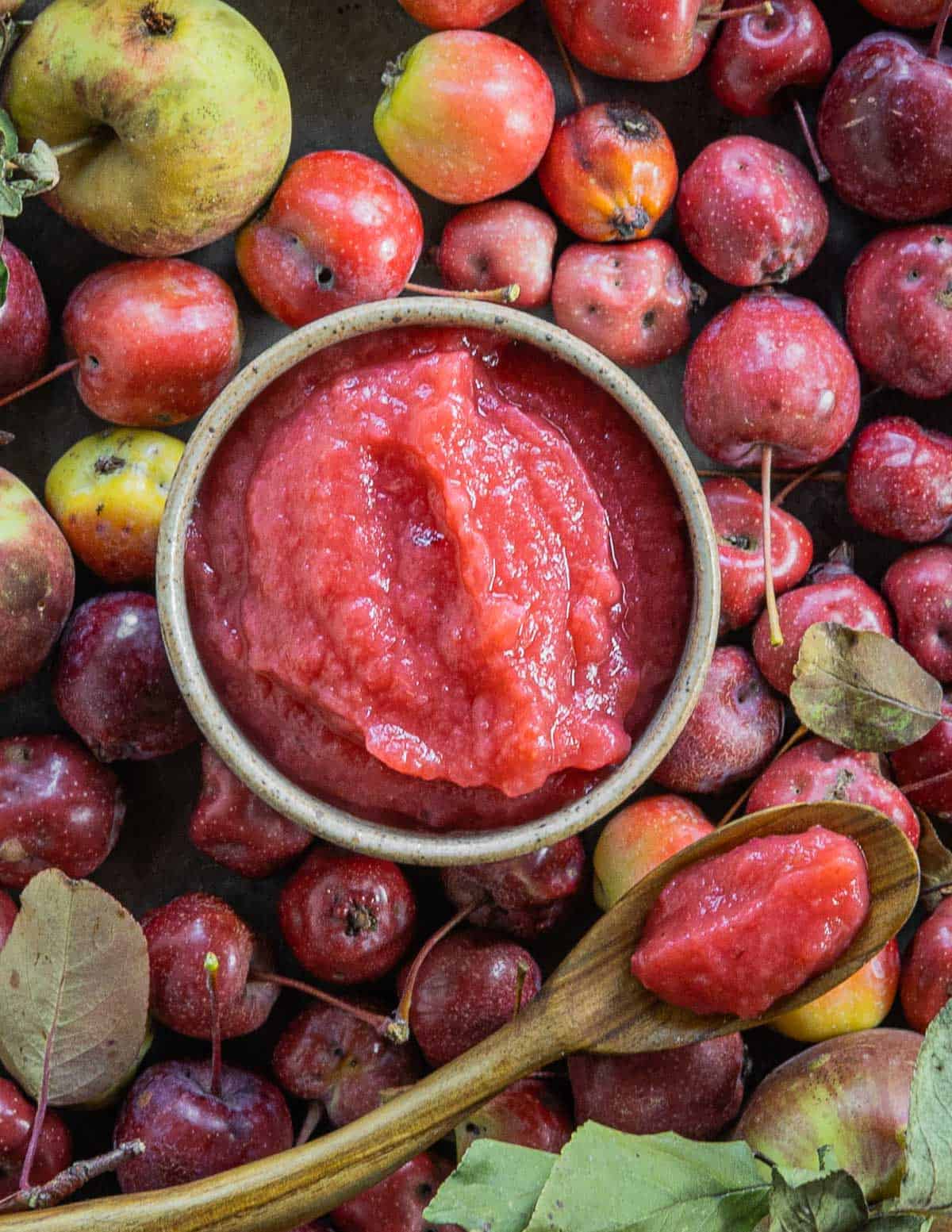 The crab apples you choose will have a big effect on the finished product. Dolgo crabapples are tart and will make a nice red or pink sauce.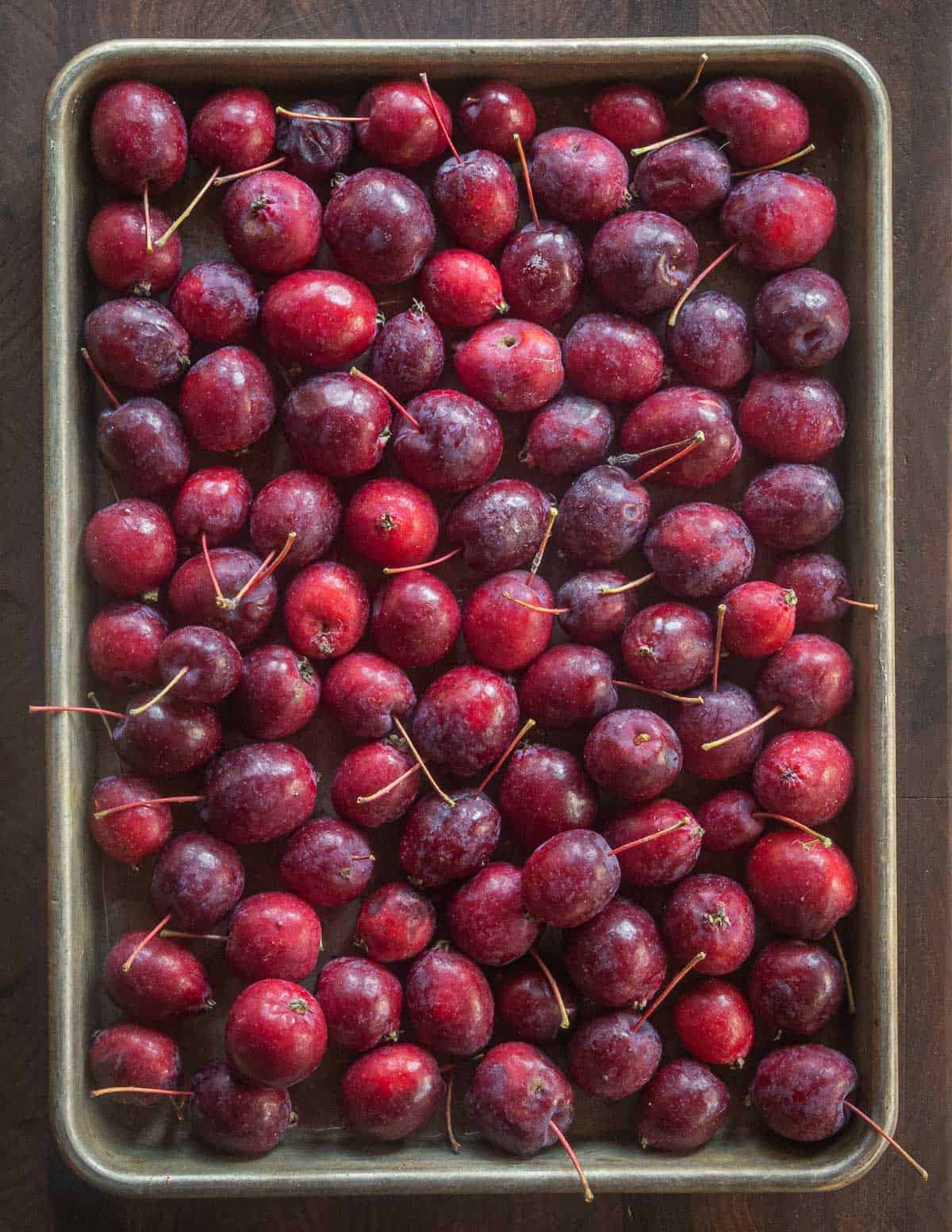 Chestnut crabapples and centennial crabapples are very sweet, and will make a sweet sauce like regular applesauce.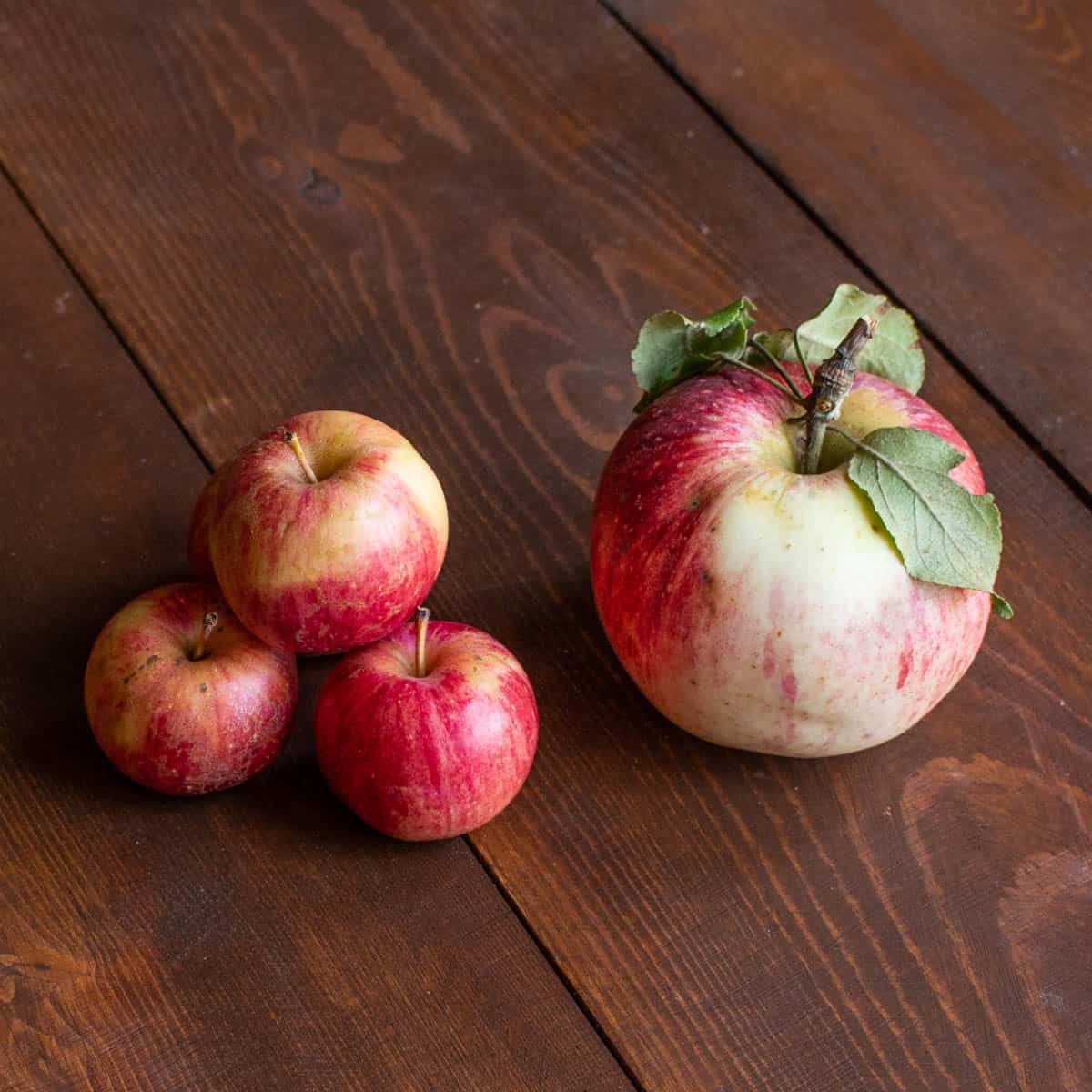 How to Make Crab Applesauce
First the apples are washed to clean them. If your apples vary in size, you'll want to cut them into equal-sized pieces for even cooking. The apples are put into a pot with a splash of water to cover the bottom, then they're cooked until they can be mashed.
You can also use a slow cooker if you cut the recipe in half, and apple juice can be added instead of water, if you like.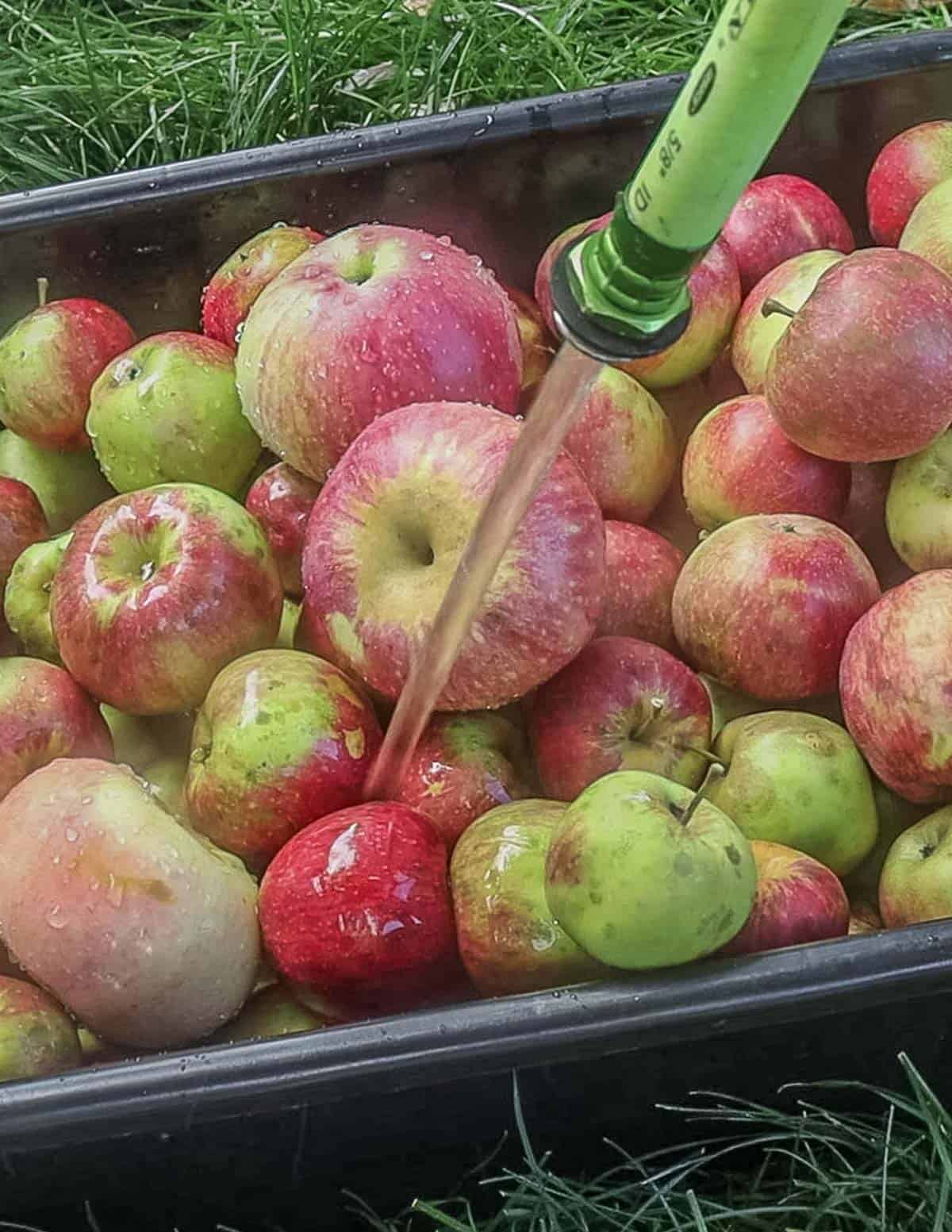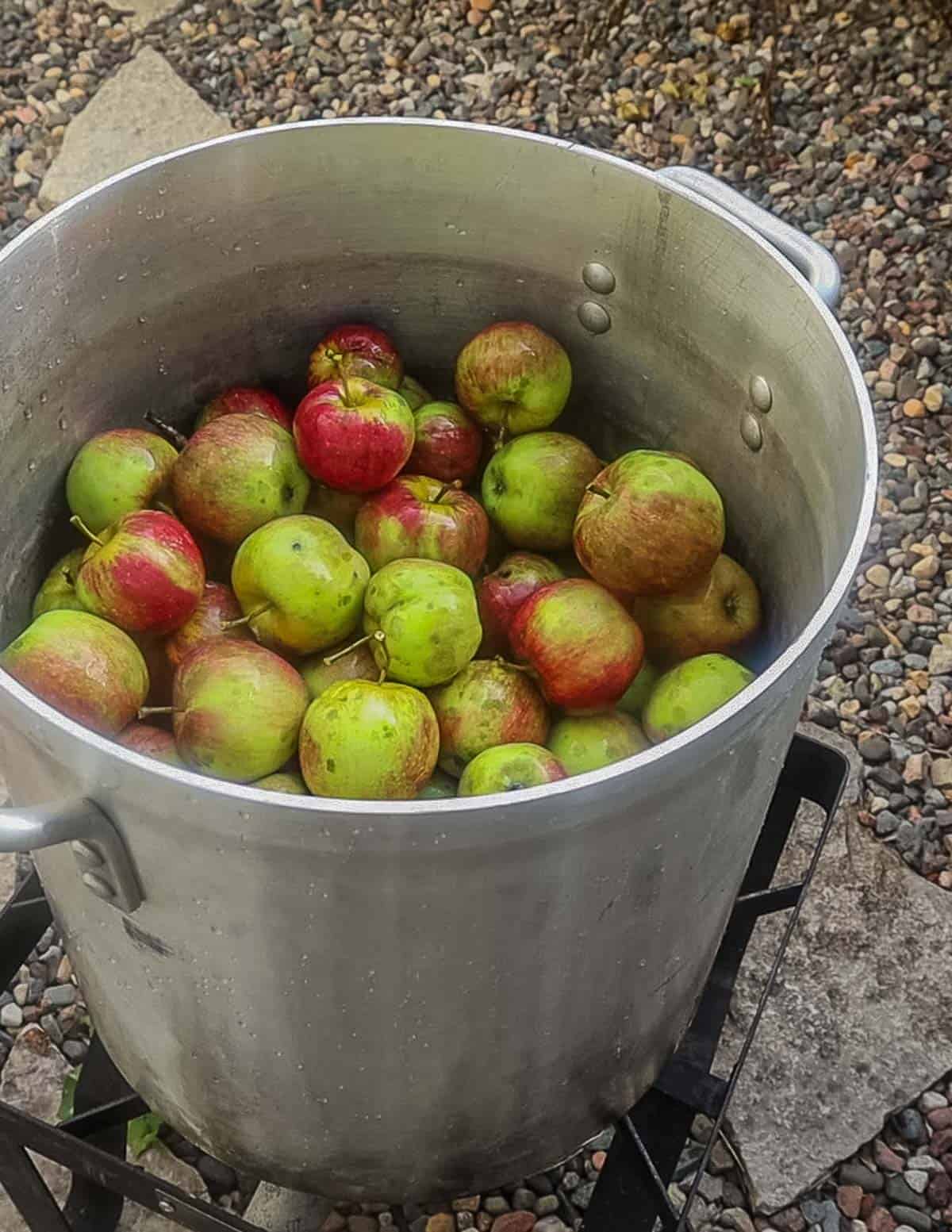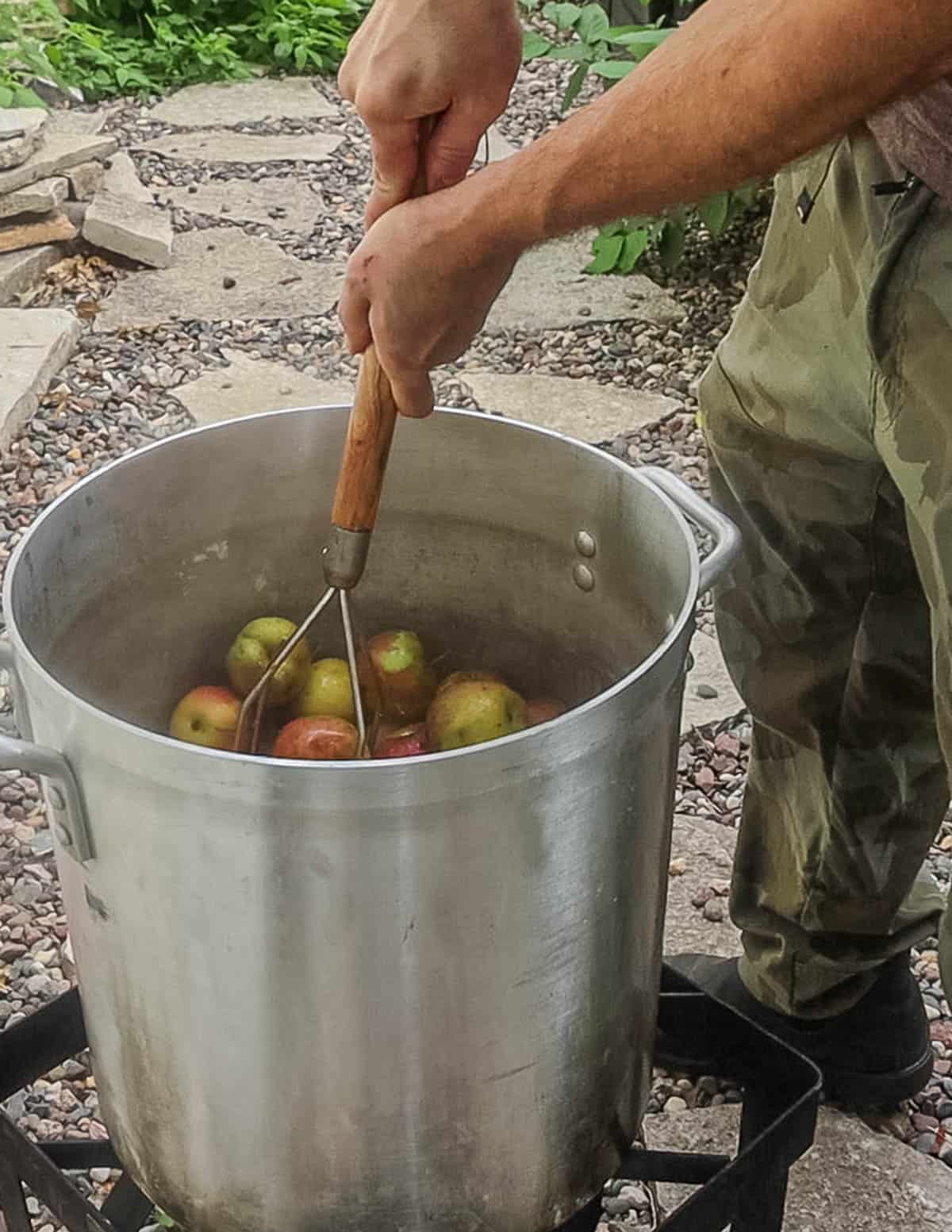 The cooking process should take about 20-30 minutes. If you're short on time, you can also just cook the apples whole until they break down, just remember to stir the pot so it doesn't burn on the bottom.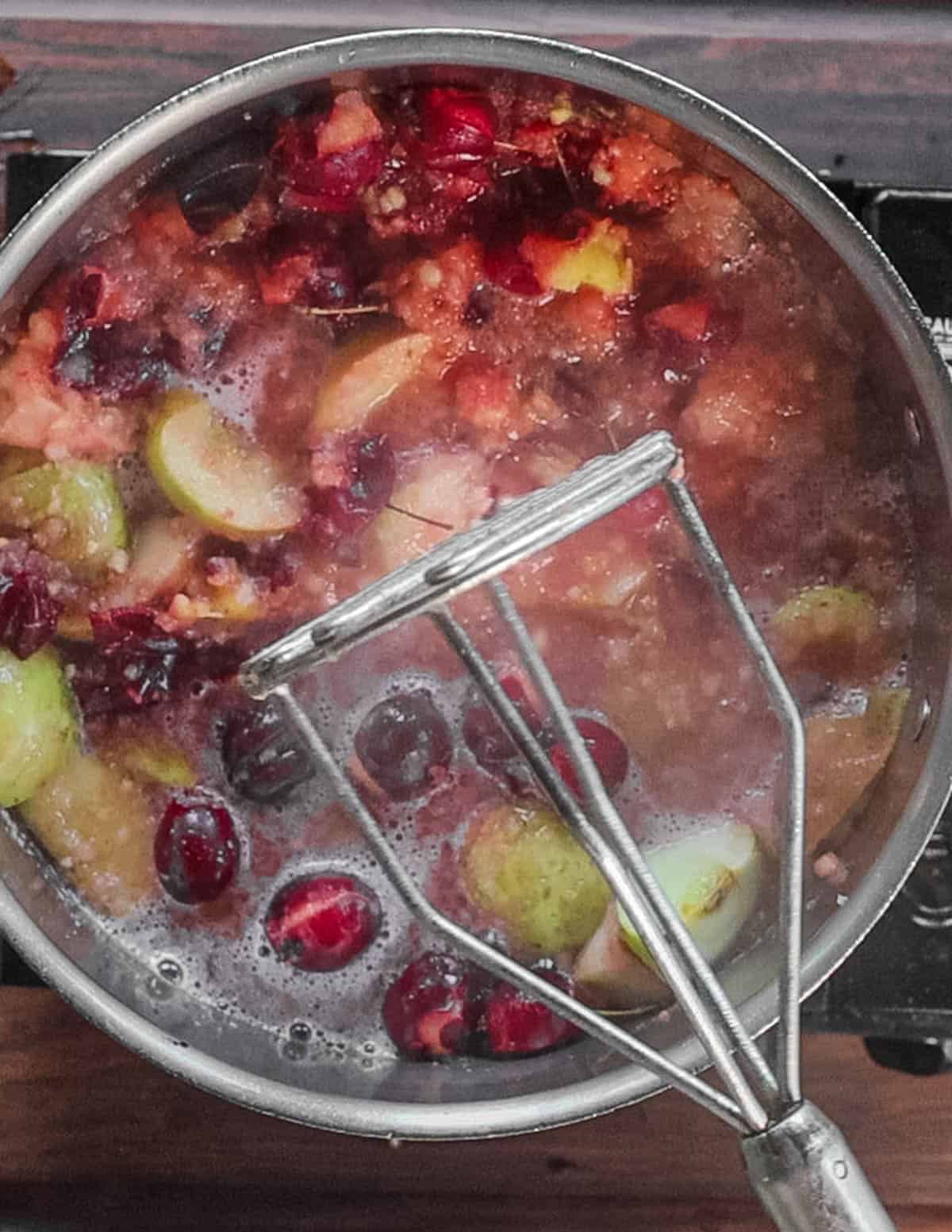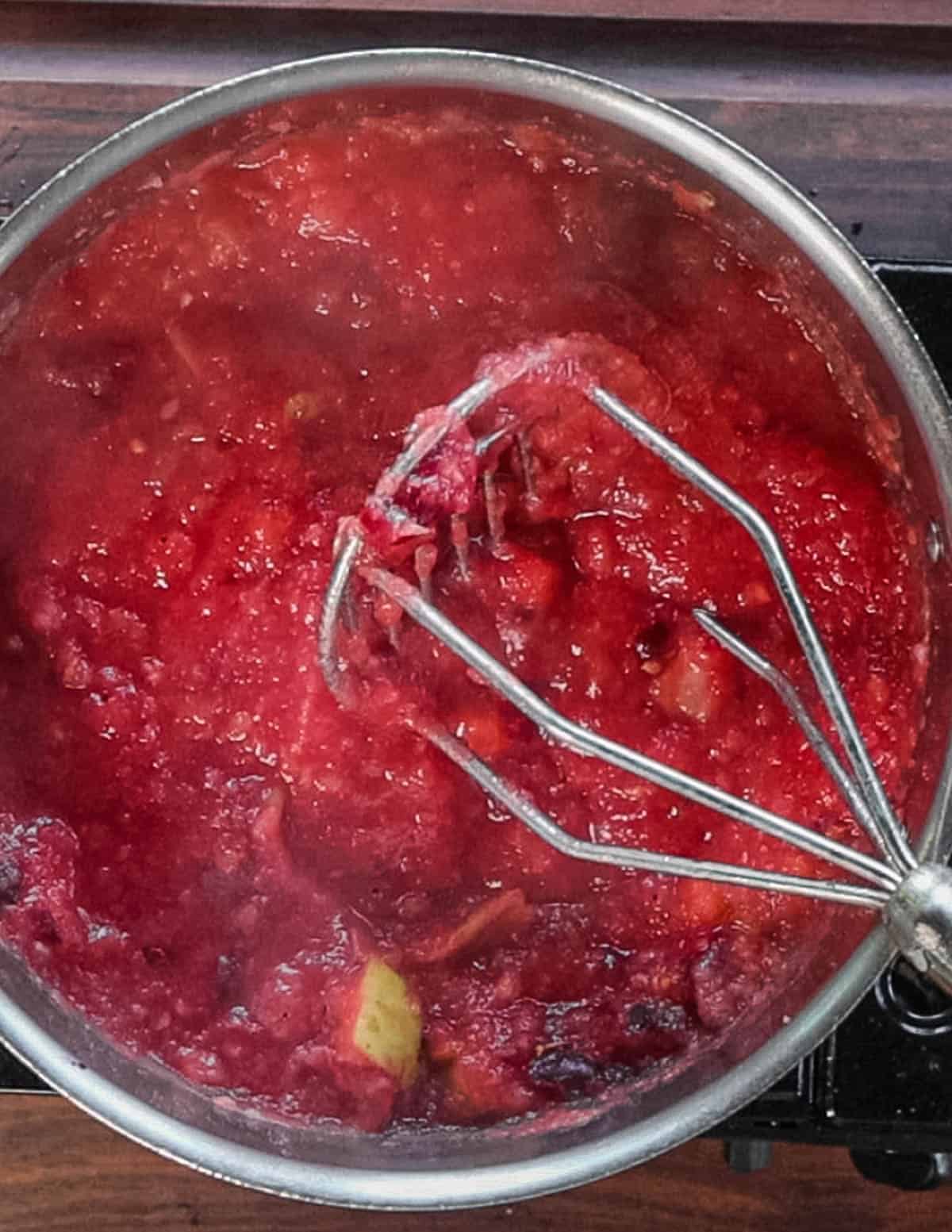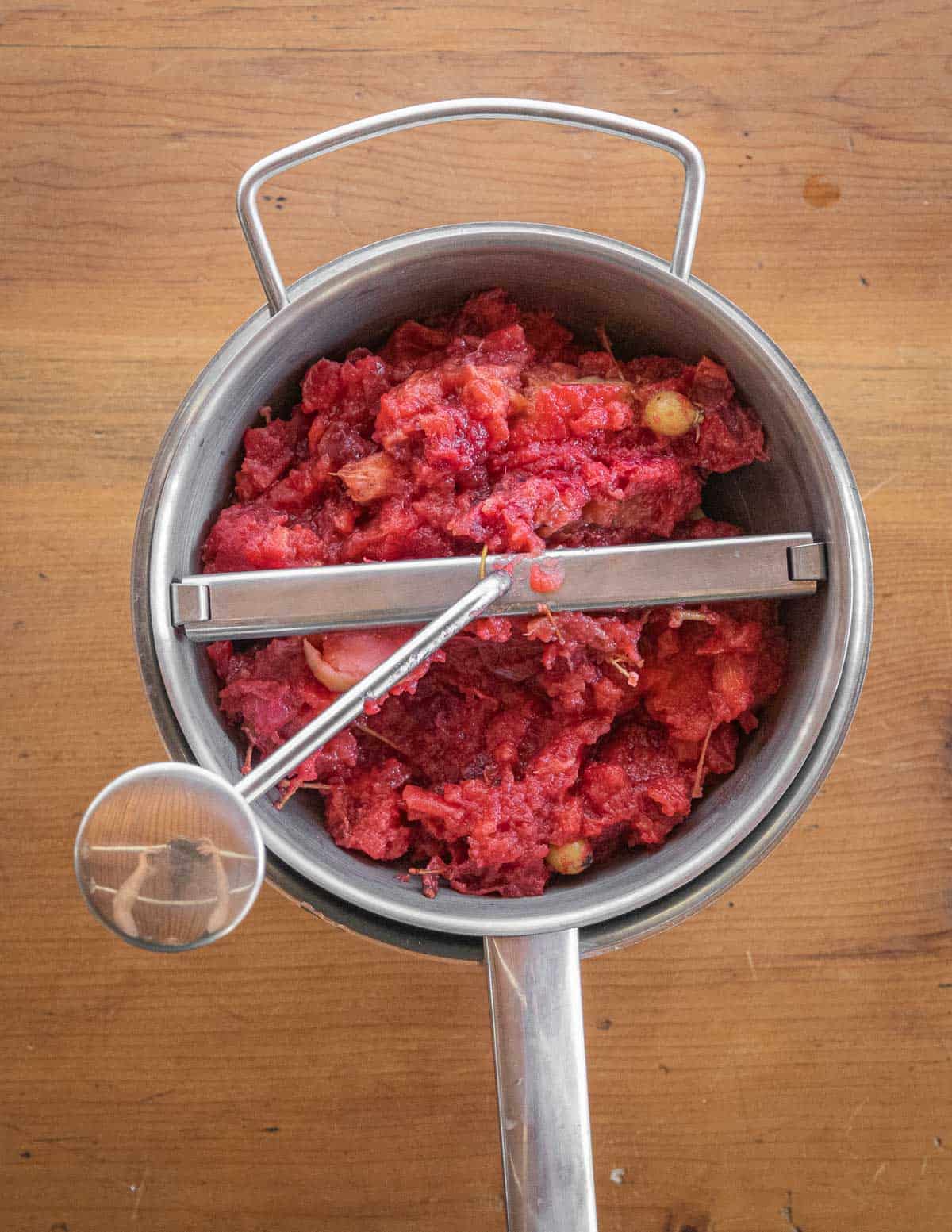 If making a large batch as pictured, an apple sauce maker is much more efficient than a food mill. Below I made a batch of sweet crab apple sauce using only sweet crab apples. If you skip adding red crab apples the sauce will look like regular apple sauce.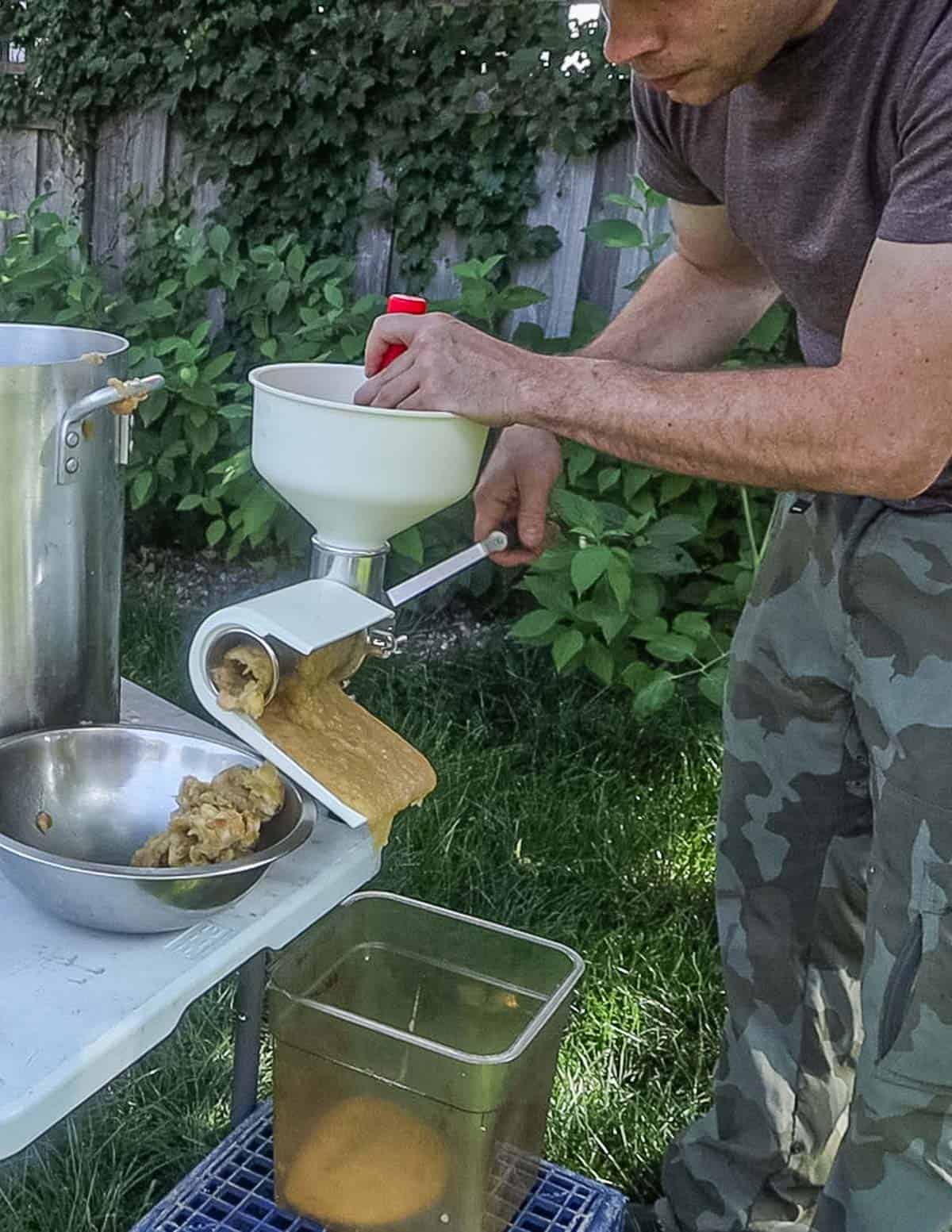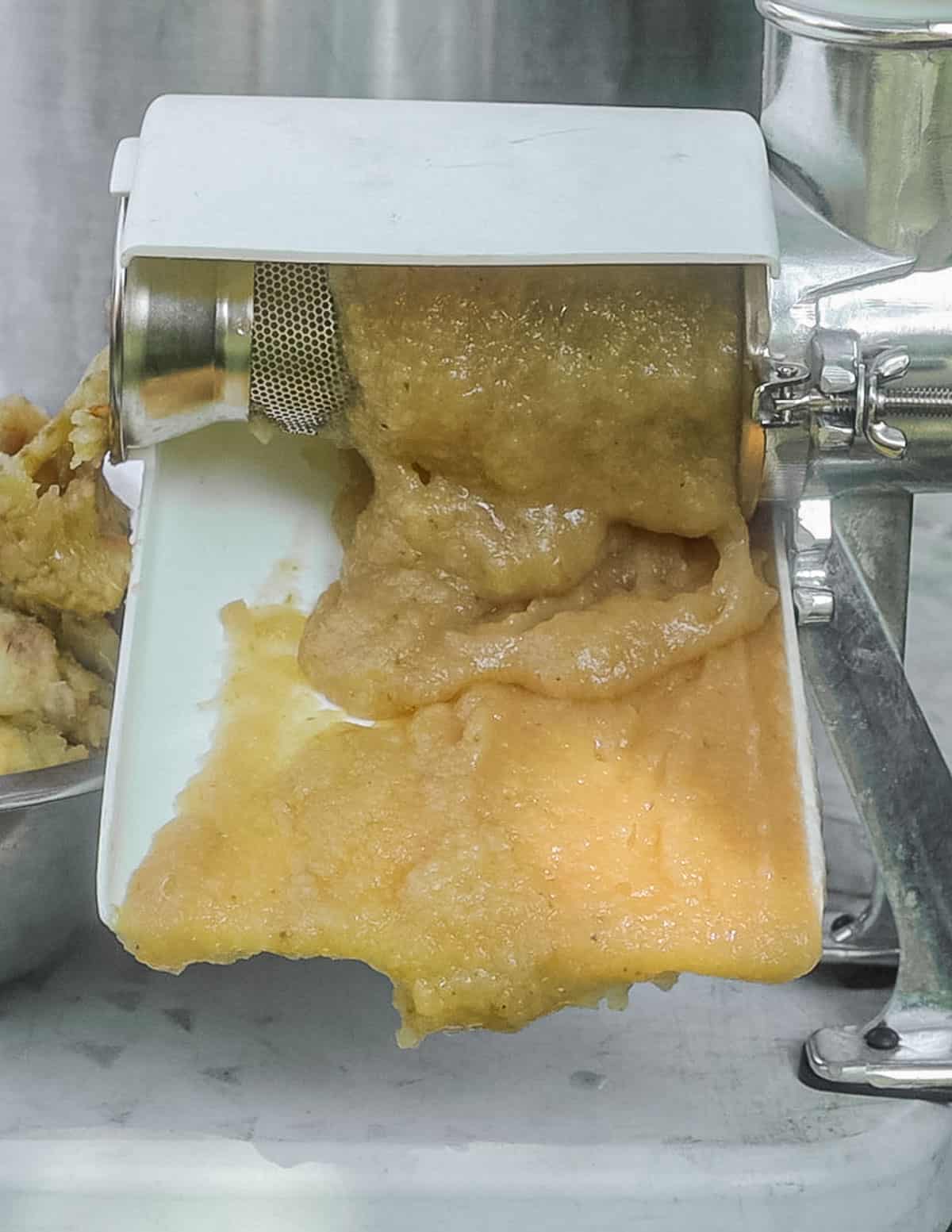 After the sauce is strained through the food mill or apple sauce maker, it's seasoned to taste with cinnamon and maple syrup or sugar. Then the sauce is transferred to canning jars and processed in a boiling water bath canner.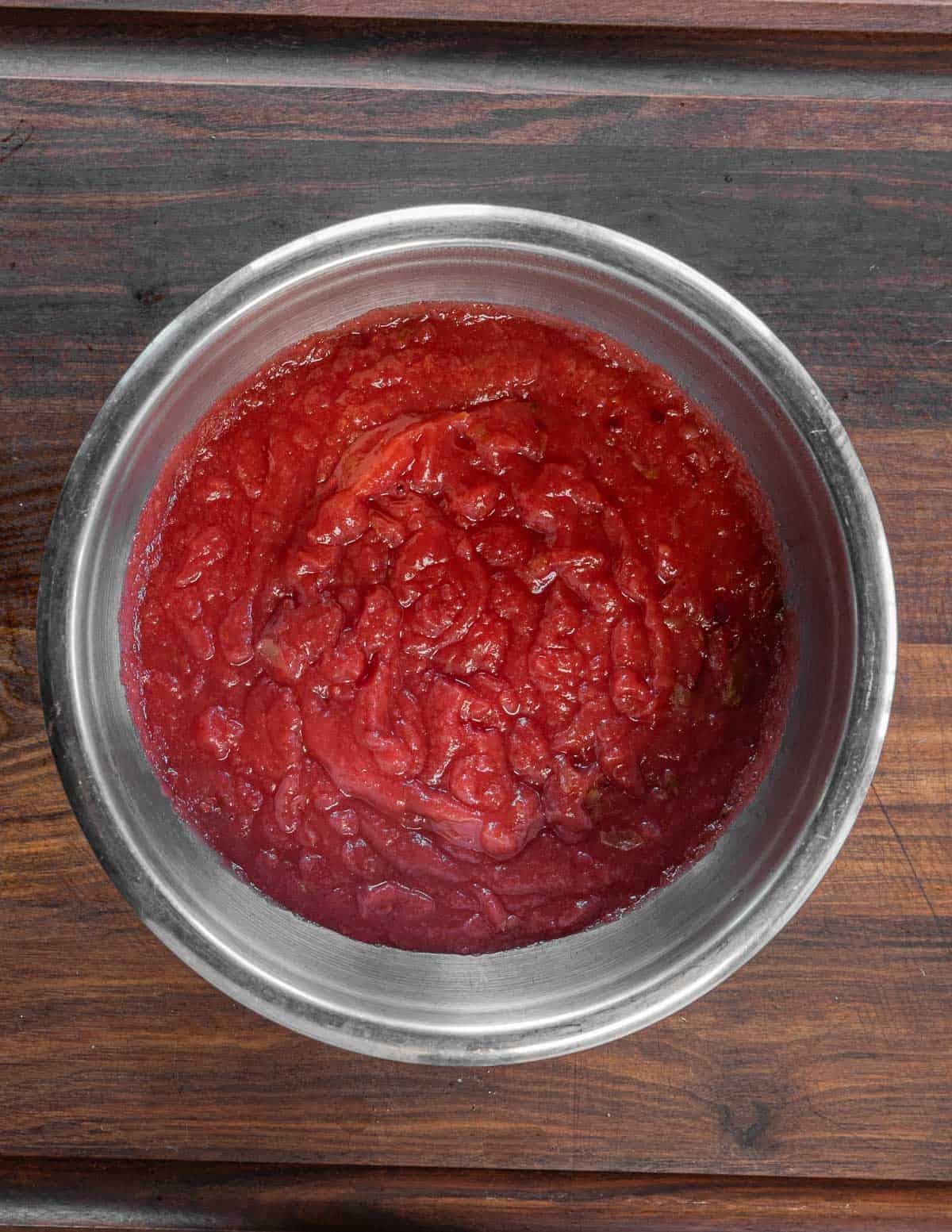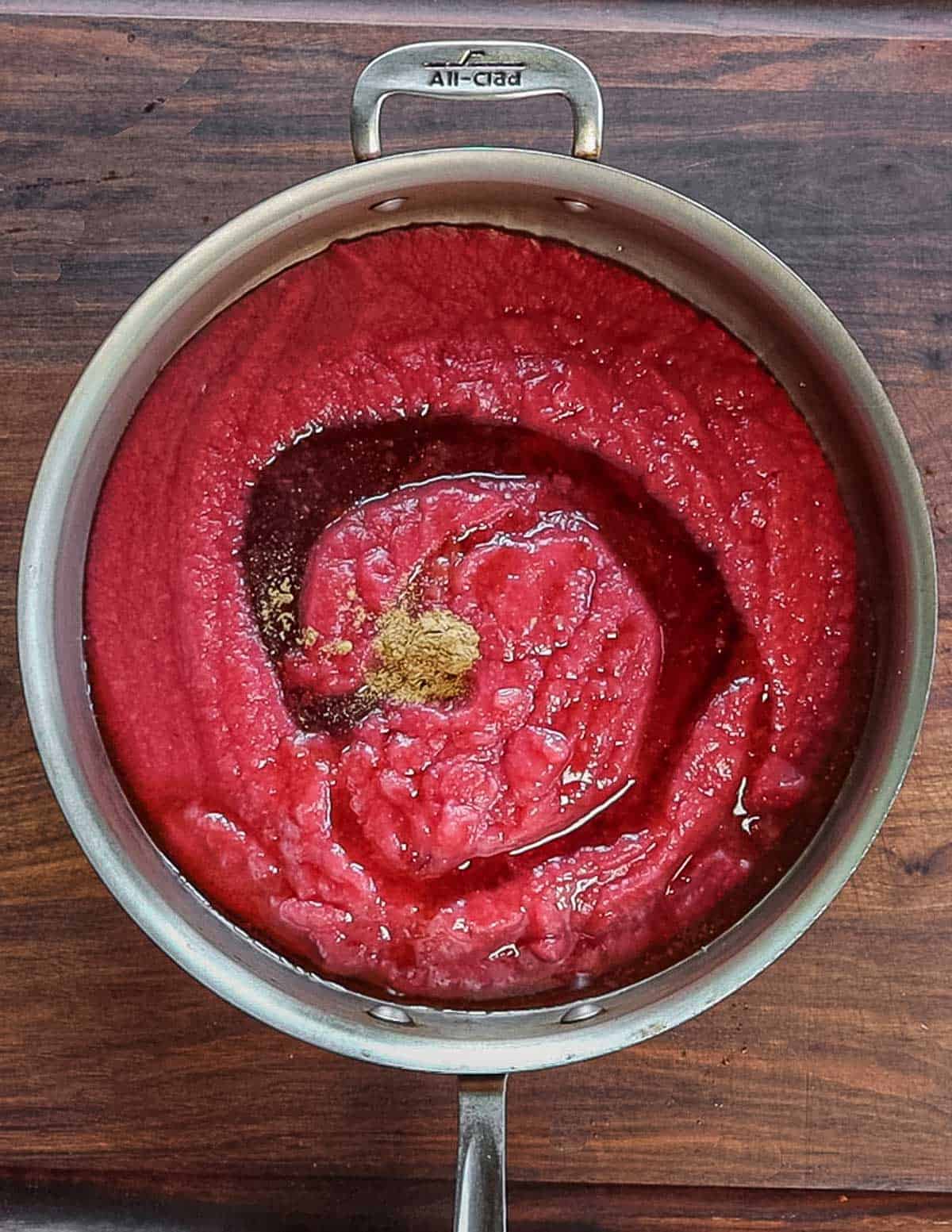 Apples vary drastically in natural sugar content. Depending on your apples, your sauce may need no sweetening. If you don't sweeten your apple sauce, you'll want to add 1 tablespoon of lemon juice per each quart jar of sauce. Wild red crab apples will always be tart, and I always sweeten sauce made with them.
How to use it
You can use crab applesauce any way you'd use regular apple sauce. Here's a few ideas.
I like to make a tart sauce using ⅓-1/2 wild red crab apples, which makes it a great garnish for grilled pork chops, pheasant and game.
Use the apple sauce in place of oil in quick-bread recipes like banana bread.
I love the sauce for breakfast mixed with yogurt and granola.
You can spin the sauce to make a natural apple sorbet.
Reduce the sauce to make crab apple butter.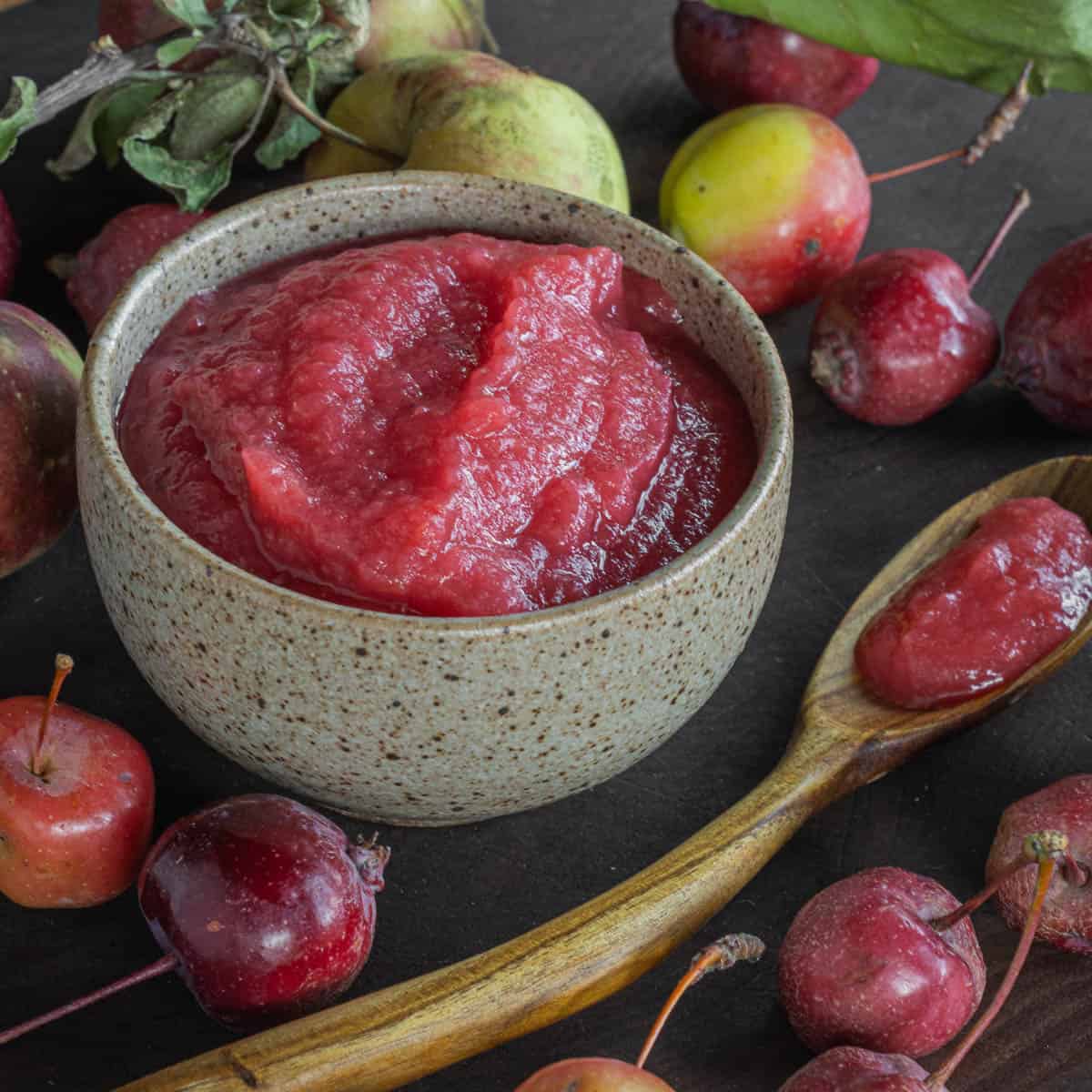 More Crab Apple Recipes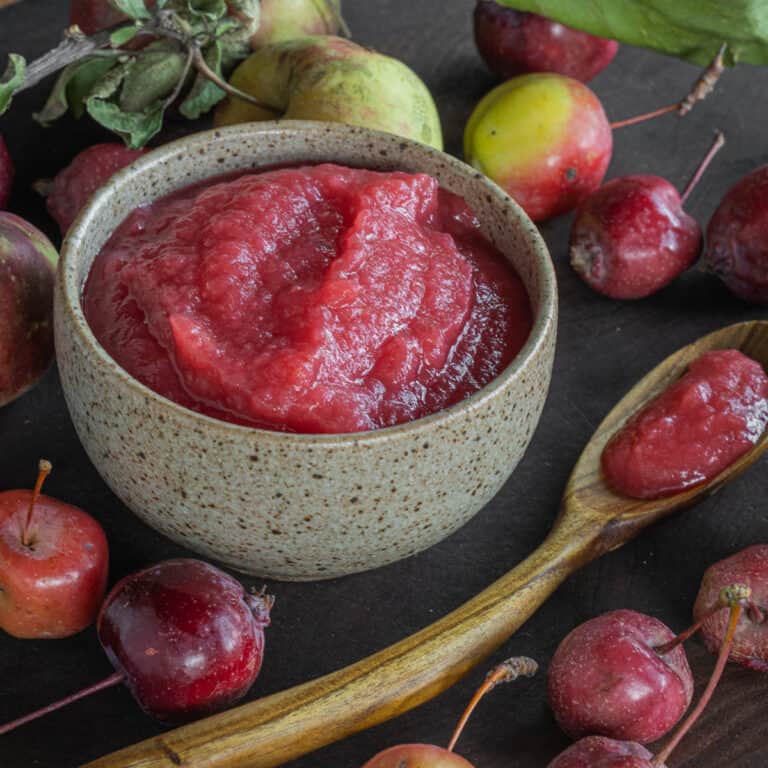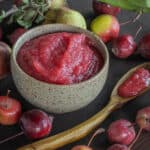 Print Recipe
Crabapple Sauce
Simple crab apple sauce. It can be made tart and red using red-skinned crab apples, or sweet, using all sweet crab apples. Expect some variation as apples vary in size. Basic recipe makes about 1 gallon / 4 quarts.
Equipment
large pot

(50 qt capacity or large enough to hold your apples).

Food mill or apple sauce maker

Potato masher

Quart canning jars (optional)
Ingredients
15

lbs

mixed, wild sweet crab apples

1

cup

maple syrup

or brown sugar, to taste

1

teaspoon

ground cinnamon

¼

teaspoon

kosher salt

2.5

tablespoons

lemon juice
Instructions
Apple Sauce
Wash the apples if needed. Cut larger apples into pieces so they're the same size as the crab apples.

Put the apples into a pot with 4 cups of water and bring to a simmer. Cover, stirring occasionally, cooking the apples until tender and mashing until they're completely broken down, about 30 minutes, depending on the size of your pot.

Make sure to stir down to the bottom and don't be afraid to add a few additional cups of water to prevent scorching.

Pass the apple mixture through an apple sauce maker or food mill to remove seeds and skins. You should have about 4 quarts. Add the maple syrup, salt, cinnamon lemon juice and mix to combine. If you want the sauce thicker, bring it to a simmer and cook for a few minutes.

Double check the seasoning and adjust until it tastes good to you.
Canning crab apple sauce
Transfer the apple sauce to canning jars. Put the jars in a water bath, bring to pot to a rolling boil. When the pot comes to a boil, set a timer for 15 minutes for quart jars, or 10 minutes for pint jars.

After ten minutes, remove the jars and allow to cool, then label, date, and store in a pantry.
Notes
Chef's Notes 
Small, red crab apples are usually very tart. Larger apples can be tart, sweet, or mild flavored. For sauce, I recommend using ⅓ - ½ tart red crab apples to sweet apples. 
15-20 lbs of apples will give you about 1 gallon of finished apple sauce. 
You can also add a splash of wild vanilla extract to this.

For a very smooth sauce, you can puree it with an immersion blender.

You can use a slow cooker if you cut the recipe in half.
Nutrition
Serving:
2
oz
|
Calories:
138
kcal
|
Carbohydrates:
36
g
|
Protein:
1
g
|
Fat:
0.4
g
|
Saturated Fat:
0.1
g
|
Polyunsaturated Fat:
0.1
g
|
Monounsaturated Fat:
0.01
g
|
Sodium:
21
mg
|
Potassium:
250
mg
|
Fiber:
5
g
|
Sugar:
28
g
|
Vitamin A:
115
IU
|
Vitamin C:
10
mg
|
Calcium:
24
mg
|
Iron:
0.3
mg