If you crave the taste of chokecherries, a simple syrup for canning is a great way to preserve their flavor. You'll see bottles of this ruby nectar in gift shops and gas stations all over the Midwest. Like many things, it's better homemade--no pectin or corn syrup needed. Read on and I'll walk you through my method.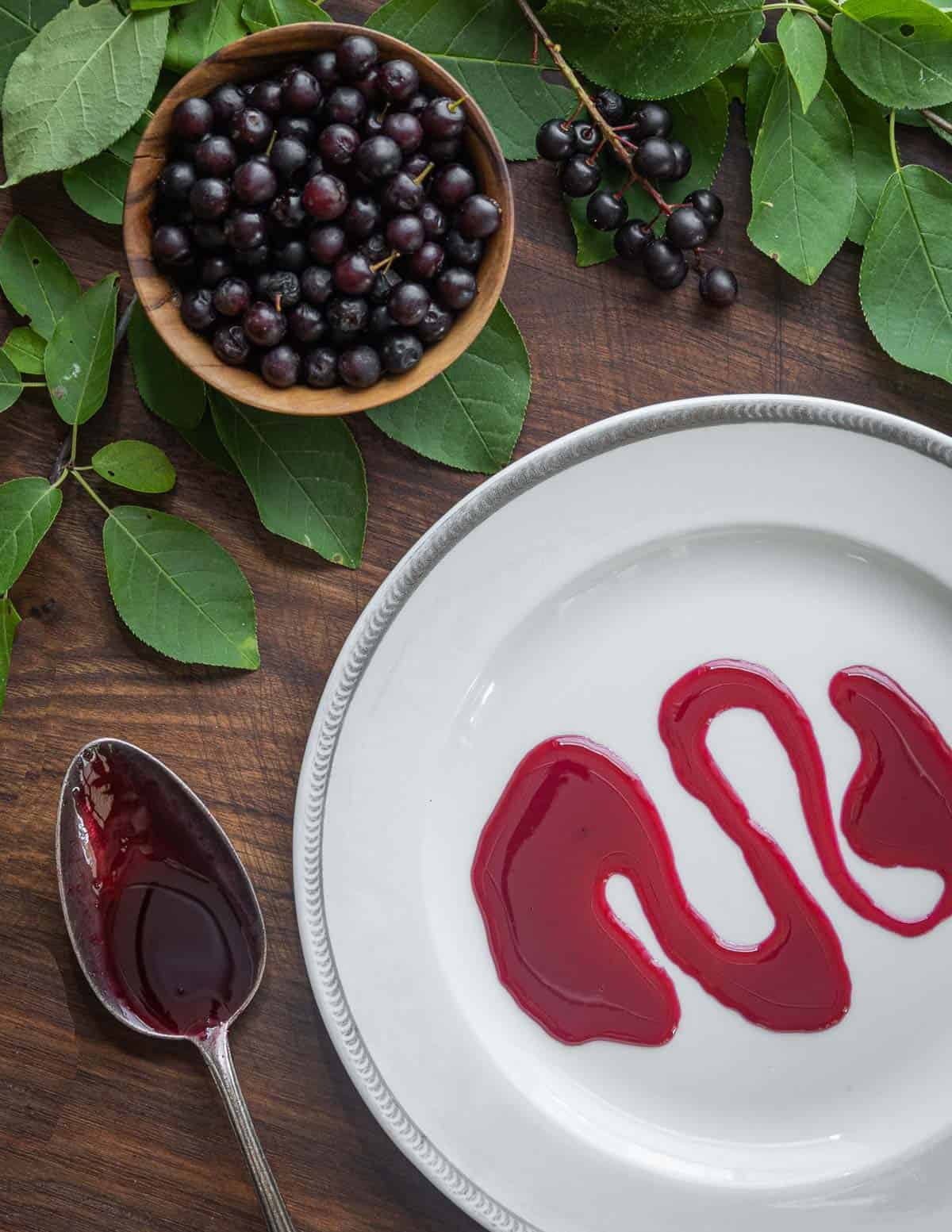 How to Make Chokecherry Juice
Before you make the syrup you'll need to make chokecherry juice by cooking the cherries with liquid and straining. The finished juice can be used to make a syrup, sauce, or chokecherry jelly.
First the cherries are washed, cleaned, and mixed with equal parts water and cherry vinegar (or wine vinegar). The cherries are briefly cooked in the liquid, then mashed with a potato masher or a heavy utensil.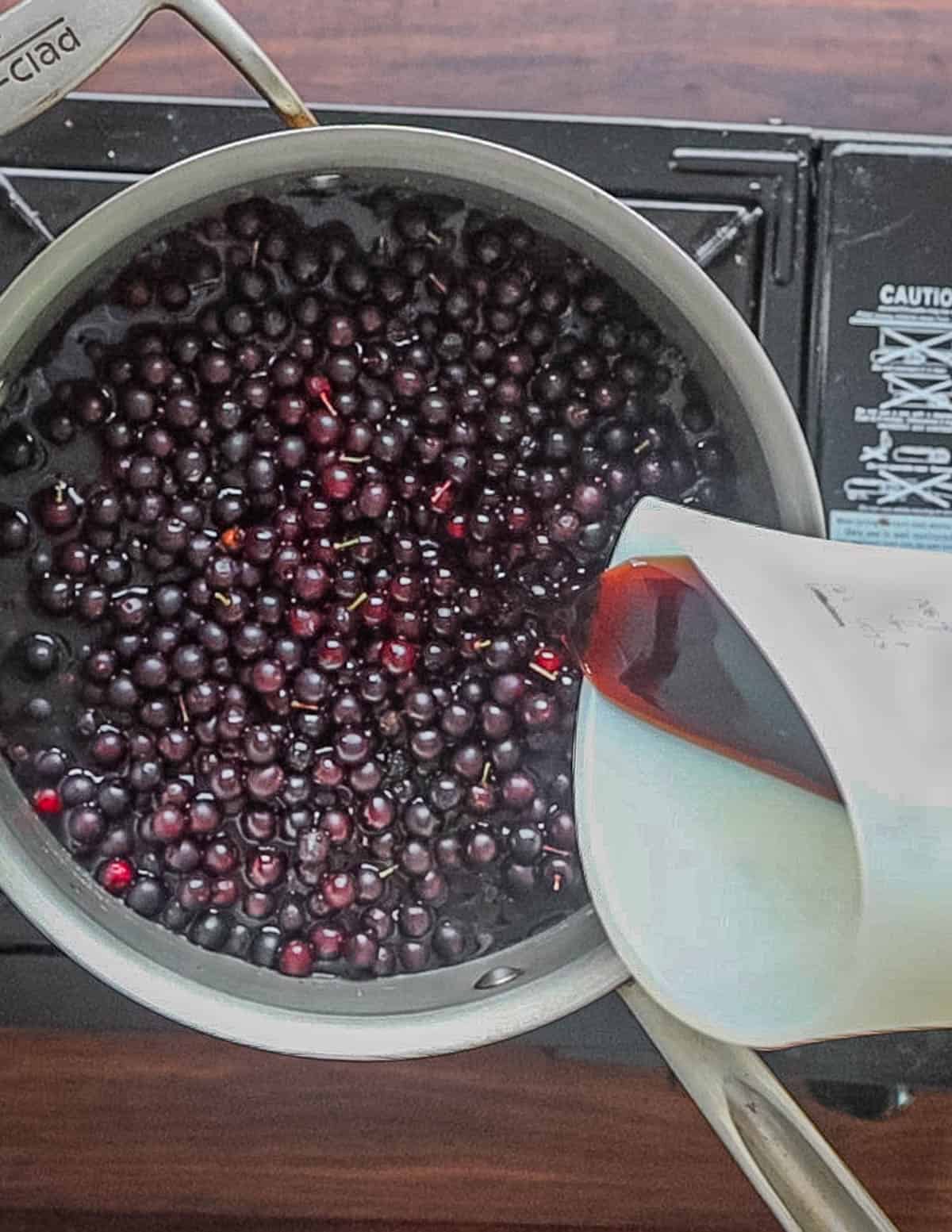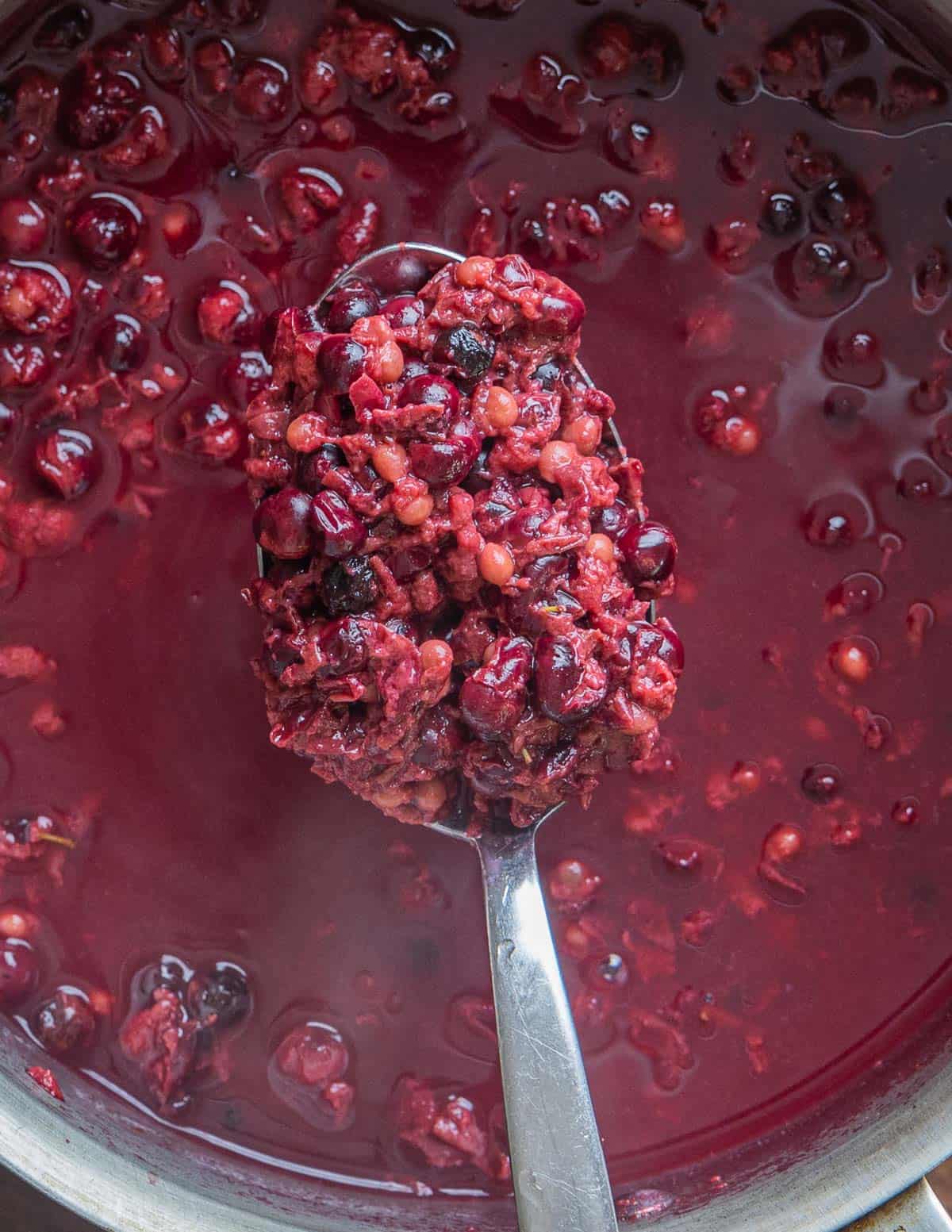 After the cherries are crushed they're strained through cheesecloth or a towel and cooled, then squeezed to extract the rest of the juice. Save the leftover pits and pulp to make Fruit Scrap Vinegar.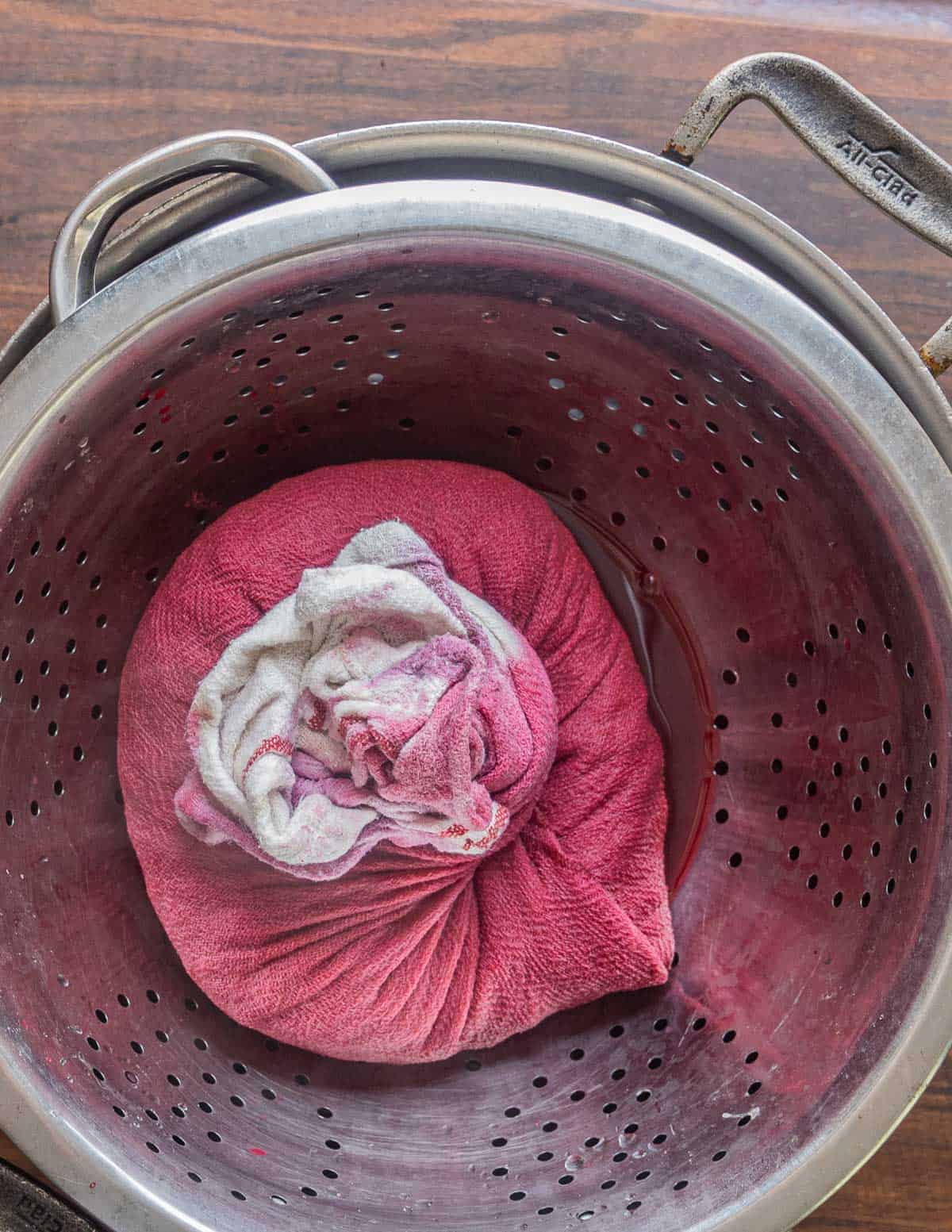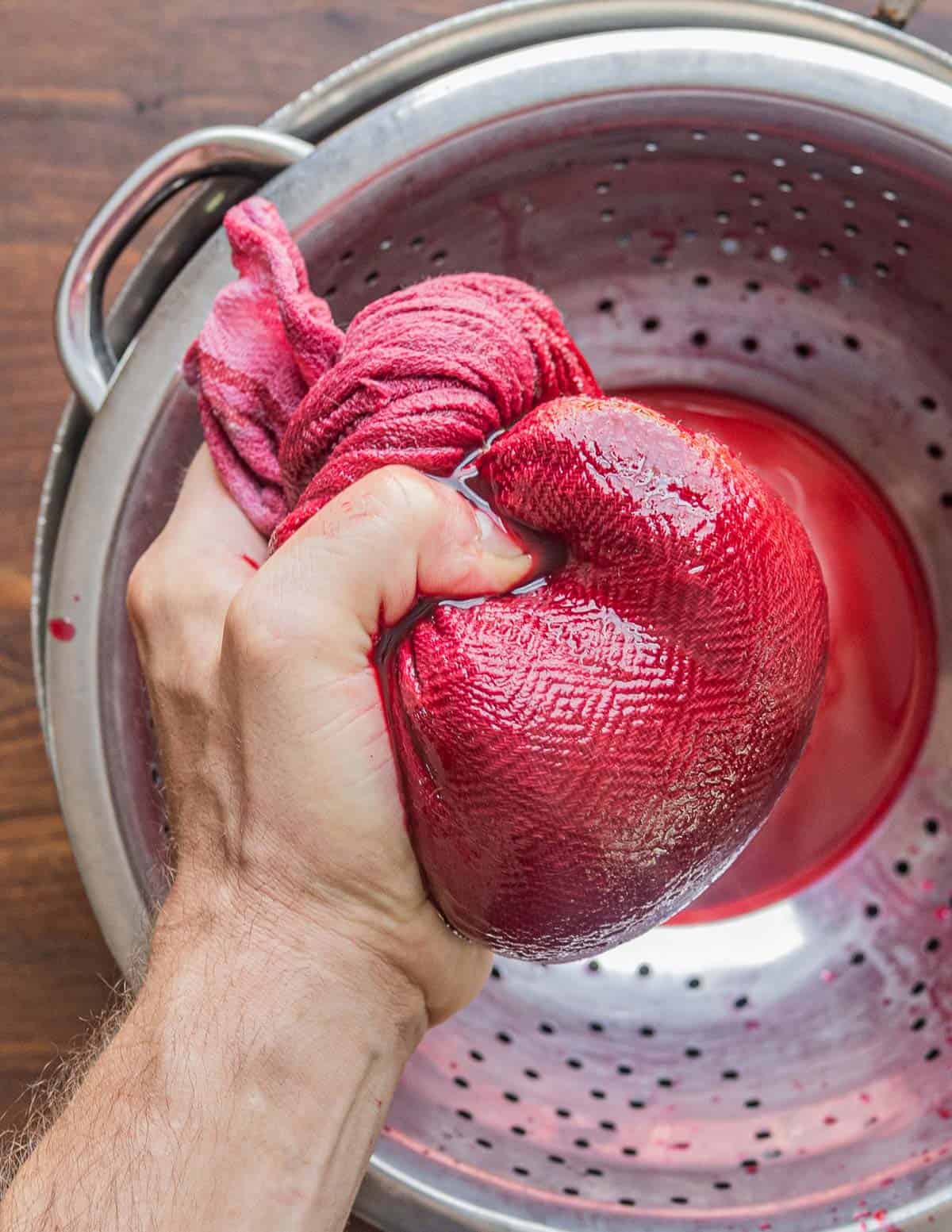 How to Make Chokecherry Syrup
I make a simple syrup using only equal parts cherry juice and sugar. Although other recipes call for pectin or corn syrup they're unnecessary and can make the syrup too thick.
First, measure the juice, then add sugar in equal volume. Other sweeteners work too. Expect a longer boiling time if you use a liquid sweetener like honey or maple.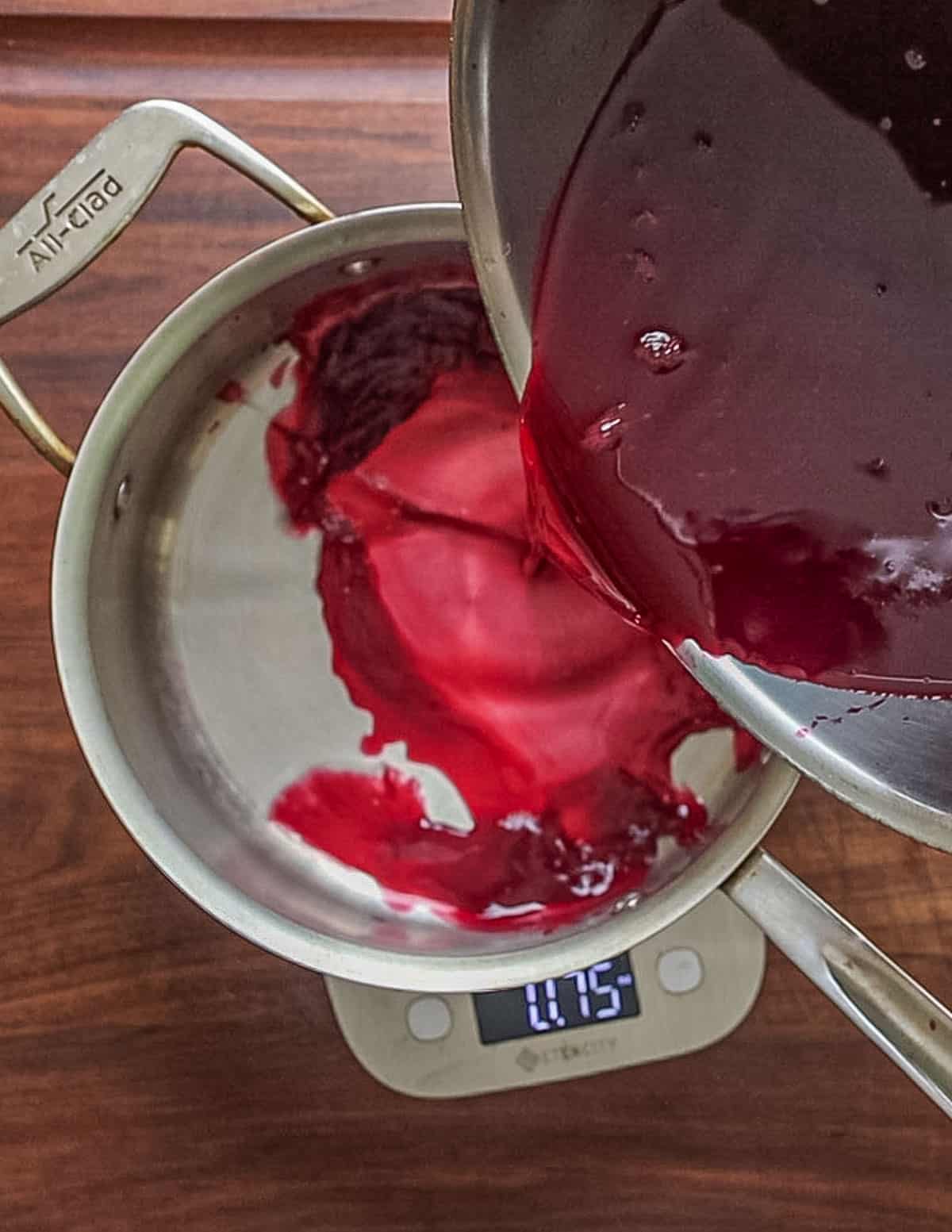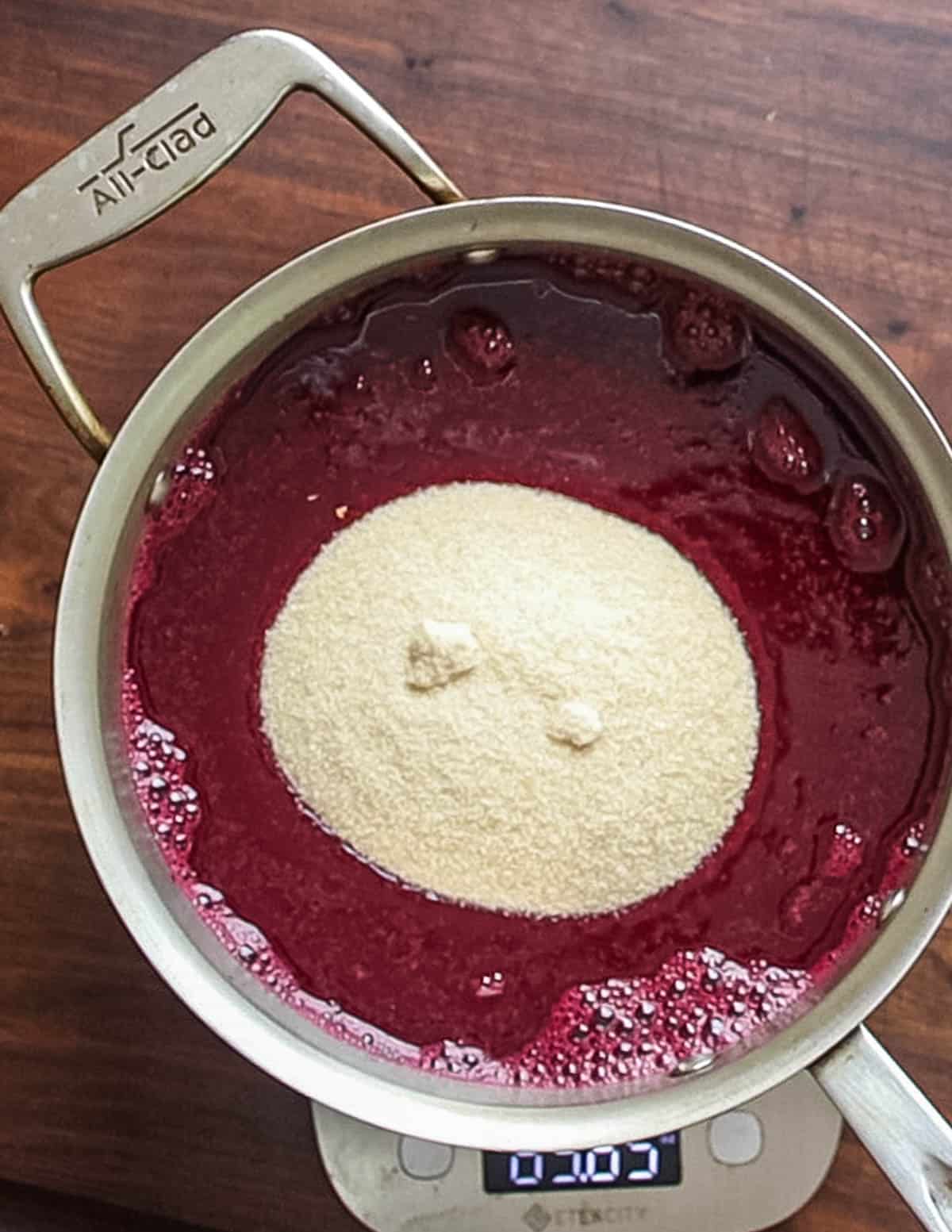 The sugar and juice is brought to a rolling boil in a large, wide pot. Once it comes to a boil, cook for 5 minutes, or until it barely leaves a thread drizzled on a plate. I demonstrate this in the video.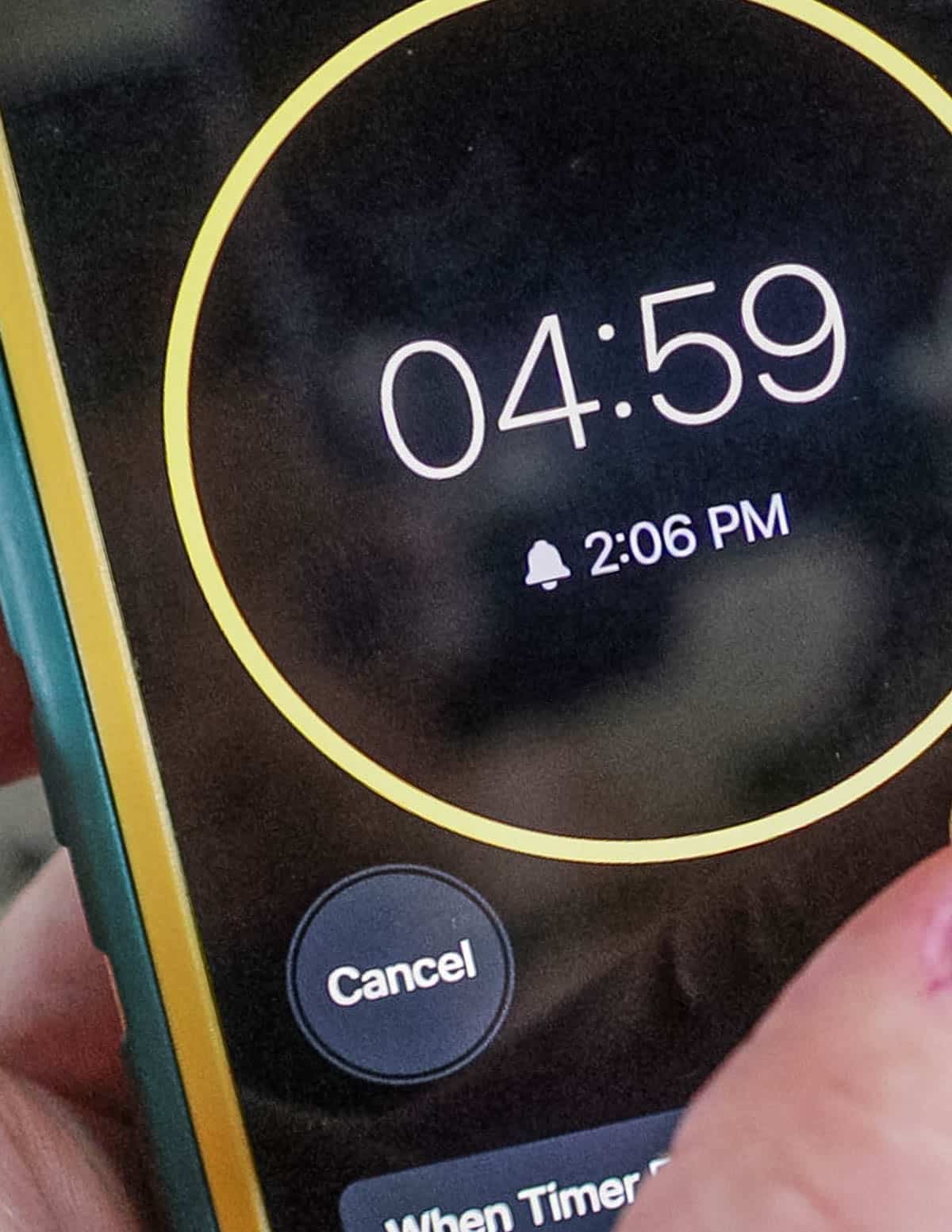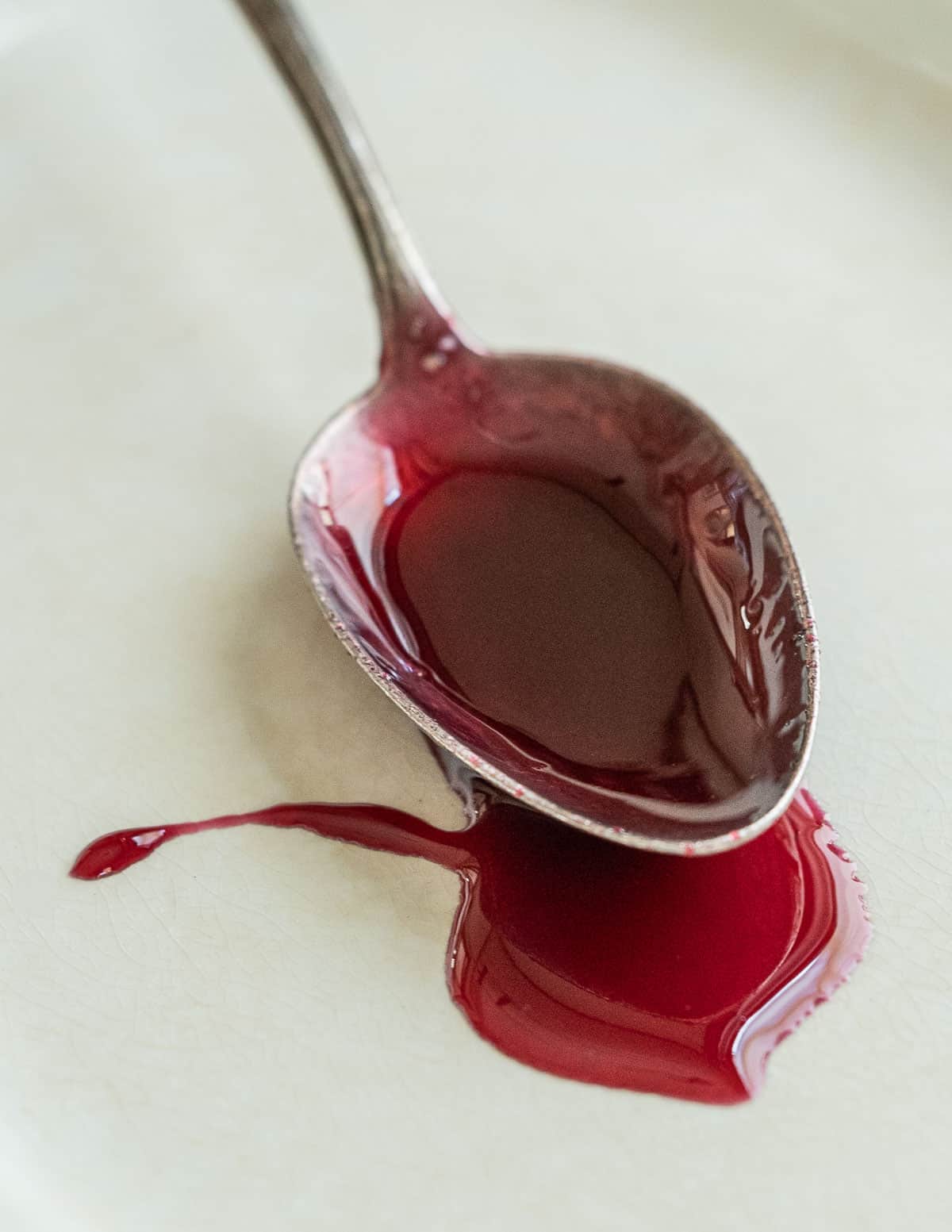 When the syrup is finished, it's poured into jars and processed in a water bath. 8-10 minutes is fine for half pint jars which is also a good size for gifts. Label and date the jars and store in a pantry. It lasts for years.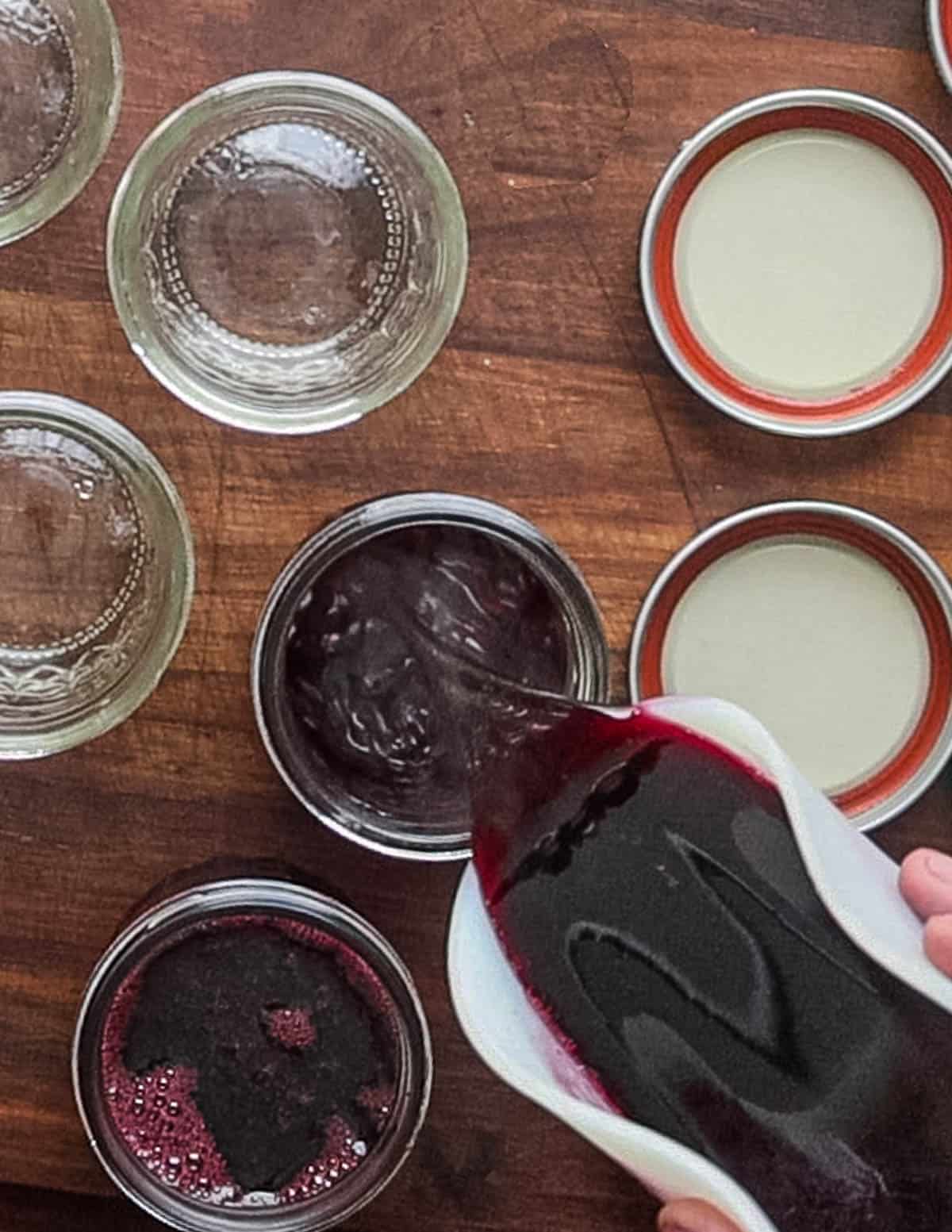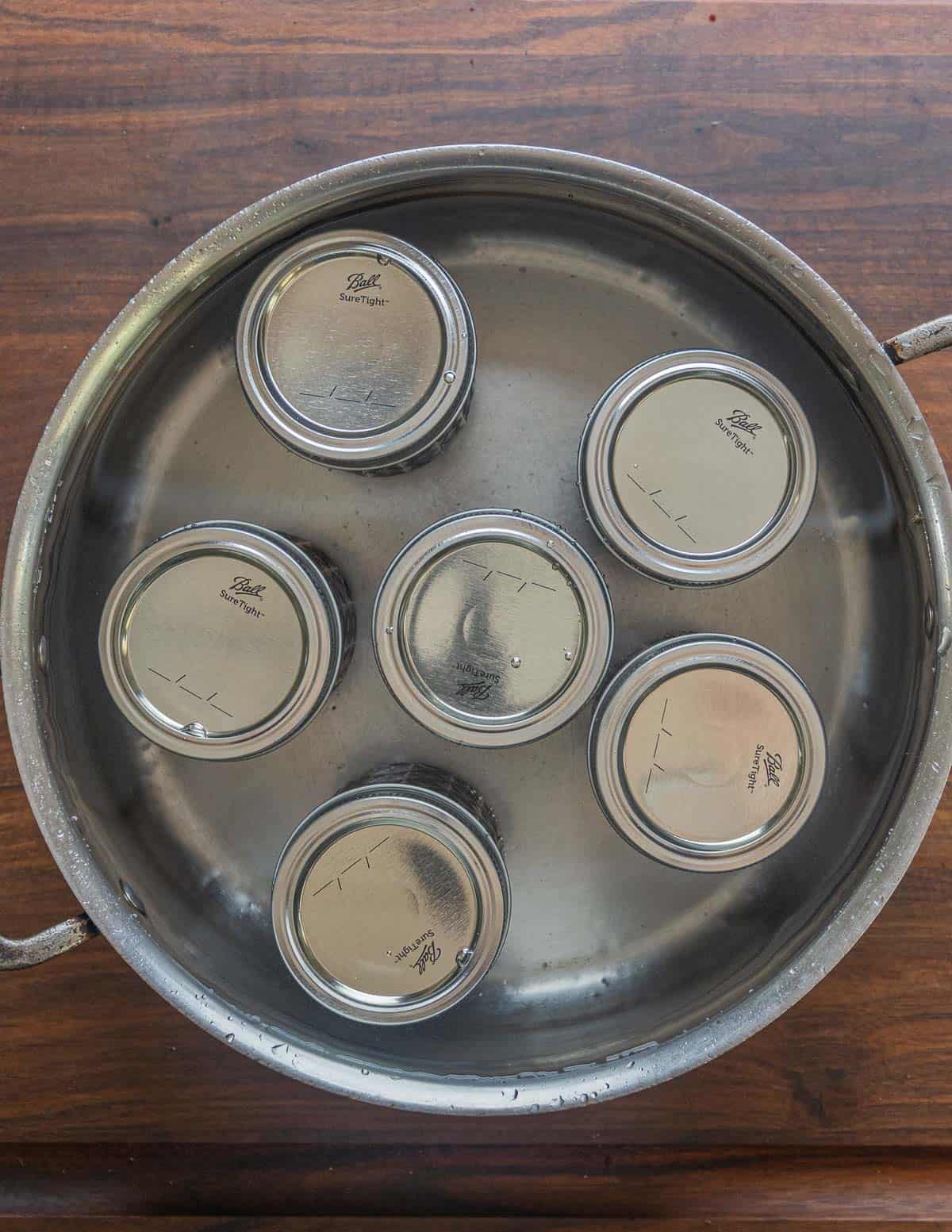 Chef's Tips
Wait until the chokecherries are black for the best flavor. I like to harvest the first week of august in MN and WI.
The ultimate version is with chokecherry vinegar and maple sugar.
Adding orange zest and juice, or lemon zest and juice to taste can be a nice addition.
Busy foragers can save time by freezing chokecherries raw and making the syrup in the fall or winter.
Use a 10 inch wide pot to prevent overflowing.
If you open a jar and the syrup is too thick, add a splash of water, warm it and refill the jar.
How to Use It
Use the syrup in places you'd use maple syrup, or where the flavor of cherries would be good. It loves dairy based desserts, ice cream and yogurt. The vinegar allows it to be useful in both sweet and savory dishes. A few of my favorites are below.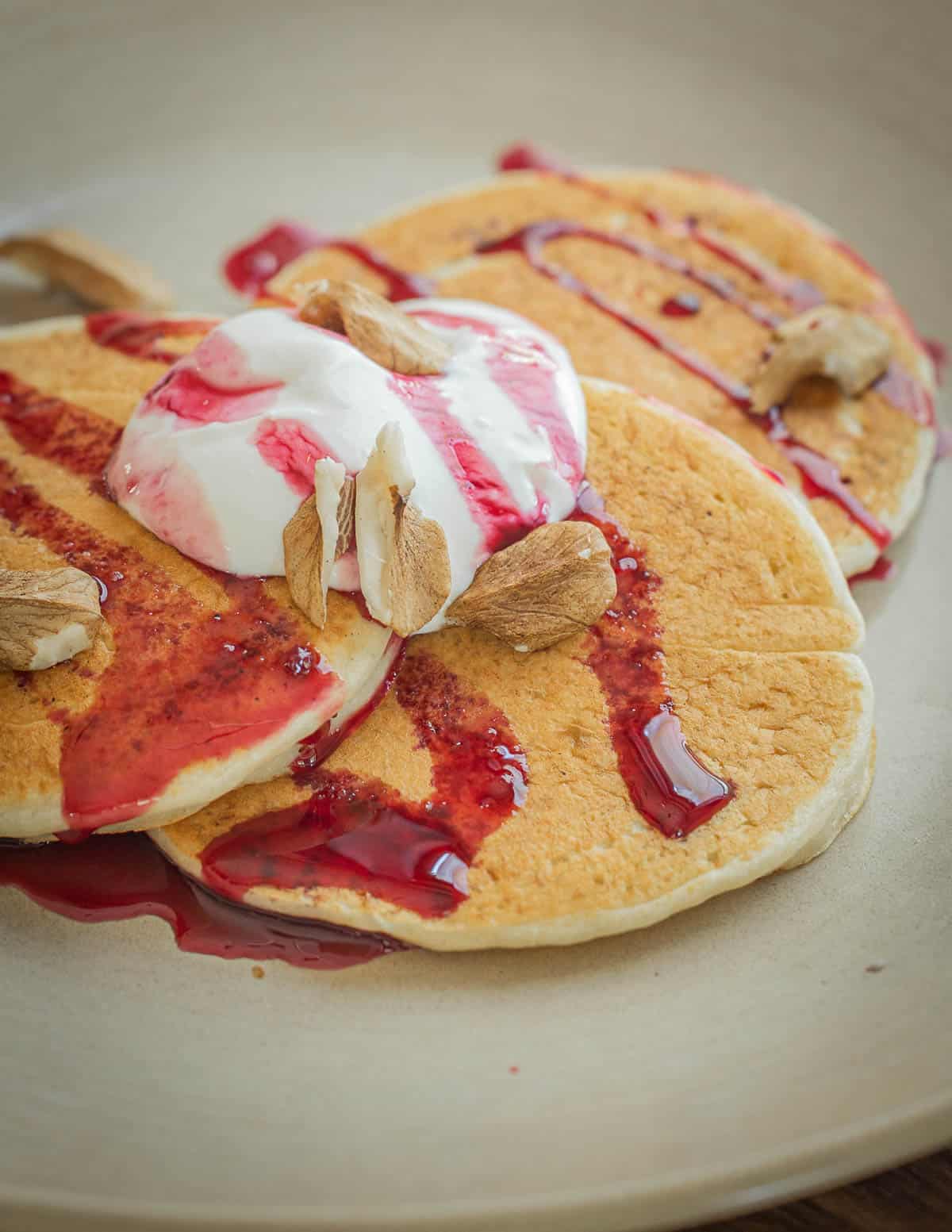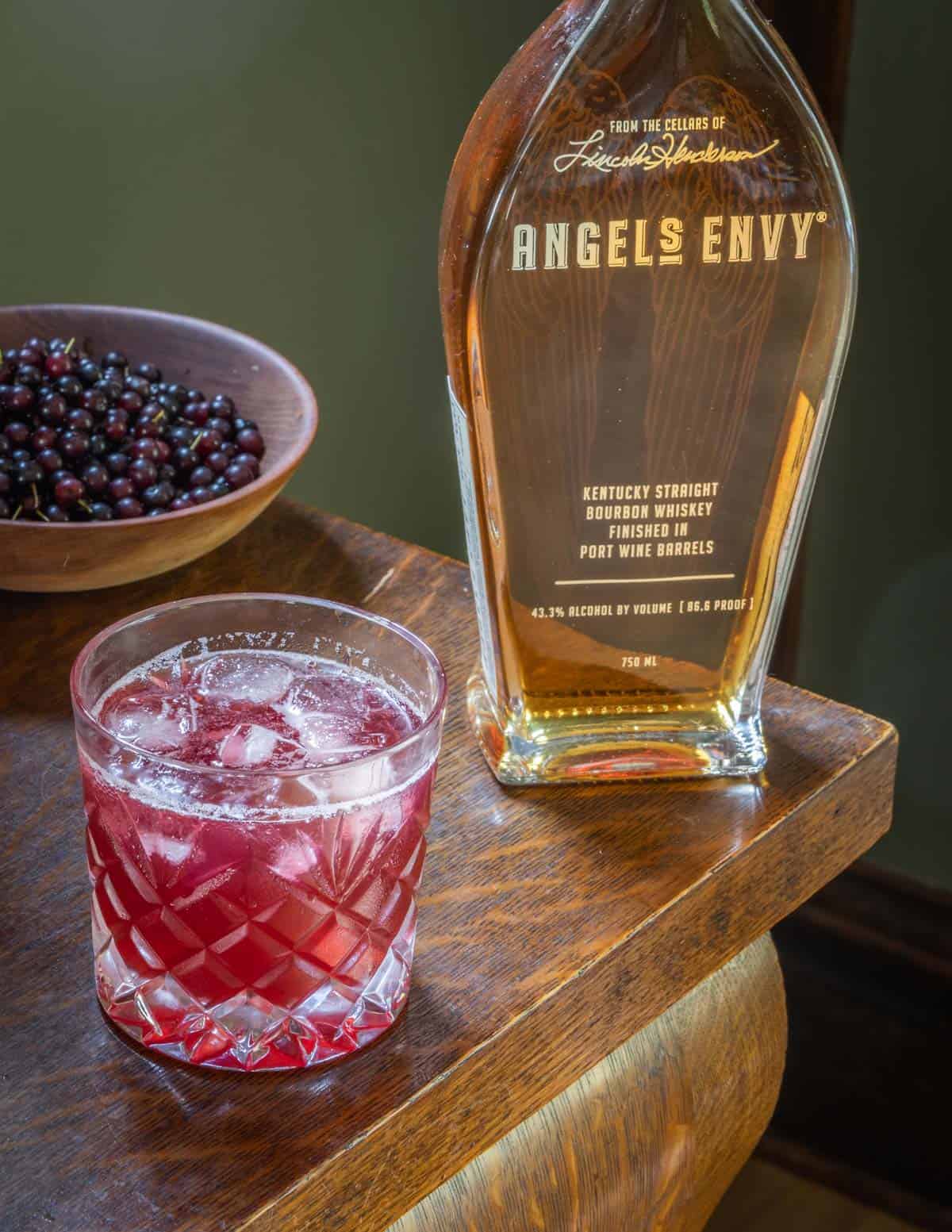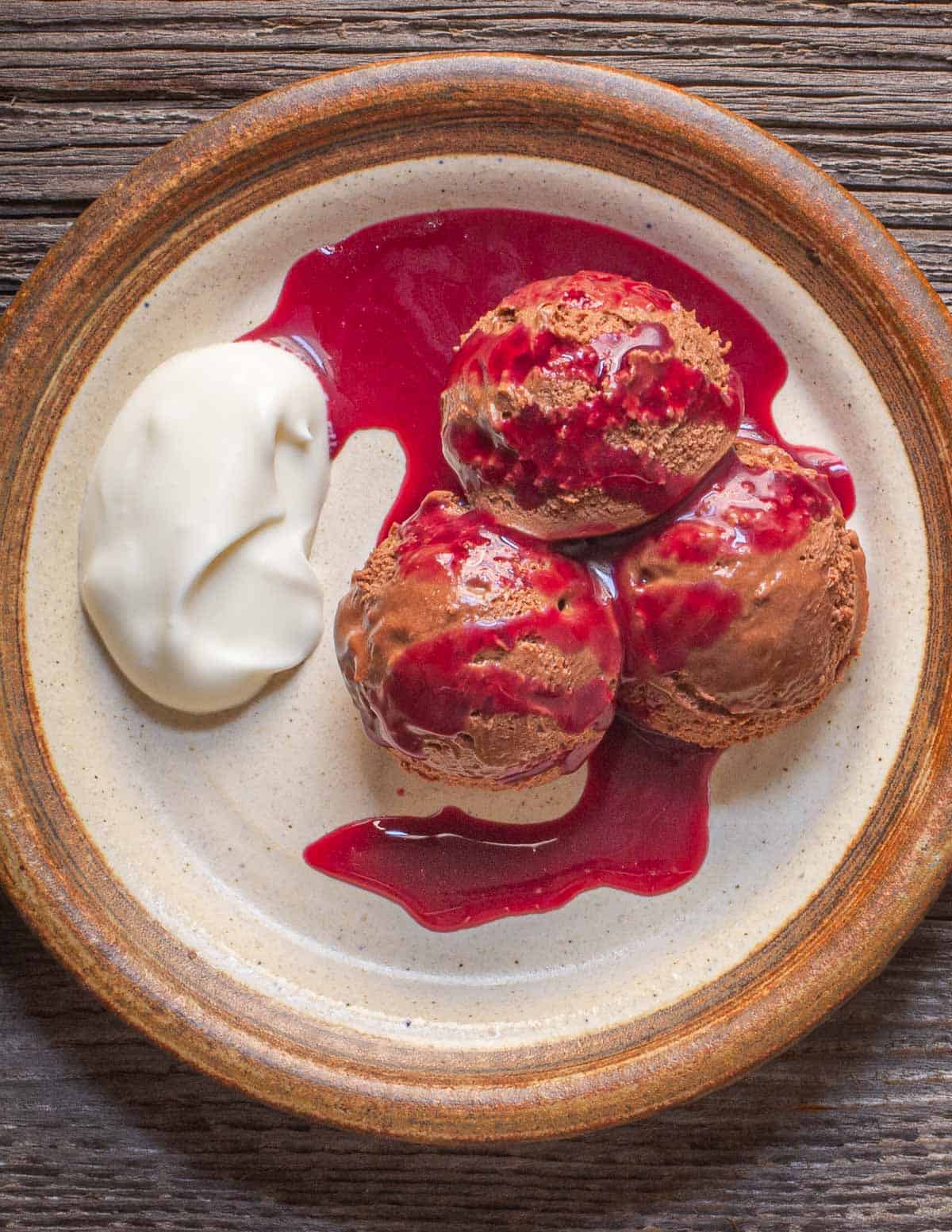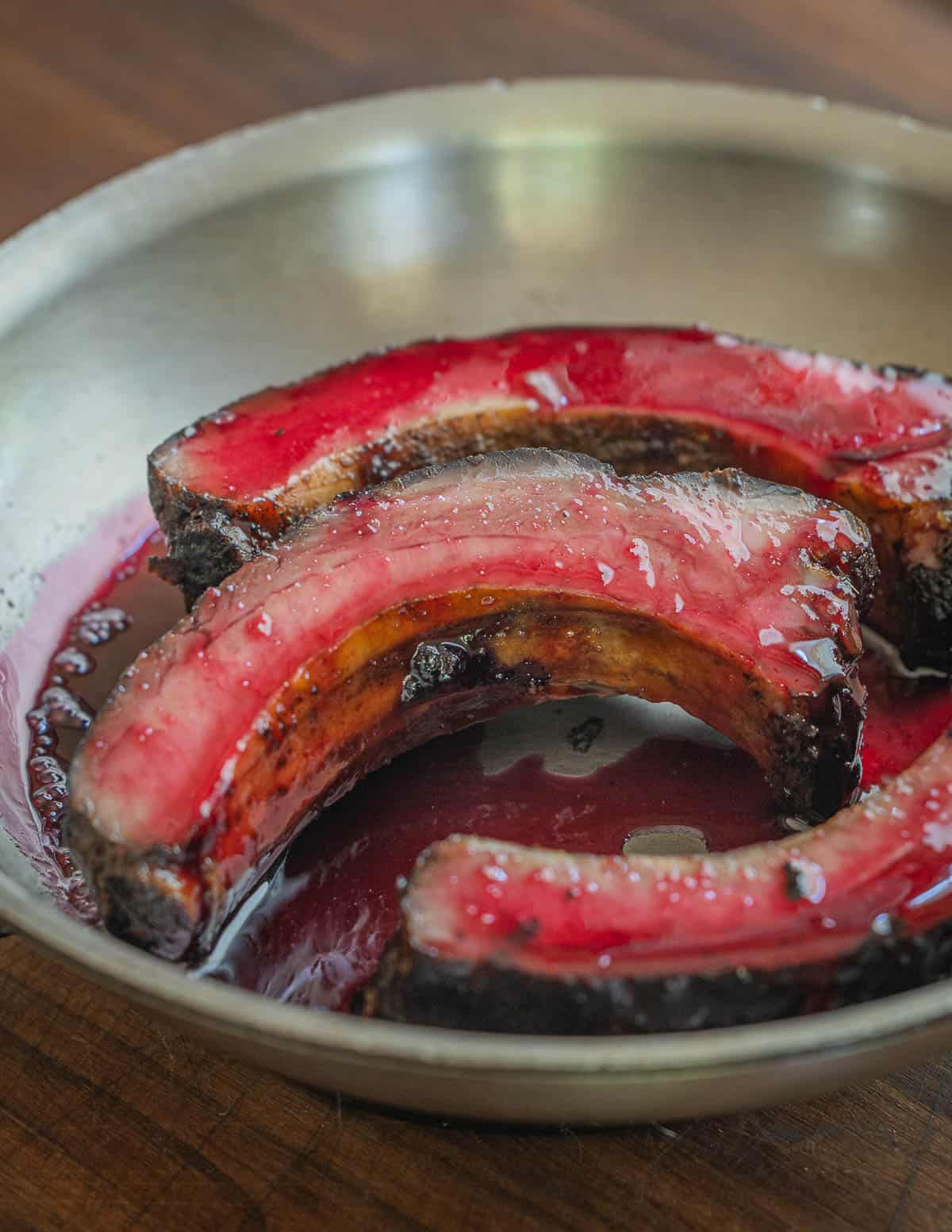 It's great with pork and wild poultry. I also season it with things like fish sauce, dried or fresh hot peppers and herbs to make rich, umami-packed sauces and glazes.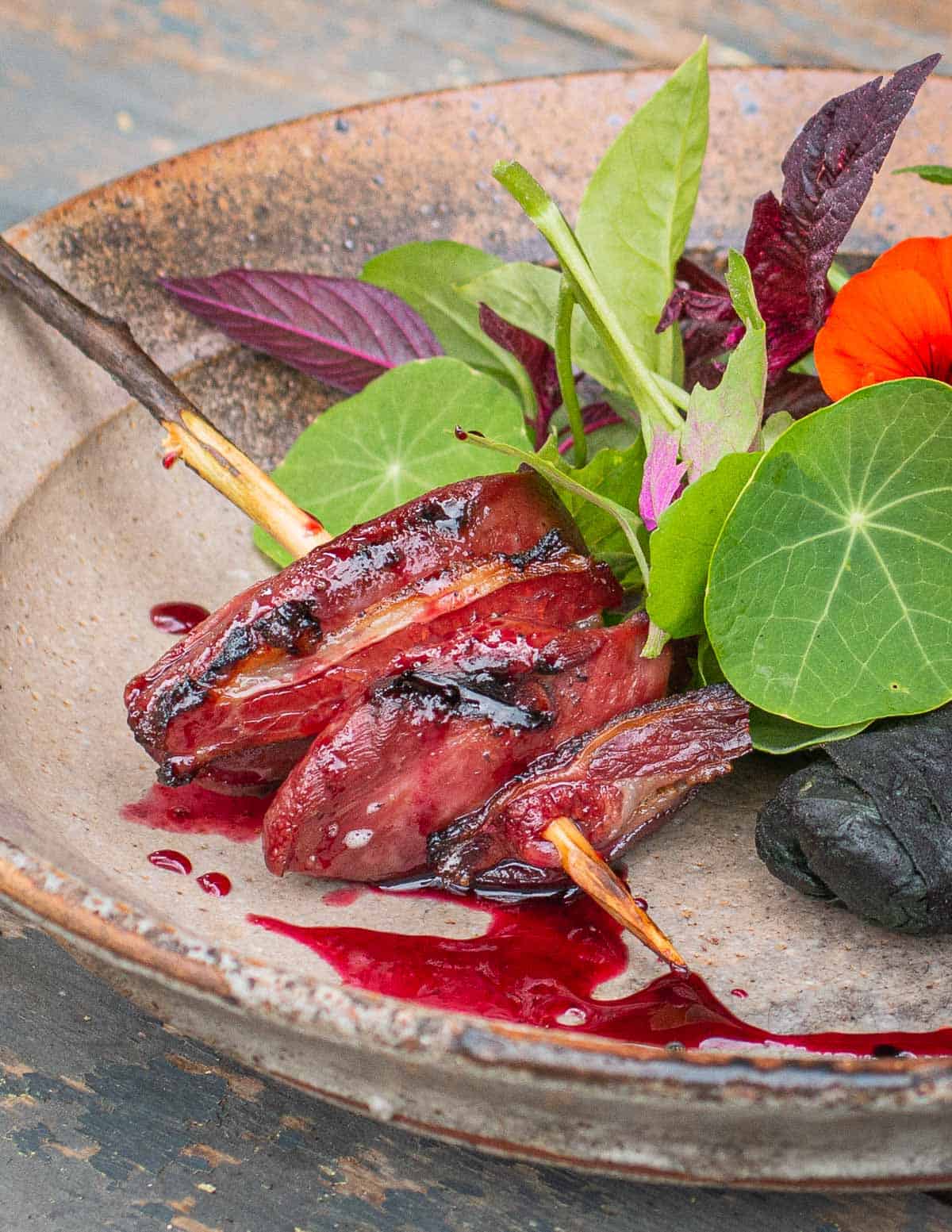 Related Posts
Cherry Pits: A Traditional Almond Seasoning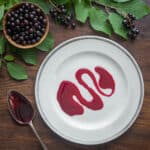 Print Recipe
Chokecherry Syrup
A tart, delicious syrup made from wild chokecherries for using on pancakes, drinks and desserts, and more. Makes 6 half pints
Equipment
6 Half pint mason jars with lids

Potato masher

Waterbath Canner

1 wide 10 inch stainless steel pot

1 Cheesecloth or towel
Ingredients
5

cups

fresh chokecherries

(roughly 25 oz) to yield 4 cups of juice

2 ½

cups

water

½

cup

white wine vinegar

rice wine, or homemade cherry vinegar

4

cups

sugar

or maple sugar
Instructions
Inspect the chokecherries and see if they need to be cleaned or not. If they're dirty at all, immerse them in tepid water, remove with a slotted spoon to a bowl to dry, and reserve.

In a non-reactive pot, combine the chokecherries, vinegar and water. You will need roughly an equal amount of liquid to the volume of cherries. Bring the pot to a boil, then remove from heat. Mash the berries with a potato masher or other tool.

Strain the mixture into a towel or thick cheesecloth over a colander. Cool until you can handle it, then wring out the chokecherry juice. Save or freeze the pits and bits of skin to make fruit scrap vinegar.

Measure the juice and combine with an equal volume of sugar in a wide pot and bring to a boil. Cook it until it barely coats the back of a spoon, about 5 minutes.

Pour the mixture into half pint or pint canning jars and cook in a water bath for 5 minutes or 10 minutes for pints. Chokecherry syrup can also be frozen and will last for years.
Notes
Variations 
You can add ginger, lemon or orange zest while extracting the juice from the fruit for different flavors.
I like to use homemade wild cherry vinegar, but just about any vinegar will work fine. 
Nutrition
Serving:
1
oz
|
Calories:
72
kcal
|
Carbohydrates:
18
g
|
Protein:
0.1
g
|
Fat:
0.1
g
|
Saturated Fat:
0.01
g
|
Polyunsaturated Fat:
0.01
g
|
Monounsaturated Fat:
0.01
g
|
Sodium:
1
mg
|
Potassium:
34
mg
|
Fiber:
0.3
g
|
Sugar:
18
g
|
Vitamin A:
9
IU
|
Vitamin C:
1
mg
|
Calcium:
3
mg
|
Iron:
0.1
mg