If you harvest your own fruit-any kind of fruit-you know how many leftover skins, seeds, pits, cooked stuff, raw stuff, and other things are leftover from processing. So much scrap, from so much good fruit. If you're anything like me, you may have wondered if there's anything you can do with it. There is: fruit scrap vinegar.
I first started messing around with fruit scraps in nice restaurants I worked in where we would have all kinds of amazing fruit come in. After the processing, sometimes there would be things leftover, pits, skins, seeds--things I knew had really delicious solutes still hanging out in them, but I didn't know what to do with.
The first thing I started doing was infusing vinegar with spent grape pits and seeds--and it was shocking. The flavor was concentrated, pure and delicious. If you want to know more about that, see my post on fruit-infused vinegar here--it's a great way to use fruit, especially berries.
This though, this is the older, more mature cousin to the infusion recipe. This is a straight-up, naturally fermented vinegar made from skins, seeds, pits, pulp, and just about anything else you can throw at it. I've made it with frozen fruit, dried, rehydrated fruit, fruit juice and skins.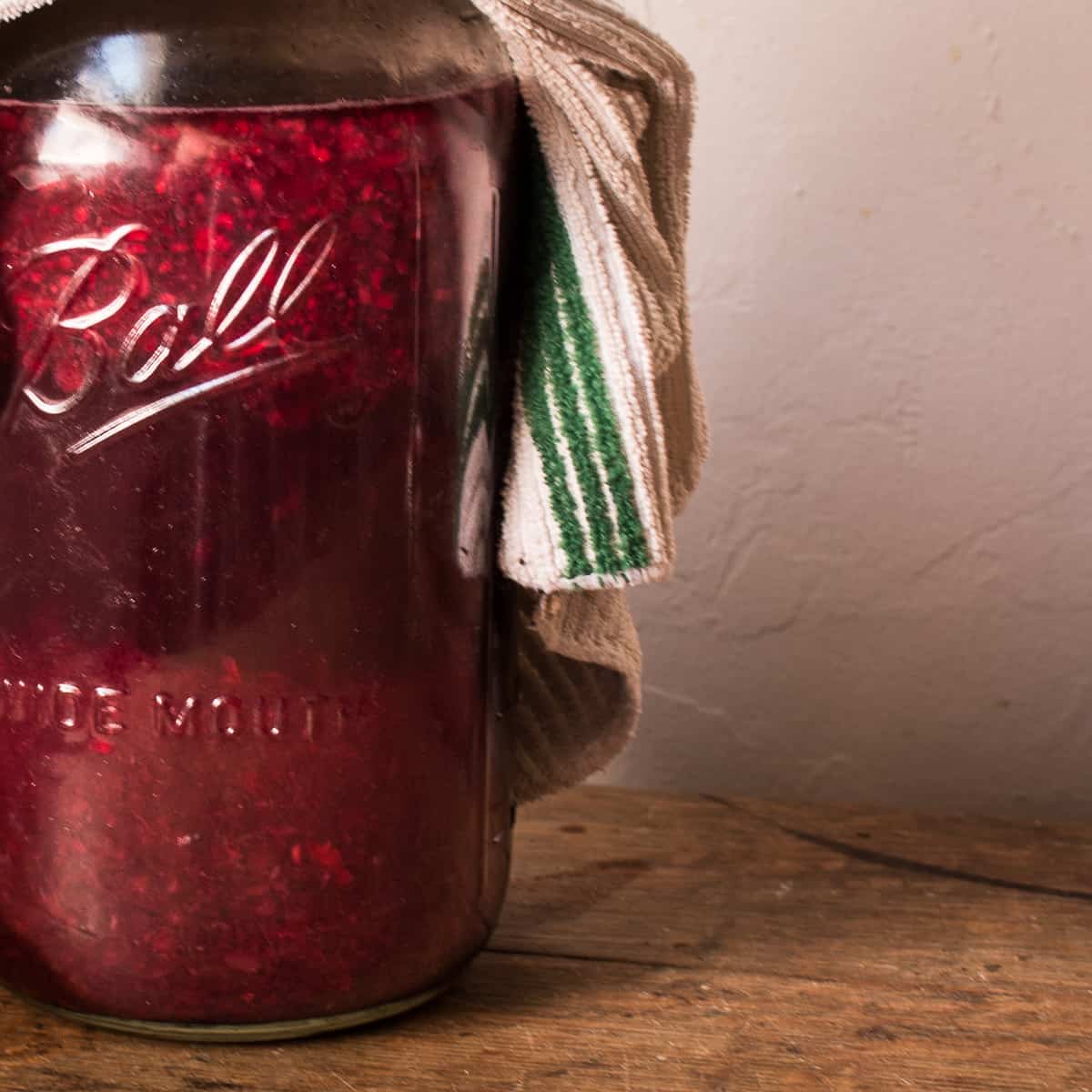 Adding Live Vinegar and Grain Alcohol
The basic recipe is a hybrid of two of my favorites: one from the Art of Fermentation by Sandor Katz, and the other by Rene Redzepi in the Noma Guide to Fermentation. The Sandor Katz recipe is the most basic, and it's a great introduction--you just take fruit and sugar water, and let it ferment. It takes a long time, but it works well.
Rene's recipe speeds the fermentation process by adding live vinegar, along with some grain alcohol to increase ABV, ensuring an acidic result, as if there isn't enough sugar in the beginning product you won't have the amount of alcohol you need to get a good, tart, vinegar.
That being said, I made the recipe for years before I started adding a bit of vodka to it, so know that it's optional. There's recipes for both in this post.
What kind of fruit makes the best vinegar?
Berries. Well, berries, grapes and plums from my experience. The sky is really the limit though: pineapples, mango skins with bits of flesh attached, etc. Here's some of my favorites.
Highbush cranberries
Highbush Cranberries make a brilliant red vinegar. For these I always use the scraps leftover from making a cold juice extraction.
Wild Grapes
Like red wine vinegar, a beautiful nearly purple color, this will taste similarly strong and aggressive, but it's made by your own two hands! Use the scraps leftover from wild grapes after making juice.
Wild Blueberries
Wild blueberries make a deep blue vinegar, and will have a flavor comparable to wild grape, with a very subtle blueberry note.
Aronia Berries
The flesh of aronia berries is tannic, so vinegar is a great way to use them as the finished vinegar won't absorb tannins from the fruit.
Dealing with fruit flies in vinegar
Since I've posted this, I've gotten a lot of questions regarding the flies.
If you're starting this with fresh fruit during the growing season you may have to trouble shoot some things. Depending on your location, temperature, and conditions, fruit flies can be a small or large headache. Here's some tips.
Secure the cheesecloth or lid as securely and tightly as possible. Use more layers of cloth than you think you need-at least 3. A single layer of cheesecloth is too porous to prevent flies from getting into the vinegar.
If after two weeks you notice fruit flies, strain the solids out trough the finest mesh or cheesecloth you have, then wash the container, pour the liquid back in, cover and continue the fermentation process with a new cheesecloth top.
Start and keep your vinegar outside to avoid having the flies in areas you frequent.
We are conditioned to think that insects are problematic and potentially dangerous as they can harbor bacteria, but, in the case of vinegar, a fly or two in the liquid can actually help ensure a strong fermentation process as they are covered in natural yeasts. As the pH of the liquid decreases the flies die.
Freeze your fruit and start the vinegar in the winter.
While unappealing, fruit flies will not harm the vinegar or make it unsafe to consume.
How to Use Fruit Vinegar
The finished vinegar of dark fruits can be used anywhere you'd use red wine vinegar in general cooking. I often add sugar or maple syrup to it. Here's a few examples of how I use it.
One of the best things to do with it is to add a sweetener like sugar or maple syrup to taste, and use it to season salads, along with oil.
You can make it into a syrup by mixing equal parts vinegar and sugar by volume. It's good served warm or cool with game meat.
Add it to barbecue sauce.
Seasoning sour soups, especially borcht.
Use it to make pickled beets and other pickles.
Use it in a vinaigrette to season marinated vegetables, beans, and other composed salads.
FAQ
What is vinegar powder?
Vinegar powder is a chef secret for adding acid to dishes where you may not want additional liquid. To make a small amount to try, put your vinegar mother on a non-stick sheet such as a silpat/silicone mat, and dehydrate at 150 F until crisp. Store in a jar and powder to use it. Scoby mothers can be used similarly. I find it a novelty, personally.
Can you use cooked or frozen fruit to make homemade vinegar?
Absolutely! Fresh cooked, or frozen fruit will all work fine  Since the vinegar is "backslopped" with living vinegar, there is no need to worry about the success of fermentation if your fruit has been cooked or frozen, which can kill some of the living bacteria on it.
Can you make vinegar from fruit juice?
Yes, and it's delicious. You can substitute the juice of any fruit for the water in this recipe. To layer flavor, you can ferment the scraps of fruit in their pressed juice.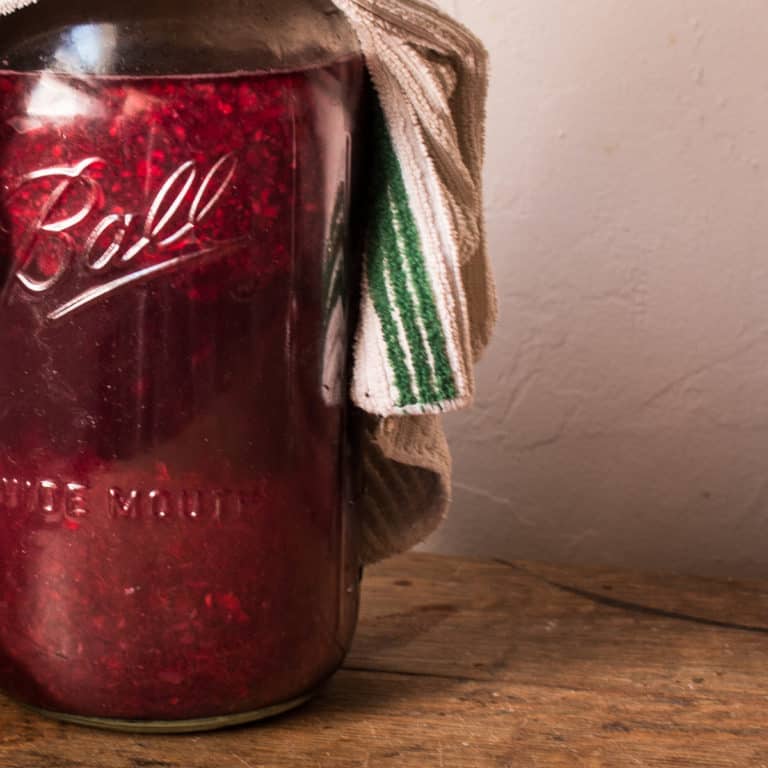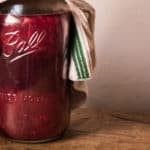 Print Recipe
Classic Fruit Scrap Vinegar
Simple, classic homemade vinegar made from fruit scraps
Ingredients
1

cup

granulated sugar

2

lb

fruit scrap from juicing, etc

skins, seeds, etc

2

Tablespoons

living vinegar such as apple cider, or vinegar from a previous batch

2

qts

water
Sweetening
1

cups

sugar, honey or maple syrup

or to taste
Instructions
Fermentation
Mix all ingredients, stir well to dissolve the sugar and put into a container, such as a plastic food tub, gallon water jug, bucket, etc.

Cover the lid with cheesecloth, secure with twine or a rubber band, and leave out at room temperature.

After 1 month, strain out the solids, then pour the mixture into a half-gallon mason jar. Cover with cheesecloth and continue fermenting for another month or so, until the vinegar is good and strong. When it tastes sour like regular vinegar to you, screw a lid on the jar and store.

If you forget to strain the solids out after one month, don't worry! It will turn out just fine and will have no effect on the success of the vinegar provided the vinegar is still allowed to respire and has access to air.

During the process, if you get fruit flies which are annoying but will not harm the finished product refer to my trouble shooting tips in this post.
Sweetening (optional)
Sweeten the finished vinegar by whisking in honey, maple syrup, or sugar to taste. Start with ½ cup of sweetener per quart of vinegar. Some add a splash of brandy too.

Heat the sweetened vinegar until hot but not boiling. Cool and store in a container with a tight fitting lid at room temperature for up to two months, or refrigerated for long term storage.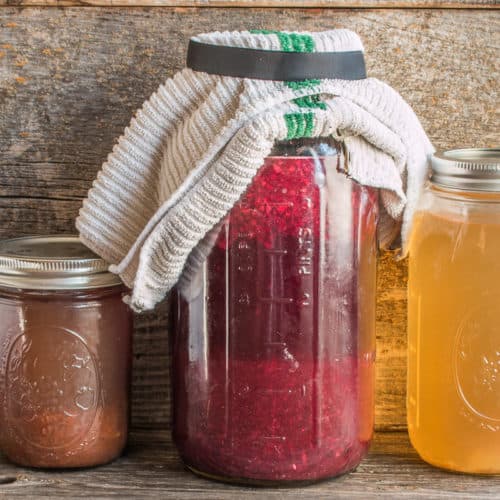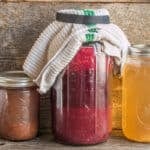 Print Recipe
Accelerated Fruit Scrap Vinegar with Alcohol
A simple vinegar made from berry or fruit scraps, seeds, pits, accelerated with alcohol. Makes about 4 cups
Ingredients
750

grams

3 ¼ cups water

172

grams

¾ cup plus 1 Tablespoon previous fruit vinegar, or apple cider vinegar with live cultures

184

grams

¾ cup plus 2 Tablespoons 80 proof vodka

1

lb

2 packed cups fruit scrap from cooking, juicing, etc

50

grams

¼ cup sugar
Instructions
Combine all ingredients in a 2 quart sized container, cover with cheesecloth, and allow to ferment for 2 weeks at room temperature, stirring as often as you can remember (I use a wooden spoon).

After two weeks, strain the vinegar and allow to continue fermenting, still covered with cloth, until you like the flavor, a month or two.

When you're pleased with the flavor, and you can't taste any sweetness in the vinegar anymore, put it into jars and seal, then store in a cool dark place.