Nose-clearing, hot, creamy and delicious. Fresh grated horseradish cream sauce is one of the ultimate condiments, and something thing that everyone should know. It's a easy to make, keeps for a very long time even though it's dairy based, has tons of fun variations. Read on and I'll explain the process.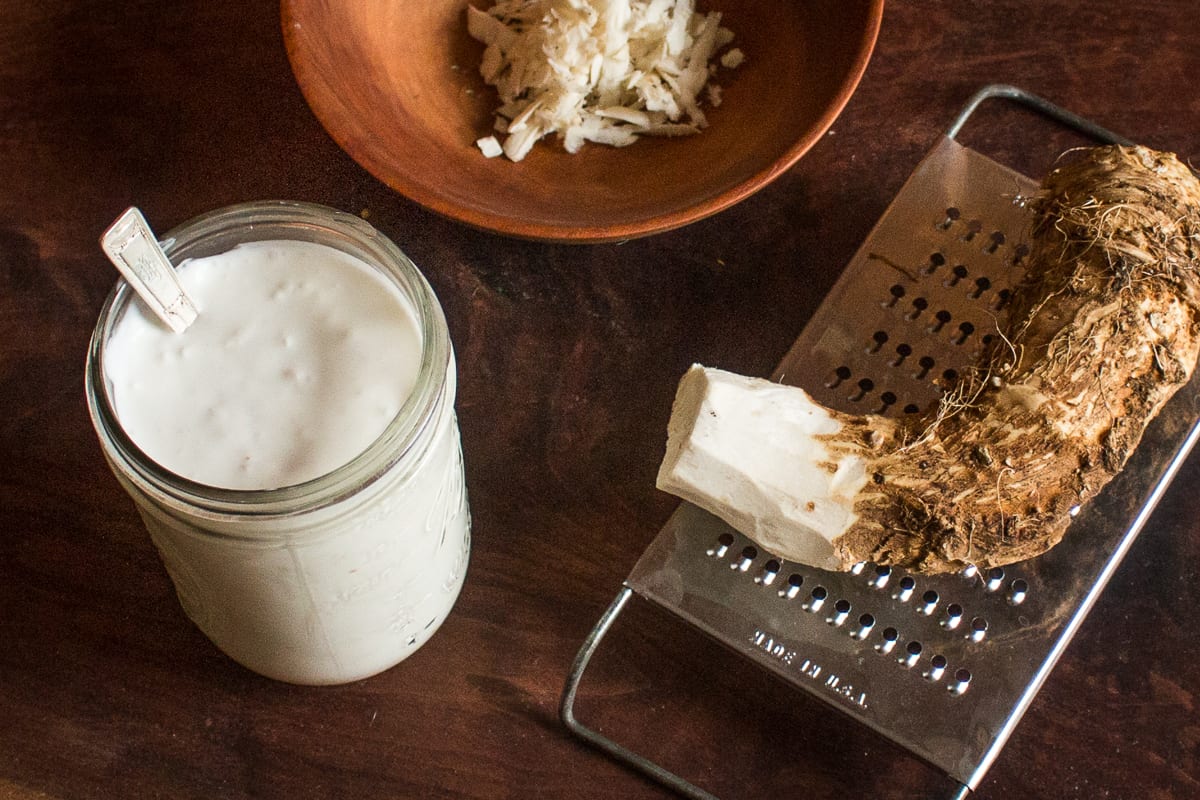 First things first though. I'm talking about homegrown horseradish here, which is an entire plant, and not just something that comes pre-ground in a jar--although if that's all you have, it's ok.
Horseradish grows feral around the United States, and is well known to certain sushi chefs who enjoy cooking with the leaves, as I do. The root is what you want for a good horseradish sauce though, and to get it, you're going to need a shovel, and some elbow grease.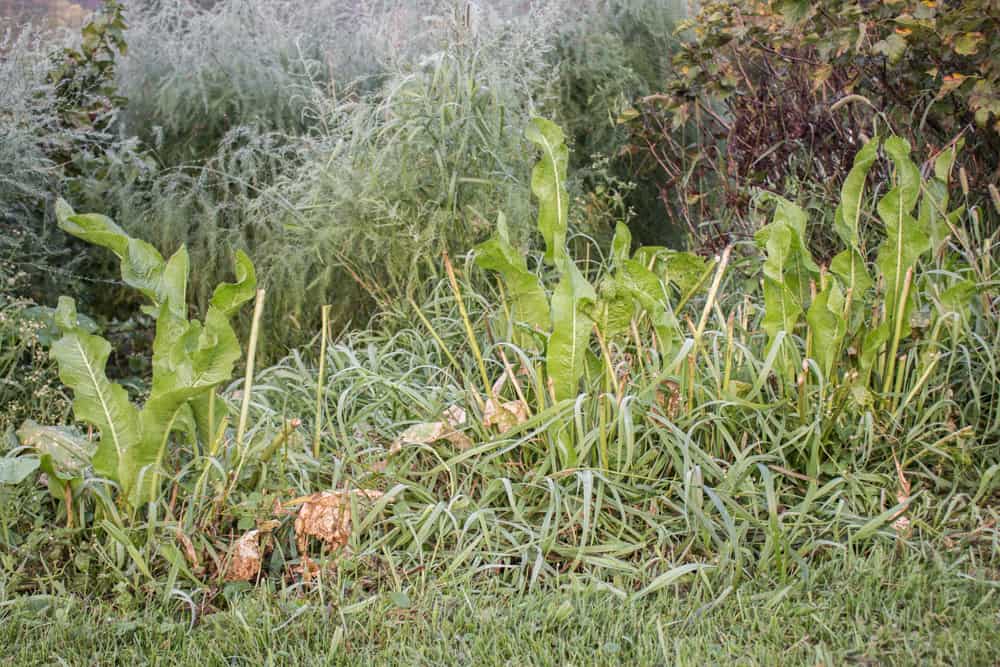 Dig horseradish in the spring or fall
I used to get very frustrated ordering horseradish root from purveyors and not getting consistent results. Sometimes the roots would be fiery, nuclear hot, and one buzz in the blender would make the eyes water of everyone in the room.
The next time I ordered horseradish, it would be weak, mild, and tasteless. What gives? Some people (and author colleagues of mine) say there's a specific time, say fall or spring to dig horseradish.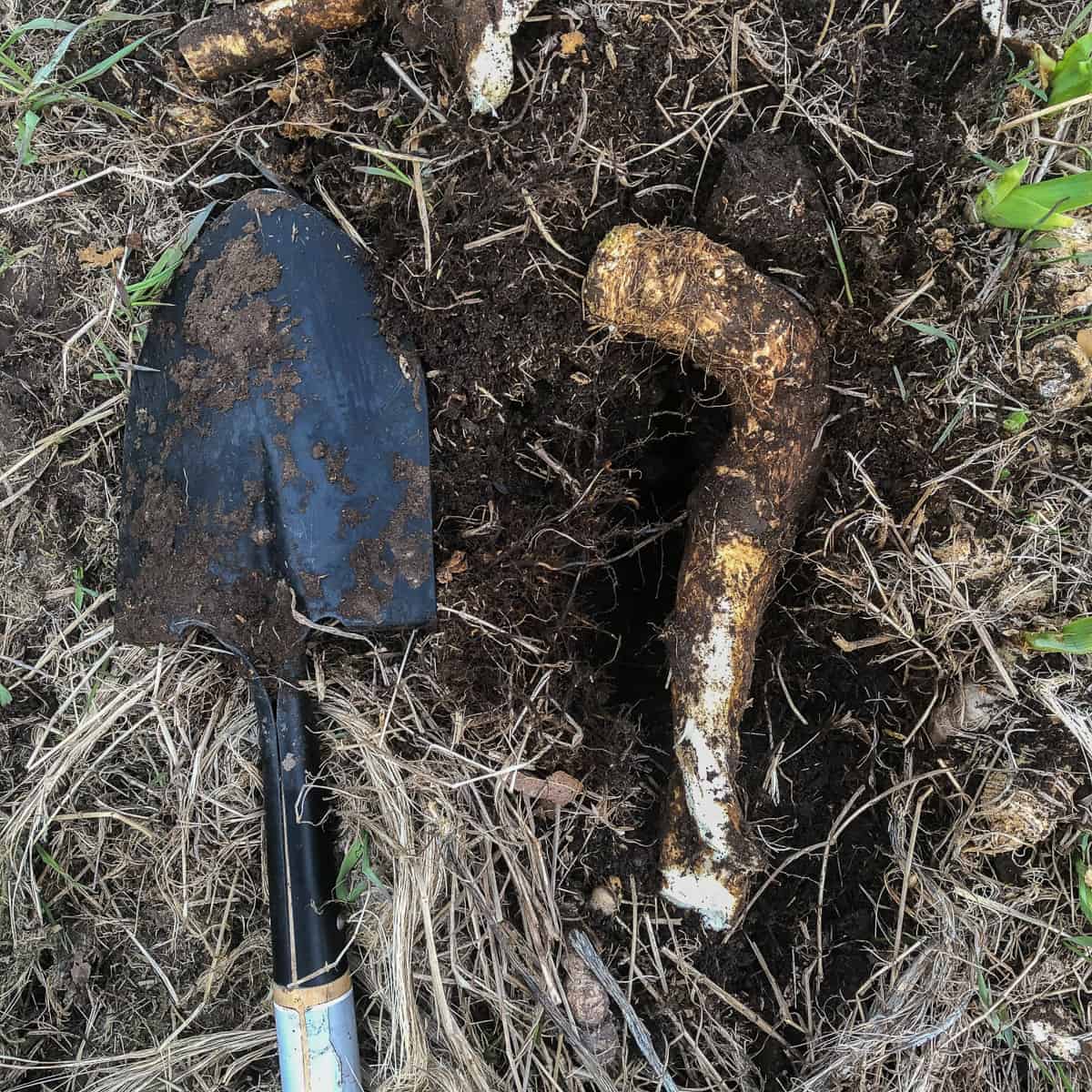 Personally, I can tell you that digging horseradish in either fall or spring have both worked fine for me, but it's best to dig it in cold parts of the year, since the horseradish will have more of the spicy kick.
If you dig it in the summer be prepared for a let down, although the temperature of where you live will probably contribute a bit too, for example, the valley in Wisconsin where I live is cold during the night for most of the year, so the horseradish is usually spicy enough to be interesting whenever I want it.
If you end up coming across horseradish leaves in the summer though, you're in luck--the leaves are edible, and I like them very much, although some people will find the bitter taste of the leaves unpleasant. See more on edible horseradish leaves here.
Basic yogurt or sour cream
The most classic version is nothing more than grated horseradish with sour cream or yogurt, salt, a splash of vinegar, and a dash of cream or milk if I want it pourable. It's great, and if you want classic horseradish sauce, it won't let you down.
Fermented Creme Fraiche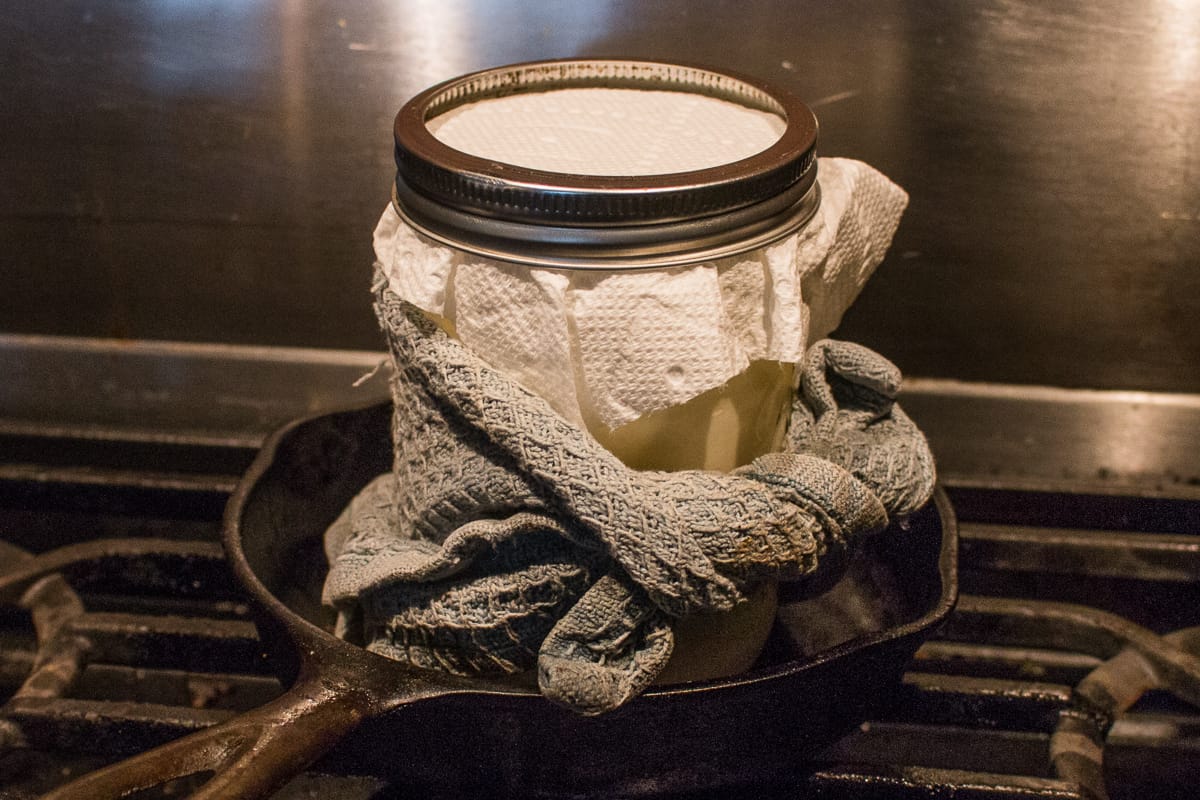 Occasionally I might make a little creme fraiche overnight flavored with horseradish. For that method, you mix some cream and a spoonful of yogurt with the horseradish, and let it sit overnight in a place with ambient warmth around 180F. Afterwords, the cream tightens up and gets thick when stirred, and, viola, overnight fermented horseradish sauce.
Cooking with fresh horseradish
Cooking with fresh horseradish is a bit like cooking with truffles. The potency is in the aroma and not necessarily in the root itself per-se, and you'll notice it as the sauce sits and matures.
Unlike most sauces that mellow with age, horseradish sauce will peak after a day or two in the fridge, as the dairy, aroma sponge that it is, soaks up the nasal-clearing aroma we know and love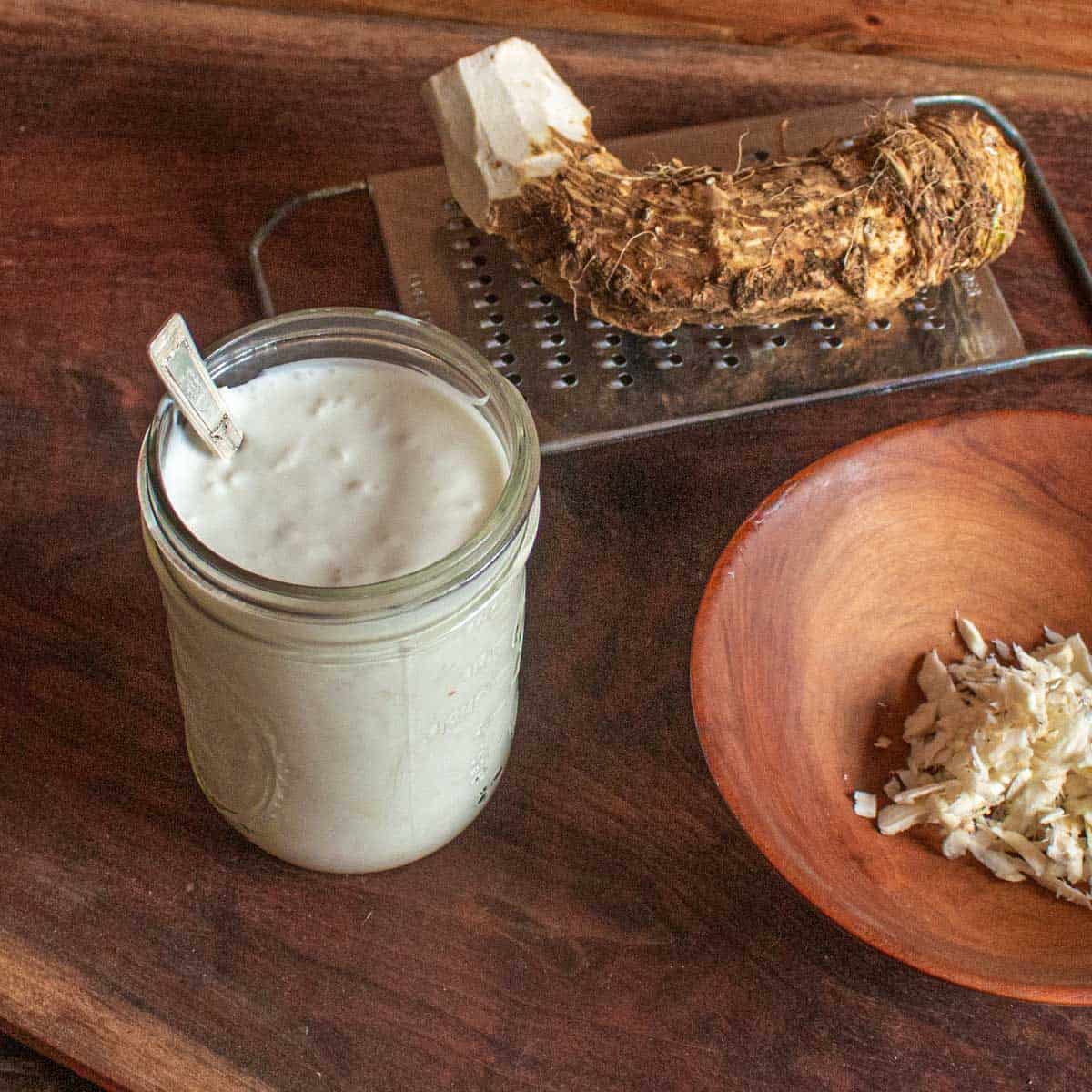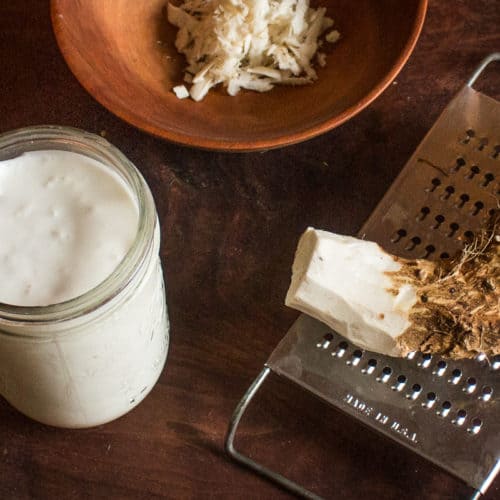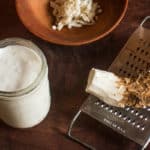 Print Recipe
Homegrown Horseradish Cream Sauce
Simple, spicy horseradish cream made from fresh horseradish, sour cream or yogurt. Makes 1 pint jar.
Equipment
1 Grater

1 Medium mixing bowl
Ingredients
1.5

oz

grated horseradish

about ¾ cup

½

teaspoon

kosher salt

2

tablespoons

vinegar

12

oz

1.5 cups sour cream or yogurt

1

teaspoon

sugar
Instructions
Combine all ingredients and store in a pint jar. The sauce will increase with potency as the dairy absorbs the aroma. Thin to your desired consistency with a splash of cream, milk, etc.
Notes
Adding herbs for extra flavor 
Often if I use this as a garnish, I may add some fresh herbs. Dill is the best, but a good handful of chives can be nice too. I also like fresh ground black pepper as an extra spicy variation. 
Nutrition
Calories:
89
kcal
|
Carbohydrates:
3
g
|
Protein:
1
g
|
Fat:
8
g
|
Saturated Fat:
4
g
|
Polyunsaturated Fat:
0.4
g
|
Monounsaturated Fat:
2
g
|
Cholesterol:
25
mg
|
Sodium:
181
mg
|
Potassium:
66
mg
|
Fiber:
0.2
g
|
Sugar:
2
g
|
Vitamin A:
265
IU
|
Vitamin C:
2
mg
|
Calcium:
46
mg
|
Iron:
0.1
mg