A simple cordial or shrub infused with the incredible aroma of fresh milkweed flowers is an irresistible way to introduce people to the sweet possibilities of cooking with common milkweed flowers.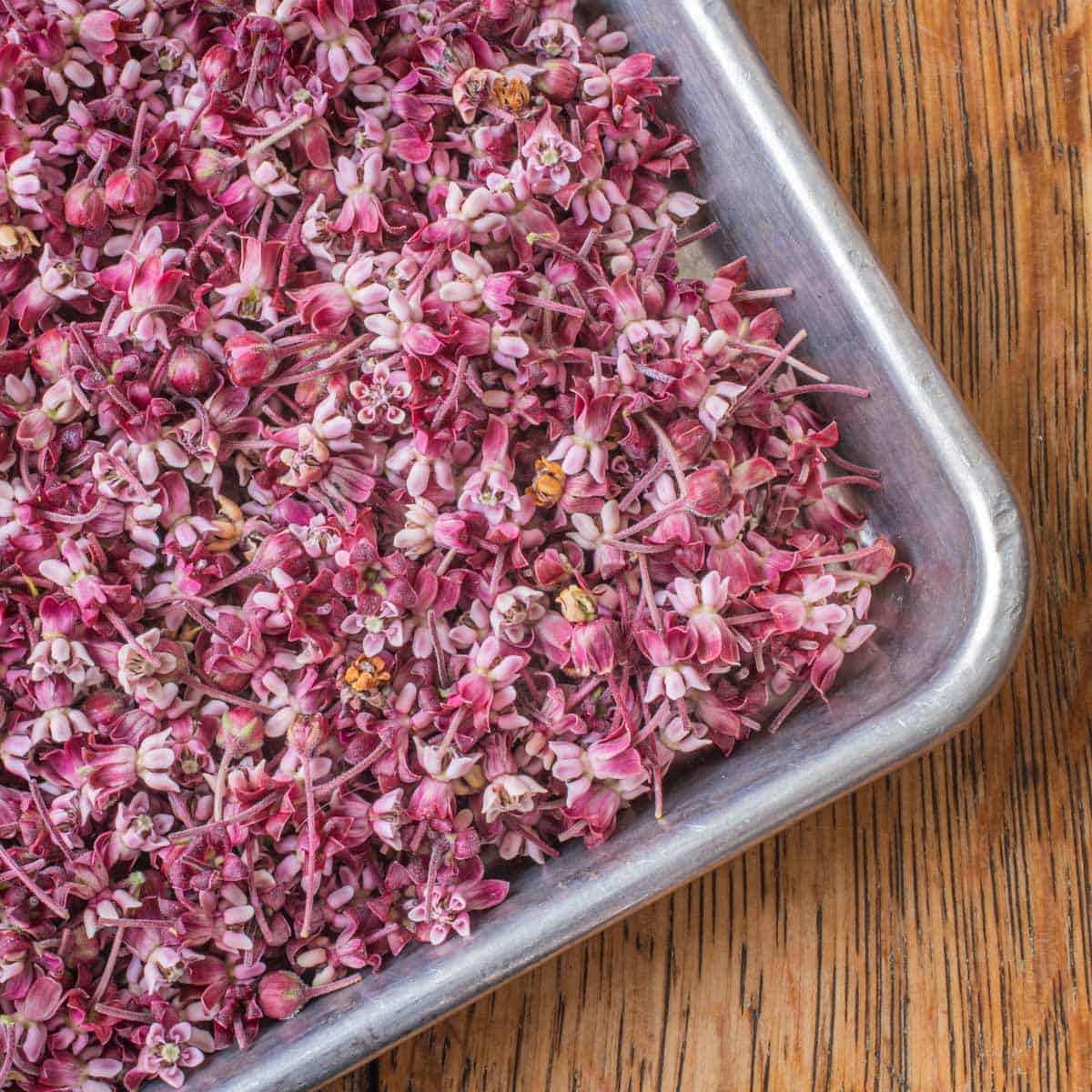 Nothing says summer to me grabbing a big handful of milkweed flowers and taking a whiff. The smell is so sweet, so floral, but at the same time, it's not cloying at all. It's just deep, dark and so sweet.
If I close my eyes while I smell my mind drifts to the things that will pair well with them, little lines of dancing cherries, strawberries, red currants, watermelon, and peaches: to me milkweed flowers want fruit, they crave fruit.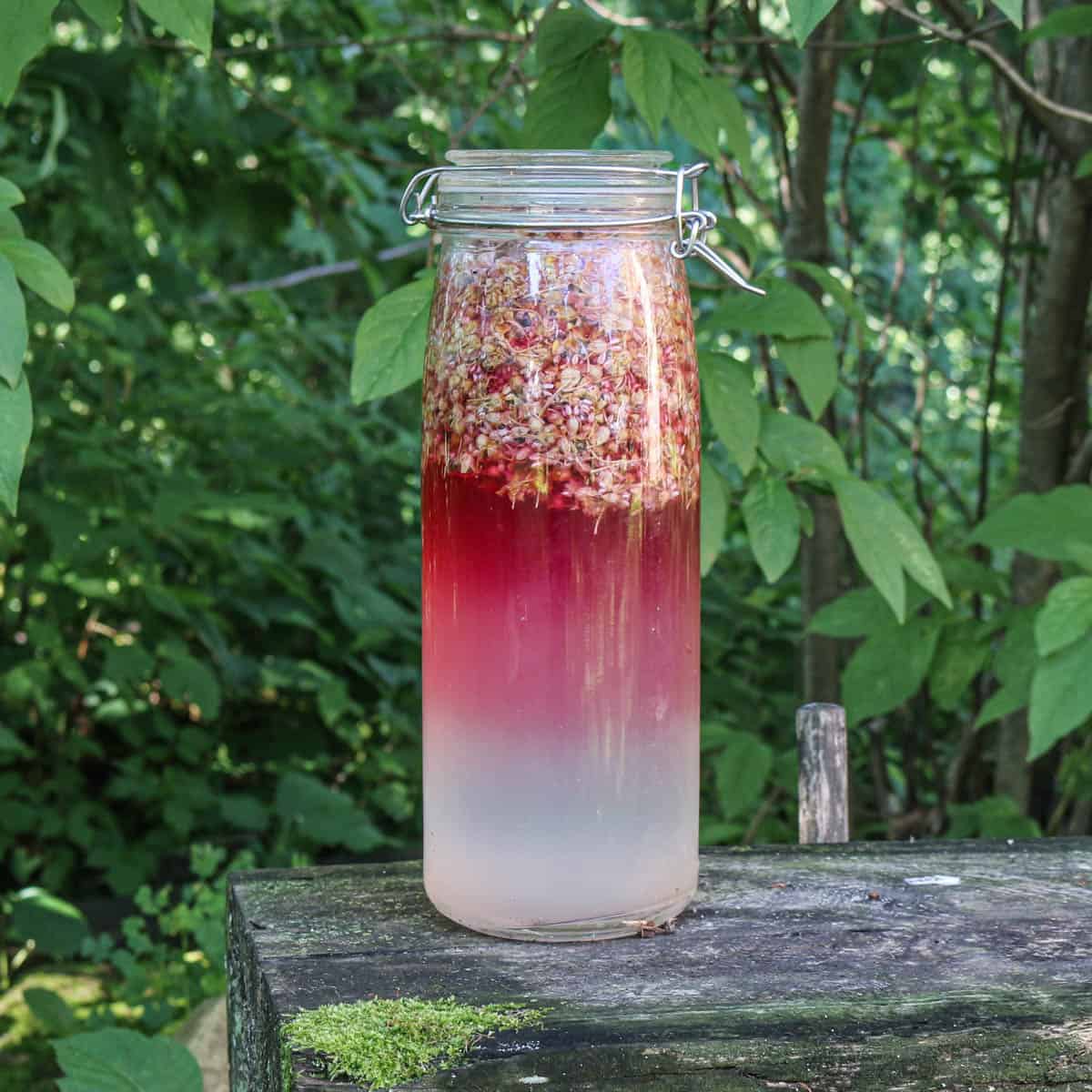 They're one of the most versatile wildflowers I know of: strong, sturdy, yet tender enough to pop in your mouth and sprinkle into salads or on top of a dish. Kept in the fridge in a plastic bag or contiainer, they'll last for weeks. Read that again: a beautiful flower that lasts for weeks, that you can eat?! YES.
One of my favorite things to make with them is milkweed cordial, a fruity, floral syrup you can do all kinds of stuff with. When people hear the word cordial, a lot of times they get a vision of something you'd make drinks with, but it's more than just for drinks.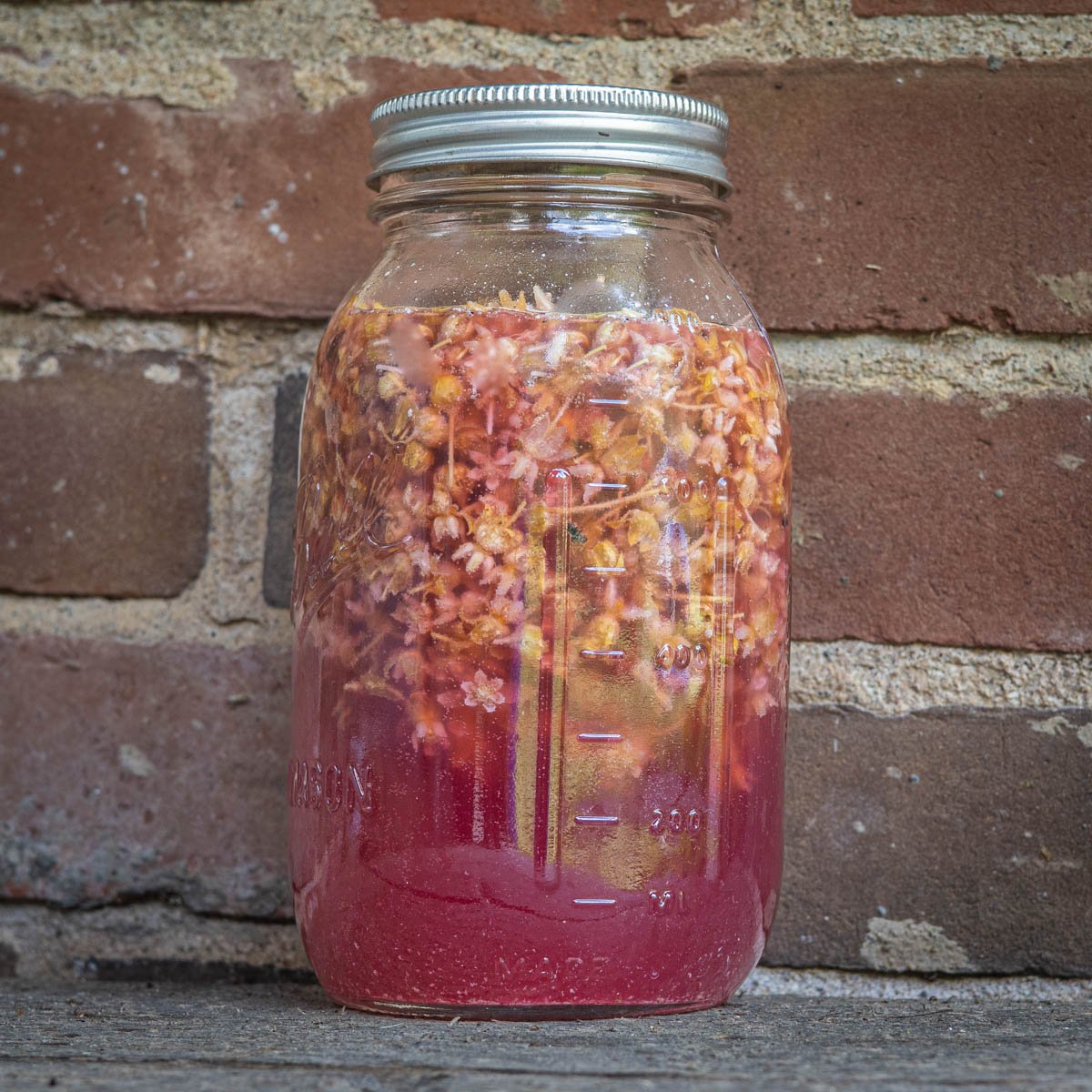 How to use it
Drizzle some over vanilla, or even better yet a tart ice cream made with buttermilk, and top with a few strawberries. The high amount of sugar in the syrup also means that it's a preserative in itself, so could even preserve berries in the syrup, then spoon them onto things after they've had a little marriage in the fridge for a while.
But wait, there's more. You can substitute vinegar for all or parts of the water in the syrup, and it makes for even better savory uses, since I don't like things too sweet. To boot, a lot of floral and fruity aromas and very soluble in solutions that have vinegar in them, or in just pure vinegar itself. For non-drink uses, I always add 50%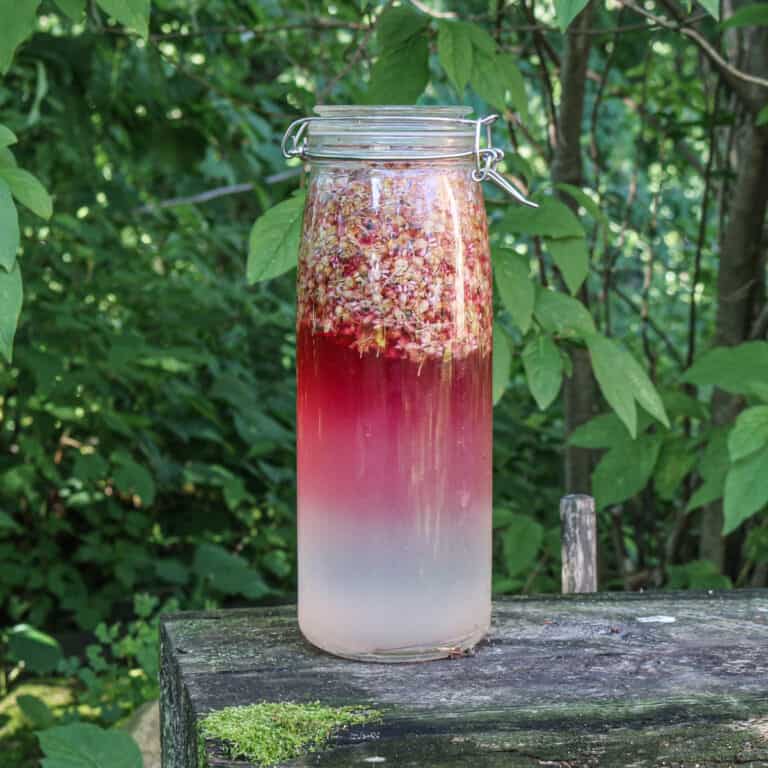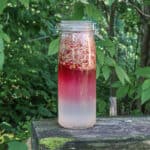 Print Recipe
Milkweed Flower Cordial
Sweet drink syrup flavored with the fruity aroma of milkweed flowers. Scale as needed.
Equipment
1 small sauce pot

2 Quart mason jars

or another non-reactive container
Ingredients
7

ounces

fresh milkweed flowers

as deep colored as possible, remove from the stem

1

teaspoon

citric acid

5

cups

white sugar

4

cups

water
Instructions
Heat the water until warm, but not boiling. Add the sugar and citric acid then whisk until the syrup is clear.

Cool the syrup.

Look the milkweed flowers over for walking creatures and creepy crawlies, then put into a container and pour over the cooled syrup.

Put a lid, label and date on the container and let it sit in the sunshine on a windowsill for 4 days.

After 3 days, strain the syrup, using gloves to squeeze as much liquid from the flowers as possible. Discard the flowers. Refrierate the syrup in a labeled, dated container, or bottles until needed.
Notes
If you add 50% apple cider vinegar instead of water this makes a great syrup to drizzle over strawberries and goat cheese. The end product tastes a bit like strawberries. Make sure to put it in a sunny place: the gentle warmth from the sunlight seems to help leech out the flavor like sun-tea
Nutrition
Serving:
2
oz
|
Calories:
389
kcal
|
Carbohydrates:
100
g
|
Protein:
0.2
g
|
Fat:
0.3
g
|
Saturated Fat:
0.01
g
|
Polyunsaturated Fat:
0.001
g
|
Monounsaturated Fat:
0.002
g
|
Sodium:
7
mg
|
Potassium:
36
mg
|
Sugar:
100
g
|
Vitamin A:
386
IU
|
Vitamin C:
6
mg
|
Calcium:
12
mg
|
Iron:
0.2
mg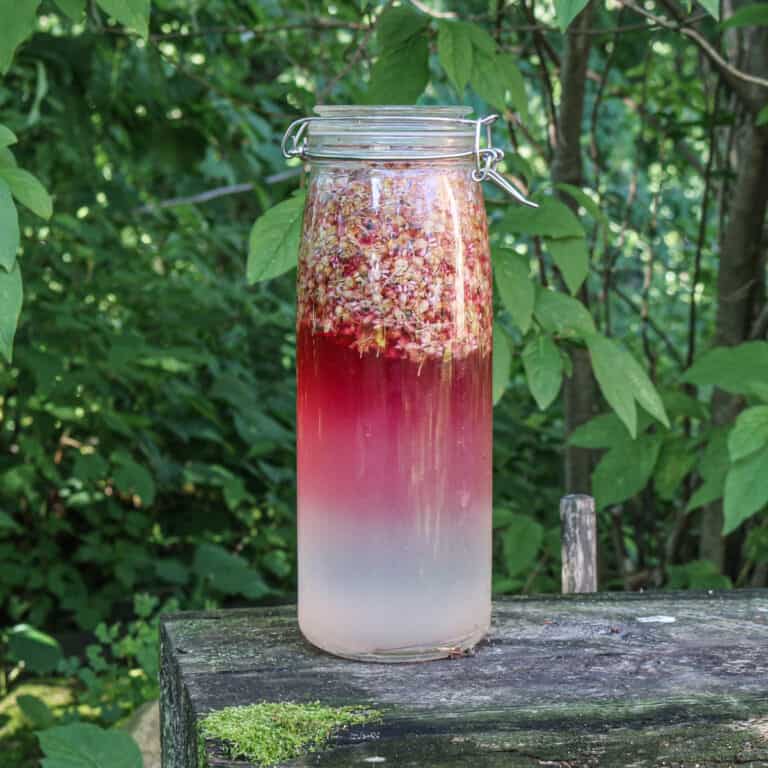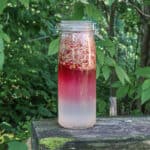 Print Recipe
Milkweed Flower Shrub 
A basic recipe, you can see that all the parts are at a 2:1:1 ratio by volume, so multiply and scale as needed. The syrup is excellent with drinks, as you would traditionally use a shrub. Yield: a little over 1 cup 
Equipment
1 2 quart sauce pot

1 Fine Strainer

or cheesecloth
Ingredients
2

ounces

milkweed flowers

or 1.5 cups flowers

1

cup

sugar

1

cup

champagne or white wine vinegar
Instructions
Stir the vinegar and sugar until melted, then add the milkweed flowers and allow to sit in a container like a mason jar, with lid, at room temperature. Strain after a week and store in the fridge for the best flavor.
Notes
Shrubs are wonderful for making drinks. I love adding this to Non-alcoholic cocktails. To make one, mix the shrub with half soda water, mix, and pour over ice. Feel free to adjust the ratios to your taste. Muddling in some fresh herbs like mint or basil is good too. 
Nutrition
Calories:
82
kcal
|
Carbohydrates:
20
g
|
Protein:
0.1
g
|
Fat:
0.1
g
|
Saturated Fat:
0.002
g
|
Monounsaturated Fat:
0.001
g
|
Sodium:
2
mg
|
Potassium:
20
mg
|
Sugar:
20
g
|
Vitamin A:
110
IU
|
Vitamin C:
2
mg
|
Calcium:
4
mg
|
Iron:
0.2
mg
More