My foraged fruit infused vinegar recipe started with a batch of concord grapes years ago. Chef told us to juice the grapes, and when we were done passing the juice through a strainer, there was all sorts of skin an pits left. The daily changing menu relied on our experimentation, so I called dibs on the berry pits, sensing some possibility.
I poured vinegar over them with the idea of infusing it with the flavor of the berries, which I suspected would only get better hanging out in the cooler for a month or two while I thought of what make with it. Vinegar and alcohol have this uncanny ability to extract flavors from things, I love experimenting with them to layer flavors.
After a couple months, I got around to straining and cooking with the vinegar. I started cooking it down to a syrup with sugar to make a gastrique, or sweet and sour sauce. The vinegar was impressive: deeply colored, fragrant, with a flavor like concentrated grape essence, made without grape juice.
Dark Berries Make the Best Infused Vinegars
It worked so well I started saving all the skins and pits from all the fruit I could get my hands on. Results varied, but one things was constant: dark, ripe fruit like cherries, blackberries, red wine grapes, josta berries, and currants (I could go on) were the best. Stone fruit like peaches, paw-paws, and wild plums was ok, but nothing like the berries.
Ambitious cooks might mention that you can make vinegar out of fruit, and that's true. It takes time though. It also usually needs fruit juice to make the base to which the mother starter is added. If you're feeling ambitious and have a bunch of extra ripe fruit, by all means, try it.
The infused vinegar here is great because it lets you get juice for making jam and such, and infused vinegar without sacrificing one for the other. At the end of the day, you're making something from what other people throw away which is real cooking, a thrifty kitchen hack.
What can you do with berry infused vinegar?
Plenty. Here's a couple things I've done:
Cook it down, then add meat stock, reduce a bit more and whisk in butter to thicken it for a simple pan sauce (especially good with poultry and game).
The vinegar can be cooked down by itself and a pinch of sugar too to make a simple sauce, then just whisk in a knob or two of butter to thicken at the end.
Use it to deglaze a pan of roasted beets, adding a little butter and herbs at the end to make a sweet and sour glaze.
It makes an excellent base for pickles, especially things that go well with fruit, like beets, or to layer flavor, pickle a fruit (like red wine grapes) in the vinegar you made from last year's harvest. Cherries are especially good like this, just make sure the pickle liquid is a bit sweet.
If you make jelly from something (like elderberries), cook down some of the vinegar with the fruit you're going to make jam with to layer the berry flavor and add a bright note to cut the sugar.
Reducing the vinegar with equal parts sugar would make an excellent flavor base for ice cream or panna cotta.
Combined with a little sugar and reduced with spices, etc, it makes an excellent glaze for grilled foods, like pork chops or sweet and sour ribs.
Cooking the vinegar with some sugar to taste and reducing to a light syrup will make a great garnish for vanilla ice cream, just like Italians do with balsamic vinegar.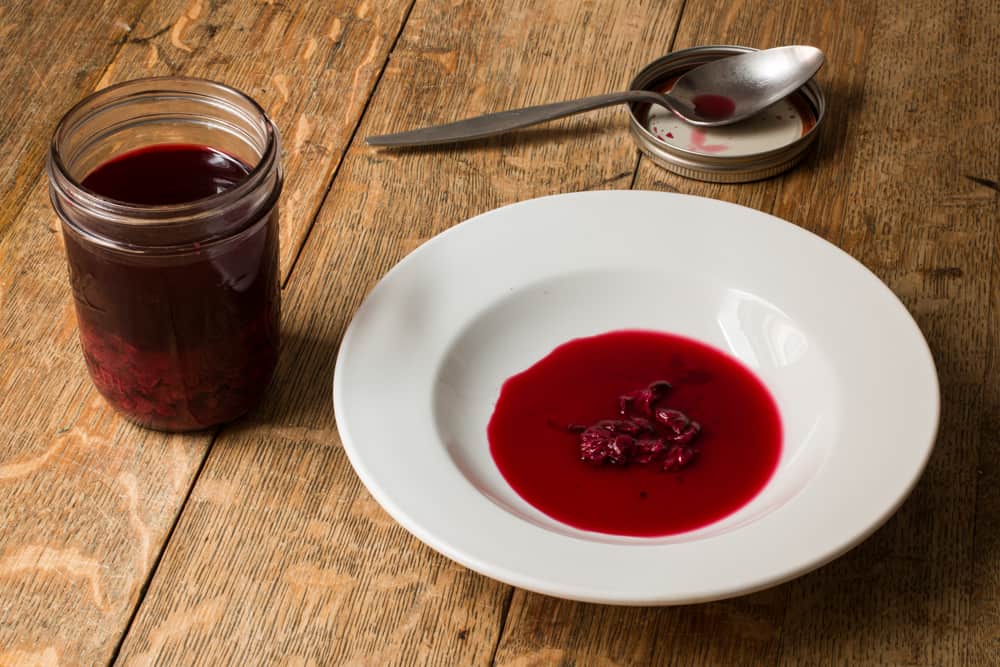 How to Make Foraged Berry Infused Vinegar
Use fruit pits, berry skins, and seeds to make awesome homemade, infused vinegar
Ingredients
Equal parts berry pits and skins left over from juicing

and white wine or white vinegar
Instructions
Combine the vinegar and berry pits/skin in a non-reactive container (I like a mason jar) and refrigerate for a month or two, shaking occasionally. Occasionally taste the vinegar to check on it's progress, when it's to your liking, strain it through a fine strainer or cheesecloth, pressing down on the skins and pits with a spoon or ladle to get as much vinegar as possible. If the vinegar is very cloudy, strain it again.
Notes
I should mention many wild berries and things I make this with need to be cooked to extract their juice. I do this by putting the cleaned berries in a stainless steel saucepan and adding water about ¾ of the way up to the surface of the berries, then I heat them gently until their hot and have released their juice, pass them through a strainer or food mill, then reserve the pits/skins, and juice separately.
Wild and cultivated grapes are my favorite for this, since they don't require cooking to release their juice, which yields a much more potent flavored vinegar. Both uncooked and cooked methods will give you decent results though. 

Print Recipe

Roasted Beets Glazed With Chokecherry Vinegar

Tender roasted beets glazed with tangy fruit-infused vinegar, a knob of butter and herbs.

Ingredients

8

ounces

roasted beets

peeled and cut into roughly 1 inch pieces

¼

cup

chicken stock or water

2

tablespoons

berry infused vinegar made with chokecherries

see recipe above

1

tablespoon

unsalted butter

1

tablespoon

chopped equal parts fresh tarragon

parsley, chives, and chervil

Kosher salt

to taste

Instructions

Combine the beets, stock or water, and vinegar in a non reactive saute pan (a 10 inch size will be fine) heat until the beets are hot throughout, stirring occasionally.

When the beets are hot, add the butter and herbs and stir to coat, there should still be some liquid from the stock and the vinegar in the pan to help create a creamy glaze for the beets. If the pan is dry, add a tablespoon of stock or water before adding the butter to prevent it from breaking and becoming oily.

After adding the butter and herbs to glaze the beets, double check the seasoning for salt and serve immediately.

Notes

Like a bowl of sparkling sweet and sour jewels. For maximum flavor and color, I like to use a blend of three beets: chioggia, gold and red. You can use just one or two colors if you can't find all three, but make sure to include some red beets since their dark color and staining are part of what make these so attractive. If you have access to white beets, they would be great in this too.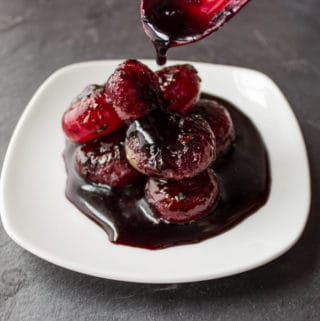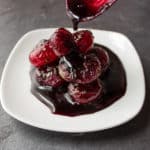 Print Recipe
Cippollini Onions, Glazed With Chokecherry Vinegar
Ingredients
½

lb

small cipollini onions

1

cup

berry infused vinegar made with chokecherries

see recipe above

2

tablespoons

sugar

Boiling salted water

for blanching the onions

Kosher salt

to taste
Instructions
With a sharp pairing knife, remove the the root and top on each onion. Blanch the onions in boiling salted water for 10 seconds, then remove and shock in an ice bath, this will make the skins easier to peel off.

Put the peeled onions in a 10 inch saute pan and add the vinegar and sugar. Cook slowly until the onions are glazed, syrupy, and soft throughout, then serve immediately.
Notes
These are great served warm on top of a pork chop, or served cold alongside some soft goat cheese and crackers. If serving with meat, you could of course, add a little reduced stock in the beginning, or some cold unsalted butter at the end to make an easy sweet and sour sauce.