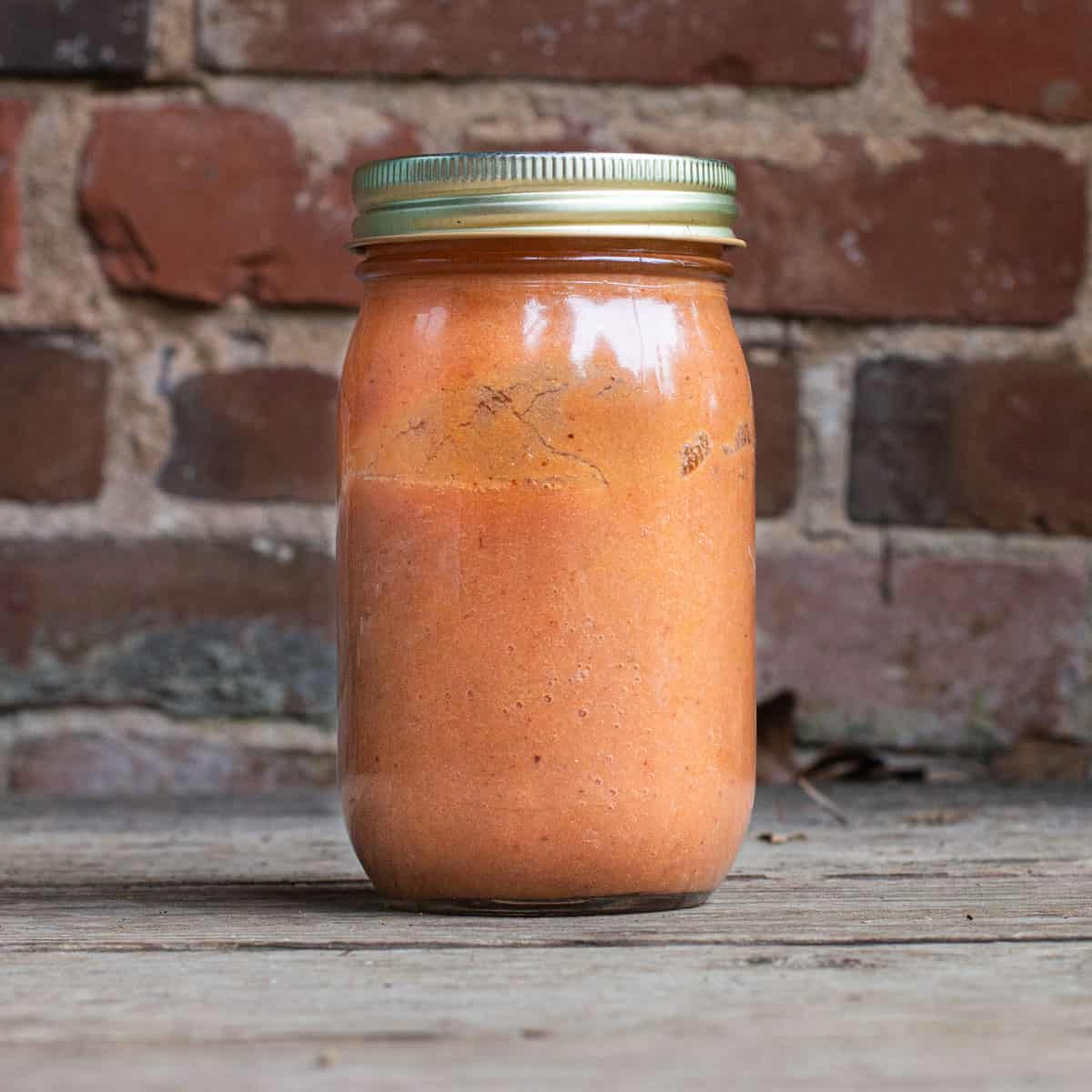 Wild plums in my area are fantastic, but they can be tricky to get at peak ripeness and once they're ripe, they'll deteriorate fast. The good news is that wild plums have a strong flavor, and a little goes a long way.
I shared another highly spiced wild plum recipe called plum ketchup in an earlier post. Both of them are good, but this one follows the philosophy of less is more. It's also easier, and barely contains any sugar. It won't be for everyone though, as it's very tart.
The only drawback is that this simple coulis/sauce, is not going to have the shelf life of the ketchup, or something like jam where there is a lot of added sugar, so keep your eyes on it, as it will eventually ferment. It's also not sweet. This is a t's a tart, punchy condiment for meat.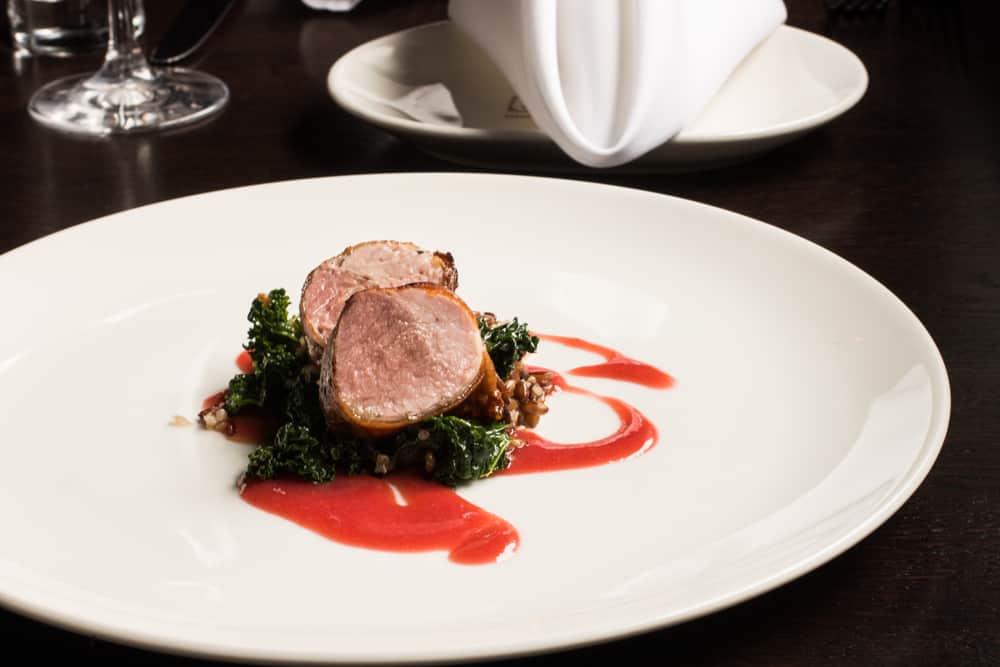 One of the purest things I know how to make are fruit sauces like this with only a couple ingredients: water, plums, sugar and a pinch of salt. But like I alluded to, the absolute key to capturing the flavor of the plums is their ripeness.
A couple days too early, the plums will give you a sauce that's beige. A couple days too late, you'll have fermented plums. The plums you pick at the peak of ripeness are a thing of beauty though, and make a great sauce/coulis, with a tart, punchy flavor.
A few tricks for getting ripe wild plums
If you happen to pick a bunch of plums in the heat of the moment, and they're slightly under-ripe, or some are ripe and some aren't, and you aren't exactly amazed with the flavor, you can make the sauce as I describe below, and then add a bit of raspberry puree to taste, which will improve the color and round out the flavor-a technique I came up with after I accidentally picked a bunch that could have been on the tree a little longer.
The best method for getting ripe wild plums is just to pick them when they're ripe, then store them in paper bag until they're all deep red and aromatic, it shouldn't take more than a day or two. After the plums are ripe, refrigerate them to slow the ripening process. The plums will continue to ripen in the fridge, but at a very slow rate.
Cooking Notes
This is a savory condiment, not meant for desserts, although you can definitely sweeten it, and, like applesauce, you can substitute it 1:1 for oil in cakes and breads. It's excellent with duck, pork and game. It couldn't be easier to make too, just take very ripe plums, add a little water, cook until soft, then puree and season to taste with salt and sugar. Adding fresh chopped tarragon at the end is great too.
If you want a sweet, sour condiment to make from wild plums, skip this and try my wild plum ketchup recipe.
After you make the sauce, don't worry if it makes you pucker you'll be surprised how nice the tartness is when you taste it alongside other ingredients, especially fatty cuts of pork or rich game. At the restaurant, I make this gallons at a time and freeze in 2 cup containers until we need it, then the line cooks can just pull it out as needed, thaw, heat and whisk to refresh the texture and it's ready to go.
Tweaking The Color
The plum sauce on the plates here look a little different from the plum sauce in the jars, and that's on purpose. Straight-up, the wild plums might not have an amazing color.
You don't have to, but if you want the brighter color pictured here, try adjusting the mixture by adding some raspberry puree, or cooking a small handful of raspberries with the plums. before you strain, otherwise your sauce will probably look like the sauce at the beginning of the post.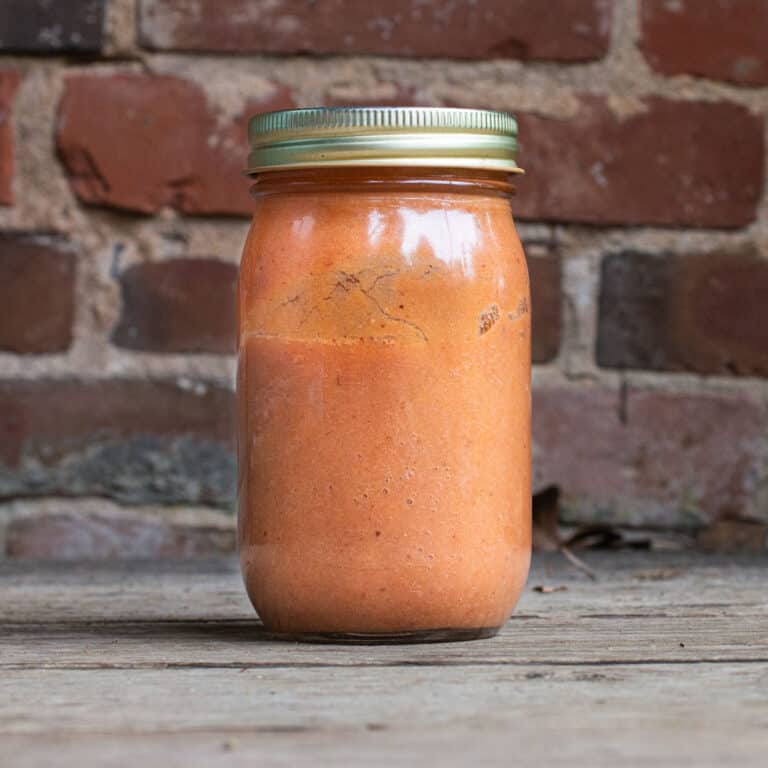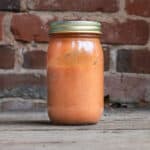 Print Recipe
Wild Plum Sauce
A simple, tart sauce made from wild plums to garnish meat. Yield: about 1.5 cups

Ingredients
1

lb

wild plums

washed

Sea salt or kosher salt

1-2

Tablespoons

Honey or sugar

to taste, see recipe notes

Filtered water

as needed
Instructions
Make the wild plum puree by heating the wild plums in the oven, or freezing them and thawing to loosen their flesh. Transfer the plums to a colander over a bowl to catch the juice.

Allow the plums to cool for a bit until you can handle them, then mash with gloved hands, pressing the puree through the colander, mixing it with the plum juice.

Alternately, use a Squeezo-type food mill with a large enough hole at the end to accommodate the stones. Discard the pits and skin or save to make vinegar, compost, etc. Puree the plum mixture in a blender for a smooth consistency with the honey, sugar, and salt, or use a hand blender.

The plum sauce should have the consistency of smooth tomato sauce, but should not be thick like ketchup. If needed, thin the sauce with a bit of water, or cook gently to thicken it if it's too thin. Double check the seasoning and adjust as needed, then serve or refrigerate. The puree will keep for a week in the fridge or longer in the freezer.
Notes
Anywhere from 1-4 tablespoons of sweetener is fine here, depending on your personal tolerance for astringency. I suggest adding a tablespoon at a time until you like it. 
Nutrition
Serving:
2
Tablespoons
|
Calories:
45
kcal
|
Carbohydrates:
12
g
|
Protein:
1
g
|
Fat:
0.2
g
|
Saturated Fat:
0.01
g
|
Polyunsaturated Fat:
0.03
g
|
Monounsaturated Fat:
0.1
g
|
Sodium:
0.1
mg
|
Potassium:
121
mg
|
Fiber:
1
g
|
Sugar:
10
g
|
Vitamin A:
261
IU
|
Vitamin C:
7
mg
|
Calcium:
5
mg
|
Iron:
0.1
mg
More