One of the most bountiful wild fruits I know of, wild plums smell incredible, but take some skill to cook with. Read on and I'll tell you everything you need to know, with a few of my favorite wild plum recipes at the end.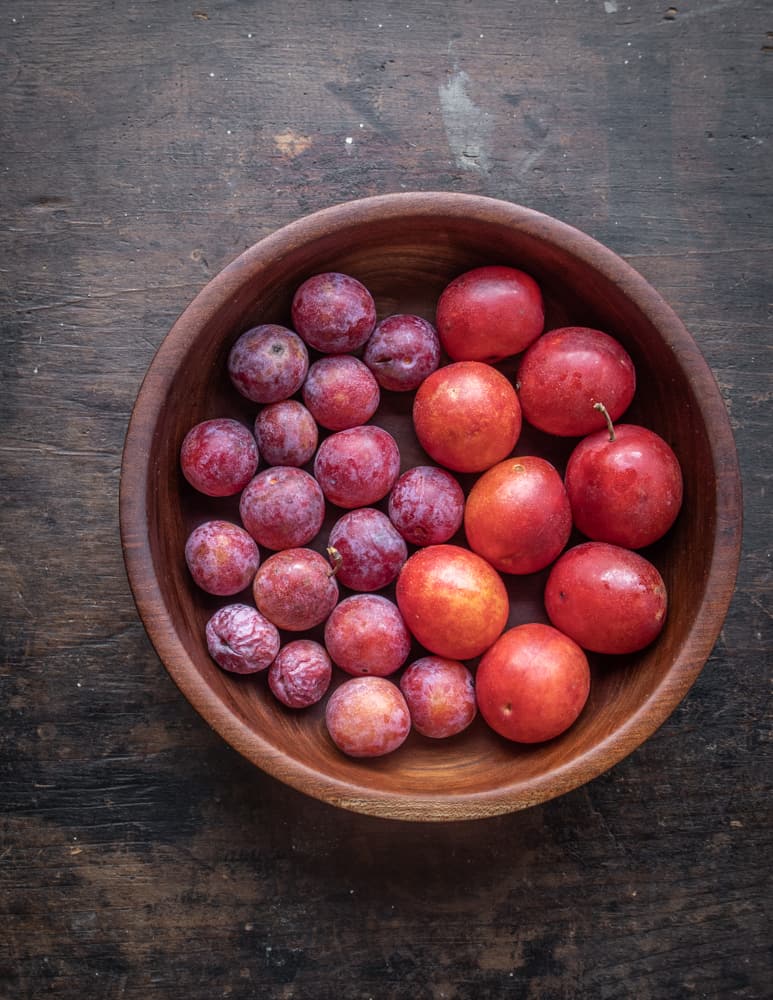 Along with crabapples, foraging wild plums is the best bang for your buck as far as volume goes, if you want an easy to harvest, delicious wild fruit. Don't get me wrong I pick berries too, but the sheer ease at which I can fill my basket with plums on a good year is shocking.
In the private orchard I often pick from, I have picked 100 lbs in a few hours, alone. Unlike other high-volume harvests like wild apples, their flavor of wild plums is dependable and you know what you're getting: no danger of mealy textures here, just pure, tart-sweet plum flavor that you can do all kinds of things with.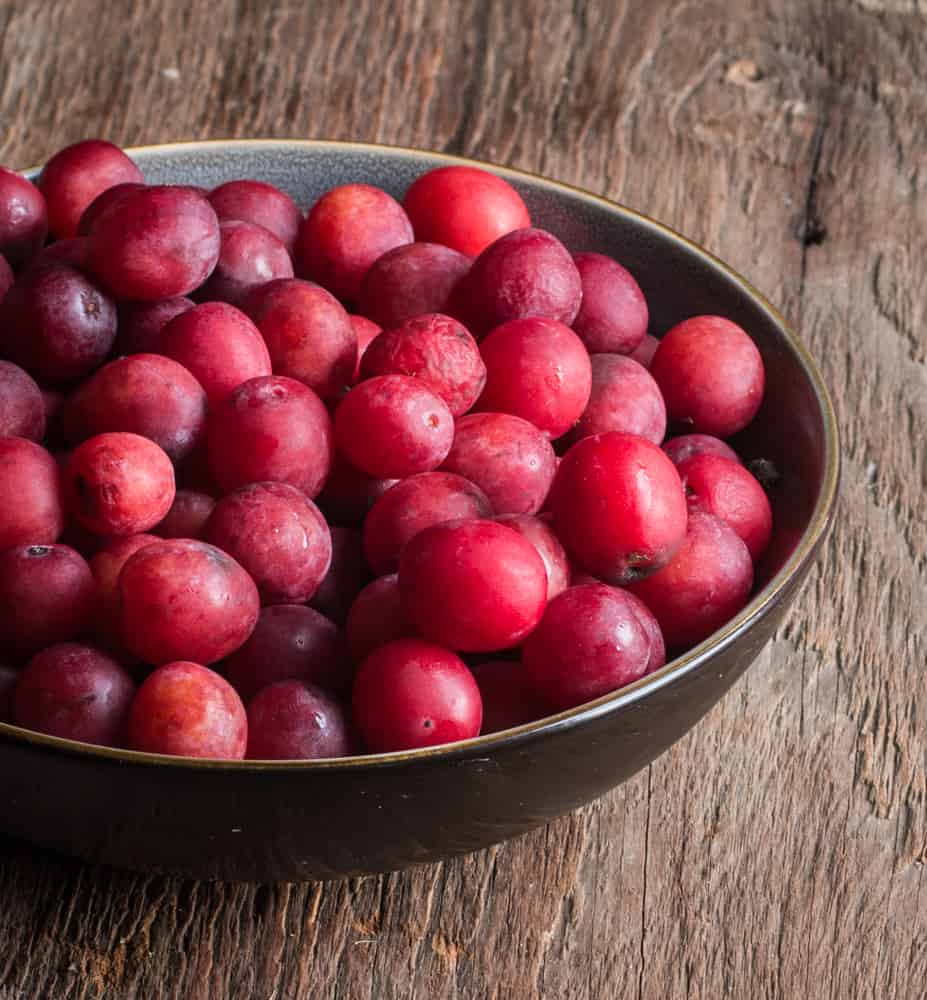 For this post, I'm speaking specifically about Prunus americana as they're the most widely available in my area, and are what I have the most experience with.
Species
Prunus americana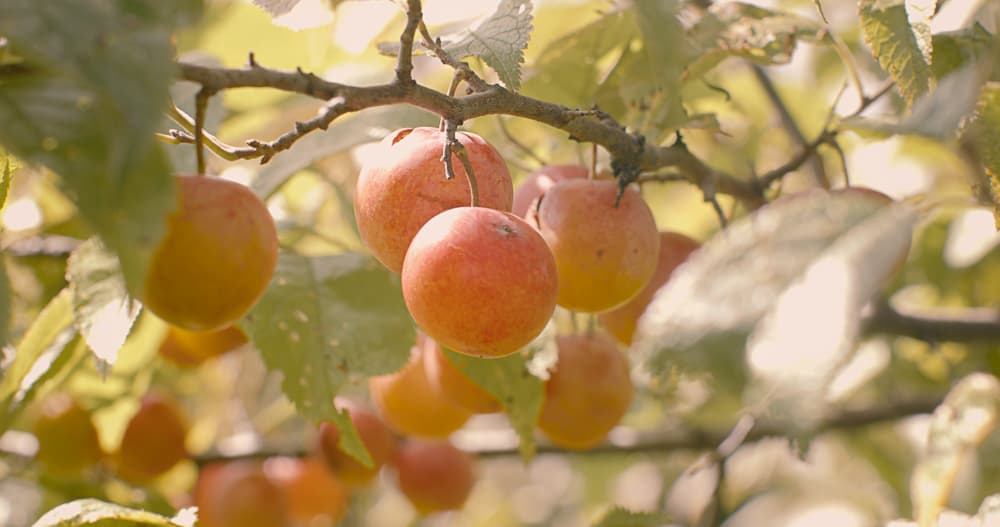 Prunus nigra
The Canadian plum is also here and there in the Midwest, but differs from P. americana in that the leaves are larger, have blunt teeth, and is dependably all-red. I have yet to find them in the wild, but they're there.
Harvesting
The only real trick to harvesting is finding yourself a wild plum tree and remembering to get to it at the right point in the season. Where I live in Minnesota, this is usually around mid-late August, depending on how sunny the spot is. When the plums get ripe, they go fast, and animals or even a strong wind can strip a tree overnight.
As far as physically picking them from the tree too, I have a great tip for you. Putting a mushroom harvesting backpack on backwards, or some other container, putting your arms through the straps. This means that you have both hands free to harvest, which means you can pick twice the amount of fruit in the same time, more or less.
If you have a plum tree on your property, an even easier way to harvest is to clean up the area around the tree, and put down a tarp, then shake the tree. The same method also works great for groundcherry bushes.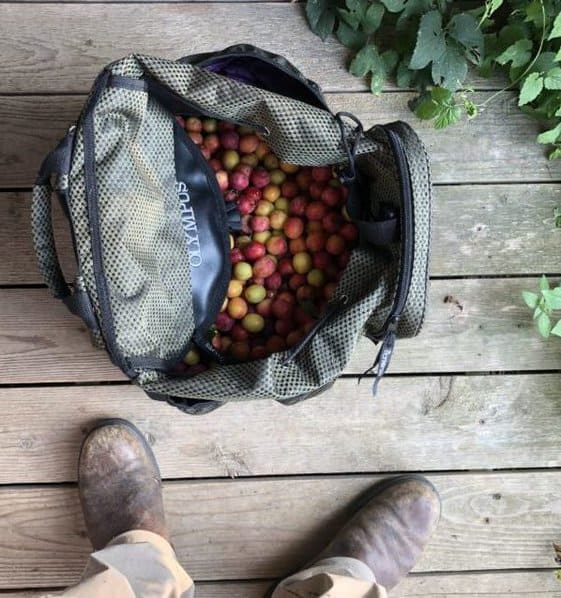 Ripeness
The difference between a perfectly ripe, sweet plum, an astringent, sour plum, and a fermented, past-prime fizzy plum can be a couple days, and at first it was maddening to me, I just couldn't figure out how to get the plums I picked to taste good.
Part of the difficulty of getting ripe plums is that the color may not necessarily indicate ripeness, and wild plums often ripen at uneven times on the same tree, and even the same branch, unlike their domesticated cousins.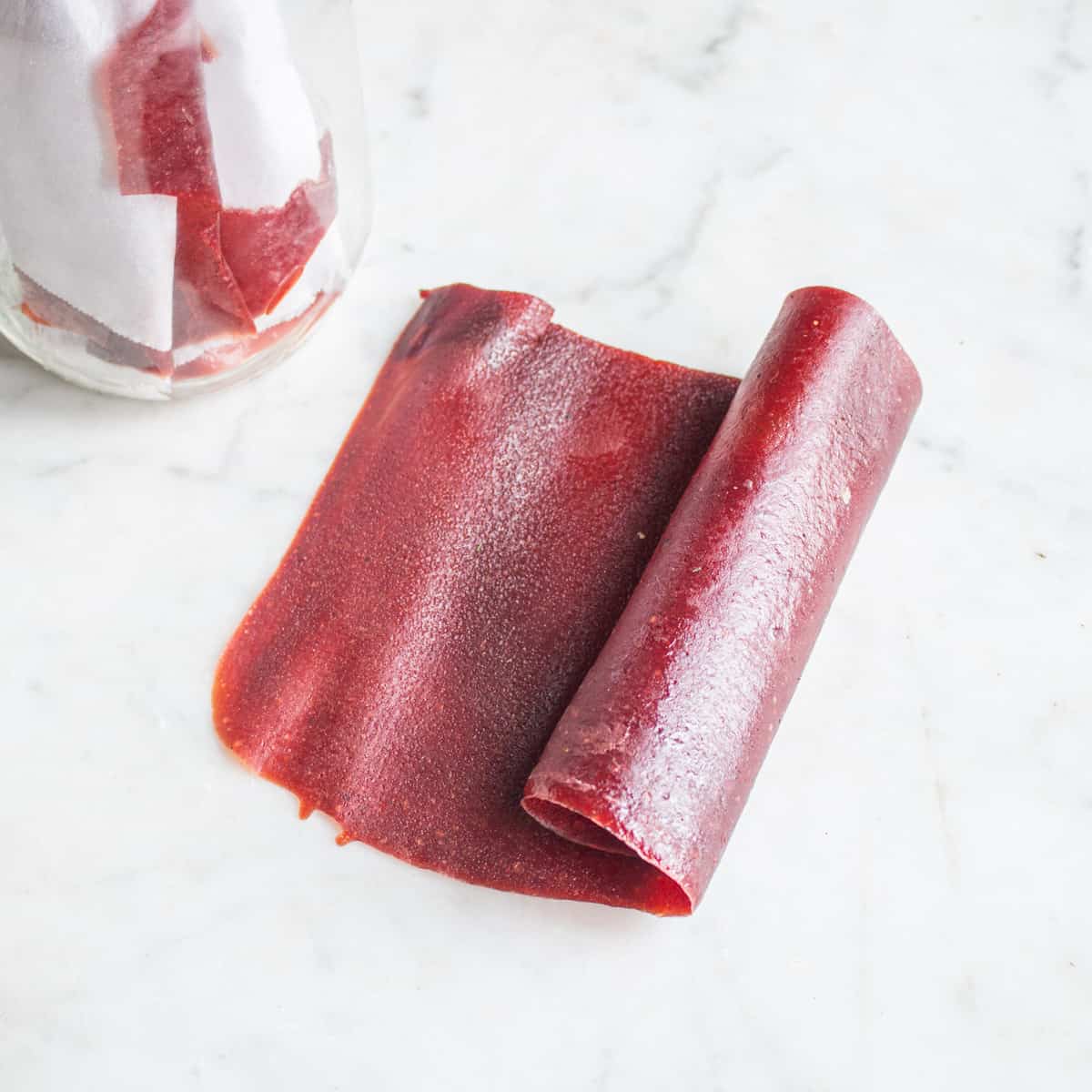 What was even more frustrating was when I gave the plums more time on the tree to ripen, I continually came back too late and found brown, fizzy plums, or ones that turned to mush in my bag. Eventually I figured out a way I like to harvest them.
Here's the secret, as I see it. If the plums look relatively ripe and pink, and remove easily from the branches, you're good. It's better to pick them a little under than a little over, since they'll be more forgiving.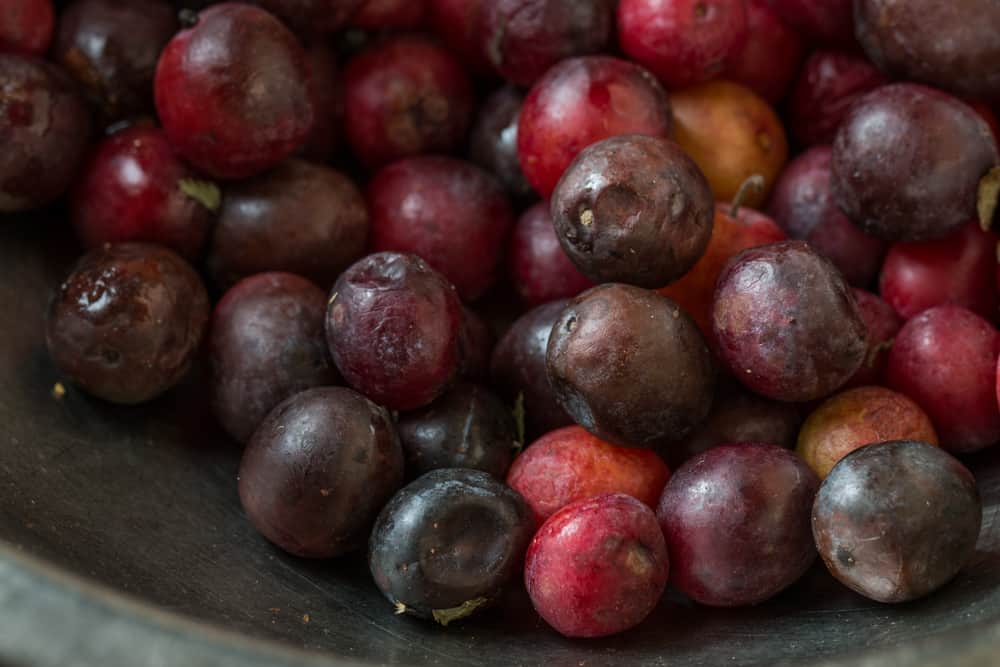 The tried and true paper bag method
After you pick your plums, bring them home, and put them in a paper bag on the counter in a room that's not too hot.
Every day, or as much as you can, pick through the plums as the change color (they seem to synchronize their ripening a bit when held together). Put the very ripe plums in the fridge to halt their progress, and leave any that are still yellow-ish in the bag to continue ripening. It's all about time, and allowing the plums to ripen naturally.
Cultivated plums are very forgiving, they're really just ripe, or not, wild plums, and their tough skin are much more fussy to deal with, for the best results you really them all perfectly ripe.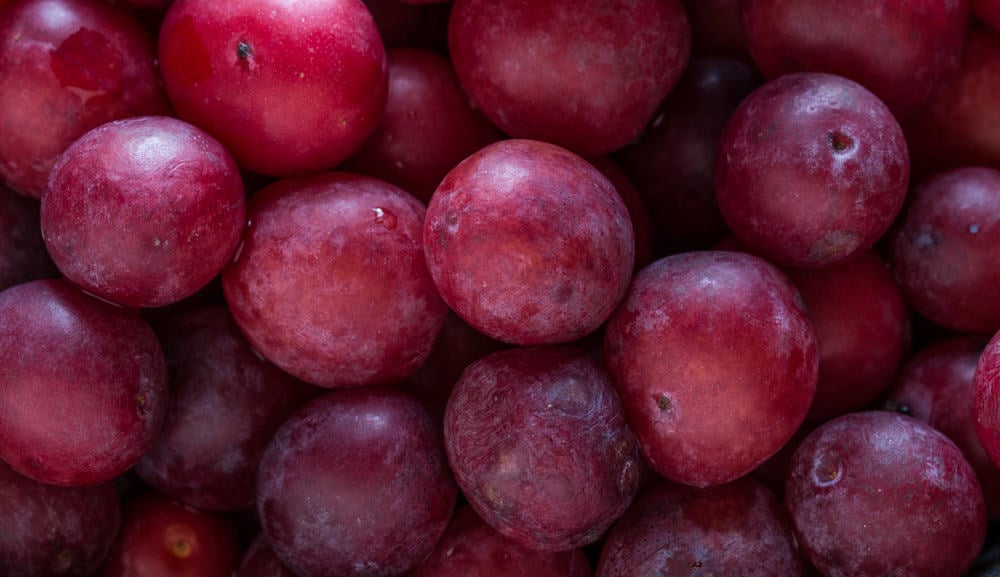 Cooking
It took me a couple years of experimenting to figure out methods I liked to deal with the tough, tannic skin of Prunus americana. But, since you can harvest so many plums, so quickly, Part of me was determined to figure out a way to use the entire plum, and bypass the astringency of the skins through cooking prowess. Do not die on that hill.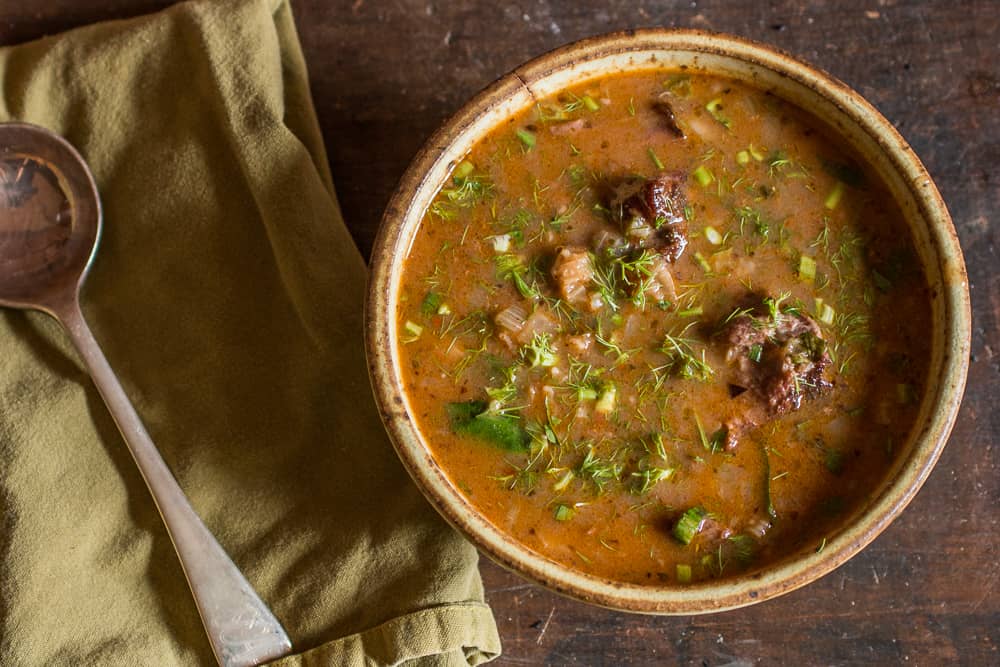 In short, wild plum skins do not care for your culinary technique, and they will fight you until the bitter end--no amount of sugar or seasoning can hide their presence, and time will only slightly curb their bite. I do have a couple recipes that use the skin (can them in syrup or candying is great).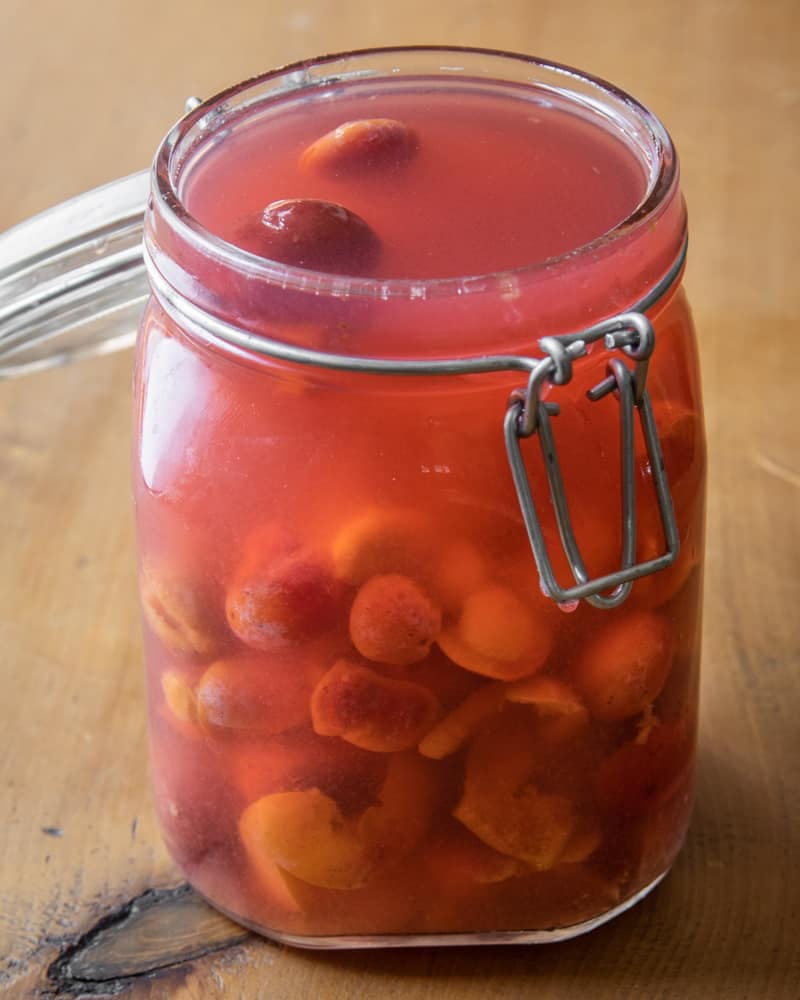 Avoiding the tannins
The most difficult part. After years of working with them, now, I freeze them, thaw, and mash the pulp out, not cooking at all to avoid releasing the tannins from the skin which are very water soluble, or cook the plums whole by baking them in the oven to heat them, the heat loosening the flesh and preventing the skin from transferring tannins to the pulp as happens with boiling.
Afterword, with either raw or cooked wild plums, I mash the plums through a colander that collects both the skins and pits at the same time, a process I learned from watching Eastern European You Tube, or use a Squeezo or similar food mill with a large opening to accommodate the stones. Afterword, the plum puree is used and the skins composted, dried, or used to make vinegar.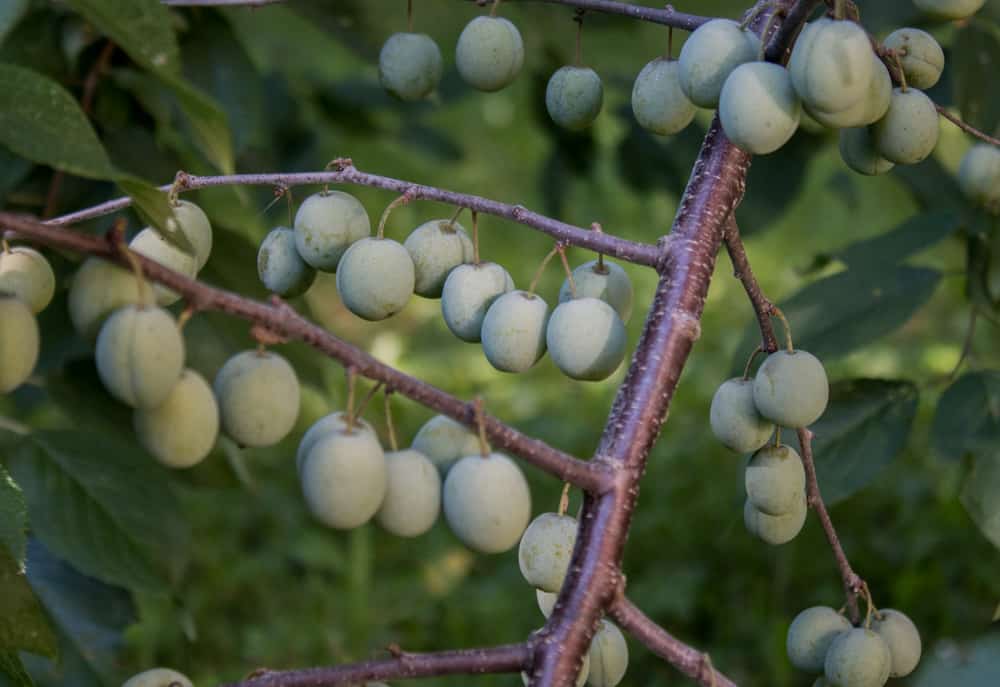 There's no plums on my tree this year!
Another frustrating part: sometimes your patches will give you 1000 plums, the next year, 2 plums. According to Sam Thayer, this has to do with the temperature during the blossoming part of the year.
The best thing to do is to check your patches after the blossoms have come and gone, and check for young growing plums, which look a little like green apples or nuts. See the picture above.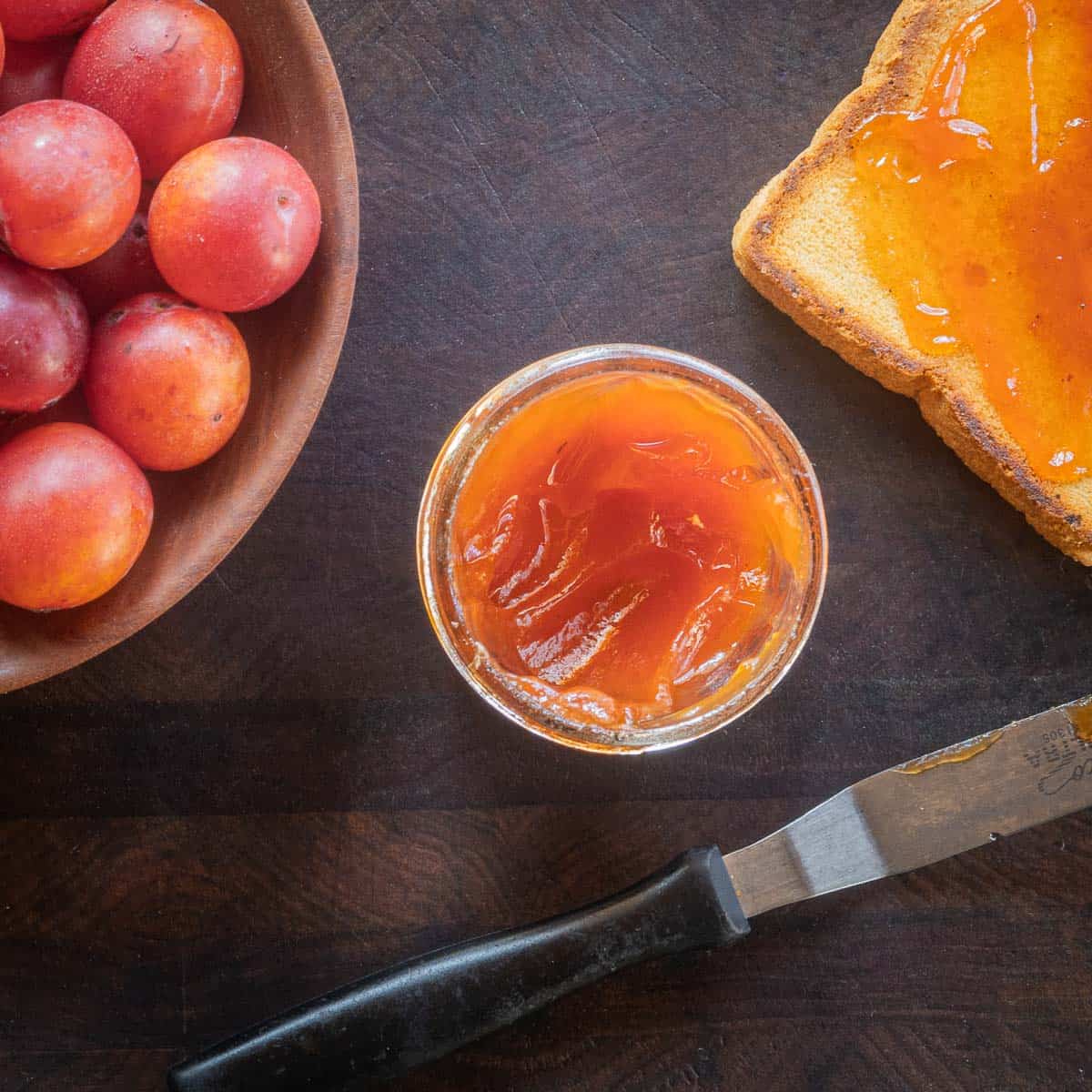 Unripe/Green Plums
There's a few savory sauces that utilize unripe plums, at the top of the pile is Georgian Tkemali (tee-guh-molly) sauce. There's some sources for ordering online, and the stuff is really good.
Unfortunately, I haven't had success making sauces with my unripe wild plums. If you've found a use for them that doesn't taste tannic and shitty, let me know!
Variation
All wild plum trees are not created equal. When you find a few plum trees, make a note of the size of the plums on the trees. I have seen extreme variation in fruits from trees of the same species, some of the wild ones nearly equaling the size of cultivated damson plums. Get excited when you find some trees, but make sure to keep your eyes peeled for that one tree sporting honkers--they're out there!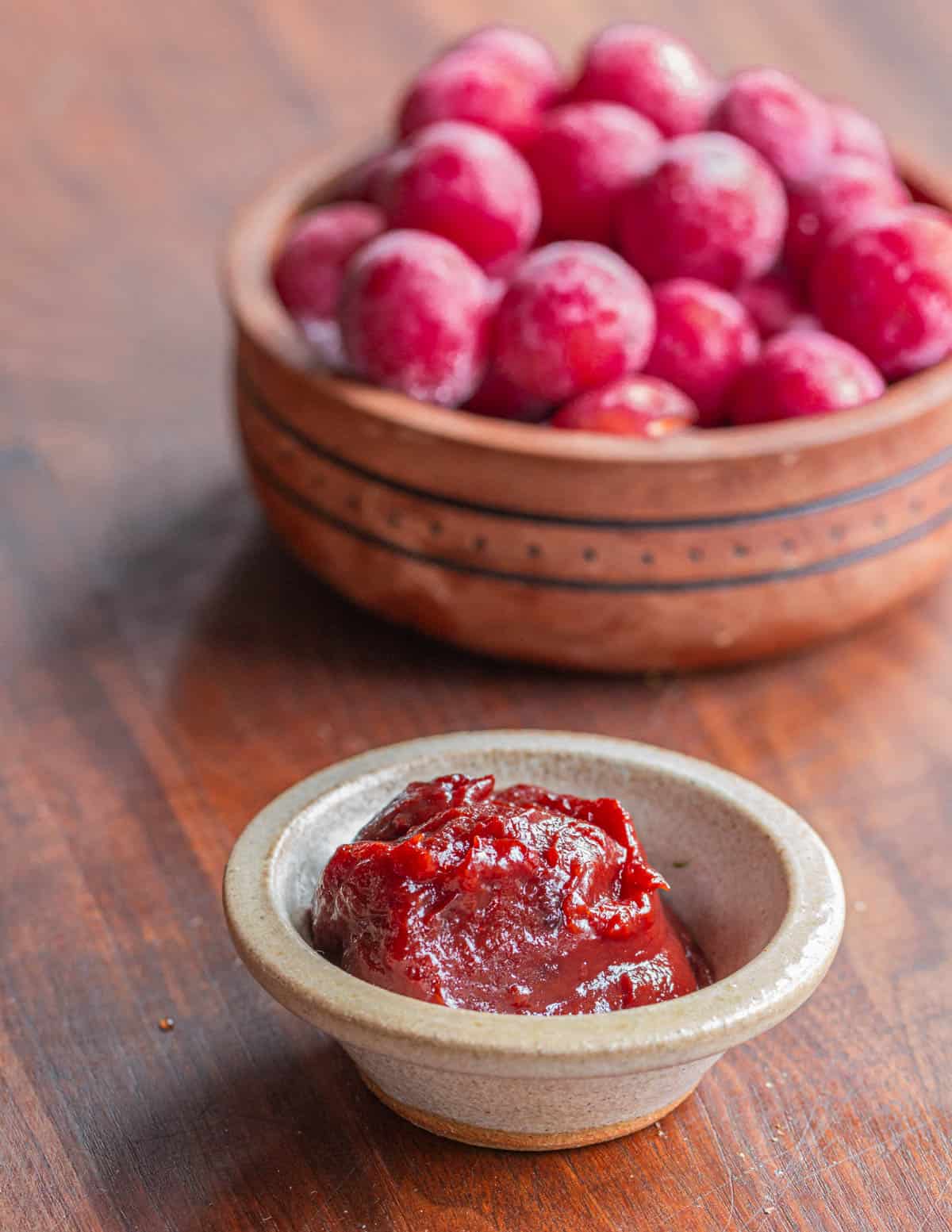 Recipes