Yes, you can cook sunflower heads and buds. They're a bit of an acquired taste, and you won't be finding them in a grocery store.
Until I was twenty something, the only edible part of sunflower I knew was salty, musty seeds in plastic packets. They're so much more though. Fresh seeds are great to cook with. The high oil content makes them a good substitute for pine nuts in recipes like pesto.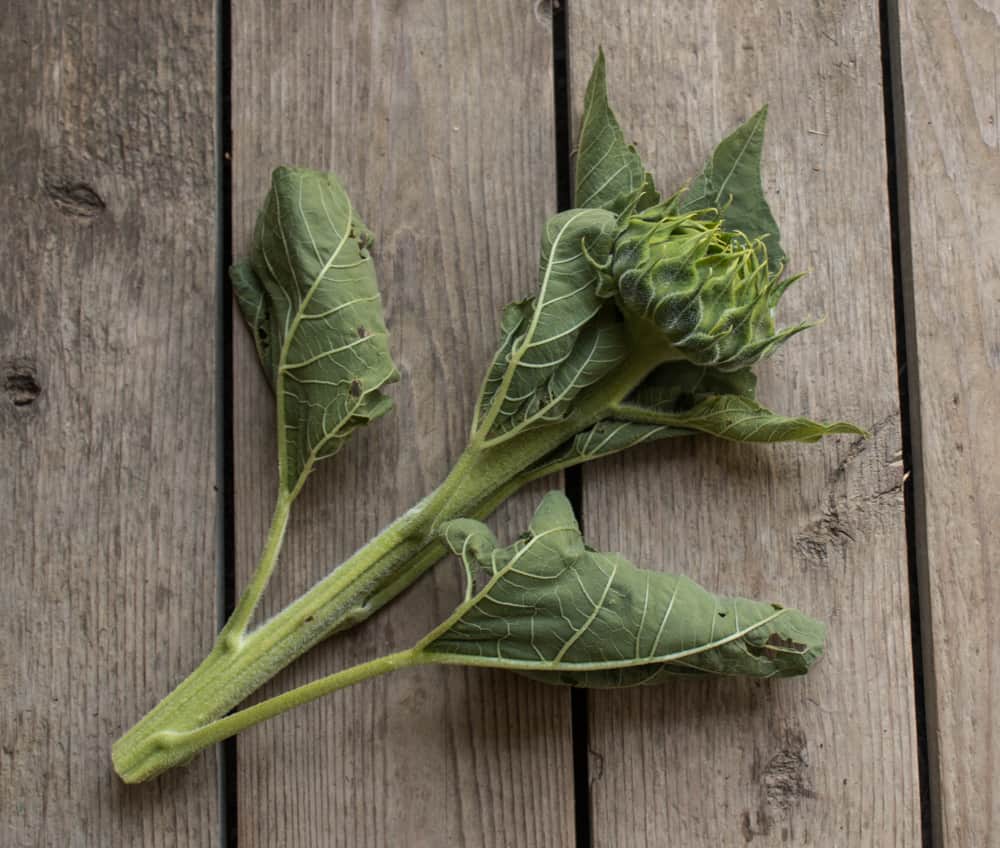 I see sunflowers as something like an olive tree of the Midwest. The high oil content has another benefit too: the oil can be pressed.
Oil from sunflower seeds, specifically Smude's oil from Pierz MN has a unique, concentrated sunflower flavor. It can be substituted where you'd use expensive extra virgin olive oil at about half the price. There's one last edible part though, and truly, I've saved the best for last here.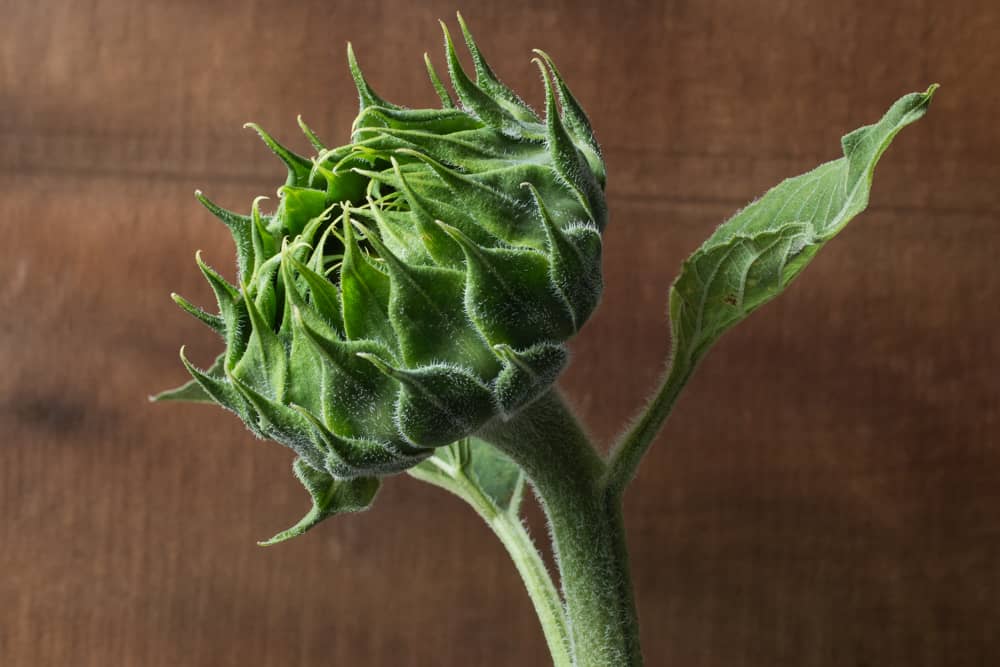 Eating the unripe buds or heads
Years ago I discovered you can eat the unopened sunflowers themselves. I was walking through the garden in mid-summer when I noticed green, unopened sunflowers. I keep a look out young growth on plants. I couldn't get over how much the unopened sunflower buds looked like artichokes.
A quick google and voila, there was plenty of information from gardeners on eating sunflower buds. I'd love to know more about indigenous uses too. My friend Sean Sherman shared a recipe for braising sunflower heads in his book The Souix Chef's Indigenous Kitchen.
I would guess that Hidatsa and other agrarian people's may have cooked these similarly, but that's speculation on my part. Chef Daniel Humm of Eleven Madison Park also cooks sunflowers like this, as one of his signature dishes.
What do they taste like?
The cooked, peeled hearts have the texture of an artichoke, and the flavor of sunflower. The cooked buds have a specific flavor some online resources refer to it as "piney". To me they taste like an aster, and different related plants like galinsoga (pictured below) will have a similar flavor.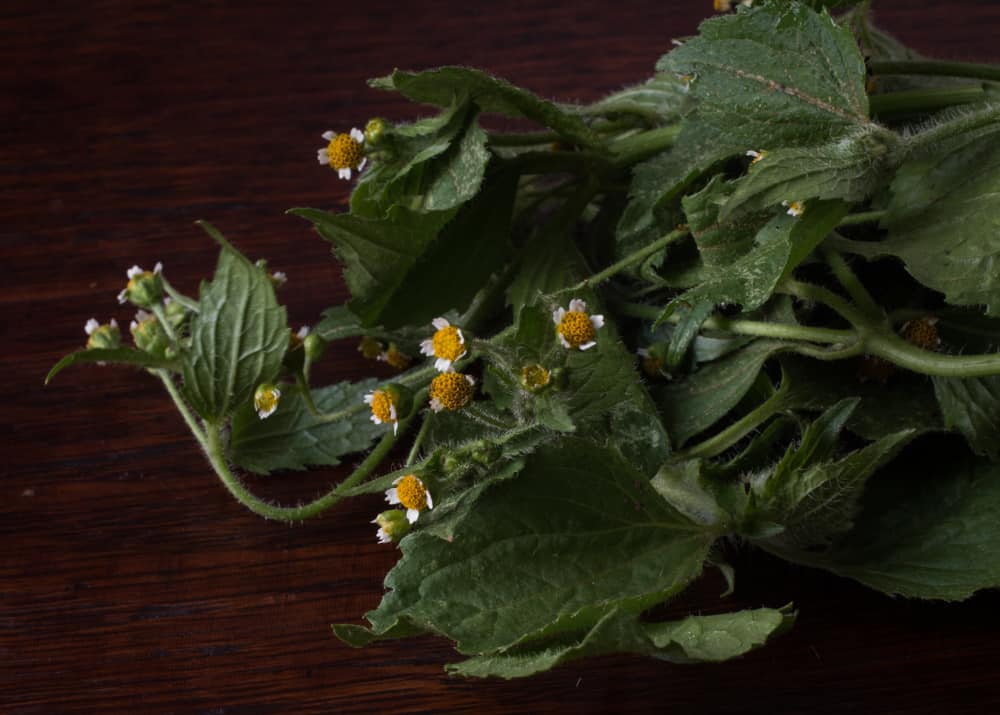 The flavor of sunflower
With the plants I've tasted, the sunflower flavor seems more like a strong herby taste that concentrates with age. What's really interests me, is that the flavor of sunflower isn't specific to sunflowers. It's a sort of taste I associate with plants in the Aster family.
Cup plant (Silphium perfoliatum) and to a lesser extent quickweed (Galinsoga parviflora) both have similar looking flowers, also taste similar. There's undoubtedly other plants too. Following that, if you know of other plants that taste like sunflower, leave a comment or shoot me an email.
Trimming after boiling
The images below illustrate how to trim sunflowers after boiling. Do not listen to websites that say grilling sunflowers is a good option. Grilled sunflower heads have a very strong flavor.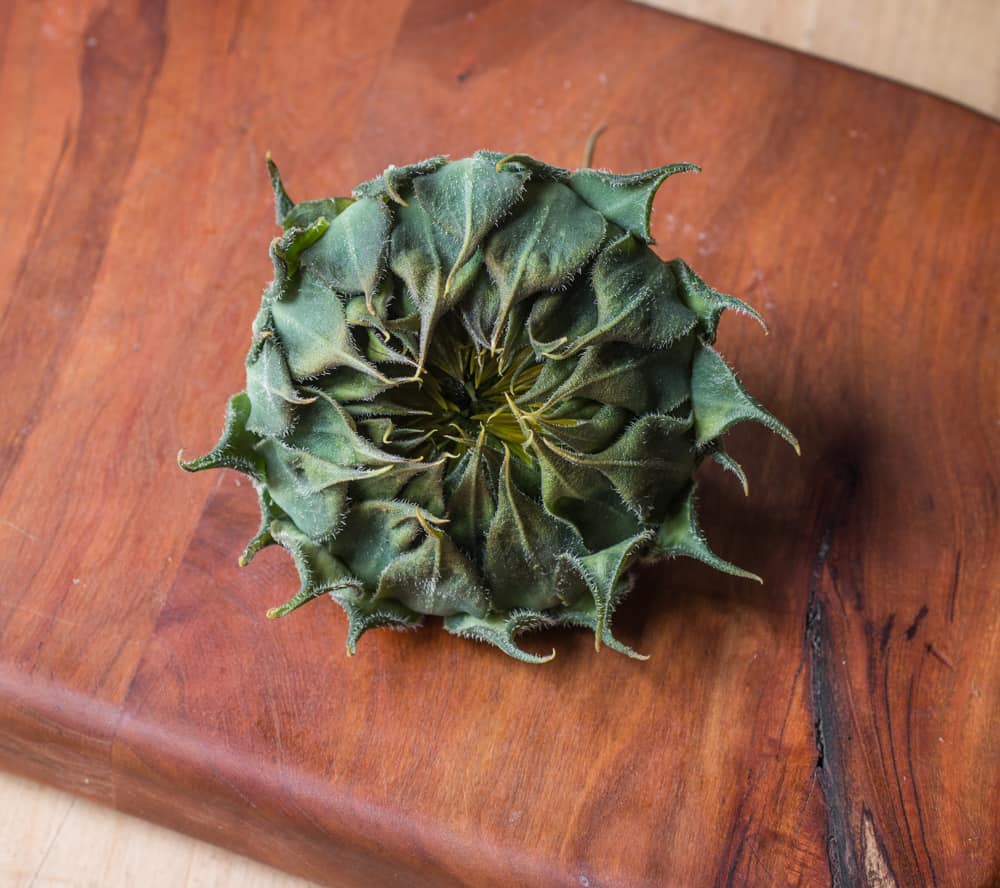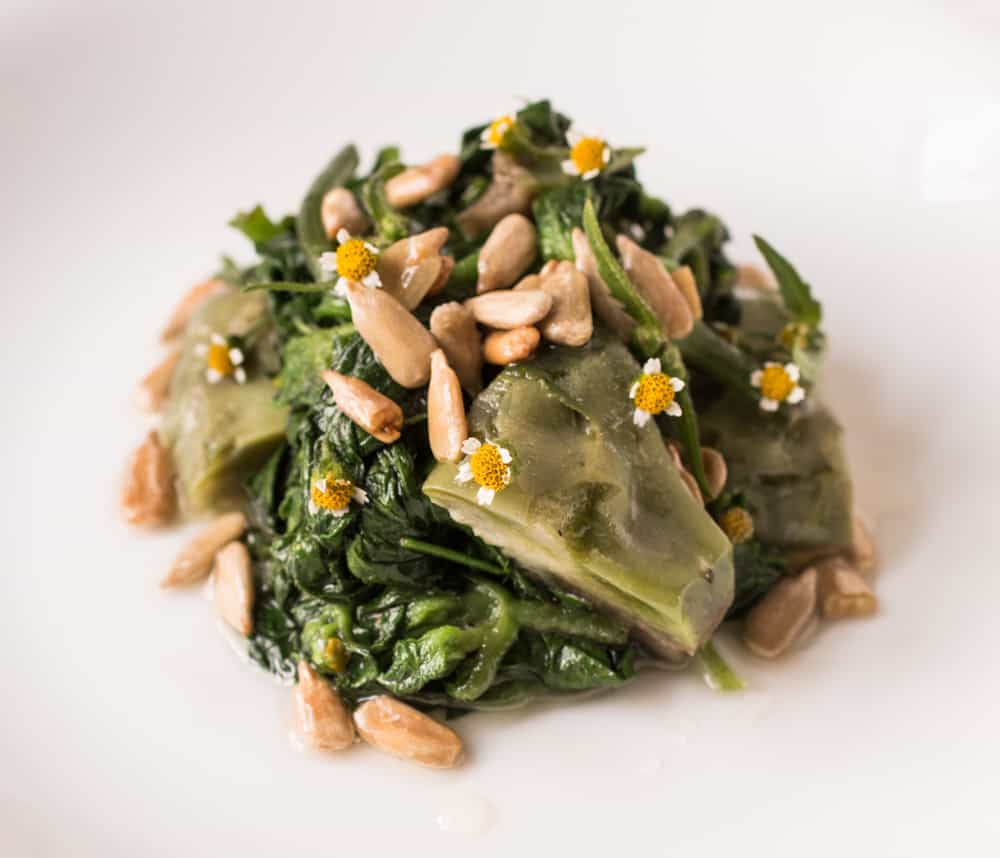 When to harvest
You're looking for immature, green flower heads. A little yellow flower development doesn't seem to be bad (some of mine had a little). But, generally the greener and younger something is, the more tender and mild it will be.
What types can you cook like this?
I ate common sunflowers, or Helianthus anuus, which give singular, large buds. Large sunflowers give you the most yield, but branching sunflower that produce more than one head, although smaller, can work too.
Although they aren't as large as the large or giant buds, branching sunflowers should give you more buds. There's a number of different varieties out there. I can't speak to growing and eating all them, so you're on your own there. There are a few articles and youtube videos I found to be helpful.
A number of cultivars look like they can fruit throughout the year. I love the idea of walking through a garden harvesting sunflower buds as a food along with other garden vegetables.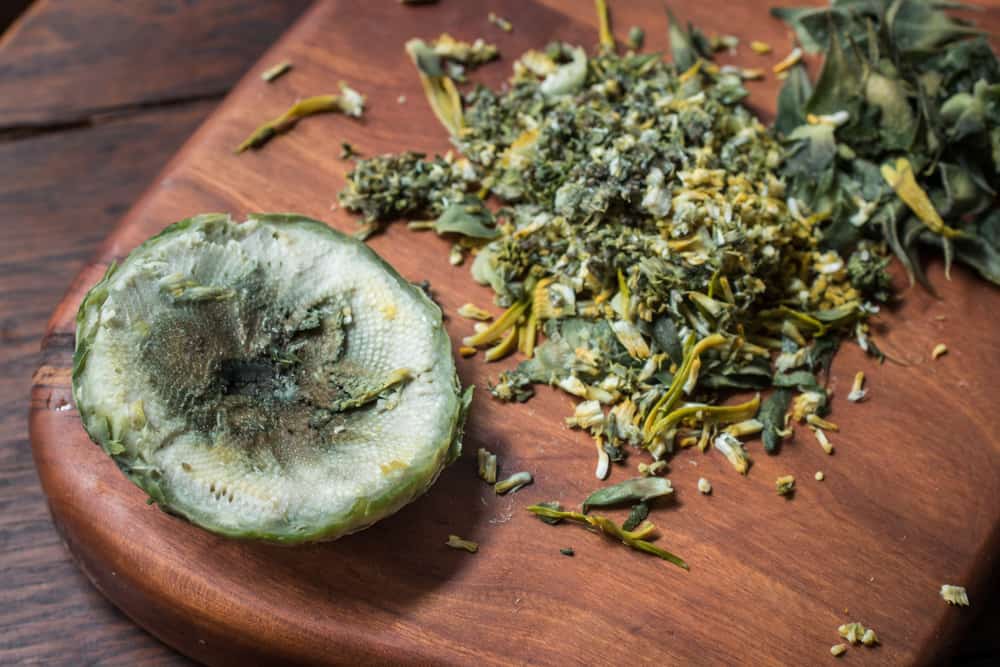 Dishes like this are what keep me searching for new ingredients, like tossing a fresh log on the fire.
Here's the basic recipe below for preparing them. Between you and me they're fine just dipped in butter with some crunchy salt too. Just know the flavor is stronger.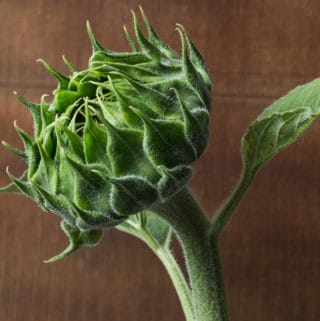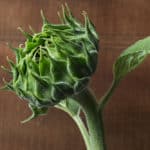 Print Recipe
Sunflower Artichokes  
Immature sunflower heads, prepared like artichokes
Equipment
Soup Pot, Sharp Paring Knife
Ingredients
1

large green sunflower head

or multpile smaller heads from a branching sunflower plant

1

cup

vegetable stock or water

Kosher salt

to taste
Instructions
Bring a quart of unsalted water to a simmer in a 2 qt sauce pan. Blanch the sunflower head for 3-4 minutes.

Remove the sunflower bud from the pot. Transfer to a saute pan with the vegetable stock and a good pinch of salt.

Cover the pan. Simmer until the sunflower bud is tender when pierced with a knife, about 3-4 minutes depending on size.

Make sure the buds are tender, since they won't be able to be cleaned properly otherwise. Allow the sunflower buds to cool. Transfer to a cutting board and trim with a paring knife. First remove the outer leaves, then scrape out any flower petals from the inner portion of the bud.

Do not remove the base of the stem, it's a great part to eat, and is part of the plant. Transfer the buds to a container with a lid and refrigerate until needed if not using immediately. The recipe is easily scaled depending on how many heads you have.
Serving
You'll notice the sunflower artichokes have a strong flavor. I like them best marinated with cooked sliced red bell peppers, garlic, extra virgin olive oil, fresh oregano, crushed red pepper flakes and plenty of salt and pepper. Serve small bites as an antipasti.