I used to think that hedgehog mushrooms were kind of a novelty here in Minnesota and the Midwest, I would only see a handful here and there where I pick chanterelles but never a ton, maybe a pound on a really good hunt and that's if I was lucky. Usually they get lumped in with the chanterelles for cooking, and you don't even know they're there.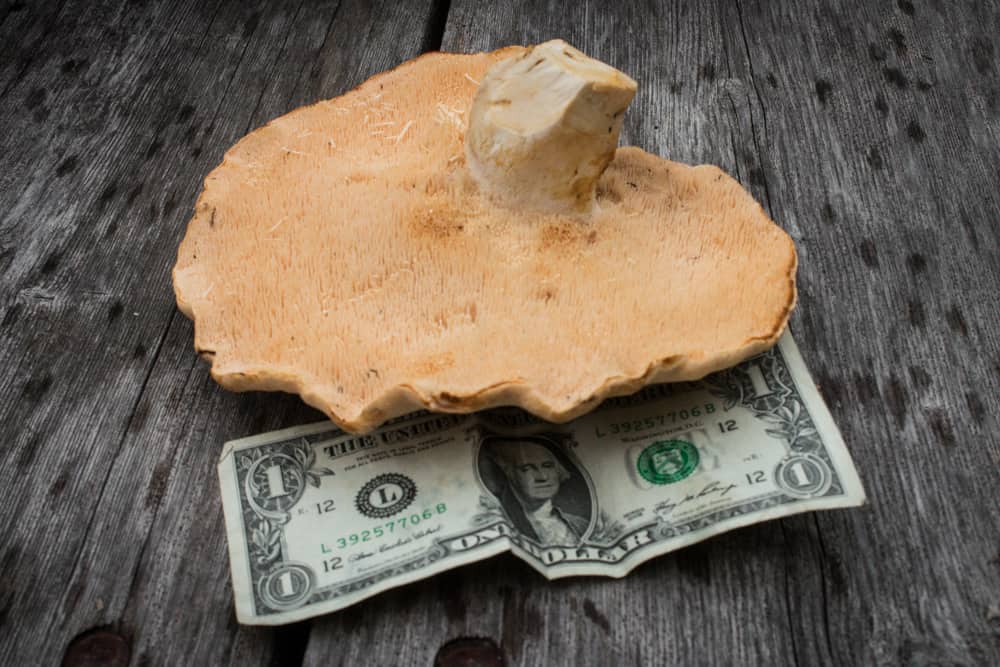 The majority of hedgehogs I've cooked were flown in from the Pacific Northwest via my friend George Weppler, an organic farmer who got his start selling to Jeremiah Tower at Chez Panisse. They're fine mushrooms, but are a different species than I pick (Hydnum umbillicatum from Oregon vs Hydnum repandum in the Midwest), and they're good, but things always taste better when you pick them yourself.
The Oregon hedghogs are less firm and structural, but make up for it (just like P.N.W Cantharellus formosus) in the large amounts that they fruit and ultra-low incidence of larvae. Like I said, In Minnesota, I might be lucky to pick a couple pounds of hedgehogs in an entire season, George used to send me 30 lbs for a single week from the West Coast.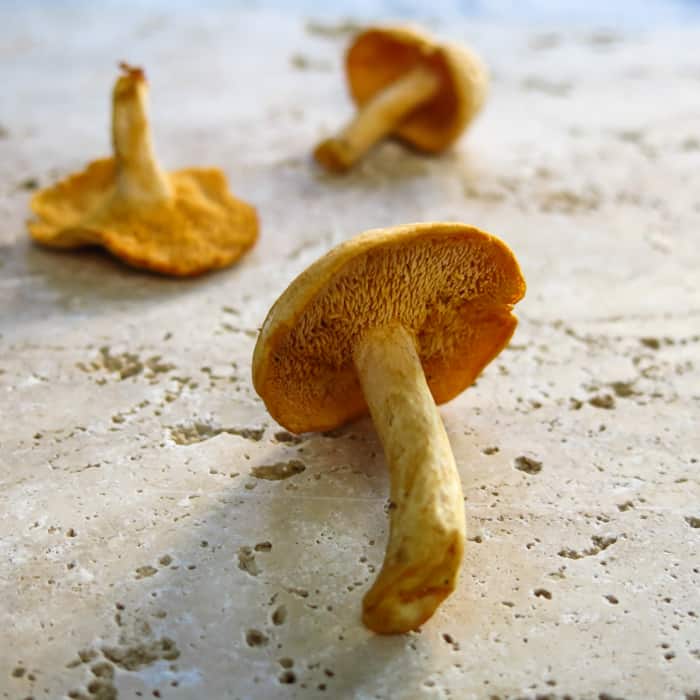 A couple years ago, I was talking with George about the upcoming mushroom harvests, asking him to keep his eyes open for cauliflower /Sparassis mushrooms to send.
He told me about some hedgehogs that he'd been picking for personal use that were interesting as they were the size of dinner plates, a lot different than the species we typically would get from him. One thing that stuck in my mind was him saying enthusiastically: "Alan, these things are so big you could grill them!".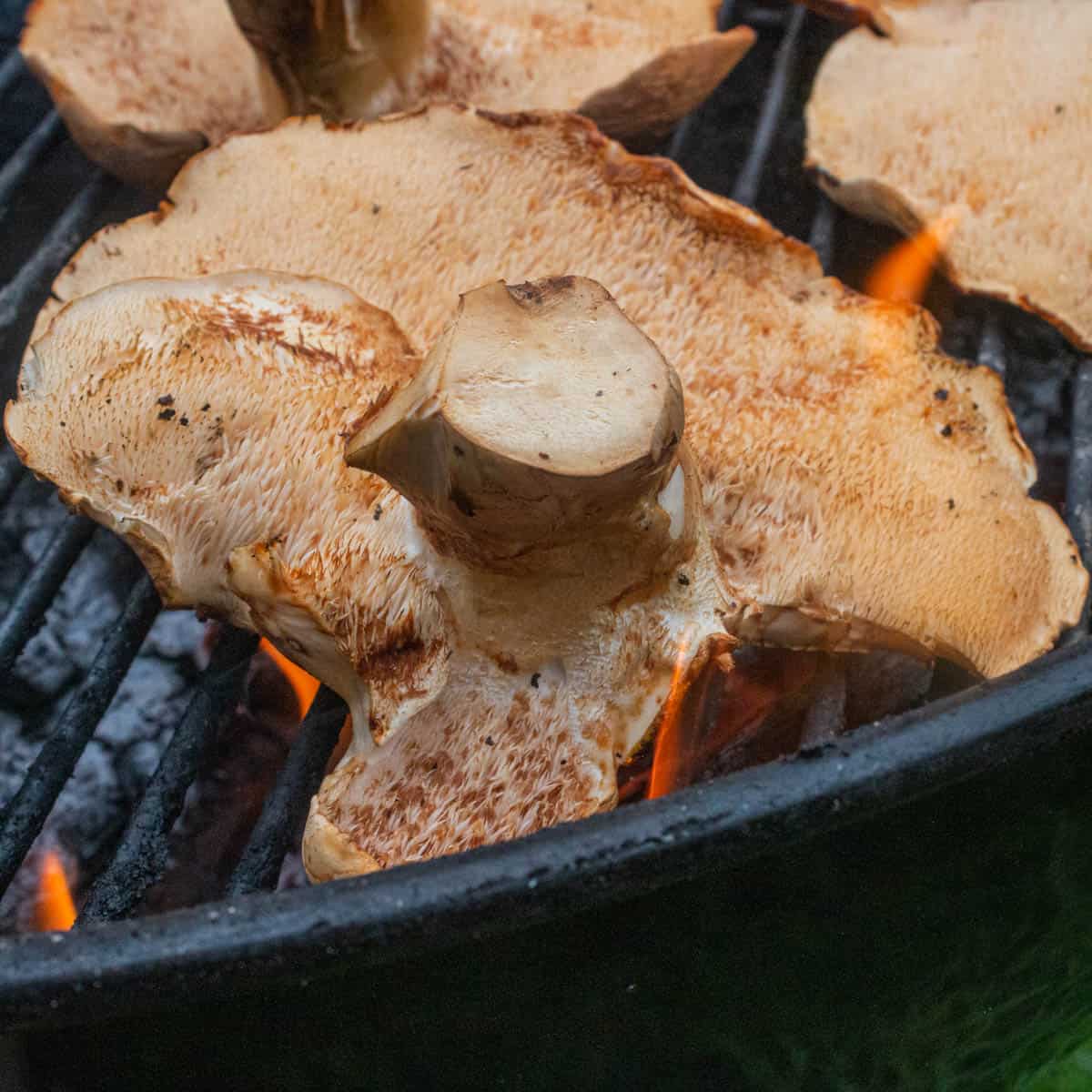 Something flipped a switch in my mind and I was reminded of a variant species known colloquially as the "Spreader" that I'd learned about somewhere along the line. After that, I forgot about the giant hedgehogs for a few years.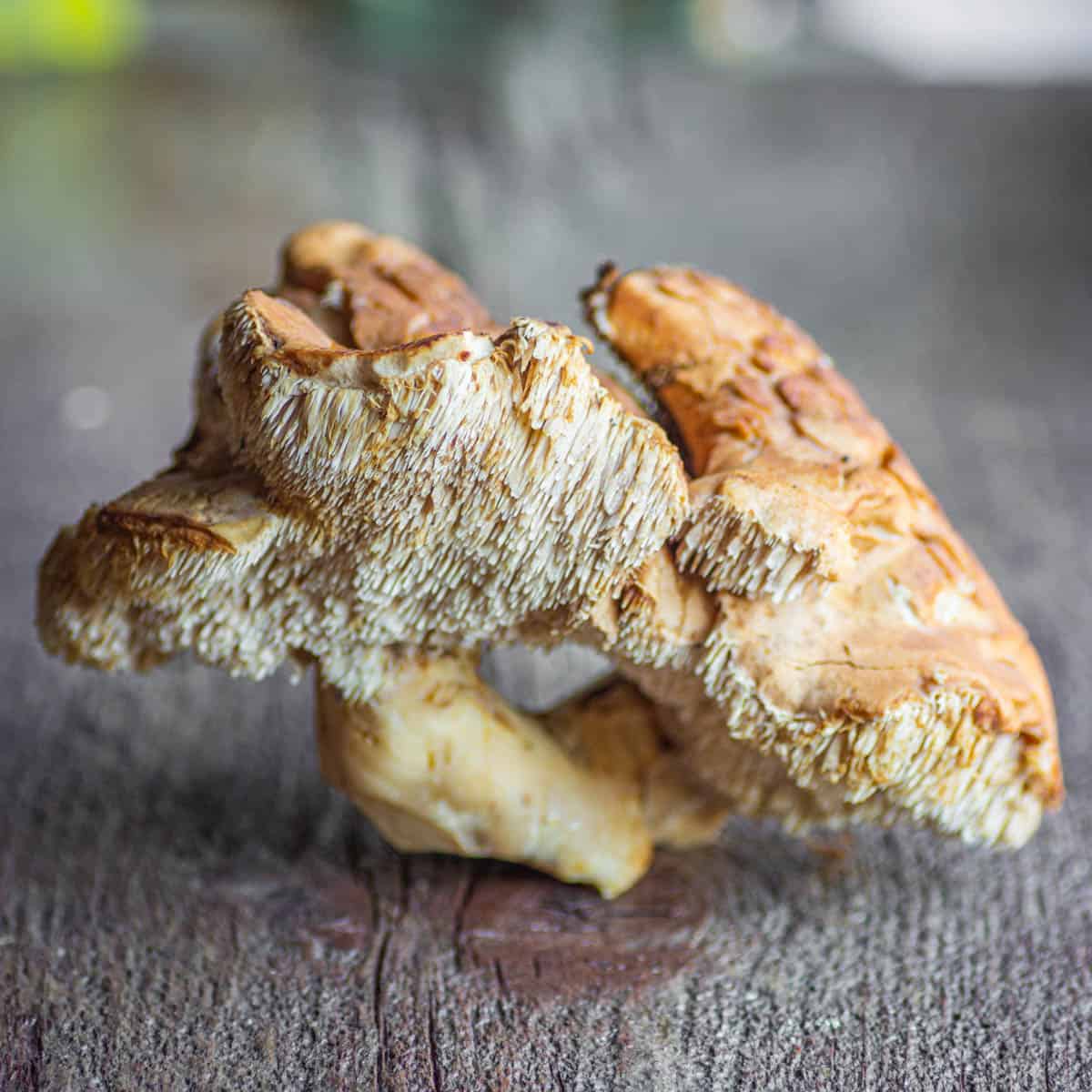 A couple years later, I was lucky enough to get invited to my friend's black trumpet patch in Northern Minnesota, a place so thick with trumpets on some years I come with a scissors, and leave the knife at home.
My friend mentioned something about large hedgehogs around the peripheries of the trumpet patch one year, but we hadn't seen any the other time I'd gone with him. I didn't put two and two together until I finally saw them for myself last year.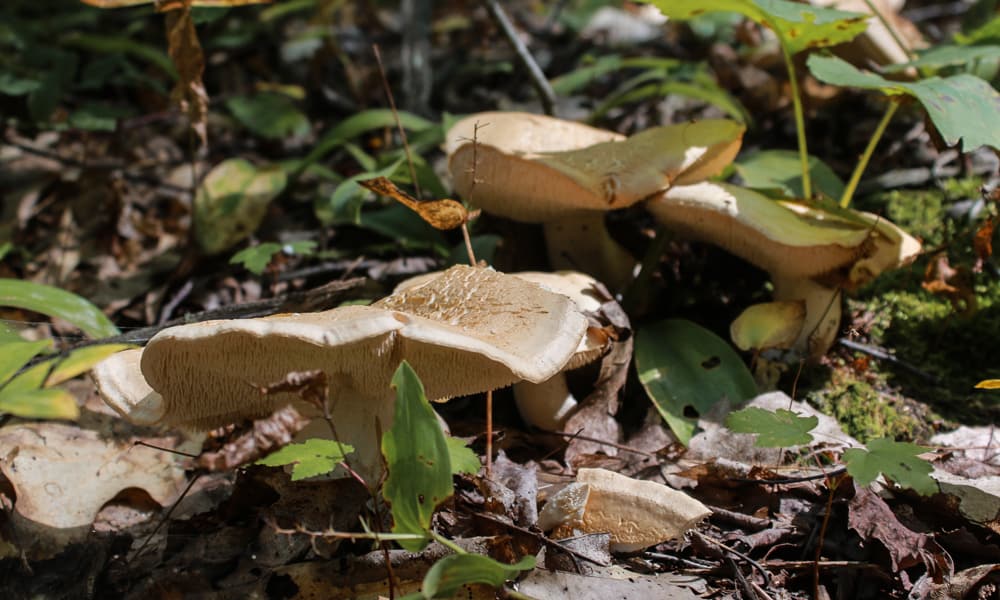 These weren't large hedgehogs, they were gigantic, bigger than any hedgehogs I'd ever seen, hell, I'd wager they were almost bigger than most of the wild mushrooms I've picked, not including the large polypores like Chicken and Hen of the Woods and the occasional freak bolete or lobster.
The hedgehogs weren't freaks or anomalies though, they were exactly what they were supposed to be. They were all white, with white flesh: much different from the typical brown capped variety I usually see.
Technically, I'm guessing these are a variation of Hydum albomagnum, or something closely related, since they're known to be much larger, and have a lighter color.
Here and there around the trumpet patch we ran into more giant hedgehogs, and the three of us starting running out of room in our 50lb onion bags: the best sort of mushroom hunting problem to have.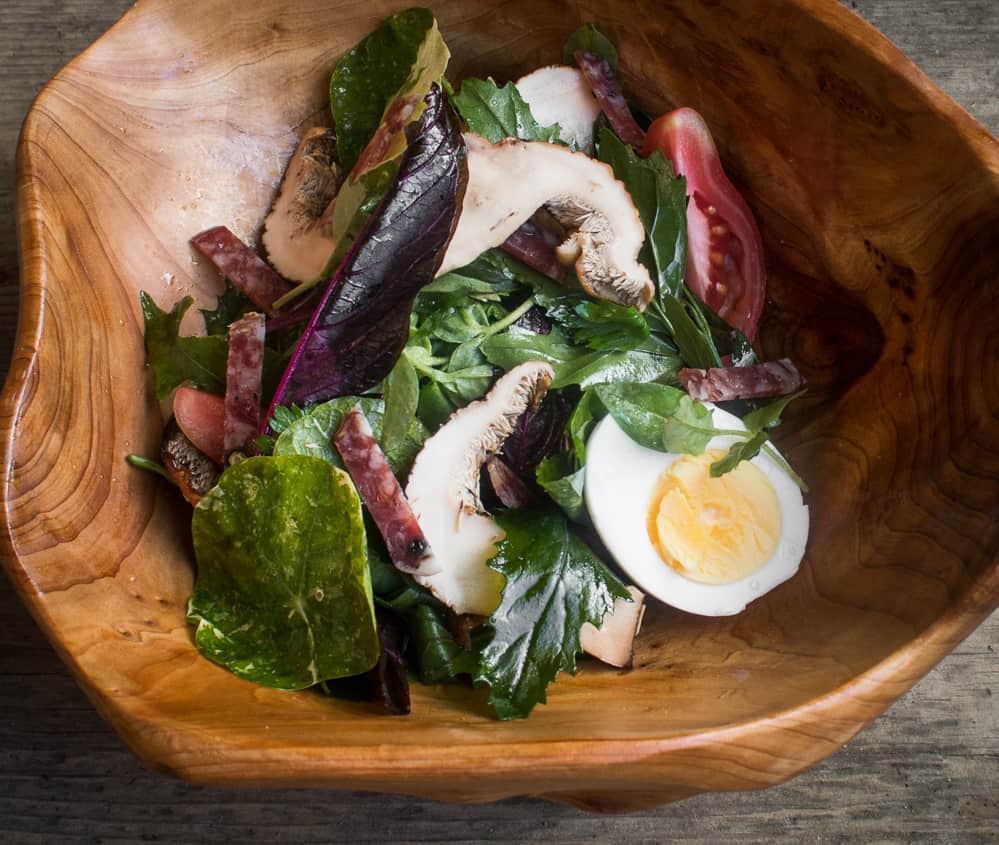 I brought home my share of the haul, and staring at a refridgerator cramped with summer produce, I knew it was going to be impossible to fit the contents of my overflowing mushroom bags in alongside everything else that had popped up in the garden.
Thinking of George, I went outside, lit some logs on fire and waited for embers to form. If the mushrooms wouldn't fit in the fridge raw, they'd fit after cooking. I grilled all of the mushrooms whole slowly over the logs, which cooks and smokes them at the same time. After the mushrooms were grilled, I marinated them in jars and they fit in the fridge easily, a little vinegar in the marinade ensured they'd be good for weeks to come, as well as pickling and drying some for the long haul.
The wood smoke from the grill is aggressive, which means the mushrooms taste smoked. If you don't like smoked food, you can always grill over charcoal or roast the mushrooms whole in an oven.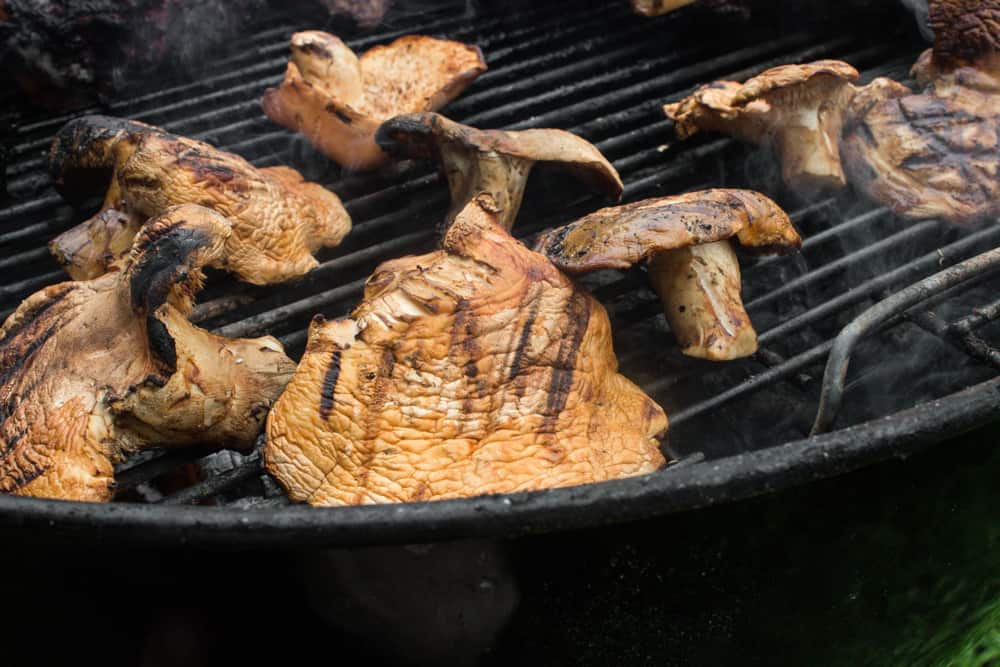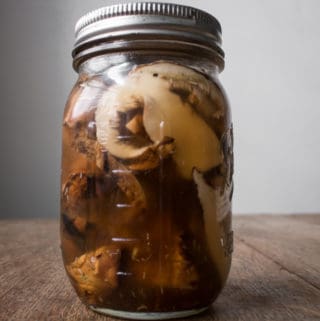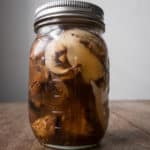 Print Recipe
Smoked Pickled Hedgehogs 
Grilled, smoked hedgehog mushrooms pickled to calm their flavor make for an exciting preserve. Yield: Makes two pint canning jars, scale as needed.
Ingredients
1

lb

large hedgehog mushrooms

3

cups

water

1.5

teaspoon

salt

1-2

large cloves of garlic

A few sprigs of fresh thyme

Two dried bay leaves

1

cup

of champagne or white wine vinegar
Instructions
Grill the hedgehog mushrooms over a wood fire as described in the marinated mushroom recipe above.

Bring the water, salt, garlic, and herbs to a boil, then allow to cool.

Add the vinegar to the mixture.

Lastly, pack your canning jars full of the mushrooms and then top the jars off with the pickling liquid.

If you want to process the jars in a a water bath canner to be able to store them without refrigerating, process them for 15 minutes.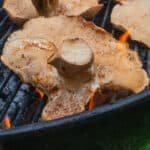 Print Recipe
Grilled, Marinated Hedgehog Mushrooms
Grilled, marinated mushrooms get a smoky aroma from cooking over wood. This is a big batch-adjust it to your needs.
Equipment
Hunks of dry wood and kindling for building a fire, such as hickory or maple.
Ingredients
Cooking the mushrooms
5

lbs

very large large hedgehog mushrooms

Flavorless oil, as needed for oiling the mushrooms

Kosher salt, to taste
Marinade
2

tablespoons

garlic, thinly sliced

½

cup

champagne vinegar

1

cup

extra virgin olive oil

Fresh chopped thyme, to taste, about 2 tablespoons
Instructions
Heat a fire and allow it to burn until embers remain, pushing the embers to one side to control the heat.

Toss the mushrooms in the oil, then grill slowly over the cold side of the grill until completely wilted and cooked throughout, about 15-25 minutes depending on size. Meanwhile, heat the garlic and olive oil in a saucepan until the garlic is light brown and aromatic, remove the oil from the heat and cool.

Allow the mushrooms to cool until you can handle them then slice thinly and toss with the chopped thyme, champagne vinegar, olive oil and salt to taste.

Eat a few pieces to double check the seasoning and adjust as needed, then pack into a container with a tight fitting lid, label, date, and reserve until needed.

As long as they're kept completely under the liquid or oil, the mushrooms will be fine to eat for a long time, but I like to eat preserves that are in the fridge within a month, to save space as much as anything.
More