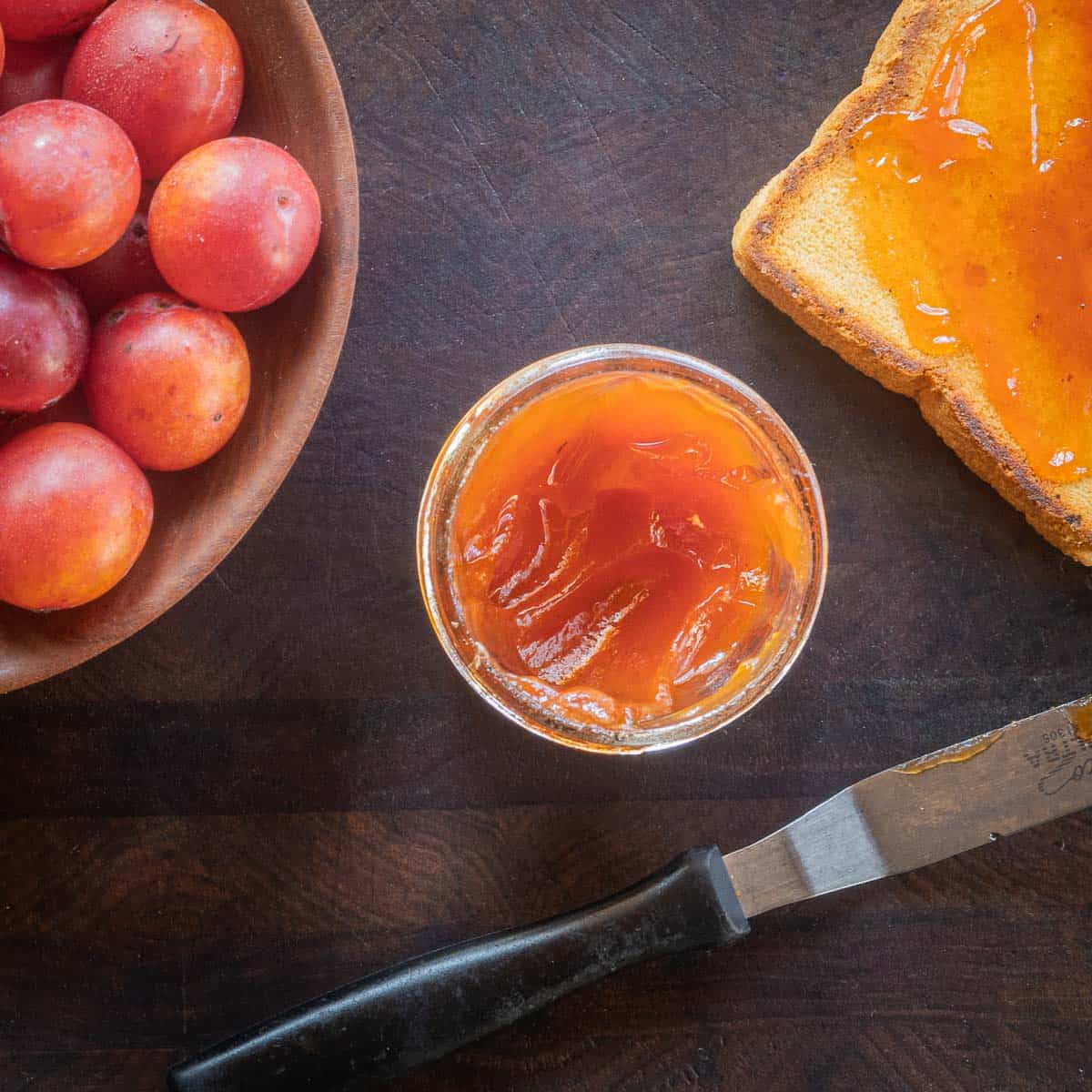 A classic jam is a simple, trust wild plum recipe using Prunus americana. American wild plums are a lot different from plums you might see in a store. They're tannic, sour, and generally difficult to work with if you're expecting your wild fruit to be sweet.
A lot of times, people have the tendency to just cover up any tartness by applying extra sugar, and, while I understand, I have a hard time cooking anything with equal weight of itself in sugar. Commercial jams are way too sweet for me, and I generally don't like cooking with them.
So, what I came up with is this jam, it's got enough sugar to be shelf stable, but it takes a nod from Magnus Nilsson's method for jam in Faviken, which uses minimal amounts of sugar.
I also use some unsweetened pectin for that traditional jam texture, but make sure you use unsweetened as pectin with added sweeteners (sometimes it's not readily advertised on the package) will destroy the natural flavor of jams, in my opinion.
What you end up with is a tart, fruity wild plum jam that's versatile enough for you to cook with it. My favorite so far is using it as a glaze for meat, mixed with a vinegar ferment from the skins and pits of wild plums, a little sriracha, and a knob of butter. It was excellent with venison ribs, but I'm sure you can figure out other, creative ways to use it. You can, of course, spread it on toast too.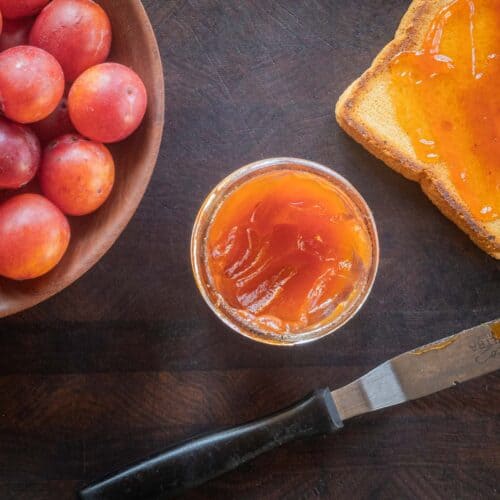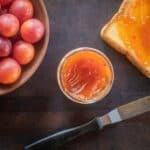 Print Recipe
Wild Plum Jam
Basic jam made from wild plums (Prunus americana) (Base recipe yields 2 pints) You will need about 6 lbs of wild plums.
Ingredients
1000

grams

(2.2lbs) wild plum puree

see method below

650

grams

(23 oz) sugar

25

grams

(4 teaspoons) powdered unsweetened pectin, preferably cuisine tech brand

15

grams

(1 tablespoon) fresh lemon juice or ½ teaspoon citric acid powder
Instructions
Make a puree of wild plums by heating them in an oven until hot, or gently warming in a covered pot with a film of water to prevent scorching. Do not cook and mash the plums like typical plums or you will release extra tannins from the skins. You can also freeze very ripe plums, thaw and mush them around in a bowl.

Cool the plums until you can handle them, then mash them in a bowl, adding a cup or so of water to help release the puree. If you have really nice, large wild plums, you may not need all of the water, if your plums are small, you may need more.

Mush this puree through a collander over a bowl to catch the skins and stones, then reserve the puree that passes through the holes. Allow the puree to cool, then measure out what you need.

Mix the sugar and pectin, then puree with cool plum puree in a blender. Transfer the mixture to a stove and cook on medium, and then high heat, whisking constantly, until thickened. Beat in the lemon juice, then transfer to jars and can in a water bath for 10 minutes.
More