A classic jam is a the simplest wild plum recipe using Prunus americana I know of. American wild plums are a lot different from plums you might see in a store. The plums are tannic, sour, and generally difficult to work with if you're expecting your wild fruit to be sweet. They make fantastic jam and preserves though, and this recipe will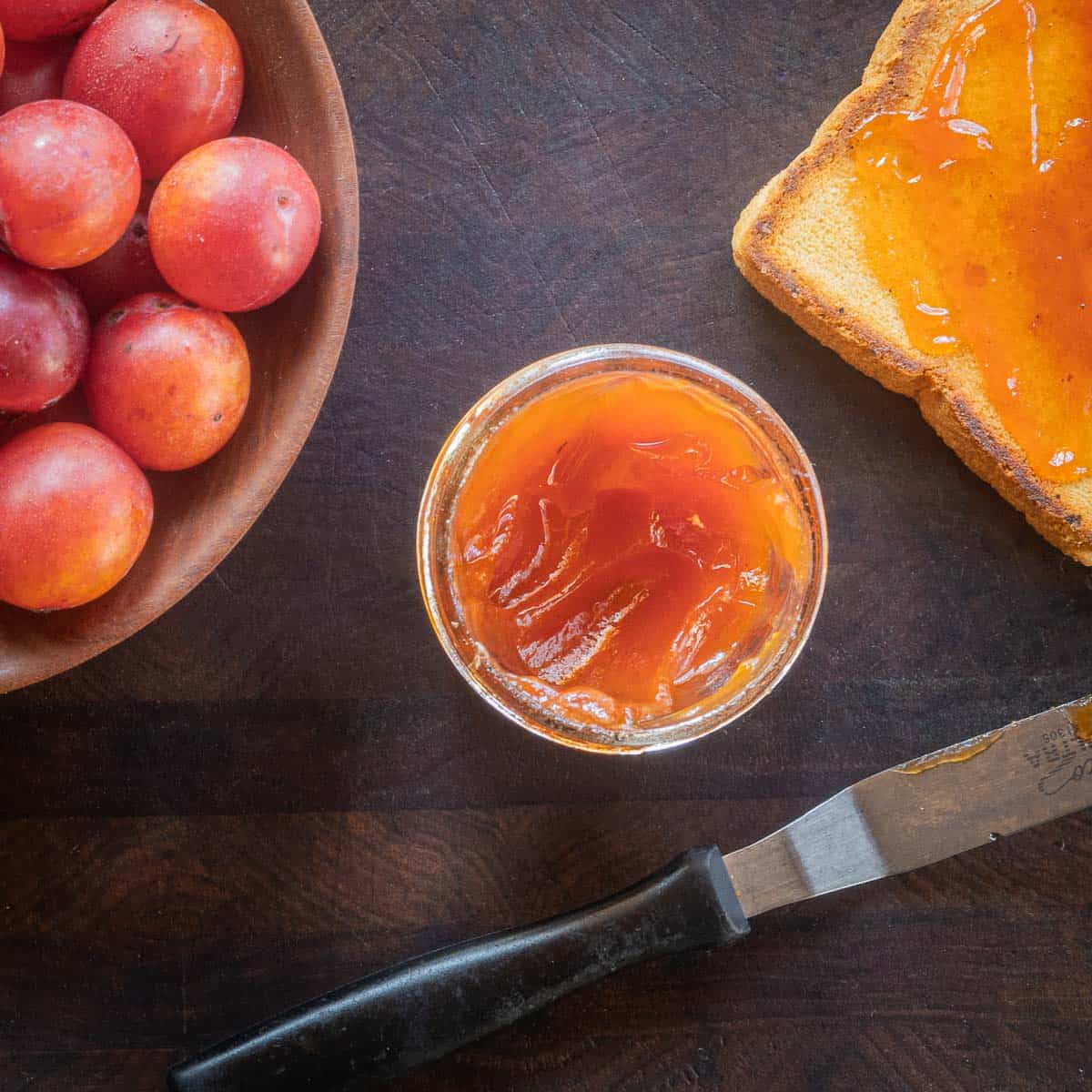 This jam has enough sugar to be shelf stable, but it takes a nod from Magnus Nilsson's method for jam in Faviken, which uses minimal amounts of sugar.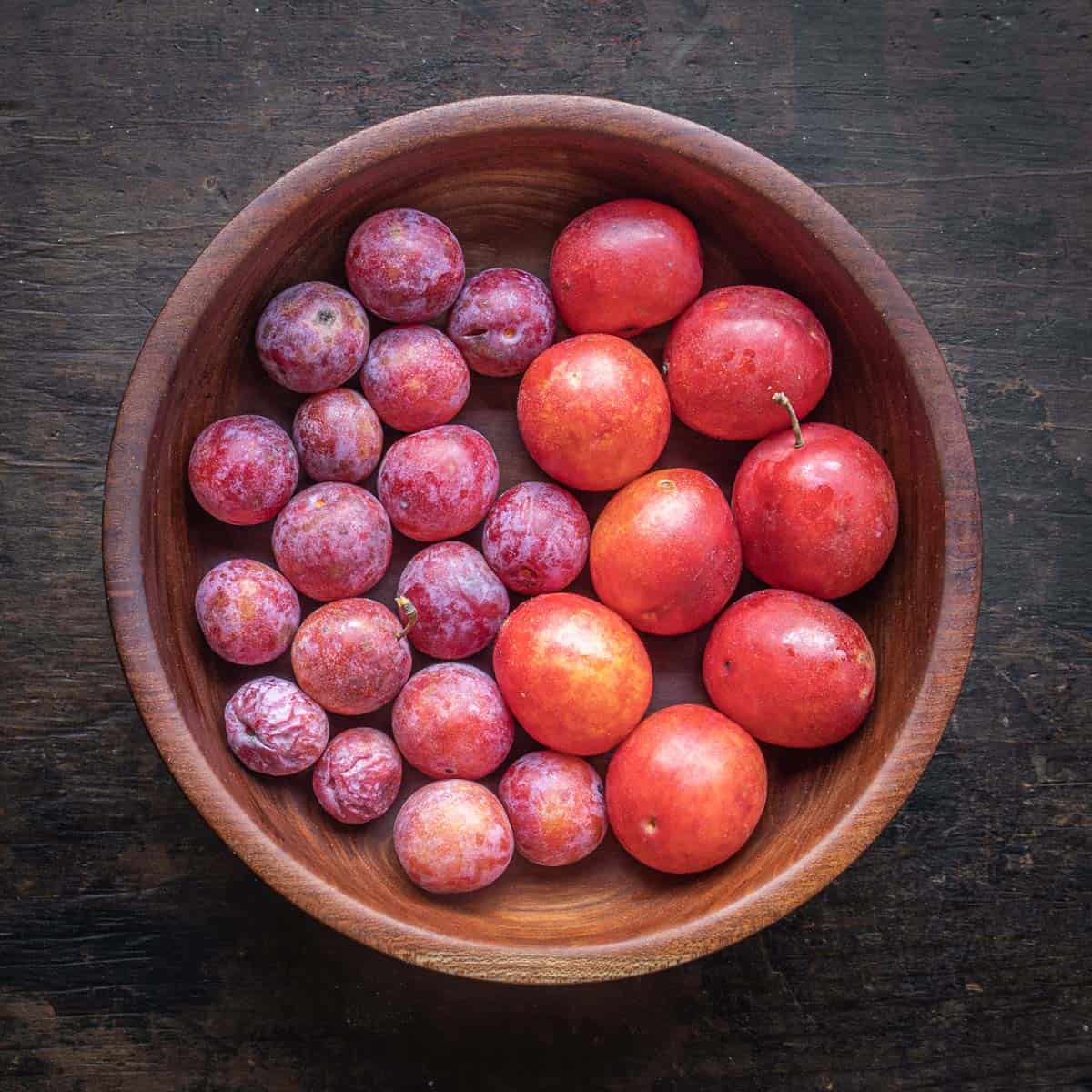 I also use some unsweetened pectin for a traditional jam texture, but make sure it's unsweetened. Pectin with added sweeteners (sometimes it's not advertised on the package) can alter the natural flavor of jams.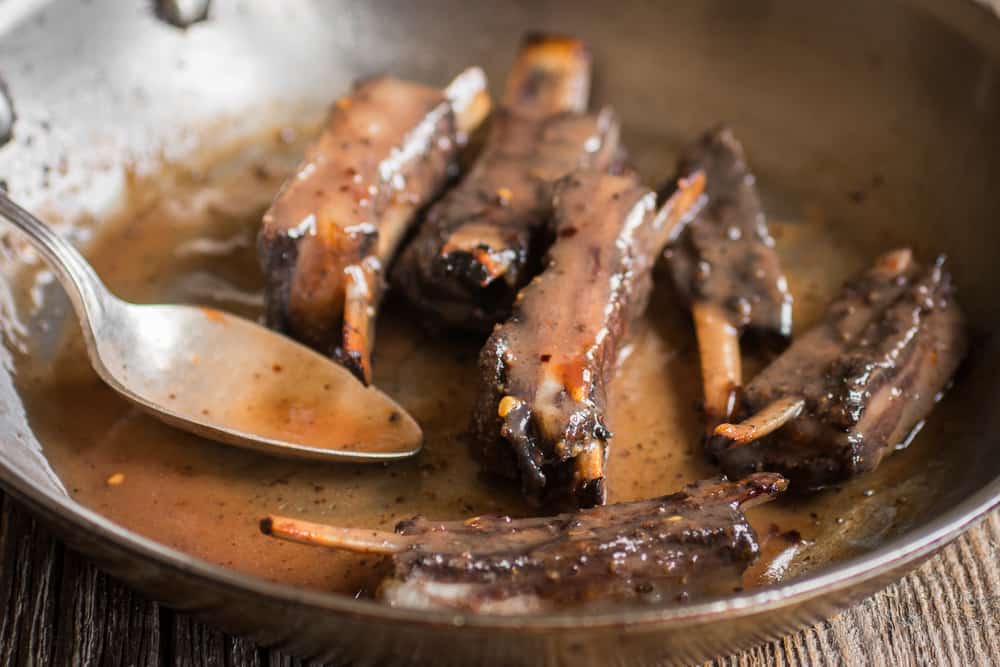 The finished product is a tart, fruity wild plum jam that's versatile enough for you to cook with it. My favorite so far is using it as a glaze for meat, mixed with a vinegar ferment from the skins and pits of wild plums, a little sriracha, and a knob of butter.
It was excellent with venison ribs, but I'm sure you can figure out other, creative ways to use it. Of course, it's also delicious on buttered toast.
The images below illustrate extracting the puree of plums and making the jam.
How to make wild plum jam
First the plums are stored in a paper bag until perfectly ripe. Then they're sorted, and any discolored or unripe plums are removed. Next the plums are warmed in the oven at a low heat (325 F) until just hot and shiny, about 15 minutes.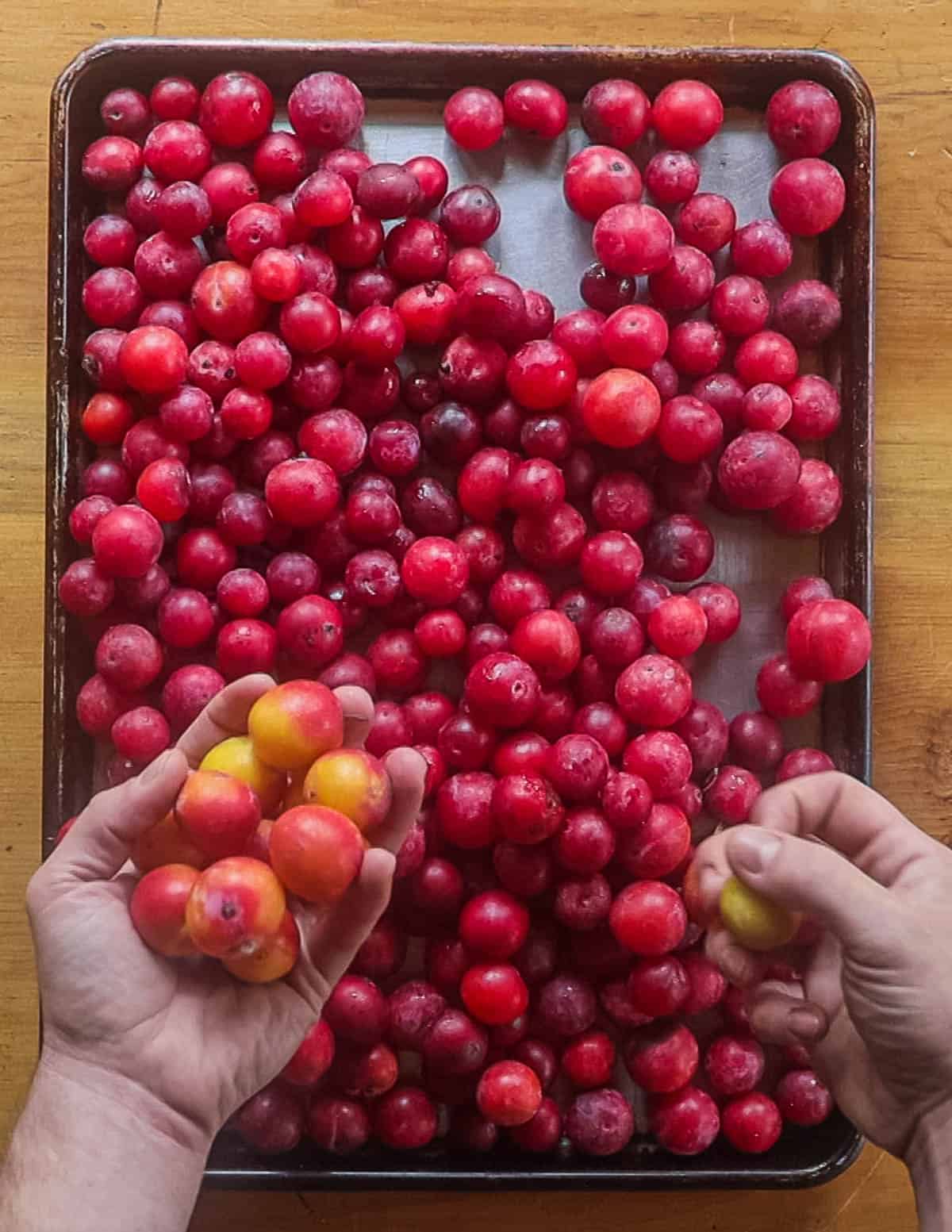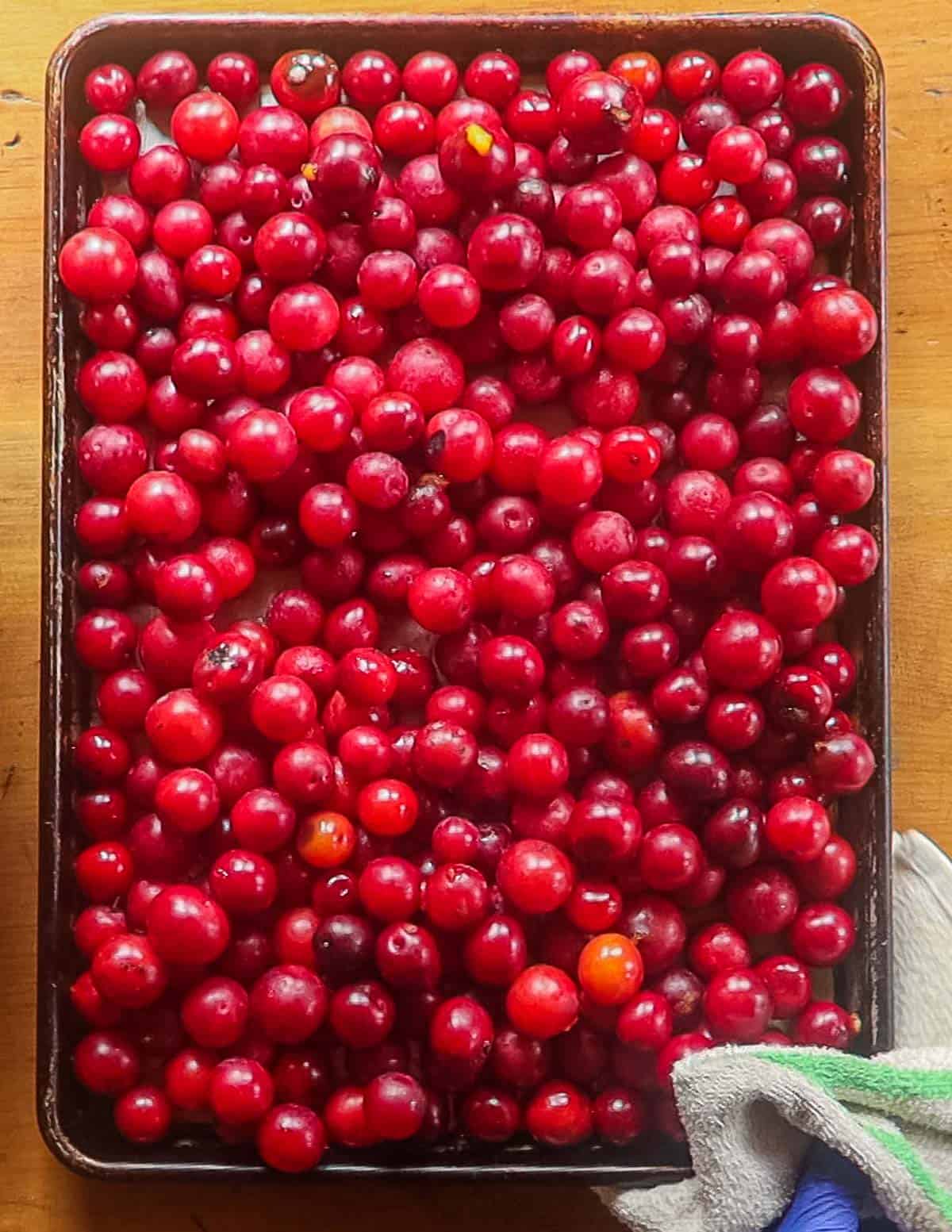 The warm plums are mashed in a bowl, then the plum mixture is poured into a colander and worked around with your hands until the puree passes through the colander. The leftover plum skins and pits can be saved to make a ruby red fruit scrap vinegar.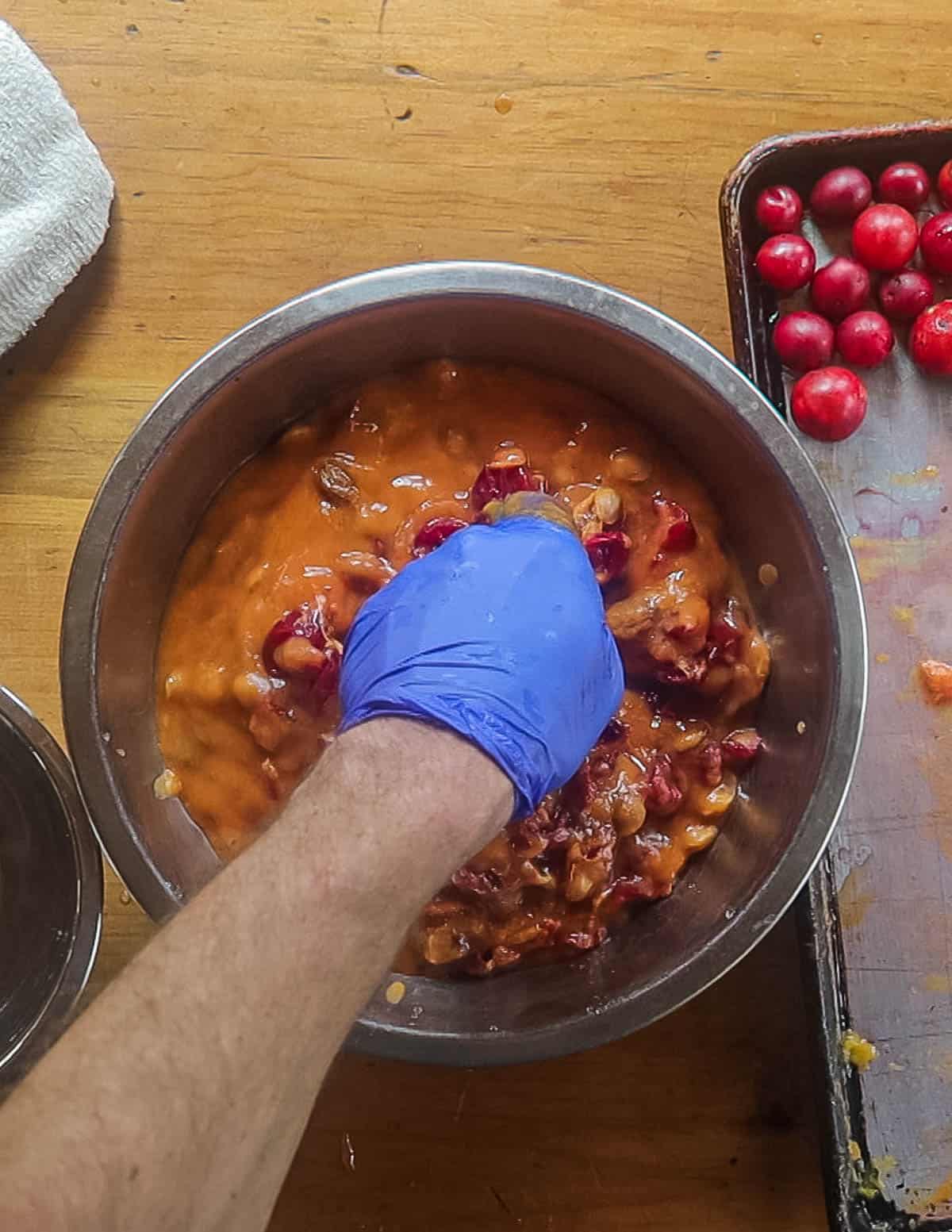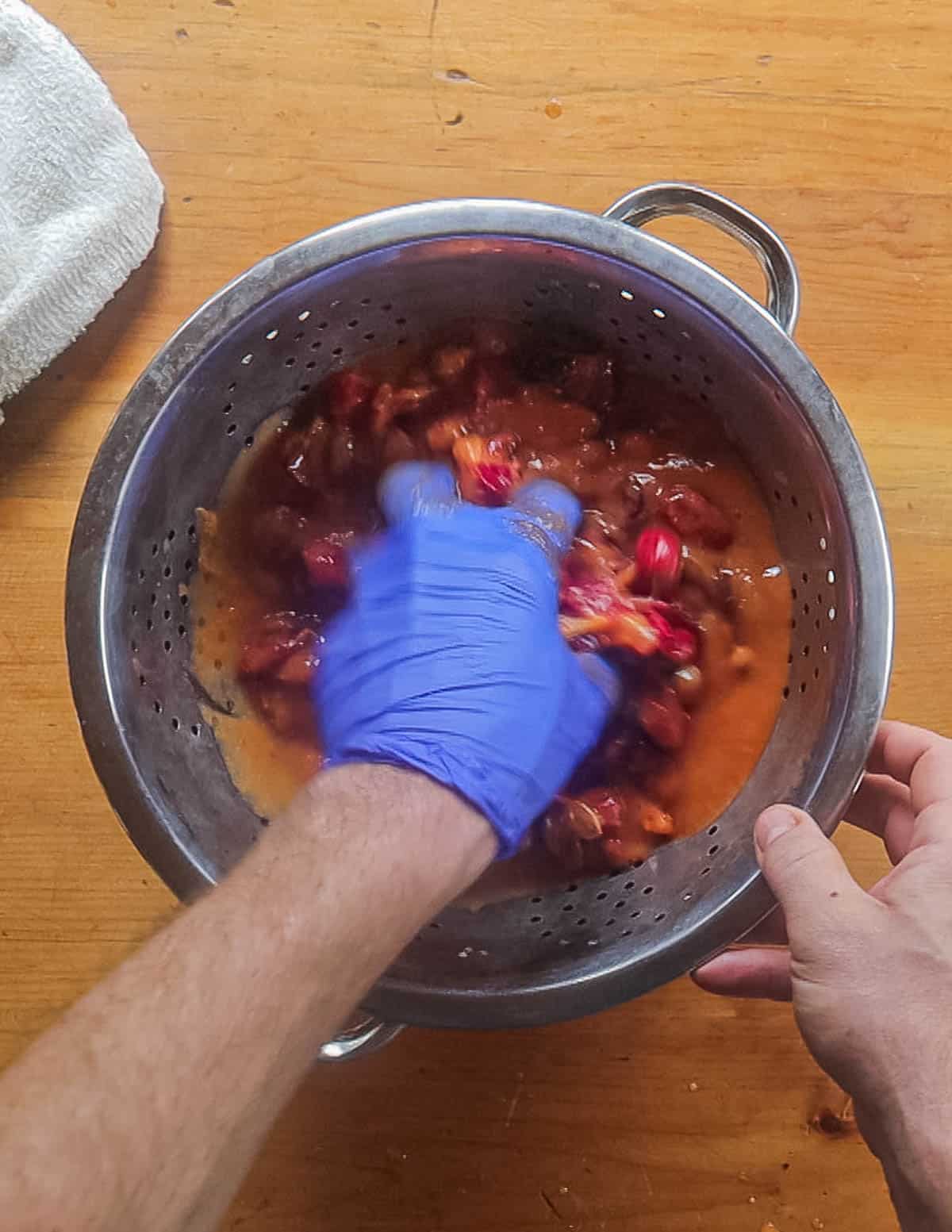 The finished plum puree is weighed, then sugar is mixed with pectin and added.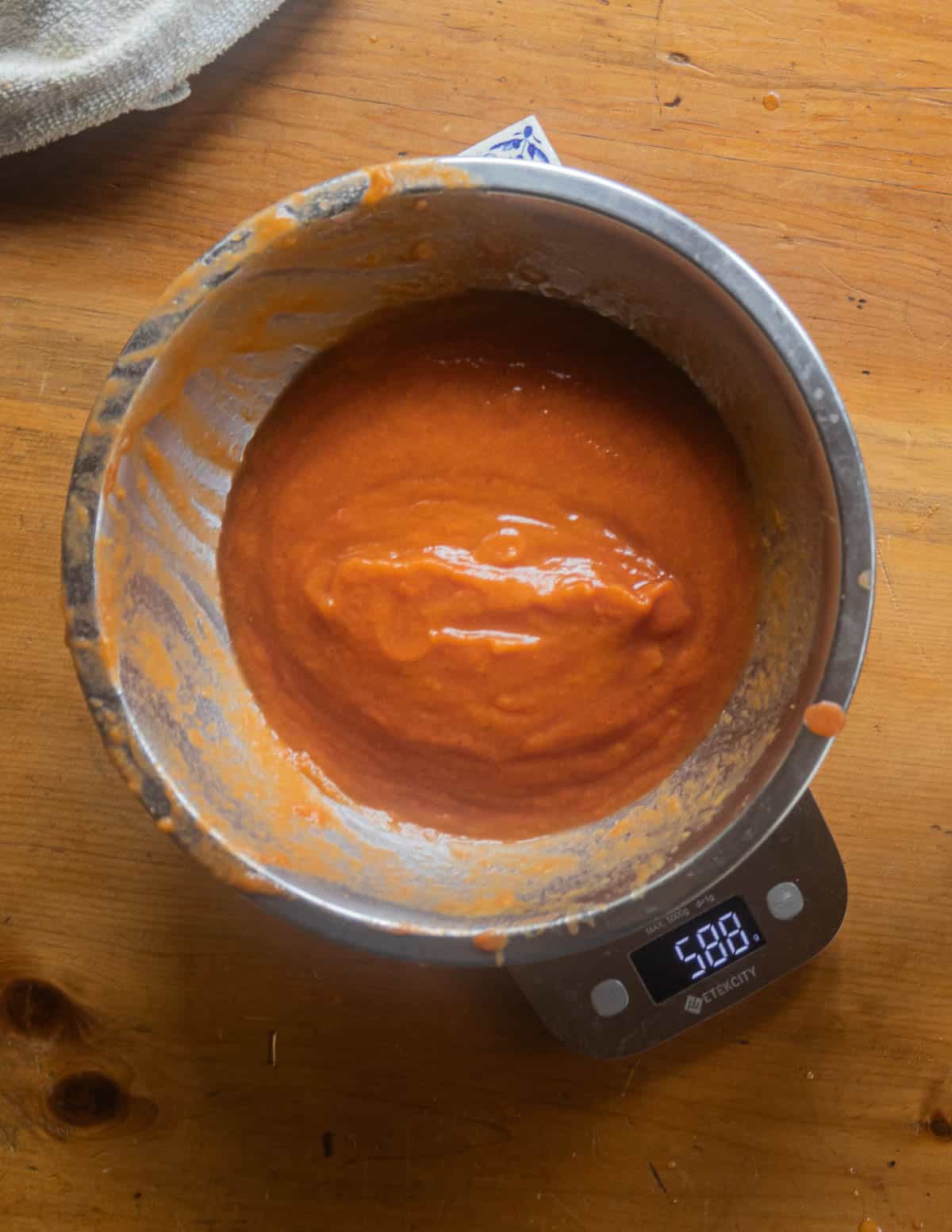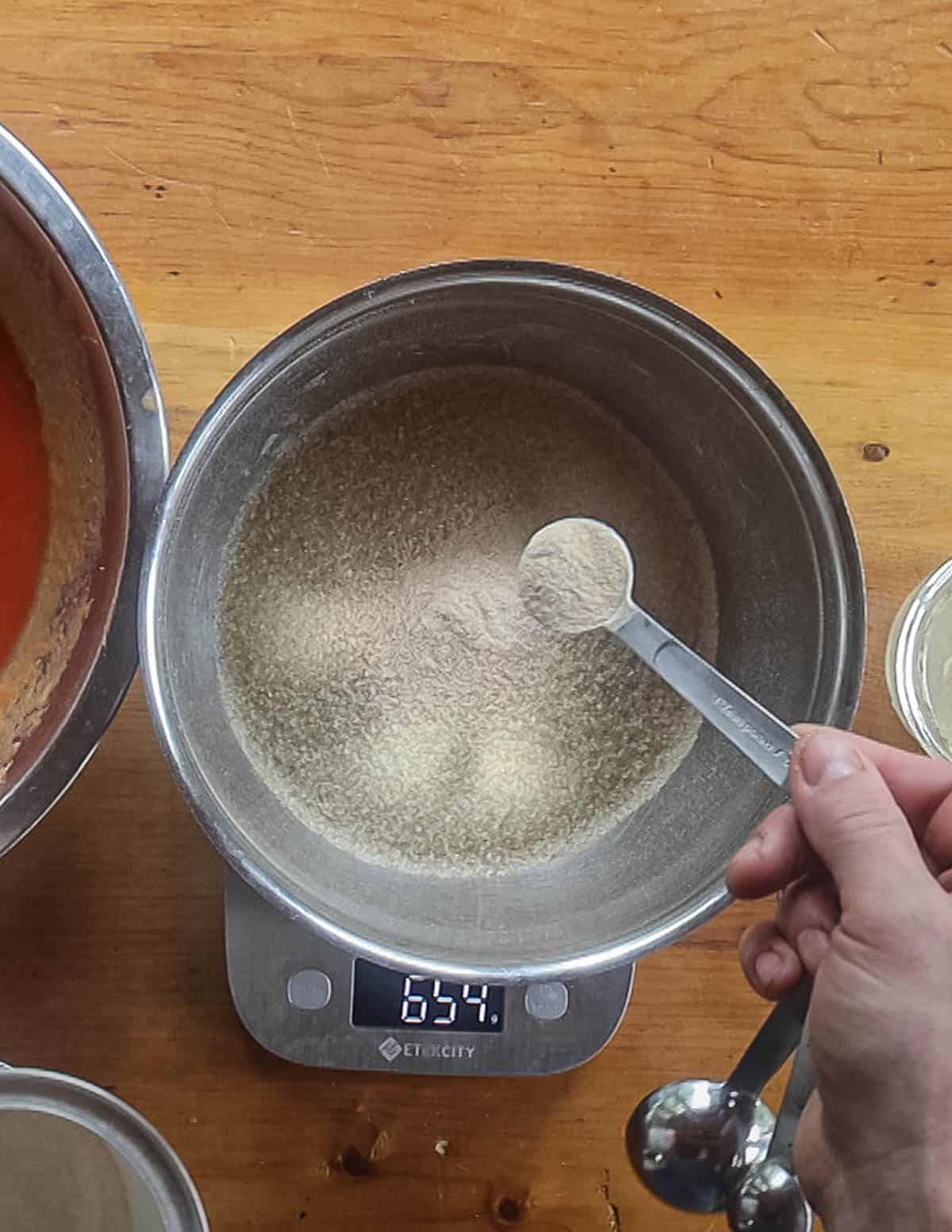 The plum mixture is brought to a boil and cooked until it reaches 220 F. I like to do set tests during cooking by spooning dollops of jam onto a thin plate over a bowl of ice.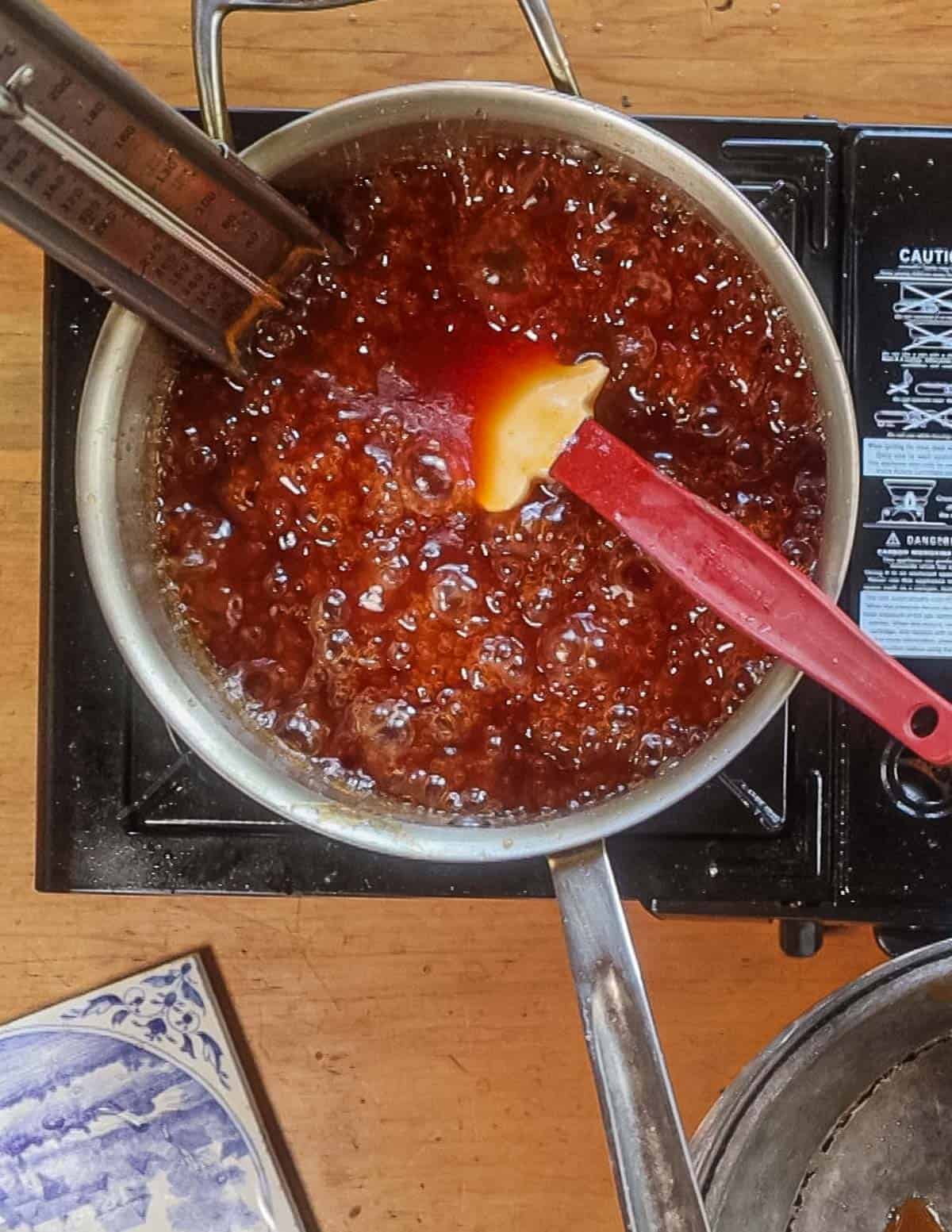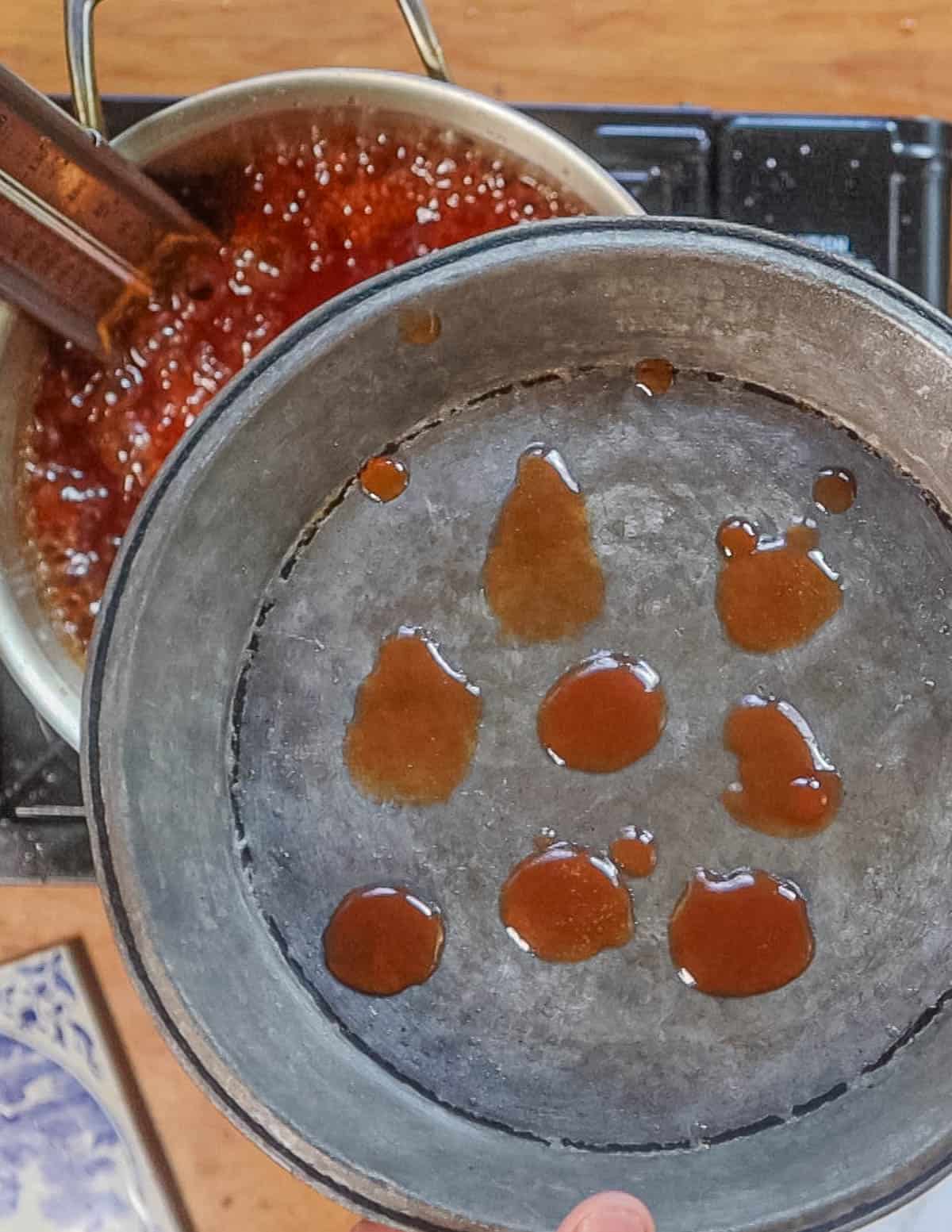 Once it barely holds its shape it's done. Pour it into mason jars, seal, and process in a water bath.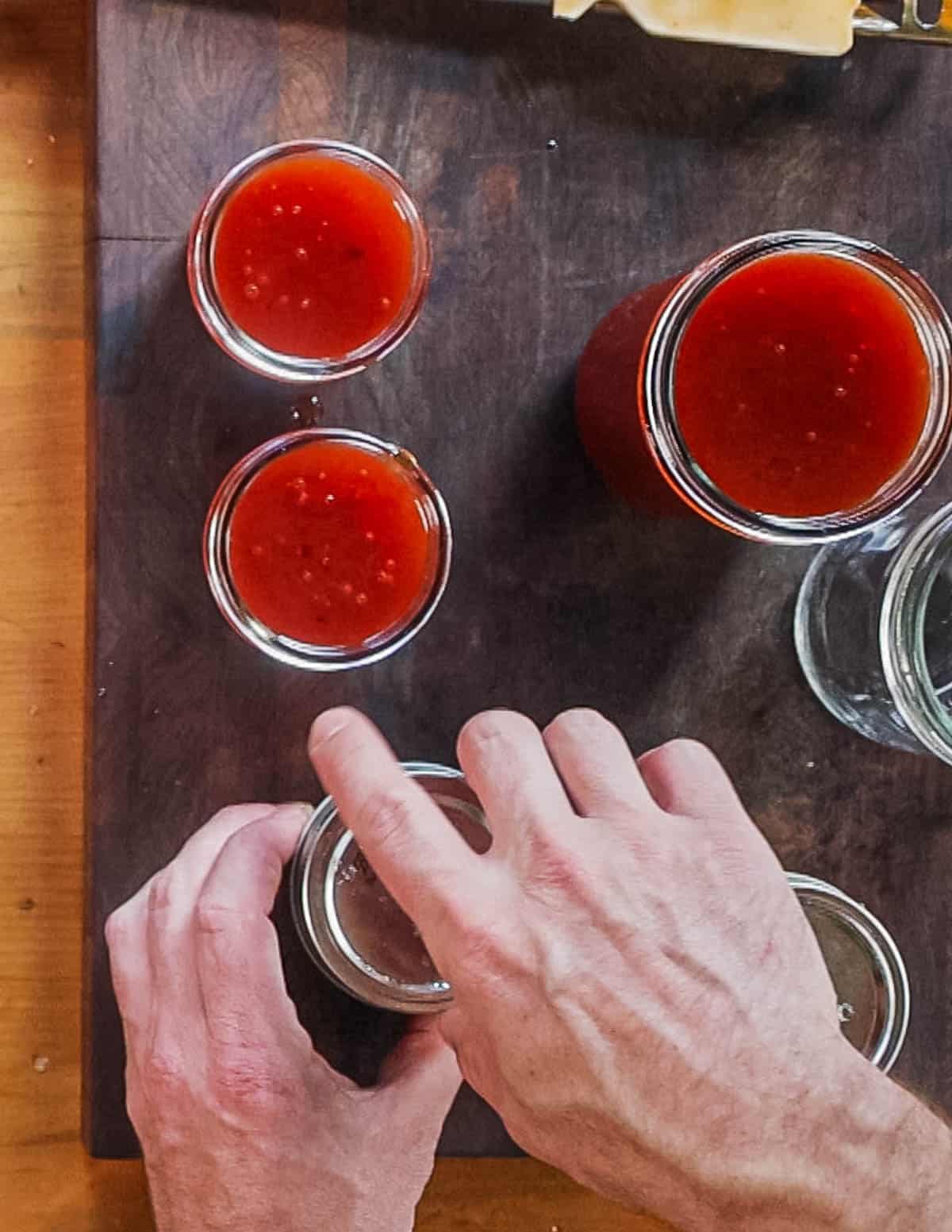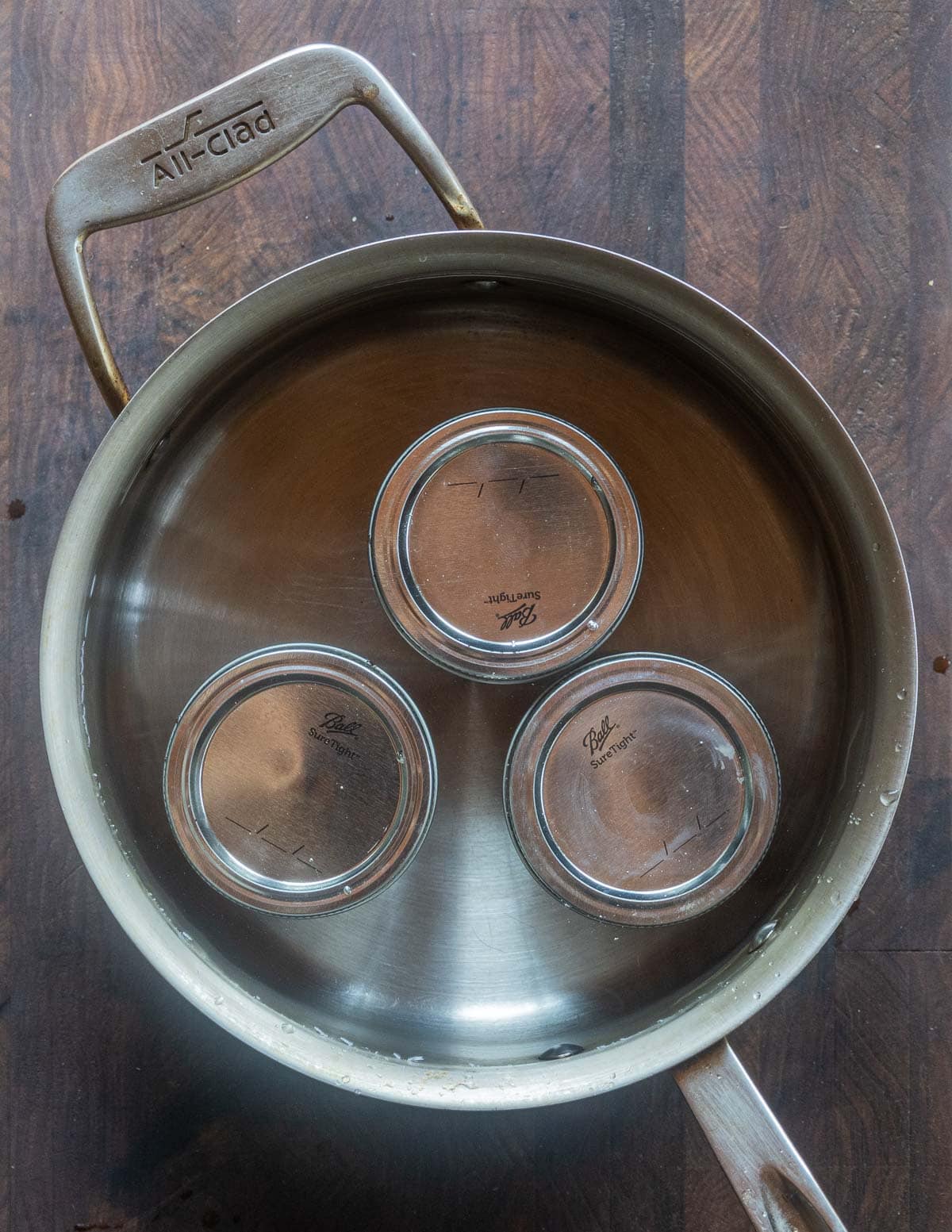 Related Posts
Foraging and Cooking with Wild Plums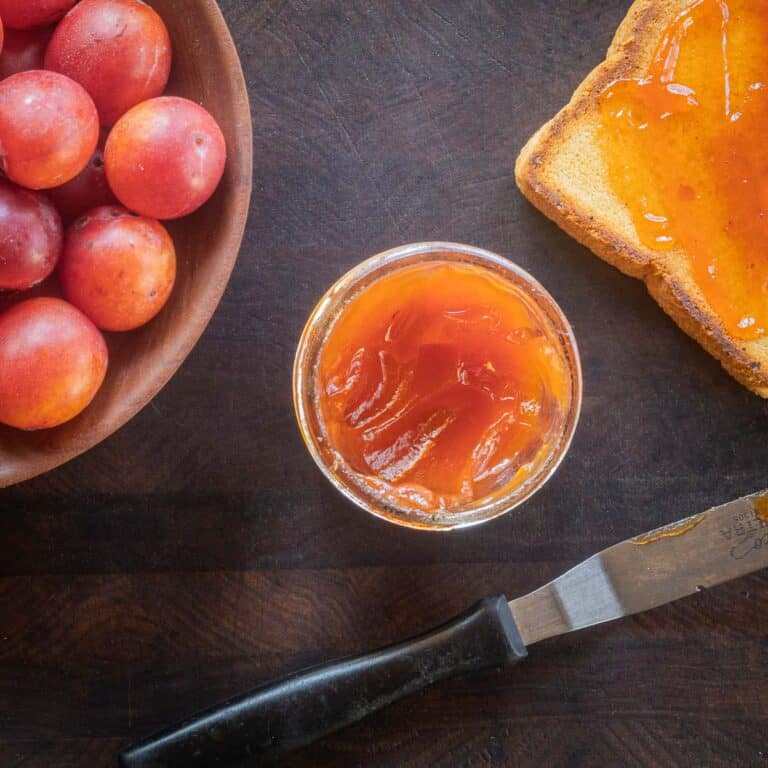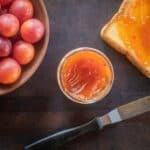 Print Recipe
Wild Plum Jam
Basic jam made from wild plums (Prunus americana) (Base recipe yields 2 pints) You will need about 6 lbs of wild plums.
Equipment
2 pint mason jars or equivalent

1 water bath canner
Ingredients
1000

grams

(2.2lbs) wild plum puree

see method below

650

grams

(23 oz) sugar

25

grams

(4 teaspoons) powdered unsweetened apple pectin

15

grams

(1 tablespoon) fresh lemon juice or ½ teaspoon citric acid powder
Instructions
Make a puree of wild plums by heating them on a baking sheet in an oven until hot, (325 F) for 15 minutes. You can also freeze very ripe plums, thaw and mush them around in a bowl.

Cool the plums until you can handle them, then mash them in a bowl, adding a cup or so of water to help release the puree. If you have really nice, large wild plums, you may not need all of the water, if your plums are small, you may need more.

Mush this puree through a collander over a bowl to catch the skins and stones, then reserve the puree that passes through the holes. Allow the puree to cool, then measure out what you need.

Mix the sugar and pectin, then puree with cool plum puree in a blender. Transfer the mixture to a stove and cook on medium, and then high heat, whisking occasionally until it comes to a rapid boil. Cook until the mixture hits 220 F on the thermometer.

Beat in the lemon juice, transfer to pint jars and can in a water bath for 10 minutes or the recommended time for the jars you're using.