Since cauliflower mushrooms have a texture similar to egg noodles, I love mixing them with farfalle or another flat pasta to compliment their shape. It's one of my favorite cauliflower mushroom recipes.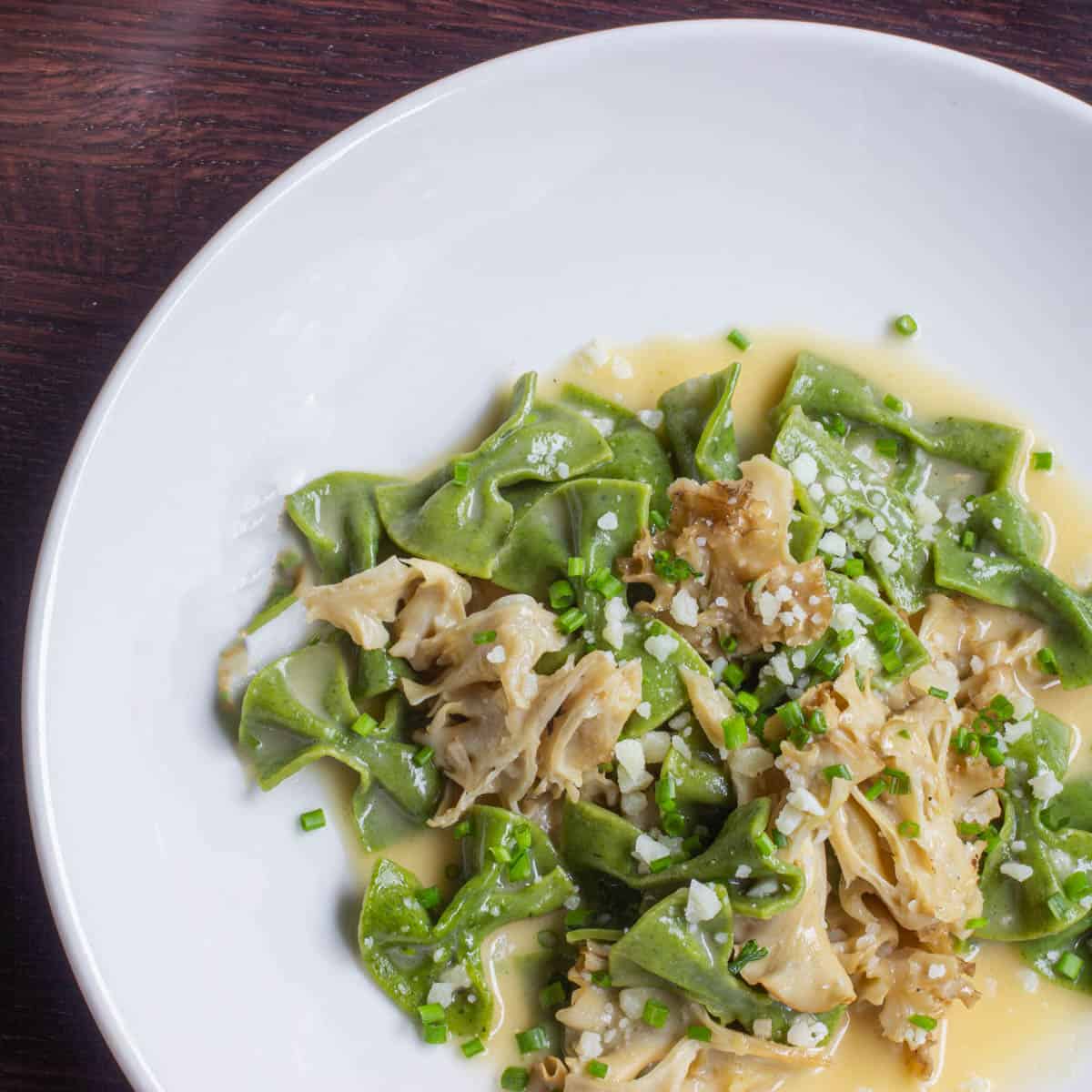 As a basic guide, when serving pasta you want shapes that work well together, everything should roughly be the same size in the dish. For our cauliflower mushrooms, farfalle are just about as good as it gets.
I made them here with some green dandelion farfalle, but your favorite brand of bow-ties, (I like this one) or just basic egg noodles, or another shape like fazzoletti or maltagliati would be fine too.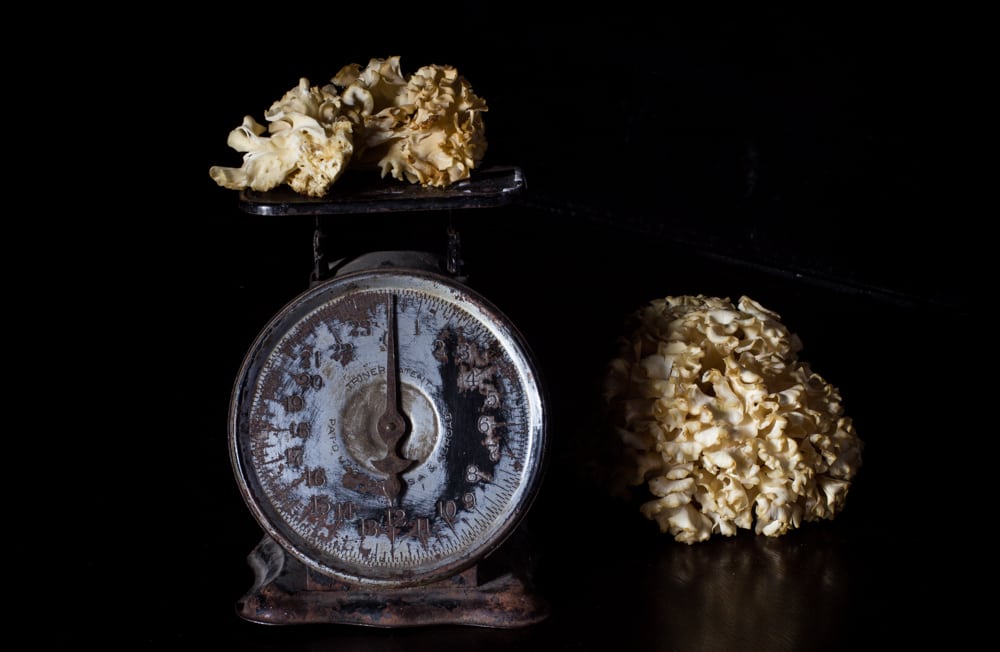 Cauliflower mushrooms have such a great shape and texture. They're big and fluffy like a hen of the woods, but unlike a hen, they don't keep that texture when cooked, instead they deflate a bit and end up having the texture of noodles, so when I have some cauliflowers around I love to sneak in a bowl of pasta with them.

Adapting the recipe
This is an fun cauliflower mushroom recipe you can adapt to what you have around you.
If you don't want to make fresh pasta, use your favorite shape, but for the best compliment to the mushrooms, use a smaller shape that's similar in size to the pieces of mushroom that should be about the size of cauliflower florets. I use chicken stock and butter here, but white wine and cream will work too, just don't overdo the cream.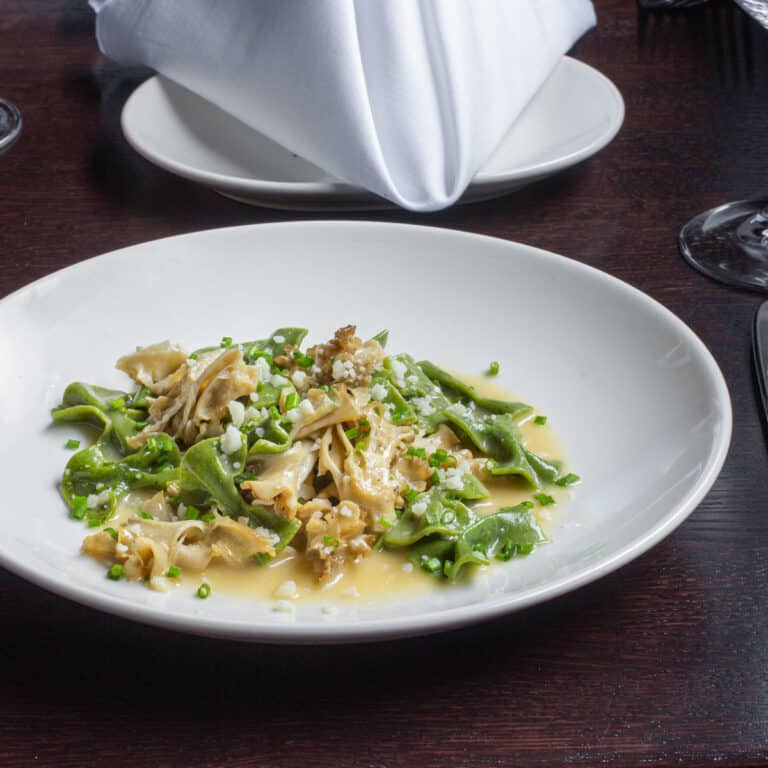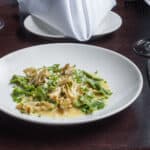 Print Recipe
Cauliflower Mushroom Pasta with White Wine Sauce
Fresh cauliflower mushrooms tossed with farfalle pasta and a white wine sauce. Serves 2.
Equipment
1 10 inch saute pan
Ingredients
4

ounces

dandelion pasta dough

cut into farfalle shapes (recipe follows)

½

teaspoon

minced garlic

Zest of ½ a lemon

microplaned

8

ounces

cauliflower mushrooms

washed if needed, cleaned and cut into shapes the same size as your pasta

4

tablespoons

unsalted butter

2

tablespoons

shallot

diced ¼ inch

1

cup

homemade chicken stock

½

cup

dry white wine

Kosher salt and fresh ground pepper

to taste

½

cup

grated Grana Padano or parmesan cheese

1

Tablespoon

fresh cut chives

to garnish, optional

1

Tablespoon

torn fresh basil leaves

to taste, optional
Instructions
Bring a pot of lightly salted water to a boil. When the water is boiling, add the farfalle and stir to prevent sticking.

Meanwhile, melt half of the butter in a wide 10inch saute pan, then add the mushrooms and sweat for a few minutes.

Move the mushrooms to one side of the pan and add the shallots and garlic, then stir and continue cooking on medium heat, do not put too much color on the mixture or the garlic will burn. Season the mixture to taste with salt, then deglaze the pan with the wine and reduce until nearly dry.

Add the chicken stock and reduce by half.

Drain the farfalle and add to the pan along with the lemon zest and remaining butter. Swirl the pan and cook for a few minutes more to thicken the sauce, then double check the seasoning, the sauce should be slightly lemony, and thick like gravy.

Before serving, quickly stir in half of the parmesan off the heat, along with the basil, then divide the pasta between heated serving bowls and serve immediately with the remaining parmesan on the side.
Notes
Fresh pasta substitutions 
I made fresh pasta here, but you don't have to. If you want to use dried pasta, here's shapes I'd recommend. You want shapes that will mingle with the pieces of mushroom. 
Cavatelli
Gnocchi 
Small farfalle (farfallini) 
Nutrition
Serving:
6
oz
|
Calories:
684
kcal
|
Carbohydrates:
40
g
|
Protein:
20
g
|
Fat:
46
g
|
Saturated Fat:
24
g
|
Polyunsaturated Fat:
3
g
|
Monounsaturated Fat:
15
g
|
Trans Fat:
1
g
|
Cholesterol:
81
mg
|
Sodium:
817
mg
|
Potassium:
650
mg
|
Fiber:
3
g
|
Sugar:
6
g
|
Vitamin A:
900
IU
|
Vitamin C:
4
mg
|
Calcium:
331
mg
|
Iron:
3
mg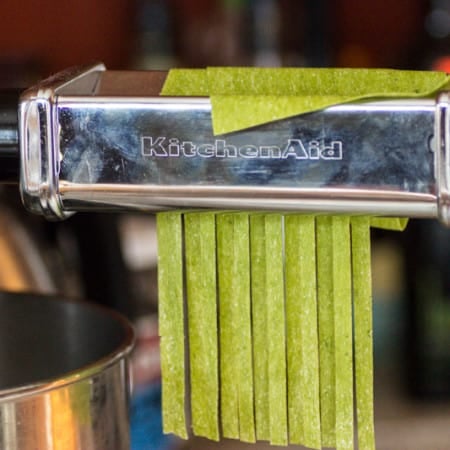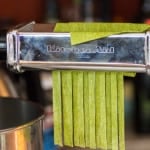 Print Recipe
Dandelion Pasta Dough
Makes about 1 lb of dough, more than enough for 4 people. You'll need to use a pasta machine. Ingredients
Ingredients
4

large egg yolks

Fresh dandelion greens

about 2 ounces

½

cup

semolina flour

1.5

cup

ap flour

Pinch

of salt

Water

as needed

Semolina flour to dust the work surface

as needed
Instructions
Bring a pot of lightly salted water to a boil. Blanch the dandelion greens for 30 seconds, then refresh in an ice bath and drain. Chop the blanched milkweed leaves finely, then puree on high speed in a blender or food processor with the eggs until finely pureed.

In the bowl of a stand mixer or by hand, combine the flours, salt, and egg-dandelion puree. Mix the ingredients together with a paddle until just combined, then switch to the dough hook attachment until a smooth dough is formed. Allow the dough to rest for 30 minutes before rolling out.

To roll out the pasta, cut off ¼ of the dough at a time and roll out thinly with a rolling pin. Roll out the pasta to the thinnest setting available on the pasta machine, then cut ½ inch fettuccine noodles with a knife by hand or with a fettuccine attachment.

Toss the cut fettuccine in semolina flour to prevent sticking. Freeze the pasta or store in the refrigerator for up to 3 days, tossing occasionally with more semolina flour if needed to prevent sticking.
More
Cauliflower Mushrooms: The Noodle Fungus
Steamed Cauliflower Mushrooms with Ponzu