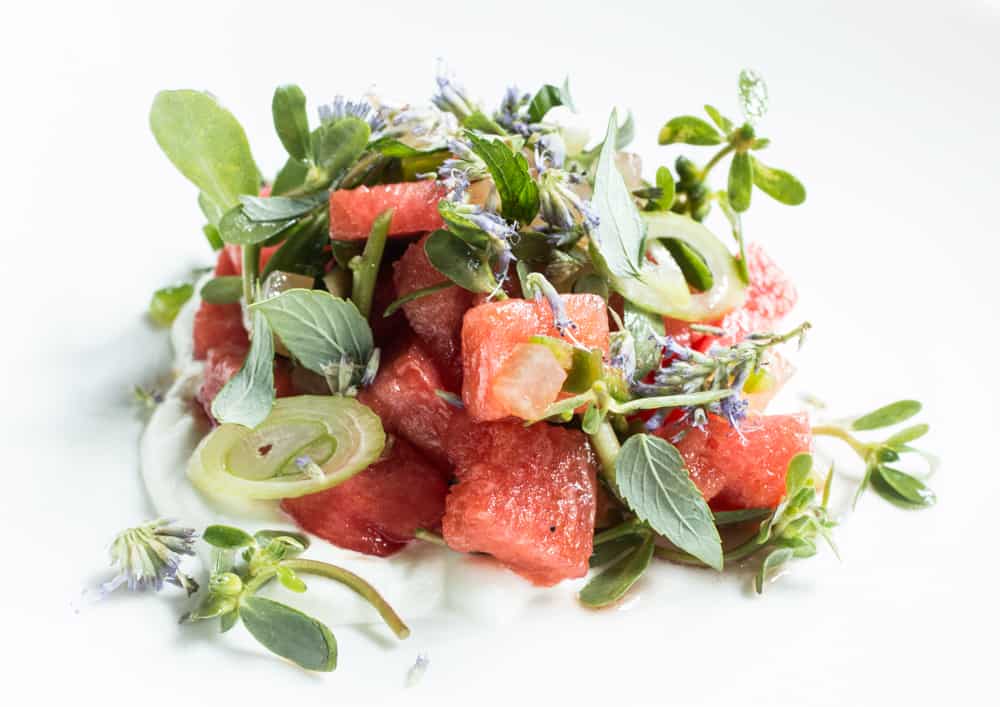 Watermelon salad is on plenty of menus in the summer for good reason, it's cold, refreshing, and evocative of the season. At it's best it can be paradigm shifting, at it's worst, it's nothing more than a glorified fruit salad.
While I was in San Francisco this past month, I had one that was basically fruit salad. Chunks of watermelon with some crumbled feta and a few pieces of mint, nothing to write home about. After I got back to the restaurant I thought it would be fun to make one I actually liked to eat.
Like I mentioned, the danger of watermelon salad is when it ventures too far into sweet territory, and that can be difficult since watermelon is naturally pretty sweet. To rein in the sugar, you need some savory elements to ground it and bring it into the savory realm. A little cheese is good, and there's some in my salad, but a green vegetable component is great too, and that's where the purslane comes in.
Verdolagas can be tricky to pair with other lettuces in a salad since it's so much more textural than other greens, but here it's chunky-ness shines. It's crisp, chewy, and balances perfect with the sweetness of the watermelon.
The other wild element I added was some of our local wild anise hyssop flowers and leaves. It adds a little interest, especially the unopened buds, but some spearmint or basil would do the trick too.
I can't forget to mention too that there's pickled watermelon rind in the salad too, they need to be made at least a day beforehand. I wrote a recipe you could use for a template in an older post.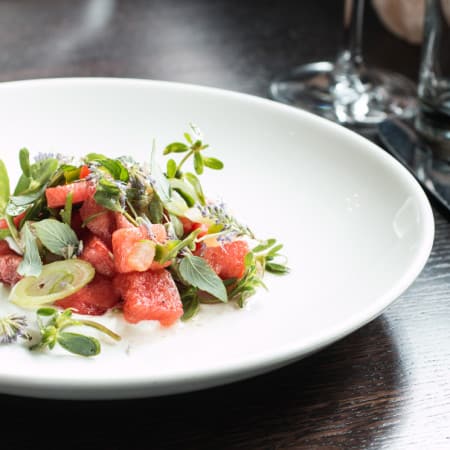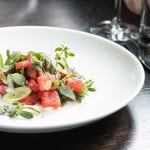 Print Recipe
Watermelon Salad with Anise Hyssop, Purslane and Goat Cheese
Ingredients
12

ounces

seedless watermelon

sliced into 1 inch squares, ½ inch thick

1

tablespoon

jalapeno

diced ¼ inch (add a few seeds if you like it spicy)

1

large scallion

sliced thin on the bias, tender white part only (you will only need about ¼ cup)

Fresh anise hyssop leaves

flowers and unopened buds, as needed for garnishing

Kosher salt and fresh ground black pepper

to taste

1

cup

purslane

cut into 1 inch pieces

Lemon oil

as needed, to taste

2

tablespoons

pickled watermelon rind

diced ½ inch (see my other recipe for a guide)

Apple cider vinegar

to taste

1

cup

fresh chevre

½

cup

heavy cream
Instructions
Season the scallions with a pinch of salt and oil and allow to macerate while you prepare the salad.

Puree the chevre in a robocoup or food processor until smooth, then drizzle in the cream slowly and reserve.

In the bottom of four chilled salad bowls or coupes, spoon two tablespoons of the cheese, spreading it out to make a bed for the watermelon.

In a metal salad bowl, combine the watermelon, purslane and jalapeno and scallion. Season the mixture to taste with salt, vinegar, and lemon oil, then carefully mound on top of the cheese.

Chiffonade one or two large hyssop leaves, then garnish each plate with tiny hyssop leaves, a sprinkle of the chiffonade, and the hyssop flowers and buds. Serve immediately.
Notes
This is also good with tomatoes added, or a few hot peppers