Getting to meet one of your personal heroes is a great experience. Since I'm a food nerd, most of my heroes are chef's or personalities somewhere in the industry, with the exception of Marcus Arelius. When I went to Provence last year, I had the chance to eat at Jacques Chibois, whose work I've been following since I was a teenager.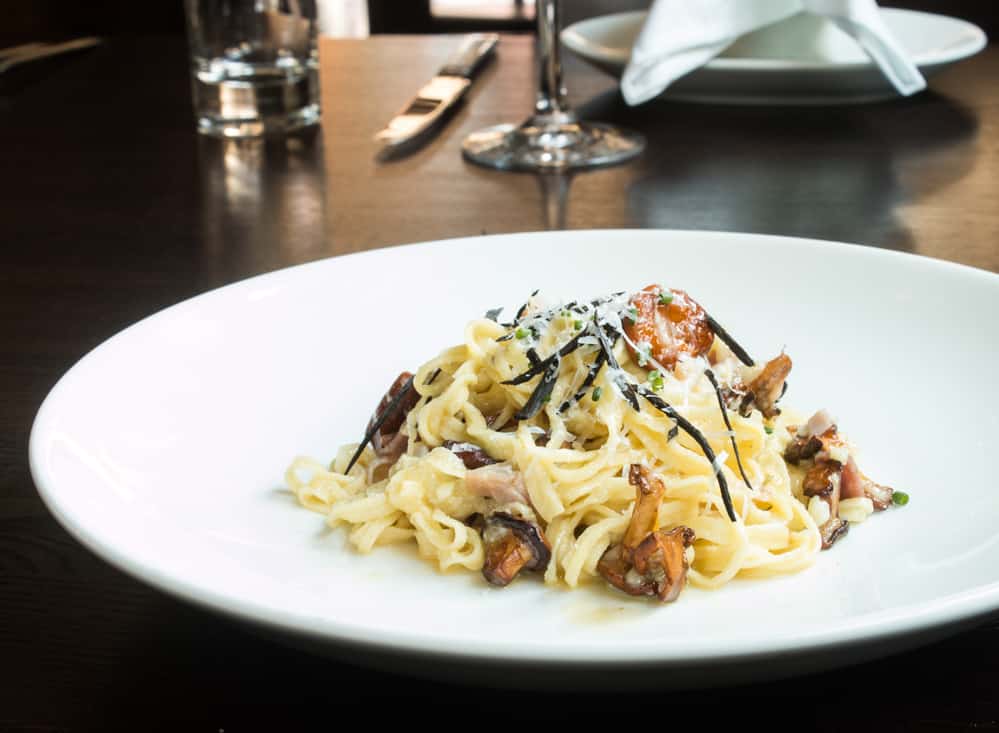 Chibois's restaurant is in Grasse, the beautiful perfume capitol of Provence known for it's lavender fields where workers still pick flowers in the early morning before the heat of the sun dulls their perfume. Chibois's restaurant and hotel sit on an old olive grove built in Roman times, oozing history alongside the smell of obscure herbs, flowers and fruits.
Dinner was fantastic, and we were lucky to arrive during mushroom season. One of my favorite dishes was a "carbonara" of chanterelles fresh pasta and local ham. Of course a carbonara of little chanterelles will taste great, that's a given, what I thought was a really creative was the garnish-a raw julienne of black trumpet mushrooms.
There's often a lot of hot debates in the mushroom community about eating mushrooms raw for a number of reasons I won't get into, but the trumpets here are a great example of how to sample them in the purest form, treating them a bit like you would truffles.
For more on that topic, read my post: "Can you eat Wild Mushrooms Raw?"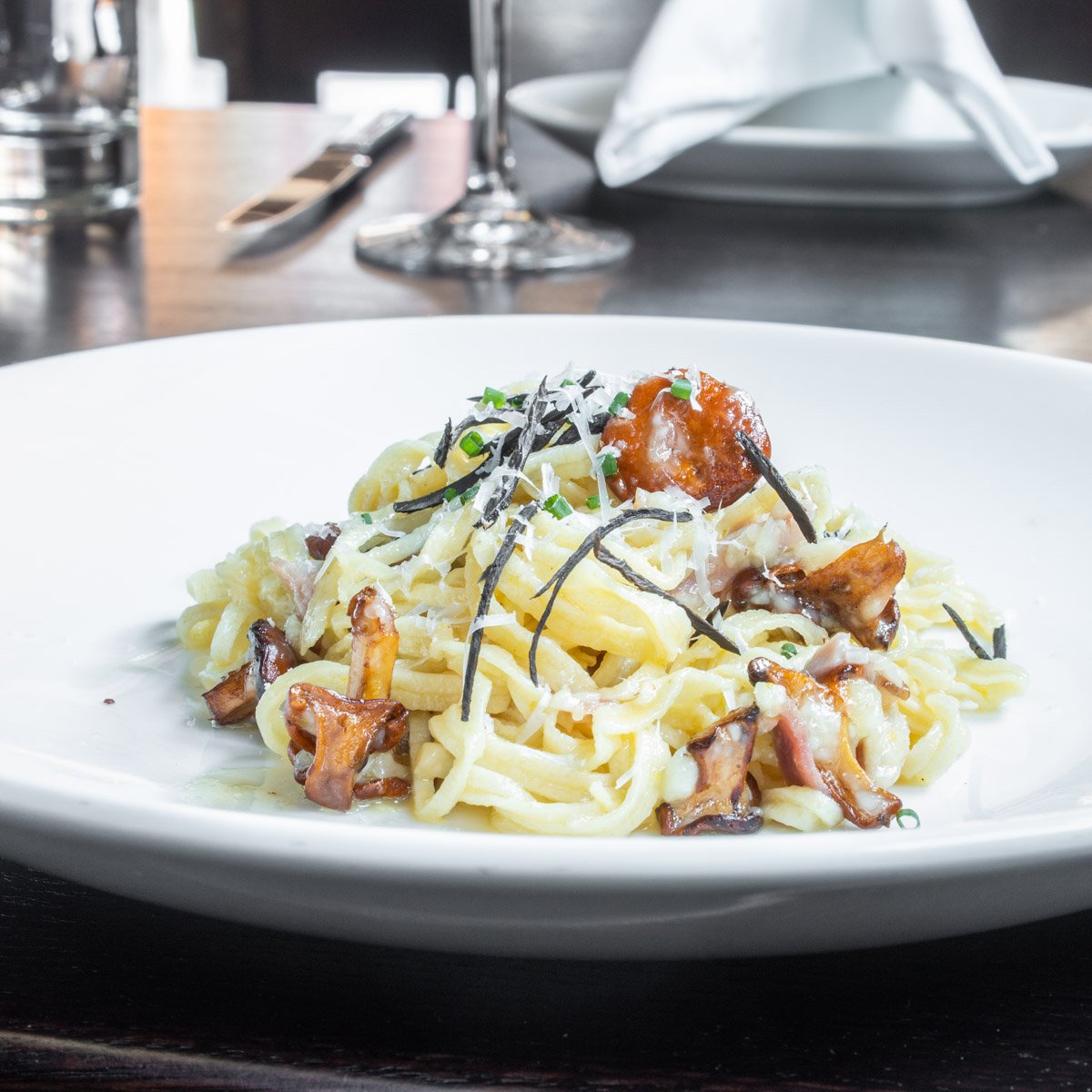 I've recreated his dish for you as It was served to me, as well as a variation that includes cream. Both are very good, although the cream version is more rich. I might use both versions here and there depending on how I'm feeling and the capacity of my line cooks. If' you've never added raw eggs to food like this before, the cream version is a little more stable and less finicky the the raw egg-pasta water version.
A few words of advice on carbonara. First absolutely, positively, do not add whole eggs to a carbonara. Egg whites contain much more water compared to fat than egg yolks, and if you toss them in raw like the egg yolks they'll still cook, but they'll make the pasta sauce watery and insipid.
Secondly, it's important that the pasta be tossed in a separate mixing bowl with the egg yolk and other ingredients. Tossing it in a still hot pasta pan will over cook the egg and give you curdles, instead of a rich, creamy sauce. If you try your hand at the second version of this with cream you can take the pan off the heat and add the yolks since the cream insulates them a bit.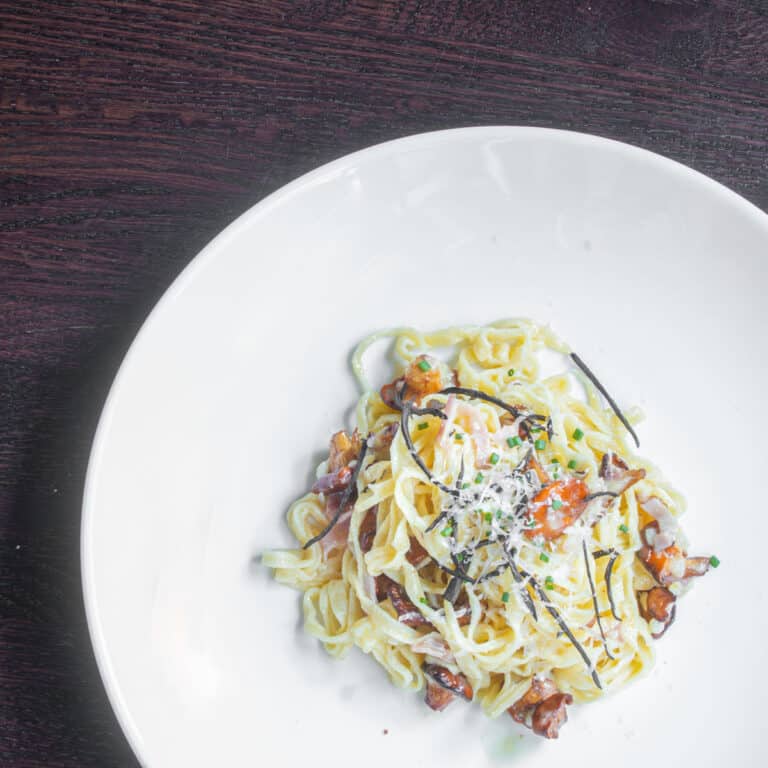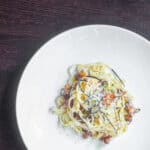 Print Recipe
Chanterelle and Black Trumpet Mushroom Carbonara
In America, carbonara has been bastardized into a very heavy, creamy abomination usually laden with chemically smoked ham or conventionally made bacon (which is also often artificially smoked), so I urge you to at least attempt this recipe without the cream at least once in your life, using a splash of pasta water instead--it's deceptively light and makes a great, quick meal in any season. 
Ingredients
4

ounces

homemade spaghetti

or another long pasta

2

egg yolks

preferably high quality farm eggs

1

ounce

unsmoked ham

like prosciutto, cut into ¼ inch julienne

¼

cup

grated Parmigiano Reggiano

3

ounces

young golden chanterelle mushrooms

rinsed in water and layed to dry on towels, if dirty

A few fresh black trumpet mushrooms

cut into ⅛ inch julienne

Fresh snipped chives

to garnish

3

tablespoons

unsalted butter

Fresh grated nutmeg

optional, but recommended
Instructions
Bring a pot of boiling salted water to a boil for the pasta. Melt the butter over medium heat, then add the chanterelles and cook slowly until just lightly browned, then add ¼ cup heavy cream and cook for a few minutes.

Remove the pasta from the water, then transfer immediately to a mixing bowl and toss well with the ham, egg yolk, cheese, 1 tablespoon of the pasta water and the chanterelles. Divide the pasta between two preheated dinner bowls, garnish with the black trumpets and chives and serve immediately.
Nutrition
Calories:
543
kcal
|
Carbohydrates:
46
g
|
Protein:
17
g
|
Fat:
32
g
|
Saturated Fat:
17
g
|
Polyunsaturated Fat:
3
g
|
Monounsaturated Fat:
10
g
|
Trans Fat:
1
g
|
Cholesterol:
257
mg
|
Sodium:
312
mg
|
Potassium:
406
mg
|
Fiber:
3
g
|
Sugar:
2
g
|
Vitamin A:
887
IU
|
Calcium:
195
mg
|
Iron:
3
mg
More