If you've found a puffball mushroom before and you haven't had them fried yet (the classic puffball recipe), grab some flour, egg, and breadcrumbs and get to work next time you come score one.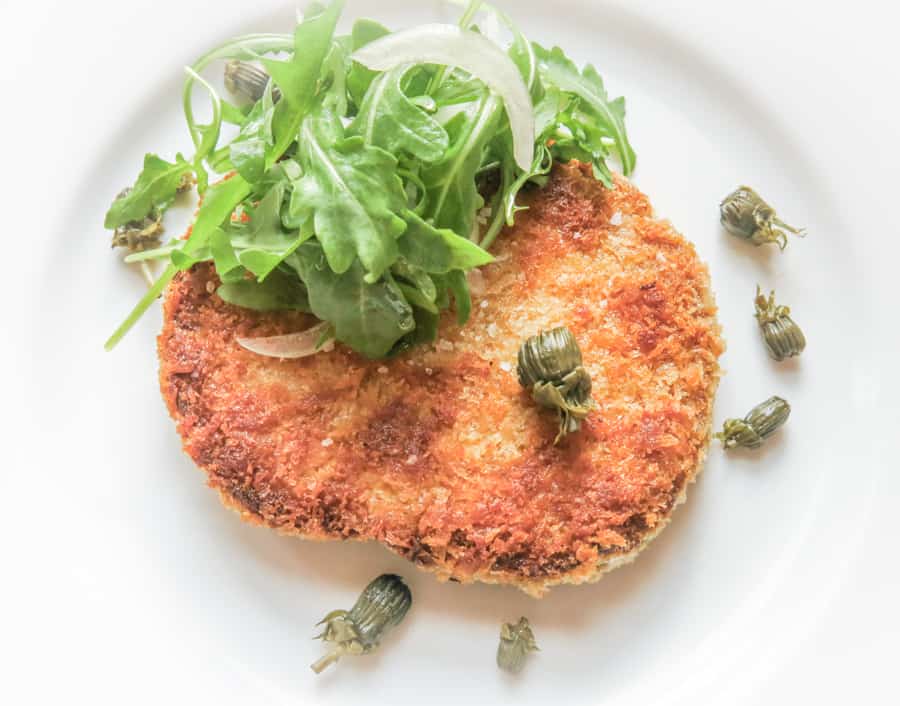 Puffballs can be delicious, but I've found that some people get turned off at the texture, which can be a little soft. If you're wondering how to cook a puffball you've found, this is probably the most tried and true way I know to prepare them.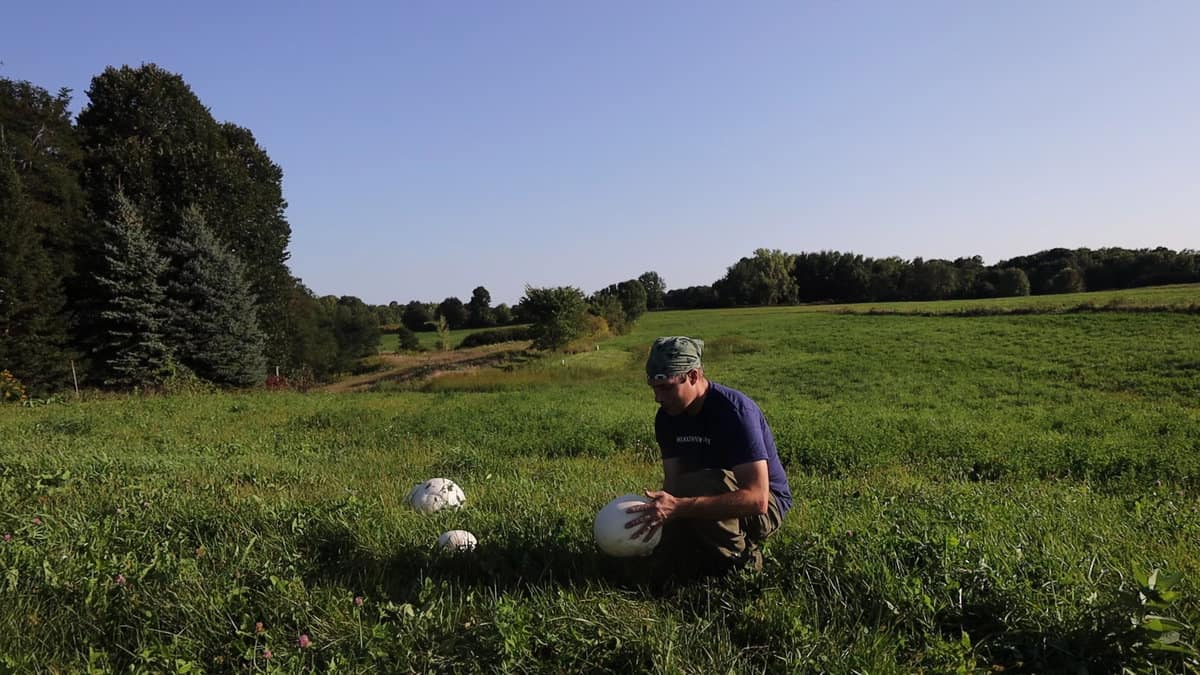 I love the texture of a properly prepared puffball, the quality of which I usually judge by the caramelization of the mushroom itself, in other words, I want puffballs fried golden brown, because they taste better.
Puffballs poorly browned will have an awkward feeling in the mouth, kind of like a thin, flaccid marshmallow. If they're browned though, they take on nutty hints of cheesy, mushroomy goodness.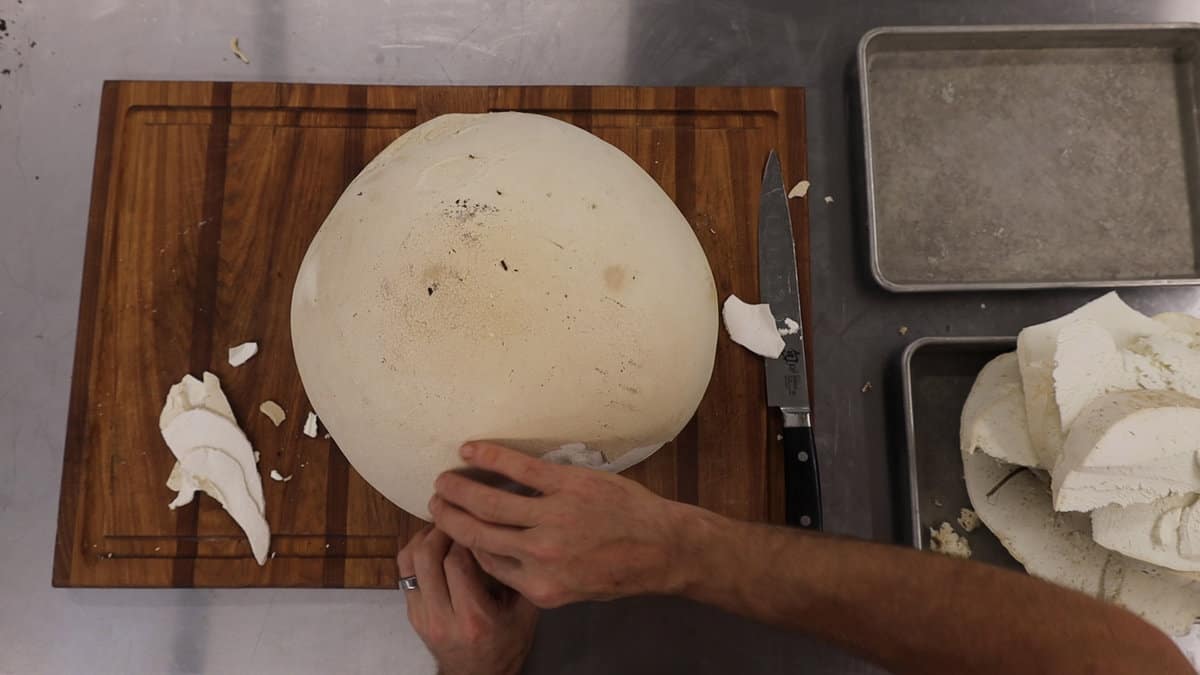 Hitting puffballs with the classic flour/egg/breadcrumb method makes them into crispy little cutlets that hold their shape just like a piece of meat would, or anything that's been breaded really.
Although the mushroom itself gets kind of steamed inside it's crispy breadcrumb coating, somehow it works. Granted, it's hard to make fried food taste bad and I don't bread and fry food to eat all the time, but I do keep it in the bag of tricks for when it's useful because it tastes great.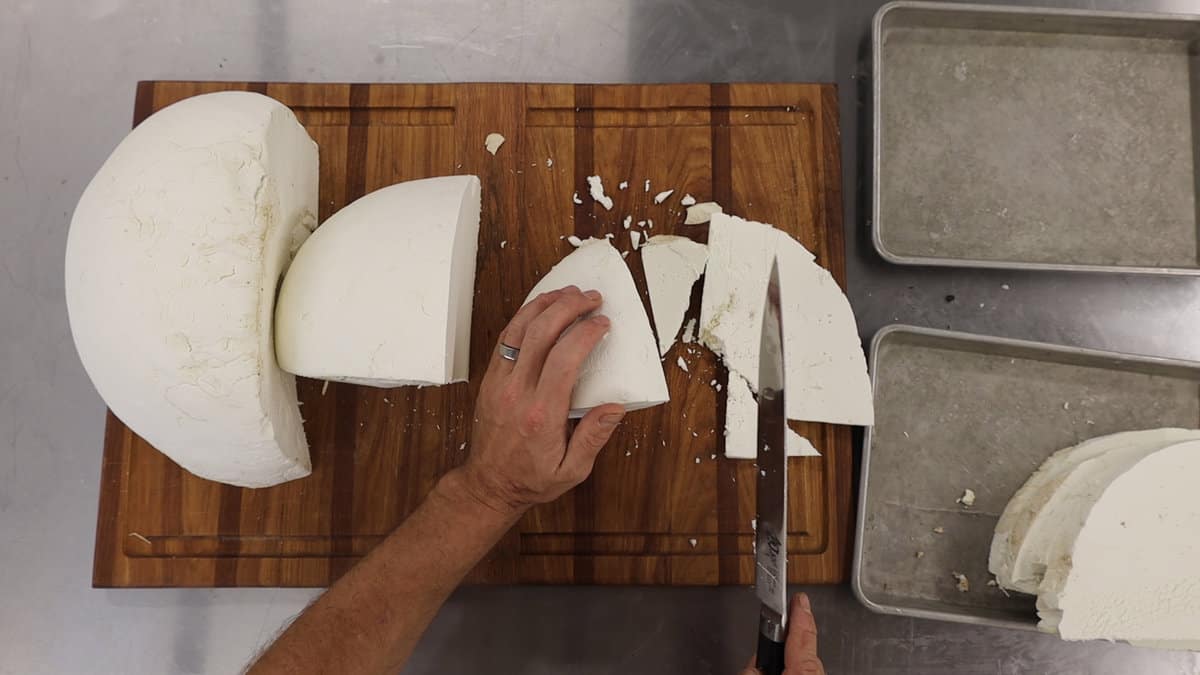 After you've fried your puffballs up you can do whatever you want with them. Plenty of recipes will dump stuff all over them like cheese, gravy, etc. Generally, I like a lighter touch, although I did make a lasagna with them the other week.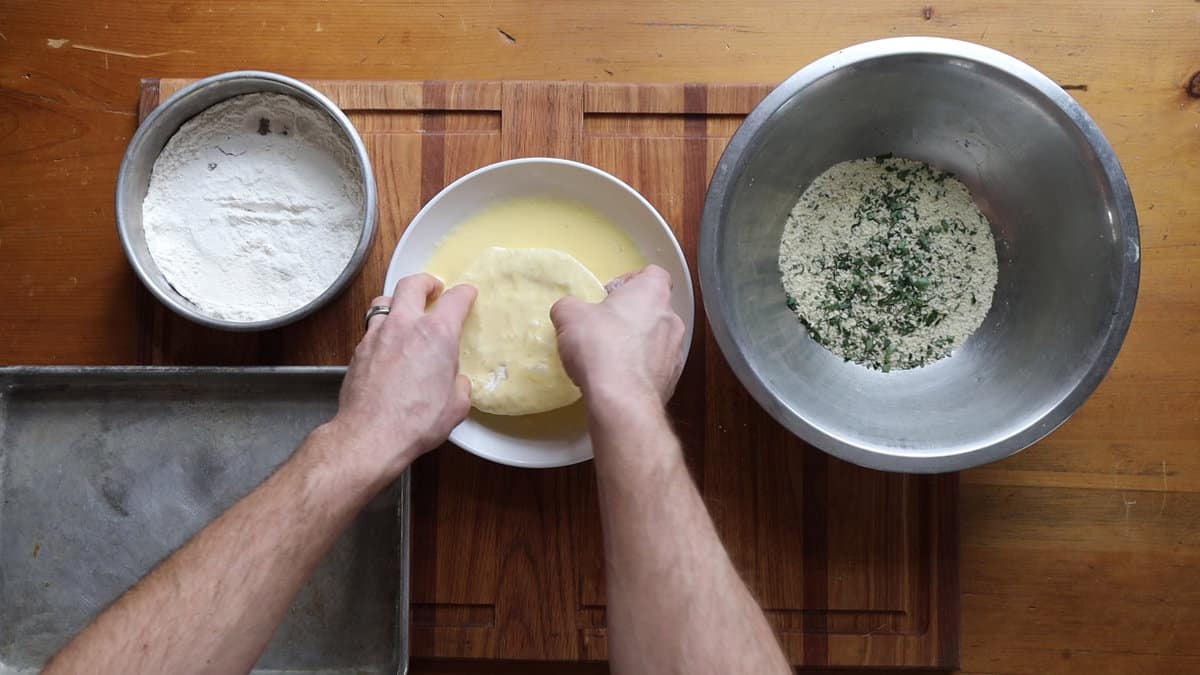 An Italian, Italian American, and also Argentinian and Mexican tradition (Via Italian immigration in WW2) is the "Milanesa" (named for the Northern Italian town of Milan) or breaded cutlet, which could be from the traditional veal, or from chicken pork or beef.
Most of the time, it's served straight up, maybe with a little lemon on the side, or my favorite-an arugula salad, lemon and a little olive oil.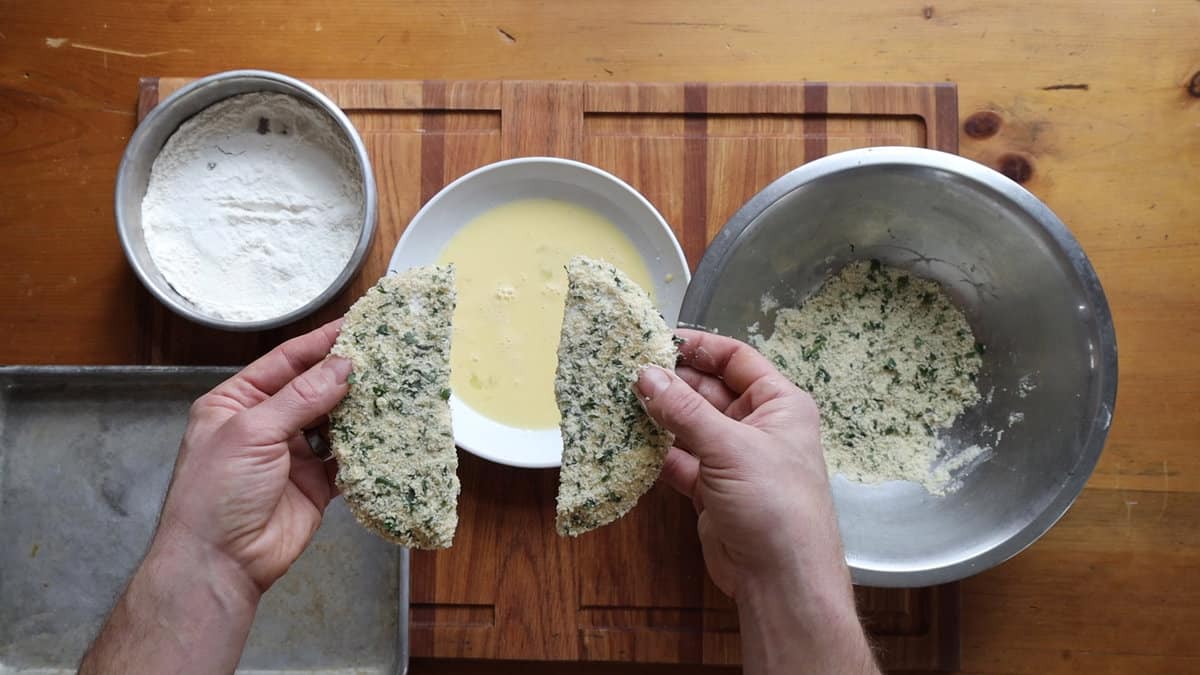 In the picture, I had it with an arugula salad and a few capers made from dandelion buds. Sometimes I serve capers fried too-held at room temperature and sprinkled on things. Just dredge them in flour, fry until crisp, set on a towel to dry until you need them.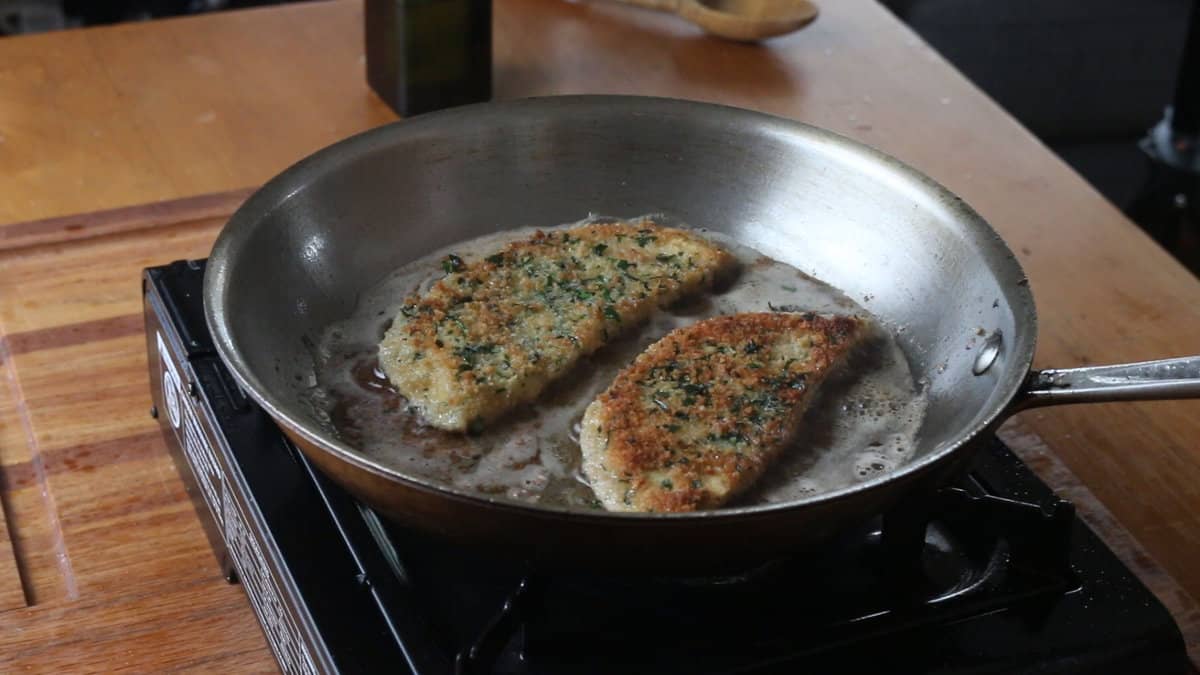 The finished product is great all by itself served with a green salad or your favorite vegetable side, but it's also good used to make puffball parmesan, which you can do by smothering the fried slices in some mozzarella, tomato sauce and parmesan.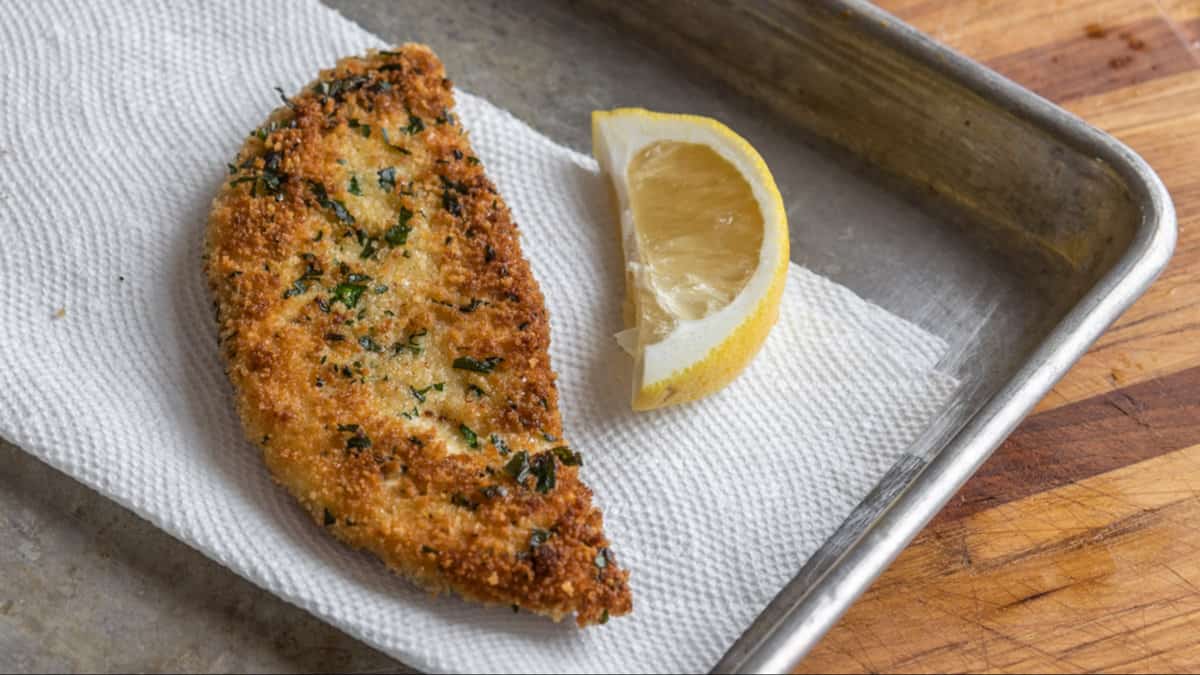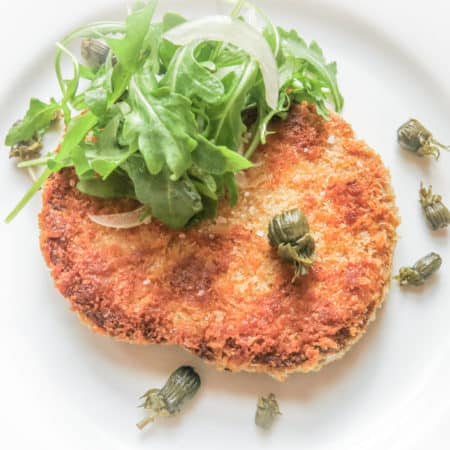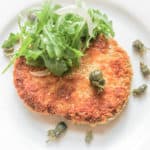 Print Recipe
Fried Puffball Mushrooms
Breaded, fried puffball mushrooms
Equipment
1 Cast iron skillet or 10 inch frying pan

3 Mixing bowls
Ingredients
8

oz

Fresh puffball mushrooms

puffball mushrooms vary in size

1.5`1

teaspoon

Kosher salt

½ teaspoon

Fresh ground black pepper

1.5

cups

All purpose flour

Panko breadcrumbs

3

large

Eggs

beaten well with a splash of half and half

High heat cooking oil

like grapeseed, as needed, for frying
For serving (optional)
Fresh arugula or whatever greens you have/prefer

Fresh lemon juice or wedge

Extra virgin olive oil
Instructions
Preheat an oven to 225, or to a warm setting.

Mix the flour with the salt. If you can grind the salt in a spice grinder to make it fine, do it.

If you haven't already, slice off the root end of the puffball and inspect for any bug damage, the flesh of the mushroom should be perfectly white, not at all greenish-yellow.

Using a long, sharp slicing knife, slice the puffball into ½ inch or so slices. Liberally coat the mushroom slices in flour, then tap off the excess and dip them in beaten egg, then the panko breadcrumbs.

Heat a generous amount of oil in a pan (¼-1/2 a cup should be good depending on the size of your mushroom slices and the size of your pan) on medium heat.

When the oil is hot and a breadcrumb sizzles in it, add the puffball slices and cook until golden brown on each side. Watch the heat, and increase or decrease it slightly, keeping an eye on the mushrooms so you don't burn them.

Pay close attention to the amount of oil in the pan, the breadcrumbs are going to soak up oil, and you don't to let the pan get dry, think of it like a shallow deep-fry. If the pan gets dry, add more oil.

Once the mushrooms are browned, place them in the warm oven on a cookie sheet with a resting rack to prevent the heat from being trapped and steaming the crispy crust until you're done with the rest.

When the mushrooms are all fried, sprinkle them lightly with some nice salt if you have, or just kosher salt, dress the arugula or other greens with the lemon, olive oil, salt and pepper to taste, then serve immediately.
Notes
I recommend making these for 2-4 people at a time. Trying to fry your whole puffball, if it's large, will require a hood vent or outside cooking. 
Nutrition
Serving:
3
oz
|
Calories:
237
kcal
|
Carbohydrates:
38
g
|
Protein:
11
g
|
Fat:
4
g
|
Saturated Fat:
1
g
|
Polyunsaturated Fat:
1
g
|
Monounsaturated Fat:
1
g
|
Trans Fat:
0.01
g
|
Cholesterol:
140
mg
|
Sodium:
935
mg
|
Potassium:
282
mg
|
Fiber:
2
g
|
Sugar:
1
g
|
Vitamin A:
203
IU
|
Vitamin C:
1
mg
|
Calcium:
30
mg
|
Iron:
3
mg
More