The question of eating wild mushrooms raw can be complicated, dangerous, and, in the hands of an experienced mushroom hunter, delicious. Read on and I'll explain the details, and there's a number of them.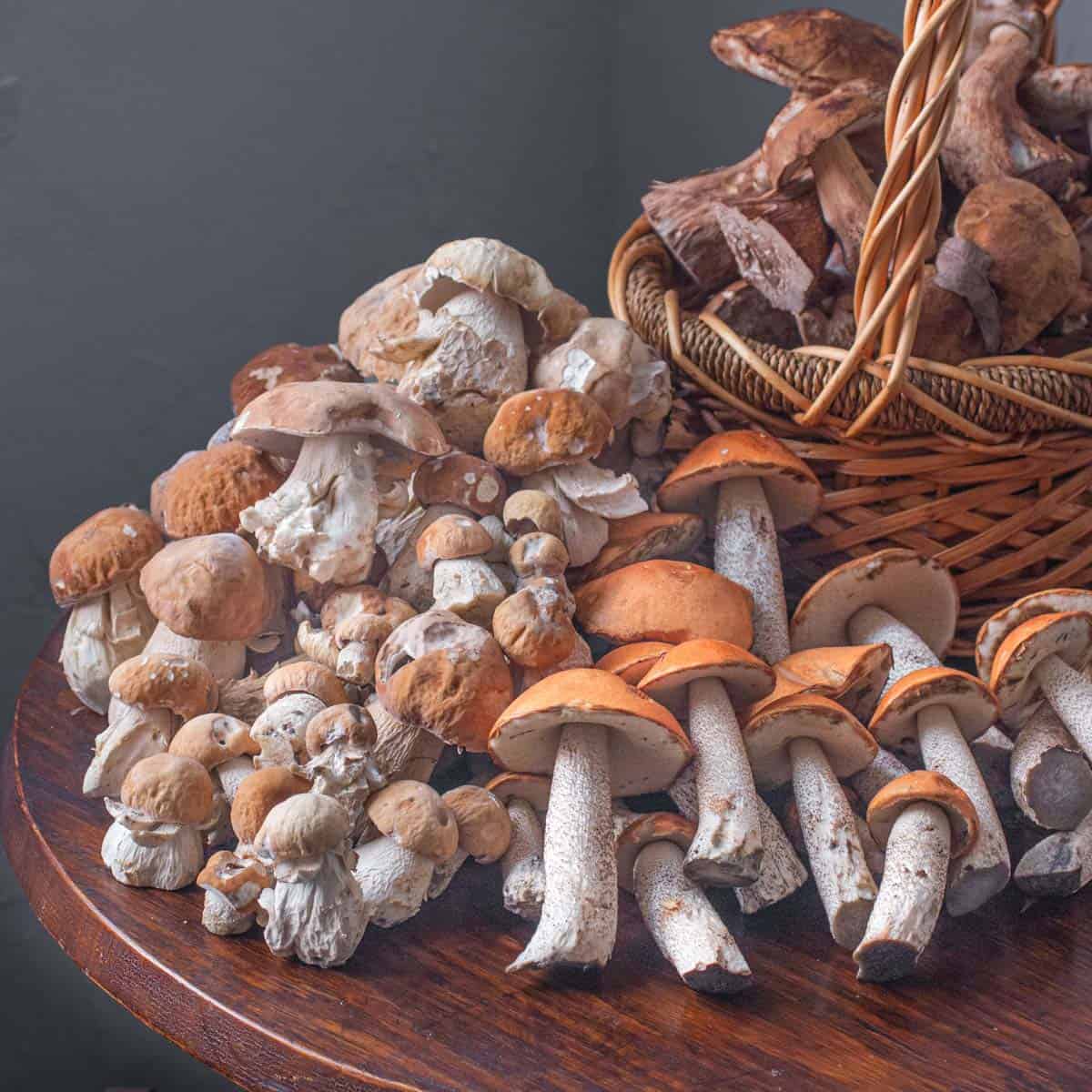 "You can't eat any wild mushrooms raw" is the mantra of plenty of mushroom clubs and mushroom hunters around the United States, and although I don't like engaging in online debates too much, (I know I'll get a few emails after I post this) the "can you eat mushrooms raw" question is one that I will debate on all day.
It's an issue that a number of wild mushroom hunters I know have a particular zeal for, and, like all good debatable things, is not a simple yes or no question. I'm going to do my best to explain why you can eat some wild mushrooms raw and how to go about it safely, if it interests you.
I'd say 99% of edible wild mushrooms shouldn't be eaten raw, but the one percent left over are exciting, delicious, and are worth seeking out.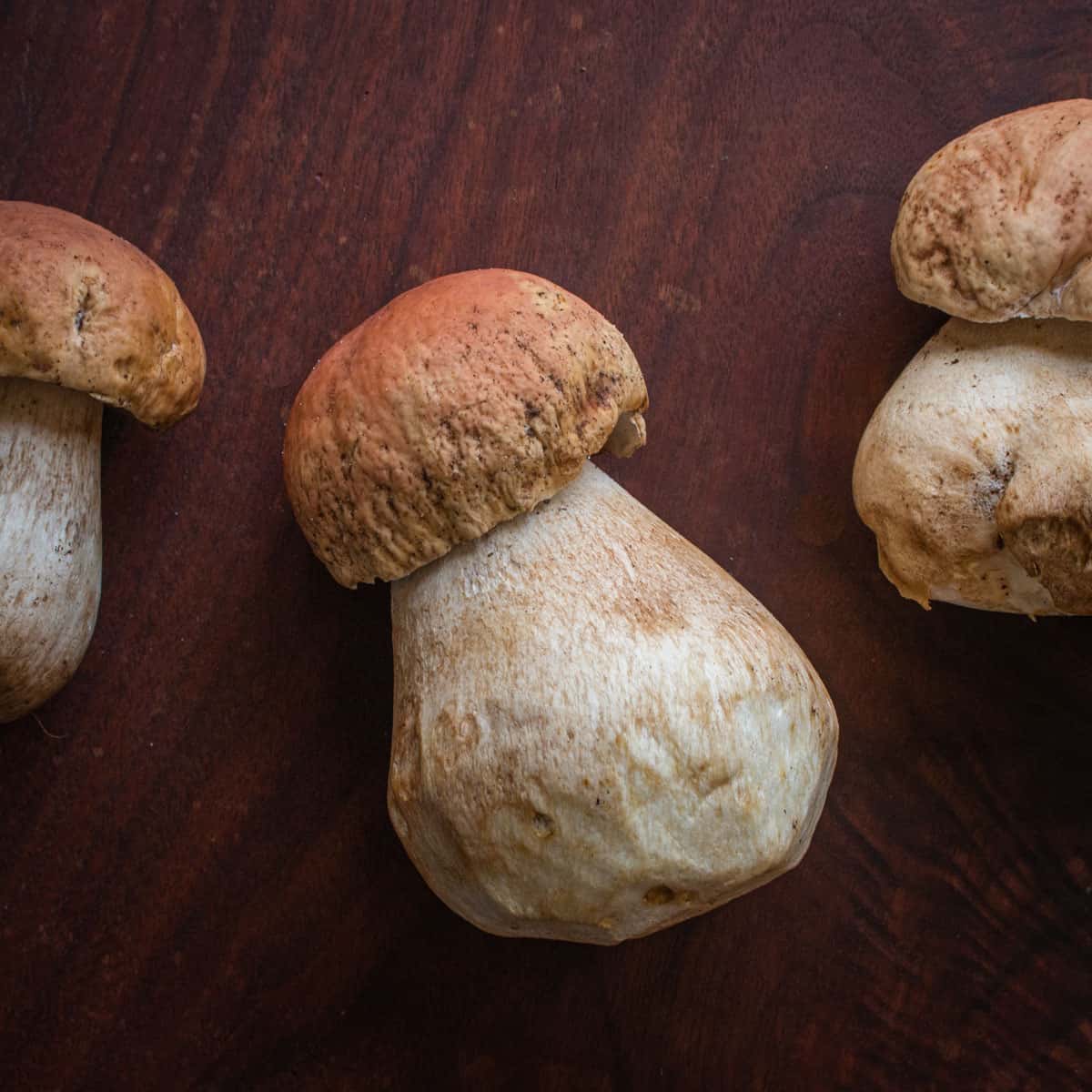 There's a catch though, and it's a big one. The catch, is that the vast majority of edible wild mushrooms should not be eaten raw. Period.
Heck, I'd say 99.% of wild mushrooms shouldn't be eaten raw. First, I think it's useful to address and consider the obvious, that most people in America will have, at least at one point in time, have gone to a salad bar and seen the ubiquitous, sliced, raw button mushrooms sitting next to the black olives and yellow banana peppers.
But, there's a big difference between those raw, sad white mushrooms from the salad bar, and wild mushrooms. Edible wild mushrooms can be any number of different species, all with different shapes, sizes, aromas, and, even toxic properties.
Some edible wild mushrooms are toxic raw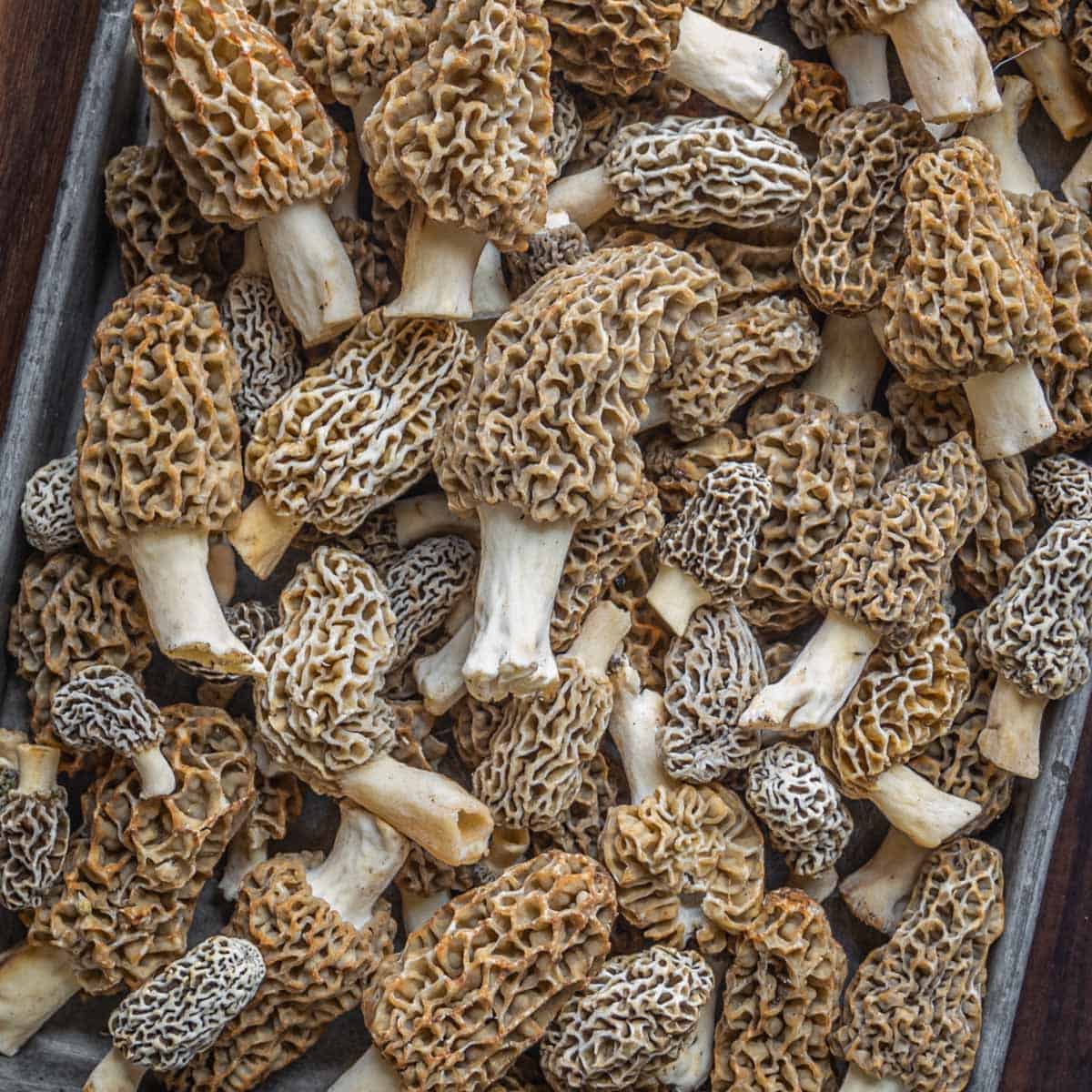 There's numerous wild mushrooms commonly eaten by hunters like my self that are both edible, and toxic, including, but not limited to: morels and their cousins, Leccinum /scaber stalks, blewits, honey mushrooms, edible amanitas, and I could go on.
Eat those raw, and you can get very sick, some of them could even put you in the hospital. But, if you cook them, the mushrooms are edible, and safe since exposure to high, prolonged heat (or par-blanching in the instance of Amanita muscaria and some Gyromitra), denatures the problematic compounds, although an unlucky few people have or can develop allergies to them, even after cooking.
Mushroom allergies
I have one friend, who can't eat morel mushrooms, any morels, if he has alcohol with his meal. I know another friend who only gets sick when he eats a specific type of black morel when consumed with alcohol.
Another person I know can't have hedgehog mushrooms, at all, and gets horribly sick from eating them even well cooked. Some people can't have lobster mushrooms, others have their lips tingle and get slightly numb from eating chicken of the woods.
To be clear, those sort of individual sensitivities are outliers here, and discussing them is outside the scope of this post.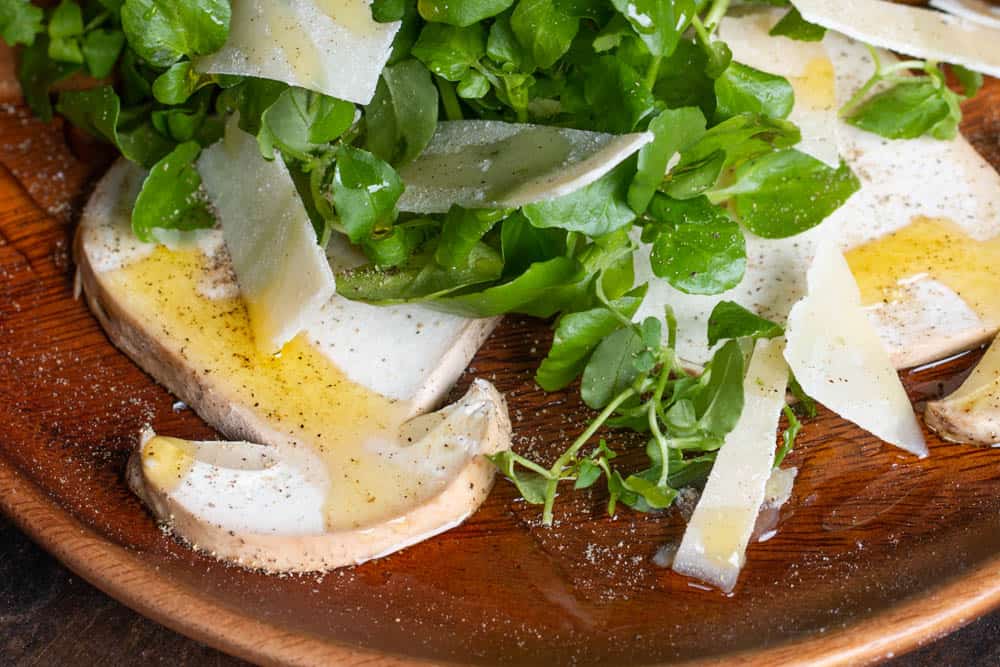 So, the question is, why would, or should you, ever eat a raw mushroom, if you can cook them?
In short, because some mushrooms are edible raw, safe to eat, and certain ones are absolutely delicious. There's even some wild mushrooms I prefer not to cook, for the most part (for the record that's beefsteaks and truffles).
You can't digest crabshells (chitin)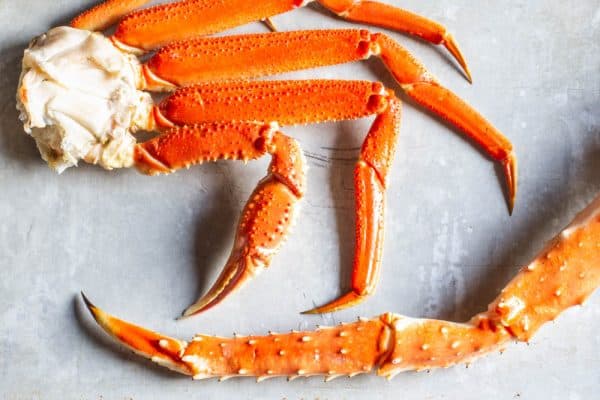 Oh, and I would be remiss if I didn't address the chitin digestibility argument here. People love to say "you cant eat mushrooms raw! Don't you know mushroom tissue is made of chitin--that's like eating crab shells--humans can't digest crabshells!"
The crab argument is partially right, but the small truth that humans can't digest chitin is a moot point, and is really just a phrase that gets parroted from person to person often to bolster their cause, without people thinking critically about it.
Sure, we can't digest crab shells, I get that. Tell me though, when's the last time you saw someone eat a crabshell? Crab shells are spikey, and, not inviting, although they do make delicious stock and compound butter.
Shrimp shells, on the other hand, are also made of chitin, and people do eat those, some with relish, especially when the shrimp have just molted and the shells are very thin.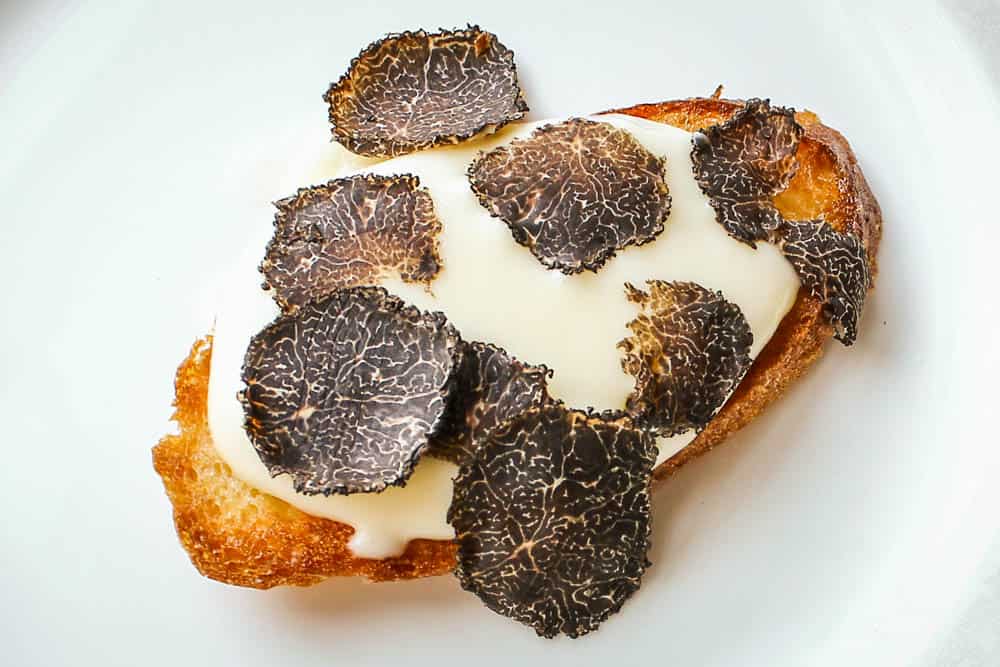 I don't eat shrimp shells myself, both since I don't live near the cost and since I usually save them to make stock, but it's a thing.
So, why would someone eat a shrimp shell if they can't digest it? Well, big surprise here: people eat shrimp shells because they like the taste, err texture, or maybe both in this case.
Digestion ≠ Pleasure
What I'm getting at is that humans and other animals commonly eat things that they can't digest for some reason or another. Dogs eat grass for digestive issues, so do cats. People eat all manner of weird shit, in fact, I'd wager humans eat the largest amount of things as a species that we can't digest "properly" compared to any other species in the world.
I mean c'mon, most of us can remember the first time we noticed what happens after we eat an ear of sweet corn! In fact, corn is a great example here.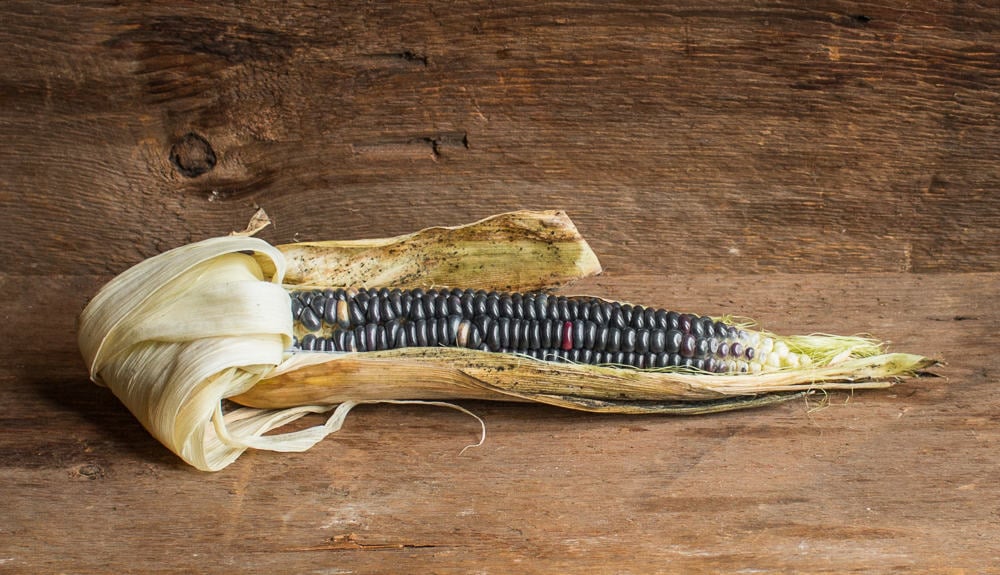 Humans don't get much from eating corn, nutritionally speaking. Sweet corn, or corn kernals, have a little (or a lot) of sugar, some fiber, starch, but, not too much else in them.
Corn is actually deficient of a number of vitamins and minerals, and if we humans eat too much corn, it is a well known fact that we can get something called pellagra, a nutrient deficiency that spread after Europeans brought corn from the New World, around the world.
Guess what? (Quick aside here) Native Americans didn't got pellagra, they learned eons before that they could derive more nourishment from corn if it underwent a chemical process called nixtamalization, which is how we got tortillas and masa.
The point is, millions of people will butter up an ear of corn this summer and not give a thought to if they can "digest it properly". The sweet corn-eaters, myself included, eat that buttery steaming ear of indigestible kernals because it tastes good to them.
And that, is about as good of an analogy as I can find for the argument that you can eat some wild mushrooms raw, not care if you digest them "properly" and even (gasp!) enjoy them.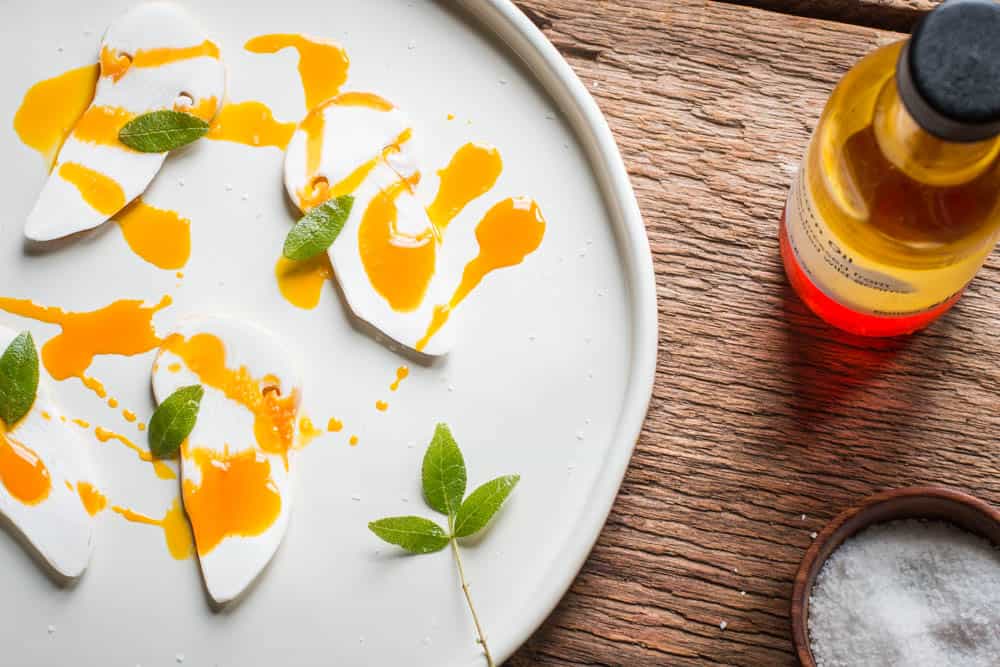 Enjoy in small amounts
But, before I tell you about why you might enjoy some select raw favorites, we should mention dosage. The amount of wild mushrooms I'll eat raw is very different from the amounts I'll eat cooked.
To put it in perspective, when I do eat wild mushrooms raw, it's generally in small amounts in a salad, or an appetizer, maybe an ounce at the most, typically much less, roughly half and ounce, or even less.
A little raw shroom can go along way, especially with something as aromatic as matsutake or truffles. By contrast, when I eat cooked mushrooms, I usually consider 2 oz of fresh mushrooms a decent serving.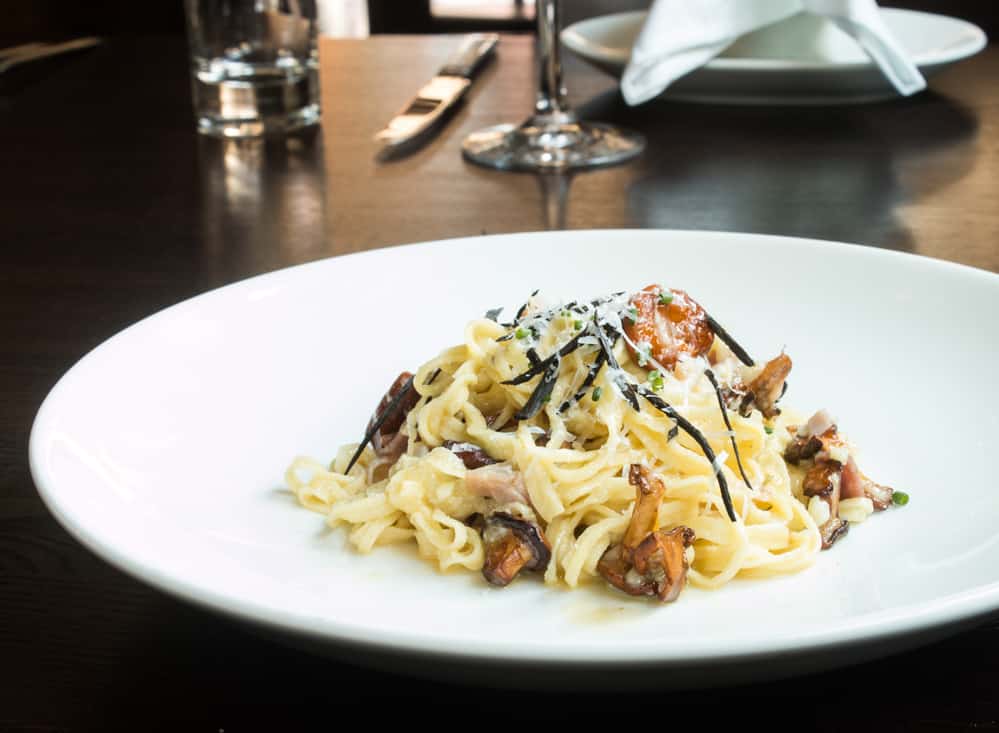 Not sold on raw shrooms yet? Don't worry I have more. The next thing that's good to look at, are a few particular mushrooms, and from there, a couple culinary traditions, specifically Italian, French, and Japanese. Here's the big ones that are the best examples I know of (if you know of more, chime in!).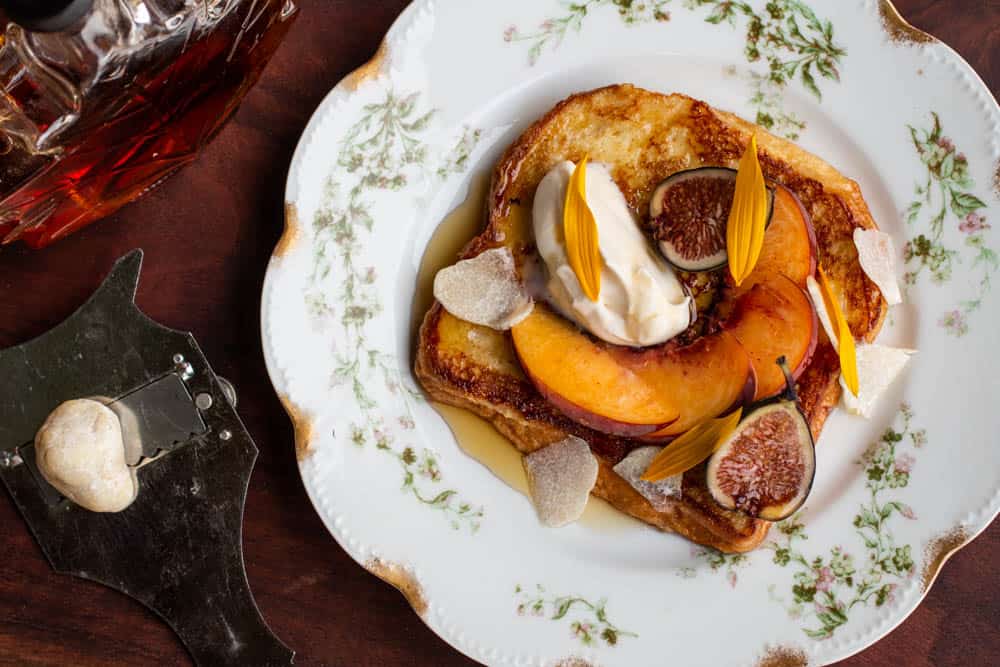 Wild mushrooms you can eat raw (with caveats)
These are the mushrooms that come to mind when I think of wild mushrooms I enjoy eating raw, in small amounts, on occasion.
This is not a complete list, and even some raw mushroom eaters might disagree with me on black trumpets, but I've been served them multiple times in France, along with golden chanterelles. This list is all mushrooms I have consumed personally, and in more than one case served to others either in restaurants or small gatherings. There's a few notes on each type.
Porcini (Boletus edulis and others)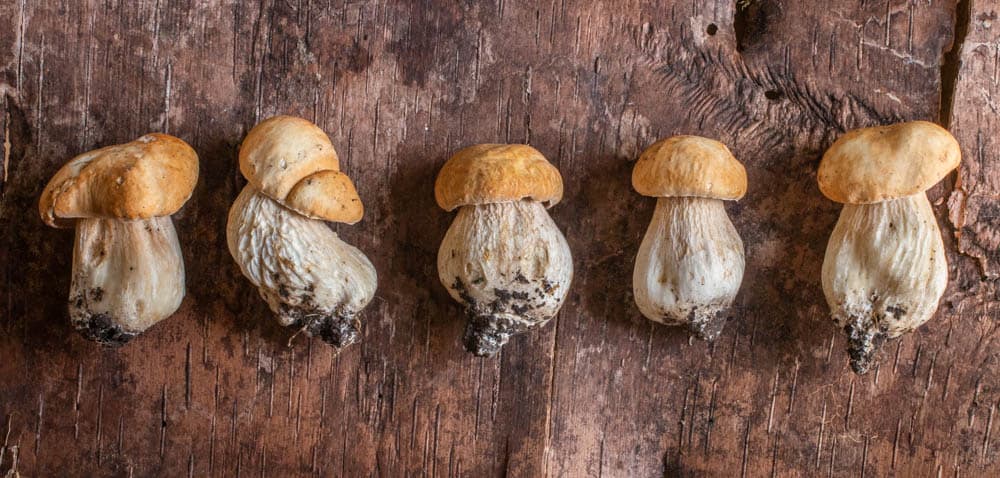 Dating at least back to the Romans, porcini could arguably be the poster child for raw mushroom consumption. Porcini have been eaten for a long time in Italy in their beloved insalata di porcini made of sliced raw mushrooms with parmigiano cheese, olive oil, and hopefully arugula and a good squeeze of lemon, maybe even a few slices of proscuitto.
It's a delicious salad—the mushrooms stay crisp and fresh, but have a rich, earthy taste. Every mushroom hunter should try a salad of raw porcini at least once. That being said, you need to know your boletes here, and if you're going to serve someone a raw porcini salad who hasn't had it before, you should be very comfortable with your local species and serve to others only in small amounts.
Matsutake (Tricholoma magnivelare, and others)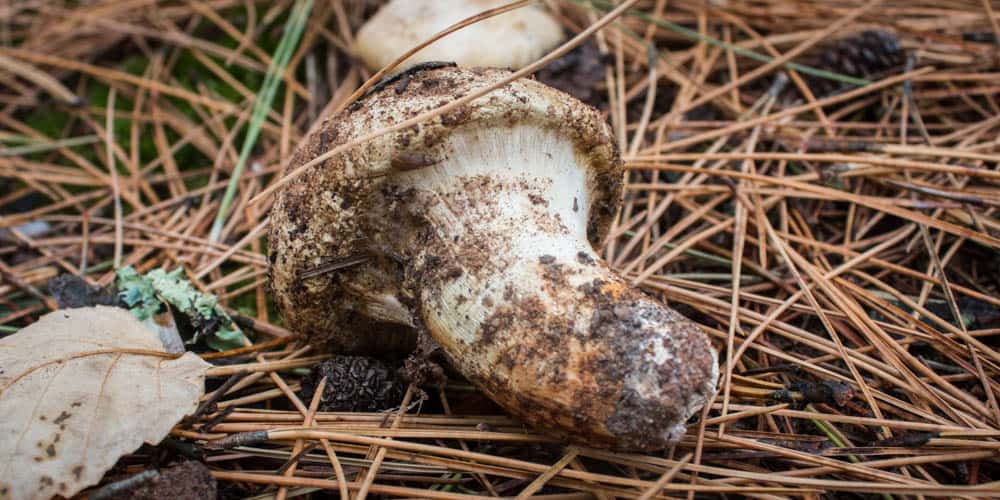 Matsutake are loved in Asia, specifically Japan and Korea. Matsutake are most well-known for famous dishes they grace like matsutake gohan, but a little known snack served at some sushi restaurants is, you guessed it: raw matsutake.
Raw matsutake have a powerful fragrance, so powerful some people won't like it. Powerful aromas and tastes are one of the hallmarks of a good delicacy though.
Caesars Mushroom (Amanita caesarea and others)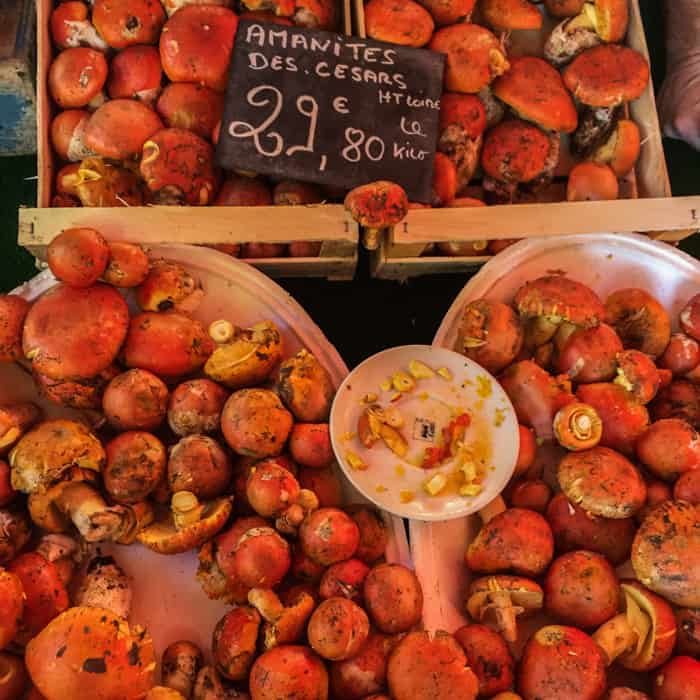 Another breadcrumb the Romans left behind is the second one in this list they named. Amanita caesarea literally means caesars mushroom, and it was reputedly served to them.
If the mushrooms were specifically served raw I don't know, since the only references I have of them in old Roman books are cooked, but it wouldn't be an outlandish thing to consider.
The Romans certainly ate stranger things. What I do know is that Caesar's mushroom are being eaten, possibly as I type this in France and Italy, and, I've eaten them myself.
In the open-air market of Aix-en-Provence, I got to try my first Amanita caesarea dipped in Provencal olive oil and sprinkled with coarse salt. It was excellent, and the mushrooms are served in salads like you might porcini.
Beefsteak / Oxtongue Mushroom (Fistulina hepatica)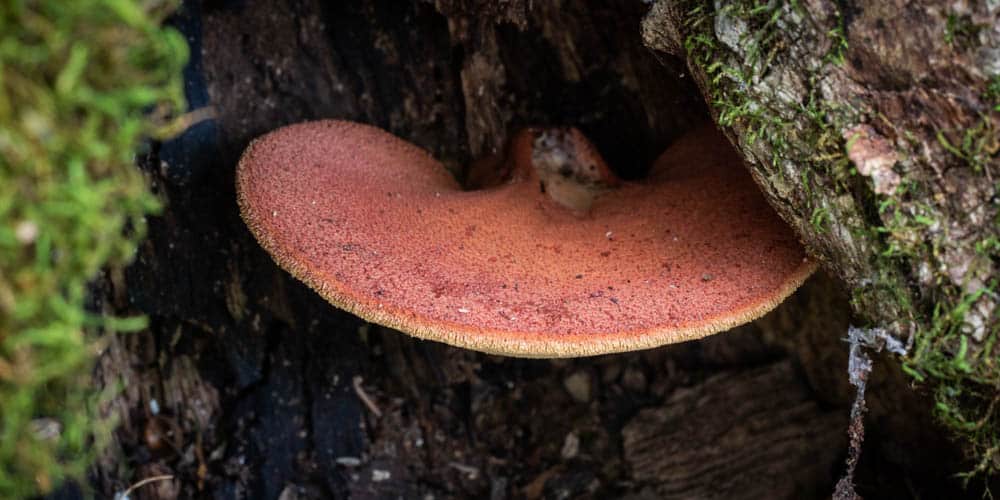 Beefsteak mushrooms are special in that they're the only polypore-type mushroom I know of that I enjoy raw. They're also one of the only mushrooms that I prefer to eat raw whenever I have them. Other polypores like hen of the woods and chicken of the woods mushrooms can have a bitter taste fresh, and chickens, depending on the type, could cause stomach problems with a few people.
Beefsteak polypores though were born to eat raw. Beefsteaks have a gentle tart flavor to them that reminds me of weak sorrel, with the mushrooms I've had tasting cleaner and more pleasant young.
Beefsteaks can be eaten just like you would porcini, and are likewise delicious eaten with olive oil, crunchy salt and fresh pepper and a squeeze of fresh lemon. The only downside to beefsteaks, if it can even be said, is that they're rare, at least for me.
Truffles (Tuber, various)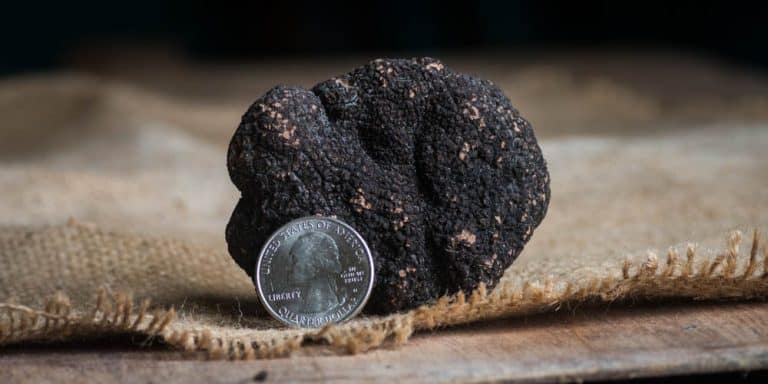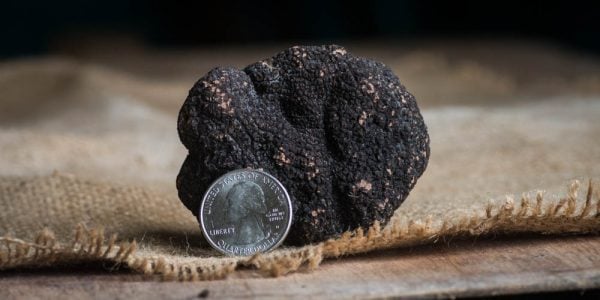 We can't forget about truffles. Just the thought of a waiter bringing over a truffle slicer and making it rain mushroom slices of the richest mushroom perfume is enough for most people to blow their, er, wine cork. I know here, some people will be quick to point out that truffles are small balls of mycelial tissue, and not technically mushrooms, but, for all intents and purposes, truffles are mushrooms.
Truffles are a world unto themselves, with new ones seeming to enter our culinary lexicon regularly--each one having subtle preferences and preparations they lend themselves to better than others.
For example: black truffles are great raw and good cooked, slowly-simmered black truffle risotto being one of the most famous dishes I know to use them. Other truffles don't like to be cooked at all, and could have their flavor ruined by too much heat, specifically white truffles, including the famous Alba white, bainchetto, and the Hungarian honey truffle, all of which I've enjoyed.
Black Trumpets (Craterellus fallax and some friends)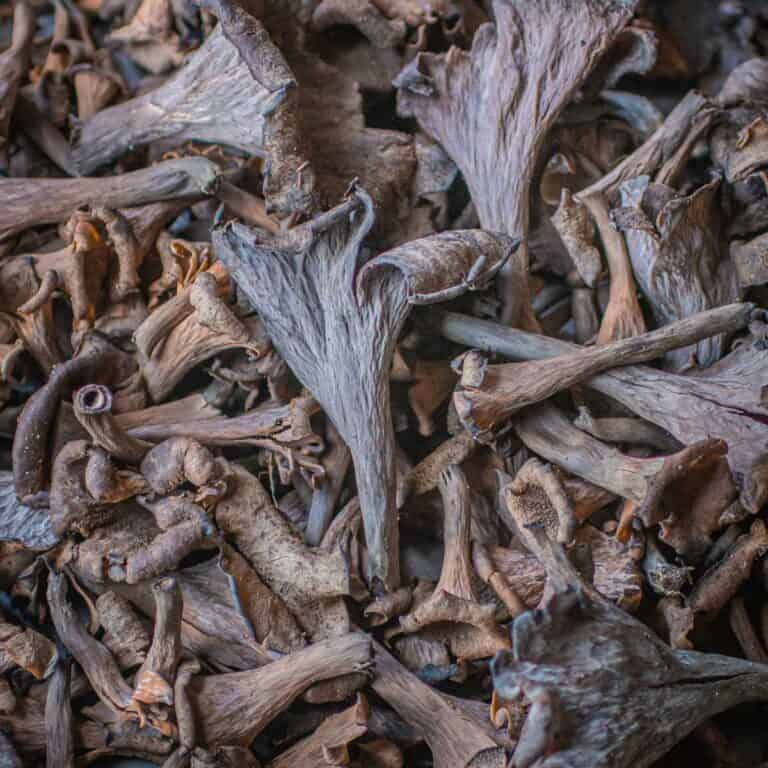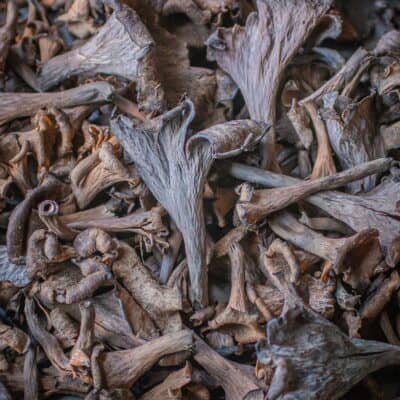 These are probably the least known wild mushroom I've seen people eat raw, and, with the amount of raw black trumpets I eat when I incorporate them raw into a dish, it's almost not even worth mentioning, almost.
When I eat black trumpets raw they're a novelty-a garnish strewn on something or a final touch as a way to add some volume or an interesting garnish (the same way I was served them at Jacques Chibois, in Provence.
I've heard of black trumpets being called poor mans truffles, and that's how I use them raw: in tiny amounts, sprinkled on top as a garnish, a few slivers--nothing more. They make a great garnish to a bowl of pasta, or a slice of grilled bread slathered with mushroom butter and topped with a heap of sauteed, garlicky, buttery mushrooms.
Cultivated mushrooms commonly eaten raw
This list will need to be updated, but for now, the most common will be fine.
Shiitake
The taste of raw shiitakes is, not that good, but I've seen them served raw in salads on occasion.
Portobello, crimini, and white button
Technically portobellos and their cousins are all the same mushroom.
Raw Mushroom Recipes
Related