Pastrami made from venison neck was a great break from the usual pounded, stuffed roast-type recipes I typically do with my deer necks. You can slice it, you can dice it, boil it, put it on a sandwich, fry it up with eggs or stick it in your ear. Read on and I'll explain the particulars.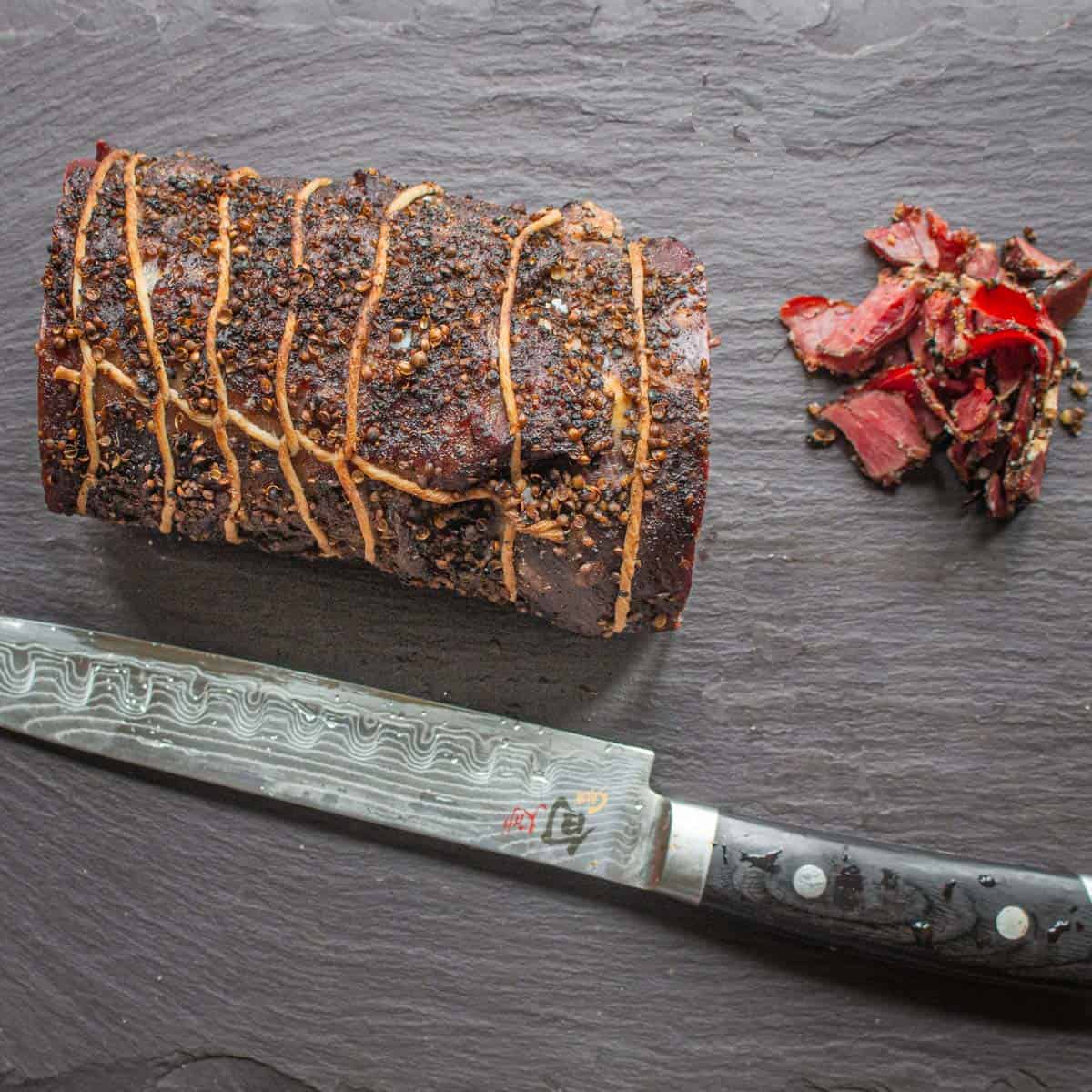 This is a great way to take a cut plenty of people still throw away and turn it into culinary gold. If you've never taken the neck off a deer in one piece, I show how to do that in Venison Neck Roast with Mushroom Sauce, which is also a great treatment for them if you want more of a center of the plate type dish.
Pastrami and it's cousin corned beef are some of the most popular ways to cook game I know of, and it's not hard to understand why. There's a certain magic transformation that happens when you soak tough cuts of meat in brine for an extended period of time.
Brine is a great equalizer in the world of meat tenderizing, and you can just about make any cut from any animal tender by soaking it in brine and then smoking, braising or boiling it.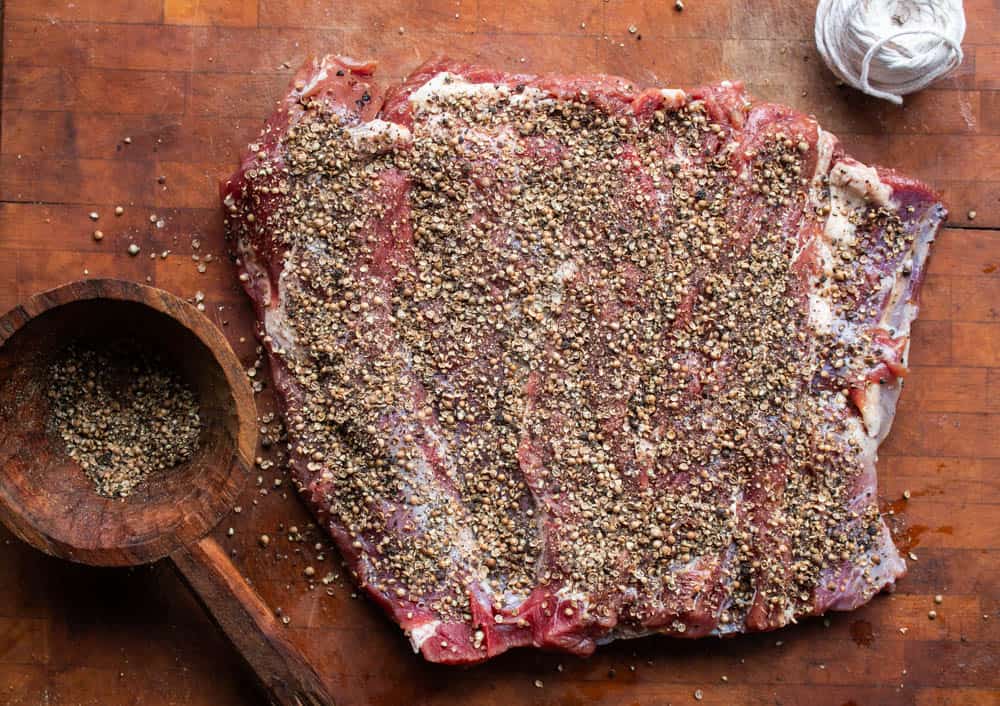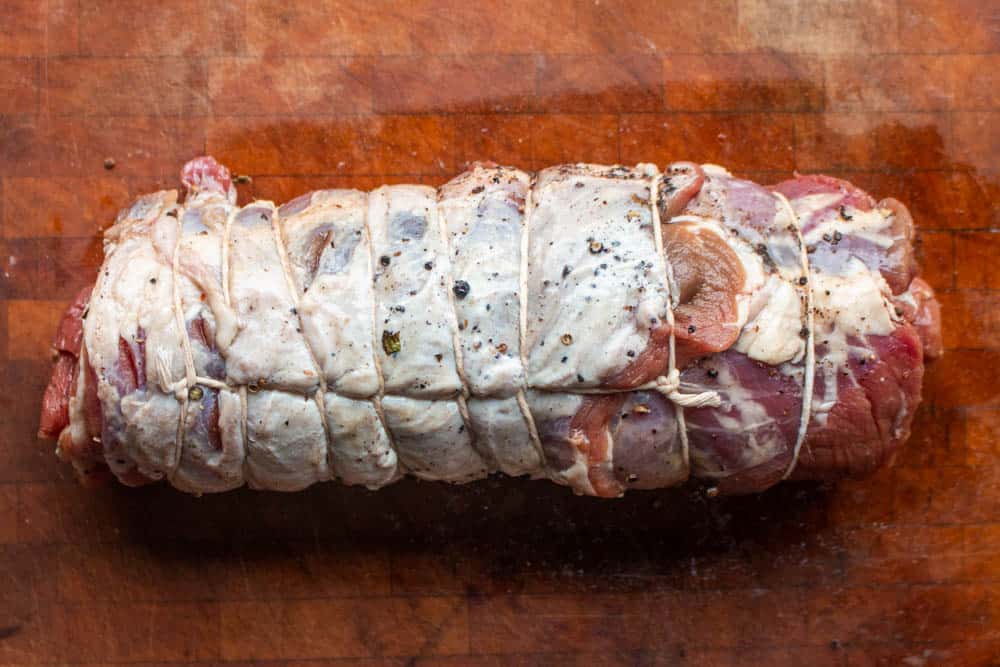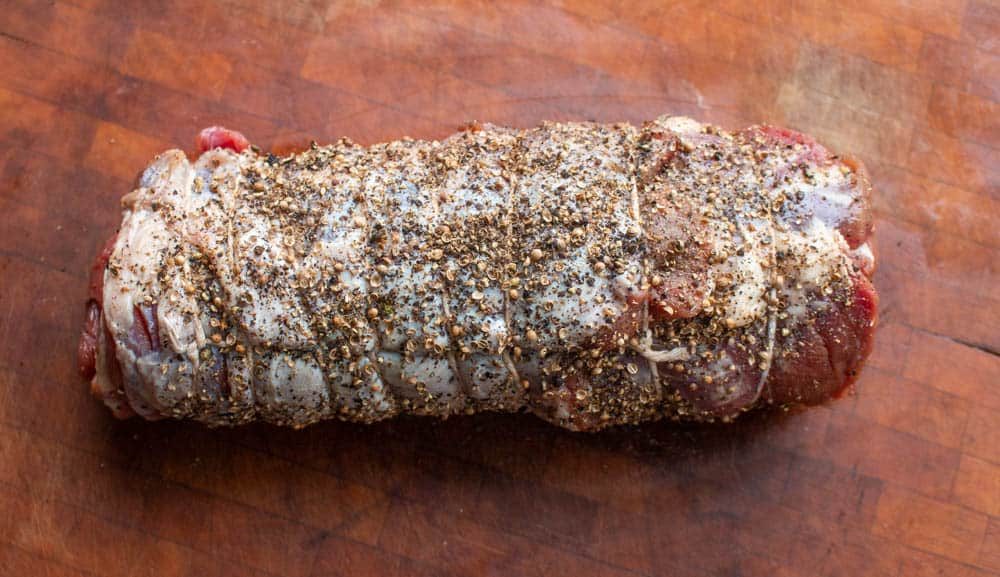 Deer pastrami recipes are nothing new, but venison neck is well suited to the prep here because of the flat shape of neck filets, which are the perfect thing to season, roll up and tie into a meat log.
Typically with pastrami, you crust the outside of the roast with peppercorns and coriander before you smoke it, which makes a crunchy, aromatic crust. That crust is part of what makes pastrami so good, and is what sets it apart from it's corned cousin, which is boiled. Using a neck allowed me to not only crust the outside, but, since the neck is rolled and tied, the inside too, for maximum crunch factor.
If you haven't made pastrami before, I highly recommend trying it, with whatever cut of venison or game (goose breasts are great too). It's an easy charcuterie project for beginners.
The finished product is useful for all kinds of things too, and they don't necessarily have to include being on a sandwich. You can dice it and cook with cabbage, fry it up with eggs (how I've been eating most of mine) and all kinds of other things. Moral of the story: save those deer necks!
More Venison Neck Recipes
If you think this is fun you haven't seen anything yet. My post How to Cook Lamb or Goat Neck, is filled with more interesting ideas and videos you can apply to venison.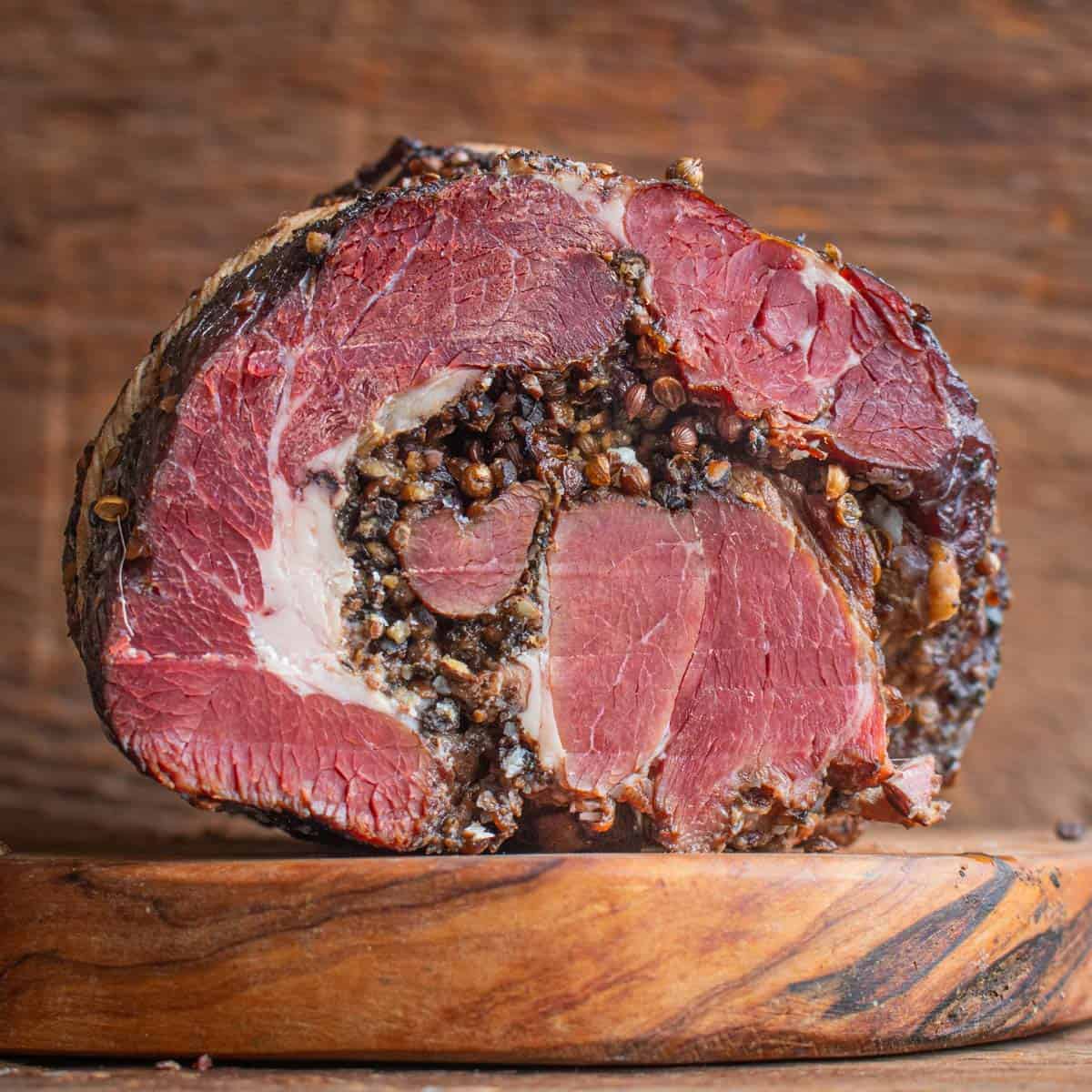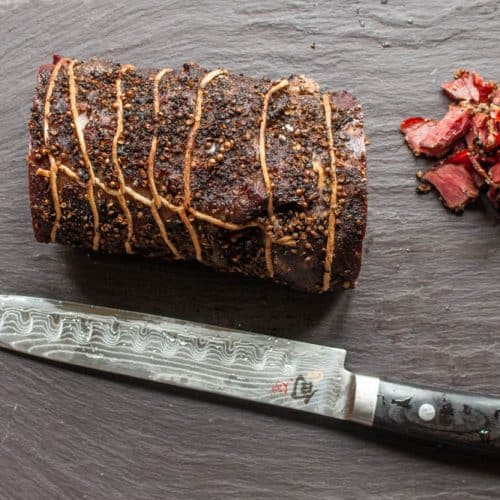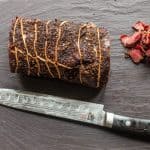 Print Recipe
Smoked Venison Neck Pastrami
Pastrami made from rolled, tied venison neck.
Ingredients
2

lbs

venison neck

This is roughly half a neck-see recipe notes
Brine
3

quarts

water

195

grams

salt

roughly ¾ cup

1

oz

pink curing salt

sodium nitrite

3

Tablespoons

pickling spice

2

cups

dark brown sugar

1

large yellow onion

sliced

3

dried bay leaves

1

bulb garlic

halved horizontally
Final Coating
3

tablespoons

whole black pepper

3

tablespoons

whole coriander
Instructions
Brine
Lightly toast the pepper and coriander, then crush coarsely (I like it crunchy).

Combine the ingredients for the brine and bring to a simmer in a stock pot. After the mix boils, chill completely.

Cut the neck open a bit if one part is larger than the other so that the neck lays flat like a book. Alternately, pound it with a mallet to make it flat and even, which will make rolling it into a log easier.

Immerse the neck in the brine for 5 days, repositioning it at least once to promote even penetration of the brine.
Smoking
After four days, remove the neck and pat dry, then season the inside (meat side that was next to the spine)

aggressively with the coriander and black pepper, reserving some to coat the outside.

Roll the neck up like a jelly roll, and tie it snug with twine, then coat the outside lightly with more pepper and coriander. Vacuum seal the neck log to help the coating adhere and refrigerate overnight, or wrap very tight in cling film (optional).

Smoke the neck at 250 for 2 hours, then put in a deep pan with an inch of water and cook, covered for another 2 hours at 300, or until it's visibly shrunken and is fork-tender, checking on it here and there and adding water to make sure the pan doesn't dry out.

Remove the pastrami, wrap in cling film to prevent it from drying out, then cool and refrigerate before slicing with a long, sharp knife.
Notes
The brine for this recipe will accommodate up to 3-4 pounds of neck. You can scale it to do more or less if you like the recipe.
For the necks, you want them filleted off the spine retaining as much meat as possible, and cut into a rectangle that can be rolled up.
Nutrition
Serving:
3
oz
|
Calories:
366
kcal
|
Carbohydrates:
59
g
|
Protein:
27
g
|
Fat:
3
g
|
Saturated Fat:
1
g
|
Polyunsaturated Fat:
1
g
|
Monounsaturated Fat:
1
g
|
Cholesterol:
96
mg
|
Sodium:
400
mg
|
Potassium:
533
mg
|
Fiber:
2
g
|
Sugar:
23
g
|
Vitamin A:
35
IU
|
Vitamin C:
1
mg
|
Calcium:
113
mg
|
Iron:
5
mg