Boneless, tender deer neck roast with mushroom sauce is basically fancy pot roast. It's one of my favorite venison neck roast recipes.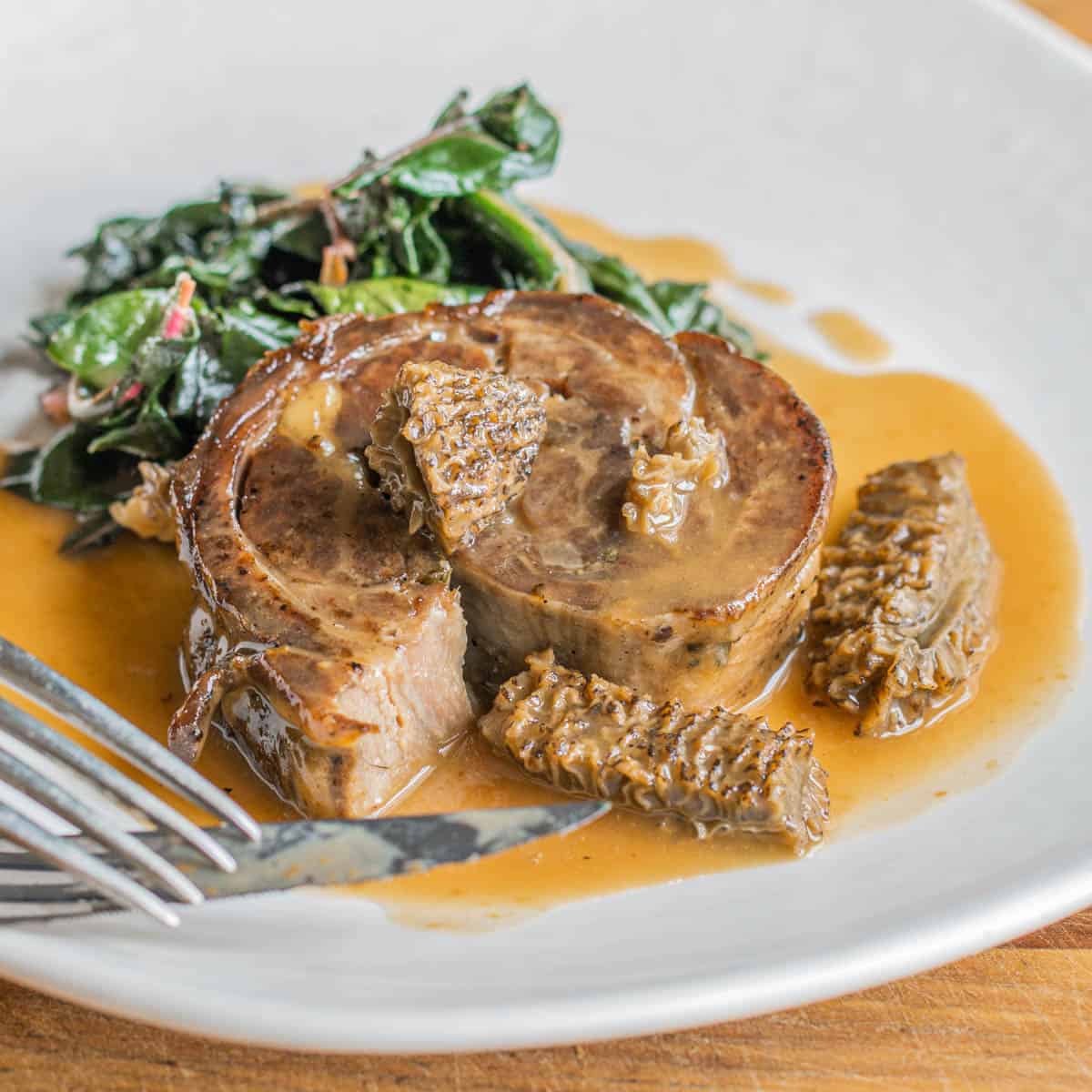 One of the most flavorful cuts of venison
With its intramuscular fat and connective tissue, a neck roast can be one of the most tender, flavorful cuts of meat meat of any larger-sized wild game animal.
I get a little confused when I see people post pictures of deer being trimmed that have the neck and head cut off at the shoulder. It really isn't that difficult to pull the fur down to the chin and expose the neck when you're skinning something.
If you've ever loved the tenderness of a good pot-roast, and the mouth-watering flavor that goes along with slowly cooked, braised meat, you'll do backflips for neck.
Deboning, rolling and braising
As a bonus if you de-bone a venison neck it will come in a neat, flat form that begs to be stuffed, rolled, braised and sliced, showing off a nice spiral when cut. Removing the bone also reduces the cooking time for them to become tender.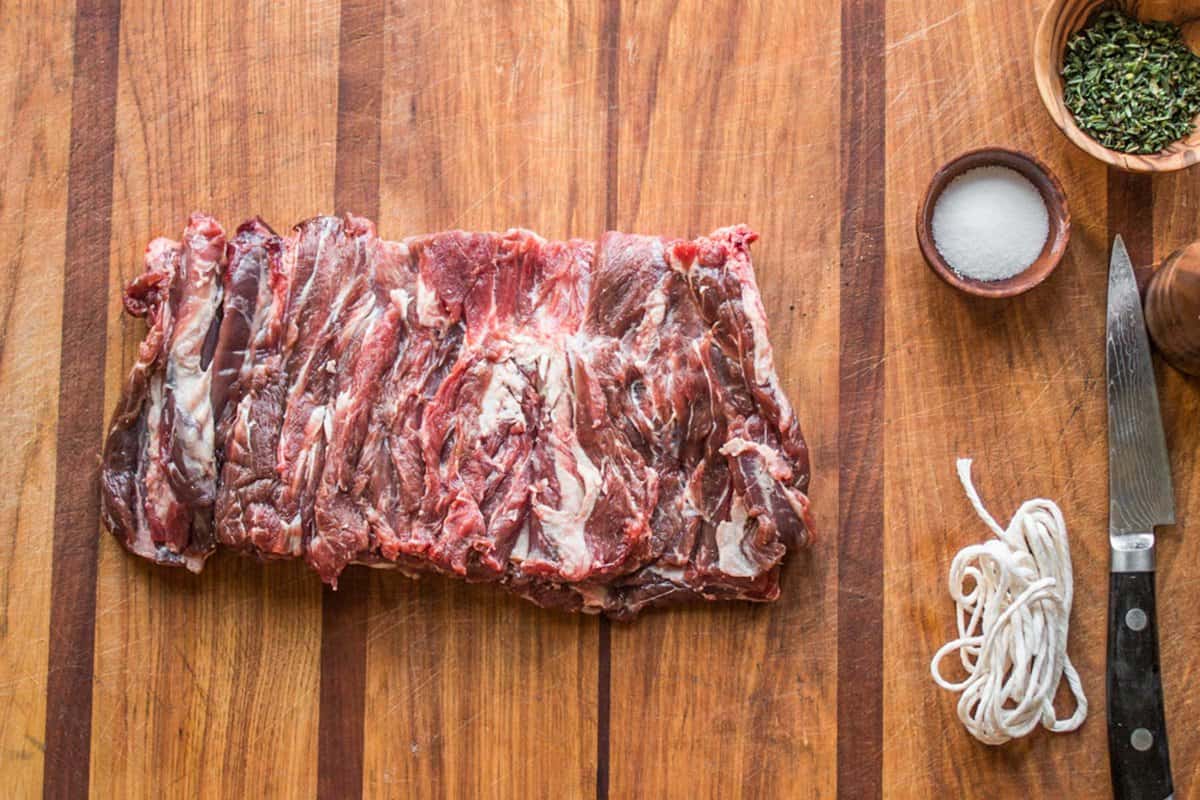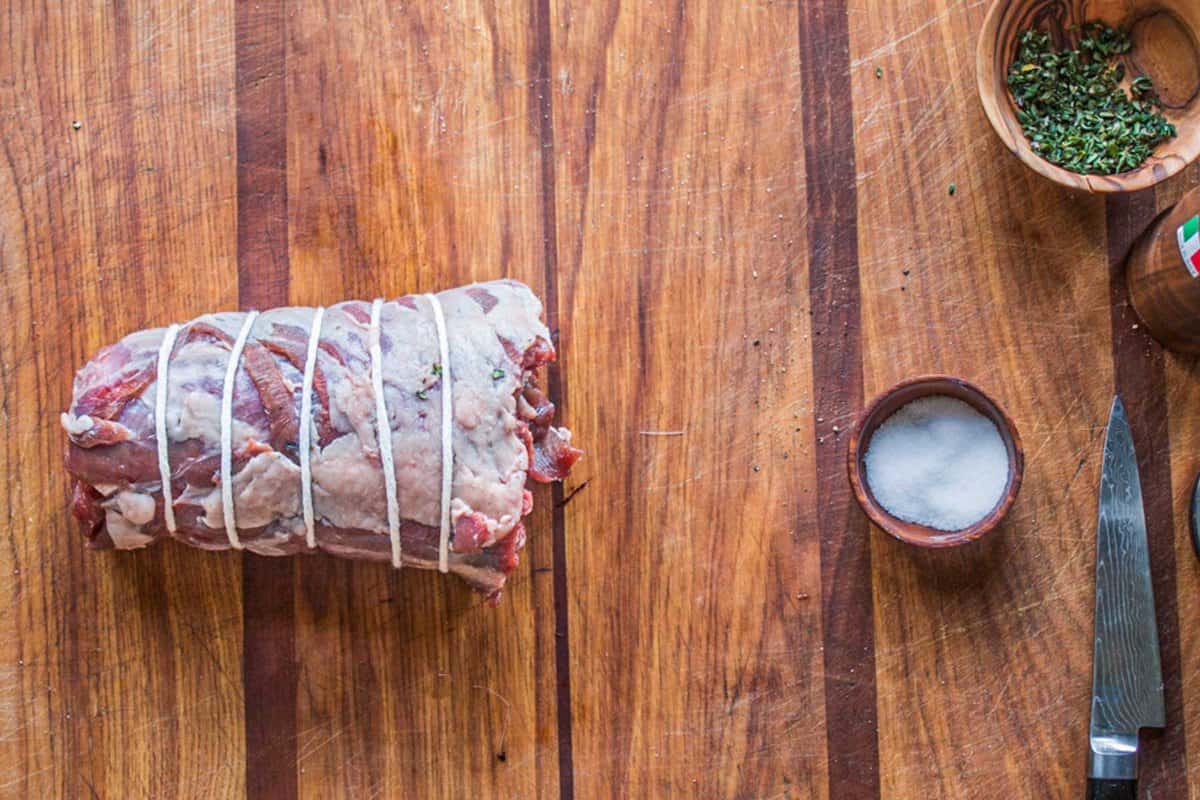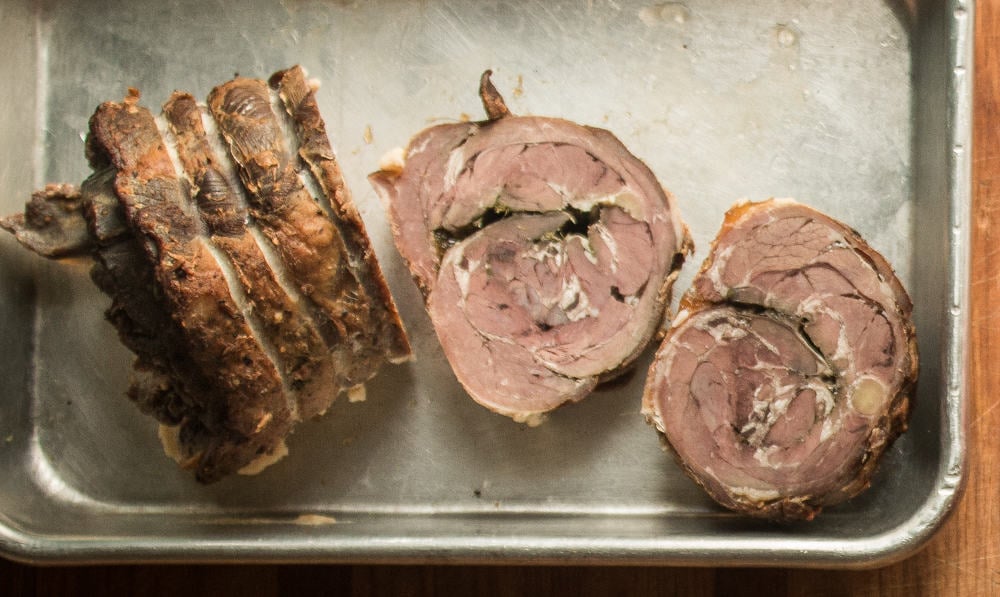 To show how much fun necks are, I made a demo of a super simple way to cook them: seasoned with salt, pepper, and thyme, rolled-up, braised, nestled on some greens I saved from the garden and sauced with the braising juices infused with morels. If you don't have morels you can use whatever you have laying around.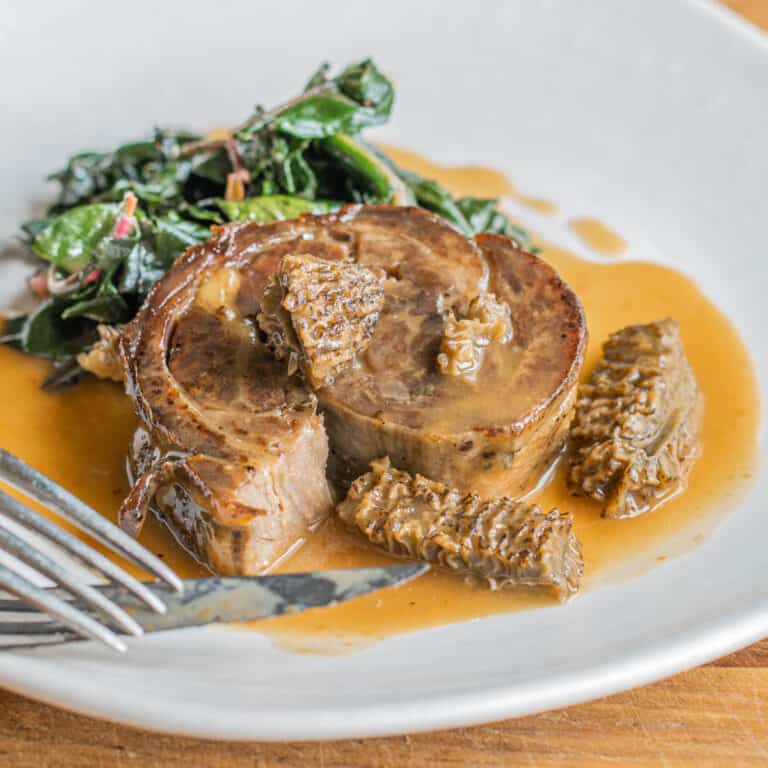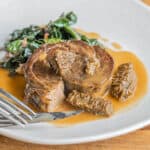 Print Recipe
Venison Neck Roast with Morel Sauce and Wilted Greens
Tender venison neck pot roast with creamy morel sauce and wilted chard or your choice of greens
Equipment
3 ft butchers twine

1 Boning knife

1 Dutch oven or slow cooker
Ingredients
1

venison neck

roughly 2-3 lbs

Kosher salt and fresh ground black pepper

to taste

1

teaspoon

fresh chopped thyme

2

tablespoons

all purpose flour

kneaded with 2 tablespoons unsalted butter to make kneaded roux

4

cups

venison or other meat stock

preferably made using the spine and some other scraps

1

Tablespoon

duck fat or light-tasting oil

for warming up the greens

1

cup

water

6

large dried morels

about 15 grams

12

oz

fresh leafy greens

or blanched, shocked and frozen greens
Instructions
Inspect the neck for fur. Remove the spine and windpipe from the neck. If you have a dog, consider cooking the windpipe for them, it's a great treat. Lay the neck flat on a cutting board and tenderize the fat bottom portion that connects to the shoulder, don't demolish it, just even it out a bit.

Season the neck well with salt, pepper and chopped thyme on the inside. Tie the roast, then season the outside. From here, If I have a day to work ahead, I'll let it sit overnight in the fridge uncovered to dry and infuse, but cooking it right away is fine.

Brown the roast in a Dutch oven or in a cast iron skillet if you want to put it in a slow cooker. Deglaze with ½ cup of the venison stock. Reduce the stock until it is nearly dry, then deglaze with the remaining stock. Put a layer of parchment on top of the roast, then top with a lid and bake at 325F for 2 hours or until fork tender.

Remove the neck from the oven, chill overnight, then skim the fat from the pot and remove the twine. Cut the roast into 4 equal portions. If the deer was larger, it could yield 6 portions. Cover the sliced roast with cling film and allow to come to room temperature.

Meanwhile, hydrate the morels in 1 cup of water for 15 minutes, then swish them, squeeze out the water and cut into 1 inch tubes. Put the morels back in the water and swish again to remove grit, then squeeze out the water again, and reserve, then strain the soaking water through a seive and add to the venison stock.

Reduce the stock on medium heat for 30 minutes, then whisk in ½ the roux, and then small amounts of the remaining roux until it's thickened and you like the consistency. You should have about 1.5 cup of sauce, and will likely have extra. Adjust the sauce for salt and reserve.

To serve, brown the slices of venison neck on one side until golden and keep warm. Meanwhile, wilt the greens in the lard, season, blot on a towel to remove water, and make a mound on 4 preheated dinner plates, topping each with a neck slice, and spooning the morel sauce over the top.
Nutrition
Serving:
5
oz
|
Calories:
246
kcal
|
Carbohydrates:
14
g
|
Protein:
33
g
|
Fat:
6
g
|
Saturated Fat:
2
g
|
Polyunsaturated Fat:
1
g
|
Monounsaturated Fat:
2
g
|
Cholesterol:
103
mg
|
Sodium:
404
mg
|
Potassium:
668
mg
|
Fiber:
1
g
|
Sugar:
4
g
|
Vitamin A:
7
IU
|
Vitamin C:
1
mg
|
Calcium:
16
mg
|
Iron:
5
mg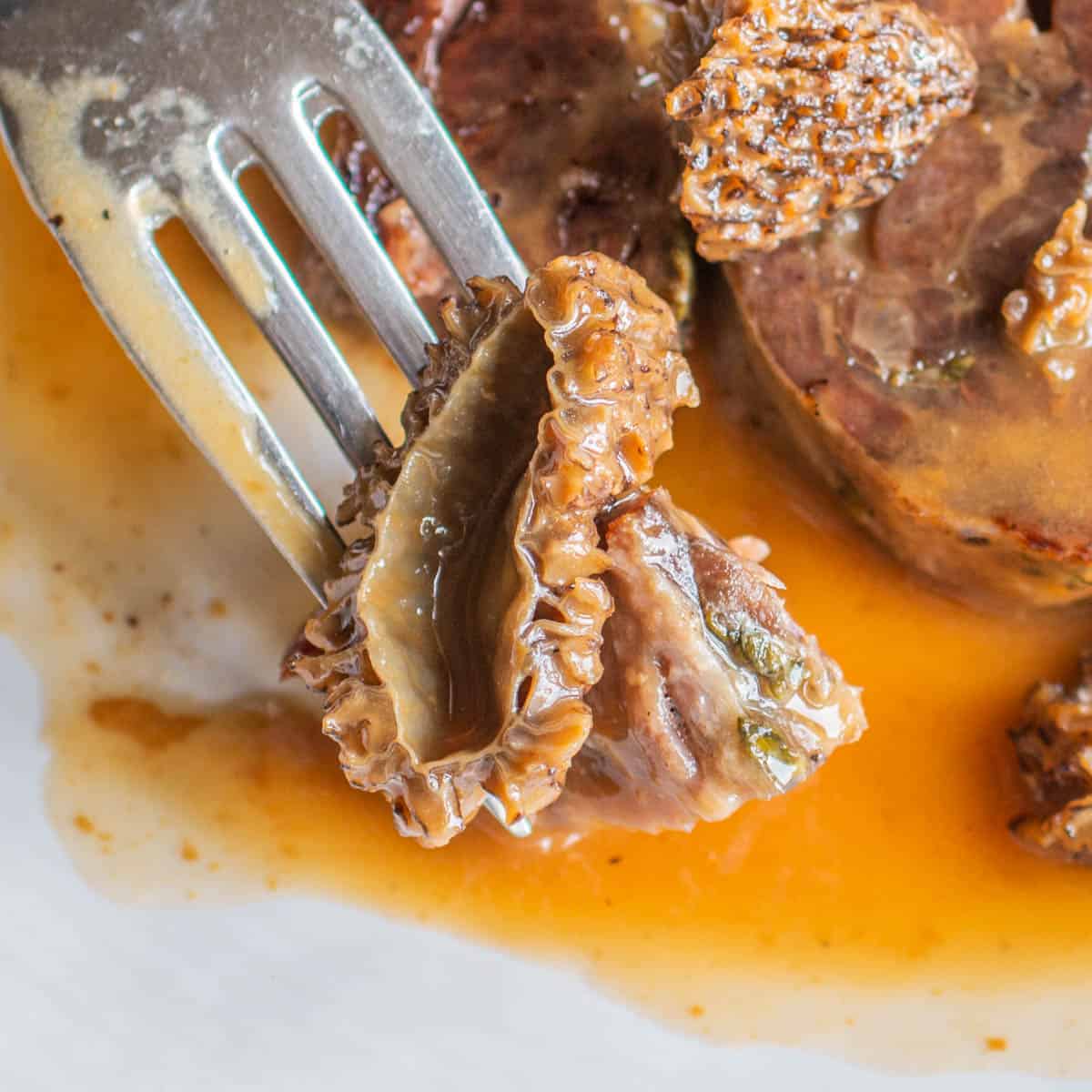 Related Posts