Fresh horseradish. Just the thought of it makes my eyes water with glee. If you want to know how to make the best prepared horseradish from fresh roots, you're in the right place.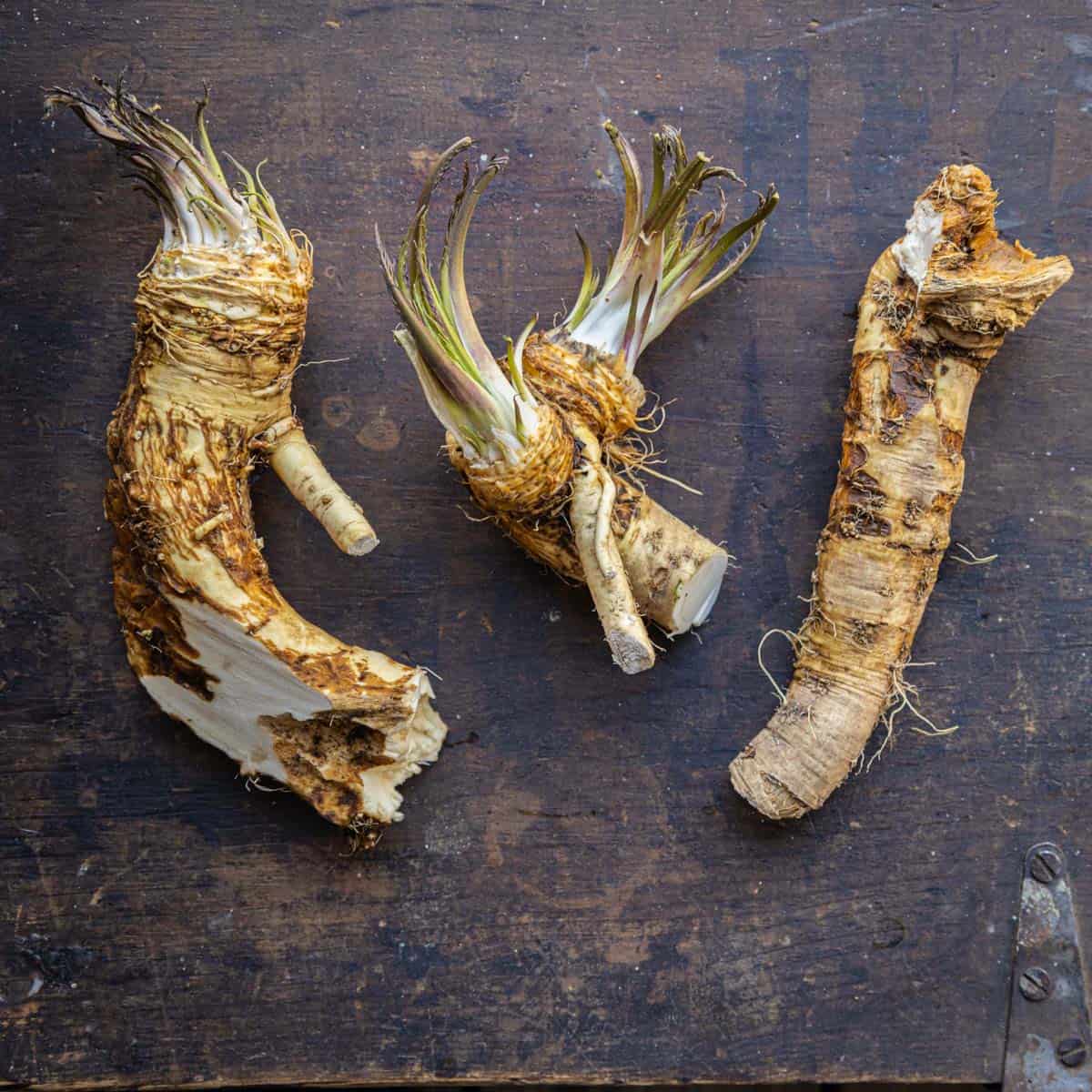 Horseradish is an ancient condiment, and It's kept a good popularity compared to other root crops like skirret and parsley root.
It's popularity has to be due at least partly to the fact that the root can be preserved and still retain some of it's character, since you can go into any grocery store, anywhere in America and find the small jars of commercially prepared horseradish.
Unfortunately, commercially prepared horseradish is typically weak, often overly sweet and disguised with additives like mustard oil to make up for it's worthlessness. It's also brown and oxidized, which I can't stand.
Sure, some of the store bought stuff will have a little kick, but there's no comparison to the same thing made with the freshly grated root. Absolutely. No. Comparison.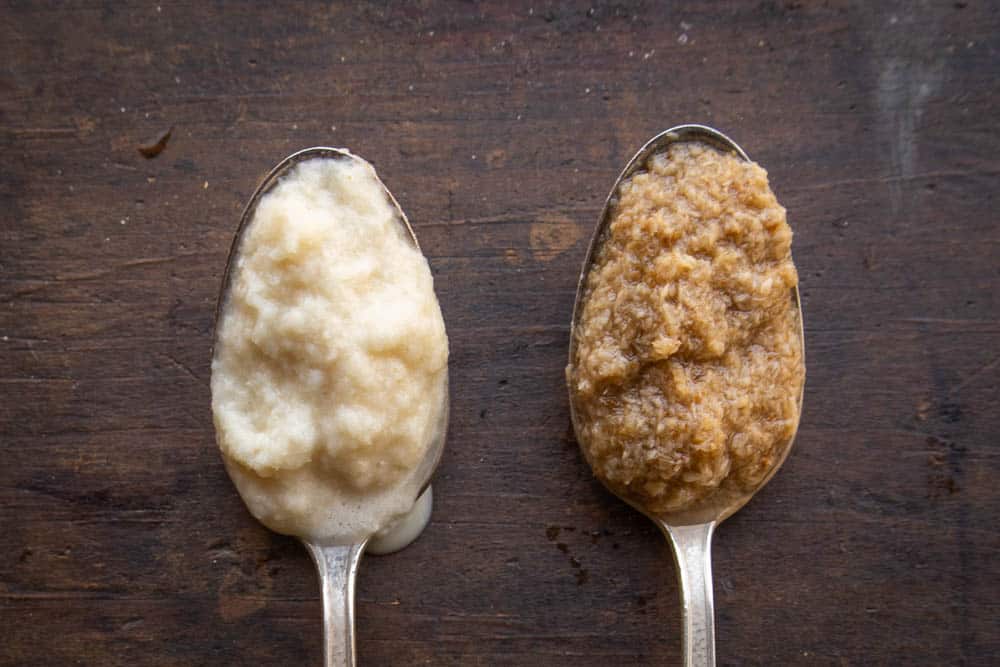 The fresh stuff can be a little tricky though. I didn't work with fresh horseradish until I worked for Lenny Russo at Heartland, where only local horseradish showed up at specific times of the year: Spring, and Fall, for the most part.
We never thought much about the timeline, but the timeline is an important part of harvesting—something I would get acquainted with at my first restaurant where we cooked 20-50 lb of smoked prime ribs every night. Just like at Heartland, I only bought my horseradish fresh, but, unlike Heartland, I bought it all year long, since my smoked prime rib never came off the menu.
"Only dig horseradish in months that have an R in them" or is it "Only dig horseradish in months that end in R?" Possibly both.
One day while showing someone how to make prepared horseradish from scratch, I got irritated when the finished product didn't come out right.
I demonstrated how to grind the roots just like we did the fresh horseradish we'd ordered a couple months before, but this time, the roots had no power, no potency, the only thing that remained was their bitterness.
Calling it white cardboard shavings would've been appropriate. This was roughly in June, the previous order of horseradish having probably come in the Spring. Therein lies the secret.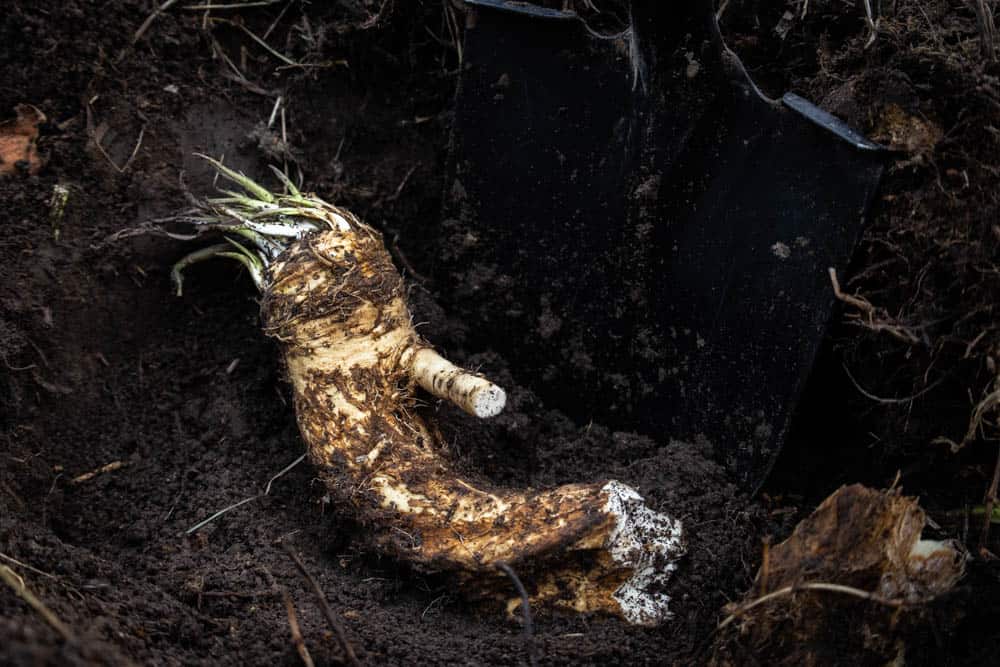 When to dig
The old saying about horseradish is that you only dig it in months that have an R in it, basically from September to April. Some people would say that it should be "only dig in months that end in R". Depending on where you live, and how cold it is, it could be either.
I'll also say that I prefer to dig it when it's been cold outside, or after we've had a few frosts. Another way to go about it might be to avoid digging it when it has developing or mature leaves.
The more I learn about plants, I can only assume that the lack of fire in horseradish during the warm months has to due with where the plant is putting it's energy.
During the growing season, the roots are putting energy into making its enormous leaves (also good) so they can photosynthesize, and from there, possibly produce flowers reproduce, etc. I say possibly produce flowers there since the two horseradish colonies I know of have never flowered, and it seems to be another eccentricity of the plant.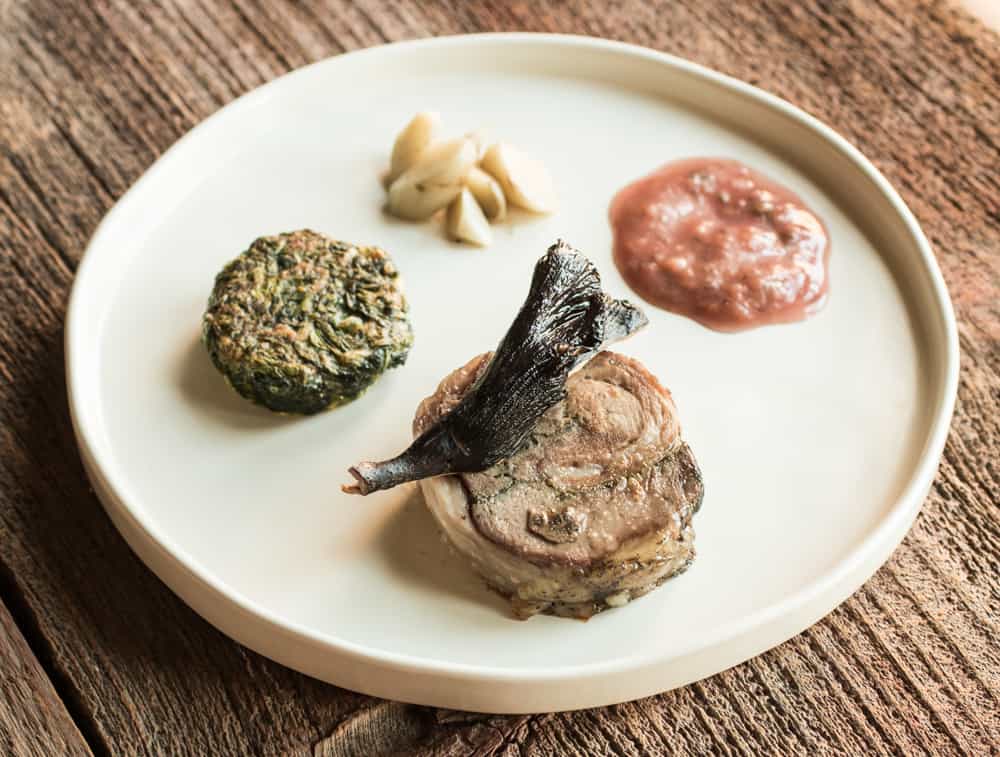 Wild horseradish
Foraging for horseradish is a thing, and it's been a close kept secret of sushi chefs in America for a while. They seem to be the only ones that go searching for the plant besides weirdos like me.
I see wild horseradish rarely in Minnesota and Wisconsin, but I do have one feral patch I like to visit in the summer for leaves.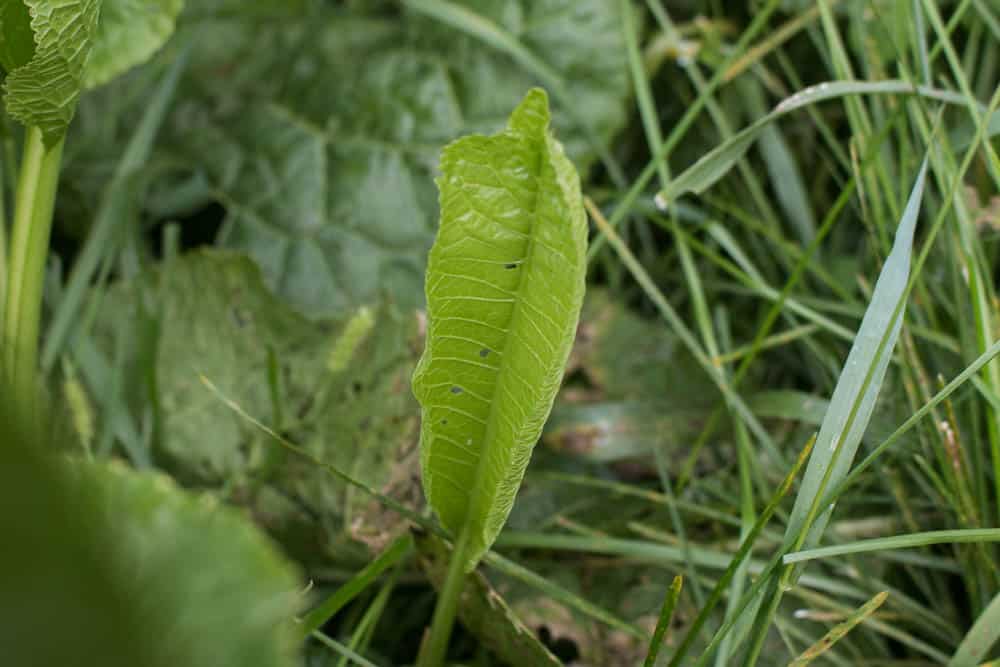 I've also seen it planted in community gardens and parks. If you find some in the wild, you might consider digging up a root or two to plant in a convenient place you can get too.
Some people will call it weedy, and horseradish can be stubborn, but it's not that aggressive compared to other things—you can easily keep it in check with a mower.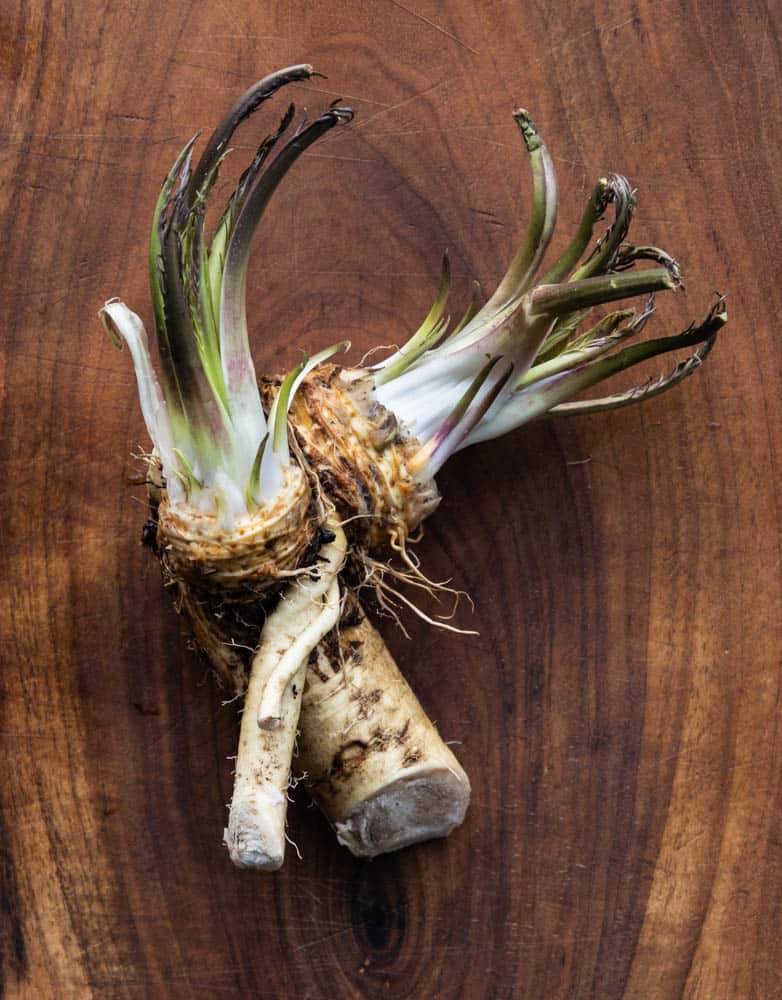 Horseradish Leaves and Shoots
Oh yes, you can eat horseradish leaves. But, unless you've seen the plant in person, you may have never thought about consuming them.
The only catch is that you're not going to be wilting them like spinach per se. Horseradish leaves have a bitter, strong horseradish flavor, so when I cook with them, if they'll be used as a wilted green, I cook them in a blend with other mild greens like lambsquarters, watercress, etc.
Unlike other edible greens, horseradish leaves grow to be humongous, so they can be used for wrapping food. Here's a few of my favorite things to do with them.
Blanched and shocked, (remove the stem too) long, mature horseradish leaves are great used to wrap fish to put on the grill, or line a pan that you'll fill with meatloaf, or a terrine.
Fresh, you can use them in a salad if you remove the stem, cut them into small pieces or chiffonade the leaves into fine shreds. From there, you can use them, say combined 50-50 with other greens and use as you would a salad of bitter greens like radicchio or dandelions.
A small amount can be a nice garnish for a rich piece of meat or fish, but I still like to mix them 50-50 with other greens, even after blanching. '
The small tender shoots are one of the best parts of the plant—I may add them to salads and other things whole.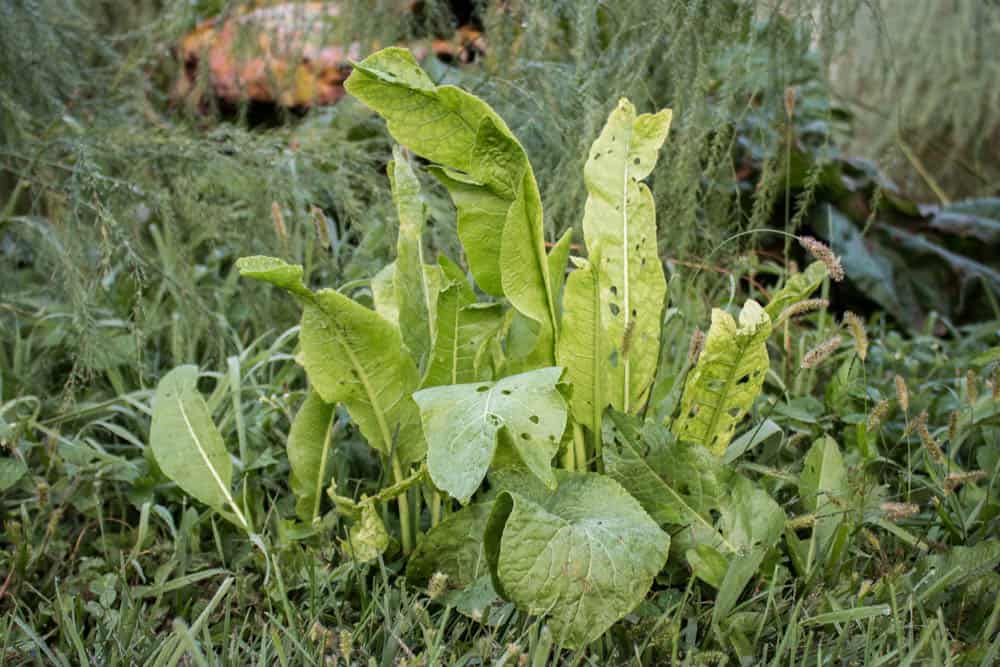 How to use it
Prepared Horseradish
Do you like hot fire, weeping and agony? I do. Good horseradish should be strong enough to offend people in it's raw form. This is the real stuff, what store-bought horseradish in a jar could only dream of becoming, and the perfect addition to your cocktail sauce and horseradish sauce for prime ribs.
Some people grate their horseradish, and that's, ok I might grate it sometimes depending on how much texture I want, since a coarse grater can give nice pops of fire, but, most of the time, I just make prepared horseradish from scratch.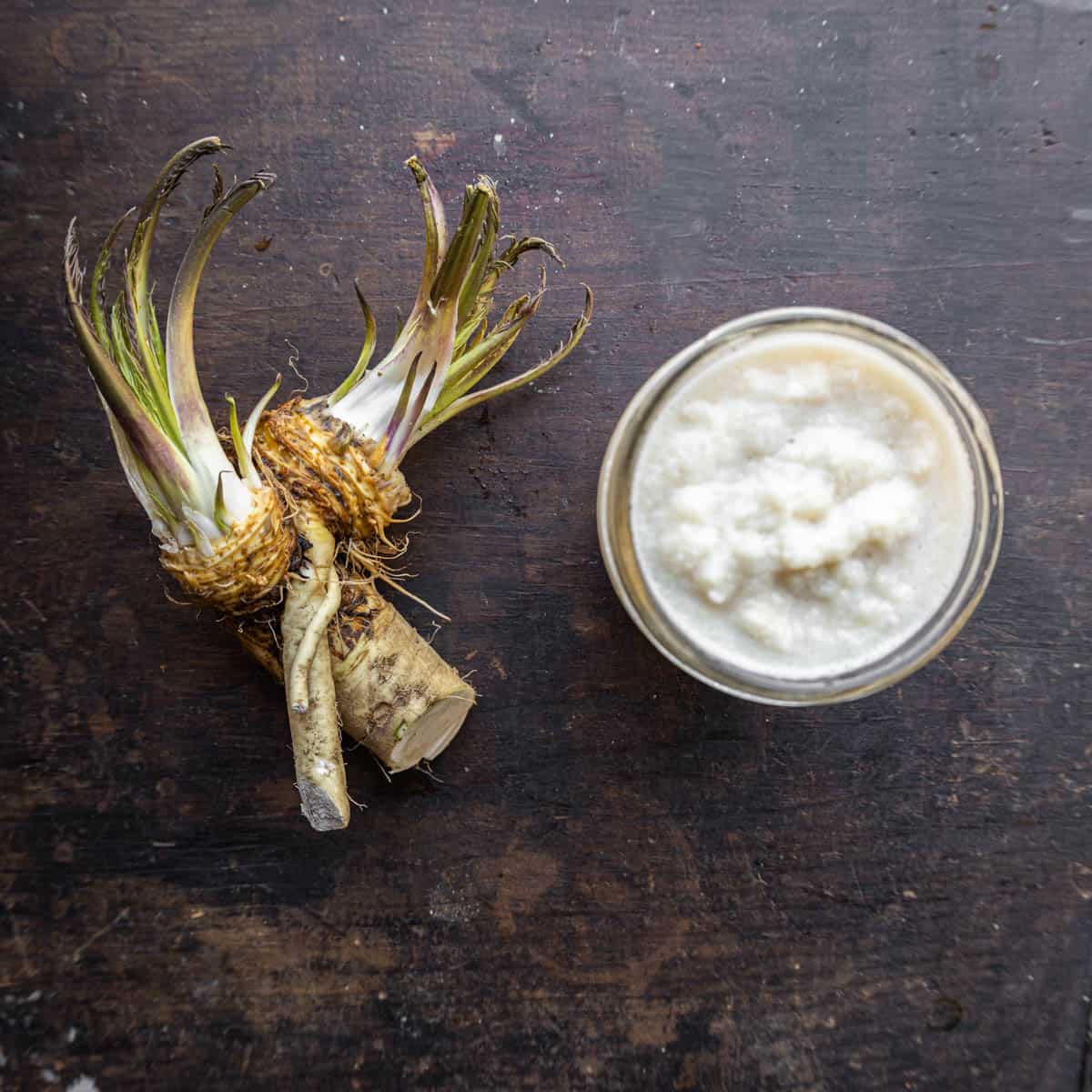 To make prepared horseradish from scratch, all you need is a little vinegar, water and a pinch of salt and sugar.
The good part about doing it in the blender, is that you don't have to grate the horseradish by hand using a box grater, which involves all the fumes creeping up to your face. Do be careful taking the cap off the blender though—the fumes are weapons grade.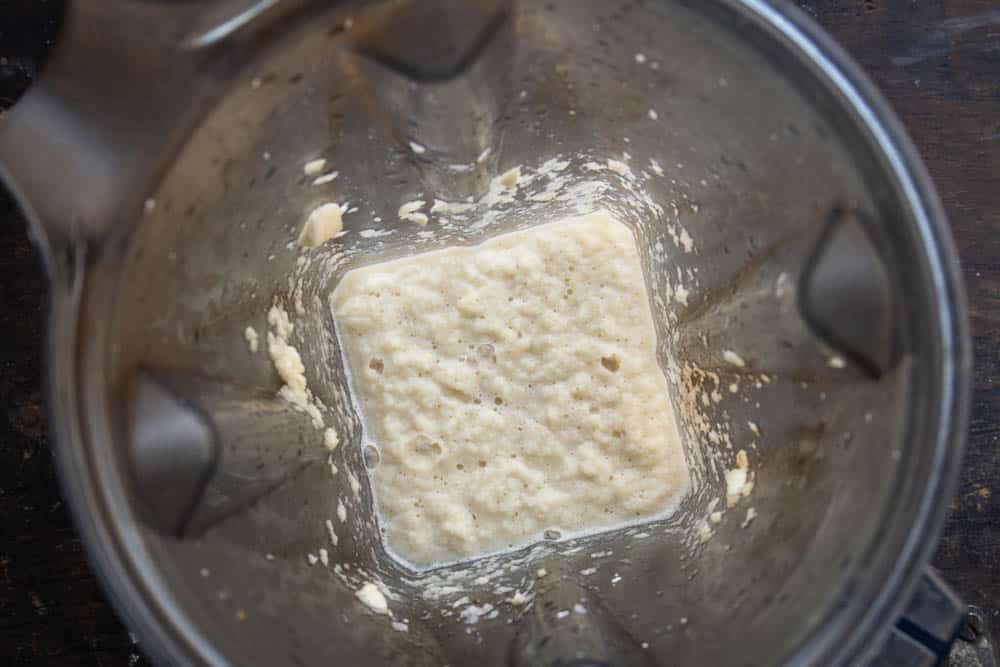 Grating the roots straight-up
Prepared horseradish is only one thing the roots can be. In Scandinavia and other places, the roots are commonly grated fresh, directly onto food. It's a great way to use the roots if you have some fresh ones sitting in the fridge.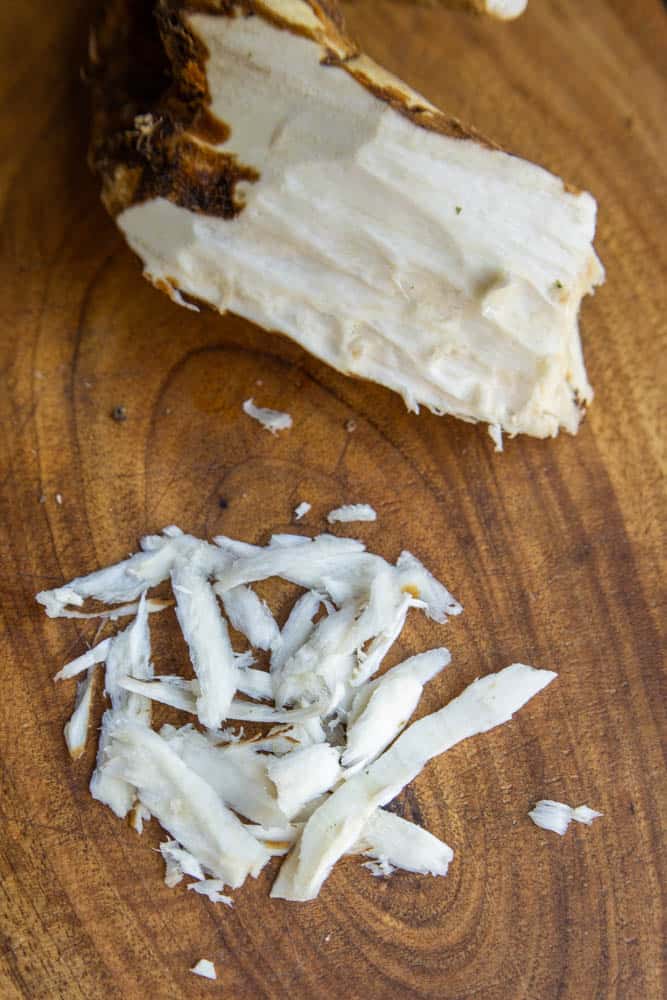 Fermenting the roots?
Just because you can ferment something, doesn't always mean you should. Some chefs put this on menus and claim it's something special—It isn't. I've done it a few times (salting and fermenting for 1-2 weeks) and the flavor gets lost, tasting just like the lackluster horseradish I bought in June back at the restaurant.
I don't know if it's the subtle ambient warmth from the fermentation process that does it, but it could be, since horseradish doesn't like to be cooked. Either way, preserving the roots in vinegar as for prepared horseradish, or grating and mixing with cream and freezing are both good ways to preserve the flavor. I also don't recommend fermenting the leaves.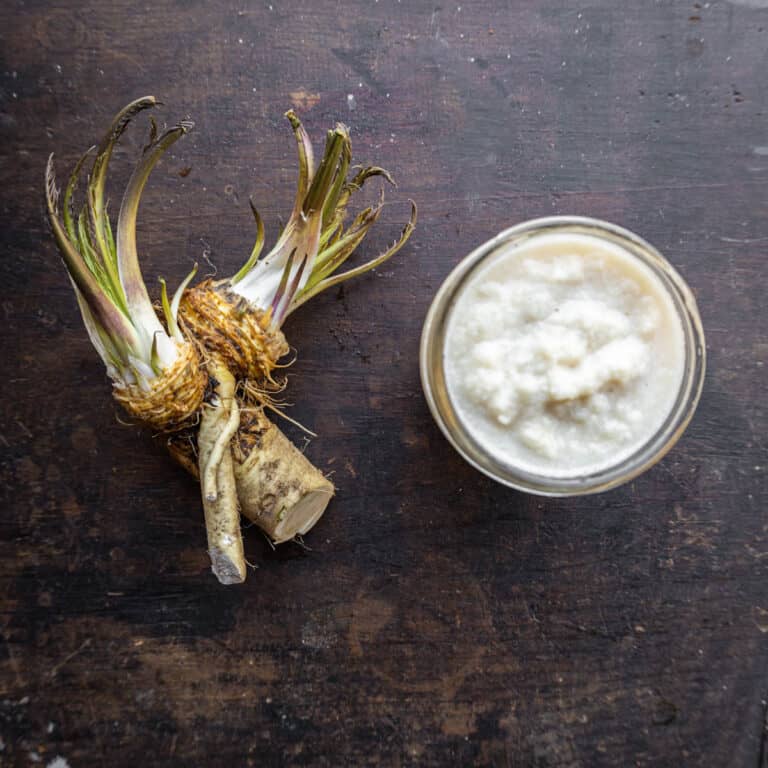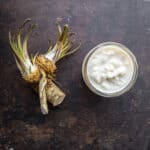 Print Recipe
How to Make Prepared Horseradish
Prepared horseradish root, like you'd buy from a store, only better. Makes about 1 cup.
Equipment
High speed blender like a vitamix, food processor or a fine grater like a microplane
Ingredients
4

oz

horseradish root

4

oz

water

4

oz

white vinegar

or your favorite vinegar

½

teaspoon

salt

1

teaspoon

sugar
Instructions
Peel the horseradish and set aside 4 oz. Mix the water and vinegar.

Cut the horseradish roughly into ½ inch pieces, then put in a blender with the salt and sugar.

Alternately, grind the horseradish in a food processor-you may need to add a little additional water and vinegar, in equal proportions.

Pulse and then puree the mixture until smooth, slowly drizzling in the water and vinegar, then scrape into a jar and refrigerate. You may not need all of the water and vinegar depending on the strength of your blender or food processor.

Prepared horseradish will last for a long time. Drain some of the liquid off before using to avoid making sauces too runny.
Notes
Notes 
Think of this as a guide. All you're doing here is adding just enough liquid to get the blades of the blender to move. If you don't have a blender up to the task, use a fine grater like a microplane or a food processor. If you need to add extra liquid it's fine, you can drain it off before using. 
When I use the horseradish, generally I drain the liquid and add it to sour cream or mayonnaise to make sauces and condiments to avoid making them too loose. 
To make creamy horseradish sauce
Take spoonfuls of drained, prepared horseradish and mix to taste with sour cream, or a mix of sour cream and mayonnaise, or, if you have some, creme fraiche. Season with salt to taste. It should be nearly too hot in it's raw state, since the fire will be mellowed as you eat it with other things. 
Nutrition
Serving:
1
tablespoon
|
Calories:
3
kcal
|
Carbohydrates:
0.4
g
|
Fat:
0.001
g
|
Sodium:
117
mg
|
Potassium:
0.1
mg
|
Sugar:
0.4
g
|
Calcium:
1
mg
|
Iron:
0.003
mg