Here's a great beefsteak mushrooms recipe: quickly tossed with extra virgin olive oil, salt, fresh ground pepper and a few handfuls of wood sorrel. It'll disappear quickly.
I was thinking about how to eat a beefsteak mushroom / oxtongue fungus (Fistulina hepatica) I had the other week, those shelf fungus that give red juice when cut, have a slightly tart taste, and, that are meant to eat raw. Nature, is so weird.
I say meant to eat raw, since there's so many wild mushrooms that need to be cooked, have to be cooked, just out of necessity to be safe, morels, for example. Unlike porcini, which are good for eating raw too, the perfect window for harvesting is a little wider with beefsteaks.
If you're new to wild mushrooms, or are tired of people saying you can't ever eat mushrooms raw. Please read "Can You Eat Wild Mushrooms Raw?"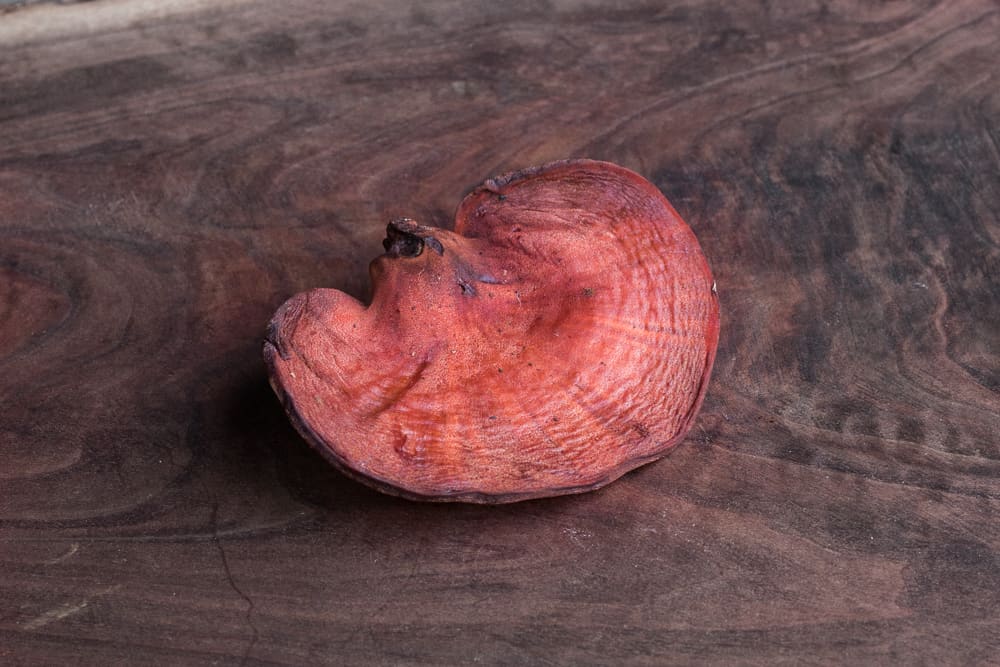 Tree eating polypores like these, and their cousins chicken and hen of the woods are pretty hardy, they'll get beat up, but they aren't like boletes. Insects too, don't crusade to them like they do prized, fleshy pored mushrooms, with the exception of slugs taking a nibble here and there.
What exactly raw means, too, is up for a little debate here. I shaved the beefsteak, then tossed them with good olive oil, a good pinch of crunchy Maldon salt, and and some wood sorrel to help underline the sour flavor that, although widely mentioned, can be hard to find in the ones I've tasted.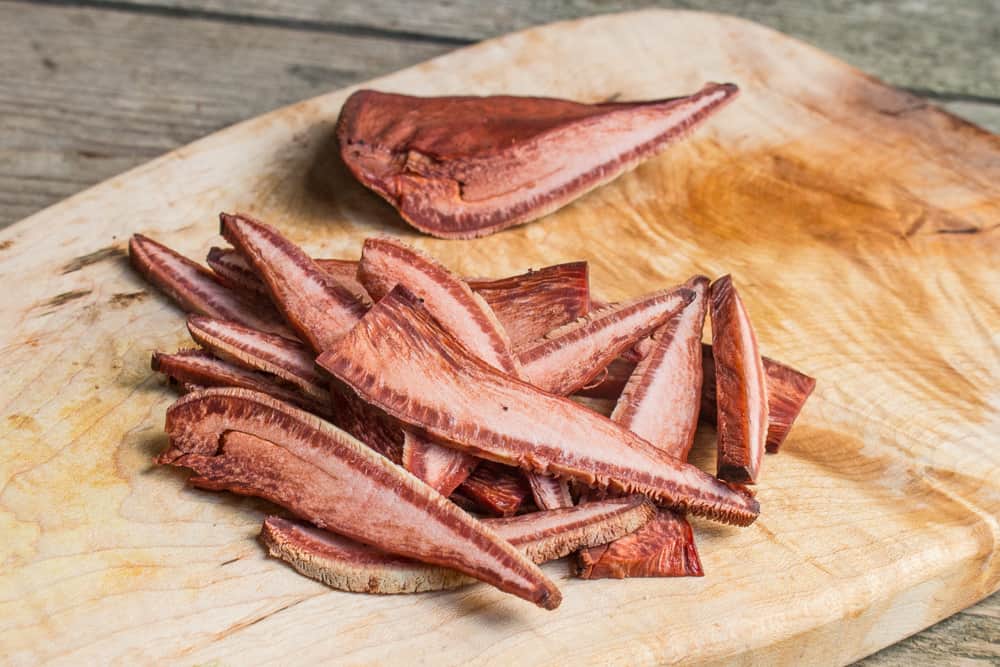 I put the mushrooms in a bowl, and just sat and ate them for a while. They were so good, so simple, crisp, mild, barely tart, and slicked with oil, a perfect ingredient needs less done to it, not more. The seasoning was just fine, it would be hard to make something taste bad with just the best olive oil you have, lemon and salt on it. The texture though, that was the special part.
I put them in a bowl, set them in the fridge, waited for a day and ate some more, but, what was in the bowl after 24 hours was nothing close to what I'd eaten the night before. The mushrooms were wilted, and sitting in a pool of their juice. Often, maceration like that, (the technical name) I think of that as a good thing, but with these, all I could think was: "D'oh, you cooked the beefsteaks!".
Beefsteak mushrooms, medium rare please
It's the same thing with a few other salads I know, especially vegetables that hold water, cucumbers being the most notable. The moment after they're dressed with salt and or acid, the cooking stopwatch begins, and whatever vegetable, piece of fish, mushroom or tomato you have will be at peak eating quality for a limited time, with some things degrading faster than others.
A good way to think of eating them like this is: if seasoning with acid and salt cooks the mushroom, then, prepared like this, the beefsteaks are medium-rare, as they still have some raw crunch to them.
The mushrooms here are fine by themselves, say with a toothpick, but would be even better as a garnish to a piece of warm or room temperature fish or poultry, as well as just on some young lettuces, or with a little mild cheese. Also, if you have access to sheep sorrel, or Rumex acetosella, it's even better than wood sorrel.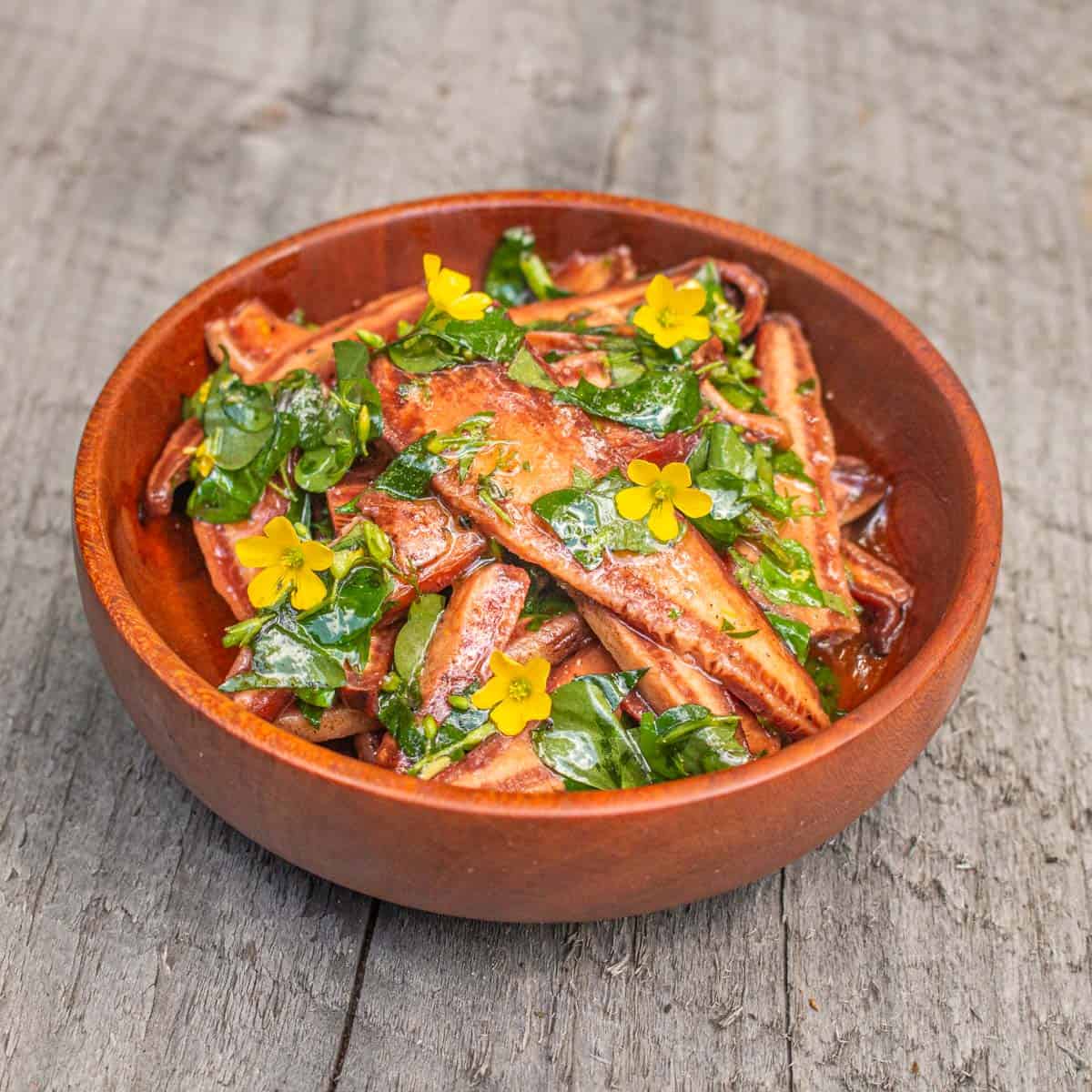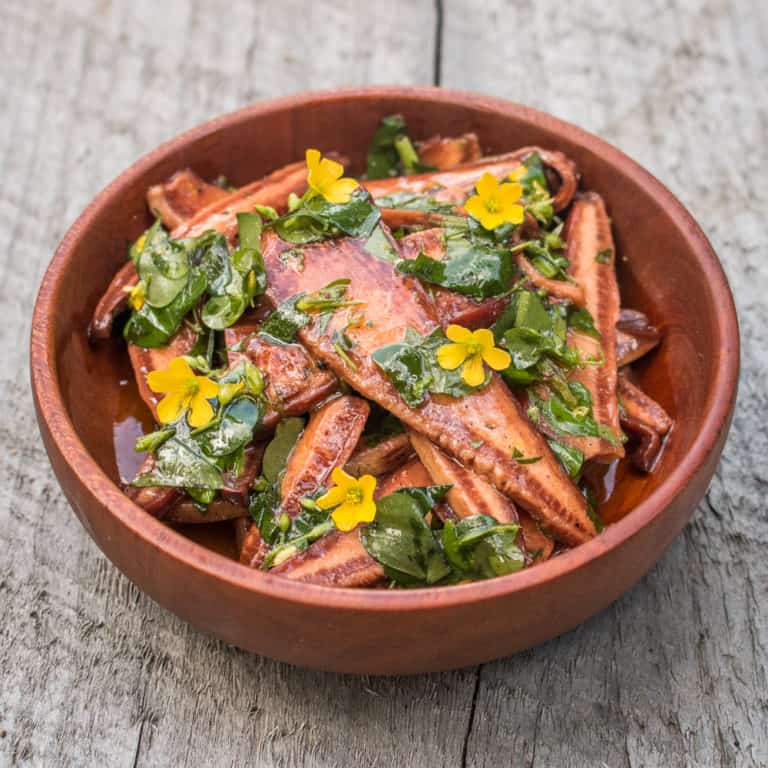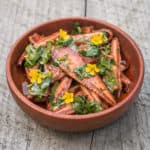 Print Recipe
Beef Steak Mushrooms with Wood Sorrel
Quick marinated beefsteak mushrooms with olive oil, salt, pepper, lemon, and fresh sorrel.
Ingredients
3

oz

fresh beefsteak mushroom

3

tablespoons

extra virgin olive oil

or another good tasting oil, like walnut

1

large clove of garlic

lightly crushed with a knife or chopped in large pieces

1

small sprig of rosemary

bruised

½ ¼

teaspoon

salt

1

teaspoon

fresh lemon juice

2

Tablespoons

thickly shredded or gently chopped wood sorrel

Wood sorrel flowers

to garnish
Instructions
Warm the garlic, rosemary and oil until just sizzling, then remove from the heat and cool. Discard the garlic and rosemary (this is optional).

Slice the beefsteak mushroom into ¼ inch slices on a mandoline, then combine with the remaining ingredients, including the oil, double check the seasoning for salt, lemon and pepper until it tastes good to you, then serve immediately, while the beefsteak is still crisp.

The beefsteak will be fine to eat later, and up to 5 days in the fridge, but will have a soft texture, as if they were cooked.
Notes
Eat Quickly 
For the best texture, you'll want to eat this quickly after mixing so that the mushrooms stay crisp. That said, they're fine as marinated mushrooms too. 
On Eating Mushrooms Raw
Beefsteak fungus are one of the few mushrooms I eat and serve raw. Most wild mushrooms should be cooked before eating, but some, like Caesar's amanita and porcini can be substituted here. 
Nutrition
Serving:
2
oz
|
Calories:
198
kcal
|
Carbohydrates:
2
g
|
Protein:
1
g
|
Fat:
21
g
|
Saturated Fat:
3
g
|
Polyunsaturated Fat:
2
g
|
Monounsaturated Fat:
15
g
|
Sodium:
584
mg
|
Potassium:
144
mg
|
Fiber:
0.5
g
|
Sugar:
1
g
|
Vitamin A:
0.3
IU
|
Vitamin C:
2
mg
|
Calcium:
5
mg
|
Iron:
0.4
mg