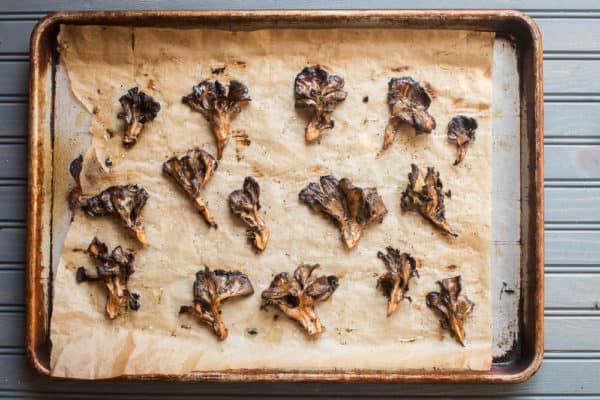 Mushrooms are one of the most perfect ingredients for minimalist, less is more cooking, and these simple roasted hen of the woods / maitake are a great example. Sure, you can make them into pasta sauce, jerky, and all kinds of things, but probably the simplest, and one of the most delicious things to make, is simply to roast them, and eat them fresh from the oven, with you're hunting buddy, and a cold drink, far away from mosquitos and horseflies.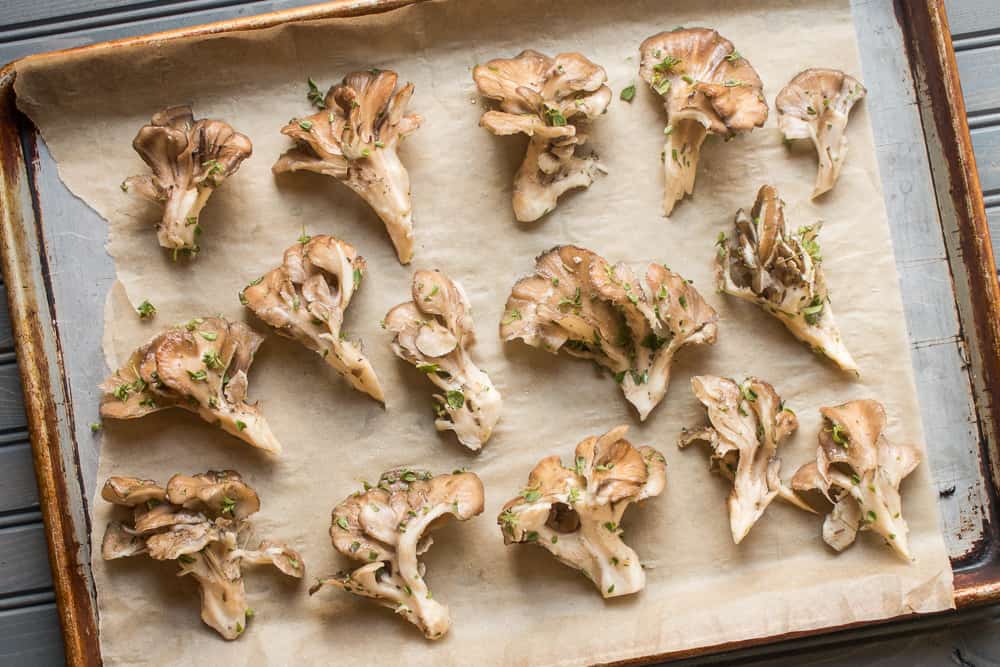 There's a couple things to mention, mainly that you should imprint the word "roasted" as opposed to "baked" in the recipe here. Roasting means we're going to use relatively high heat. I say 375F in the recipe below, but simple recipes relying on only a few high quality ingredients can be fussy, so know that you may have to up the heat a bit at the end, or reduce it a little to get crisp edges depending on how well your oven is calibrated. Use your instincts, but absolutely do not overcrowd the pan since the maitake won't roast properly, and will end up steaming.
When properly done, you should end up with roasted hen niblets, perfect for snacking on with a drink, with slightly herbed, crisp edges, but a slightly chewy, tender center. As the mushrooms cool on the baking sheet, they'll continue to cook, and crisp a bit, so don't worry if your's aren't how you envision them immediately after you take them from the oven.
You'll be surprised how fast a pound of hen of the woods mushrooms will disappear, and I can just about guarantee that if you have more than a pound in the fridge, you'll be making more than one tray of maitake. You can make this in larger batches than a pound, too, just use multiple baking sheets, or bake in batches.
They're best eaten fresh from the oven, still warm.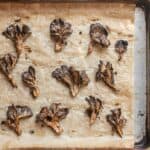 Print Recipe
Roasted Hen of the Woods or Maitake Mushrooms
Simple roasted hen of the woods mushrooms
Ingredients
1

lb

hen of the woods

peeled into leaves, cleaned (lightly swished in water and/or brushed as needed)

3

tablespoons

flavorless cooking oil

¼

teaspoon

kosher salt

3

tablespoons

chopped Italian parsley

or a combination of parsley and thyme, or another aromatic herb

6-7

cracks of the pepper mill

or to taste
Instructions
Toss the pieces of hen of the woods (press them between paper towels to weep water if you had to rinse them first) with all ingredients.

Spread out on a baking sheet lined with parchment or a silicon mat, and bake in a preheated 375 oven for 25-30 minutes (rotating 180 degrees half way through if your oven heats unevenly) until the mushrooms are crisp around the edges, but still slightly tender in the center.

Remove the mushrooms and allow to cool on the baking sheet until you can handle them, then eat.