A recipe for chicken of the woods mushrooms (or other wild mushrooms like hen of the woods) you'll come back to again and again. Tom kha gai is a classic Thai soup typically using chicken, mushrooms, coconut milk, and a few aromatics.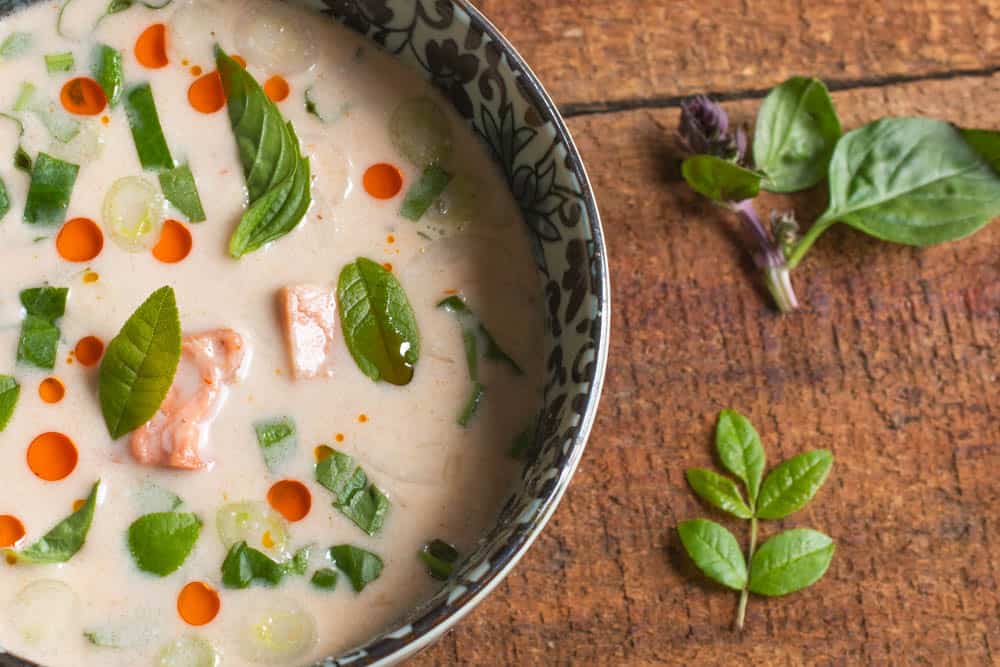 It's a well known soup, and, I'll probably get some flak for my interpretation here, but it's ok—I did my homework here, and this is how I like to make it, Westerner that I am. I'm lucky to have a great selection of Asian markets near me that supply all the traditional ingredients, if you don't, you might have to get creative.
One of the biggest flashpoints that seems to come about with Tom Kha Gai is the ingredients, and paying homage to how they're represented by the name. Here's how the name breaks down:
What does tom kha gai mean?
Tom: Boiled
Kha: Galangal
Gai: Chicken
I don't speak Thai, but I know how to use Google translate, and this is pretty straightforward. My takeaway is this: if your tom kha gai isn't a soup, if it doesn't include galangal, and if there isn't some kind of protein that could resemble chicken, you might want to just call it curried coconut soup instead of invoking the traditional name.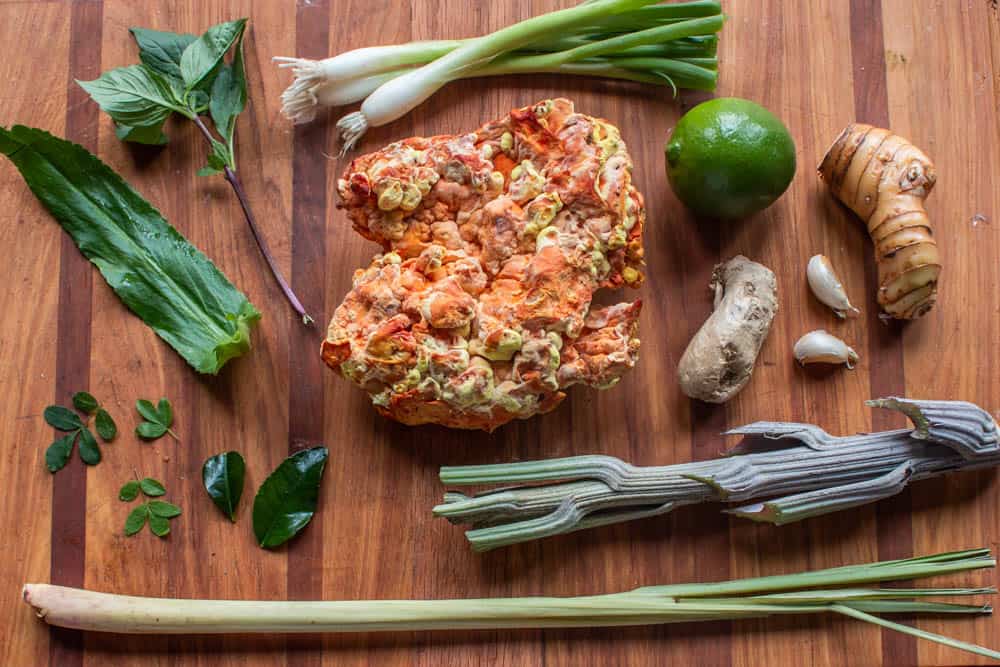 Use fresh galangal for the best flavor
The fresh galangal is really the key here to me, well that and having some fresh kaffir lime leaves (fresh lemon leaves or lime leaves can work in a pinch). Asian markets often carry both of these fresh or frozen.
If you have an Asian market near you, don't just do the cop-out and buy some ginger--do the right thing and at least try it first with fresh galangal. Fresh galangal is much more floral and aromatic than ginger, and although they look similar, they're very different.
Galangal also won't lend heat to a broth as strongly as ginger will, so you can use it with a heavier hand without worrying about it getting overpowering.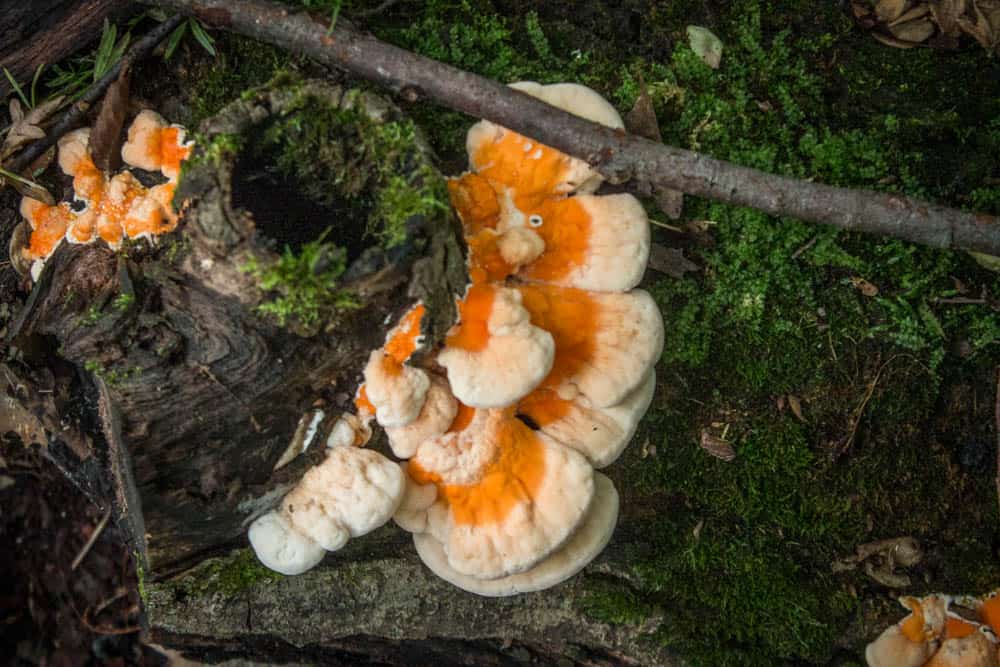 Chicken of the woods, instead of chicken
Other than the galangal, I think it's fine to use some creative liberties here, especially where the chicken is concerned. Obviously chicken is good, but chicken of the woods mushrooms work really well here as a substitute or in combination, especially with their pretty orange or reddish color (reddish in the case of L. cincinnatus). Hen of the woods work great too.
I like combining shrimp with chicken too, especially in dishes with lots of umami flavors like this, so you'll notice there's an option (think of it as a strong recommendation) for using shrimp here in addition to the mushrooms. If you can find shrimp with their shells on, grab them, as they'll add great depth to the broth.
Get creative with garnishes
Fresh garnishes on soups like this are one of my favorite parts, and you'll see that I've listed a few options here. One that you won't see in other traditional recipes are prickly ash leaves.
I have a couple prickly ash bushes that make leaves that actually taste good, so I use them here as you would use kinome leaves in Japanese cuisine. Only young leaves are used, and just a few on top at the end. Feel free to omit them.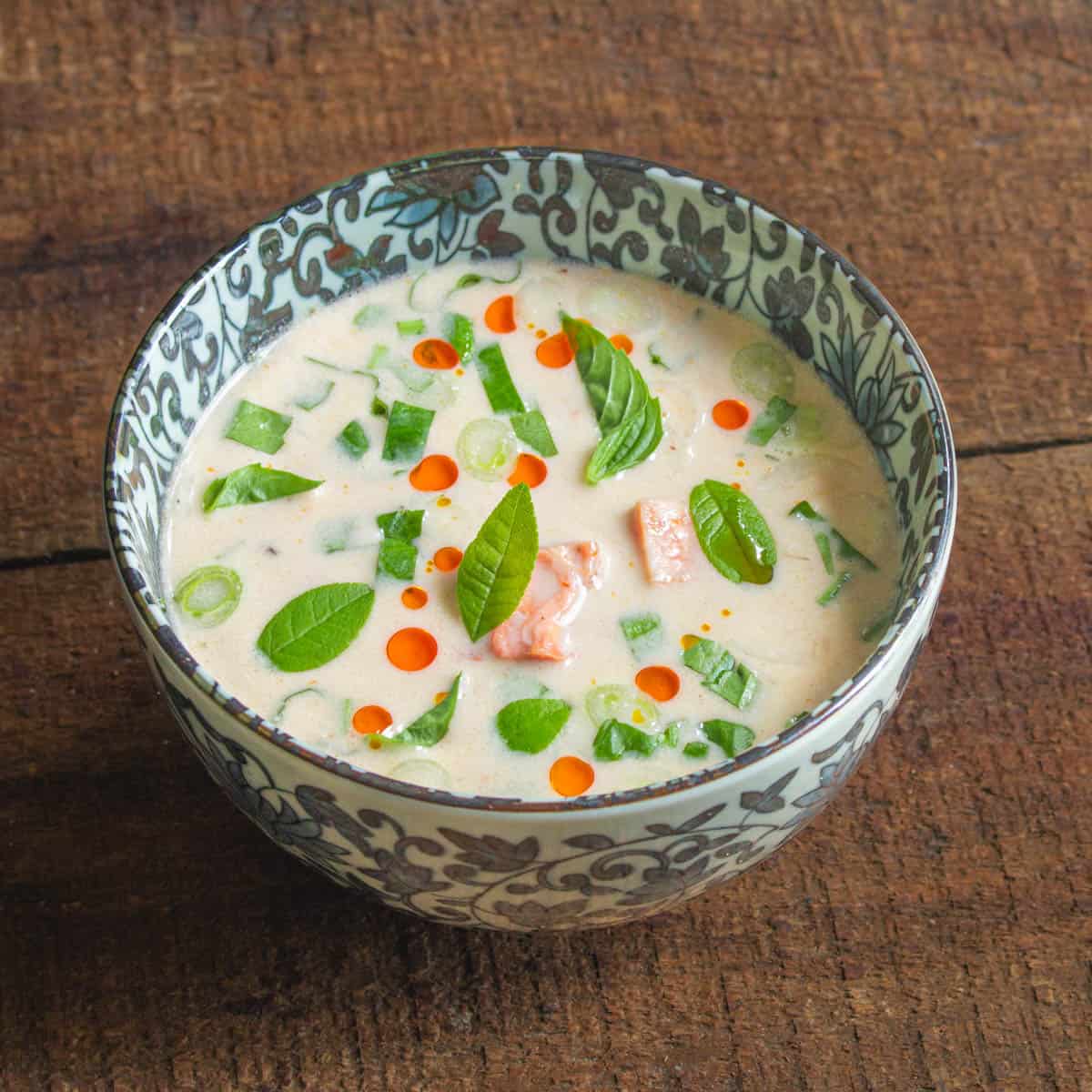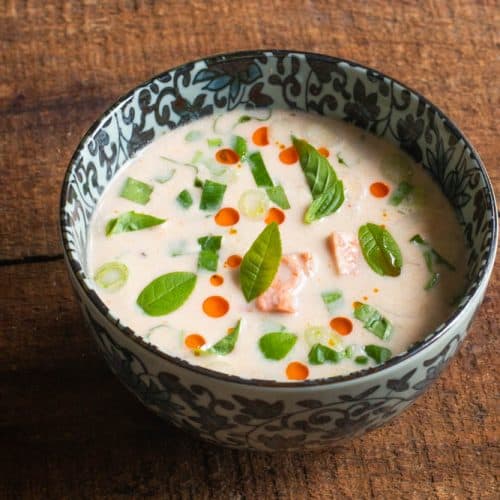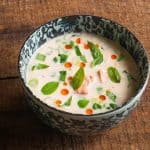 Print Recipe
Chicken of The Woods Tom Kha Gai
A traditional Thai soup of mushrooms and coconut milk with aromatic herbs and red Thai curry. This can be served as a soup, or with rice as an entrée to serve 4. As a soup it will serve 2 with leftovers. If at all possible, you need to find the fresh galangal here.
Ingredients
Soup
3.5

ounces

yellow sweet onion / 1 medium onion / ¾ cup diced ¼ inch

2

large cloves

fresh garlic

minced, grated or pressed

¼

oz

(1 inch piece) peeled ginger, minced

optional

12

ounces

chicken of the woods mushrooms

cleaned and trimmed, or use 8 ounces mushrooms and 4 ounces peeled, deveined shrimp cut into 1 inch pieces

8

ounces

mild tasting soup vegetables,

such as burdock flower stalks, kohlrabi, celtuce, green pumpkin, or radishes, cut into ½ inch pieces (optional)

2

cans

high fat, unsweetened coconut milk

using 13.5 oz cans here.

3

cups

chicken stock

preferably homemade

¼

cup

coconut oil

3

tablespoons

maple syrup

¼

cup

fish sauce

2

tablespoons

soy sauce

Fresh culantro or cilantro

coarsely chopped to taste

2

tablespoons

commercially prepared red curry paste
For the traditional spice bouquet
1

oz

galangal root

cut into 6 thin slices

6

kaffir lime leaves

or fresh lime or lemon leaves, coarsely chopped

½

oz

lemon grass

bruised with the back of a knife and cut into ½ inch lengths
Garnishes (pick and choose here, and make it your own with what's available, with the exception of the lime juice, which is not debatable)
Cooked rice

2

green onions

sliced thin

Fresh culantro or cilantro

coarsely chopped, to taste

Kinome leaves

(prickly ash/Zanthoxylum) picked from their stems, the smallest sizes you can find (optional)

⅓

cup

fresh lime juice

8

ounces

high quality shrimp

like Texas brown, peeled, de-veined, and cut into 1 inch pieces (if possible, reserve the shells for infusing into the stock.)

1

Tbsp

Hot chili oil

or to taste
Instructions
Herb bouquet
If using shell-on shrimp, shell and clean them, then (recommended) roast the shells, and add to the spice bouquet. Wrap the ingredients for the herb bouquet in cheesecloth, and tie closed.
Build the soup
Sweat the onions and ginger in the oil on medium heat for 5 minutes, stirring occasionally. Add the chicken of the woods mushrooms, stir, and cook for 5 minutes more, or until wilted, and a yellow oil starts to form.

Add the herb bouquet and remaining ingredients except the garnishes and lime juice (add the curry paste to taste if your not a fan of spicy food) and simmer for 20 minutes, or until slightly thickened.

Taste the soup and adjust as needed with another touch of curry paste, dash of fish sauce, etc, until it tastes good to you.
Finish and serve
To finish and serve, discard the bouquet, and add the shrimp and cook until just done.
Turn off the heat and add the lime juice.
Put some of the garnishes in each bowl, then ladle the soup on top, or, alternately, pass a soup pot at the table and let guests garnish their bowls individually. Drizzling chili oil over the top gives it a dramatic look.
Notes
Vegetables 
Traditionally there may not be as many vegetables in this, but I really like the texture they add. You can omit them, but you'll want to serve it with rice to help add some texture. 
Nutrition
Serving:
6
oz
|
Calories:
667
kcal
|
Carbohydrates:
36
g
|
Protein:
14
g
|
Fat:
57
g
|
Saturated Fat:
48
g
|
Polyunsaturated Fat:
1
g
|
Monounsaturated Fat:
4
g
|
Cholesterol:
5
mg
|
Sodium:
1945
mg
|
Potassium:
1325
mg
|
Fiber:
3
g
|
Sugar:
16
g
|
Vitamin A:
4894
IU
|
Vitamin C:
10
mg
|
Calcium:
125
mg
|
Iron:
18
mg