One of my all-time favorite chicken of the woods recipes, this wild rice and mushroom casserole is not the same one your mom made. You can use your favorite mushrooms.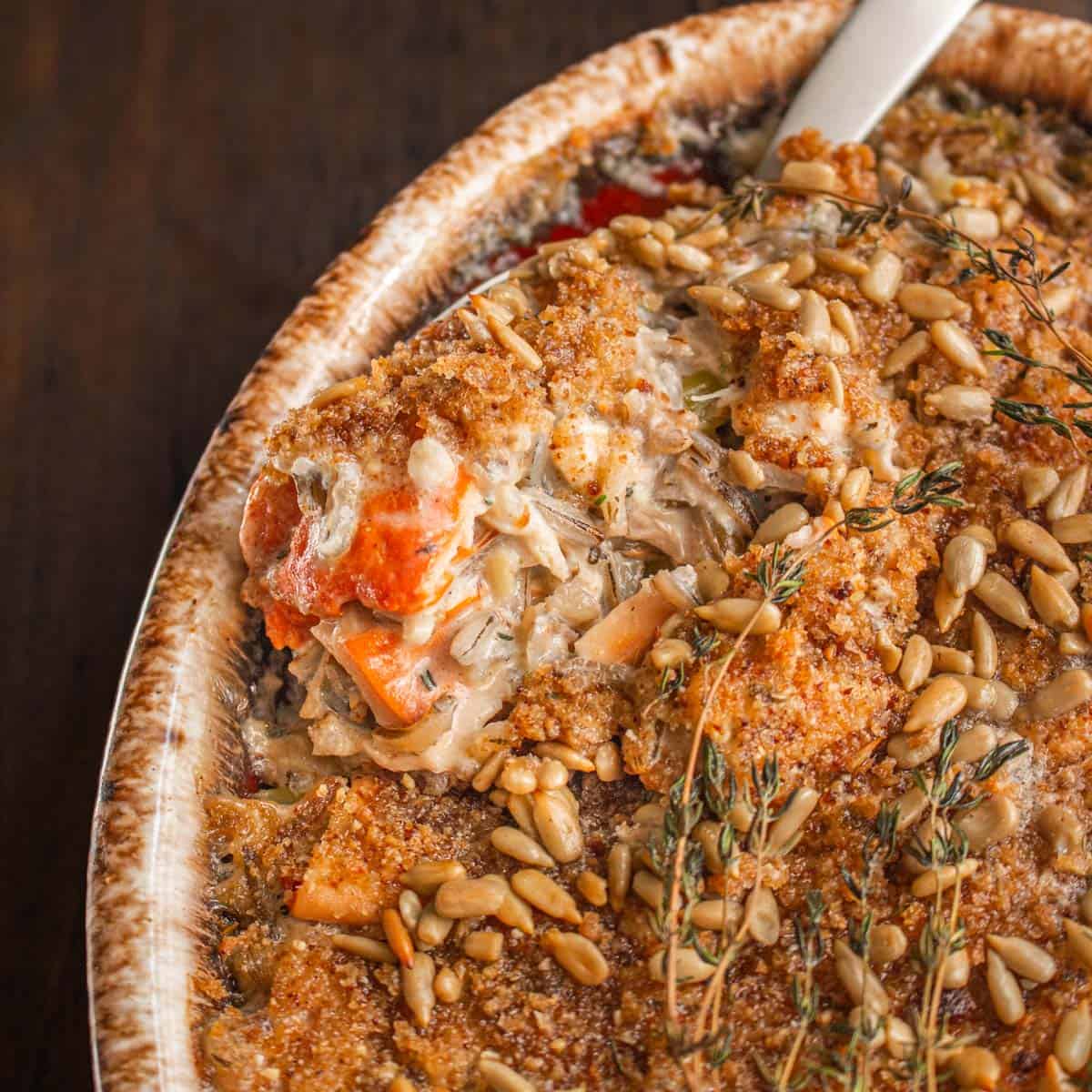 It's getting colder outside, and I'm starting to crave that cold weather food. Stews and braises have happened already happened, but one thing that's been gnawing at me was a good, solid casserole.
Coming from the Midwest, I have casserole in my blood, and there's nothing like the classic chicken wild rice casserole laced with chicken of the woods (or another meaty mushroom). I made sure to freeze some extra tender chickens just to make it this year.
Growing up I didn't eat tons of hot dishes and casseroles. There were a few, and but none that really stick out besides green bean thing with Campbell's mushroom soup topped with a can of French's onion strings, and even that I only saw at a reunion here and there. I never cared for that stuff, or the sweet potato marshmallow thing, or the Mayo-fruit salad thing either, for the record.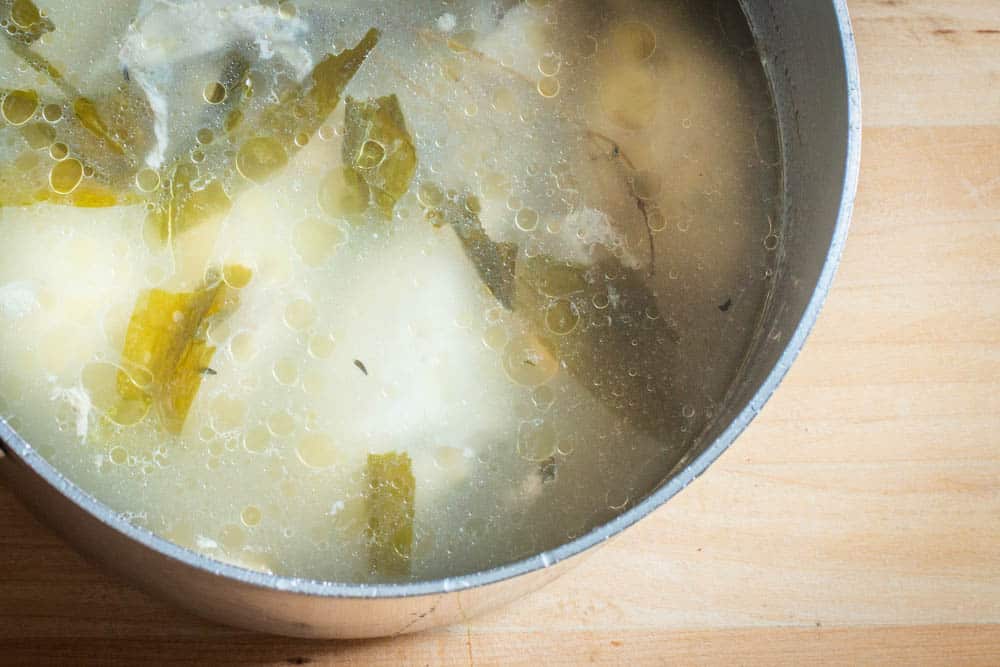 It took making casseroles by myself for me to truly appreciate what they can be. There's as many variations of casserole as there are stars in the sky, but few of them can hold a candle to a solid chicken and wild rice casserole, especially with chicken of the woods or your favorite wild mushroom tossed in.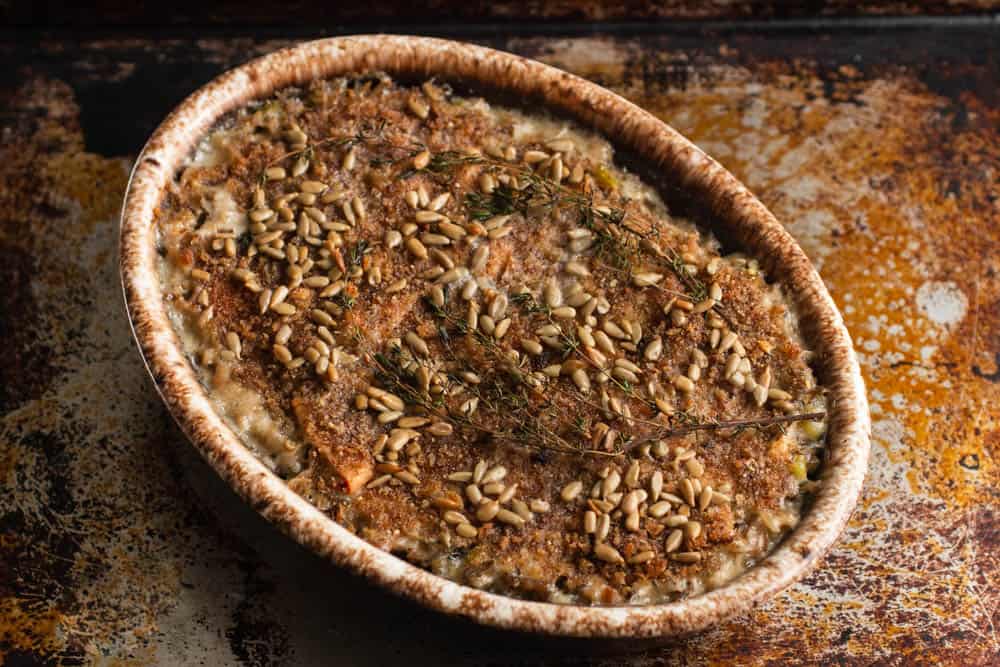 There's just something about how the bechamel mixes with the wild rice, whatever meat I can find and a scattering of bread crumbs, transforming it into something so binge worthy I've been known to eat it for multiple meals out of the day.
Casseroles work hard too, and are good to keep in rotation for when you're craving some couch-lock, need portable food for a crowd, feel like stress eating or want to not worry about making a new dinner for a day or two.
There's a lot of chicken wild rice and mushroom casseroles. Like all good food, the best will only be as good as their ingredients, but there's one ingredient in particular that often gets overlooked, and it's a big one.
Wild Rice Vs Black Rice
I'm talking about real wild rice, wild rice that's been toasted over a wood fire, not the commodity black paddy rice that's no longer wild. For purchasing purposes, wild wild rice is usually sold as "lake rice", where black paddy rice is jet black, and labeled as farmed or cultivated.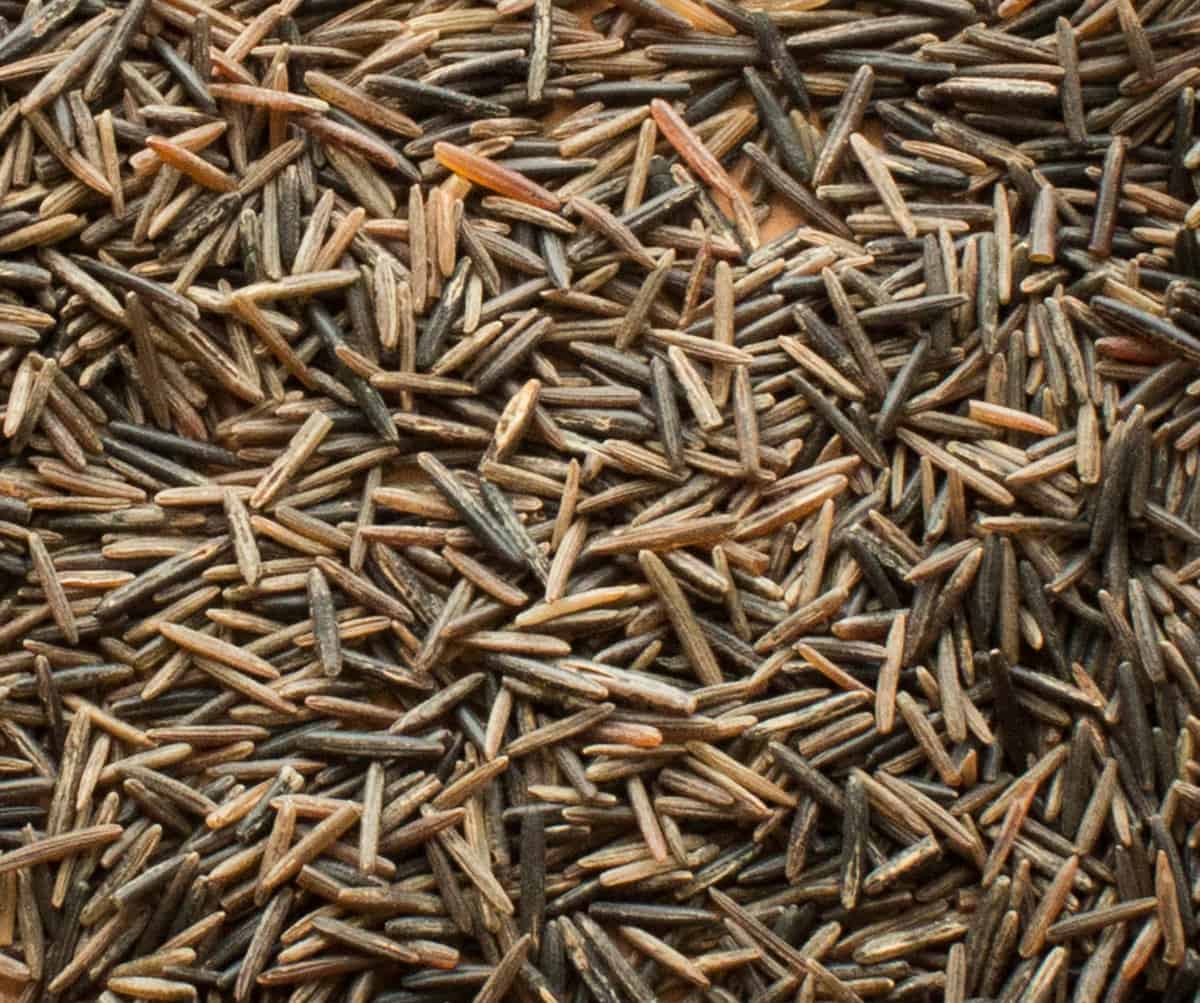 If you're not familiar with the two, there's a huge difference between commodity paddy rice, and wild, wild rice, not the least of which is the flavor. The flavor of the lake rice is mild and nutty—I used to catch line cooks drinking the cooking water left in the pot.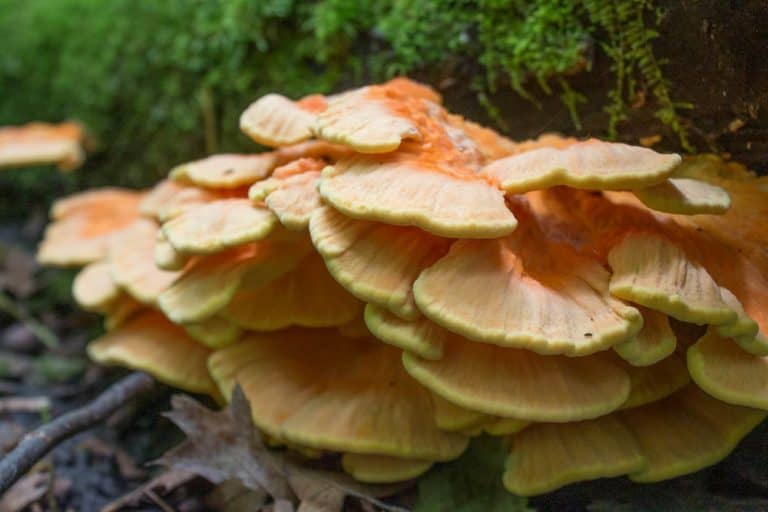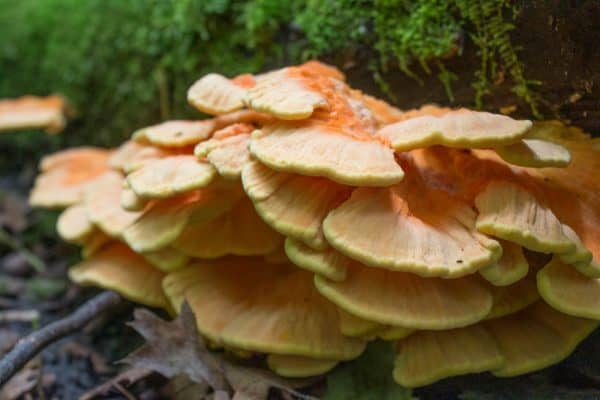 Black paddy rice, although technically the same plant, has a strong flavor that I think can border on musty due to a difference in how the rice is processed. That being said, if you put a bowl of chicken wild rice soup in front of me with made with the commodity wild rice, im still going to crush it, but I'd be doing everyone a disservice if I didn't call out the differences here.
I could go on and on about other differences between parched and commodity rice, since they're many, but that's a long piece, for a different post. If you like wild rice, buy parched wild rice. Sam Thayer's is some of the best, but I often buy from White Earth and KCs best too.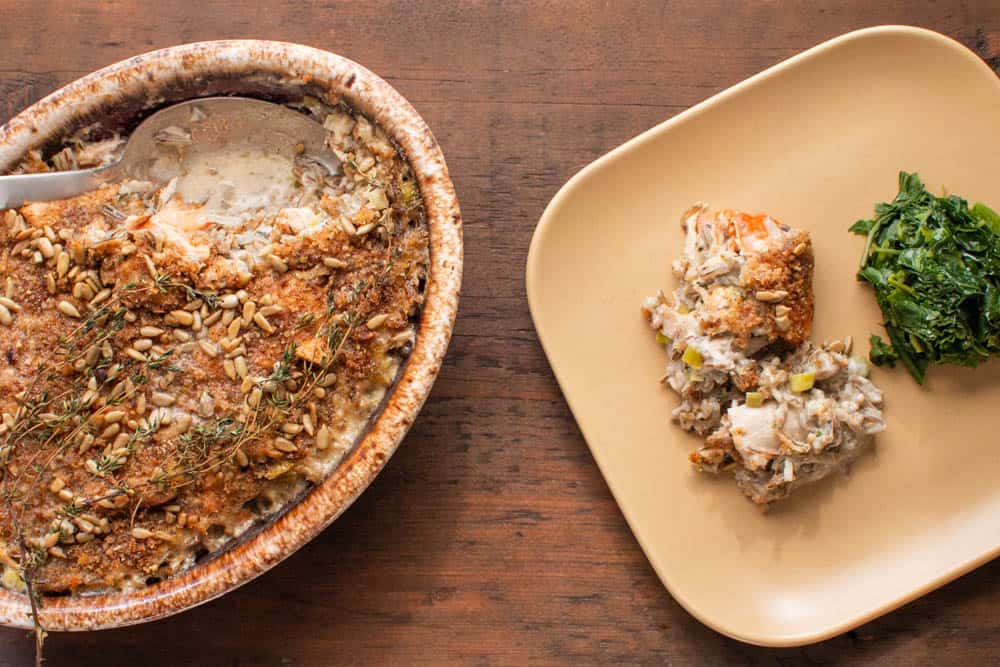 The chicken of the woods-wild rice casserole itself is a common template, just with cooked chicken of the woods or your favorite wild mushroom in it.
You make a white sauce with chicken stock, toss it with cooked parched wild rice, cooked chicken of the woods, leftover chicken (presumably from making the stock) fresh thyme, a little sour cream and sautéed onions, then you pack it into a baking dish, dust with breadcrumbs and bake until it's bubbly, browned, and people start hanging around the kitchen like a pack of hungry Minnesota coyotes.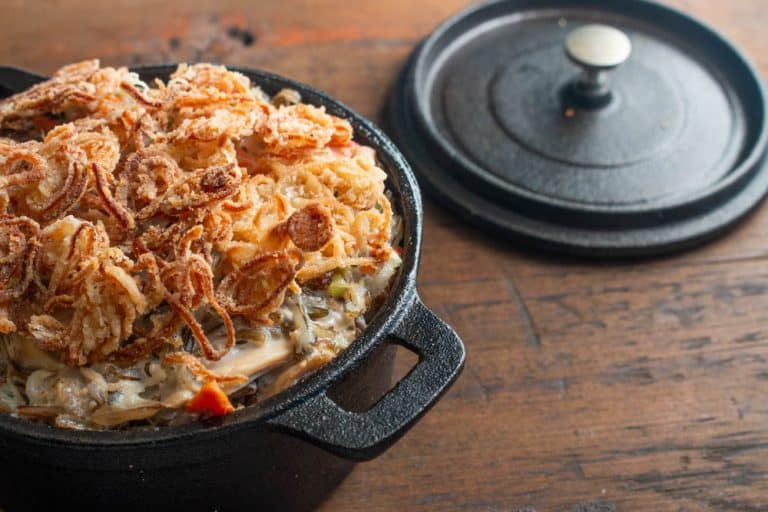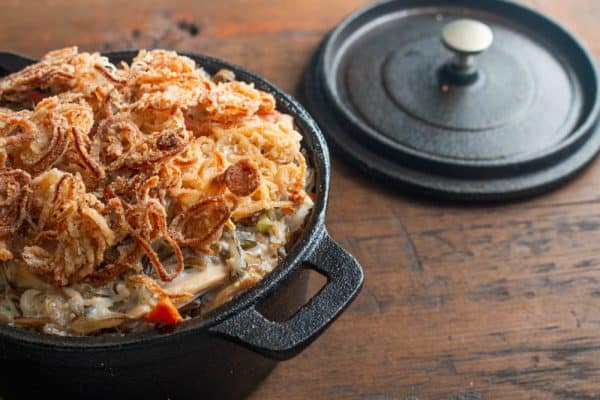 Restaurant version: fried shallots instead of breadcrumbs
I love a good breadcrumb crust, but I couldn't resist sharing a great variation I used to use for serving things like this at restaurant prices. Labeling a dish casserole on the menu was never my thing, so I'd hide behind words like gratin and tian—French dishes that basically mean the same thing.
Topping the finished dish with crispy-fried shallots is an indulgent break from breadcrumbs, and if you want to make a statement, I definitely suggest trying it sometime. There's instructions for how to do it in the recipe notes.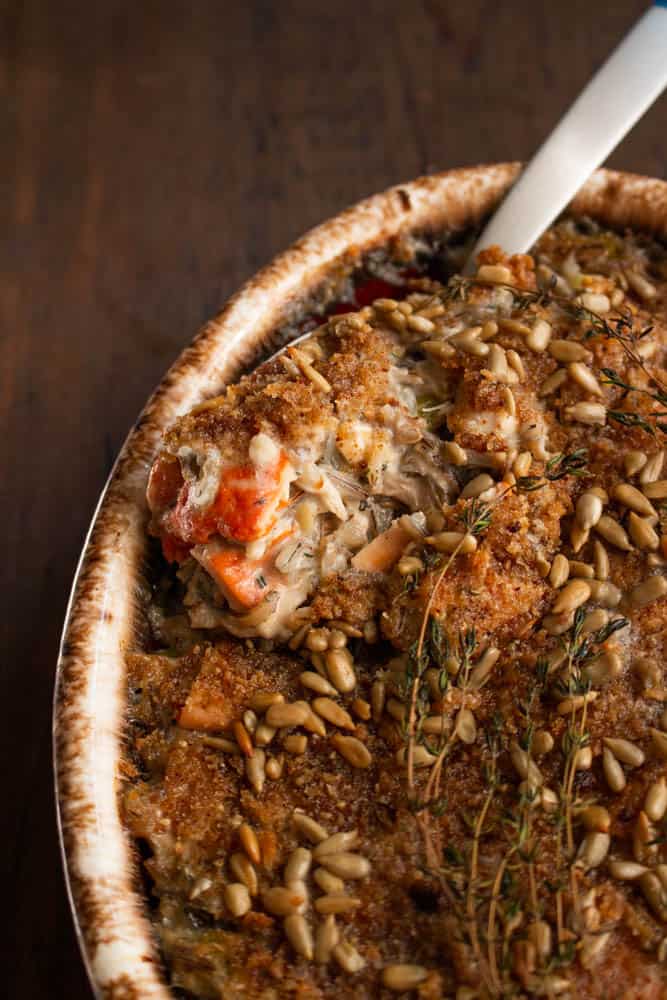 Can you make this vegetarian?
Yes, just double the amount of mushrooms, omit the chicken, and use vegetable stock instead of chicken stock.
Substituting other mushrooms for chicken of the woods
Of course you can use other mushrooms, but I really like the big meaty polypores here. Hen of the woods, or Ischnoderma resinosum would be my other top choices for wild mushroom substitutes, if I had to choose.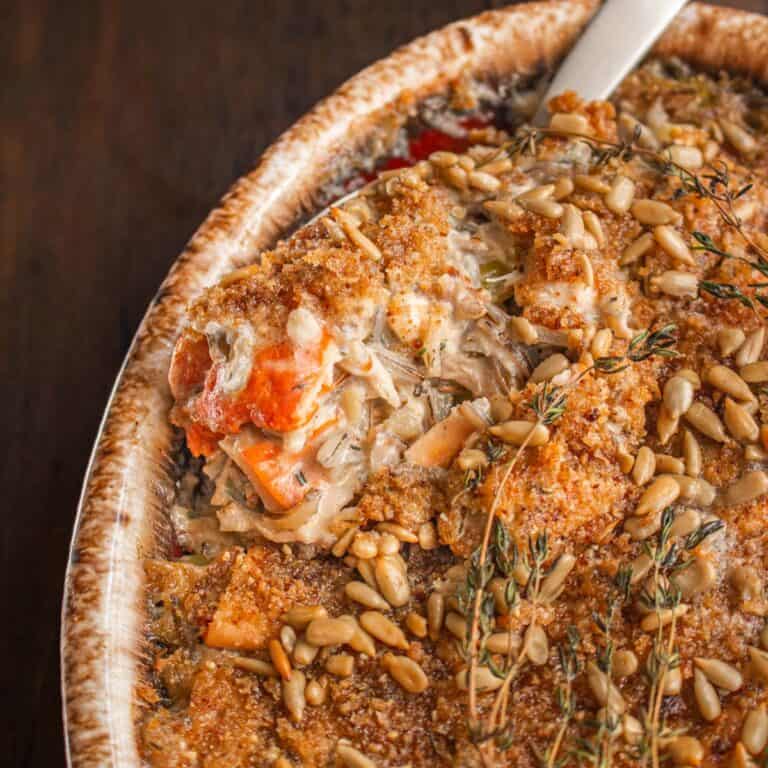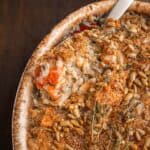 Print Recipe
Wild Rice and Mushroom Casserole
A simple casserole made with mushrooms, real wild rice, and chicken.
Ingredients
Crust
½

cup

breadcrumbs or panko

lightly toasted

3

tablespoons

sunflower seeds

lightly toasted

Small handful of chopped parsley or similar

optional
Wild Rice Casserole
2

cups

of leftover chicken

8

ounces

fresh mushrooms

cut into 1 inch pieces, as you would chicken meat

2

cups

chicken stock or equivalent

like mushroom stock

¾

cup

Chopped onion (1 medium-small onion)

(green garlic makes a good substitute, and is what I actually used here)

2

large cloves

Fresh garlic, finely chopped or pressed, etc

4

ounces

lard or unsalted butter + more for drizzling over the top and sweating the mushrooms

⅓

cup

all purpose flour or equivalent

for the roux

1

cup

heavy cream

sour cream, or half and half

1

tablespoon

chopped fresh thyme or similar

4

cups

cooked wild rice

Kosher salt and fresh ground black pepper

to taste
Instructions
Crust
Mix the panko and sunflower seeds with the parsley if using and reserve.
Casserole
Mix the stock and cream. Cook pieces of chicken of the woods in some fat, adding the onions or other alliums after the mushrooms have wilted and the edges of the pan are starting to color.

Season with salt and pepper and cook for a few minutes until the onions are translucent, then add the 4 oz of butter, melt, sprinkle over the flour and stir to make a roux. stir in the stock and cream in batches, stirring well after each one to prevent lumps and cook until thickened.
Assembly
In a large mixing bowl (or the cooking pan) mix the wild rice, cooked chicken, thyme, stock and mushroom-allium mixture, taste and double check the seasoning, adjusting and tasting a few times to make sure the seasoning is dead-on, then put into a baking dish, like a 9x11 casserole size, or a 10 inch cast iron skillet.
Baking
Top with the crumb-seed mixture, criss cross with melted lard or dot with butter and bake for 20-25 minutes at 450F, or until the crust is well browned and the mixture is hot.
Notes
Using different mushrooms
I use chicken of the woods here, and they're excellent, but just about any mushroom can work. 
Fried onion or shallot topping 
If you want to top the dish with fried shallots, thinly slice 6 oz of peeled shallots into rings, toss in seasoned flour, tap off the excess, and fry in plenty of oil, draining on paper towels and sprinkling with salt. 
Nutrition
Serving:
8
oz
|
Calories:
1082
kcal
|
Carbohydrates:
37
g
|
Protein:
9
g
|
Fat:
101
g
|
Saturated Fat:
40
g
|
Polyunsaturated Fat:
17
g
|
Monounsaturated Fat:
39
g
|
Trans Fat:
1
g
|
Cholesterol:
144
mg
|
Sodium:
488
mg
|
Potassium:
322
mg
|
Fiber:
3
g
|
Sugar:
4
g
|
Vitamin A:
1228
IU
|
Vitamin C:
1
mg
|
Calcium:
49
mg
|
Iron:
2
mg
More Chicken of the Woods Mushrooms