What incredible tasting herb needs to be on your to bucket list? Lemon balm.
There's only one problem, I find it's hard to come across wild, compared to the ubiquitous bergamot and elusive peppermints in the areas I hunt in Minnesota and Wisconsin. I know of only one place where it grows, and it's pretty modest. The good news is that it can be purchased and planted, and since it's in the mint family, it'll grow like a weed, and is a great bee attractor for your garden.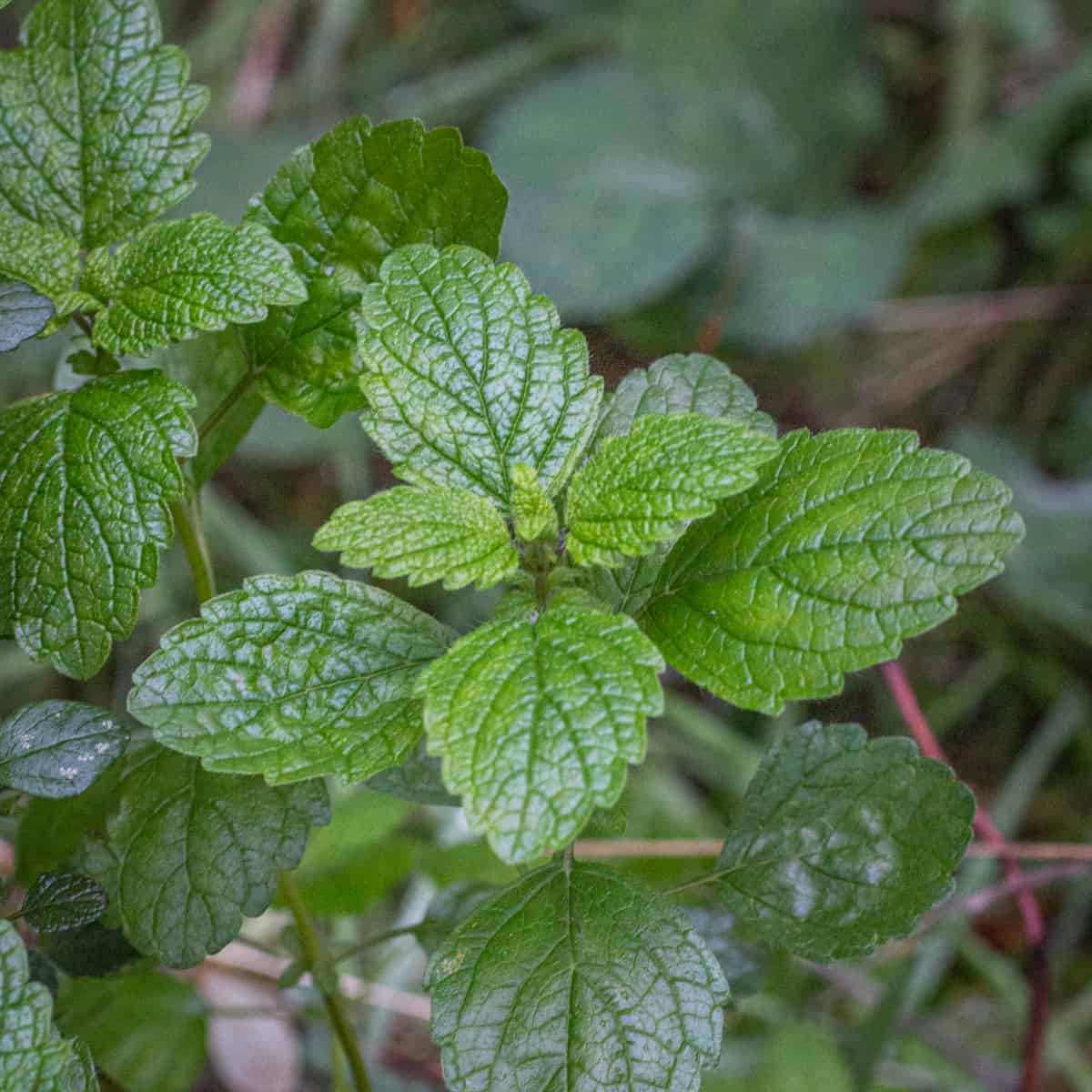 With a flavor like concentrated lemonade, it begs to be used for refreshing things like drinks and salads in the summer. It's flavor is powerful, but confusing since it's delicate too, and it can be frustrating to make something with it, only to end up not being able to taste it in the finished dish.
It's often used for drinks and syrups, which work, but don't expect it to stand up to strong flavors, like basil or mint can, something plain like vodka and soda would be good. I've come up with a trick for capturing the flavor by lightly grinding the leaves with sugar, which absorbs the perfume and stretches it, from there the sugar can be frozen and used for sorbets or drink syrups-the method is at the end of this post.
Most of the time though, I just tear lemon balm by hand and put it on top of things, that's how I like it the best. Here's a couple broad thoughts on it based on my experience.
I like to use it fresh, and in large pieces. If you chop it all up it'll taste like grass clippings, or will start to shortly (unless it's blended with sugar like in the following recipe, which captures the aroma). The most gentle way to use it is to tear it with your hands, which prevents it from reacting with knives, just like with basil and mint.
It's flavor degrades quickly. Say you want to make a salad flavored with lemon balm to bring to a picnic. You chop up some cucumbers and add some onions and vinegar, then a couple handfuls of pungent lemon balm. When you get to the picnic though, you can't even taste the lemon balm, at all. You have to add it at the last minute, the same goes with adding it to an ingredient that's cooked, like pasta.
Here's a favorite recipe of mine.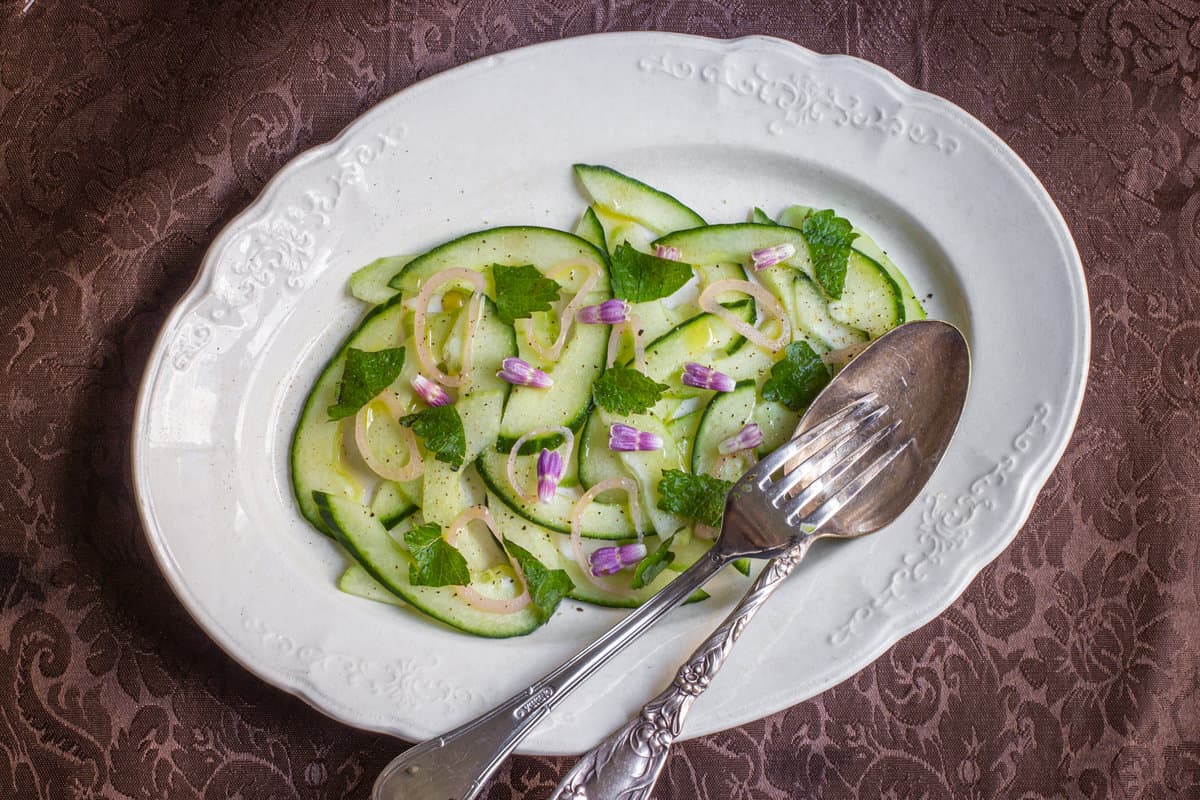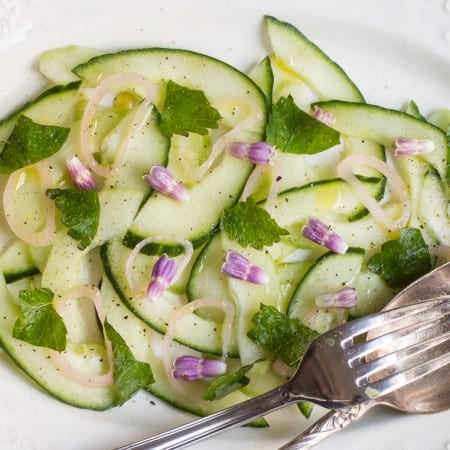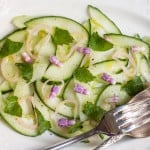 Print Recipe
Cucumber Salad With Lemon Balm And Comfrey Flowers
Serves 2 as an appetizer/side dish
Ingredients
1

large English cucumber

Virgin sunflower oil

extra virgin olive oil can be substituted

Kosher salt and pepper

to taste, plus ½ teaspoon salt and ¼ teaspoon pepper for the pickled shallots

Comfrey flowers

to garnish (optional)

Lemon balm

to taste (about 5-6 leaves depending on size)

1

large shallot

1

tablespoon

honey

⅛

cup

vinegar

¼

cup

water
Instructions
First pickle the shallot. Bring the honey, water, ¼ teaspoon of pepper and ½ teaspoon of salt to a boil in a small pot, then turn off the heat. Peel the shallot, then trim both of the ends. Slice the shallot into ⅛ in thick rings, then pour the still hot vinegar-honey mixture over the sliced shallots. Chill the shallots and reserve.

Meanwhile, slice the cucumber in half lengthwise, then, using a spoon, scrape out the seeds. Slice the cucumber on a mandoline or with a sharp knife into ¼ inch slices.

To serve, arrange the slices of cucumber on a chilled salad plate. Season to taste with salt and pepper, then with olive oil.

Scatter the pickled shallots haphazardly over the cucumber, then tear the lemon balm into ½ inch pieces and place them on top of the cucumbers. Garnish lastly with a few comfrey flowers if using, and serve immediately.
Notes
Sweet tasting comfrey flowers make a great garnish for this, they're optional though.
You could use a regular cucumber instead of the English ones too, if you do, you'll want to peel and seed it.
Lastly, a great variation is to salt the cucumbers after they're cut, then drain the water they give off and dress them with a little yoghurt.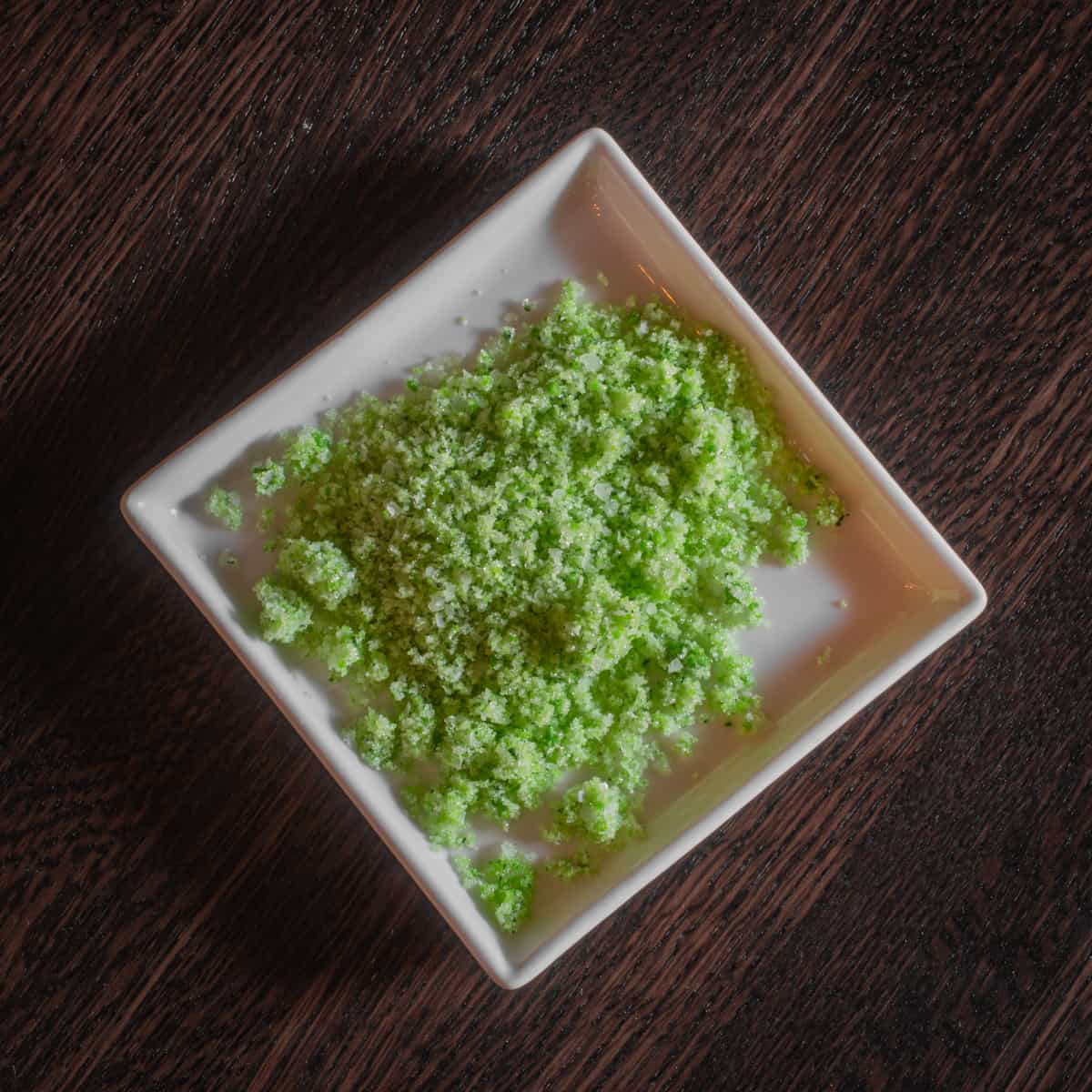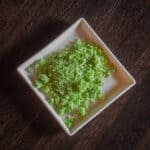 Print Recipe
Lemon Balm Sugar
I use a highspeed blender for things like this, but they are expensive, and not everyone has them, which is why this recipe says to use a food processor. I can't stress how important it is to not over process the leaves in the sugar, just a few pulses should do. If you don't have a highspeed blender, you're sugar won't be as green as the picture above, but it will still work just fine. To make a syrup for flavoring things like drinks, combine equal parts of the lemon balm sugar and water and stir until the sugar is dissolved, let it sit over night to infuse, then strain to remove the leaf particles, label, date, and refrigerate until needed.
Ingredients
1

cup

pack lemon balm leaves

4

cups

white sugar
Instructions
Tear the lemon balm leaves by hand to avoid bruising with a knife. Place the torn lemon balm leaves in the bowl of a food processor and pulse to break them up. The leaves should stay bright green, be very careful not to over process or the color, and aroma won't be as strong.

Freeze the lemon balm sugar in dated, labeled containers until ready to use.