We've all been told not to eat little brown mushrooms growing in the yard. Fairy ring mushrooms, or mousserons in French (Marasmius oreades) are the exception. They're small, but they pack big flavor. Once you find a little patch you can come back to the same spot to pick more each year.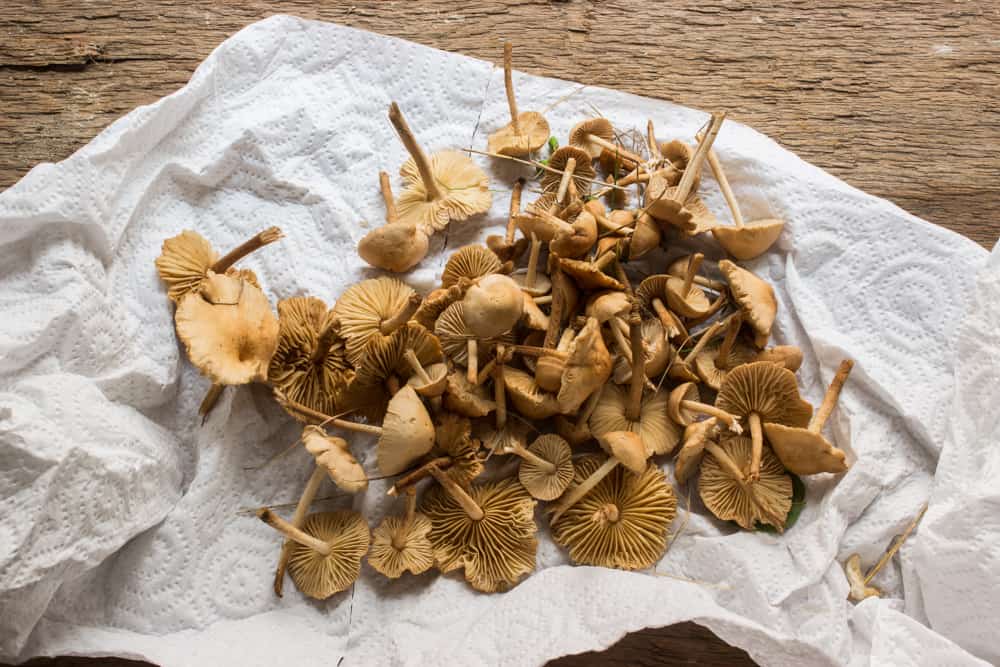 Small mushrooms are hard to identify, but there's characteristics that make these easy to pick out, as long as you pay attention.
Where to Find Fairy Ring Mushrooms
Along with Agaricus campestris and others, these are one of the most common edible yard mushrooms.
The name fairy ring is misleading as many mushrooms grow in a naturally occurring ring pattern and could be called fairy ring mushrooms. Most of the time I see these in a definite ring. I pick them around the crater of a stump that's been removed in the "brulee" or dark ring of dead grass that lets you know some type of fungus is growing, taking nutrients from the grass and organic matter.
The habitat is important for a correct ID, and you won't find these in the deep woods. These like sunny, open areas, grassy areas, outer edges of pastures, yards, and meadows. I usually start to see them in Minnesota around mid June.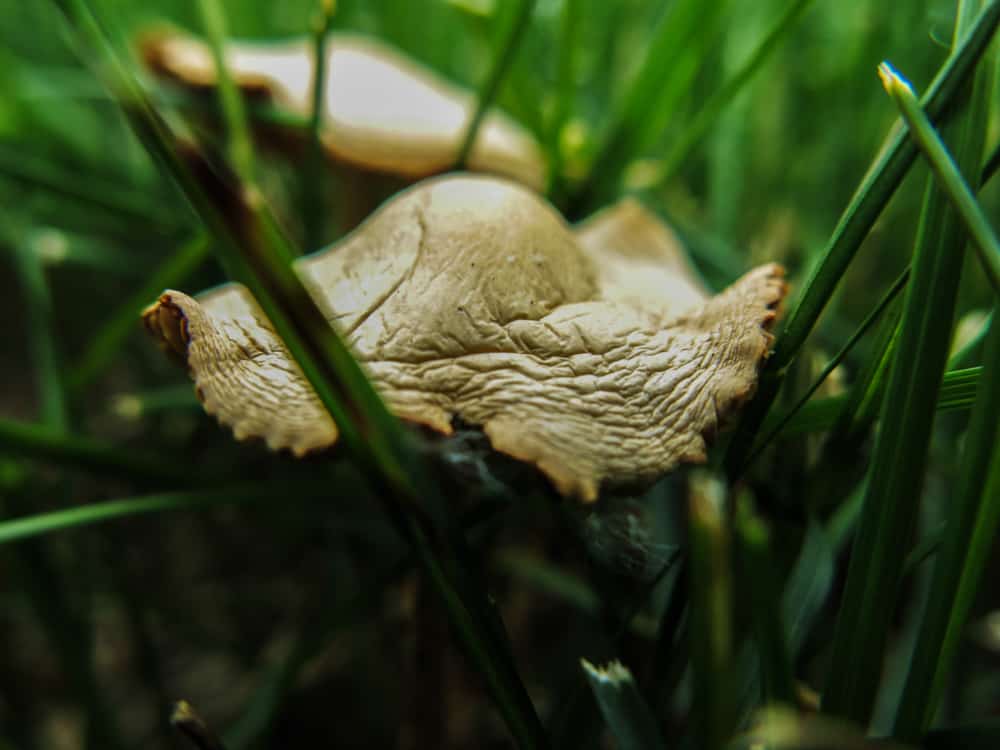 Fairy ring mushrooms in the front yard in rings of grass. I always see them around the area a stump was removed from every year. Note the bell shaped cap.
Fairy Ring Mushroom Identification
The fruiting bodies are small, with caps usually 1-2 inches across. For me, the easiest way to identify fairy rings is their stem.
The stem is tough and pliable, you can bend it back and forth and it won't budge, in fact, you have to be careful when removing the stems for cooking these, since the cap will tear with it if you use too much force.
There's a lot of mushrooms that can look like these, but most of the other ones have stems that are brittle, or snap off easily when bent.
Then there's the cap, the fairy rings that I pick usually have an umbonate, or bell shaped cap. When I show it to people, I usually describe it as looking like a nipple, which seems to help.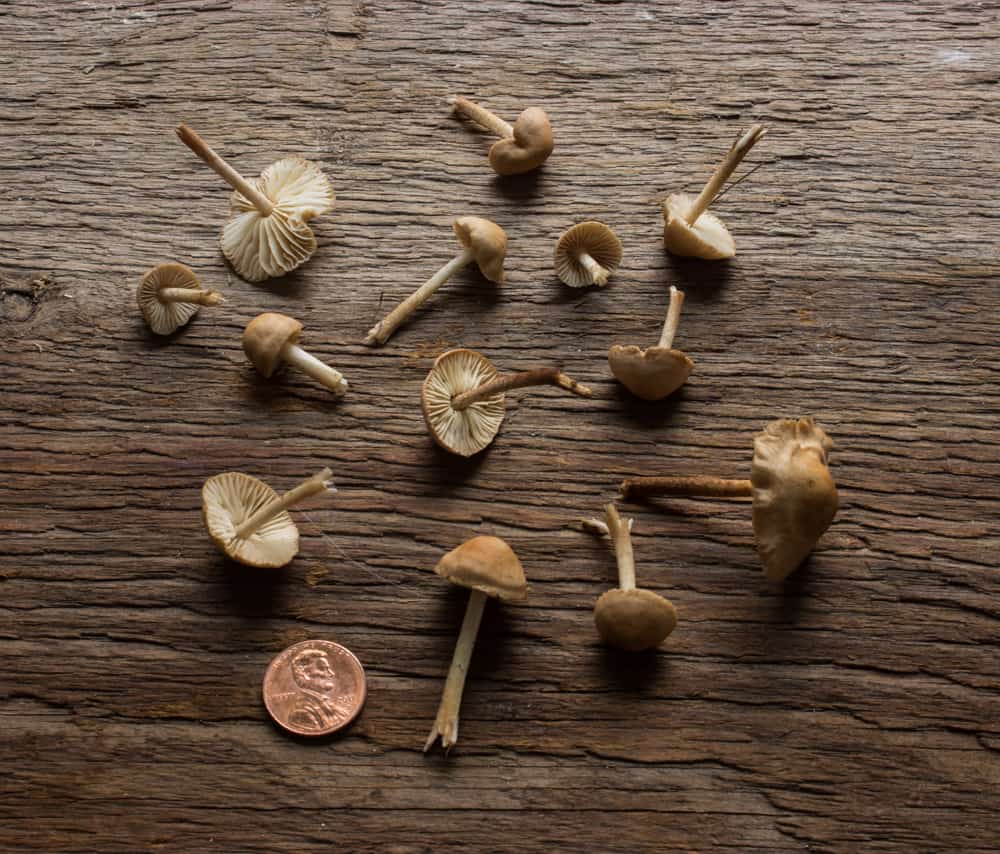 Very young fairy rings may not have the nipple shaped cap.
The gills are unique. Fairy rings generally have more widely spaced gills than other similar looking yard mushrooms. The gills also fork, meaning some of the gills won't connect with the stem.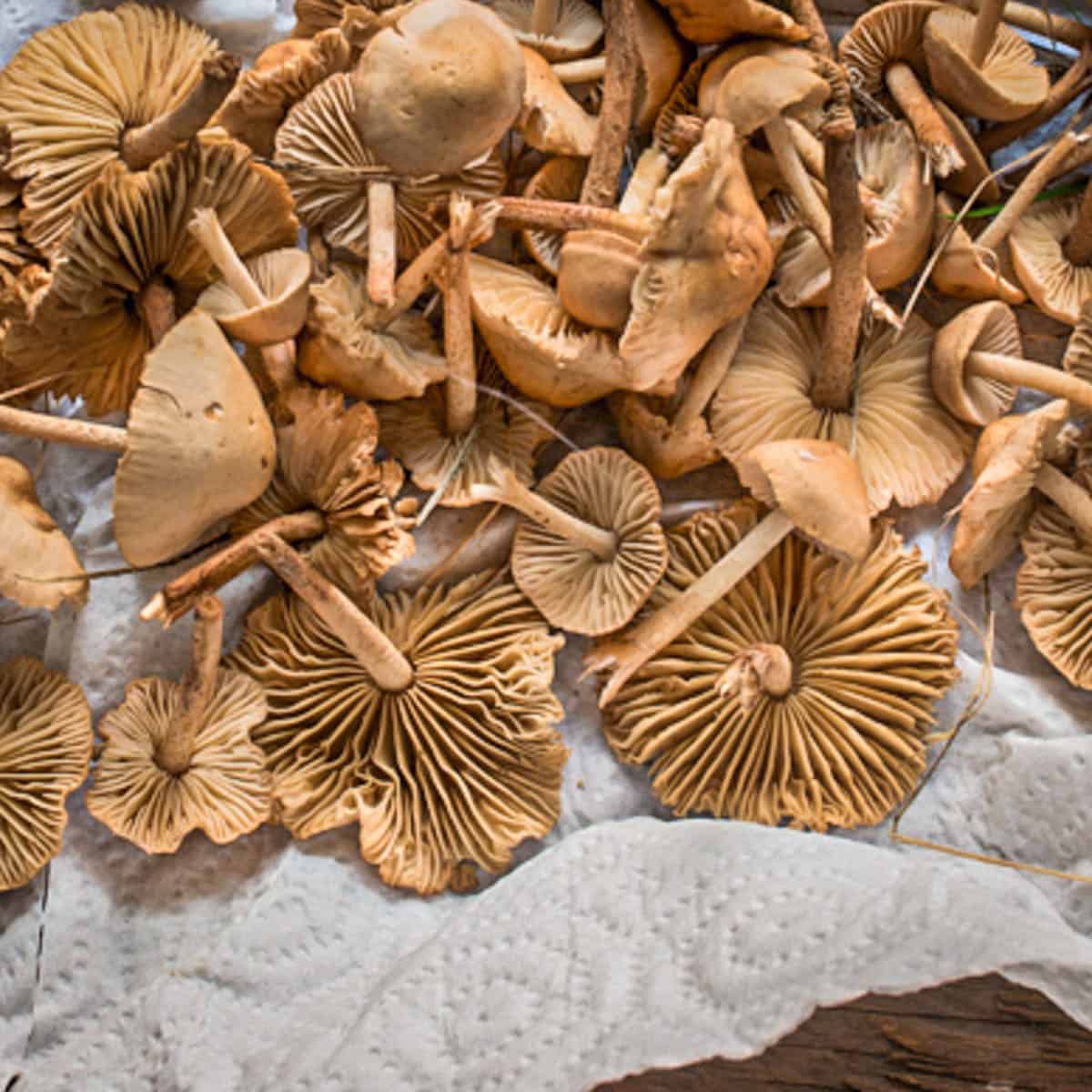 Note some of the gills don't connect with the stem, and some are forked.
Here's a recap on fairy ring ID:
White spore print
Typically have a nipple shaped cap
Have a tough, pliable stem
Generally grow in rings
Have gills that will fork and may not attach to the stem
Cooking Fairy Ring Mushrooms
The first thing to do is remove the stems and leave the cap in one piece. Grab the stem, twist gently and it will pop off.
As far as cleaning, these aren't usually dirty or buggy. If they have grass or debris stuck to them, I rinse them in some cold water and then allow them to dry between a few layers of towels in the fridge.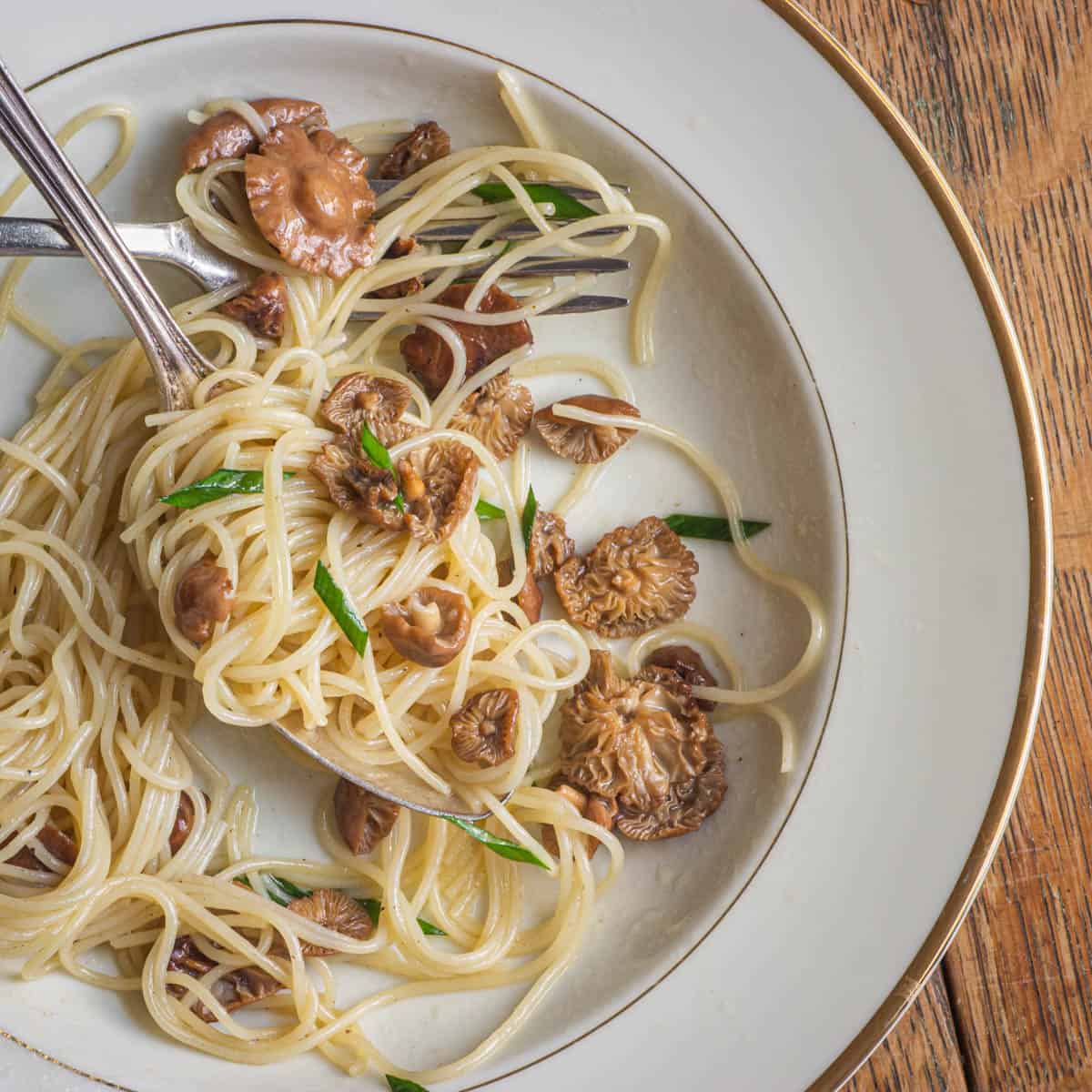 These make a wonderful pasta.
Preservation is easy, if you leave them out on a counter they may dry naturally. I like to use a dehydrator. While they're growing in open areas, they can get dried out and shriveled by the sun, but they come completely back to life after a rain.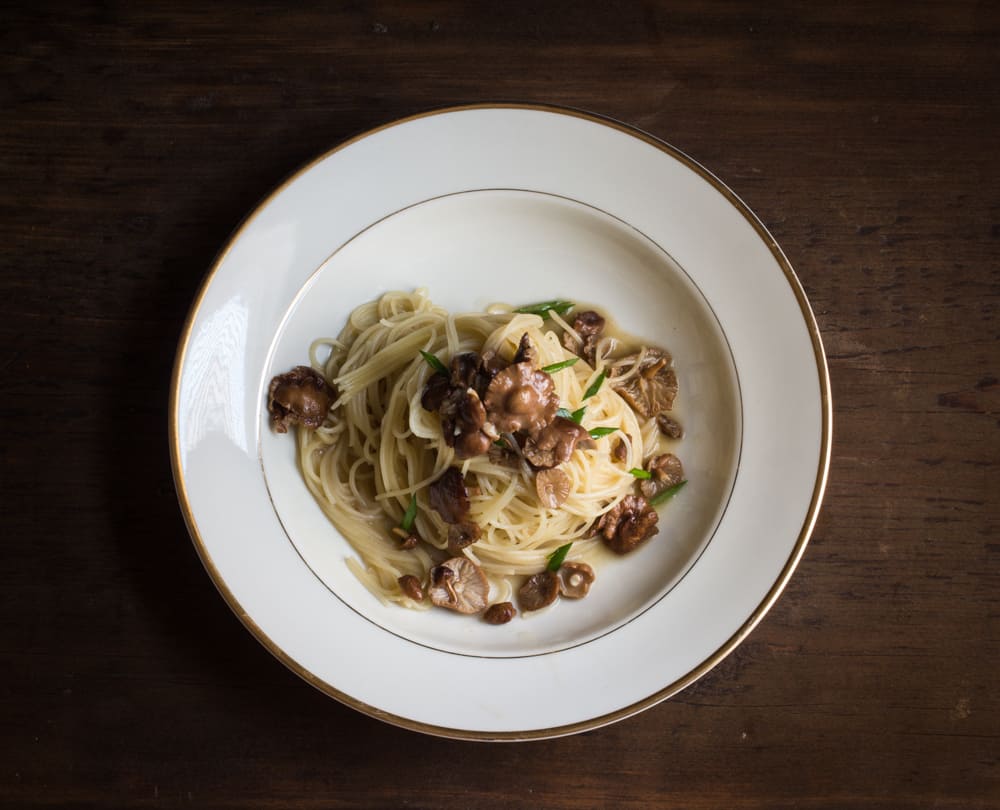 Angel hair with fairy rings has a nice ring to it.
Here's my favorite fairy ring mushroom recipe. I like to keep it simple with these.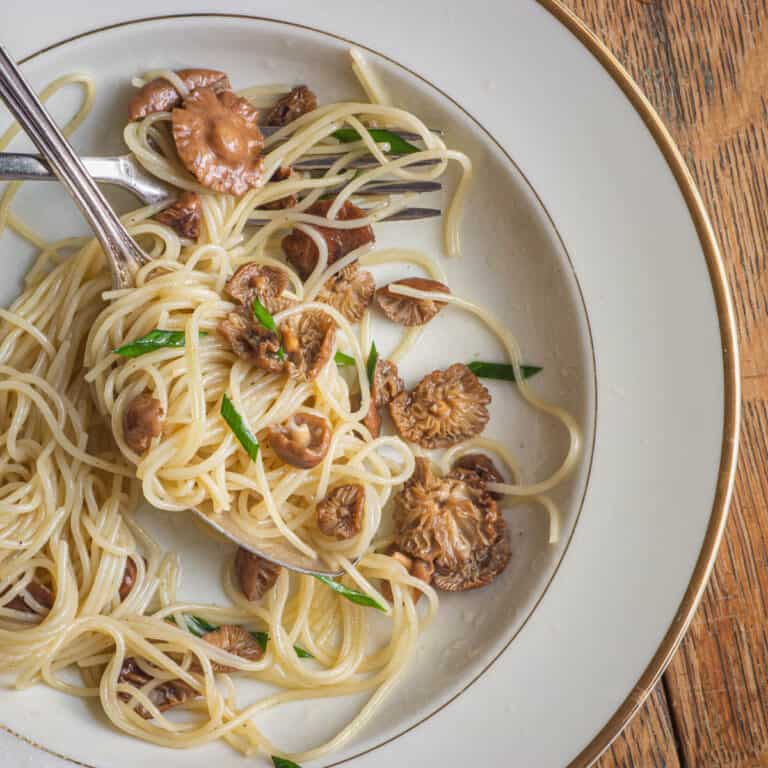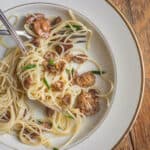 Print Recipe
Capellini With Fairy Ring Mushroom Sauce
A simple, delicious pasta with fairy ring mushroom butter sauce
Equipment
1 Pasta pot

1 10 inch saute pan
Ingredients
2

ounces

fairy ring mushroom caps

cleaned

4

ounces

dried angel hair pasta

my favorite brand is Rustichella d'Abruzzo

1

tablespoon

shallot

diced ⅛ in

3

tablespoons

unsalted butter

⅛

cup

dry white wine

½

cup

chicken or other poultry stock

preferably homemade
Instructions
Bring a few quarts of salted water to a simmer. Meanwhile, in a separate pan, heat 2 tablespoons of the butter on medium heat.

Add the fairy rings to the pan and cook for a few minutes to brown them, then season with salt and pepper. Add the wine and cook for 2-3 minutes, then add the chicken stock. Bring the water to a boil, add the pasta and stir thoroughly to prevent clumping.

Cook the pasta to al dente, then add to the pan with the mushrooms.

Cook the mixture for another minute or two, add the remaining butter and stir to make a creamy sauce, finish with the garlic chives at the last minute, double check the seasoning for salt and pepper then divide the pasta between two warmed bowls and serve immediately.
Notes
Fairy Ring Mushroom Substitute
Other small mushrooms like winter chanterelles or red chanterelles can work as a substitute for fairy rings. 
Nutrition
Serving:
4
oz
|
Calories:
383
kcal
|
Carbohydrates:
45
g
|
Protein:
9
g
|
Fat:
18
g
|
Saturated Fat:
11
g
|
Polyunsaturated Fat:
1
g
|
Monounsaturated Fat:
5
g
|
Trans Fat:
1
g
|
Cholesterol:
45
mg
|
Sodium:
8
mg
|
Potassium:
249
mg
|
Fiber:
2
g
|
Sugar:
3
g
|
Vitamin A:
525
IU
|
Vitamin C:
1
mg
|
Calcium:
21
mg
|
Iron:
1
mg
More