The black trumpets are out now. After I found the first flush of the year, I remembered some frustration I had working with them a while back.
I was playing with a big batch of them, testing out a creamy trumpet soup recipe for a cookout I was making an appearance at. It was going to be rich and heavy-a black trumpet bomb. I'd forgotten an important thing about working with trumpets though: the more there are in a dish, the more bitter it gets, especially if they're pureed.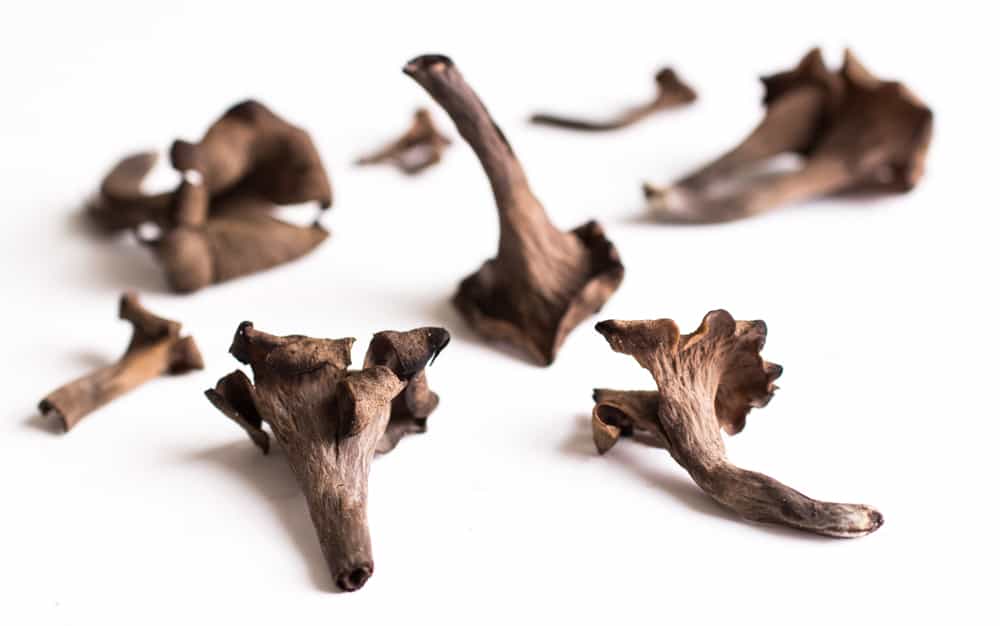 For all the crooning about how good black trumpets they are, I'm surprised that the bitter quality of these aren't mentioned more often. It's interesting too that it doesn't seem to matter if the trumpets are dried or not, fresh, or dried, if they're used with a heavy hand, whatever your making will get bitter, fast.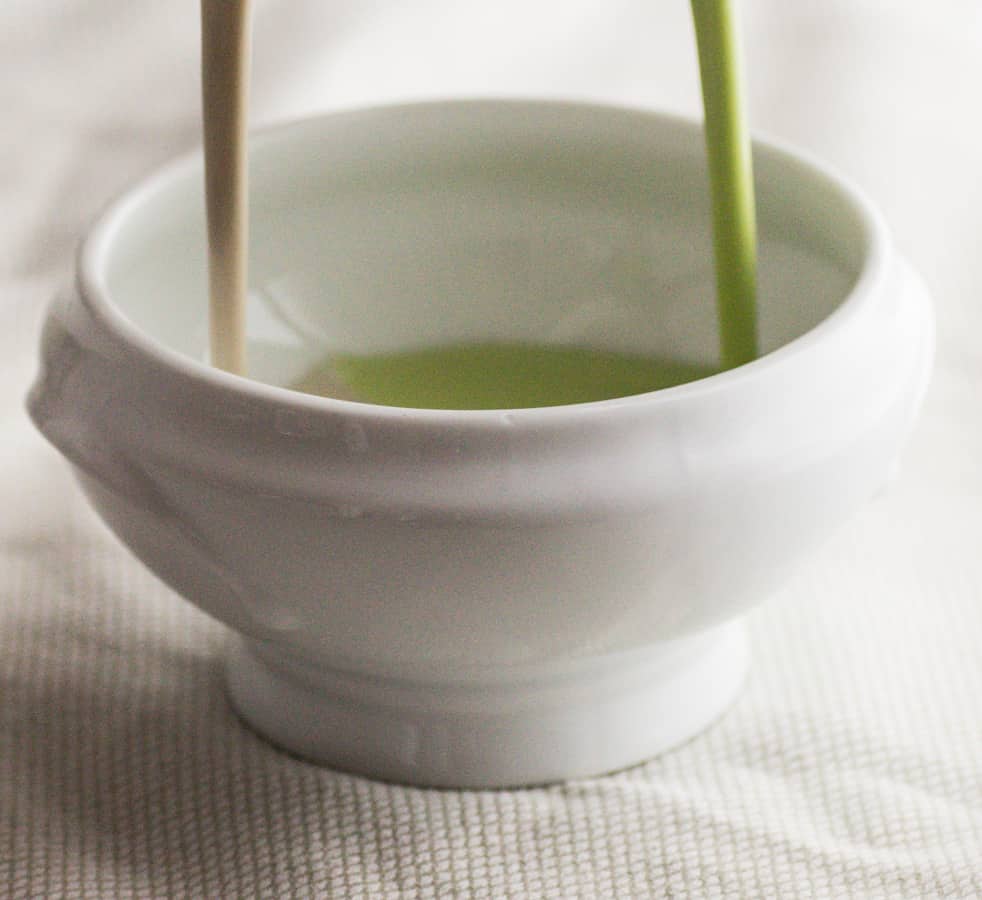 My trumpet soup was delicious, but a little on the bitter side, so I added a proportion of cultivated mushrooms to it to give some balance. Afterwords, I made a soup out of sweet English peas, heated both soups up, and combined them. In retrospect, you could just as easily make a cream soup with the black trumpets simply chopped or made into duxelles, which would cut the bitterness of them as well, since they're not completely pureed into the cream.
The method of the two soups was inspired by a borcht I worked on for the Heartland cookbook last year. The recipe was three different types of borcht together in the same bowl-a fun, (if 80's inspired) way to serve soup. Here the multiple soups in a bowl method works not only as a way to cut the bitterness of the trumpets, but also to allow the flavors of the mushrooms to be served with the peas, since pureeing peas with black trumpets would make a nasty color.
All in all, you'll still taste some of the trumpet's bitter note, but it's not offensive at all, and mixing them together in the bowl makes it a lot of fun to eat.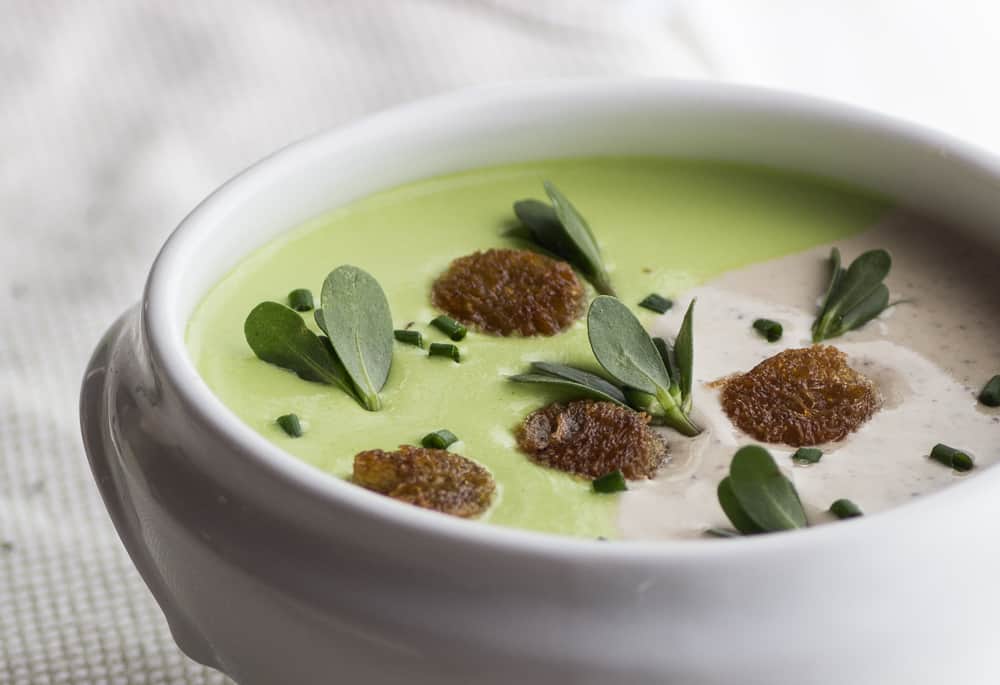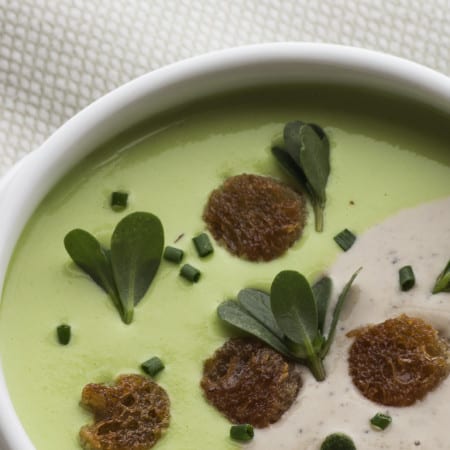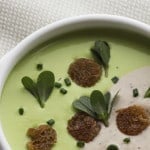 Print Recipe
Black Trumpet Mushroom-Shell Pea Soup
Ingredients
Kosher salt

to taste

Fresh ground white pepper

to taste

Toasted croutons

purslane, and cut chives, to garnish (optional)
Black Trumpet Soup
3

cups

cream

4

cups

homemade chicken stock

1

ounce

dried black trumpets

(this is about 2 cups)

4

oz

¼ lb cultivated button mushrooms or another fresh mushroom of your choice, roughly chopped

¼

cup

brandy

½

cup

yellow sweet onion

diced

½

cup

celery

diced

½

cup

leek

white part only, diced

3

tablespoons

unsalted butter
Pea Soup
1

qt

shell peas

frozen peas can be substituted

1

cup

flavorless oil

like grapeseed

2

cups

homemade chicken stock

Kosher salt

to taste

½

teaspoon

honey

or more to taste

2

tablespoons

torn fresh spearmint leaves
Instructions
Black Trumpet Soup
Heat the chicken stock to room temperature to melt the natural gelatin, if needed. Put the black trumpets in a bowl, then pour the chicken stock over them to rehydrate. Agitate the mushrooms to remove any grit, then remove them, chop roughly and reserve. Strain the chicken stock through a fine strainer, cheesecloth, or coffee filter and reserve.

Melt the butter in a sauce pot, then add the cultivated mushrooms and cook until browned, about 5-10 minutes. Add the onion, leek, and celery and cook until the vegetables are soft and tender, stirring occasionally. Add the trumpets, season the mixture to taste with salt and pepper, and cook for a few minutes more. De-glaze the pan with the brandy, then cook until the pan is nearly dry. Add the chicken stock (there should be about 3 cups left) and reduce by half.

Finally add the cream and heat just enough to get it hot, do not boil it. Transfer the mixture to the bowl of a high speed blender and puree on high, then pass through a fine strainer, double check the seasoning for salt and pepper and reserve until needed.
Pea Soup
Bring a pot of lightly salted water to a boil, and have an ice bath ready alongside. Blanch the peas for just a minute, then shock in the ice water to cool, drain, and reserve. Add half of the peas to the bowl of a high speed blender, then add the salt, honey, and mint. Puree the mixture on high, gradually adding half of the oil to help make a velvety-smooth puree. Pass the mixture through a fine chinois strainer or mesh, then repeat with the other half of the peas, stock and oil, then combine and adjust the seasoning for salt if needed.
The garnishes
For the croutons, cut out shapes (I used a ½ inch circular ring mold) from some bread, then butter them and toast in the oven until crisp and reserve. Wash and dry the purslane, then pick into small, bite size clusters.
Serving
Heat both of the soups in small sauce pots, then, using a ladle in each hand, pour equal amounts of soup into preheated bowls at the same time. Garnish with the purslane, chives and croutons and serve immediately.
Notes
If the idea of making two soups sounds like too much work, make a duxelles of black trumpets, or chop them fine and saute, then put a hot spoonful on top of the pea soup.
I garnished this with some croutons, purslane, and chives, they're optional though.
Also, it goes without saying you have to pour the soups with a steady hand-you only get one chance!
More