Black truffle infused honey is one of the best ways to preserve truffles besides making a simple truffle butter. Read on and I'll explain how to make it, and what you can do with it.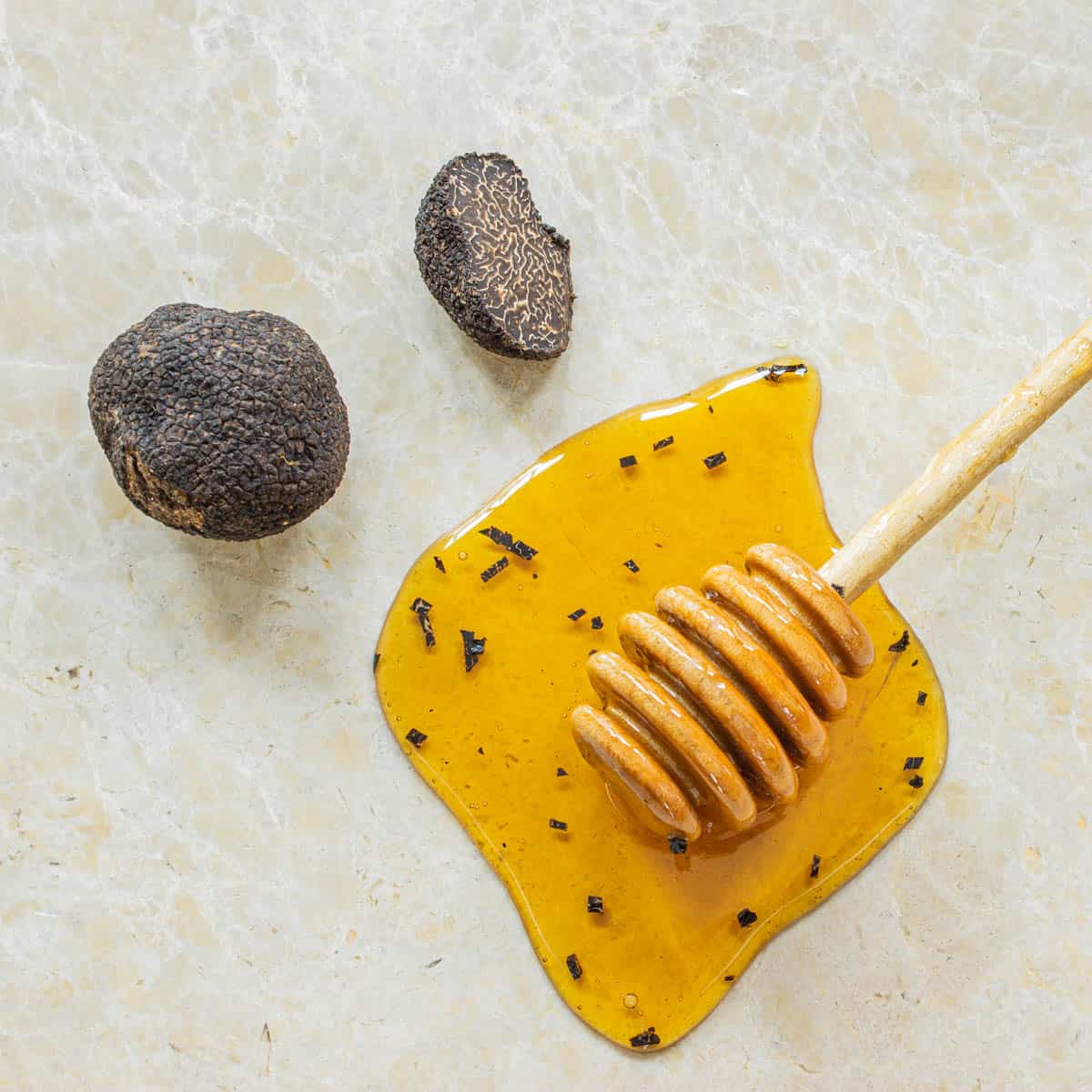 Anyone who knows me will tell you I love food and history. This came about after thinking about truffles, and where they came from.
I'd just gotten a shipment of tuber brumale, and I wanted to preserve some of them as quick as possible. In the process I got to thinking about how the first documented truffles were on Egyptian hieroglyphs, and from there, the honey that was found in dessert tombs.
I didn't know it, but truffle honey is actually a thing, and you can buy it frozen from a number of purveyors. If you've handled fresh truffles, you know they don't last long-you have a couple days with their aroma at their peak, then it leaves, quickly.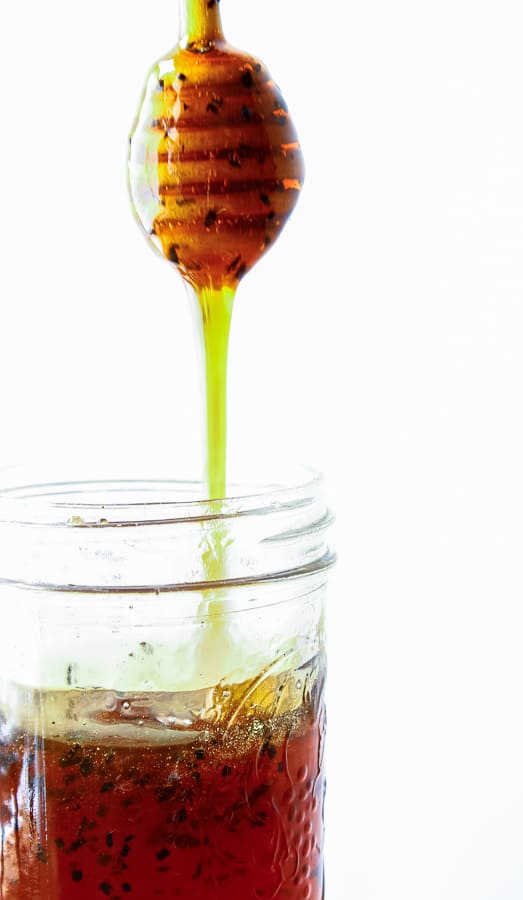 With a good truffle, you only need a teeny amount to flavor enough honey for plenty of fun. Just two teaspoons gave me a great tasting pint.
You might be wondering what I mean by "good" truffle too. Others will beg to differ, but the old saying about money talking is really true with truffles. Cheap truffles from the American west coast are just that, they're a far cry from the species hunted in Europe, which is why they're a fraction of the price.
Like I mentioned, I was using Tuber brumale here, it's a cheaper species of European truffle thought of as weed in patches of true black truffles, species like Tuber melanosporum, uncinatum, or aestetivum.
Tuber brumale is cheaper since it has a smoky quality in addition to the truffle aroma. The smokyness is noticeable, but not as strong as the truffle aroma. I don't find the smoky taste offensive, it's interesting, and from my experience, If I don't tell them about the difference, people have no idea.
When you combine the strength of their aroma with the fact that you can purchase ¼ lb of brumale for about 100$, it's an economical truffle that anyone can enjoy for a special occasion. "true"black truffle species. By comparison, black or white truffles from the American west coast will go for anywhere from 100-200/lb, where the pricey European species could be anywhere from 600-1200/lb, depending on the species. Rest assured, you get what you pay for.
Anyway, here's some ways the honey would be great:
Drizzled on yoghurt, mascarpone, or another spreadable dairy
With some soft brie style cheese
Added at the last minute to a sauce for duck or poultry, especially one containing cream
Out of the jar with a spoon, when no one's looking
Mixed with some acid, salt and pepper for a salad dressing
Stirred into the dairy base of a panna cotta, ice cream or sorbet
Mixed with chopped toasted nuts, like pistachios or almonds for a chunky condiment
In baklava
Mixed with a touch of wine or booze and used to soak a sponge cake
Lining the dish a cold custard or dessert will be poured into before setting (if you do it with panna cotta it will loosen and become a sauce when un-molded)
With fried chicken (think chicken nuggets from your childhood)
Here's the basic method, and one of my favorite ways I've used it.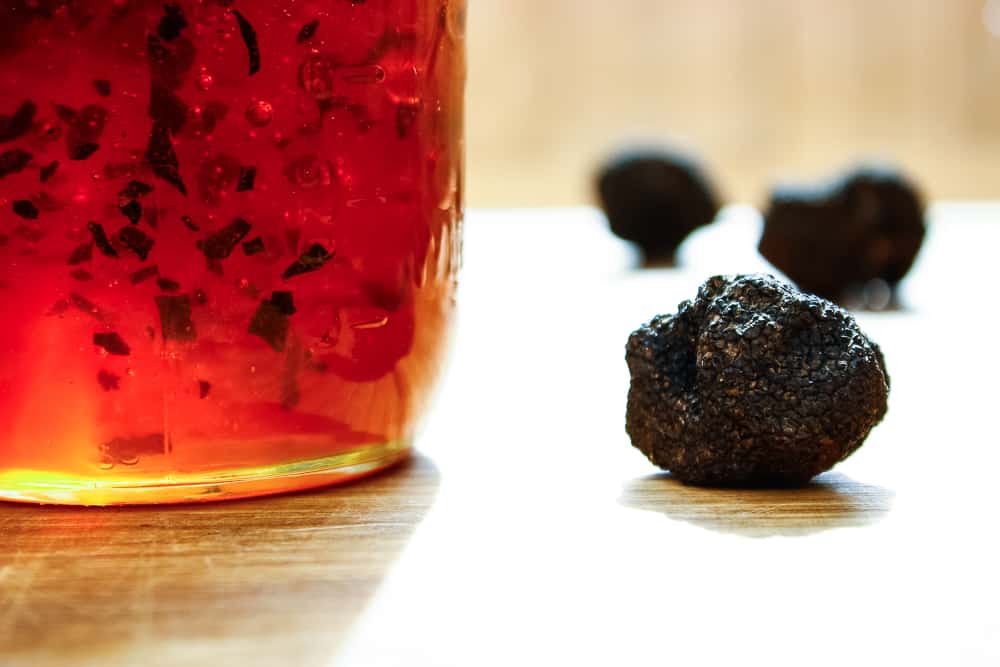 Related Posts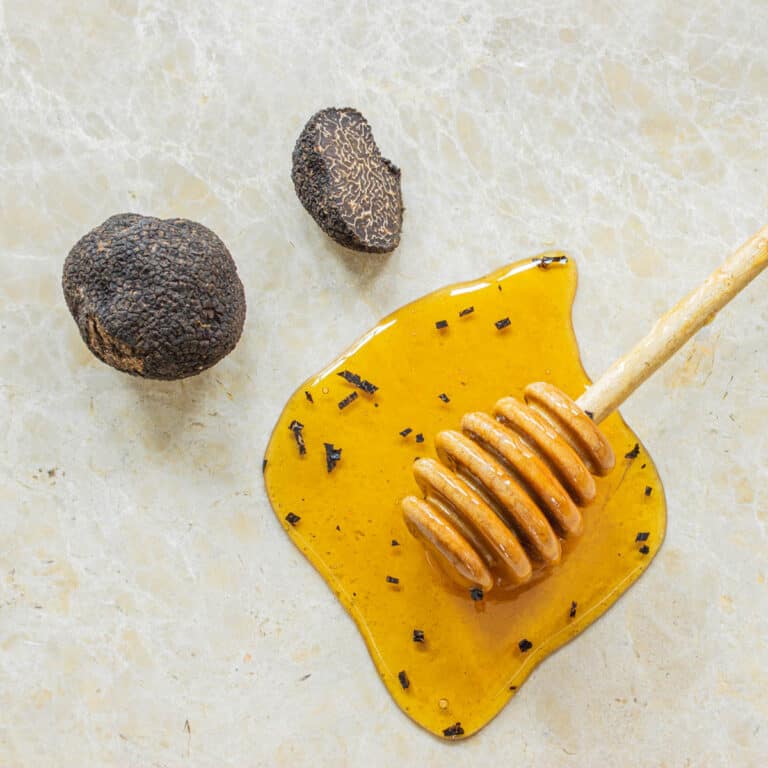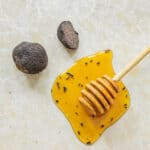 Print Recipe
Black Truffle Honey
Yield: 1 pint
Ingredients
2

cups

honey

2

teaspoons

minced fresh black truffle
Instructions
Combine the honey and the minced black truffle in a mason jar or another airtight container. Label, date, and refrigerate or freeze until needed.
Notes
You need to keep this cold to preserve the truffle's aroma. Even so, after a week in the fridge it will lose some of it's potency, so for long term storage you can freeze it, preferably in a plastic container. It goes without saying the truffles need to be as fresh as possible for the best result.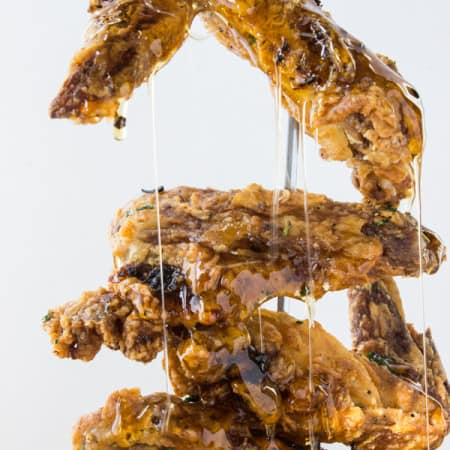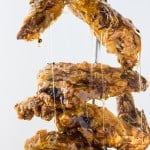 Print Recipe
Buttermilk Fried Chicken Wings With Black Truffle Honey
Serves 4-6
Ingredients
4

lbs

whole chicken wings

Half a gallon of buttermilk

1

gallon

oil for deep frying

like grapeseed, rice bran, lard, etc, (you can use more or less depending on the size of the pan you use, I was using large stainless steel stockpot.)

Black truffle honey

as needed (see recipe above)

For the dredge

All purpose flour

as needed, 8 cups should do

Kosher salt

Paprika

Fresh ground white pepper

Cayenne

Garlic powder

Onion powder
Instructions
Season the flour to taste with the spices. Soak the chicken in buttermilk for a couple hours. In a pinch, you can just toss them in butter milk and then straight into the flour though. Make sure to test one of the wings first, then if you need to add more seasonings to the dredge you can do so.

Using a thermometer, heat the oil to 350 degrees. When the oil is hot, add the chicken wings in batches, making sure not to overcrowd the pot, which will lower the temperature, also, if they touch too much, the crispy coating can rub off during cooking. If you notice the oil drop signifantly in temperature, you can increase the heat a bit, but try to keep it at a steady 350.

Cook the chicken wings until golden brown and cooked throughout, then remove and allow to rest in a warm (Not hot) oven on paper towels placed on a cookie sheet to absorb oil while you cook the next few batches of wings. As they chicken wings come out of the hot oil, sprinkle them with a little kosher salt, since the oil helps it stick.

When all the wings are cooked, serve immediately drizzled with the truffle honey, or pass it alongside.
Notes
I usually try to give exact proportions to you, but I don't use a recipe when I make these. I just season the flour to taste, it's hard to mess things up unless you get really happy with the cayenne.