Besides pickled bulbs, ramp ketchup is one of the first things I ever made with everyones favorite wild leek. It's a great way to preserve ramps for the off-season, especially if you don't harvest many.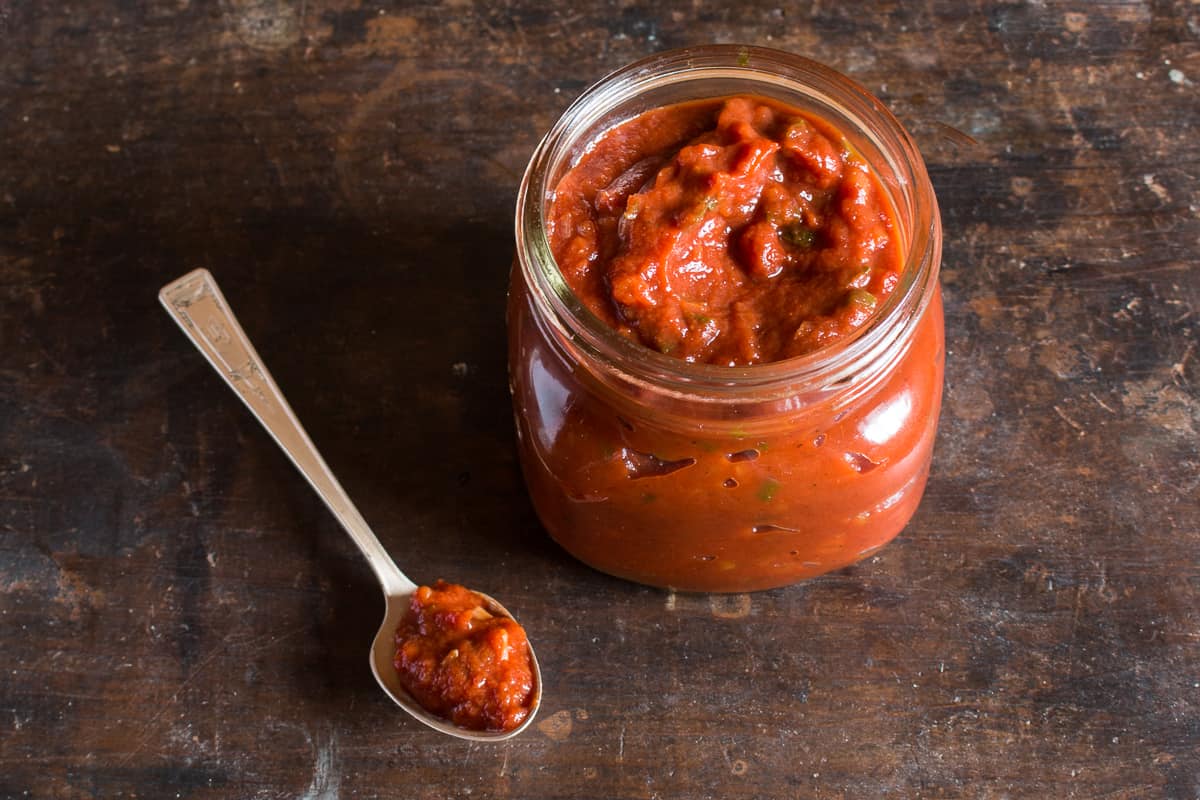 At the time, I remember making a few gallons of it to use as a condiment for vegetarian tasting menus, but we eventually started putting it on all kinds of things.
Now, homemade ketchup and I have a love-hate relationship, and there's one particular restaurant food critics review of my first restaurant that mentioned something to the tune of: "It's pointless for chefs to make their own ketchup--nothing will ever compete with Hienz".
First of all, fuck that guy (It's been years and I'm not salty at all!). Secondly, I still like Heinz, and it has it's place next to a good plate of French fries. That being said, our ramp ketchup here isn't Heinz, and I wouldn't dip french fries in it since it's too chunky.
Basically, what I'm saying, is that homemade ketchup can be good, but don't expect it to be exactly the same as stuff from the bottle, because it won't be. Homemade ketchup is rustic, thick, and deserves to be recognized on it's own.
Shelf-stable for canning
What this is, more specifically, is a condiment, as well a good, trusty way you can stretch a few ramps into a couple pint jars of preserves you can store in your pantry--allowing you to get that rampy flavor you crave throughout the year. Here's some ideas for using it:
Tips for Using
While you won't dip fries in it, it's a good all-purpose relish for brats, sausages and other grilled meats.
Roasted, chunky potatotes or home fries would like it, as will other starchy, crispy roasted things like hashbrowns.
If you thin it out a bit, with water or stock, and add a knob of butter and heat it, it's a great, tart-sweet-spicy-rampy sauce for just about anything that would benefit from those flavors, especially pork and chicken. Add some capers and anchovies and it would be a good pizziaola sauce for beef cutlets.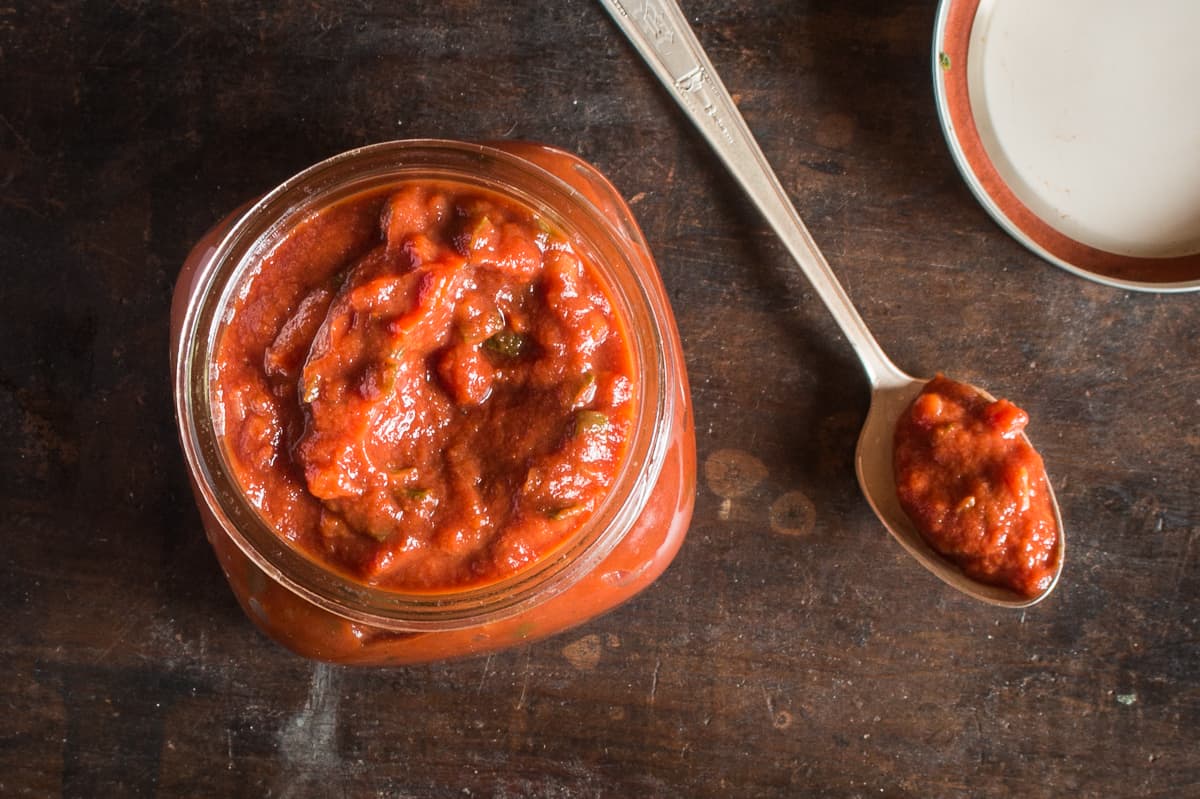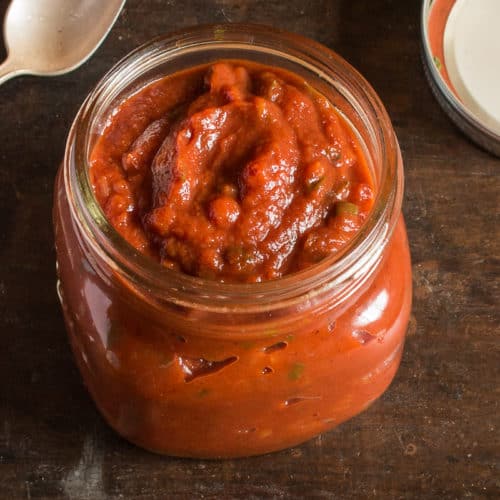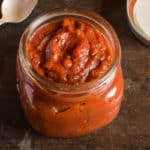 Print Recipe
Ramp Ketchup
This will make a mildly spicy, tangy, and most importantly, rampy ketchup. Yield: 3 cups (3 half-pints)
Equipment
3 half pint mason jars

or similar
Ingredients
3

oz

heaping ½ cup ramp bulbs, not too old, sliced ¼ inch

½

oz

½ cup ramp leaves, finely diced ¼ inch

½

teaspoon

salt

2

oz

¼ cup dark brown sugar

1 28

oz

can whole peeled tomatoes or 3 cups of tomato sauce

1

small 6 oz can tomato paste

1

teaspoon

minced or grated ginger

1

teaspoon

ground black pepper

½

teaspoon

ground allspice

Pinch

of cinnamon

½

cup

apple cider vinegar
Instructions
Toast the allspice and black peppercorns, then grind to a powder.

Combine all ingredients except the tomato paste, ramps and their leaves and puree in a blender until very smooth. Strain the mixture to remove seeds (optional).

Transfer the mixture to a wide, deep pot with a lid to prevent splattering, whisk in the tomato paste and raw sliced ramp bulbs, then simmer on low heat, covered, for 45-60 minutes or until the liquid has mostly evaporated and the sauce is thick like ketchup.

Stir in the ramp leaves while the mixture is hot, then pack into half-pints and process in a water bath.
Notes
This is a great all-purpose condiment for many things. Fried potatoes, grilled chicken or vegetables, flaky white fish, and just about anything you can imagine. 
Nutrition
Calories:
19
kcal
|
Carbohydrates:
4
g
|
Protein:
0.4
g
|
Fat:
0.1
g
|
Saturated Fat:
0.01
g
|
Polyunsaturated Fat:
0.03
g
|
Monounsaturated Fat:
0.01
g
|
Sodium:
51
mg
|
Potassium:
90
mg
|
Fiber:
1
g
|
Sugar:
3
g
|
Vitamin A:
356
IU
|
Vitamin C:
5
mg
|
Calcium:
9
mg
|
Iron:
0.2
mg
More