An under-appreciated wild fruit, the Sand Cherry (Prunus pumila) is relatively large for a wild cherry, with more flesh than its cousins chokecherry and black cherry. I think more people should know about them, but after you taste their rich, dark cherry flavor you might want to keep their secret all to yourself.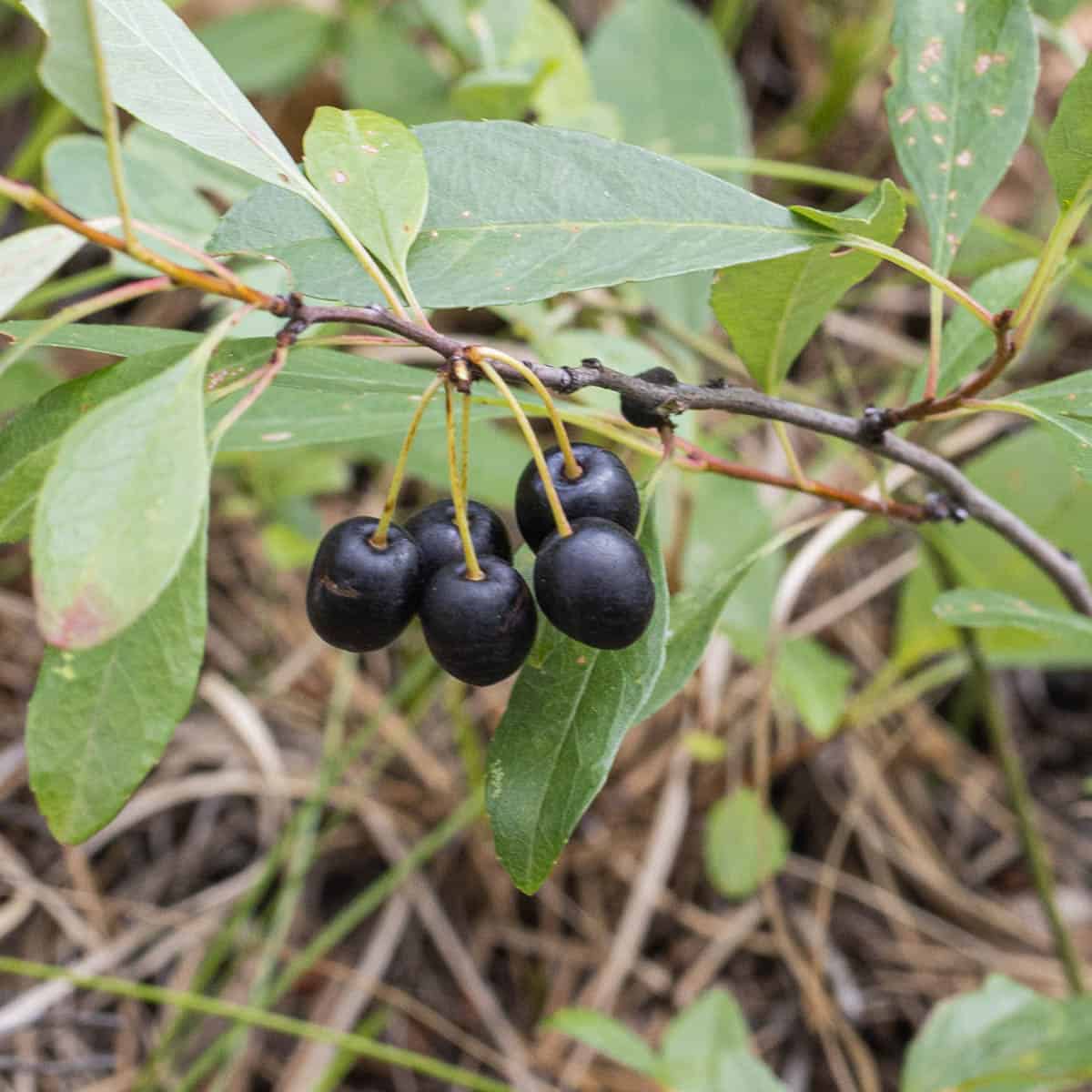 These don't get as much attention as other cherries, and some people don't even know sand cherries are edible! In this post I'll go over everything I've learned about them, with tips on harvesting, storing, and cooking to help you get the most from them.
Description
A native North American plant, the Sand Cherry (Prunus pumila) and it's cousin Appalachian Sand Plum (Prunus susquehanea) are a small, branched shrub that grows in dry, sandy, and rocky soil across the Midwest to the Eastern Seaboard. There's also a Western sand cherry (Prunus pumila var besseyi).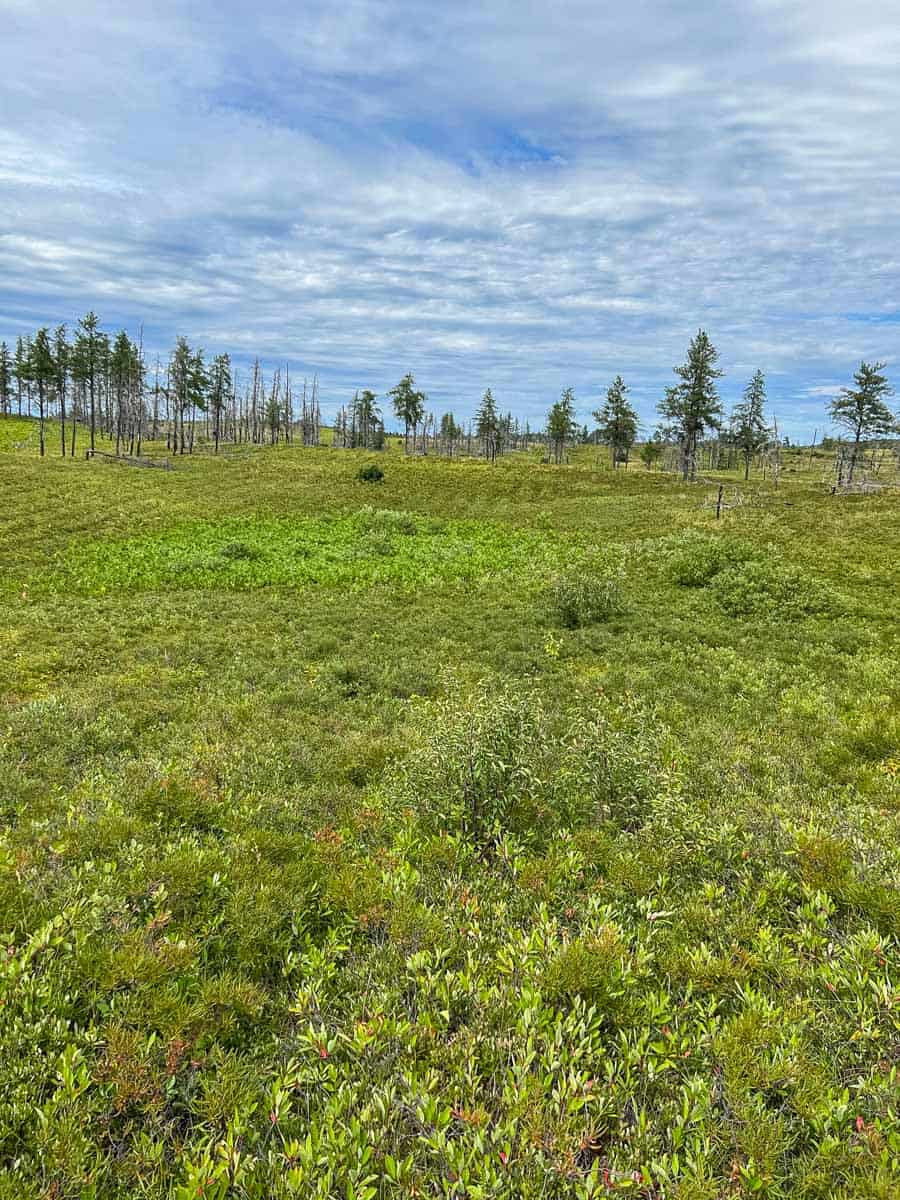 One of the most interesting attributes is that the sand cherry plant is smaller than other cherry trees, but produces the largest of all our native wild cherries.
The dark green leaves are simple and narrowly elliptic. The bark is grayish brown. Similar to other cherries the plant is susceptible to cherry knot, also known as black knot fungus (Apiosporina morbosa).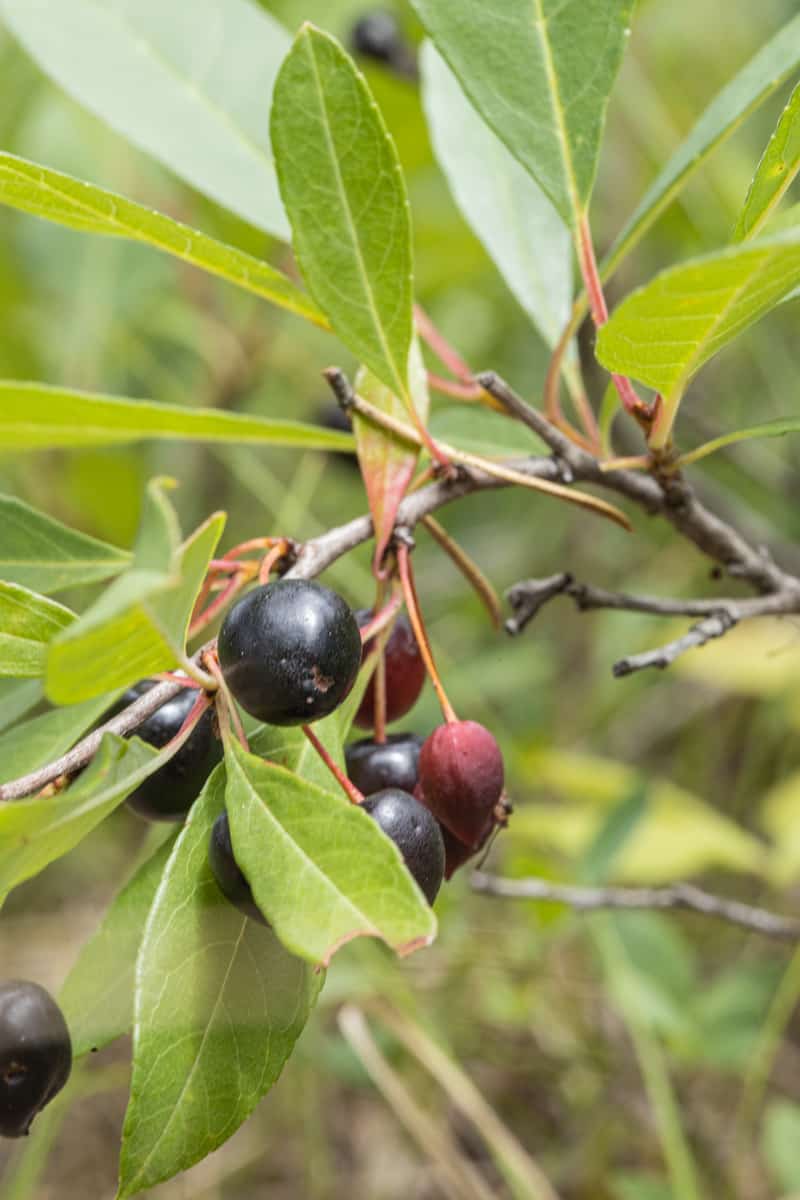 How to Find Sand Cherries
If you forage wild blueberries, finding sand cherries will be easy. Along with pin cherries and serviceberries, these love to grow in open habitats like pine barrens and areas with acidic soil. If you see sweetfern (Comptonia peregrina), blueberry bushes, jack pine trees and hazelnuts, you're just about guaranteed sand cherries will be nearby.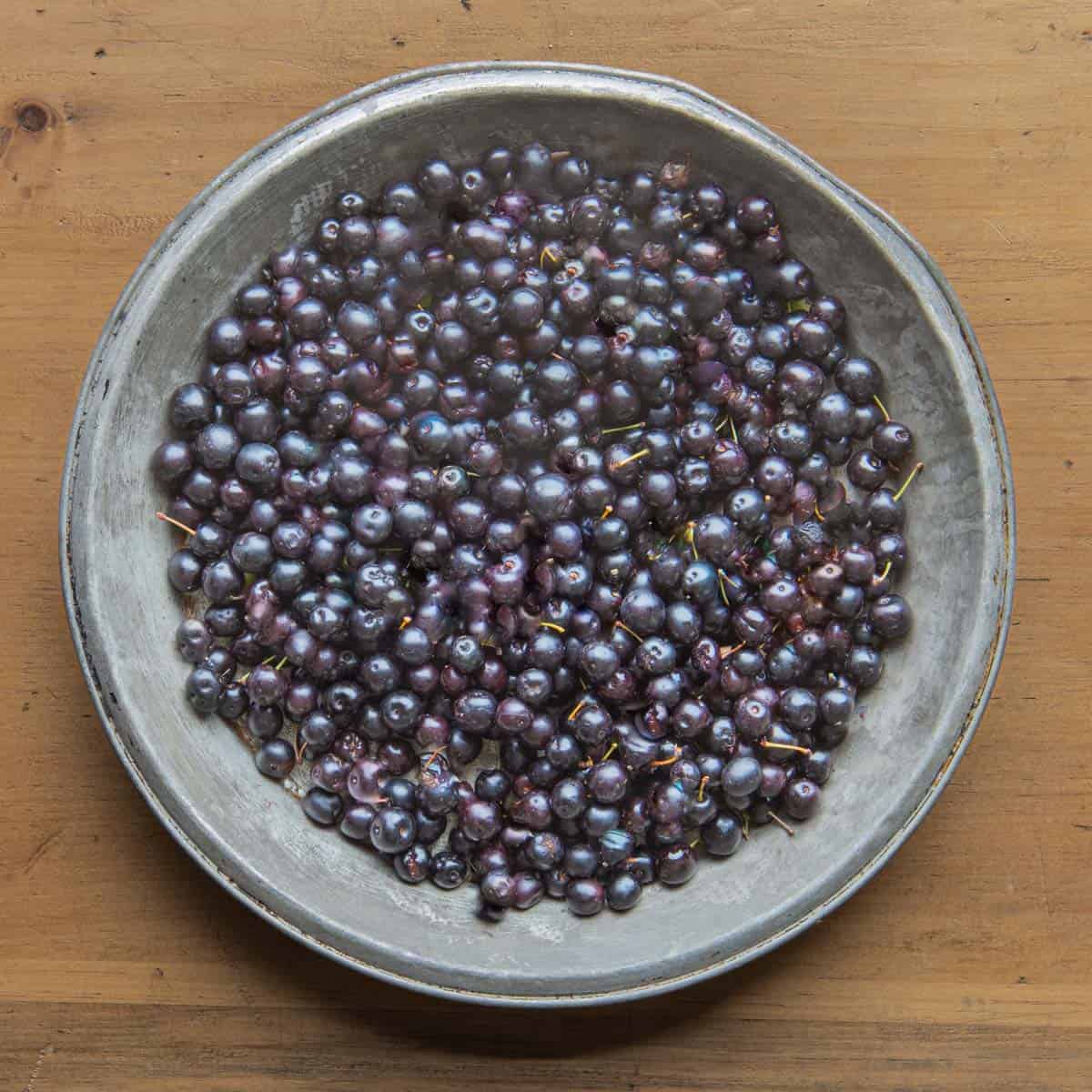 Harvesting Sand Cherries
Sand cherries ripen a week or two after wild blueberries reach their peak during late July and Early August in the Midwest. If you're lucky, you can harvest other types of cherries at the same time.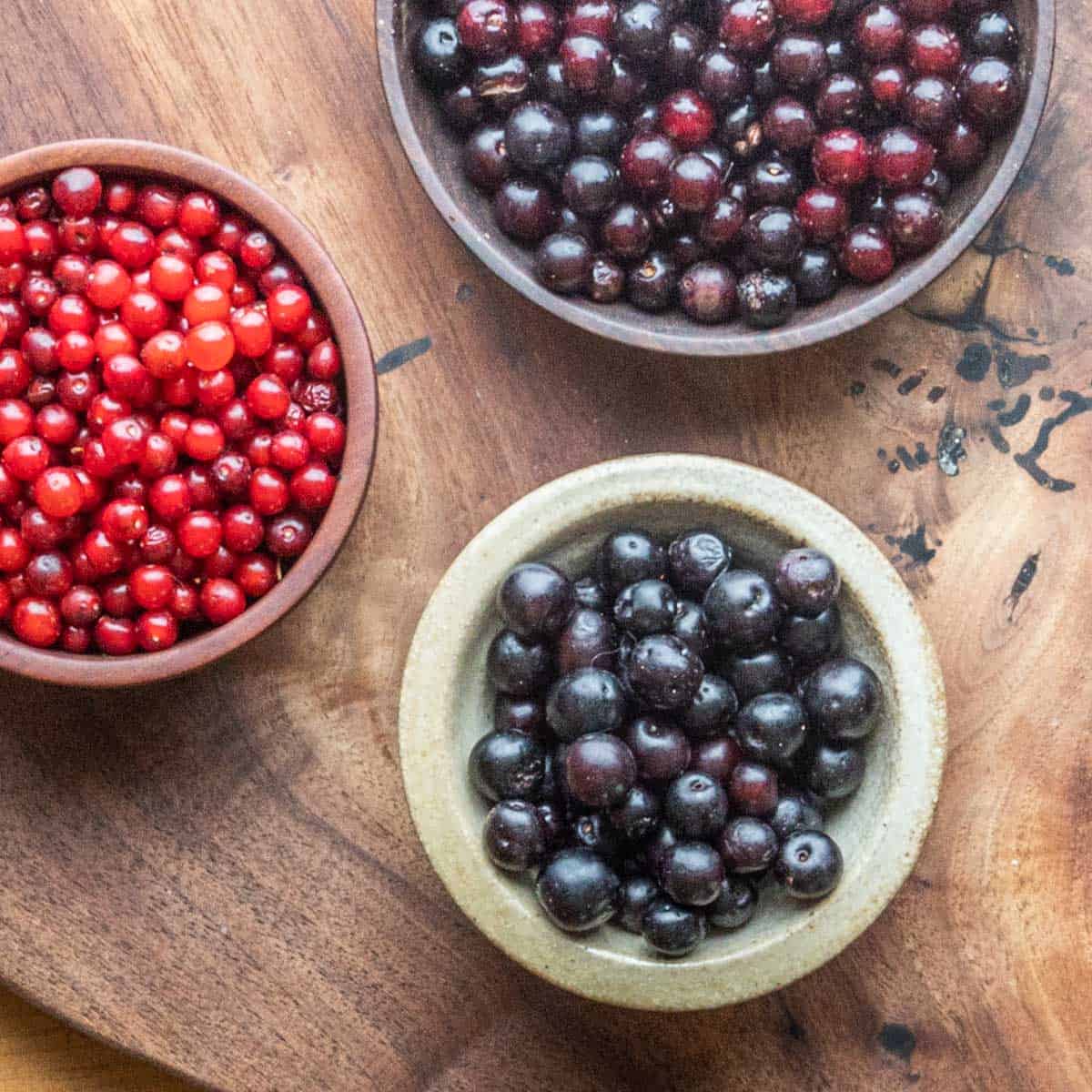 Harvesting sand cherries takes more time than gathering chokecherries. These are shrubs, not trees, and will only reach about 6 feet tall at the maximum. Taller plants will produce more cherries, but most that I see are under knee-height.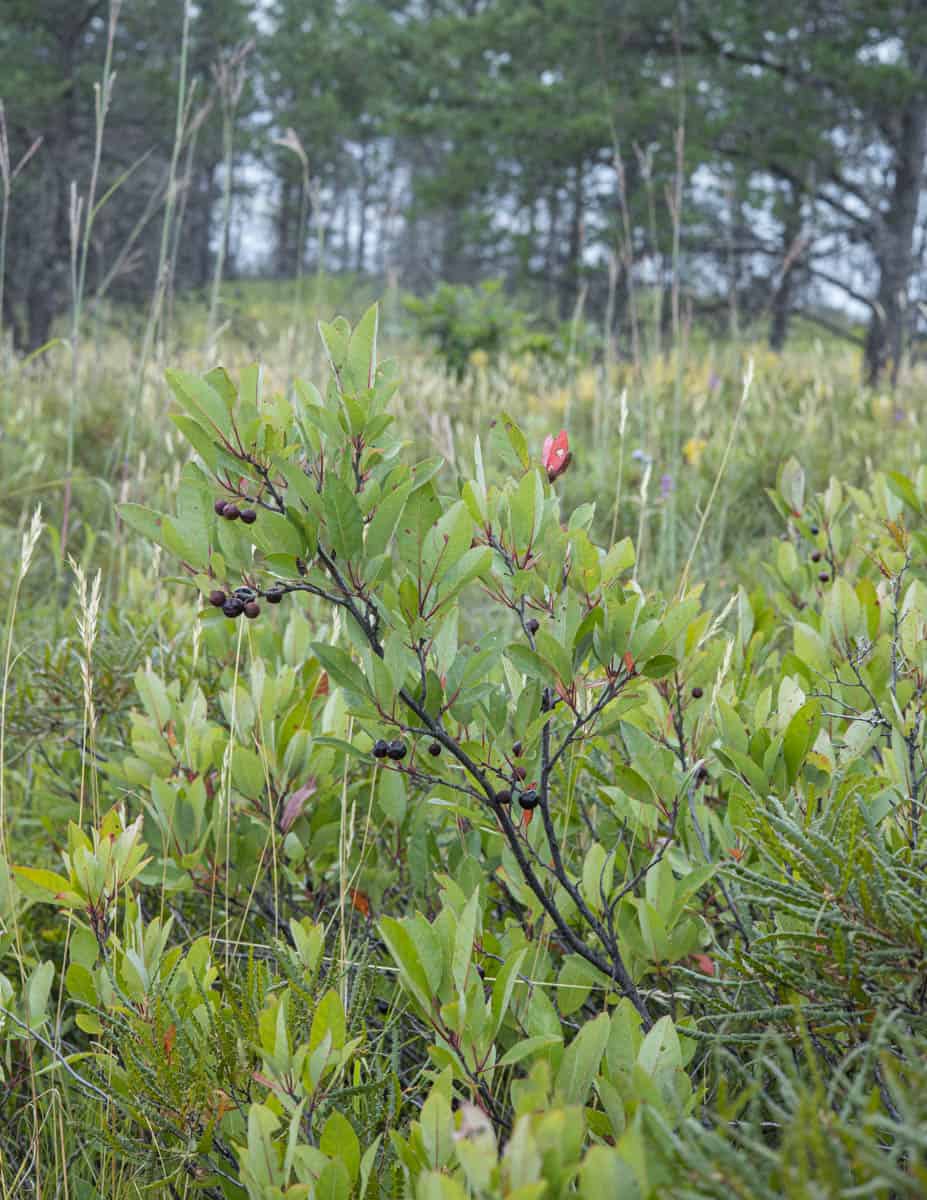 This means that places where the blueberries are the thickest probably isn't the best place to look for large amounts. I look in places around the barrens that haven't been burned for a few years where sand cherry bushes will be older with more fruit. On the East Coast they can be found near dunes, beaches and outwash plains.
You can harvest the cherries by hand, but a more efficient way to get enough to cook with is to use a blueberry rake. Fruit rakes can also be used to harvest large amounts of wild cherries from trees in a short amount of time.
Ripe Sand Cherries
To get the best tasting fruit, you'll need to go at the end of blueberry season. Ripe sand cherries should be pitch black. Unripe sandcherries picked in the early summer, or those with even a hint of red to them, will be slightly bitter and astringent with an inferior flavor.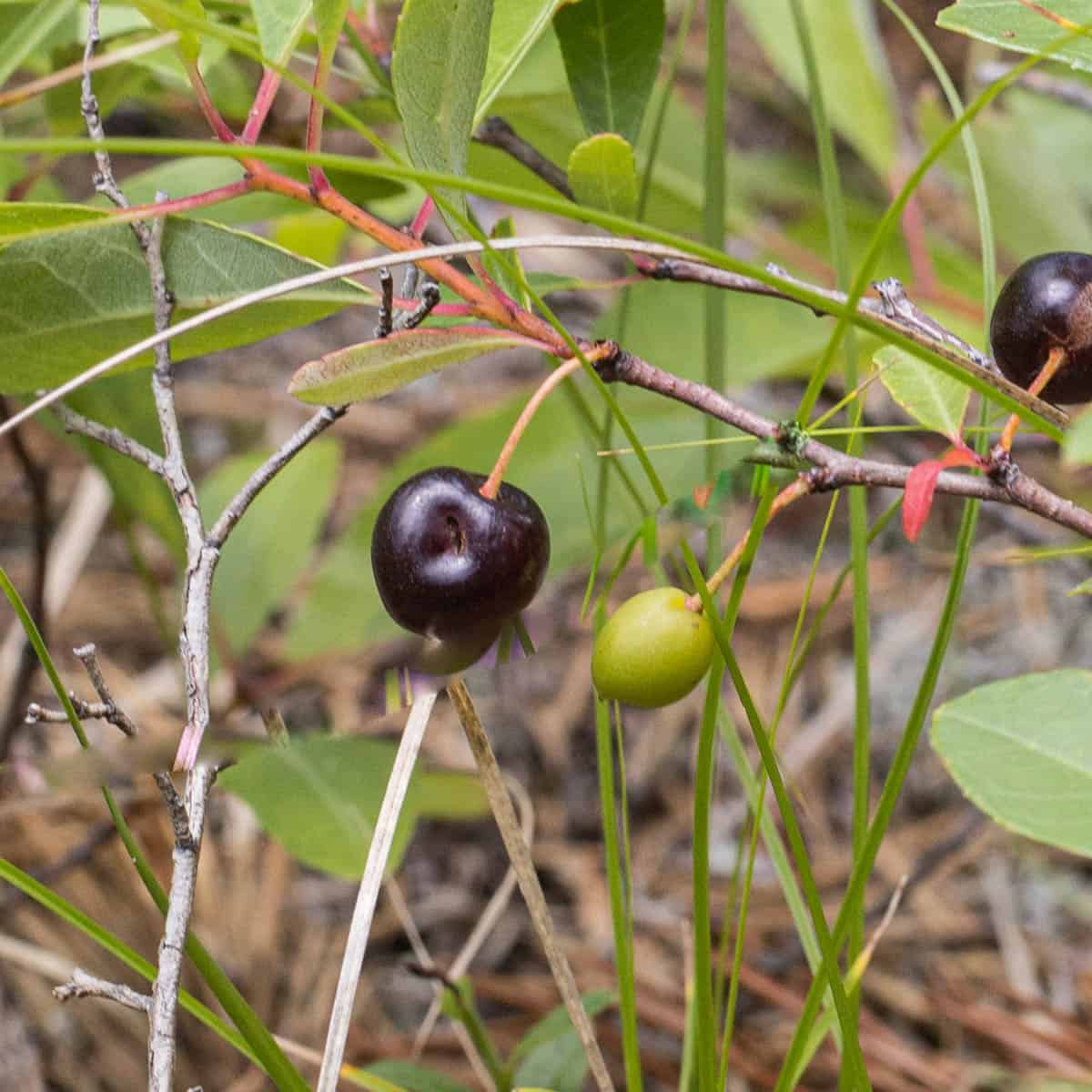 Cooking with Sandcherries
Just like with other wild cherries, you'll need to work around the pits. I'll cover a few different ways to do that.
Some people have had success running cooked sand cherries through a Foley food mill to collect the cherry pulp. Removing wild cherry pits by hand is possible, but hardly worth the effort.
Native American Uses
Daniel E. Moerman writes that numerous tribes like Lakota, Pawnee and Menomonee use the fruit fresh and dried. Crushed, pits and all, the fruit is formed into cakes and dried, and can be made into sauces like wozapi.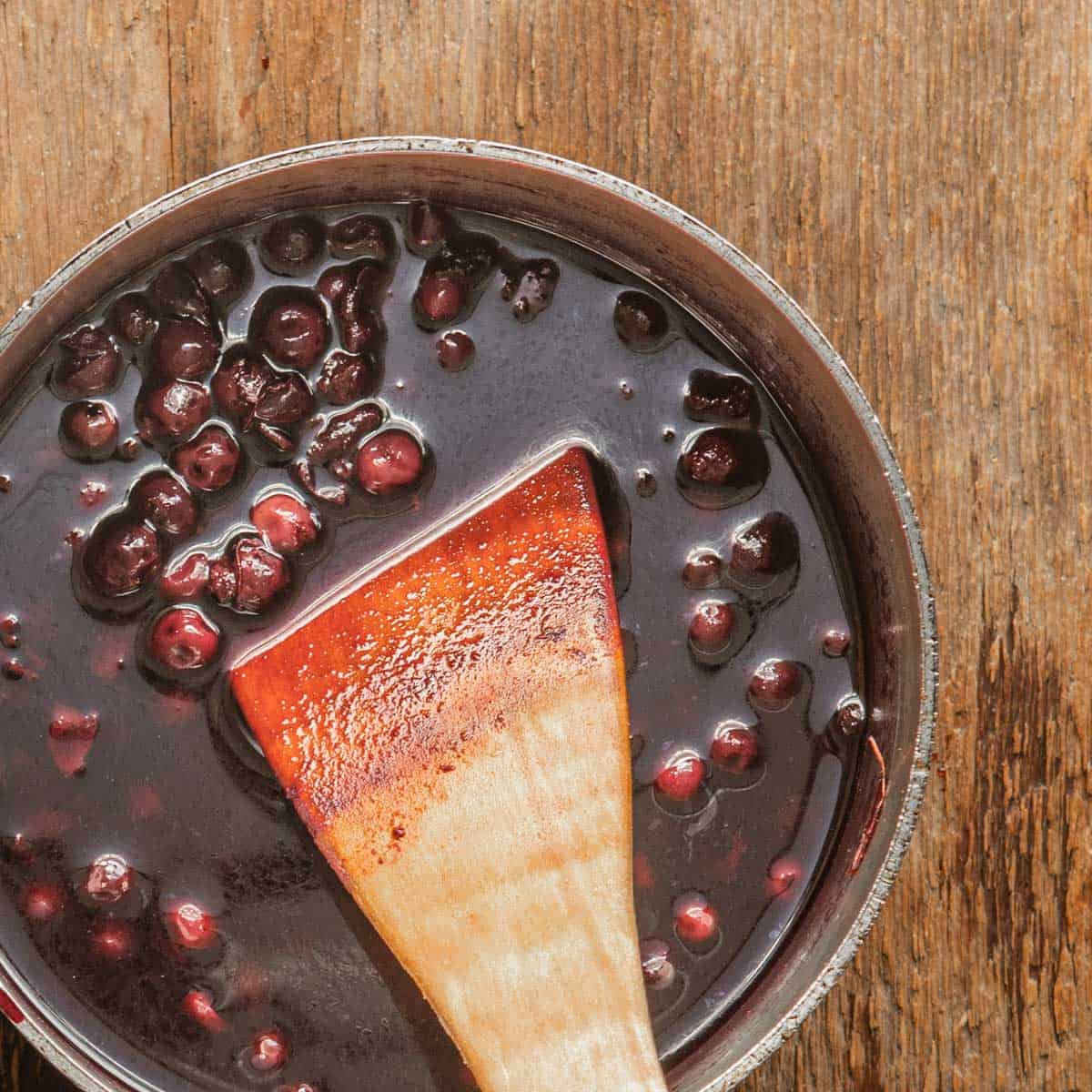 Just like other cherries, these can be dehydrated whole and used to infuse liqueurs, or ground and sifted and added to baked goods as in my Traditional Siberian Bird Cherry Cake.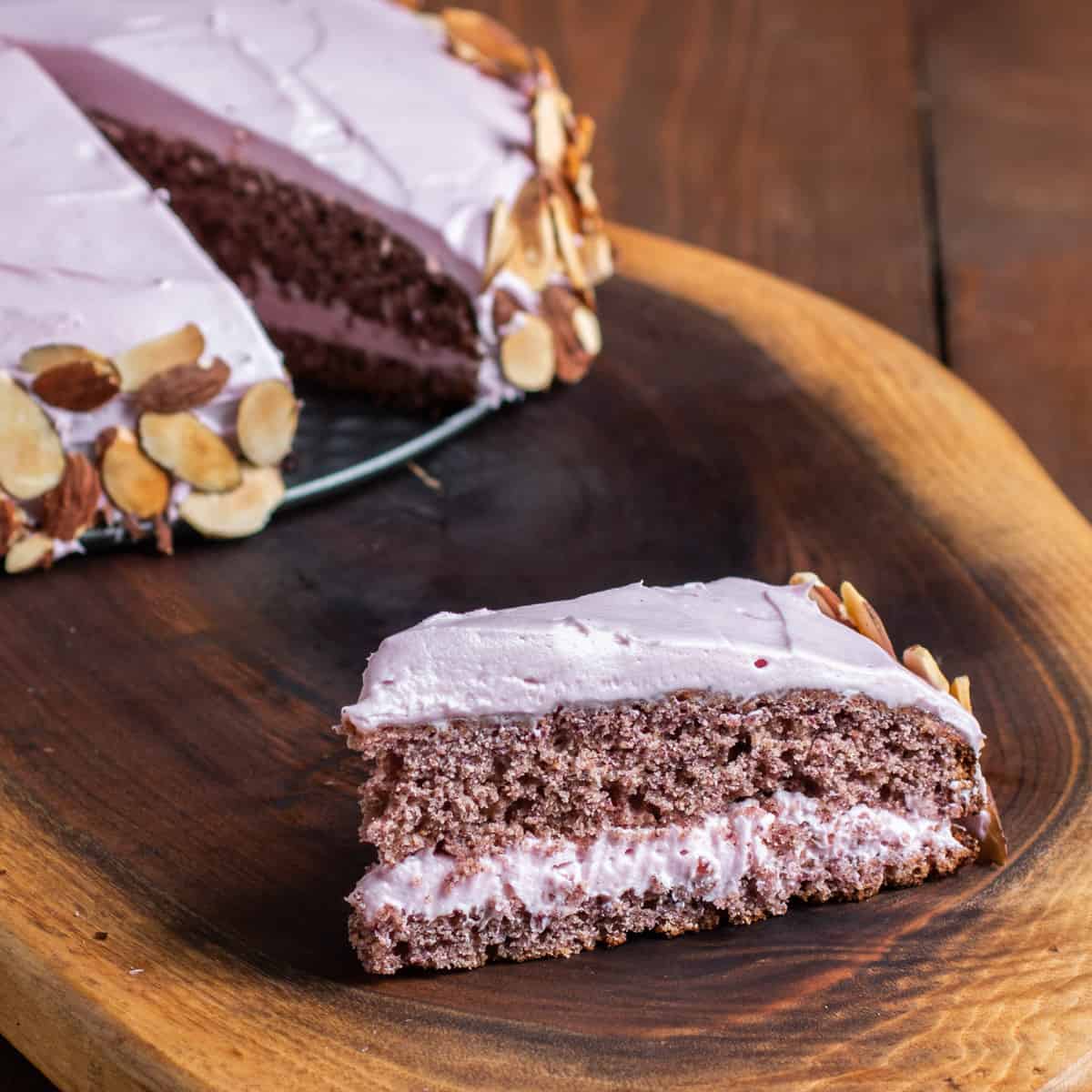 From the Journals of Lewis and Clark, Wild Cherry Whiskey is the easiest thing to make. Cover sand cherries with good whiskey, allow them to infuse for a month, then strain. Sometimes I sweeten it with maple syrup.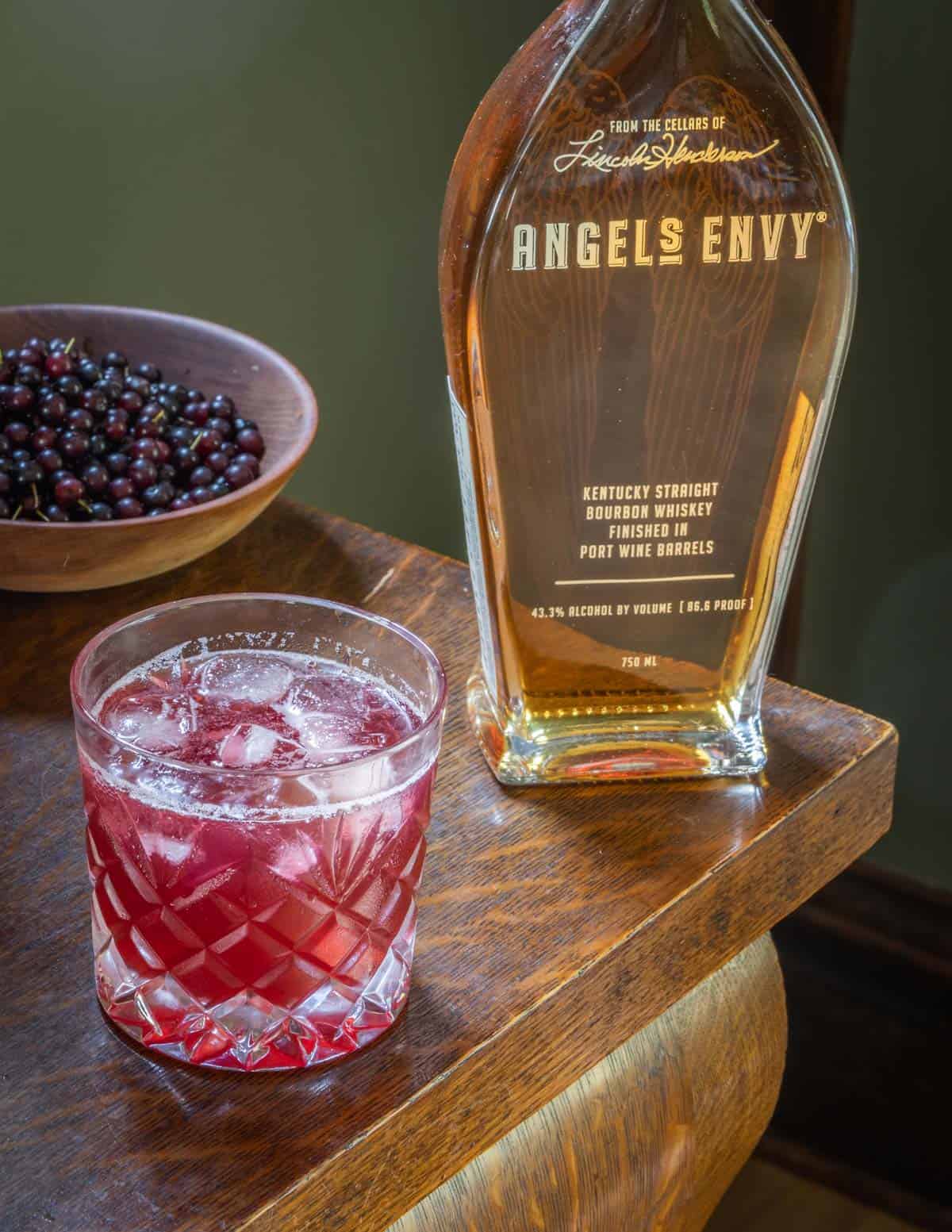 Sand Cherry Syrup
My favorite sand cherry recipe is mixing the cooked juice with vinegar and sugar. It makes a delicious, black cherry syrup you can use with sweet and savory dishes, or mixed with soda water and drinks. Just use my Sweet and Sour Wild Berry, Cherry or Grape Syrup. Save the leftover pits and flesh to make Fruit Scrap Vinegar.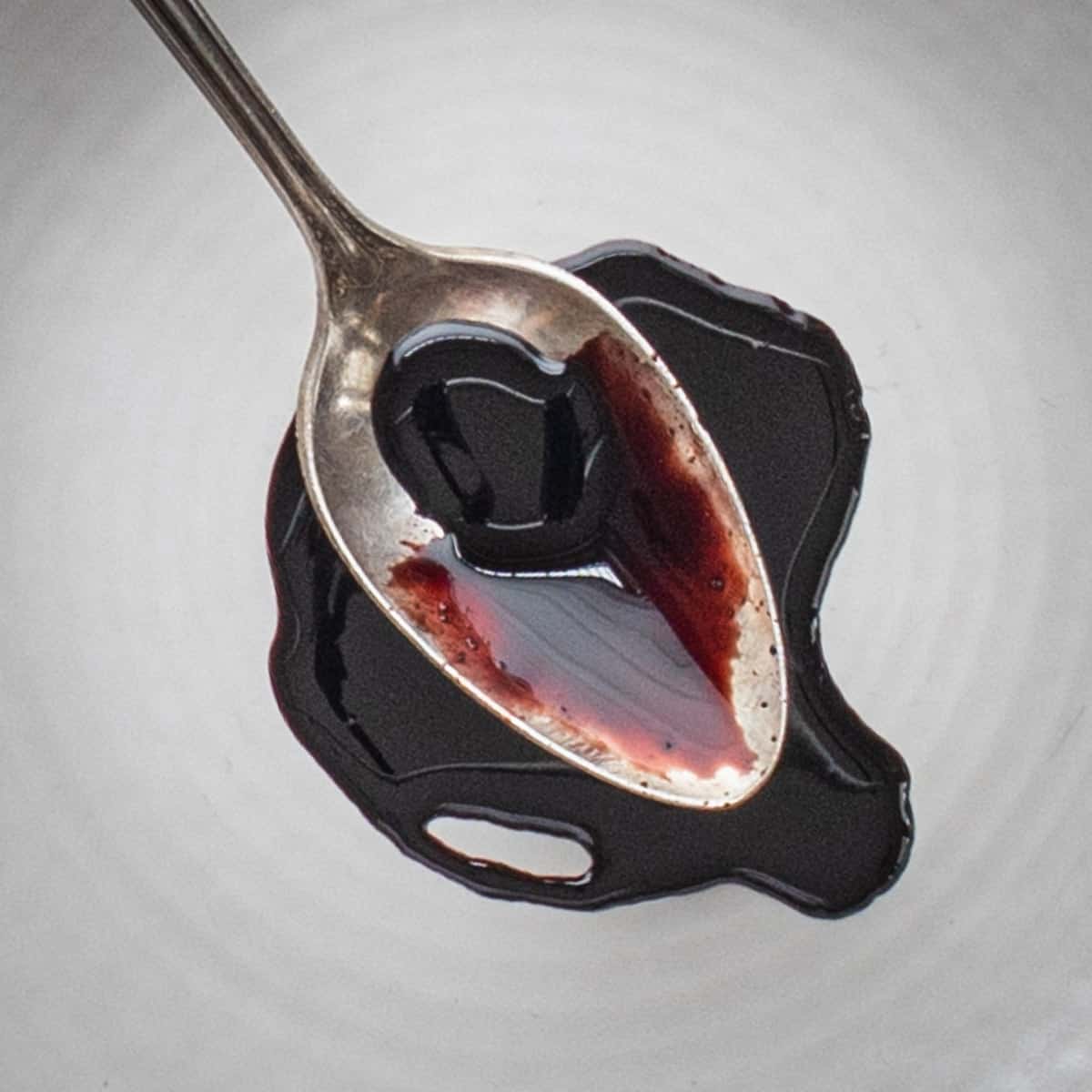 References
Native American Food Plants by Daniel E. Meorman
Wild Berries and Fruits Field Guide of Minnesota, Wisconsin and Michigan University Press, MN.