Whiskey infused with wild black cherries (Prunus serotina) is one of the best alcohol infusions I've made. To sweeten the deal, not only does it taste stronger than any cherry flavored booze I've had, but it's inspired by an actual, documented experience that happened, oh, 200 years ago.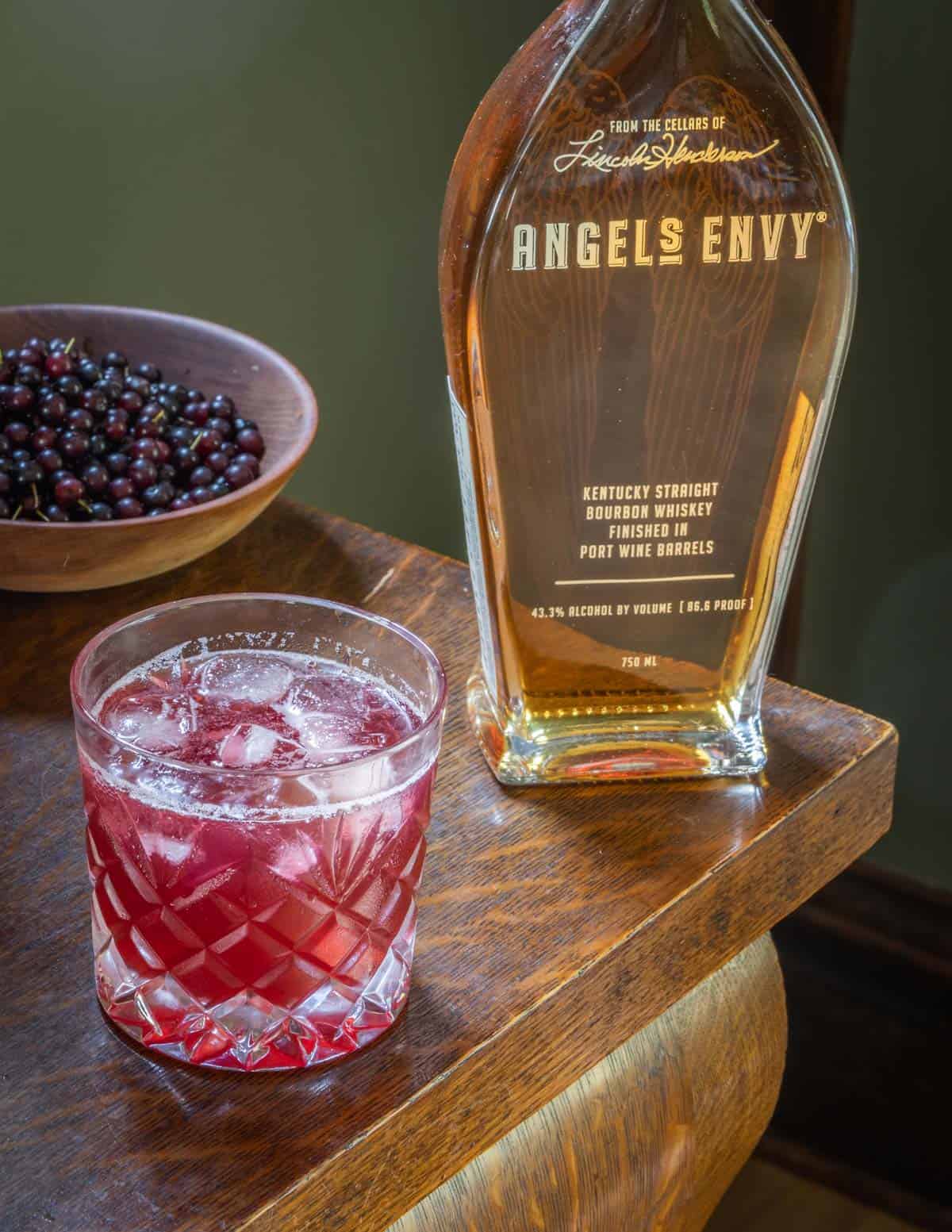 I'm a sucker for a good for a good audio book, and this year I managed to listen through the Journals of Lewis and Clarke about 3 times through.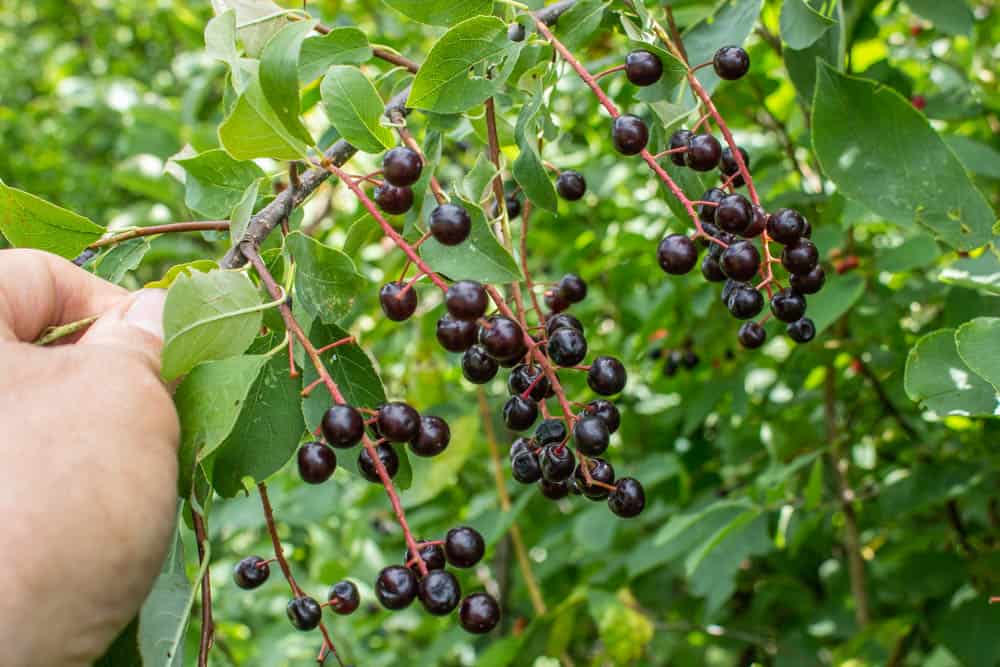 The first time I listened to the whole journal, I was just enjoying the scenery, so to speak. The second time, I started taking notes. There's a lot of stuff in the journals, interesting accounts, fascinating descriptions, especially when Lewis's prose is concerned, but the things I hungered for (and feverishly re-winded to jot down) were the nuggets of culinary gold sprinkled throughout.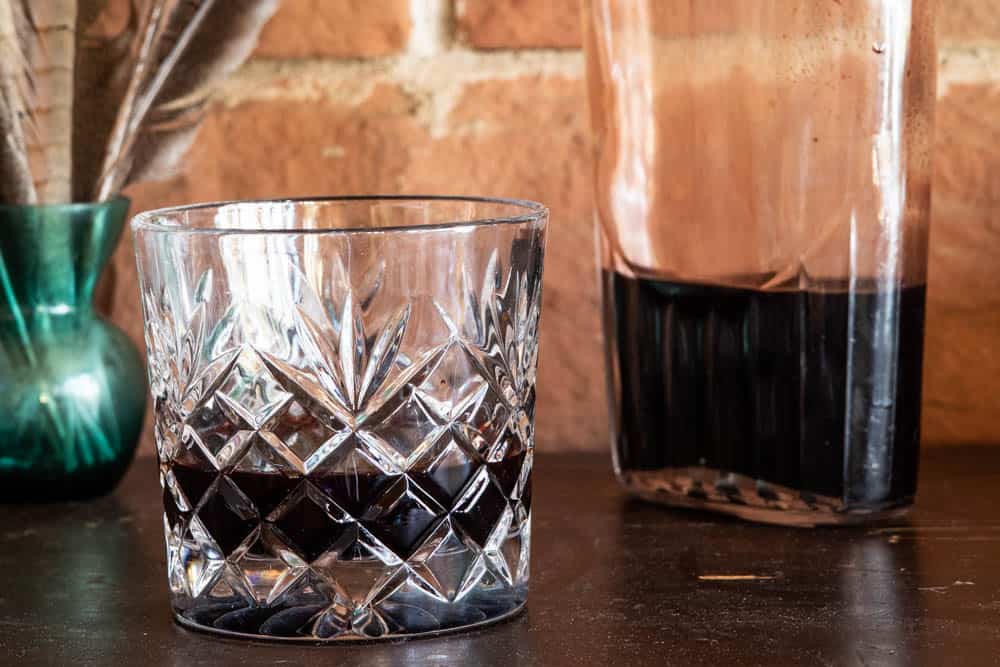 Sometimes the references are long descriptions, like the extensive visceral account of the raw communal consumption of an elk by the party along with members of Shoshone tribe, others are brief and to the point, like cherry whiskey.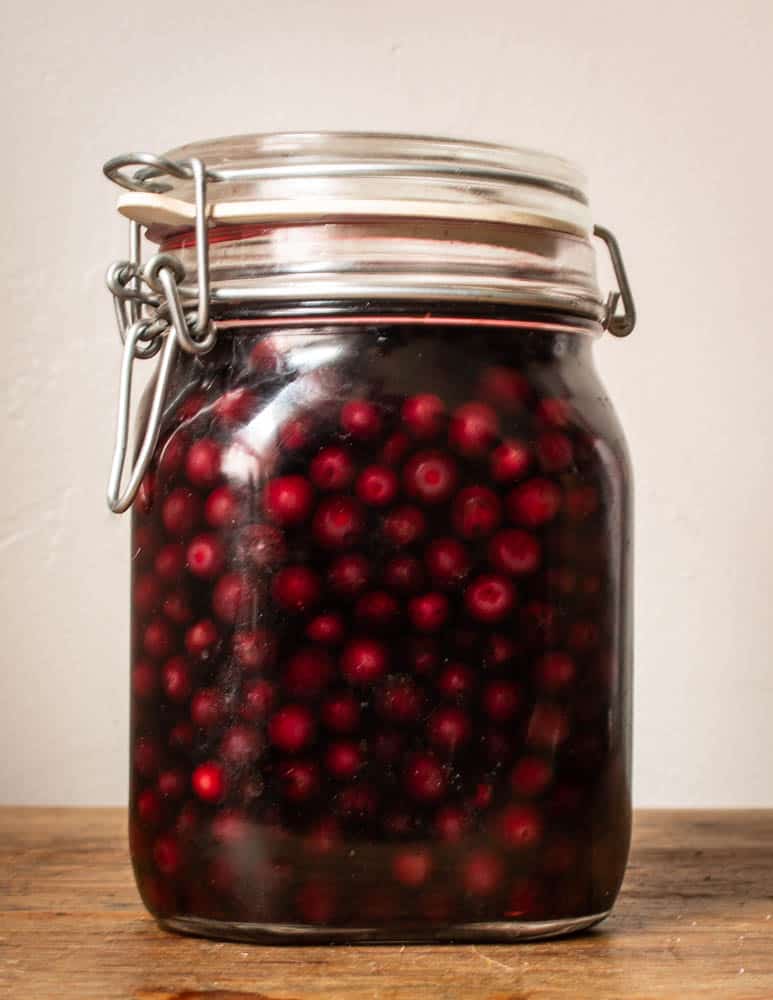 Somewhere in Chapter 3
The passage in question comes from chapter 3. It's actually not from Lewis and Clark, but from one of the other men, Whitehouse, who has some comical observations over the course of the journey.
Thursday 19th Got on under way the Morning was Clear passd. 4 Islands to our Stabourd as we came along Shore there was two large Cat fish had hold of Each other Could not get off one of the french men Shot the two the first Shot. On the W. Shore at Butter run, the men pulld a Great Quantity of wild Cherrys put them in the Barrel of whisky. Roed. 12 Miles Campd. on an Island neer the River Calld. the Crying Water—
See the full entry, and others at the Journals of the Lewis and Clark Expedition.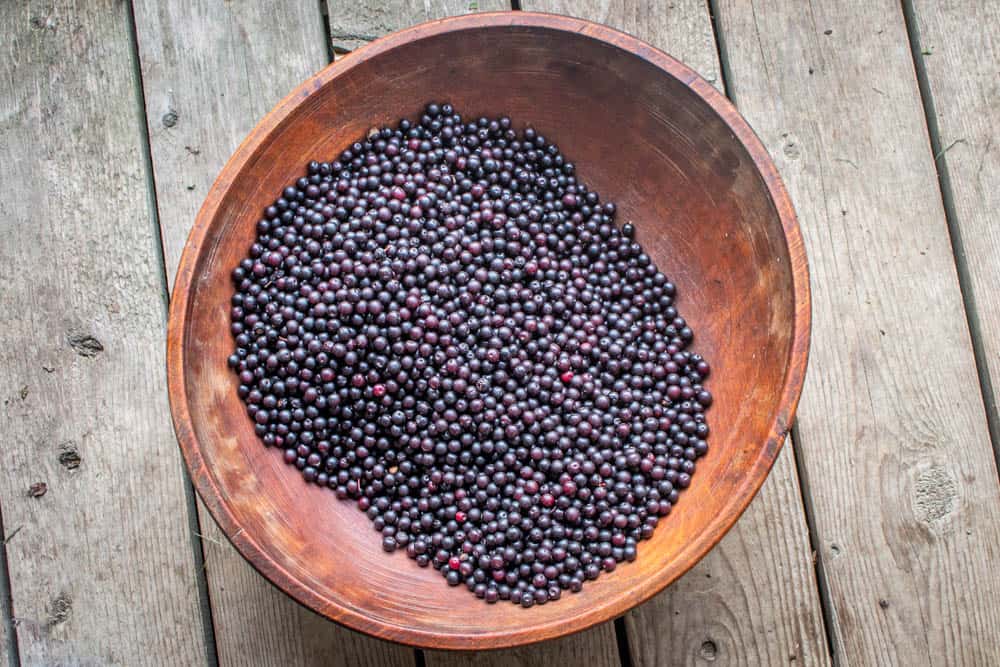 I know I get excited when I find a tree bursting with fruit, but I can only imagine what it would have been like back then. When you think about it, preserving cherries by tossing them in with the whiskey is pure genius, but especially in a situation where the men were moving over the countryside and didn't have time to process and dehydrate the fruit, a common Native American practice still used to this day by some of my friends to make wojape, a sort of sauce usually made from chokecherries.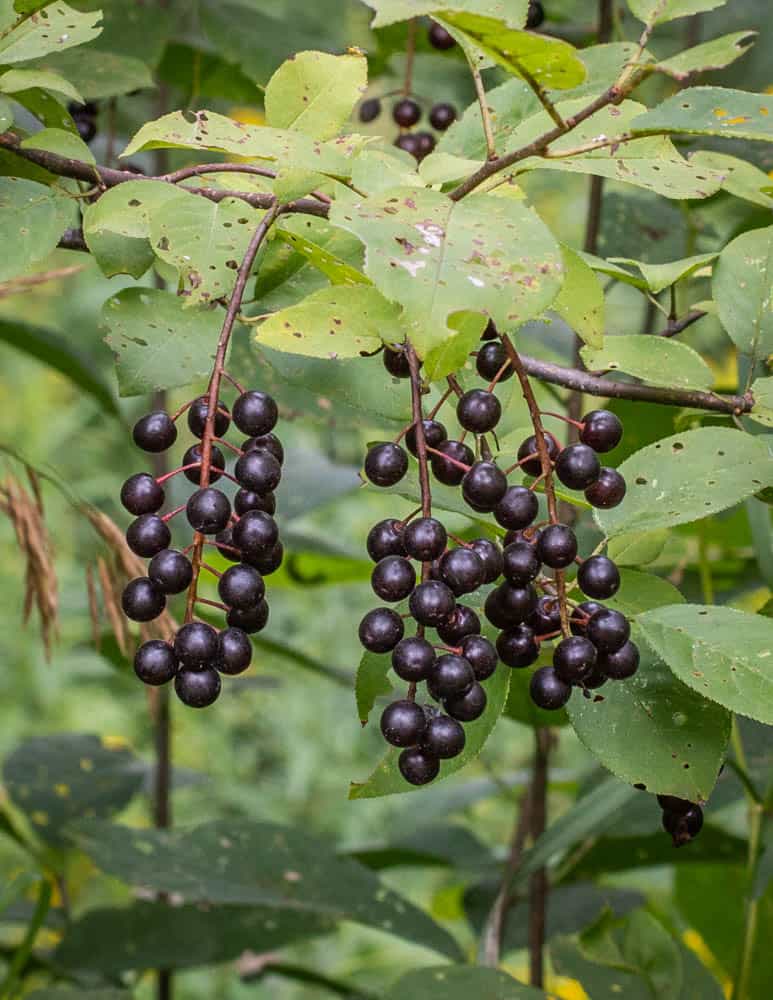 Alcohol naturally preserves the fruit, but more importantly, the cherries imbue their juice and aroma to the whiskey. Over time (you want a good month or two) the color and aroma of the whisky will change, and by the end of the maceration, it becomes a sort of cherry-whiskey concentrate. Brandied cherries would probably have been more common at the time, and the use of cherries in alcohol is evident in things like cherry bounce, which was enjoyed by George Washington.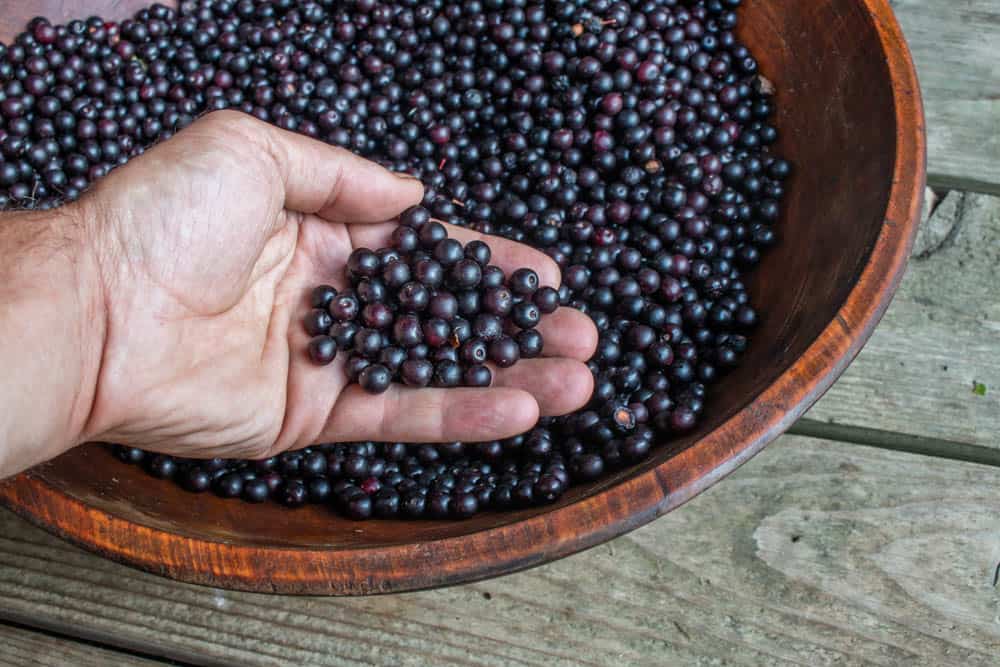 How much cherries vs whiskey?
My cherry whisky is a little different than the explorers would have been. The explorers were lugging barrels of whiskey, so I'd assume they just tossed what they gathered into the barrels.
The cherries have such a good, alcohol-soluble flavor that just a few handfuls of fresh fruit tossed into the alcohol would have given the barrel a good flavor. But, for my black cherry whiskey, since I had the option, I went all out with equal parts whisky and black cherries by volume.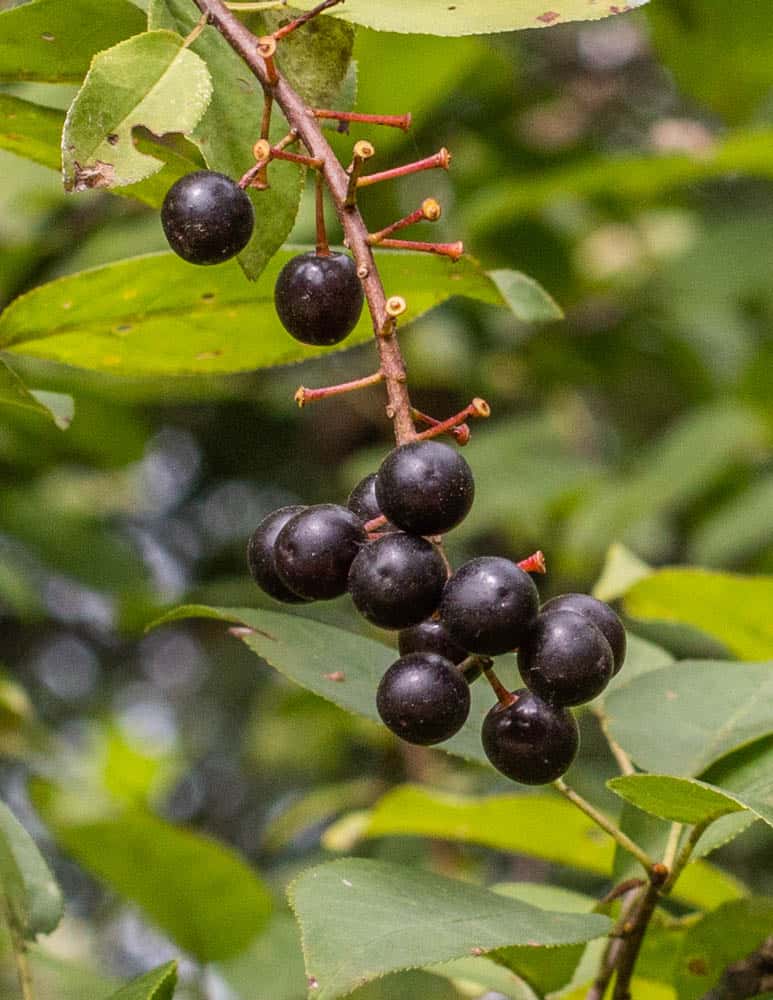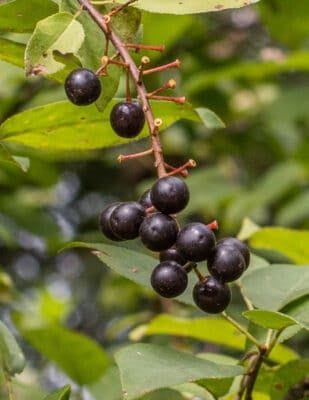 Cherry Cough Syrup for Adults
The finished product is much different than something like cassis, which includes sugar. It's hard to describe, but it tastes eerily like the good part of cherry cough syrup I remember having as a kid.
Unlike cough syrup, this is one "robodrink" (a reference to consuming Robitussin as a narcotic) I can feel good about enjoying. Here's a few things where it would be good.
Use Ideas
Add maple syrup or other sugar to taste and it's essentially cassis made from whiskey. 
Use it to make something like wild cherry bounce from my friend Ellen Zachos.
Pan sauce
Use it to deglaze a pan that you cooked duck or chicken breast, thighs, etc. Sweat a little chopped shallot in the drippings, add the whisky, then a glug of stock, reducing, whisking in a knob of butter until thick. A spoonful of cherry jam or jelly will improve it, as will a shot of vinegar infused with cherries as I outlined in this post.
Use it to flavor a dessert where spirits are used, a la cherry rum baba. Or cherries jubilee. 
Mix it in the rocks with soda and simple syrup, or, even better, my cherry gastrique here using black cherries or chokecherries.
The infused whiskey is so strong that you can use it like an extract, mixing it with others liquors for what's known as a "compound liquor". For example, start mixing the cherry whisky with 1:4 parts dry white wine, adding cherry gastrique, or some burnt sugar for sweetness, along with a vanilla bean and a few peels or orange rind.
Add a splash to fruit based desserts, like a pan of cooked fruit, especially apples, or apple crisp.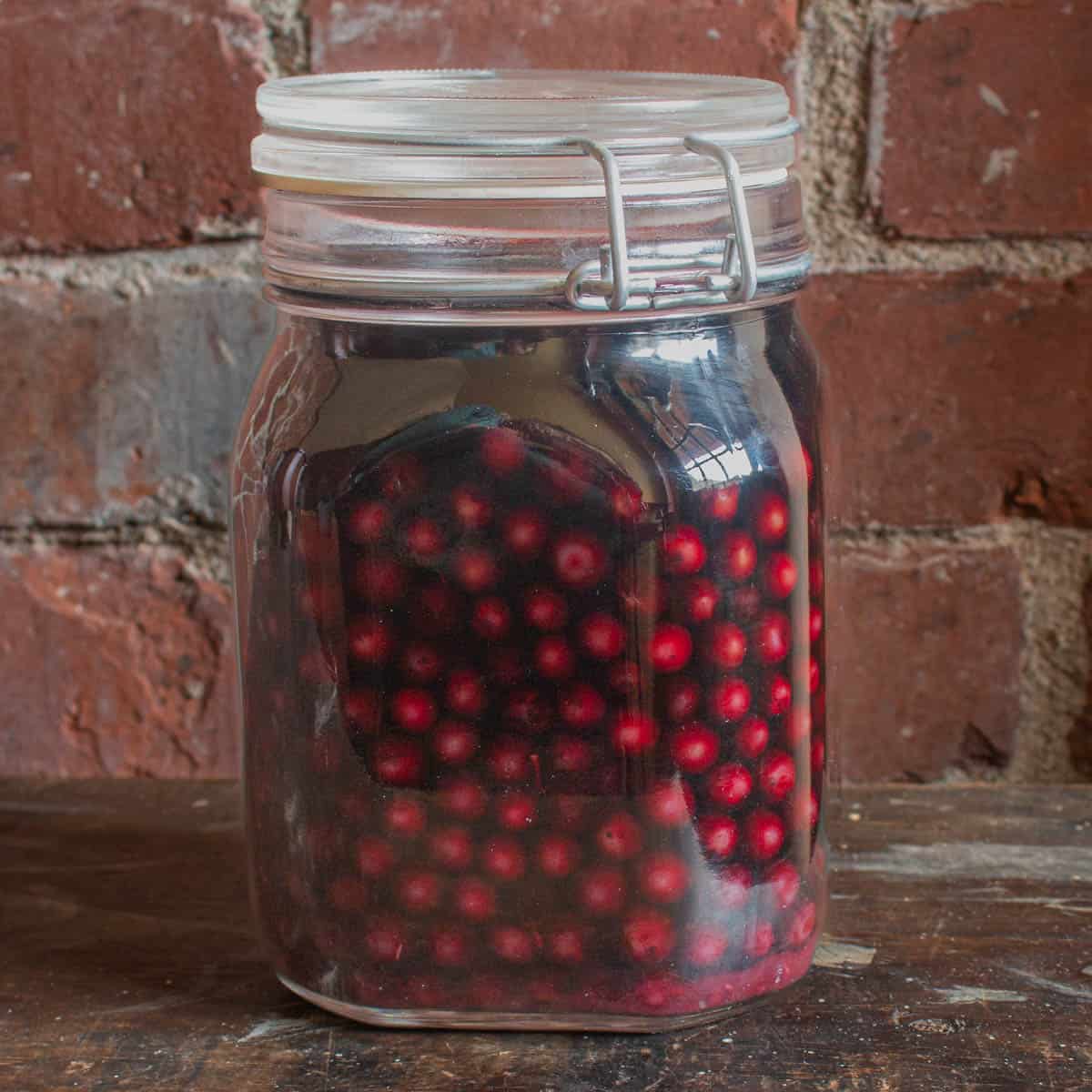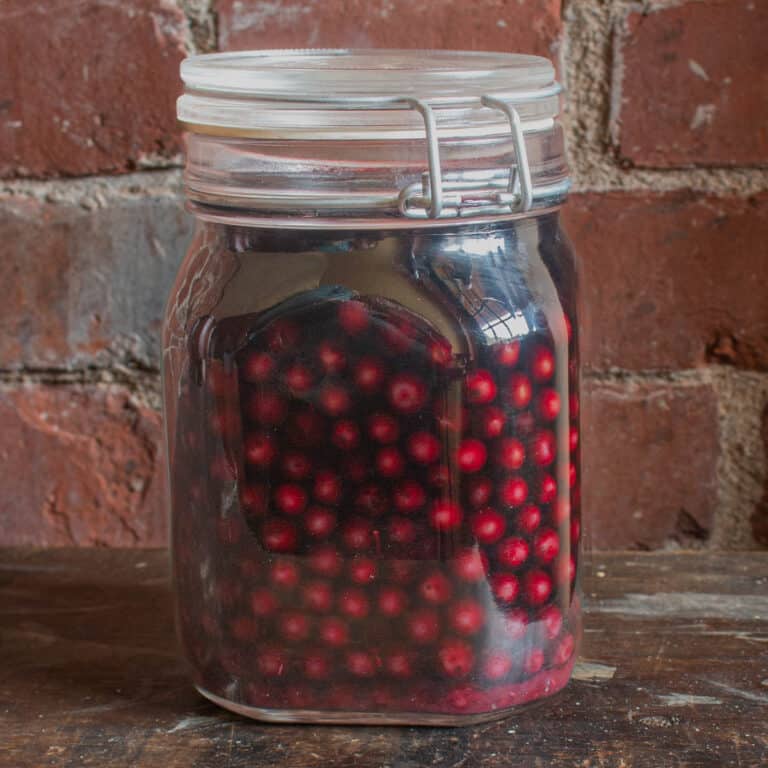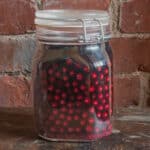 Print Recipe
Wild Cherry Whiskey
Whiskey infused with wild cherries inspired by the Journals of Lewis and Clark
Equipment
1 1.5 quart mason jar

or similar
Ingredients
1.5

lbs

wild cherries such as black cherries or chokecherries*

750

ML

bottle whiskey you would normally drink
Instructions
Combine the cherries and whiskey and allow to macerate for at least 2 months, 3 would be better.

When it's time to strain them, allow the cherries to drain in cheesecloth without pressing on them which would make the final product cloudy.

When the mixture is strained, save the cherries for dehydrating and grinding into flour, or discard. Bottle and store the whiskey in a cool dry place.
Notes
If you don't have a scale for weighing cherries, don't worry. All you're doing here is covering the cherries completely with whiskey, for example, you could also fill a quart mason jar nearly to the top with berries, then just fill the bottle with whiskey to cover. Easy.
Nutrition
Serving:
4
oz
|
Calories:
230
kcal
|
Carbohydrates:
11
g
|
Protein:
1
g
|
Fat:
0.1
g
|
Saturated Fat:
0.03
g
|
Polyunsaturated Fat:
0.03
g
|
Monounsaturated Fat:
0.03
g
|
Potassium:
152
mg
|
Fiber:
1
g
|
Sugar:
9
g
|
Vitamin A:
44
IU
|
Vitamin C:
5
mg
|
Calcium:
9
mg
|
Iron:
0.3
mg