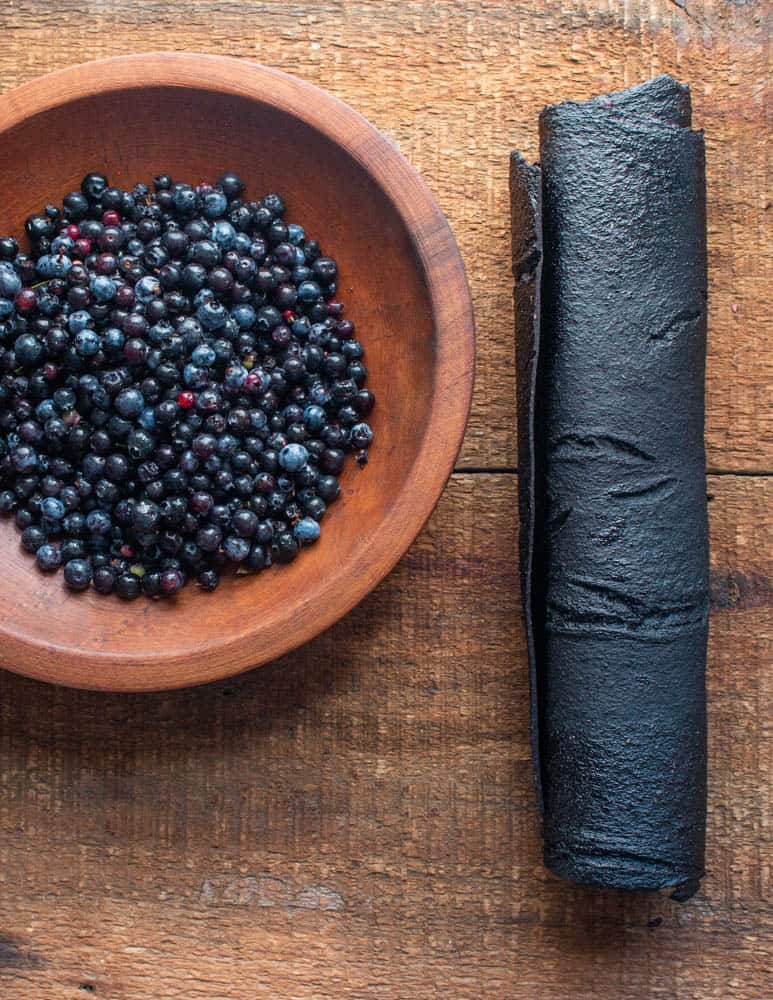 Everyone should know how to make a good wild fruit leather, and wild blueberries make some of the best since they can be harvested in large quantity, and they don't require any straining to remove seeds or skins.
The method is super easy if you aren't familiar, and a recipe hardly seems necessary, but I'm including one with specific ratios to help you get the hang of it. Once you've made fruit leather once or twice, I suggest you just listen to the fruit and your instincts instead of following a recipe to a "T".
All you need to do is cook some fruit down to remove water, then puree it into a thick coulis (fruit puree). After you make the puree, you spread it out onto a silicone mat or a sheet of lightly oiled parchment, and dehydrate it.
After drying, the leather will keep for months in the fridge, or it can be vacuum sealed and frozen. You can potentially store it at room temperature too if it's in a cool dry place, but make sure to check on it once in a while to make sure there's no mold.
Wild blueberry leather makes a great shelf-stable trail snack and camping food, and is a great source of natural sugar without being overly sweet, compared to most processed snacks that are loaded with sugar and other ingredients you may not want to eat.
Using already juiced berries
Blueberry leather can be made from fresh or frozen wild blueberries, but one thing that you have to know is that you can make it from the by-product of making blueberry juice reduction or blueberry molasses. I make blueberry molasses by heating large amounts of wild blueberries (typically at least a gallon) until they give up their liquid.
I strain the liquid off, reduce it to 30% of it's original volume, adding a little sugar as a preservative. The leftover wild blueberries can simply be pureed with maple syrup to make a paste, then spread out on the baking sheet to dry just as you would do with regular wild blueberries. It's two products for the price of one! See the entire method for blueberry juice reduction in my post Wild Blueberry Molasses.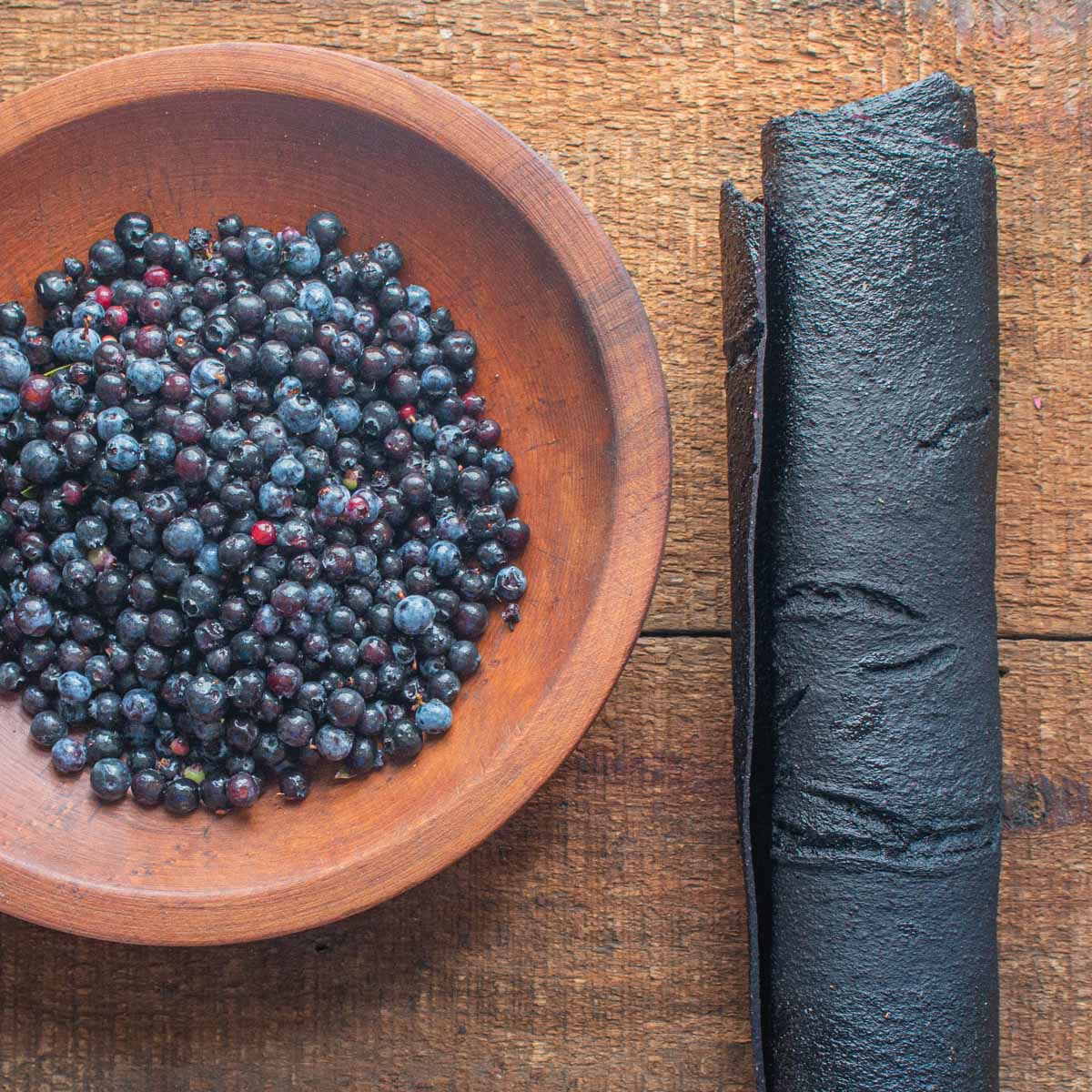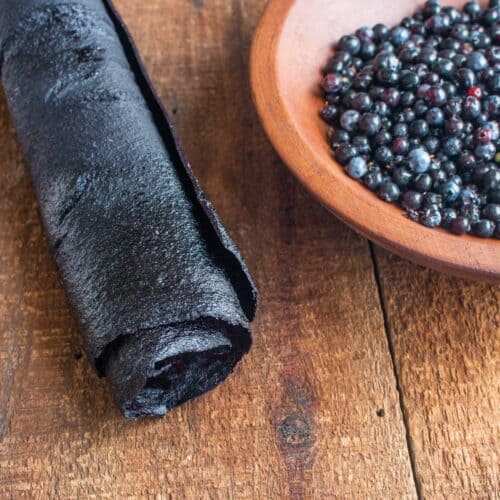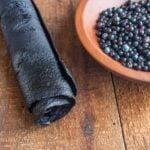 Print Recipe
Wild Blueberry-Maple Leather
A simple, all-natural fruit leather made from wild blueberries. Makes enough for 4 people to snack on.
Ingredients
1.5

lbs

wild blueberries

2

tablespoons

maple syrup

You can double the syrup if you want it more sweet, but I hardly think it's necessary.

Tiny pinch of salt
Instructions
Put the blueberries, pinch of salt and maple syrup in a 3 qt or similar sized saucepot and bring to a simmer. Turn the heat to medium-low and cook until the pan is nearly dry, and only a small amount of liquid remains, about 30-45 minutes.

Transfer the blueberries to a blender and puree until very smooth, then pour onto a cookie sheet lined with a silicone mat. You can also spread the mixture onto a lightly oiled sheet of parchment paper.

Dehydrate the leather on the fruit setting, or roughly 135 F for 6-8 hours, flipping it halfway through when the sheet can be lifted up in one pieces. When In doubt, I like to leave the leather a little less dry than over-dry. Do not dry at a higher heat or over-dry as it can make the leather brittle and un appealing.

When the leather is done to your liking, peel it off the mat or parchment, cut it into squares, strips or whatever you like, put in a container with a tight fitting lid and refrigerate. It will keep for a very long time in the fridge.

You can probably store it in a pantry too, but it would be a good idea to add a bag of dessicant to keep it dry, and check on it here and there to make sure it doesn't sport any mold, which could be possible depending on how dry/pliable you like your leather.
Notes
*I'm using a restaurant ½ sheet tray here, which is a little larger than a typical home baking sheet. If you find it necessary, you may want to divide the mixture between two cookie sheets, but one is probably fine, it may just take a little longer to dry than mine.