Cooking fruit juices into syrups is an ancient practice you can recreate at home. They're sweet and tangy, low sugar, and can be used in place of balsamic or maple syrup. In this post I'll show you how to make one from blueberry juice.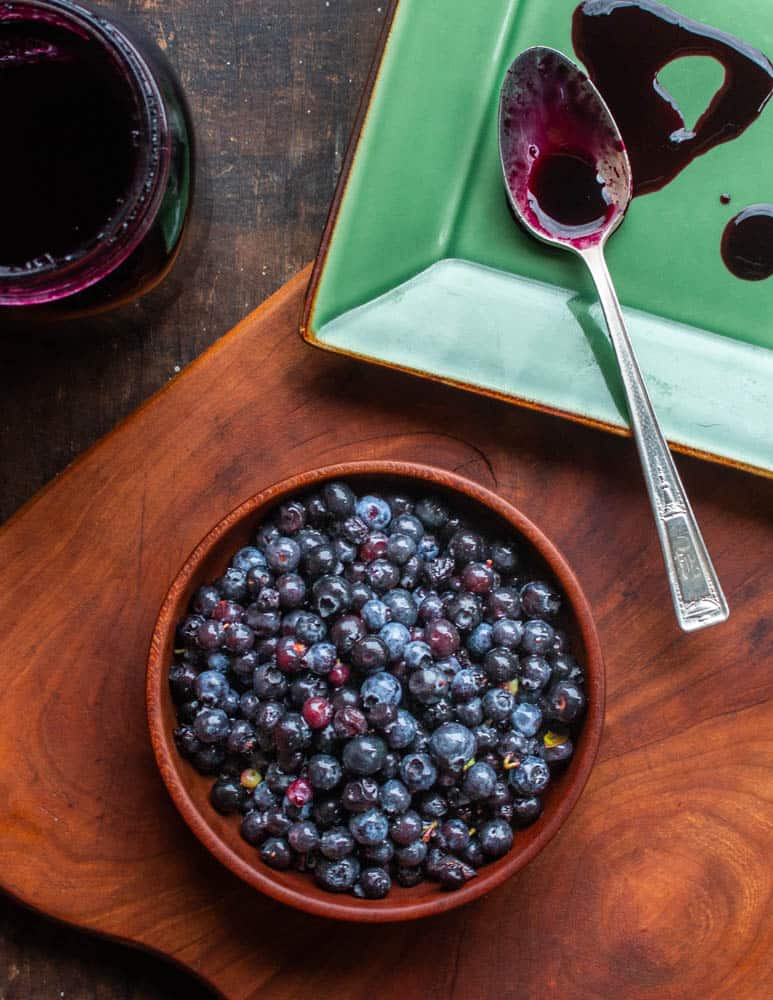 Wild lowbush blueberries (Vaccinium angustifolium) are by far the most abundant wild fruit I harvest that needs really no processing at all. Wild plums I can gather in larger quantity, but they require much more effort to process and make them delicious than wild blueberries do.
When I was speaking with Sam Thayer earlier this year about the wild blueberry harvest, he said that the harvest was so good he almost had enough to make wild blueberry juice-a wild luxury if there ever was one!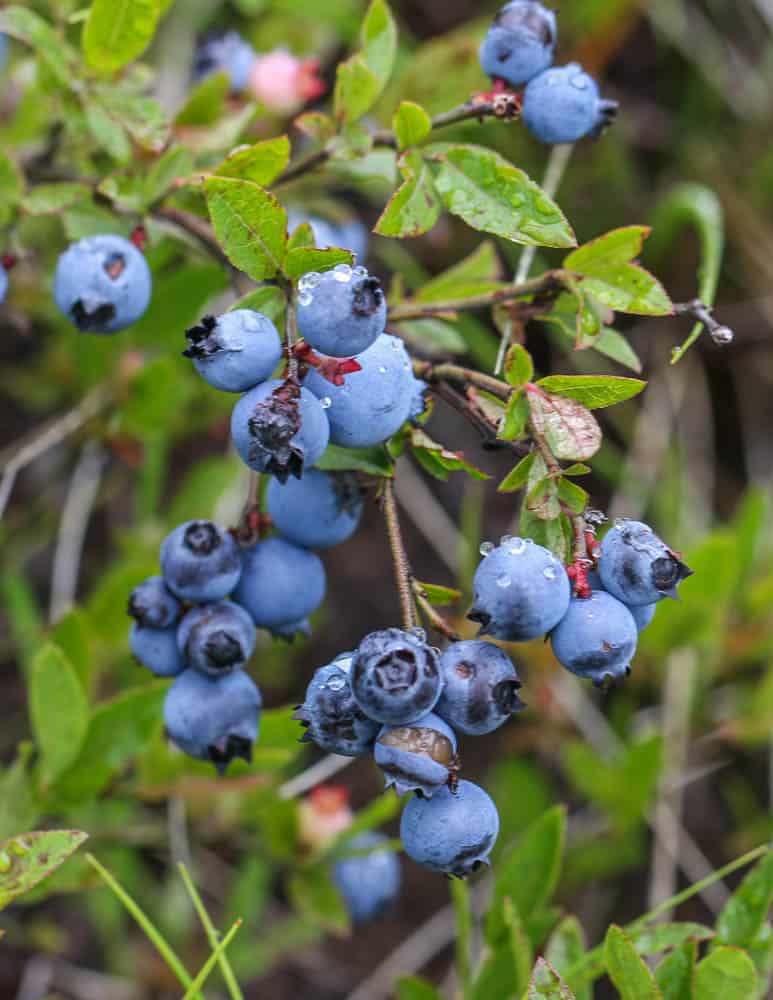 After talking to Sam (and picking 10 gallons of blueberries) someone shared a video with me on the traditional making of pekmez, or a reduction of mulberry juice into molasses. I don't have a great mulberry tree (or 20 lbs of mulberries to cook en-masse) but I did have lots of blueberries, and I had to give it a shot.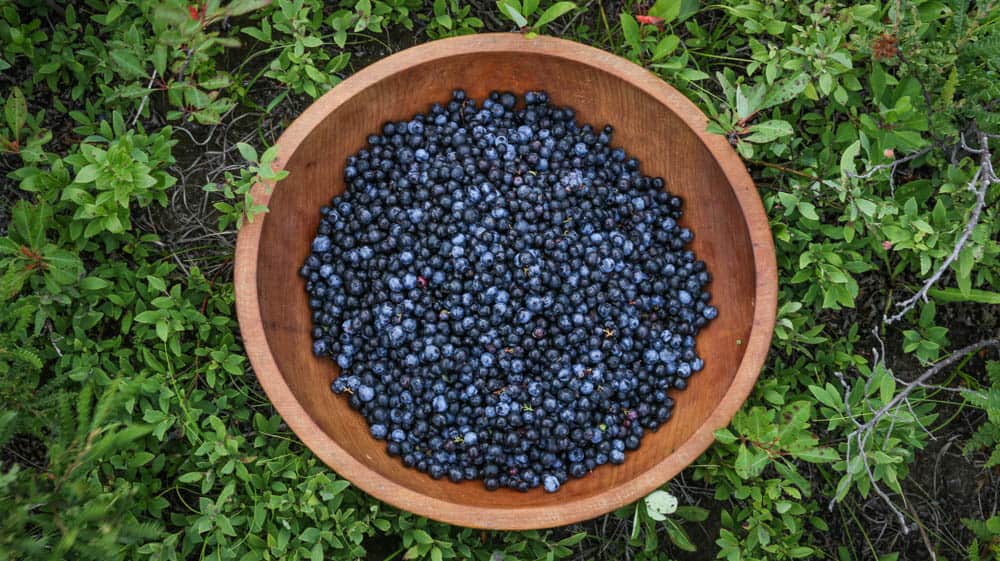 I'm always interested in ways to preserve my fruit harvests with minimal sugar, and this is a pretty cool way of doing that. I do add a little sugar, but it's really negligible, especially when you consider the amount of sugar that goes into making typical jams and jellies.
The basic method is really simple, and is one you can apply to many, many juicy wild fruits like wild cherries, and especially wild grapes. The resulting product is different than the traditional pekmez as you'll need to warm it up for it to be liquid (the natural pectin tightens a bit as it sits) but it makes a delicious, luxurious addition to recipes and sauces used in small amounts. It's a fun wild fruit concentrate.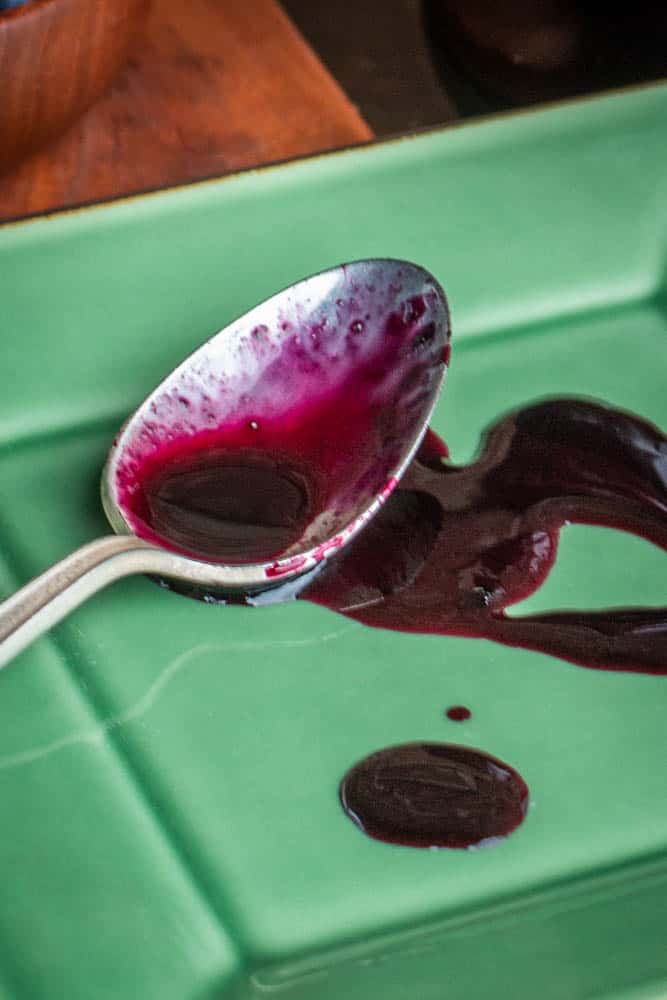 Another thing to mention is that you're going to have a bunch of wild blueberries sans their juice leftover after making the concentrate, and they're really good pureed with a little maple syrup to taste, spread out in a dehydrator and made into wild blueberry fruit leather. Basically, you get to products for the price of one, and, since you gathered the berries yourself, the price is right.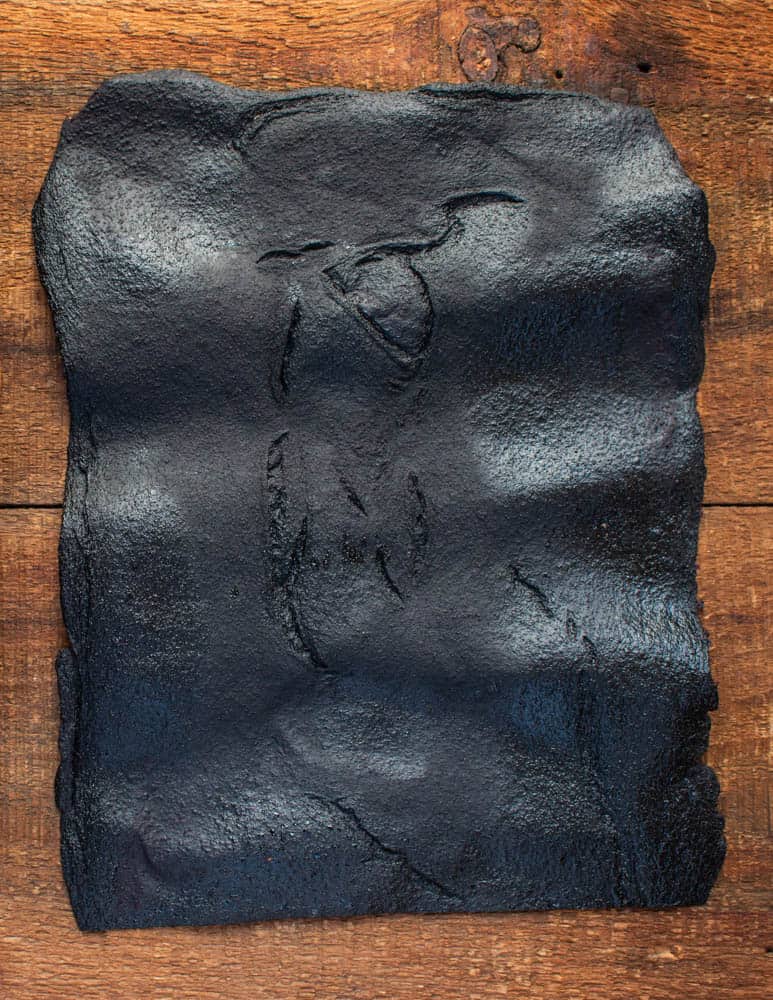 Use Ideas
This is a concentrate, a reduction of juice that's nice and tart, and slightly sweet. You can do all kinds of things with it, but keep in mind you don't need to use a lot to introduce a good berry flavor into things. Here's a few ideas.
Use the sauce thinned with a bit of maple syrup on pancakes.
Mix with reduced meat stock for a pan sauce, or deglaze the pan you cooked a steak or roast in with wine, then add a good spoonful of the blueberry reduction.
For a fun, simple dessert, mix the reduction with some whipped cream and and maple sugar and fold it into some fresh or frozen wild blueberries.
Mix it with thick yogurt or other dairy.
It can be used as a berry flavoring for custards and mousses.
Mix it with a splash of vinegar, preferably made from wild blueberry scrap, chopped shallots and oil as a rich, fruity salad dressing.
Mixed with whole grain mustard and a splash of stock, it will make a good sauce for game, chicken and pork.
Any sort of custard sauce like sabayon or creme anglaise would benefit from a spoonful or two, and will give you a nice purple color.
Add it to savory sauces like maltaise and hollandaise and serve with asparagus.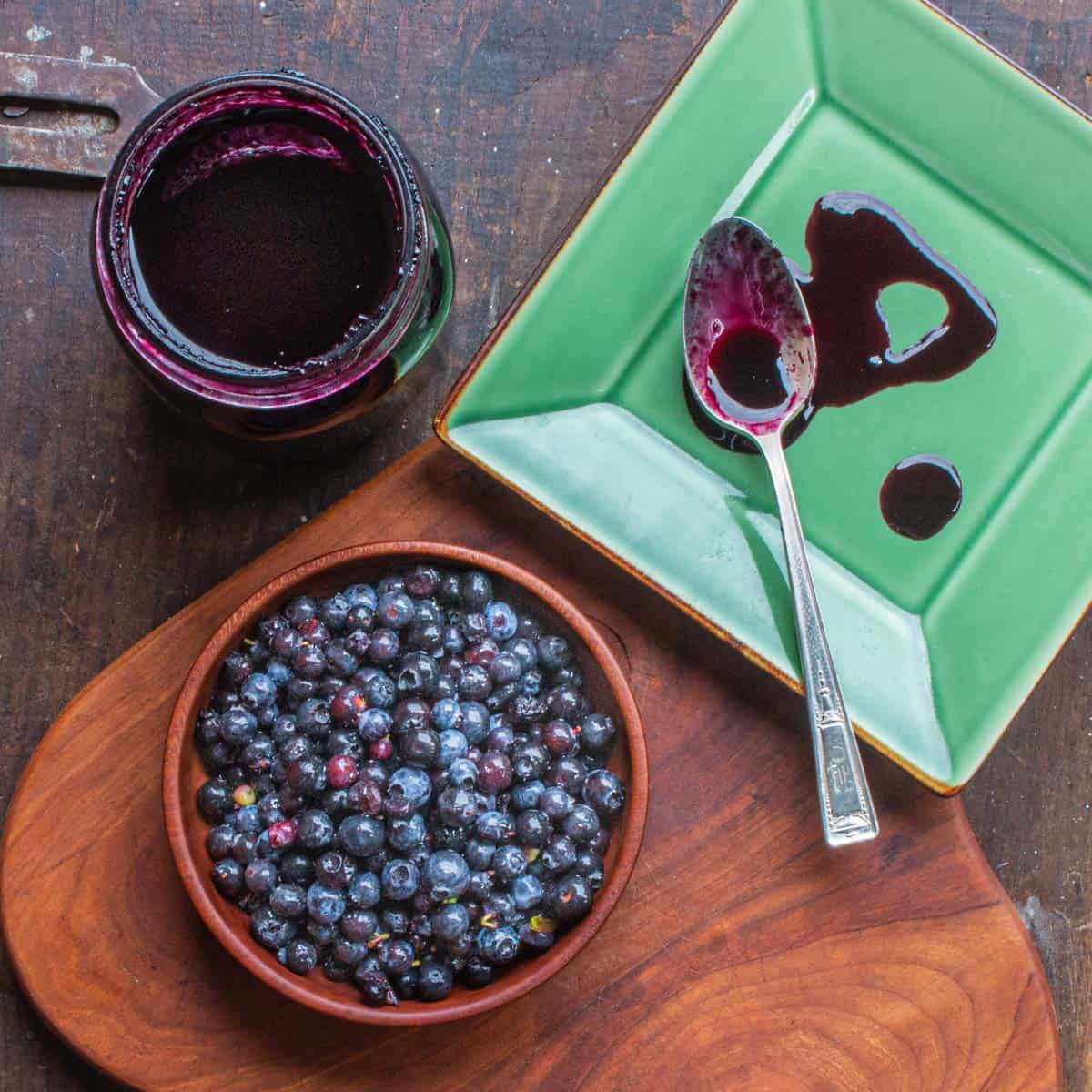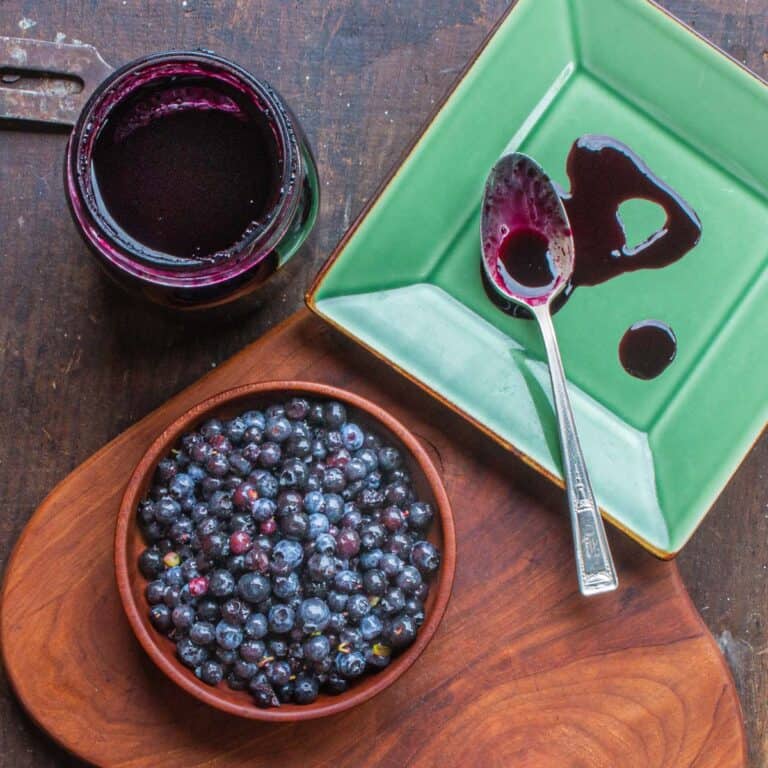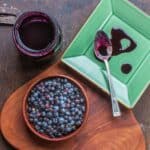 Print Recipe
Wild Blueberry Molasses (Juice Reduction)
A shelf-stable preserve made from wild blueberry juice. It's good for saving space if you have an abundance of juice. Makes a scant 2 cups approximately.
Equipment
1 6 quart pasta pot or similar

do not use an aluminum pan
Ingredients
2

gallons

wild blueberries

¼

cup

sugar

or 2 tablespoons per cup of finished, reduced juice

2

teaspoons

lemon juice
Instructions
Put the blueberries in a tall stainless steel or enamel lined pot, cover, and turn the heat to medium. Gently stir the berries occasionally.

Bring the pot to a gentle simmer, stirring occasionally, then turn the heat off, cover, and cool for 20 minutes. Remove the lid and strain the berries in a strainer without pressing on them. Reserve the cooked berries for making blueberry fruit leather.

Take the blueberry juice put it into a smaller pot, make a note of how much juice there is, then reduce it at a brisk simmer until only 30% of the original volume remains.

Turn the heat off, add the sugar and lemon juice, pour it piping hot into a pint jar, screw on the lid, turn it upside down, and allow to cool.

The juice reduction will keep at room temperature as long as it's sealed. After sealing, refrigerate it.
Notes
Other fruit juices you can make into molasses 
I have friends that preserve other fruit juices like this and just about any juice berry or fruit can work. Elderberry juice, apple juice and pear juice will all work too. 
Nutrition
Serving:
1
Tablespoon
|
Calories:
2255
kcal
|
Carbohydrates:
574
g
|
Protein:
28
g
|
Fat:
13
g
|
Saturated Fat:
1
g
|
Polyunsaturated Fat:
6
g
|
Monounsaturated Fat:
2
g
|
Sodium:
38
mg
|
Potassium:
2920
mg
|
Fiber:
91
g
|
Sugar:
402
g
|
Vitamin A:
2044
IU
|
Vitamin C:
369
mg
|
Calcium:
228
mg
|
Iron:
11
mg