Highbush cranberry vodka is a love letter to my foraging friends living and from Eastern Europe. In Russia (and likely other areas) Highbush cranberries are known as Kalinka, and, at least from my experience, if you ask someone from Eastern Europe the what the best thing to do with highbush cranberries are, they're probably going to mention vodka. Every time.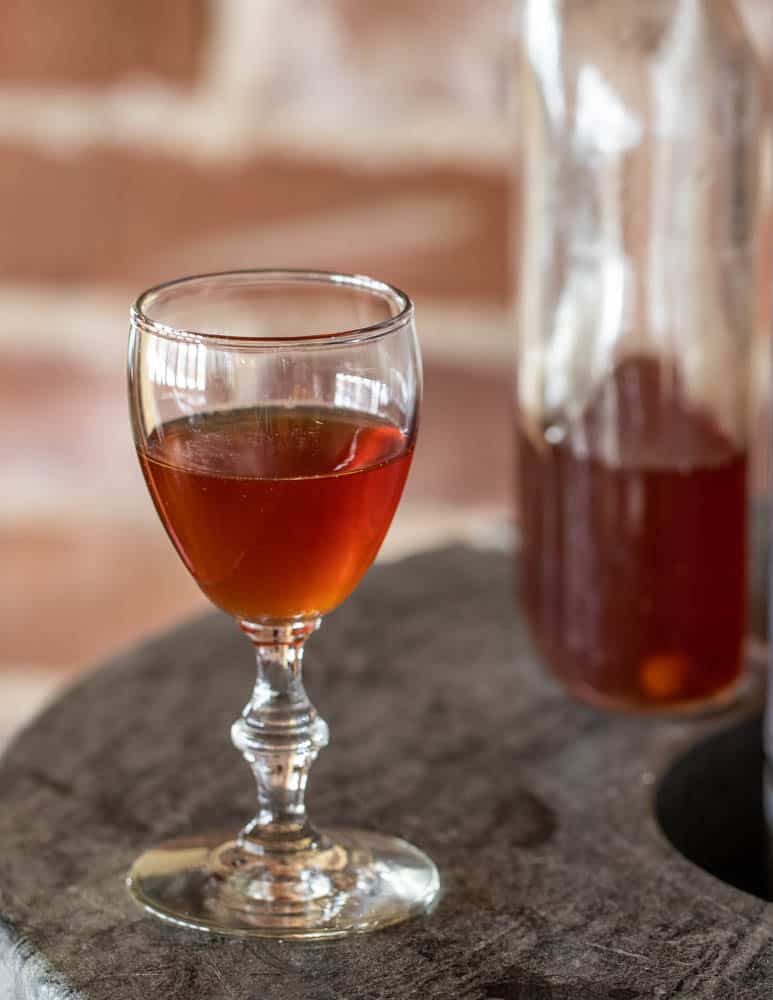 The funny thing, is that the highbush cranberries from Europe are different from the ones in the Midwest that I pick, I should say, different from the ones that I eat.
Highbush cranberries, for all culinary intents and purposes, come in two different flavors: tart, bright-tasting highbush cranberries, and highbush cranberries that taste so foul the best description of the flavor I can give you is that they taste like licking a wet dog, if that wet dog as also very bitter.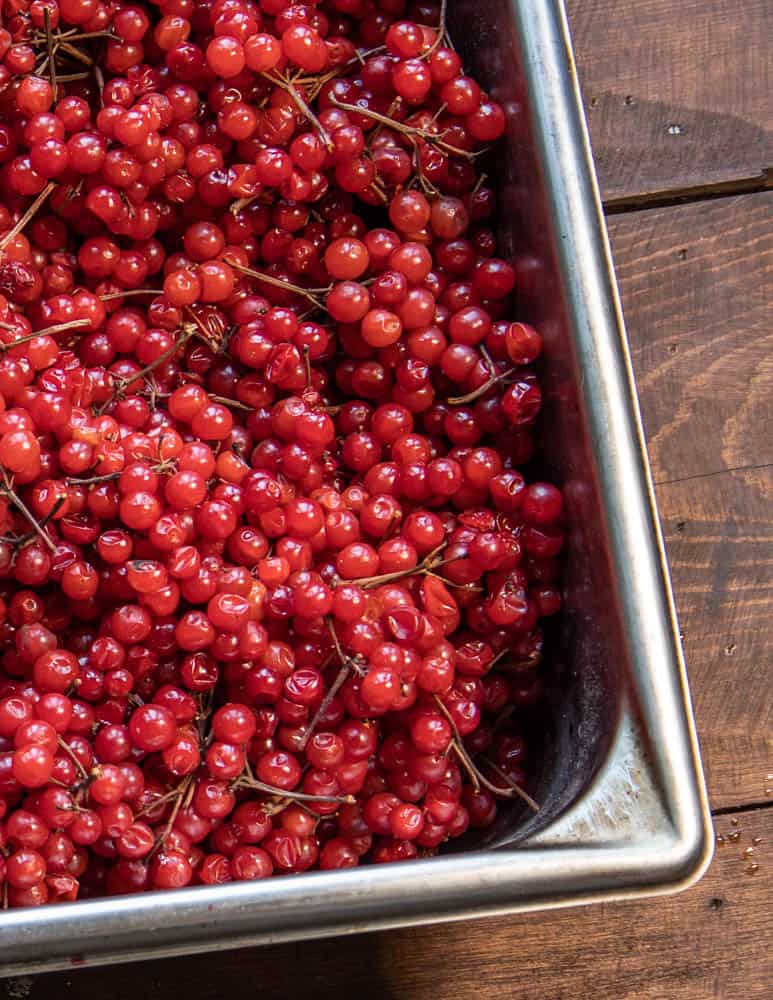 The reason (see more in my intro post on highbush cranberries here) is that there's a few different types of highbush cranberries around. The native North American highbush cranberry (Viburnum trilobum and friends) tastes good. The native European highbush cranberry (Viburnum opulus) tastes awful.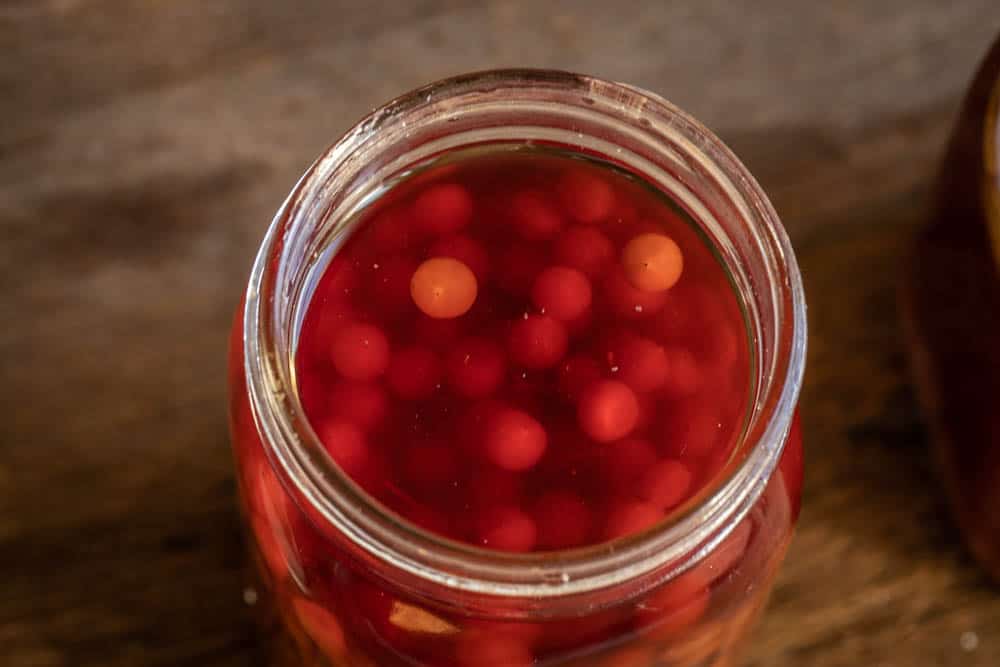 I can tell you how to process highbush cranberries, and plenty of things to do with them. I can tell you when I like to harvest them, and where. What I cannot tell or explain to anyone, is why, for the love of things that taste good, anyone would eat (or drink) any comestible product made from European highbush cranberries.
I can also tell you that this highbush cranberry vodka (it will taste a bit like cranberry schnapps) is great, and makes a nice nip after dinner and a conversation piece to pass around the table.
How to Make it
Basically, it's a simple maceration: take your highbush cranberries, put them in a jar with vodka and some spices (I use sweetfern nutlets here) and add some honey or sugar to taste. Sugar will keep the liquid clear.
After that, you let the jar sit in a cupboard for a couple months, until it's cold outside-the season for warming drinks. Drink it in small glasses as a digestif, warm or cold.
Sweetfern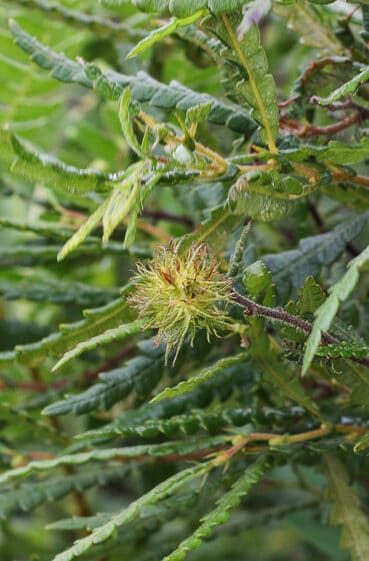 Quick aside here, macerated alcohols like this are a great place to sneak in some of your wild spices, especially strong ones.
Here I use sweetfern nutlets, the wonderfully aromatic seeds of Comptonia peregrina, which just so happens to grow right beside highbush cranberries in some of the places I pick.
If you have access to the dried fruit of Myrica gale / sweet gale it would work great here too. You'll also notice there's cinnamon and clove in small amounts here-don't skip them. Just a little bit adds a nice backbone and works well with the sweetfern.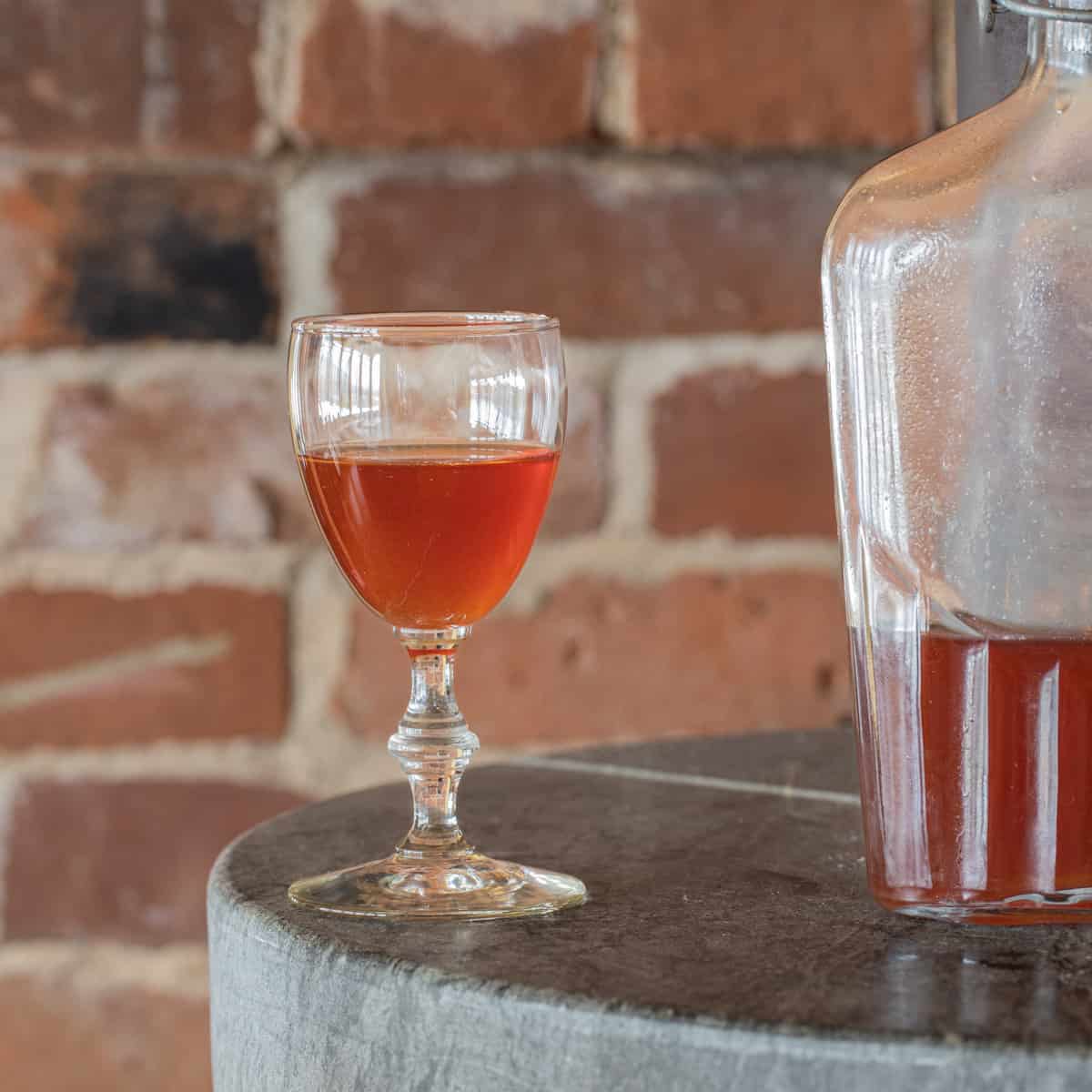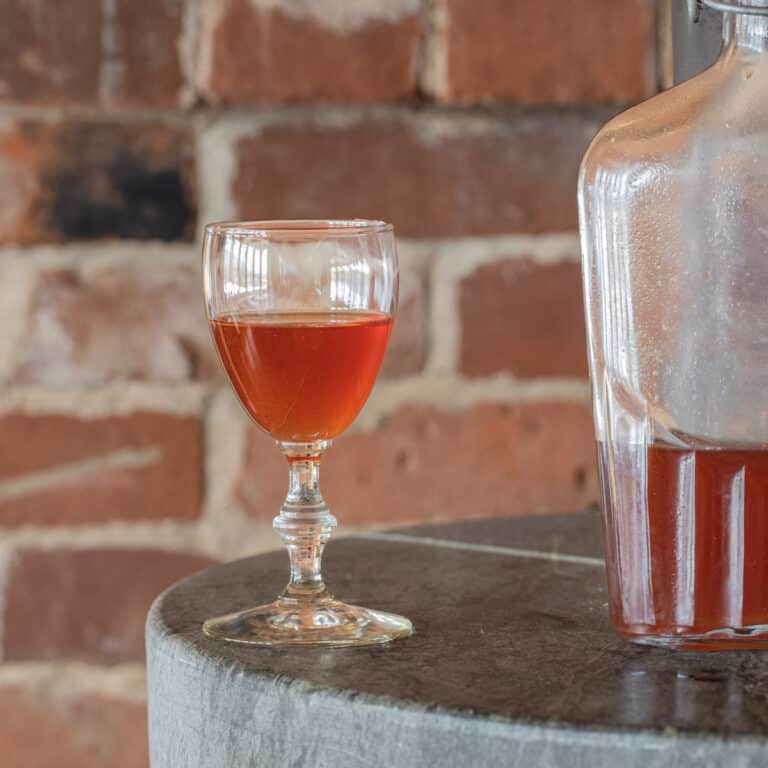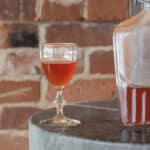 Print Recipe
Highbush Cranberry Vodka with Sweetfern
Spiced highbush cranberry vodka with honey is a delicious Russian inspired nip.
Ingredients
1.5

lbs

highbush cranberries

8

dried sweetfern nutlets or 1-2 teaspoons crushed dried nutlets*

optional

750

ML

bottle of decent vodka

not too cheap, not too expensive*

½

cup

sugar

or honey *see note

½

inch piece

cinnamon

2

cloves
Instructions
Mix half of the honey and vodka well. Taste it. If you think you'd like it more sweet, add the rest of the honey. Add the sweet fern nutlets to the vodka, if you want a stronger flavor from them, crush them in a mortar first. Add the cinnamon and clove without crushing them.

If needed, separate the highbush cranberries from their stems and look over for any debris. Wash the berries gently as a last resort if they're dirty or sandy, which is possible, but rare in my experience.

Cover the berries with the vodka-honey mixture for a few months (I'd suggest at least 2-3) in a non-reactive container in a cool dark place.

Taste the maceration from time to time to check on it's progress.

When you're pleased with the flavor, strain without pressing on the berries, then bottle the liquor.
Notes
Vodka
*Something like E and J is fine here, just don't use some bottom of the barrel pain thinner. 
Sugar or honey 
You can use either here, but know that honey will make the finished product cloudy. 
Nutrition
Serving:
2
oz
|
Calories:
123
kcal
|
Carbohydrates:
9
g
|
Protein:
0.2
g
|
Fat:
0.1
g
|
Saturated Fat:
0.004
g
|
Polyunsaturated Fat:
0.02
g
|
Monounsaturated Fat:
0.01
g
|
Sodium:
1
mg
|
Potassium:
28
mg
|
Fiber:
1
g
|
Sugar:
6
g
|
Vitamin A:
21
IU
|
Vitamin C:
5
mg
|
Calcium:
4
mg
|
Iron:
0.1
mg
More