If you like alternative cuts of venison like I do, than you owe it to yourself to cut and grill up a venison tri-tip steak.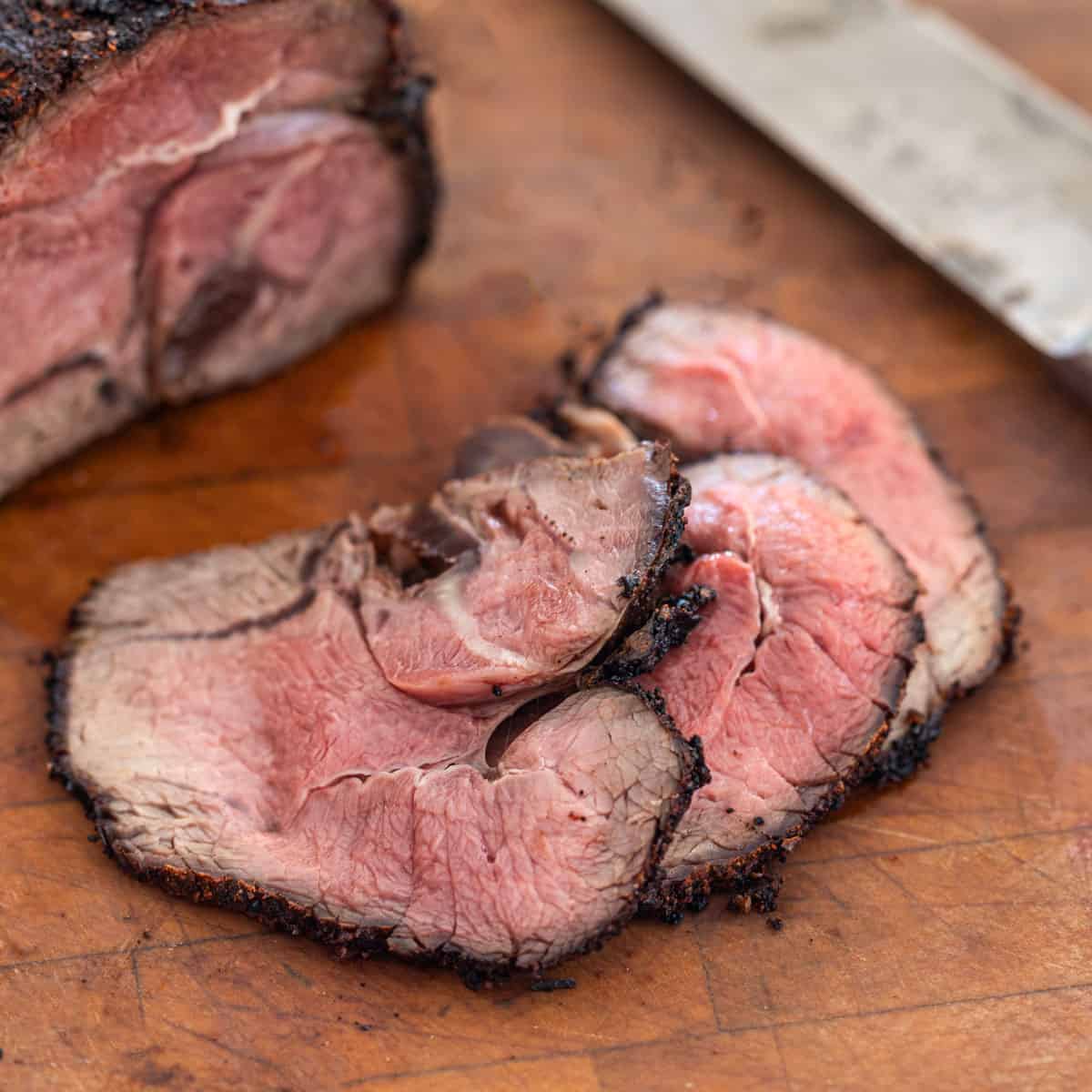 Tri-tips are a cut of beef from the bottom of the leg made famous by chefs from California. If there was such a thing as a state cut of meat, California's would probably be the tri-tip.
It's a perfect steak for marinating or rubbing and grilling. It can be a little awkward to cook, since it has a sort of triangular form, as the name implies, but once you get the hang of cutting them, and then cooking them, they might just be your new favorite cut of venison. Here's a few tips I've learned from taking them from deer.
Where is it?
The big thing. The tri-tip is one of the many gifts of the leg, but they have an unassuming look to them so most people put them in the grind pile, especially if their deer is on the smaller side. The tri-tip is the odd=looking chunk of meat right above the knee cap (see picture).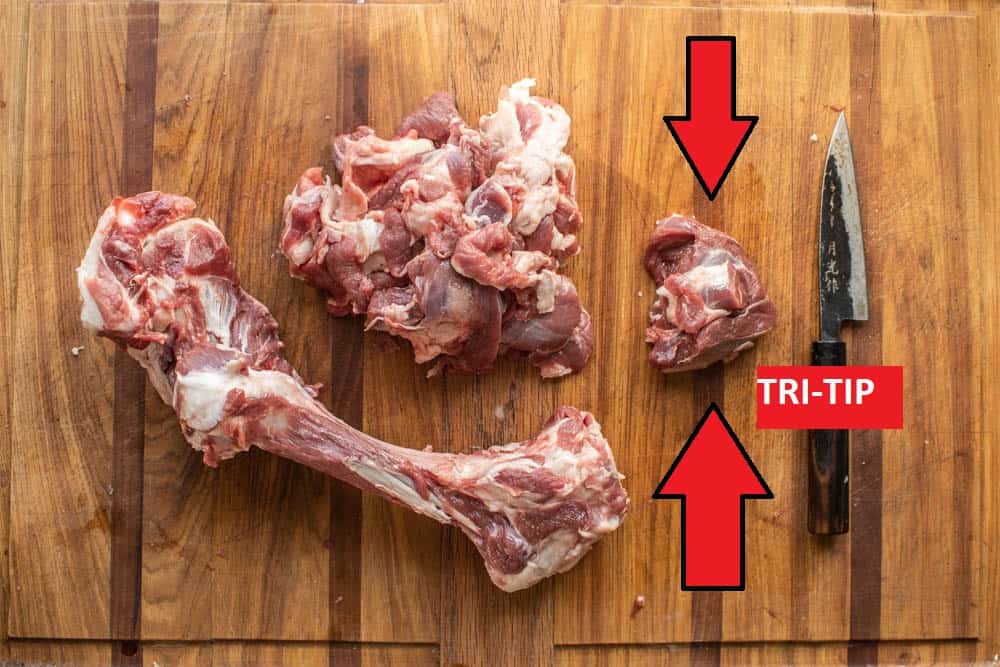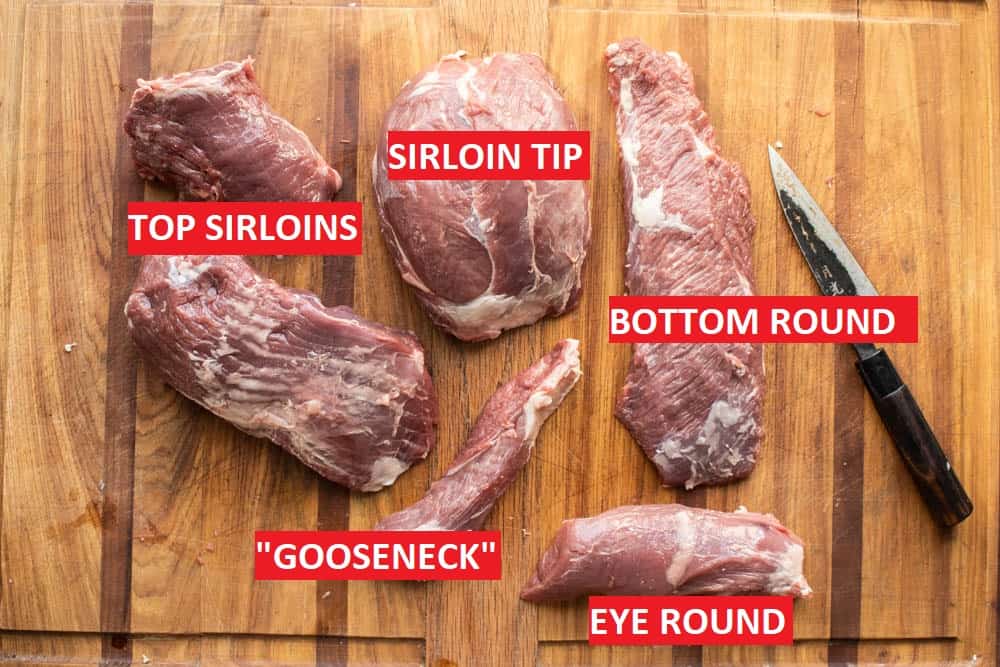 Trimming
Below is the before and after trimming. I remove the fat and membrane from larger ones, smaller tri-tips you may want to leave untrimmed, or just toss them in the stew pot.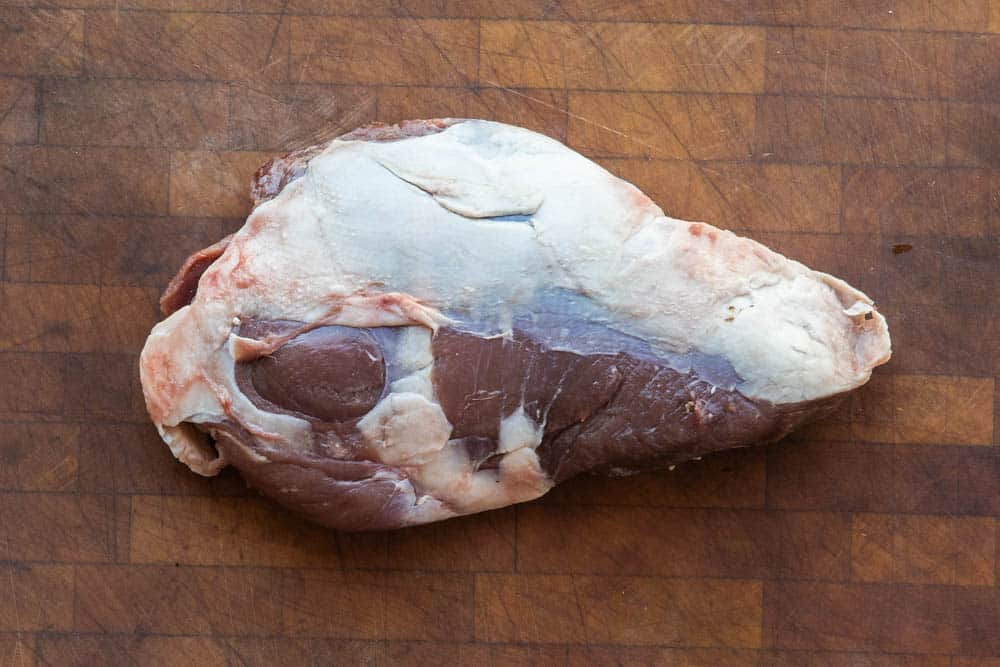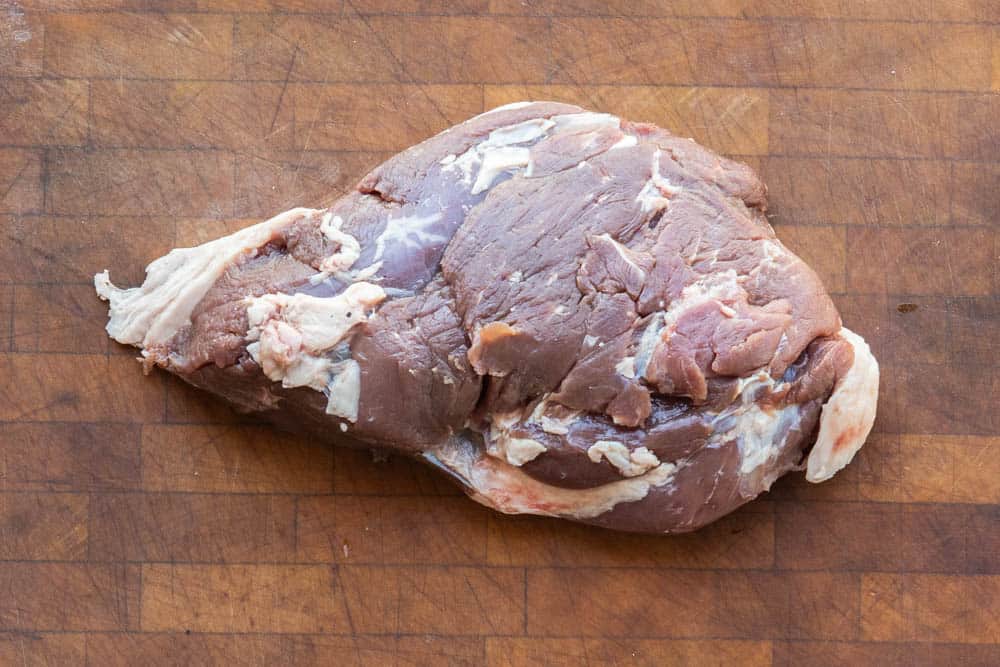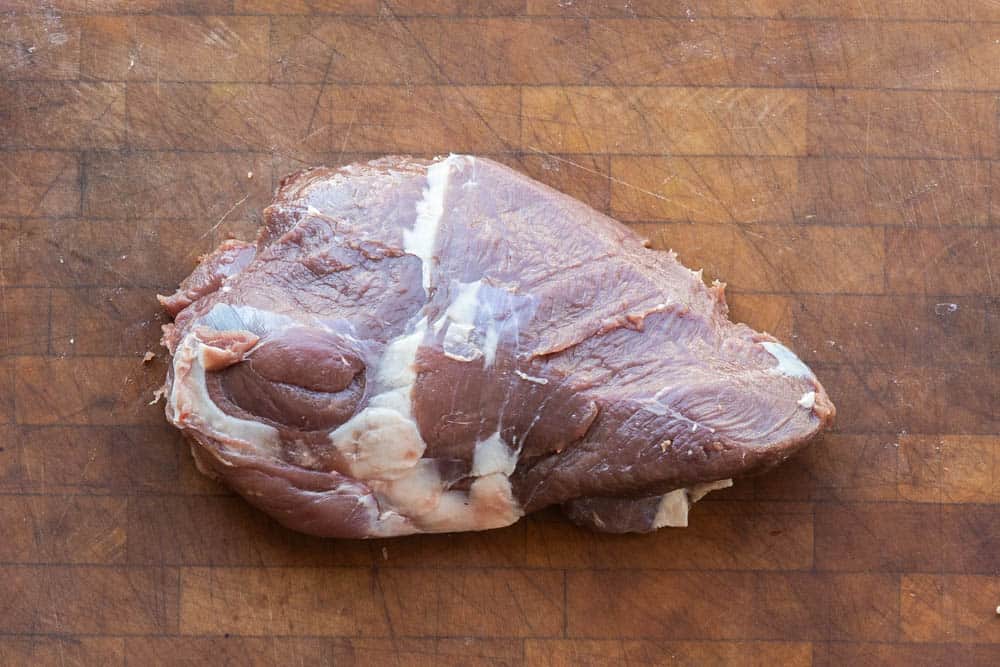 Deer = Smaller Than Cows
Conventional beef tri-tips are large, much larger than your run of the mill whitetail, so, depending on the size of your deer, your venison tri-tips might be a snack.
If you get a nice sized whitetail, they'll probably be big enough to serve 2 hungry people. Better yet, if you hunt elk, you're tri-tips will be very nice sized. Just don't expect them to be massive.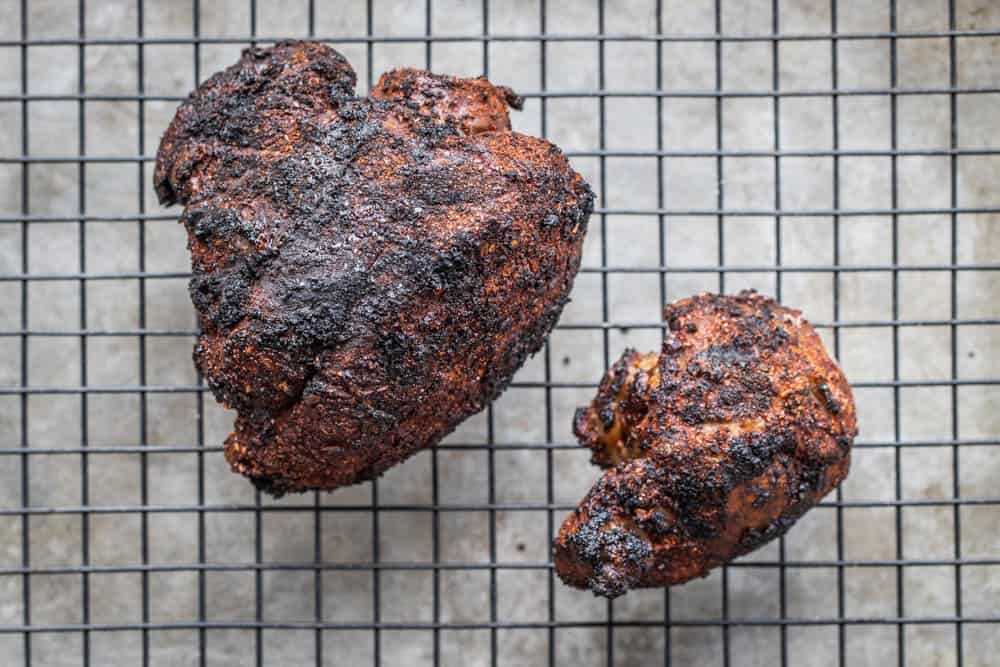 Cooking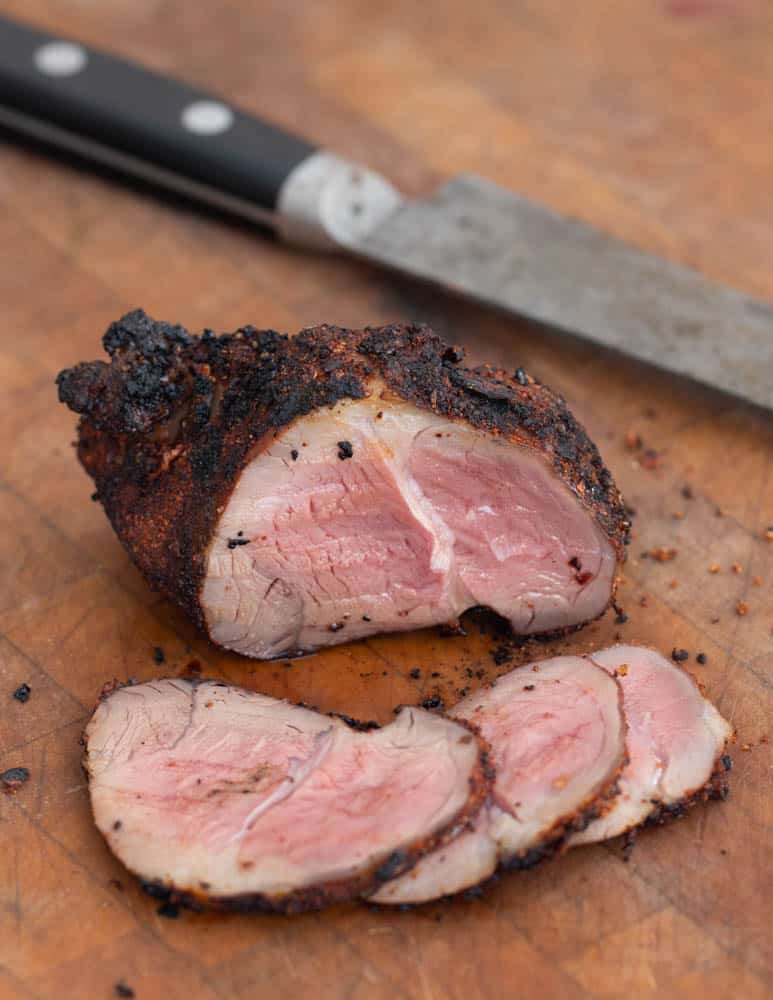 Cooking a tri-tip can get a little tricky as they're triangularly shaped, which means you will want to grill or sear them on three sides, this odd shape is partially why they're so good for the grill.
Hands-down, my favorite way to cook any tri-tip steak is to hit it with a good chili rub and grill it to get a good char. From there they're great sliced and used for tacos, or just eaten as-is with your choice of sides. They're also a great choice for gentle smoking and barbecue rubs.
Slicing
It should be obvious that tri-tips will have a little more texture than a backstrap, so, it follows you want to make sure that you're slicing the finished, cooked steak against the grain of the meat.
See the picture below for an example, and zoom in on the meat fibers if you're unfamiliar with what I'm talking about. Tri tips are strange creatures in this regard, and, unlike a top sirloin, I support two potential slicing angles, either way it's going to taste good, if you don't muck it up on the grill. 🙂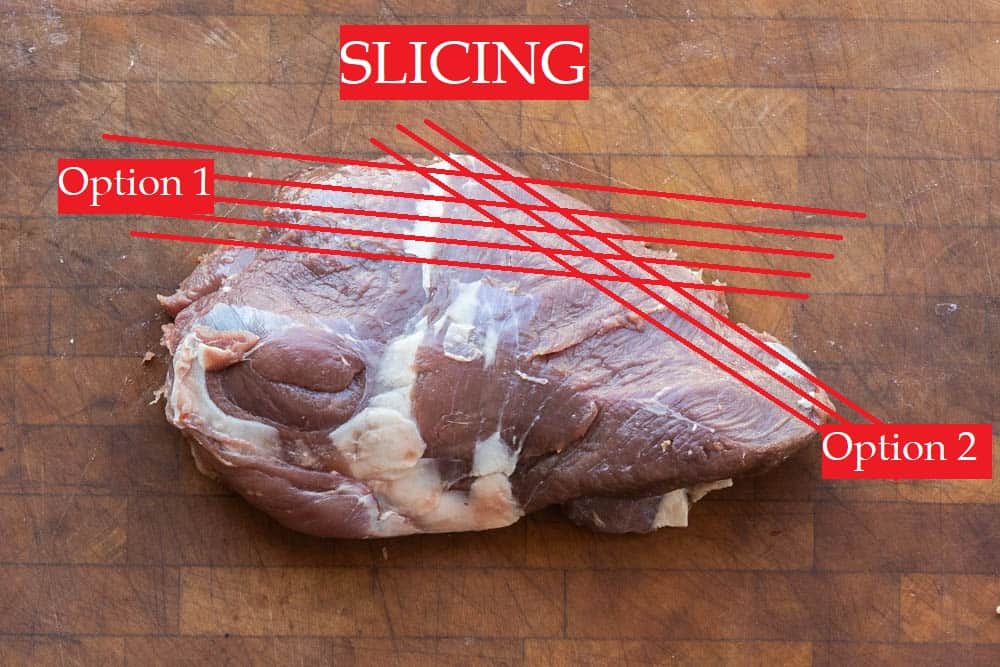 Print Recipe
Chili Rubbed Venison Trip Tip Steak
Venison tri-tip steak with a rich, spicy chili rub. The rub is great by itself and also goes well with chicken and pork.
Equipment
1 Grill

1 small mixing bowl
Ingredients
Chili Rub
4

tablespoons

chili powder

2

teaspoons

ground cumin

1

teaspoon

ground cinnamon

1

teaspoon

garlic powder or dried ramps

¼

teaspoon

cayenne pepper

1

Tablespoon

onion powder

1

teaspoon

fresh ground black pepper
Steak
1.5

lbs

venison tri-tip steaks

expect variation in size depending on your deer

Kosher salt

Oil for the grill
Instructions
Dry-Brine the Tri-Tip
Season the trip tip all over with salt and allow to rest overnight.
Chili Rub
Mix the chili rub ingredients well. Break up the onion and garlic powder by blending the rub in a spice grinder if you need to.
Grilling
The next day, start a wood fire grill. When you have a nice bed of coals, scrub the grates well with a brush and oil them with a towel. Make sure the grill grates are very hot. Alternately, you can sear the steak in a pan or cast iron skillet in oil and roast in the oven.

Coat the steak well with the rub.

Oil the grates of the grill with an oiled paper towel or cloth (I use a chunk of fat sometimes).

Cook the steak over a high heat and cook until medium rare-to medium, then allow to rest for 10 minutes per pound in a warm place before slicing. Make sure to cut the steak against the grain, referring to my picture describing the process.
Notes
My chili rub is great, but you can feel free to use your favorite rub here. 
Nutrition
Serving:
5
oz
|
Calories:
34
kcal
|
Carbohydrates:
6
g
|
Protein:
1
g
|
Fat:
1
g
|
Saturated Fat:
0.2
g
|
Polyunsaturated Fat:
1
g
|
Monounsaturated Fat:
0.4
g
|
Sodium:
134
mg
|
Potassium:
196
mg
|
Fiber:
3
g
|
Sugar:
1
g
|
Vitamin A:
2438
IU
|
Vitamin C:
1
mg
|
Calcium:
48
mg
|
Iron:
2
mg